Can You Carry a Knife While Hiking in Europe? A Quick Guide.
I am planning to go hiking in Italy next Summer while visiting friends, and I was wondering if I could bring a knife. I lived in Italy for nearly two decades and often carried pocket knives on short hikes in the woods near our home in Tuscany, but I always wondered if I was breaking the law. I did some research to find out if you can carry a knife while hiking in Europe.
You can carry a knife while hiking in Europe. Each country in Europe has specific laws around carrying knives. In most countries, the authorities will require you to provide an adequate justification for carrying more than a folding pocket knife.
The engraved Swiss army knife is a quintessential European souvenir. But can you carry one around with you legally, whether on the street or in the woods? In this post, I will share information about bringing knives on flights to Europe and what to avoid to get arrested while hiking the Alps.
Tuscany.
Knives On Planes.
The Transportation Security Authority allows knives in your checked luggage. The TSA provides a handy website appropriately titled: What Can I Bring? It has a search function and so you can search whether items are allowed and if they are limited to checked luggage or can also be brought with you through security in your carryon items.
Interestingly, you can store hatchets and axes in your checked luggage. Knives are also allowed in your checked baggage. You cannot bring knives with you on your flight in your carryon items regardless of the type or length of the blade. There is one exception, plastic knives and round-tip butter knives are allowed.
I wrote an extremely useful resource and table for packing hiking gear for airplane travel. It has a table of common hiking items and whether you can carry them on or have to pack them in your luggage.
So if you can bring your favorite twelve-inch Bowie knife in a sheath stored in your luggage, will they arrest you when you arrive in Paris and confiscate your knife?
The Dolomites in Italy.
Carrying Knives in Europe.
Like most things in Europe, the laws around carrying knives are flavored by regional and cultural inclinations. Some countries are stricter than others. In Italy for example it is illegal to carry a knife, any knife, regardless of its style or length, except if you have an appropriate knife for a valid reason. The interpretation of this law does have some history in the courts.
A woman was arrested for carrying a small blade in her purse. She claimed that she used it for peeling fruit for the elderly man that she took care of in the afternoons. The judge ruled that this was a valid reason and she was not charged.
An elderly fisherman had an 8-centimeter fixed blade and was charged for carrying a weapon. He argued that he used it for fixing his rod and reel. The judge did not reverse the charges. If you read Italian here is an informative article.
| | | |
| --- | --- | --- |
| Country | Legislation | Notes |
| Austria | Waffengesetz 1996 (Weapons Act) | Few restrictions for knives. Weapons disguised as other objects are banned, e.g. cane swords, pen knives. |
| Belgium | Article 3, §1 of the 2006 Weapons Act | Knives designed as weapons are banned. Discretion given to local authorities to interpret the law even for folding blades. Justifiable reason required to carry a knife. |
| France | Official Website of French Government | Category D weapons include knives of all kinds and can be purchased and possessed but only carried or transported with a justifiable reason. |
| Germany | German Weapons Act | Possession and ownership of many types of knives allowed but carrying and transporting them is restricted. Section 42a allows carrying a fixed blade over 4.7 inches for a justifiable reason such as hunting. |
| Netherlands | Netherlands Police Website | Knives designed as weapons are banned. A folding pocket knife with a single edge blade can be carried. |
In Italy, you may have a difficult time explaining why you are carrying your Bowie knife while hiking. Fixed blades and locking blades are illegal weapons and you must justify why are you are carrying them.
I guess I was breaking the law while carrying my pocket knife in Tuscany since the three-inch blade did lock in place and I had no real need to carry it on my local hikes. Italian law does not consider the length of the blade. What matters is the reason you are carrying the knife and whether the blade is appropriate.
Many European countries place restrictions on the types of knives and the blade length you can carry. The laws typically allow individuals to carry small folding blades without the necessity to provide a reason for carrying it.
In Denmark, for example, you can own a folding or fixed blade that is 4.7 inches or less, but you cannot carry it in public unless you have a valid reason. You can carry knives for outdoor activities such as hunting. Still, you must demonstrate to the authorities that you are heading to the location or are already participating in the outdoor activity.
In Bulgaria, there are no laws around carrying knives but they do have strict laws on self-defense and use of deadly force compared to the USA.
In general, across all European countries, any knife designed for fighting or self-defense will be difficult or impossible to justify to authorities while you are hiking.
In Italy, for example, the law categorizes knives as either illegal or banned. Any illegal knife, such as a fixed blade with two cutting edges or a balisong (butterfly knife) will trigger an arrest if they catch you with one, regardless of any justified reason you might invent to avoid handcuffs.
The banned knives are those that might be used for other purposes such as cooking, camping, working, etc. These are also illegal to carry unless you have a justifiable reason, as described above.
Bavaria 1992
Hiking with a Knife in Europe.
You can bring a knife to Europe for your hiking trip. To be on the safe side, I suggest getting a folding pocket knife with a single-edged blade that is less than 4 inches in length. While you are walking the streets of Paris as a tourist, I suggest leaving your knife at your hotel. Every country is different, and so what is permissible in France might not be acceptable in Italy.
While you are on the trail, whether in the forests of Transylvania or the Swiss Alps, you should keep your knife in a safe place, pulling it out only when you need to prepare food or repair some equipment.
I have carried Swiss Army knives and other folding blades in Italy and Europe in my pocket for many years without encountering any problems.
I would avoid strapping a fixed blade, like your Bowie knife, to your belt and hiking along busy trails. The site of this might be entirely appropriate in New Mexico, but it will be out of place in most of Europe, especially on a hiking trail.
In general, the language in the weapons legislation in European countries varies in terms of how they categorize knives. Still, most of them restrict the transport of knives, requiring that the individual demonstrate a justifiable reason for carrying the blade.
Many of the countries also explicitly ban weapons from some regions of the country, such as city centers or schools, and also from certain types of events such as sporting events in stadiums. This indicates that carrying a knife in the woods will garner less scrutiny from authorities than if you were carrying one on the Champs-Élysées.
If you plan to bring a knife to Europe for a hike, be sure that the blade you get is appropriate for hiking. Do some research. I searched for the weapons laws of multiple countries. These laws are on websites and can be translated through your browser in most cases.
Europe has a rich culture around knives, with each region exhibiting unique styles for different purposes. For my upcoming trip to Italy, instead of bringing a knife, I might buy one. My friends always told me about the artisanal knives of Scarperia in Tuscany. Maybe this time I will buy one.
A knifemaker or a knife shop in any country will be able to provide you a local perspective and will know what type of blade you can carry while hiking. This will give you more confidence to provide an appropriately justifiable reason if you are stopped by local authorities.
New Hampshire Knife Laws: A Guide for Knife Carriers!
New Hampshire Knife Laws
New Hampshire is one of the original thirteen colonies. Only three years after the Pilgrims landed at Plymouth, the first settlers inhabited present-day Portsmouth. When New Hampshire adopted its own constitution in January of 1776, that founding history of leadership and independence was underscored.
While the state motto of "Live Free or Die" was not officially adopted until 1945, it is arguably the most well-known state motto and undoubtedly rings true – particularly as it applies to the state's knife laws.
New Hampshire is one of the most knife-friendly states. In recent years, the state has made great strides in overturning legislation many found to be archaic. Today, there are few restrictions on knife owners. In sum, non-convicted felons may own and carry knives with little restriction almost anywhere in the state. There are a few other important points to note about knife ownership as well.
History of New Hampshire Knife Laws
In 2010, bipartisan support for reform in New Hampshire's knife laws led to a repeal of the ban on switchblades, dirk-knives, daggers, and stilettos.[i] While this would have been revolutionary in and of itself, the very next year, the legislature passed a bill abolishing the complicated local ordinance laws that fragmented the legality of knife ownership.
Currently, New Hampshire joins Alaska, Arizona, Georgia, Kansas, Oklahoma, Tennessee and Utah that also have state knife pre-emption laws.
By prohibiting local ordinance rules from being more restrictive than state law, New Hampshire knife laws are now uniform. The pertinent law, HB 159:26 reads, in part: "[A]ll municipal ordinances and regulations … relative to the sale, purchase, ownership, use, possession, transportation, licensing, permitting, taxation, or other matter pertaining to firearms, firearm components, ammunition, firearms supplies, or knives shall be null and void."
Given the state law preemption that is at play, there is a dangerous misconception that New Hampshire has no knife laws.[ii] This is patently untrue. In an article written by Dan Tuohy in the New Hampshire Union Leader, Representative Jennifer Coffey, prime sponsor of the legislation repealing switchblades, is quoted as saying "All we did was get rid of an old, antiquated law that was enacted in the 1950s…We need laws on criminal activities, not on objects."[iii]
Restrictions for Convicted Felons
Unlike other states that rely on the intended use of a knife or take a fact-based approach to possible convictions, there are clear-cut restrictions on knife ownership in New Hampshire.
The most notable restriction on the ownership and possession of knives in New Hampshire applies to convicted felons. HB 159:3 also reads, in part, that a person is guilty of a class B felony if he: "(a) Owns or has in his possession or under his control, a pistol, revolver, or other firearm, or slungshot, metallic knuckles, billies, stiletto, switchblade knife, sword cane, pistol cane, blackjack, dagger, dirk-knife, or other deadly weapon as defined in RSA 625:11, V; and (b) Has been convicted in either a state or federal court in this or any other state, the District of Columbia, the Commonwealth of Puerto Rico, or any territory or possession of the United States of a felony." Knife owners and convicted felons should be critical of the language in the law– it does not simply state "possession" but adds "under his control."
It is also important to note that a person is guilty of a class B felony if he "completes and signs an application for purchase of a firearm and the person is a convicted felon." Note that the sale of the firearm need not be completed for a person to be guilty of a crime under this law. Clearly, New Hampshire has prioritized knife ownership, as well as pathways to ownership, for convicted felons as a serious issue.
Permitted Knives in New Hampshire
Where legal, there is no limit on the length of knife blades, the number of edges or the construction of the knife. For non-convicted felons, the following types of knives are legal to own and carry in New Hampshire:
Gravity knives
Switchblades
Balisong knives
Machetes
Swords
Bowie knives
Daggers
Dirk-knives
Martial arts throwing knives
It is important to note that the statewide ban on metal knuckles extends to knives in so much that carrying or selling knives with metal finger rings is a misdemeanor.[iv]
Open Carry and Concealed Carry
Lawful knife owners should avoid carrying knives in schools, government and public buildings (including courthouses) and airports. This same precaution should be applied in all states, but it is particularly important in New Hampshire due to the misconception that there are no knife laws whatsoever in the Granite State. It is also worth noting that New Hampshire is a small state that borders much less knife-friendly states. It is easy for travelers to cross state lines. Knife owners should be cognizant of jurisdictional boundaries at all times.
Sale and Transfer of Knives to Minors
Other than the restriction on knife ownership and possession that applies to convicted felons, New Hampshire state law does prohibit the sale of paintball guns and BB guns to minors. However, there is no law regarding the sale or transfer of knives to minors.
Knife Laws Moving Forward
A review of New Hampshire's legislative docket suggests that changes in the state's knife laws are not on the horizon. Further reform would push New Hampshire over the threshold of being the utmost friendliest states for knife owners in the United States. T
he Granite State, however, is not too far from being number one. For now, convicted felons cannot own, possession or be in the control of any knife. Knife owners enjoy a substantial amount of rights, including the right to own almost any type of knife including switchblades.
Metal knuckles and knives with metal rings are illegal to own and, lastly, knife owners should not tout their knives in schools or public buildings. Otherwise, law-abiding citizens should feel relaxed in New Hampshire – the state legislature has certainly fulfilled the motto of "Live Free or Die!"
None of the material in this article should be interpreted as legal advice. I am not a lawyer. Never take any action with legal consequences without first consulting with a lawyer licensed in your jurisdiction. This article should not be relied upon for making legal decisions. This information is provided for scholarship and general information only.
[ Note: Out of all of the pocket knives available on Amazon.com this one is my favorite everyday carry knife – click here to see what it is on Amazon.com. I love this knife! It's built like a tank and holds an edge better than any other knife that I've owned…]
Check out these related articles:
M.D. Creekmore
Hello, I'm M.D. Creekmore. I've been interested in self-reliance topics for over 25 years. I'm the author of four books that you can find at Amazon.com as well as Barnes and Noble. Over the years, I've learned a lot about prepping, homesteading, and self-reliance topics through first-hand experience and now I want to share what I've learned with you. You can also subscribe to my YouTube channel here.
Can You Carry A Knife While Camping? The Law Explained
Any seasoned camper knows that a knife is their best tool. It allows you to trim twigs for kindling, clean and filet fish and of course, in an emergency, it provides you protection. However, this is a weapon as much as it is a tool for survival. As such, there are laws on when and where you can have a knife while camping.
Can you carry a knife while camping? In the United States, the laws for carrying knives vary between states, between counties and even between cities. The federal laws cover carrying a blade over state lines. They also cover Washington D.C. and military bases, where you're not likely to be camping.
Whether you're camping in your home state or traveling over the border, the most important thing to do is research the laws where you'll be. Knowing what is legal will help you to pack appropriately. And whatever you do, do not underestimate the severity of the consequences. Even misdemeanor charges carry serious weight.
The U.S. Federal Law On Knife-Carrying
There is one federal law regarding the carrying of knives in the United States. That makes it pretty easy to remember. So, what is the U.S. law you need to know?
What Is The Switchblade Knife Act Of 1958?
The Switchblade Knife Act of 1958 (15 U.S.C. §1244) bans the shipment, sale, and/or possession of switchblades and ballistic blades over state lines. This law includes crossing into Native American territories. However, that's not all it does.
An amendment made under President Obama in 2009 redefined what qualifies as a switchblade.
In its original form, all folding blades counted as switchblades. However, Amendment 1447, removes restrictions on spring-assist folding knives, or knives with springs that require physical effort to open. Your standard pocketknife is no longer unlawful, thanks to this amendment.
Why Does This Law Exist?
In 1950, Women's Home Companion published an article on the threat presented by the open availability of switchblades. The rise of robberies and deaths related to gangs and switchblades became widely reported on, increasing public concern.
A case brought before Congress centered around the public's fears and anxieties about the availability of weapons. The Act was put in place as a means to protect the commonwealth from gangs and potential criminals.
When put in place, the law blanketed across all switchblades. Since then, laws have been adapted to modern standards. With safeties put into place, folding blades have presented less of a threat.
How Does The Switchblade Knife Act Of 1958 Affect You?
For camping, most of the blades that you'll use won't be affected by this federal law. If you do have a switchblade, honestly, it's probably not great for camping purposes anyway.
It is important to remember that a switchblade and a pocketknife are different. And the pocket-sized multitool you inherited from your grandfather is probably alright, too. For one of the best multi-tools check out this handy Leatherman Supertool with a 25-year limited warranty.
Therefore, to be on the safe side understand the local laws of where you are camping before you pack to make sure you're on the right side of the law.
Other Posts of Interest
What About The 2nd Amendment?
As a nation, we argue about what the second amendment entails every other day. Most of the time, the discussion is about the right to bear arms. However, the founding fathers knew "arms" to be muskets, but also sabers and bladed weaponry.
So, for many years, knife carriers have fought for clarifying laws to protect their rights. While firearms get a lot of press and discussion about what the second amendment covers, the status of knives, on the other hand, has never been settled.
Places You Definitely Cannot Carry A Knife In The U.S.
While you probably are not camping in these places, just keep in mind that you're not allowed to bring a knife into a school, courthouse, airplane, federal building, or military base (unless you are issued one as a service member).
Knives must be sheathed and securely wrapped to prevent injury to baggage handlers and inspectors.
You must contact the airline before you fly to make sure that you do everything right.
Keep in mind, too, that it remains in the power of the T.S.A. to decide if your knife is okay.
Terminology To Know With Knife Laws
There are a few terms that you'll need to know to understand knife laws. Here are a few important ones.
Ownership – This means that you have the blade in your possession, even if it is at home. Laws against ownership are in place to prevent knives that have reputations as deadly or dangerous weapons. The most common knife ownership law is against the Bowie Knife.
Open Carry – This means carrying a knife in plain view of others in a public setting. From state to state, this may be in full view or just in partial view. If you have a pocket clip on your knife, this is open to interpretation. While the knife part technically is concealed, some may argue that the clip is part of the knife and is visible.
Concealed Carry – This means having the knife on your person in public hidden from view. It also involves specific stipulations like the blade length, the state of having a double-edged blade, and design. As with "open carry," local laws and nuances between police officers could affect how your carry is treated.
Misdemeanor vs. Felony Knife Charges
As you read through the local laws concerning which knives are fair play for camping, you'll come across two more terms you're likely familiar with but may not fully understand. These two terms are misdemeanor and felony. While what constitutes each varies from state to state, here is a simplification, though.
A Misdemeanor is generally punished through monetary means, as in a fine. In some states, a misdemeanor offense may also carry jail time of less than a year. It truly depends on the knife you have in your possession, how you were using it, as well as the police handling your case.
A Felony, on the other hand, is much more severe. It usually involves serious jail time and other additional punishments, including the death penalty. While the possession of an illegal knife will not likely earn you the death penalty, it's still not worth it to test the judicial system.
In other words, the best thing you can do is check the laws and abide by them to the letter.
General Knife Laws By State
The laws in each state will vary by county and city. However, the general overarching state laws are a good place for you to start. Below is a general overview of state laws.
We have made every effort to provide the correct information below. However, it is not intended to be legal advice; it is your responsibility to verify the laws where you live or plan to camp.
Pocket Knives And Camping
Pocket knives are a very versatile tool to have in your camping arsenal. They are also sometimes called a jackknife or pen knife. They have a foldable blade or blades that, when folded, enable the knife to be carried in your pocket.
The blades on a pocket knife are usually between 2 to 6 inches in length. If you are considering purchasing a new knife, here is an excellent USA manufactured knife by Case.
Pocket knives are convenient when you are camping and hiking. You can use them for cutting "roasting sticks" to cook your hot dogs over a campfire. They are handy for cutting fishing line, cleaning your catch and cutting small pieces of twigs for starting a campfire.
Pocket knives are also useful for cutting rope and when you need to do any makeshift repairs around your campsite.
However, pocket knives are only useful when kept in good working condition. Open the blade or blades and clean the track where the blade(s) sit with a cotton swab. Remove any water or dirt from the knife and lightly oil blades and folding mechanisms. Wipe off any excess oil. Perform these steps regularly to keep your knife in top condition.
Another essential aspect of having a knife that is ready when you need it is to sharpen it properly. This Smith's Tri-hone sharpening kit will keep your knife in tip-top condition.
Don't know how to sharpen a knife? Watch this helpful video.
As you can see, a pocket knife is an essential item to have on your camping list. Download our free camping checklist.
Check The Campground Rules
Whoever makes the rules for the campground you're staying at may also dictate whether you can bring your knives along. Privately-owned campgrounds can make their own rules. Some KOA campgrounds don't allow concealed carry of firearms, so your best bet is to call ahead to see what is and isn't approved during your stay.
Wrapping It Up
With a basic understanding of U.S. federal and state laws, you are at a good starting point. However, you must look into the regulations of the specific area where you will be hiking. The laws for carrying a knife vary so widely that it's better to be on the safe side.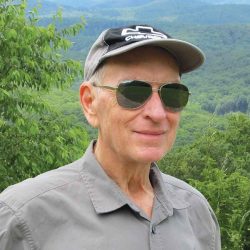 The western part of the country draws me with its mountains, deserts, and red rock vistas. Still, there are numerous other wonders I'm ready to explore., from Maine's rugged coast to California's Big Sur cliffs and everywhere between.
Source https://dustyhikers.com/can-you-carry-a-knife-while-hiking-in-europe-a-quick-guide/
Source https://mdcreekmore.com/new-hampshire-knife-laws/
Source https://vancampinglife.com/can-you-carry-a-knife-while-camping-the-law-explained/