How to Carry a Tripod While Hiking (Helpful Examples)
Hiking with a tripod is not always an easy task. To make matters worse, you need to find a way to carry your tripod with you on your backpacking or hiking adventure. You must pick the right type of tripod so that you can enjoy your hike without having to worry about it breaking or weighing too much in your backpack.
The best tripods for hiking are those that are lightweight, compact, and stable. However, carrying a tripod while hiking is not as easy as it seems.
Table of Contents
How to Carry a Tripod While Hiking
Utilizing a camera tripod while hiking is a great way to capture the beauty of nature in a photograph. However, carrying it on a hike can be challenging because there are various ways you can go about it.
The main consideration when carrying a tripod while hiking is how much weight you want to carry and what kind of terrain you want to cover.
If you are going for a short hike without any tough terrain, then using a small tripod that's easy to handle would be best; however, if you're going for an intense hike that requires scaling steep hills and boulders then taking along the larger and more heavy-duty version may be necessary.
Most photographers like to use their larger tripods because they allow them to be more stable. The tripod allows for the camera to be at eye level, rather than looking down at it. It also means you can hold the camera's shutter open for longer periods, which is perfect for capturing star trails.
How to Pack Your Travel Tripod for Your Next Outdoor Adventures
Tripods and cameras go hand in hand – they help to take high-quality photos. But it can also be a burden when you have to pack it up and carry it with you. If you are going on a backpacking trip, then you may have to take the camera tripod with you. You need to pack your tripod in a way that it is easily accessible, lightweight, and able to stand up to the harsh outdoors.
A lightweight tripod combined with a packing case is the best way to go when you are backpacking. Make sure there is enough room in your backpack for all of your gear. The best tripods are made from high-quality carbon fiber or aluminum alloy that is durable but also light enough for you to carry them with ease.
You should pack your tripod so it can be easily accessible and so that it doesn't take up too much space or weigh down on you too much during your hike. Pack the legs separately from the head, and be sure not to forget anything like camera gear!
Best Type of Tripod to Taking on A Hiking Trip
One of the most important pieces of equipment for your camera is a tripod. They are used to provide stability and keep your photos sharp.
If you're going on a long hike, you must know what features a trekking tripod has and the benefits that each one offers so that you can pick the right one for your needs.
A good tripod should have features that not only make it functional for a hike but also make it easy to use. A good hiking tripod should be light in weight, durable, easy to set up, quick setup times, and not tippy.
The features of different types of tripods vary, so it's best to research them to determine which type would be best for your needs. For example, if portability is important, then choosing the right material will be crucial so you can create a sturdy yet light structure.
If you are in the market for a tripod that can provide constant stability and adjust to different heights and angles, then an aluminum model may be the perfect choice for you.
Alternatives to A Tripod While Hiking
Hiking with a tripod is not always the best option, there are some disadvantages. The most obvious downside of a tripod is the weight and the inconvenience of carrying it with you when you are on the go. The weight of the tripod can be an issue for some, and it can offer an unstable base.
An alternative to carrying a bulky tripod with you on your hike is to simply attach the camera strap to your backpack strap or wear it around your neck. Some hikers find this type of support helpful when crossing streams, rocky terrain, or other rough surfaces
Tripods are a common item for photographers to use to stabilize their cameras. But when it comes to hiking, they can be a challenge. Hikers need to balance weight and stability with the use of a tripod. Fortunately, there are other options available that may be a better choice for hikers such as monopods or trekking poles which usually provide more stability than a tripod.
A selfie stick can be used to take photos in difficult-to-reach areas, but its stability might depend on your skill level and your surroundings.
How Do You Carry a DSLR Camera While Hiking?
Some DSLR cameras can be heavy! If you are hiking, the best way to carry it is with a belt-attached camera holster. You can also carry it in a backpack or attach it to your torso with a chest harness, but these are less comfortable.
When hiking with a camera, it's important to know how it will affect you. You want to find the best way to carry your camera so that you can keep your shots stable and agile.
It is important to find a balance between weight and comfort when carrying a DSLR camera. It is also important to consider what type of hike you are participating in. For example, if there is a lot of technical terrains, it may be best to bring a smaller mirrorless camera which will be easier for hiking than a DSLR. The following tips can help you plan your excursion:
– Carry the camera around your neck with an appropriate strap or sling
– Store all equipment in soft protective cases that can be strapped onto your body
– Use an external lens rather than carrying around lenses in your hands
– Carry necessary equipment such as memory cards and batteries
Leave a Comment Cancel Reply

report this ad
This post may contain affiliate links. If you click an affiliate link and make a purchase, I may earn a commission. Also, as an Amazon Associate I earn from qualifying purchases. report this ad report this ad
How to attach a Hiking Pole to a Backpack? 4 Helpful Method!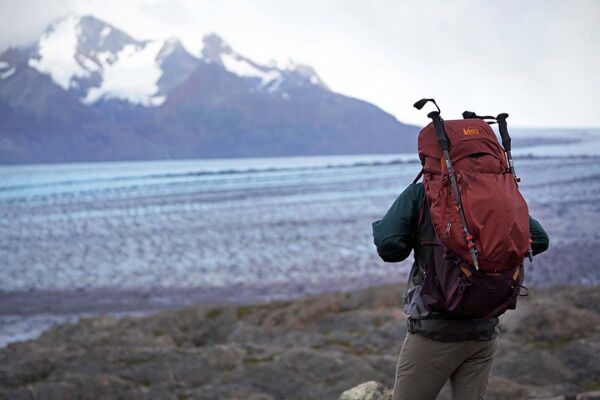 Trekking hiking pole or hiking pole is one of the first and foremost things a hiker and adventurer need for their hike.
Hiking poles are the available hiking equipment that helps hikers in many hiking activities, i.e. crossing rivers, probing mud depth, and moving wet brush out of the way.
People swear that these hiking poles ease them by saving energy and providing support to balance their weight on mountains during the hike. This trekking pole prevents you from falling while walking with snowshoes.
Some of the hiking poles come with foldability features that allow the How to attach a Hiking Pole to a Backpack to telescope down to a manageable length; hiking poles are easy to carry, and you can keep them in your backpack when not in use.
But some hiking poles don't possess this feature and becomes a burden for you when you are not using them, and you will have to hold them for the rest of your hikze.
But there's a solution to this problem as well. You can attach your hiking pole to your backpack by following some steps.
We have brought to you a complete and definite guide in which we have compiled all the possible ways you can use to attach your hiking pole to your backpack.
Most of the backpacks have additional connecting points. You can make those points useful for your concerns in different ways.
Let's look at all the possible steps you can take for this purpose.
Table of Contents
Methods for How to attach a Hiking Pole to a Backpack
1- Using attachment points on the backpack:
Nowadays, a backpack available in the market somewhere has specific attaching points, just like a closed loop that can be loosened or cinch tight.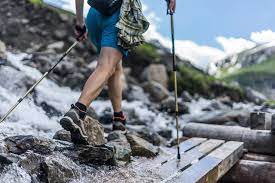 How to attach a Hiking Pole to a Backpack
All you have to do in this method is to relieve the cinch, cross your hiking pole through the loop pointing up towards the top of your backpack, and pull the cinch tight.
If you such kind of backpack that features such type of attaching points, then follows the following steps to secure your hiking pole:
Place your hiking pole alongside your backpack with its handle pointing towards the top of your backpack.
Tighten the loop around your hiking pole.
Now attach the lower part of your hiking pole to the lower loop of your backpack. This will ensure that your trekking hiking pole will not fall.
Now press your trekking hiking pole to check whether it is fixed or not.
For extra safety, tie down the strap of your backpack across the hiking pole that will hold it in place.
Follow the same approach to attach another hiking pole (if you have one).
2- Using side pockets of your backpack:
This approach can be helpful for those whose backpack doesn't feature any straps or loops to hold their trekking hiking poles.
Almost every backpack must have meshed side pockets with a compression strap hanging alongside. If your backpack doesn't have any loops and straps, this method is for you. You can get your hiking poles attached to your backpack by following these steps:
Push your trekking hiking pole in the side pocket of your backpack.
Pull the compression strap around your trekking hiking pole and tie down the strap tightly to ensure that your hiking pole is secure.
Fix the hiking pole with your backpack so that it might not fall.
3- Using compression straps
If you have a backpack with no side pocket but do possess compression straps, you can still attach your hiking pole to your backpack without outsourcing any additional strap.
These straps can be anywhere on your backpack either than the sides of your backpack. You can attach your hiking pole to your backpack by following these steps:
You can use your backpack's compression strap and shots for this method. Shots are the points that allow you to attach a compression strap at any location of your backpack. Locate those shots first.
Lose the compression strap and pass your hiking pole through the strap.
Tie the straps around the hiking pole to ensure that the hiking pole is secured.
Note: This method is helpful for those whose trekking hiking poles cannot reduce to a suitable size. This method is only applicable if your trekking hiking poles have a basket on them because some trekking hiking poles don't have a basket on them.
4- Using top of the backpack to attach hiking pole:
This method is a lifesaver for those people whose backpacks don't possess any additional supporting features, i.e. compression strap, side pockets, or any attachment point. The solution is to put your trekking hiking pole on the top of your backpack and tie it down in place.
If you are carrying a huge backpack on your hike, then you can follow the following approach to apply this method:
Put your hiking pole horizontally on the top of your backpack at the place of the large compartment of your backpack.
Now close the backpack's lid tightly and set the hiking pole in place.
Note: This method is only helpful if you are hiking in an open landscape. Otherwise, this can cause a little crossbar across your back.
Some of the backpacks don't have the top tie-down lid or strap, then there's only one option left behind to attach your hiking pole to your backpack, and that is to secure your hiking pole to the body of your backpack.
Lay your hiking poles alongside your backpack in such a way that their handles point downwards.
Zip-out the backpack from the opposite side and close it.
The points should stick out on the top of the backpack.
Precaution: If you are using this approach, then be careful while you turn around as it may harm your hiking partner's eyes.
Some additional tips on packing hiking poles to your backpack
If you are carrying your trekking hiking poles separately from your luggage, there is a big chance that you may lose them. Moreover, they will also cause discomfort to you during your travel. So try to pack your hiking pole with the rest of your luggage.
If you are buying a trekking hiking pole, try to get your hands on the one that telescopes down and can be kept in your backpack. During your travel, this will help you with those airlines that don't allow hiking poles in the cabin baggage.
If you are travelling by train, try to keep them attached to the backpack you hold with you. This will keep your hiking pole safe from being stolen or damaged.
Wrong ways to attach hiking poles to a backpack that must be avoided
Make sure that your hiking poles are attached to your backpack. Avoid connecting them separately. There is more chance of losing them.
The top of the backpack attaching approach should only be used when there is no option left behind as this causes imbalance on mountains during your hike.
Try to use compression straps and cinch able loops to attach your hiking poles to your backpack. Don't go for any other option if you have them.
After tying the hiking poles, make sure to adjust them properly. If you don't do so, this may cause soreness and ache in muscles and joints. So, adjust the hiking poles in a balanced way.
Wrapping up
Hiking poles are the primary tool of your hiking adventure that helps you walk at ease.
This article was all about "How to attach a Hiking Pole to a Backpack?" We hope this guide has helped you learn the way of attaching your hiking pole to your backpack and have enabled you to do it efficiently.
We have mentioned all possible ways that you can use to manage your hiking poles, and will offer you more ease in hiking without any worries and let your hands-free to take pictures of the beautiful scenery of nature.
Belle A. Macha
Belle A. Macha is a professional blog writer specializing in Backpacks. She writes every blog covering the latest trends and styles in backpacks, bags, and everyday carry according to her own experiences and extensive research.
Related Posts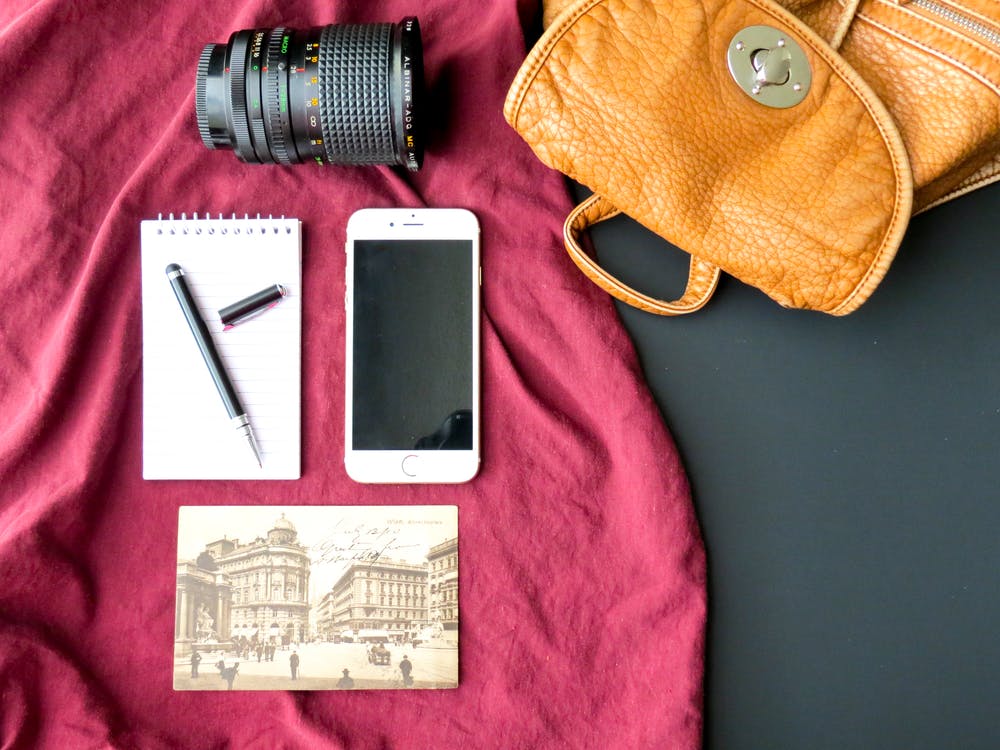 How to Organize Backpack: Step by Step Guide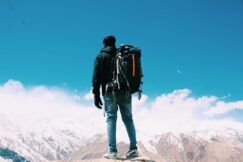 How to Pack Backpack for Travel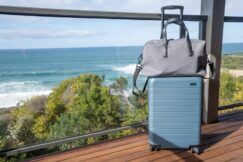 What is Allowed in a Carry-On Bag? Best Travel Information!
Leave a Reply Cancel reply
Backpacks Geeks is reader-supported. When you buy through links on our site, we may earn an affiliate commission.
About Us
BackpacksGeeks is the most trusted resource for backpacking Tips and Hacks. We also reviews Backpack Products That help you to save time and make The Right Decision.
Other Links
Affiliate Disclosure
We are a participant in the Amazon Services LLC Associates Program, an affiliate advertising program designed to provide a means for us to earn fees by linking to Amazon.com and affiliated sites.
Trekking Pole Tripod
By jeffkobi Follow
Headed to Zion NP to do some backpacking in the Virgin Narrows and didn't want to lug a tripod around with me. Since there were two of us going (and 4 trekking poles), I figured I had enough poles for a last-minute tripod. Entire project done in the one hour before heading to the airport, including wandering the hardware store! I love living next door to Discount Builders!
—SUPPLIES—
2-6″ Flexible Gas Conduit (about 3/4″ in diameter)
2x 1/4-20×1″ Hex Bolt
1/4-20 Long Nut
1/4-20 Washer
5-Minute Epoxy
Trekking Poles
—TOOLS—
Metal Saw (Sawzall or hacksaw)
Metal File
1/4-20 Tap/Drill Set
UPDATE: Just came across this design on the web, looks to be a bit sturdier though maybe 10x the weight. Either way, another option!
Step 1: Prep Conduit
I was originally planning on using some sort of flexible copper piping, but found this gas conduit instead. Unfortunately the tube cost $13 since it was a full assembly . . . I doubt any place would sell this stuff any other way (except at a junkyard of course!)
Pretty easy step here, cut the conduit to size and file any rough edges that may remain. I used about 4-inches since I wanted to be able to bend the tripod 90-degrees for portrait shots. As a note, I found this length to be a bit long for super-stable shots, as the weight of the camera "bounced" if you weren't careful. If you're using a heavy camera definitely go shorter! To dampen this bouncing, you might find it useful to fill the conduit with something like sand . . . but that of course adds weight!
Step 2: Epoxy Top Bolt
Next, take one of the 1/4-20 bolts (same thread for camera tripods) and fit it into one end of the conduit with the threads sticking out as shown. The hex head was slightly too large to fit in the conduit, so I put it in my drill chuck and filed it down until it did fit!
Once the bolt fits in the conduit, figure out how much thread you need to stick out in order to firmly connect your camera. Don't forget to do your test fit with a 1/4″ washer in place.
Once you feel you have the correct amount of thread sticking out, epoxy the bolt and washer in place. I placed a dab of epoxy, let it dry, then filled the rest of the cavity in order to avoid messiness. Of course later I realized that I should've just plugged the conduit beneath the bolt (see next step)
Step 3: Epoxy Bottom Nut
Next epoxy the long 1/4-20 nut into the other end of the conduit. To keep things from getting too messy, I stuffed some kleenex down the conduit, and also into the end of the nut (to keep the epoxy from working it's way back up the nut thread) No need for a washer since this side screws into the trekking pole.
The reason I decided to use a nut on this side instead of another hex bolt was so that I could screw the camera directly into the trekking pole (to use as a monopod) I I wanted to.
Step 4: Drill and Tap Trekking Pole
Luckily, the end of my trekking poles were a pretty thick plastic. To make sure, i first removed the wrist straps by lightly tapping the press-fit pins out.
Next, tap and drill a 1/4-20 hole in the top of the trekking pole. Make sure you've got enough thickness for at least three threads! If not, you could easily end up stripping the plastic threads.
Once you've got your hole tapped, reattach your wrist-straps and connect the flexible conduit tube you just made!
To keep things light, I just tied the tapped trekking pole and two others together to create the three legs. This worked surprisingly well and was even stable enough for night shots!
Source https://theoutdoorfanatic.com/how-to-carry-a-tripod-while-hiking-helpful-examples/
Source https://backpacksgeeks.com/how-to-attach-a-hiking-pole-to-a-backpack/
Source https://www.instructables.com/Trekking-Pole-Tripod/