From The Mountains To The Beaches: 5 Easy Coastal Hikes
While our Southeastern coastline is home to beautiful beaches and winding Intracoastal waterways, it also shelters incredible wildlife preserves, state parks, and hiking trails. The elevation change may not be much, but the scenery offers a refreshingly salty change of pace. From tidal marshes and winding boardwalks to greenways and pine forests, our coasts have a little something for everyone. The following trails are all rated as easy hikes, are perfect for the family, and allow the pups on a leash.
Photo: Virginia State Parks
First Landing State Park Trails, Virginia
Ranging from shorter three-mile loops to over eight-mile out-and-backs, the trails at the 2,888 acre Frist Landing State Park in Virginia Beach can be pieced together to make it as short or as long as you'd like. With scenic water views, wooded hammocks, and Intracoastal beaches, the park has the perfect mix of the woods and the sea. During your hike, there are a couple beaches that are perfect for you or Fido to take a dip and cool off.
Located on the Northern point of Virginia Beach near Cape Henry Lighthouse, the First Landing State Park trail system makes for a quick and easy hike for beachgoers.
Photo: North Carolina Coastal Federation
Patsy Pond Trails, North Carolina
The Patsy Pond Nature Trails are located within the massive, 159,000 acre, Croatan National Forest in the middle of North Carolina's Coast. This trail system consists of three loops ranging from .75 mile to 2 miles and meanders through an old pine forest, grassy marshes, and the banks of several ponds.
This massive National Forest is less than a 30-minute drive from many popular North Carolina beach towns like Jacksonville, Atlantic Beach, and Emerald Isle.
Photo: South Carolina Parks
Huntington Beach State Park Trails, South Carolina
Alligators on one shoreline, sharks on the other, what more could you ask for? Toothy predators aside, the main loop at Hunting Beach State Park is beautiful. At just under three miles long, the trail takes you over a boardwalk, through a coastal forest, across tidal flats, and ends up at the beach. The park is rich in wildlife and features some of the best coastal birdwatching in the Southeast.
Located just 30 minutes south of Myrtle Beach, Huntington Beach State Park is a timeless representative of South Carolina's well preserved upper coastal plain.
Photo: Georgia State Parks
Skidaway Island Trails, Georgia
Located in Skidaway Island State Park, just Southeast of Savannah, this 588-acre state park has six miles of hiking trails to explore. Consisting of everything from island hammocks to tidal creeks, salt flats to alligator ponds, the terrain you'll cover is as diverse as the wildlife that calls it home.
Skidaway Island is less than 30 minutes from Downtown Savannah and is a quick outdoor getaway for folks looking to take a break from the city or the beach.
Boneyard Beach on Big Talbot Island, Florida
That's right…I said Florida. It may not be a part of the Blue Ridge, but in this post, we're traveling to the beaches, and in my opinion, Northeast Florida has the best of them. Located in Duval County, Boneyard Beach is on the Eastern edge of Big Talbot Island State Park. This apocalyptic stretch of sand looks like something out of a movie. The skeletal remains of fallen trees line the entire beach, forcing visitors to jump, duck, and crawl their way across the sand. With close parking and easy access, this picturesque stretch of coastline is one of Northeast Florida's most photographed places.
Also known as Driftwood Beach, it is only 30 minutes from I-95, making it an easy pit stop for folks headed south. Winding through windswept Scrub Oaks along the coast, the A1A corridor from Fernandina to Jacksonville is worth the trip alone.
Most of us go to the beach to swim, surf, and work on our sweet bronze bods. That's a given, but keep in mind, you may be able to take the hiker out of the mountains, but you'll never take the mountains out of the hiker. Next time you're on the coast, go for a hike.
Justin Forrest is an outdoor writer, fly fishing addict, and co-founder of Narrative North—based in Asheville, N.C. He posts pictures of cats and fishing on Instagram sometimes.
Are there u.s vacation spots with beaches and hiking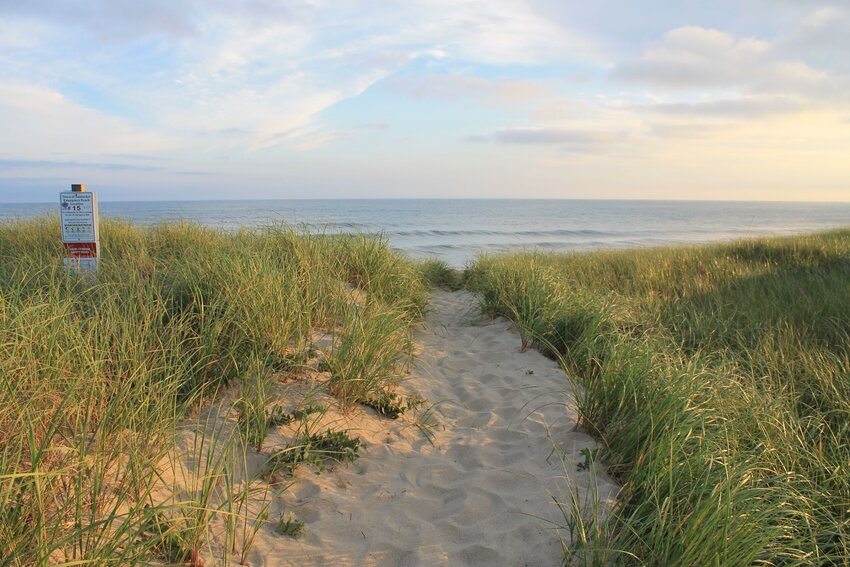 One of the best things about a great beach vacation? You don't need a passport. There are plenty of exotic, exciting, and secluded beaches right here in the U.S. and the size and scope of the country allows for diverse experiences on either coast. Whether you're hoping to ride big waves, lay above the sand in a hammock, or explore sea caves, there's a domestic beach for you to explore.
Outer Banks, North Carolina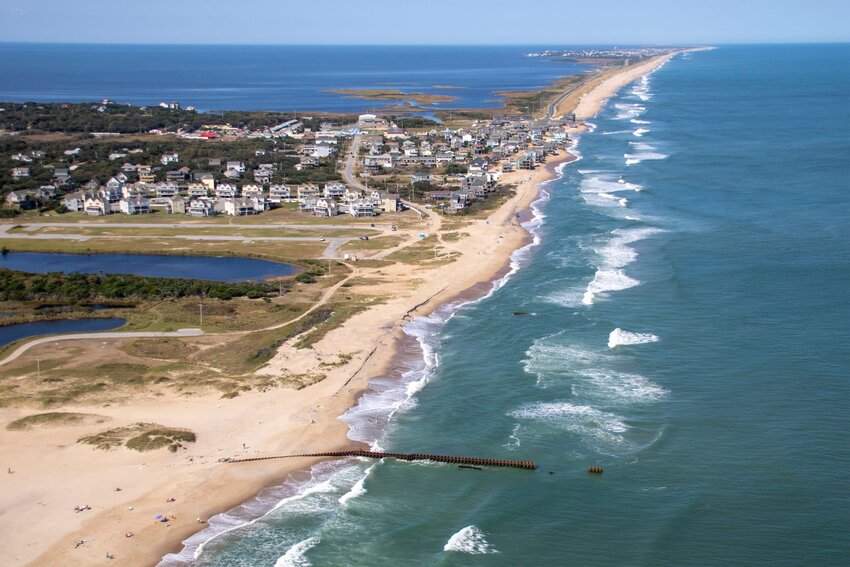 Photo by Jason Schronce/Shutterstock.
Famous for its spacious beaches, sandy dunes, and picturesque lighthouses, the Outer Banks is a classic beach vacation destination. Located off the coast of North Carolina, the chain of barrier islands is dotted with different towns, most of which provide vacation rentals, kitschy shops, and village marinas. Referred to as "OBX" by the locals, the Outer Banks offers plenty to do on the water, with fishing, surfing, and windsurfing drawing visitors to the coast. Its pristine beaches also provide a healthy habitat for wildlife, including the wild ponies of OBX. Believed to be the descendants of shipwrecked Spanish mustangs, these wild horses can be spotted roaming the region's northernmost beaches.
Fire Island, New York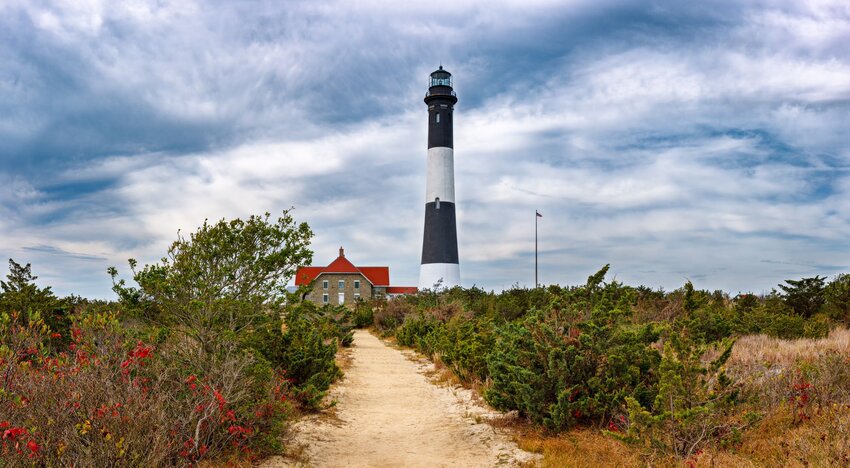 Photo by Francois Roux/Shutterstock.
Another barrier island located across Long Island's Great South Bay, Fire Island is sought after by New Yorkers looking to escape the concrete jungle. Since Fire Island is filled with various rental communities, it also makes for a great domestic beach vacation. From families to lively singles (including a thriving LGBTQ scene), each Fire Island community has its own distinct personality that attracts beachgoers of all types. In addition to the 32 miles of continuous sandy beach along the Atlantic, this National Seashore is home to the Sunken Forest, an otherworldly preserve that's hidden behind the dunes. Since vehicles are not permitted on most of the island, cruiser bicycles with large baskets are requisite for getting around, adding to the island's laid back vibe.
Bandon's Beaches, Oregon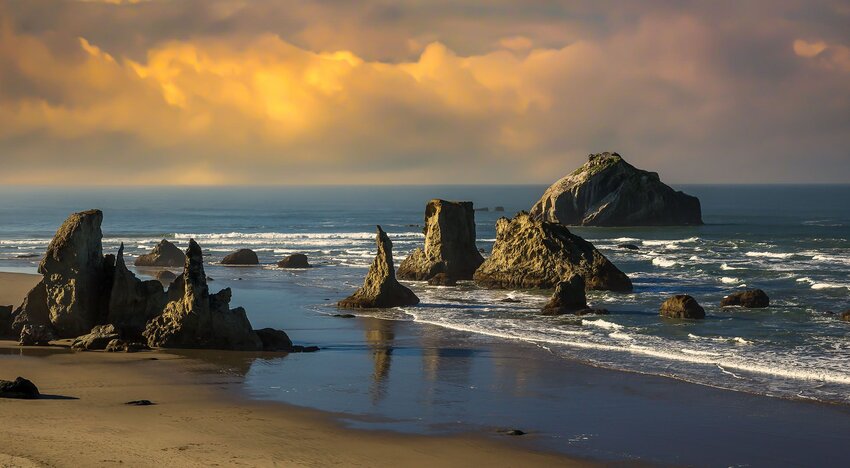 Photo by Bob Pool/Shutterstock
For a more rugged beach vacation, Bandon's Beaches combine the wild beauty of the Oregon coast with the adventure and charm of the Pacific Northwest. Consisting of a network of sandy beaches off Route 101, Bandon's Beaches are filled with rocky outcrops, tidal pools, and caves, making it an ideal spot to explore the coastline. Snapping photos of Bandon's iconic rock formations or viewing the elaborate sand artwork created during low tide should also be on your to-do list. Year-round, kayakers frequent the beach's marshes and estuary, both of which are spectacular for bird watching.
Sanibel Island, Florida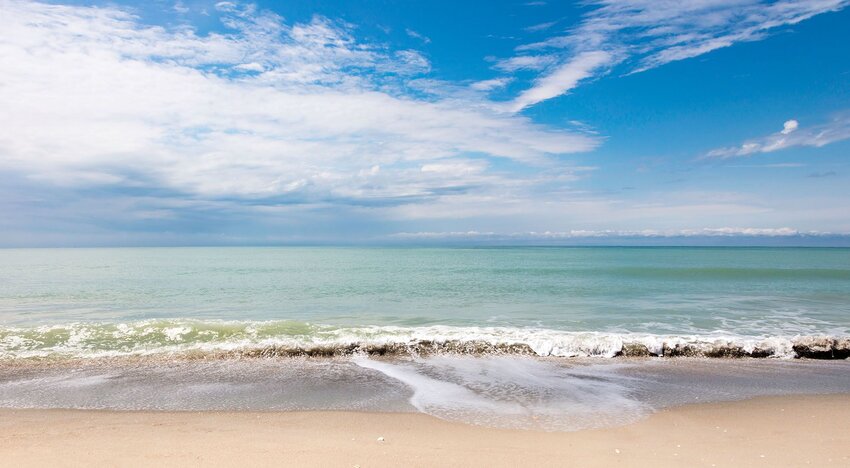 Photo by ulrich missbach/Shutterstock.
Sanibel Island is proof you don't need to travel far to find a beachy paradise. Located 17 miles from Fort Myers on the Gulf Coast, Sanibel is connected to the mainland via a roadway bridge, making it easy to get to by car. At 15 miles in length, the sandy beach runs the entirety of the island's western coastline, providing incredible views of the Gulf of Mexico's turquoise waters. The island's relaxing, coastal feel is appealing for visitors who want to spend their vacation in a hammock by the beach. For more active visitors, Sanibel offers plenty to do on the water, with boating, fishing, and snorkeling excursions available from local companies. And since Sanibel runs perpendicular to the mainland, its beaches are teeming with exotic shells, making it a top vacation spot for beachcombers.
Nantucket, Massachusetts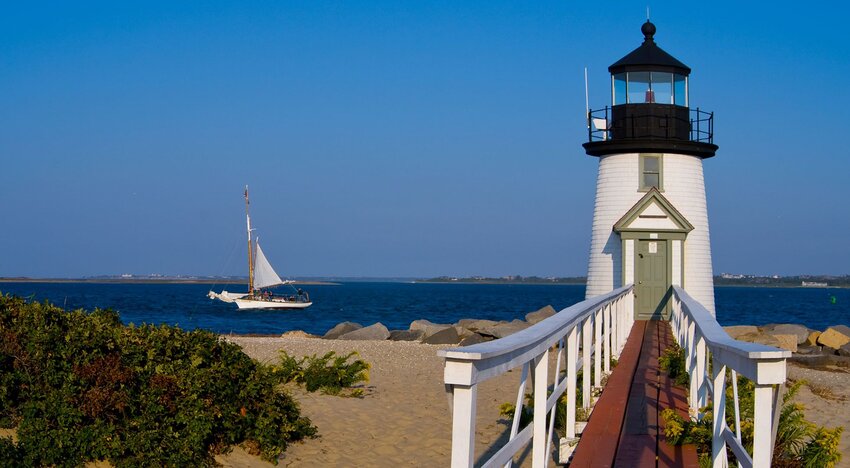 Photo by Allan Wood Photography/Shutterstock.
Derived from the Wampanoag word for "faraway place," Nantucket Island isn't easy to reach. Once you get there, however, you'll be happy you made the trip. With plenty of beaches to choose from, Nantucket is just the spot for anyone who wants to spend their vacation in the sun, sand, and sea. In addition to the beach, the 14-mile island is filled with 35 miles of bike trails that are frequented by beachgoers, as parking on the island can often prove difficult. Biking is also one of the best ways to see the island, from cycling through the cedar-shingled village of Siasconset to watching the sunset at Brant Point Lighthouse. On rainy days, a visit to Nantucket's Whaling Museum is in order, followed by shopping at the local island boutiques or strolling through the historic district's cobblestone streets.
Monterey, California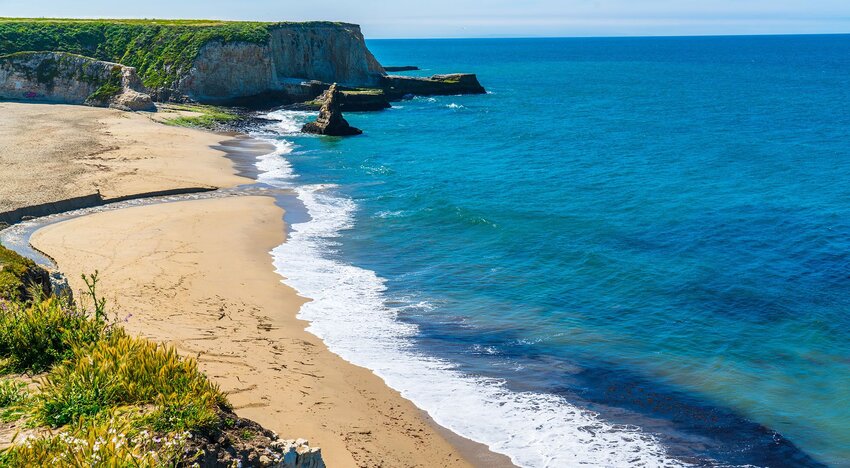 Photo by Roschetzky Photography/Shutterstock
For a domestic beach vacation that provides unparalleled beauty paired with sophistication and culture, Monterey has it all. With 99 miles of spectacular California coastline in Monterey County alone, it's also the perfect destination for any kind of beach-related activity. Surfers and swimmers alike flock to the region to catch the rolling Pacific waves, while divers gravitate towards the kelp forests off the coastline. Animal lovers can take advantage of dog-friendly beaches, such as Carmel Beach and Asilomar State Beach, while whales are often spotted from Lovers Point. Whether it's a weeklong vacay or a weekend getaway, the town of Monterey is a good home base, with restaurants, hotels, and the Monterey Bay Aquarium to pass the time on a foggy morning.
The Best Beach Vacation Destinations for Adventure
Kraig Becker is a writer based out of Roanoke, Virgina who has covered adventure travel and product reviews for TripSavvy since 2013.
There is a misconception among many travelers who believe that you can't go to the beach and have a great adventure at the same time. Nothing could be further from the truth, however. As with most other destinations, the beach can provide some opportunities for epic excursions and heart-pumping activities. Here's a list of some of the best places to go to enjoy both an amazing beach setting and a grand adventure at the same time.
Nevis (Caribbean)
Zen Rial/Getty Images
The Caribbean is certainly a fantastic place for anyone looking for a bit of rest and relaxation on the beach, but there is also plenty to do for those who prefer to stay active while on holiday. For instance, the island of Nevis actually has a bourgeoning cycling scene both on and off road.
Road riders will want to stick to the main road that runs completely around the island, offering some wonderful views of the ocean and island landscapes while en route. Mountain bikers can explore those settings further by leaving the road behind completely. In the island's interior they'll discover some great jeep trails and single track that that range from very easy to quite challenging.
While on Nevis you can also go hiking or climbing as well, so there are several adventurous ways to explore this island paradise.
Pembrokeshire Coast (Wales)
The Pembrokeshire Coast on the southwestern shore of Wales is a magnet for adventurous travelers who enjoy coasteering, cliff jumping, surfing on scary reef breaks, and swimming in sea caves. And that's just what happens in the water. On land, there is plenty of hiking and biking along the 186-mile Pembrokeshire Coastal Path, rock climbing on sea cliffs, and riding horses in the sand. If you enjoy exploring, there are more than 40 Iron Age promontory forts, Norman and Medieval castles, and towns to wander through, too.
Freshwater West and Newgate are good starting locations for adventurers. If you're a surfer, Fresh is a huge coastal area with large peaks along the main beach and good breaks in the smaller bays further to the south.
Coasteering (scrambling up a cliff while wearing a helmet, a wetsuit and life jacket, then jumping back into the whitewater surf below) is popular here, too. St. David's is the starting point for many of the most popular coasteering trips in the region.
Hamilton Island (Australia)
Australia's Hamilton Island on the Great Barrier Reef is a top beach vacation destination for travelers who love combining sunbathing on soft sand with a healthy dose of adventure too. Catseye Beach is a prime choice for people who like to snorkel and scuba dive around colorful coral in tranquil waters or course, but there is much more to offer here as well.
Away from the beach, you can go kayaking, parasailing, wakeboarding, and enjoy other water sports. Adventure sailing on a 36-foot catamaran is a popular option as well, giving travelers a chance to hang off the side of the boat on the 'trapeze,' or try boom netting in the front of the ship.
For something completely different, take a day trip to Reefworld where you can board a semi-submersible vessel and watch fish through glass in an underwater viewing chamber. Afterwards, travelers can take to the sky on a scenic helicopter flight over the world famous Heart Reef.
Santa Monica (California)
Gary Weathers/Getty Images
With a trapeze school right by the shore, non-stop beach volleyball games, great waves for surfing or stand-up paddling, and nearby hiking and mountain biking trails, one could say an active, adventurous lifestyle is a part of Santa Monica's DNA. Travelers can join locals in the waves of the Pacific Ocean, or explore the challenging terrain on the trails that overlook the beach from the nearby Santa Monica Mountains.
The South Coast Bicycle Trail stretches along the sand from Malibu down to Torrance and offers great riding for cyclists of all ages and experience. The trails are a great way to stay close to the beach, with plenty of opportunities to stop for a quick dip in the ocean and seek refuge from the warm, Southern California sun.
Hikers and bikers still find panoramic and breathtaking views, from the dozens of trails threading the Santa Monica Mountains. The 17-mile Paseo Miramar/Temescal Canyon Loop challenges mountain bikers with over 4,300 feet of vertical gain, with the toughest segments generously cooled by the ocean breeze. Alternatively, the Lemming Trail offers hikers 12 miles of strenuous terrain stretching from Tarzana to Temescal along the Pacific Coast. If you're braving the terrain, you might want to carry along one of these backpack coolers to keep your on-the-go snacks and drinks nice and cold,
Penghu Archipelago (Taiwan)
Wan Ru Chen/Getty Images
Made up over over 50 picturesque islands, Taiwan's Penghu Archipelago is another surprising destination for adventure travelers. Located just north of the equator, Penghu is the perfect tropical escape for spring and fall visits. The warm turquoise waters are surrounded by towering basalt cliffs and lined by pristine white sand beaches with abundant corals to be explored.
Sea kayaking is one of the best ways to explore the Penghu Archipelago, and it is the only way to visit many of the breathtaking basalt columns on the uninhibited inlets. This makes it a paradise for paddlers who will enjoy the crystal clear waters and breathtaking landscapes that are found there.
Adventure travel company LittlePo Adventures offers a number of itineraries for those who want to explore this region, which has remained true to its cultural and historical roots. The tiny fishing villages remain largely unvisited by outsiders, making it an amazing place for those looking to escape the crowds.
West End Cliffs (Jamaica)
Doug Pearson/Getty Images
Cliff jumping provides an adrenalin rush to many visitors on a beach vacation at one of the resort perched on Negril's West End Cliffs in Jamaica. But if you're not staying in that part of the island, all is not lost. Just hop in a car or take a taxi for a quick ride to the cliffs where you can get your chance to take this leap of faith for yourself.
The bluffs range in height from just a few feet above the water, up to about 40 feet above the ocean. Cliff jumpers and divers often scramble up the side of a rocky bluff to choose the height from which they want to make their plunge. If leaping from a cliff sounds too risky, simply head to Tensing Pen resort where you can make the leap into the water from a bridge instead.
Along the famous Seven Mile Beach (which is actually about four miles in length), sunbathing beachgoers can enjoy a variety of water sports, such as kayaking, sailing, and jet skiing. Breezes Runway Bay Resort has multiple trapeze nets for guests who want to give that high-flying activity a go too.
Manuel Antonio National Park (Costa Rica)
TripSavvy / Kathleen Messmer
Manuel Antonio National Park may be a tiny destination on Costa Rica's coast, but between the beaches and the rainforest it has everything an adventurous traveler could possibly ask for. Visitors can relax on the crescent-shaped beaches lined by lush forests on one side, then cool off by snorkeling around the coral reefs found just offshore.
Hiking trails meander through the park's rainforest, providing opportunities to explore that setting as the squirrel monkeys chatter overhead. Keen-eyed visitors might even catch a glimpse of sloths, iguanas, and colorful tiny crabs along the way too.
Surfing, scuba diving, sea kayaking, and sport fishing are all popular activities in the area, not to mention visiting the tiny islands dotting the bay. Day trips can include everything from zip lines and canopy tours in the rainforest to boat rides to a remote island where white-faced monkeys, caymans, and even boa constrictors make their home amongst the mangrove forests.
Cape Town (South Africa)
Iulia Damian / EyeEm/Getty Images
Cape Town, South Africa is another destination that features fantastic beaches, although the waters found offshore can be quite chilly at times. Considering all of the adventurous activities to do there, chances are you'll want to spend less time relaxing in the sand in favor of exploring the local landscapes instead.
Sea kayaking is a popular activity for those visiting Three Anchor Bay, giving paddlers a chance to cross three oceans in a span of just a couple of hours. Back on shore, coasteering is a popular option as well with travelers leaping into the water from the tops of high rocks, scrambling along rugged shores, and encountering curious penguins along the way.
The truly brave can even test their nerve by going cage diving with great white sharks. Where else can you get up close and personal with one of these fearsome predators and still live to tell the tale?
The Canary Islands
Hermann Erber / LOOK-foto/Getty Images
The Canary Islands may have a reputation for drawing a large number of visitors from Europe, but there are still some remote locations that remain well off the beaten tourist track. Take for example La Palma, a seldom visited island that offers excellent mountain biking, including an excursion into a massive caldera of a long extinct volcano.
Visitors to the Canary Islands will also discover good surfing, snorkeling, and diving, not to mention opportunities to go whale watching, too. Further inland there are opportunities to stretch their legs on a hiking trail as well, with Teide National Park as particular stand out for those who prefer to explore on their own two feet. In the park adventurous travelers can trek to the top of one of the tallest peaks in the islands, the 12,198-foot Teide volcano. To say the view from the top is spectacular would be an understatement.
Waikiki Beach (Hawaii)
Millions of visitors each year sunbathe on this strip of sand, which is backed by dozens of multi-story hotels on one side and rolling waves as far as the eye can see on the other.
But look a bit closer and you'll discover some great opportunities for adventure. For instance, just offshore you'll find wanna-be surfers learning the basics of the sport, and further out you'll see experienced surfers and stand-up paddlers riding some surprisingly big waves. It's also not uncommon to see outrigger canoes helmed by local boatmen who are experts at navigating the swells that form just off the beach.
Don't be fooled by the beautiful, tranquil setting found along this stunning beach setting. Just offshore the currents can be difficult and dangerous, and the waters can get quite rough, making it a challenging place to swim or snorkel. When venturing out into those waters, be sure to take caution, or you may find yourself on a bigger adventure than you had ever asked for.
Source https://www.blueridgeoutdoors.com/hiking/from-the-mountains-to-the-beaches-5-easy-coastal-hikes/
Source https://www.thediscoverer.com/blog/6-beach-vacations-spots-in-the-u-s/YH8qp37DyQAGnL2s
Source https://www.tripsavvy.com/best-beach-vacations-for-adventure-travel-4172239