Dupont State Recreational Forest
Featuring an array of stunning destination features such as the mighty waterfalls of the Little River, DuPont State Recreational Forest, or DSRF, has quickly become one of the most popular recreation areas in the Mountains since its opening in the mid 1990's.
Bridal Veil Falls from the Side Lake Julia in Fall Color
North Carolina's first State Recreational Forest is located southeast of Brevard in North Carolina's Blue Ridge Mountains. DuPont is 10,400 acres in size, and offers almost 100 miles of recreational trails providing access to its attractions.
Originally considered a regular State Forest, DuPont earned the "Recreational" part of its name in 2011 when a bill was passed emphasizing management of the area's recreational aspects, including trails.
Hiking Opportunities
Some trails pass over large expanses of solid rock on large granite domes. Others twist through the woods, offering more traditional Carolina style. Nearly all trails are multi-use (biking, hiking, and equestrian) and they are well signed and well marked.
There are five main parking areas at DSRF: at Hooker Falls, High Falls, Guion Farm, Fawn Lake, and Corn Mill Shoals. We'll break down our overview of the hiking available in DSRF by what's accessible from the various parking areas.
In the Hooker Falls Area
This is the largest parking lot in the forest and even though it can hold a lot of vehicles, it fills up on busy weekends. But it's easy to see why. From there, you have access to some of DSRF's most popular destinations, including 4 of the major waterfalls in the forest.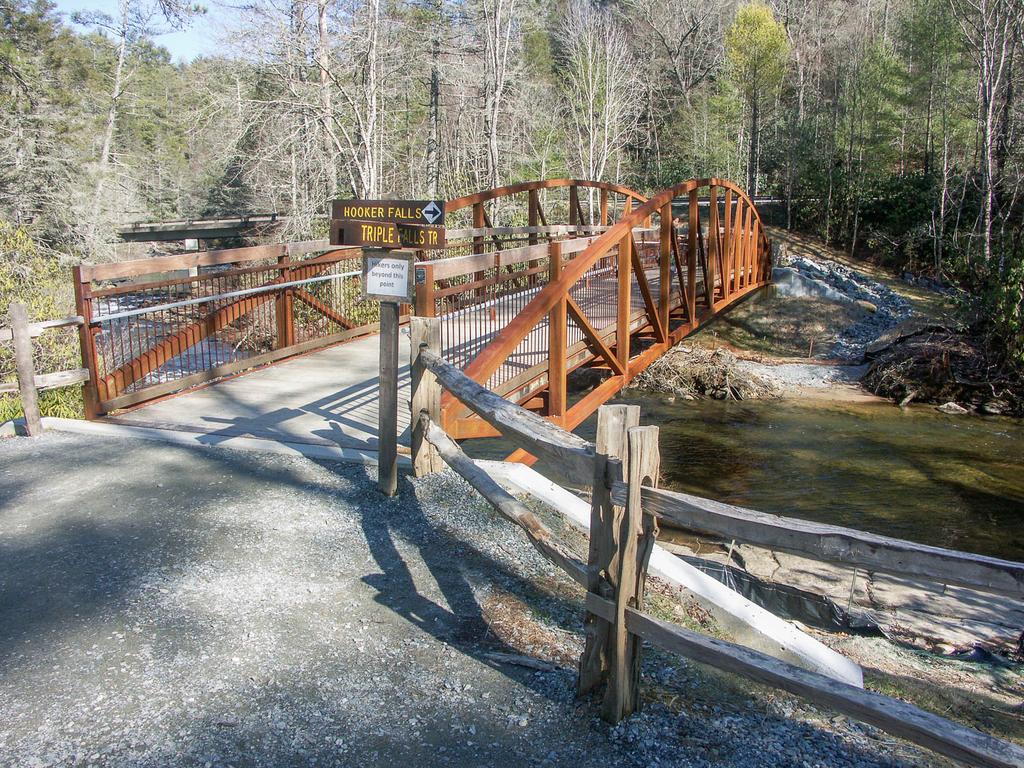 New footbridge at the Hooker Falls parking area and Hooker Falls and Triple Falls trail junction.
The Hooker Falls Road trail leads downstream a short distance on the Little River to Hooker Falls, a scenic ledge-type falls which plunges into a deep swimming hole. Observe from the wheelchair accessible deck above, or from the large, flat rocks at the edge of the pool below. Head upstream on a moderate hike via the Triple Falls and High Falls trails to reach the waterfalls of the same name.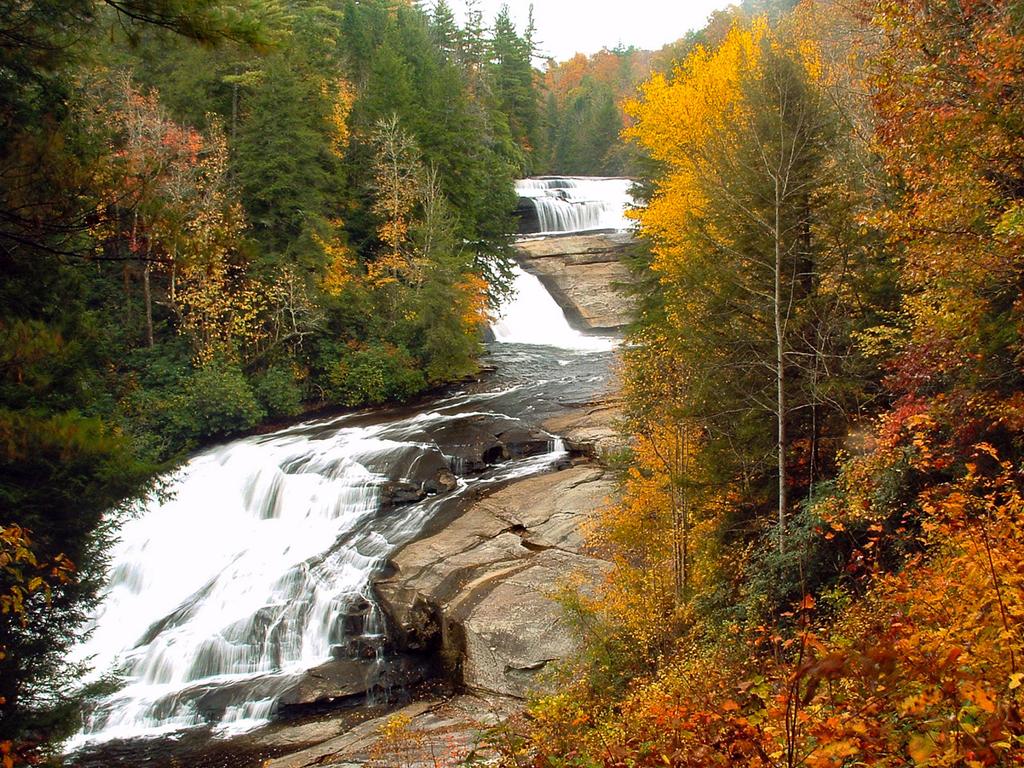 Triple Falls in Fall Color, Dupont State Forest
Triple Falls is a unique beauty and High Falls is the highest on the Little River, and shouldn't be missed. While these are some of the easier destinations, you can also make longer loops from this parking area by including (for instance) the Holly Road and Lake Imaging trails. Or head on up to Lake Dense for a relaxing picnic or a refreshing swim, not too much farther beyond High Falls.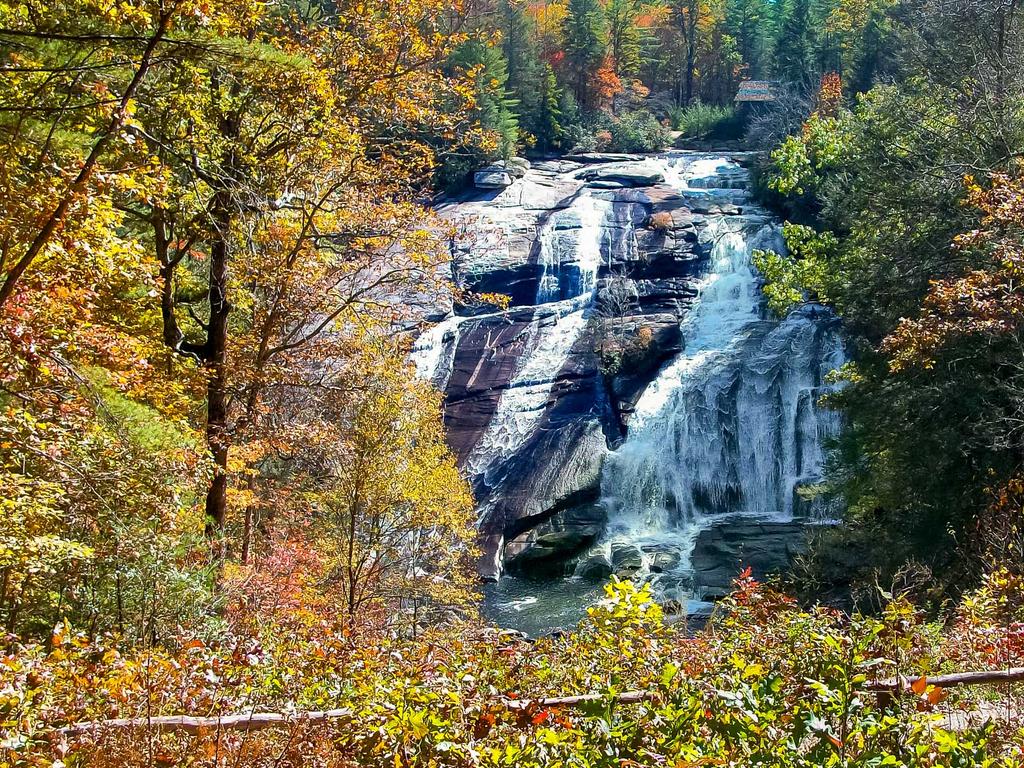 High Falls in Fall Color
The DuPont Waterfalls and Lakes Tour hike starts at this parking area and includes nearly all of the waterfalls and several scenic lakes in the Forest. We think that hike pieces together some of the best trails and destinations in DuPont mentioned above!
In the High Falls Area
This parking area is right in the heart of the forest and includes the main visitor center, with upgraded restrooms featuring running water.
The High Falls parking area is just up the road from the Hooker Falls area, and as such, many of the same trails are accessible from there. But it's closer to High Falls, and Triple Falls is downhill from there instead of up.
Looking for a swimming hole? This parking area is also close enough to Lake Dense, and its clear water is inviting on a hot summer day. Larger Lake Julia and Bridal Veil Falls are also close enough to make an easy hike. Longer distance treks from here might include the summit of Joanna Mountain overlooking Lake Dense, or some of the more remote areas around Reasonover Creek. Most of the forest is accessible from this parking area if you're ready to put in more mileage.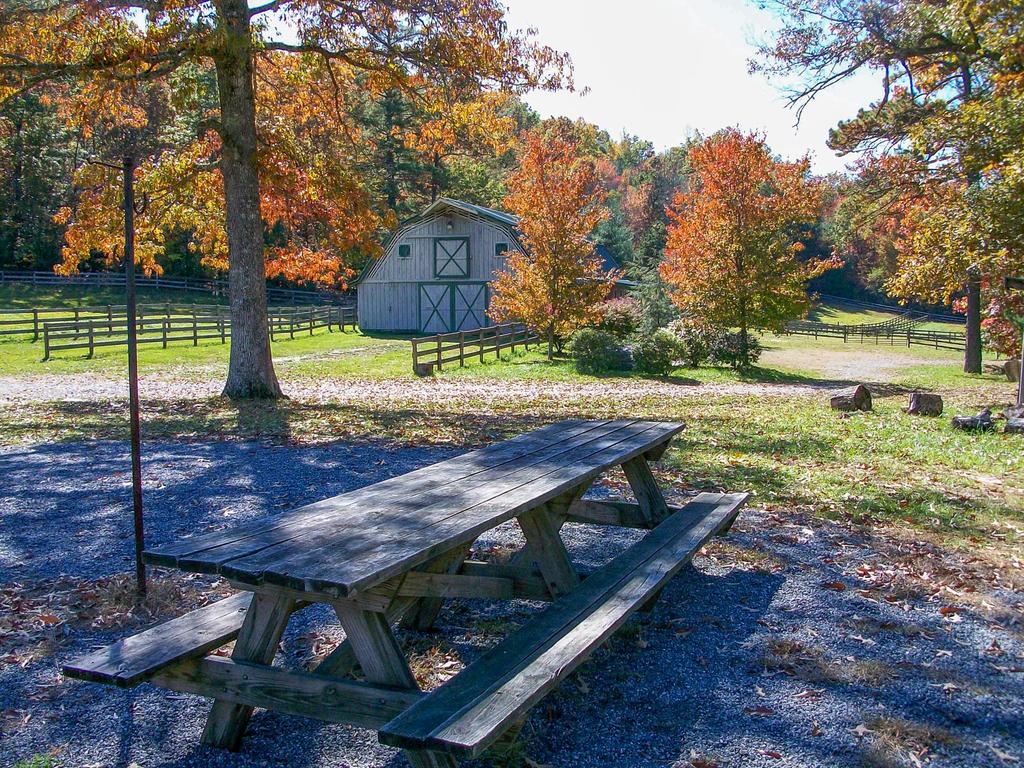 The Barn
In the Guion Farm Area
This parking area is over on the northeast side of DSRF, at an old farmstead. It's close to DuPont's highest peak, Stone Mountain, which makes a good destination for a more difficult hike. Wintergreen Falls is a good moderate destination via the Tarkiln Branch and Wintergreen Falls trails. A whole host of opportunities exists back toward the west, including longer hikes to the larger waterfalls mentioned above.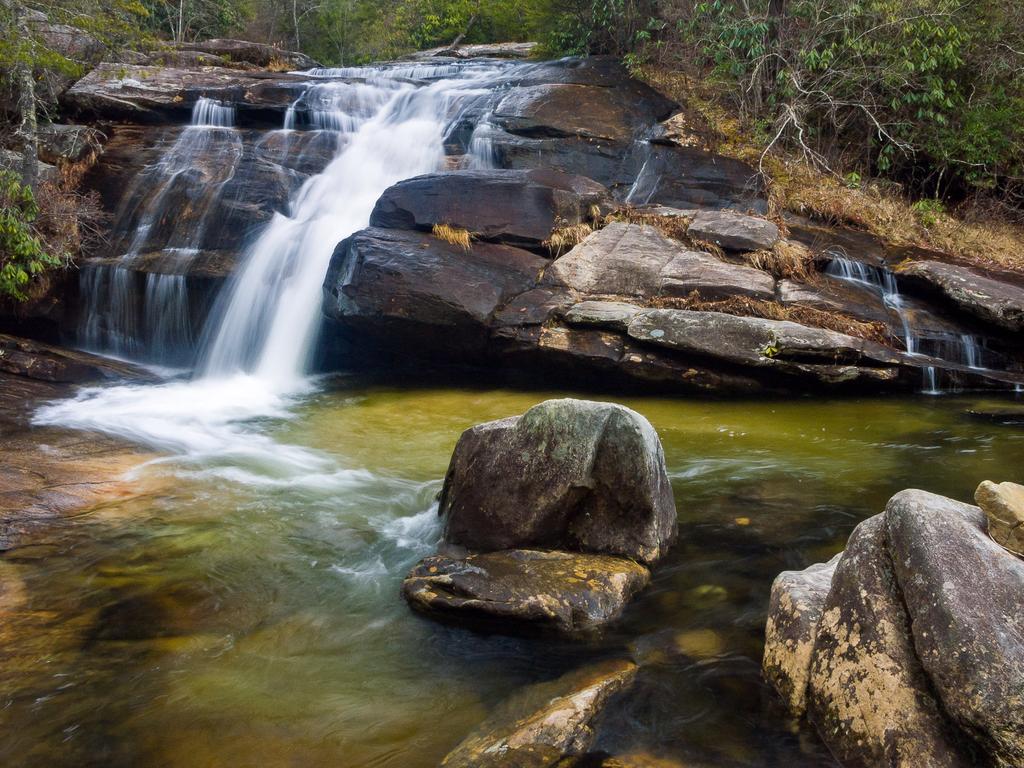 Wintergreen Falls
Loop hike opportunities are plentiful from here, and this area is also popular with equestrians and mountain bikers.
In the Fawn Lake Area
On the south side of DuPont is the Fawn Lake parking area, providing access to the water body of the same name which is another popular swimming hole in warm weather. Some of the more remote trails in DuPont are accessible from this parking area, though, including Reasonover Creek and Turkey Knob. Mine Mountain, Cart, and Laurel Ridge make a possible loop, and Corn Mill Shoals offers a longer option. This is the traditional way to access Bridal Veil Falls, the Airstrip trail, and Lake Julia, past Fawn Lake itself.
In the Corn Mill Shoals Area
DuPont's west side parking area offers access to a few trails west of Cascade Lake Road, but also to two of the non-water destinations in the forest: Big Rock and Cedar Rock, which are low, rounded granite domes devoid of trees in places. Two trails by the same name provide access to the mountains' summits and views in all directions. You'll see sweeping vistas back across the forest, as well as a spectacular view of the Pisgah Ridge and higher peaks to the northwest. Round off a hike with the Little River, Corn Mill Shoals or Burnt Mountain to add some mileage.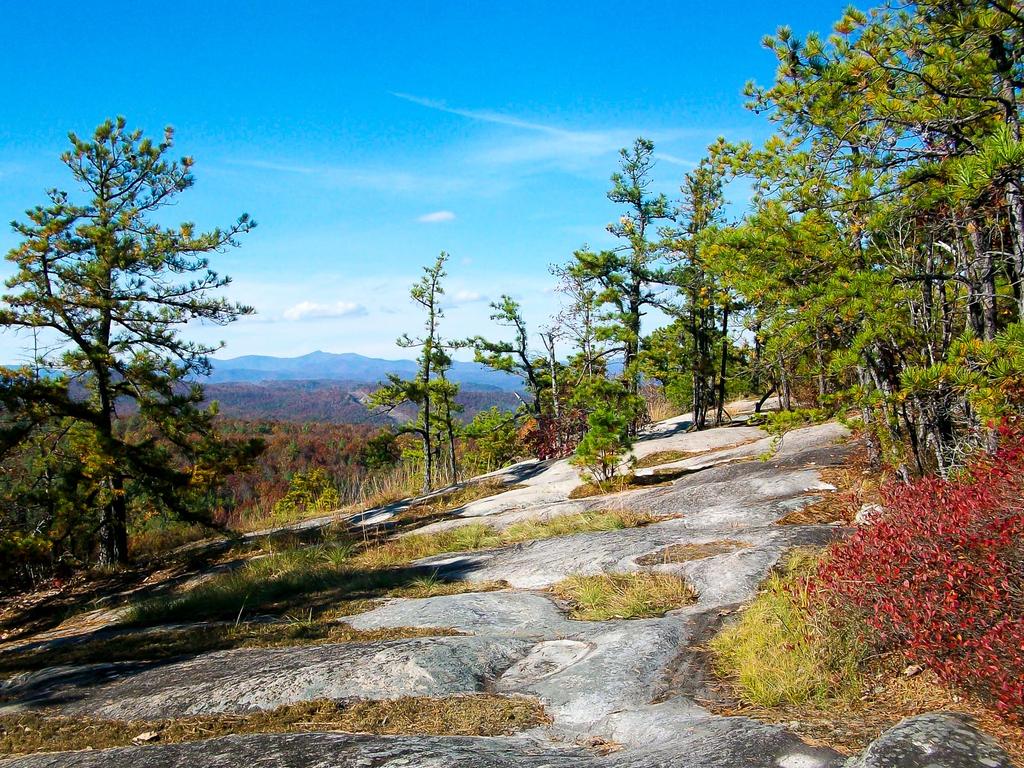 View from Cedar Rock Trail
Keep in mind that this is just an overview of the trails available at DSRF. For each trail's details, visit the DuPont State Recreational Forest trails page. Or, if you don't want to piece together a hike out of the individual trails, our DuPont State Recreational Forest Best Hikes page is for you!
Special Considerations
Rules and regulations are a bit tighter in State Forests than nearby National Forests, so please keep the following in mind when visiting DuPont.
⚠️ Trail Closures
DuPont State Recreational forest has been implementing a policy of trail closures in wet or snowy weather fairly consistently. Construction, logging projects or other damage can close trails for long stretches. For information on current trail status and closures, visit the State's web site at dupontstaterecreationalforest.com.
Waterfalls: Be very careful near waterfalls! Climbing on rocks around the falls is prohibited, as several people are injured or killed at the area's waterfalls every single year due to unsafe actions such as this. Seriously, folks!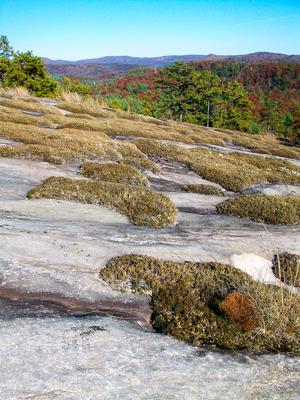 Exposed granite on Big Rock
Granite Domes: When traveling on granite, watch closely for blazes painted on the rocks and rock cairns (small piles of rocks) to mark the trail. Avoid stepping on moss and fragile vegetation growing between the rock. The moss will die wherever a shoe treads on it, and the growing conditions are hard enough up there without human intervention.
Parking: Do not block gates when you park.
Posted Areas: Obey all posted signs including property boundaries. There is private property all around the forest, and some located right in the middle of it.
Hours of Operation: DuPont State Recreational Forest is open only during the posted hours of 5 a.m. to 10 p.m. Being in the forest without a permit outside posted hours may result in a citation. There is no camping in DuPont State Recreational Forest.
Picnic Shelters: a few shelters, some of which have been refurbished, are now available for anyone to use when not reserved and available for reservation for a fee. Hike in and enjoy a rain-free picnic at High Falls, Triple Falls, Lake Dense, or several other locations on the Forest! A reservation includes a limited number of vehicle passes to the shelter. See the Dupont State Forest Map for locations of the picnic shelters.
Hunting Season: Wear bright colors during hunting season – hunting is allowed in the forest.
For more information about DuPont State Recreational Forest, visit Friends of DuPont's site.
Here's a map of the DuPont State Forest area. For more maps, including information about printed publications including a good topographic map by Friends of DuPont State Forest, see our DuPont State Forest maps page.
DuPont State Forest (Waterfall Hikes and More of the Best Things to Do!)
DuPont State Forest (officially known as DuPont State Recreational Forest) is a beautiful slice of North Carolina and home to some of our best hiking trails, especially near Asheville (and Brevard!).
It's also home to some famous waterfalls, worthy of featuring in some pretty famous movies.
Inside our guide, we will highlight all of this, including the best hiking trails, how to reach four of the best waterfalls near Asheville in one hike, and other things you can do inside DuPont State Forest.
Read on and you'll see why we featured DuPont State Forest among our favorite things to do in North Carolina and inside our NC Bucket List book!
If you're searching for something specific in this guide to DuPont State Forest, we've organized things into the following sections:
Tips for Visiting
Location
Background
Famous Waterfalls
Things to Do at DuPont State Forest
Three-Waterfall Hike (Hooker Falls, Triple Falls, and High Falls)
Parking Info for the Three-Waterfall Hike Waterfall Hike
More DuPont State Forest Hiking Trails
Mountain Biking Trails
Equestrian Trails
Where to Stay (Airbnbs and More)
Nearby Things to Do
Tips for Visiting DuPont State Forest
This park is wonderful throughout the year but especially if you visit during hotter, summer months. That's because the trees that line this path make it pretty well-shaded.
However, that adds to the popularity of this hike, and it does get crowded during the weekends, Because the path is so wide, overcrowding isn't as much of an issue as other parks that quickly fill up.
Here are some more quick tips for visiting DuPont State Forest:
There are restrooms at both the Hooker Falls Access Area and the DuPont State Forest Visitor Center.
Picnic areas are available for free use and picnic shelters can be rented.
Dogs on leashes are allowed in the Park.
Visiting DuPont State Forest is free, but the parking lots can get full quickly. Please arrive early and be mindful of those around you. . Pack out what you pack in and do not leave trash at the park. Please leave North Carolina more beautiful than when you arrived and consider picking up any trash you see.
Location
The park is located in both Henderson and Transylvania counties, only 40 miles from downtown Asheville, 14 miles from the mountain town of Hendersonville, and 12 miles from Brevard.
If you are visiting during Fall, we think combining a visit to DuPont State Forest with some apple picking is the ticket to an incredible weekend!
Both activities are very popular so we suggest planning your visit in advance and arriving as early as possible to avoid crowds.
Background Info
With over 10,000 acres and 86 miles of trails, DuPont State Forest has become one of the most popular places to go hiking near Asheville, especially for its waterfalls that are among the best in North Carolina.
However, as you'll see, many folks also come here for mountain biking and other fun activities.
Interestingly enough, a couple of the waterfalls (Triple Falls and High Falls) were not part of the original conservation plans when it was saved from real estate development.
The developer who originally won the bid on the land planned to build an upscale gated residential community with the waterfalls as the main attraction.
With the efforts of grassroots organizations and leaders, then-Governor Jim Hunt and the Council of State voted to invoke eminent domain on the land and it was open to the public in 2000.
Famous Waterfalls
DuPont State Forest is home to some impeccable waterfalls, which caught the eye of Hollywood filmmakers over the years.
Both Triple Falls and Bridal Veil Falls were used for the 2012 movie The Hunger Games. Bridal Veil is where Katniss Everdeen ran for safety after being burned. Rocks next to it are where the other tributes chased after her during one scene.
In the film, Katniss ran across Triple Falls, but a lot of it was Hollywood magic. Wooden planks were laid down and she wore safety wires in case she slipped. Nerding out on these things made us appreciate the park even more.
The rock overhang of Bridal Veil Falls was also used for The Last of the Mohicans, though the cave that is portrayed behind it doesn't exist. That was a constructed set.
DuPont State Forest is a wonderful backdrop but there are even more movies filmed in North Carolina!
Things to Do at DuPont State Forest
Now that you have a bit of background and understand why we think DuPont State Forest is so special, here are all the things to do here.
The Three-Waterfall Hike
The most popular hike within DuPont State Forest will take you 3 miles round trip to three waterfalls: Hooker Falls, Triple Falls, and High Falls.
The trails to reach these falls are moderate, with a few hills on a gravel well-maintained path. We think that this is the perfect hike for people of all fitness levels, as it has moderate inclines.
Our toddler walked a lot of this trail, too, so it is definitely great for young children! Just be mindful when at the base of Triple Falls as there is a drop off.
Parking Info
To enjoy the three-waterfall hike without moving your car, we recommend parking at the Hooker Falls access area. You'll then embark on a three-mile hike from there.
You can also park at the Visitor Center parking lot if there isn't parking available, and that will make Hooker Falls your last waterfall before turning back.
Personally, the way back to the Hooker Falls lot is more downhill than the other way around, and a big part of why we recommend starting from the former.
Hooker Falls
From the Hooker Falls Access parking area, walk the road to the right until you see a sign and a well-maintained path to the left. It is a short walk from here to the base of the 12-foot falls, which is popular for swimming.
There are plenty of rocks to sit and enjoy the view and the water is shallow enough for kids to swim.
Before continuing toward Triple and High Falls, you will first need to hike back to the Hooker Falls Parking Lot.
Triple Falls
Once you return to the Hooker Falls parking area, take the marked trail to the left. You'll first cross a newly constructed pedestrian bridge that has a beautiful scene upstream.
Continue uphill for a half-mile and you will reach an overlook for Triple Falls. This waterfall streams over three cascades (hence the name) for a 120-foot drop in total.
For a closer look, continue past the overlook and look for the trail that leads down to the left and to the base of the falls.
NOTE: Please be careful at the base and adhere to the ropes. The drops are steep and can be dangerous.
High Falls
Continue on the main trail to reach your final waterfall at DuPont State Forest. High Falls is another half-mile from Triple Falls and is the largest in the park.
Violently crashing down 150 feet, the up-close view of High Falls is one of the most breathtaking you'll find in North Carolina.
You can also see it from a distance on the trail, but you can head down to the base of the falls. This spur trail is much narrower and once you reach the base, you will need to do some careful walking to get a great view.
We chose not to take our toddler down and she enjoyed it from the top, while one of us ventured down.
If the water level is low, you can make your way to the big boulders in front of High Falls. Please remember that climbing rocks near waterfalls can be dangerous.
From High Falls, you can either continue on to the Covered Bridge or turn back to the parking lot. Alternatively, if you started from the High Falls Parking Lot you would have started with crossing the covered bridge.
Bridal Veil Falls Waterfall Hike
A bonus waterfall hike inside DuPont State Forest is the one that leads to the 120-foot Bridal Veil Falls. Many of The Last of the Mohicans scenes were filmed at this waterfall, which is an added incentive to reach it.
A moderate 4.4-mile round-trip hike is required to reach Bridal Veil Falls and you'll start from the Visitor Center lot. There's a gate past the High Falls Loop entrance which you'll follow to the covered bridge.
You can ride a bike to Bridal Veil Falls instead of hiking, which will cut your travel time in half. While the riding distance is short, there are a handful of tough hills to climb.
More DuPont State Forest Hiking Trails
Beyond the big names at DuPont State Forest, there are more hikes and even waterfalls to explore.
Wintergreen Falls
To access Wintergreen Falls, you'll park at the Guion Farm Access Area (Sky Valley Rd), which we'll also cover in the "Equestrian" section below.
The hike is 3 miles round trip and starts with a descent, with a slight uphill return to the parking lot. The 20-foot falls are a nice reward for the walk, which is moderate at most.
Grassy Creek Falls
There are a few ways to reach Grassy Creek Falls, a cascade not to be confused with the falls near Little Switzerland. The shortest route is from the High Falls Access Area, which is a 1.5-mile hike.
Additional DuPont State Forest hiking trails include the park's highest point at Stone Mountain (another not to be confused with a more popular State Park) and the gorgeous Lake Julia.
Mountain Biking Trails
Several DuPont State trails we've mentioned also allow mountain biking, but here are some specific ones for cyclists.
The 7-mile Ridgeline Trail is a very popular loop that finishes with a great downhill section. Additional DuPont State Forest mountain biking trails include Cedar Rock Mountain and Corn Mill Shoals, both accessible to hikers, too.
Equestrian Trails
The trails at DuPont State Forest are also popular for equestrians. However, you should prepare your horse for crowds and any hikers who may not be aware of proper trail etiquette.
Parking for horseback riders is available at Guion Farm Access Area on Sky Valley Road and Lake Imaging Access Area on Staton Road.
Note: Both the Triple Falls Trail and the Hooker Falls Access Area Pedestrian Bridge do not allow horses or mountain bikes.
Where to Stay Near DuPont State Forest
In case you haven't booked a place for your visit to DuPont State Forest, we have a few ideas for you. There's currently no camping at DuPont State Forest, so we'd suggest staying in either Hendersonville or Brevard as your closest option.
Hendersonville is filled with adorable mountain rentals and some of the coolest Airbnbs in North Carolina. A couple of examples include this mountain rustic cabin with a hot tub and this 110-year old log cabin that is romantic and conveniently located. We're also big fans of the restaurants in and around town.
If Brevard is more your style, we also enjoyed a stay at the Pines Country Inn, about 10 minutes away in Pisgah Forest.
You can also check out some of these fun Airbnbs near Asheville and see if those would be a great fit for your trip!
Ready to Explore DuPont State Forest?
With over 10,000 acres of protected land, DuPont State Forest is home to so many beautiful spots. You can easily spend a day (or more) hiking, chasing waterfalls, biking, and riding your horse here.
The Triple Falls Hike may be the most popular, but we think there isn't a bad trail in the entire park! So lace up your boots, pack your things in (and out), and prepare for a wonderful experience at DuPont State Forest!
Have you ever visited DuPont State Forest? We'd love to know what you did and what you thought of this place? Let us know in the comments below or by email.
Dupont State Forest Waterfalls and Hiking Trails: A Local's Guide
Do you love chasing waterfalls? I sure do. I've been known to bushwhack down steep, muddy slopes for a good view of even the smallest trickle of water pouring over rocks. But no falls in the Carolina mountains can compete with the beauty and diversity of the Dupont State Forest waterfalls.
Dupont State Forest in NC contains more than 12,000 acres of protected lands, six major waterfalls, a set of low-altitude lakes, and nearly a hundred miles of trails. Most trails in the park are easy or moderate. This is one of the best places in Western North Carolina to access waterfalls if you are mobility-impaired, traveling with small children, or just not in the mood for a major hike.
In this post, I'll walk you through how to visit all six of the major waterfalls in Dupont State Forest. I'll share my local knowledge on how to beat the crowds and how to combine trails for longer hikes. Let's dive in!
Note: This post may contain affiliate links. If you decide to purchase through these links, I receive a percentage of the sale at no additional cost to you.
When should you visit the Dupont State Forest waterfalls?
You can visit Dupont State Forest year-round, but winter is a great time to beat the crowds.
Before getting into detail on the different trails, let's talk about the weather.
The Carolina mountains have a mostly mild climate. Summers aren't too hot, and spring and autumn are gorgeous. Winter can be bitterly cold, but it usually warms up quickly in the mornings. Snow and ice are rare.
Because Dupont State Forest is at lower elevation than most of the region, it's a bit warmer. It's also sheltered from extreme wind. Check the temperature in Hendersonville, NC for the best gauge.
Spring and summer are the best times to visit the waterfalls of Dupont State Forest. WNC gets lots of rain at these times, so the waterfalls are at peak flows. You can also swim at the base of a couple of the falls. However, warm weather brings bigger crowds.
Autumn is a popular time to visit for leaf-peepers. Crowds can be insane around the peak leaf weekend (usually late October), but generally aren't too bad throughout the rest of this season.
My personal favorite time to hike in Dupont State Recreational Forest is winter. The icy waterfalls are spectacular — High Falls is especially lovely on frigid mornings. Plus, you'll only have to share the trails with locals.
Regardless of which season you visit, try to go on a weekday, and the earlier in the morning, the better. Crowds around High Falls and Triple Falls can be nuts on weekends in high season by 10 am.
Trail etiquette for hiking in Dupont State Forest
A glimpse of a typical example of Dupont State Forest hiking trails: wide, flat and gravel
One thing you'll notice pretty quickly when you hit the Dupont Forest trails is they're all mixed-use. As in, you'll be sharing trails with hikers, mountain bikers and horseback riders.
Generally this is fine — most of the trails to the waterfalls are more like wide gravel roads. But occasionally you'll need to take smaller paths where a fast-moving mountain biker can sneak up on you really quickly.
The rule throughout the forest is that hikers and bikers must both yield to horses, and bikers must yield to hikers. But in practice, as a hiker, you'll see the bikers much sooner than they'll see you — it's best to let them pass if you can safely do so.
Parents should keep an especially close eye on small children straying in bikers' paths. And if you bring your dog to Dupont, keep it on the leash at all times, no exceptions. No biker wants to be chased by your ~very well behaved~ pup.
If you aren't a fan of sharing trails with bikers (and I wouldn't blame you — I hate it), the one trail to avoid at all costs is the Dupont Ridge Trail. Bikers FLY down that trail at breakneck speeds around blind turns. I did it at 11 am on a winter weekday and still had to leap out of the way of at least a dozen bikers.
Finally, some trails in Dupont State Forest close occasionally due to wet or muddy conditions, or due to overcrowding during COVID. While it can be disappointing to be unable to visit a waterfall you came to see, please respect the closures. Hiking on a dangerously muddy trail puts you at risk of injury, but it also causes trail erosion that increases the likelihood of permanent closures in the future. Friends of Dupont State Forest posts trail closures on their homepage.
Waterfalls in Dupont State Forest – and how to reach them
There are six major falls in the area. Three of them are in one cluster immediately accessible from Hooker Falls Parking Area (which has restrooms). The others require longer hikes. You can bike to all of them, but you'll sometimes need to dismount your bike to reach certain viewpoints.
Hooker Falls
Hooker Falls is the most modest waterfall in the forest — but that's not to say it's boring. This 11-foot cascade is a popular swimming area in summer and one of the most beautiful waterfalls in early morning light. It's also striking during peak leaf season.
The falls is just 0.3 miles on a flat trail from Hooker Falls Access Area. You can also reach it on a half-mile hike from High Falls Access Area. Both use the Hooker Falls Trail (not to be confused with the Hooker Falls Road, immediately next to it).
The trail is single-track (i.e. you walk single-file on a dirt path). It's extremely easy to follow. In terms of difficulty, this is more like a short stroll through the forest than a mountain hike. It would be in just about anyone's ability level, including some folks with mobility impairments. (You could do it with a walker or cane but I wouldn't try it with a wheelchair.)
Along the way to the falls, you'll walk through beautiful pine forest. The river — impossibly blue on sunny days — runs to your left along the trail.
You'll approach the falls from the top before the trail gradually descends to the base. This is the only area safe for swimming. Do not swim above the falls, where the current is extremely strong. When you're done, simply return the way you came!
Trail Length: 0.3 miles
Elevation Gain: Almost none
Difficulty: Easy
Best Time To Go: Summer if you want to swim
High Falls
High Falls is the crown jewel of Dupont State Forest waterfalls. It drops 120 feet into a deep pool below. This is the kind of waterfall that you can hear and feel well before you see it through the trees.
This waterfall is 0.5 miles from High Falls Access Area. You can also reach the top on about a half-mile walk to the Covered Bridge. Finally, you could park at Hooker Falls Access Area and hike up, although this is much steeper.
Most of this trail is on gravel roads shared by hikers and mountain bikers. It starts out fairly gradual, but the trail drops steeply when you reach the falls. You'll lose about 120 feet of elevation (and then you'll have to climb back up on the way back).
The best viewpoint is about 30% of the way down the trail, when the trees open up. This view is especially epic in winter, when the tree immediately to your right ices over from the falls' spray.
Once you've gotten your fill of that view, continue down the trail until you reach a sign that says "base of the falls." Follow the short (less than 0.2 mile) single-track down the hillside and through the mud, out to the rocks below the falls. It is safe to swim here as long as you stay in the immediate vicinity of the rocks. Just remember that Triple Falls is less than half a mile down-river and the current picks up well before then.
Triple Falls
The third easy-access waterfall on Little River in Dupont Forest is Triple Falls. This cascade has three levels that total 120 feet. You may recognize this one from the move Last of the Mohicans, which was filmed here!
The waterfall is about halfway between Hooker Falls Access Area and High Falls Access Area, a short (0.2 mile) walk beyond High Falls. There are two main viewing areas: a wooden boardwalk and a lookout on the trail. The boardwalk offers the best views of the top two drops, but you'll need to walk down the trail to see all three. If you come from High Falls it's mostly downhill. Coming from Hooker Falls you'll have a steep (but short) climb.
The trails in both directions are gravel/dirt and wide. Both go up and down a little bit before you reach Triple Falls. This is the hardest of the three main waterfalls to hike to. You can also ride a mountain bike on this trail.
The boardwalk involves a lot of stairs — all going downhill on the way to the falls. You'll come out on a large flat rock in the middle of the river. There's a roped-off viewing area. Don't venture beyond the ropes. The boardwalk is sometimes closed in winter, when it's too icy to safely walk out onto the rocks.
Trail Length: 0.75 miles
Elevation Gain: 300 feet
Difficulty: Moderate
Best Time To Go: March-December. In January and February, the boardwalk often closes due to ice.
Dupont State Forest Three Waterfalls Hike
If you've been reading closely, you might have noticed that all three waterfalls I've mentioned so far are in the same rough area. You can easily combine them into one 4.5-mile waterfall hike.
Start at the High Falls Access Area and follow the directions above to reach High Falls and Triple Falls. Then, continue below Triple Falls and walk along the river for about half a mile. You'll cross a bridge right before reaching Hooker Falls Access Area, where you can pick up the Hooker Falls Trail. Return to the base of Triple Falls and follow signs for the High Falls Loop to get back to your car.
The trail is mostly downhill on your way to Hooker Falls, and mostly uphill on the way back. I'm not going to lie — it's a bit of a climb. It won't be too bad if you're in shape, but I would not recommend doing the full hike if you're mobility impaired or if you have trouble hiking uphill. The trail is wide gravel (and shared with mountain bikes) the whole way.
Trail Length: 4.5 miles
Elevation Gain: 500 feet
Difficulty: Moderate
Best Time To Go: Anytime — winter is less crowded.
Bridal Veil Falls
One of the best Dupont State Forest hikes is the 4.7-mile walk to Bridal Veil Falls.
If you've seen The Hunger Games, you'll recognize Bridal Veil Falls instantly. But even if you haven't this unique waterfall is worth the hike. The "falls" are more like a gradual drop that sheets of waterfall flow over.
You can reach Bridal Veil Falls from High Falls Access Area or from Fawn Lake. I've only done the former, but either way it's a 5-6 mile round-trip hike.
Starting from High Falls Access Area, cross the covered bridge above High Falls. You'll come to an intersection almost immediately — take a right. It's a long, flat walk on a well-maintained gravel road from here to the turnoff for the falls. You'll cross the river one more time. In spring and summer, the wildflowers along the trail are gorgeous. You'll see lots of bikers through here but the trail is plenty wide for everyone.
After almost 3 miles, you'll see a turnoff to Bridal Veil Falls Road, to the right, next to a large barn. Take this turnoff. Another 0.2 miles or so later, you'll see signs to the waterfall (another right turn). Here the trail turns to single-track and you might have to dodge a couple bikers.
You'll quickly reach a small viewing platform with the best (although admittedly not great) full view of the cascade. Stop here for photos before continuing to the base of the falls at the end of the trail. You can get an obstructed view from land, but the better views require a quick-and-easy rock-hop into the middle of the river.
It looks fairly easy to climb the rocks the waterfall passes over, and you will see people doing it. But I wouldn't recommend it. The current is strong and the rocks are very slippery. Stick to swimming in the pool below the falls instead.
When you're done exploring, return the way you came.
Trail Length: 4.7 miles
Elevation Gain: 200 feet
Difficulty: Easy
Best Time To Go: Anytime
Local tip: There are two Bridal Veil Falls in Western NC. The other one is roadside on Highway 64, in Nantahala National Forest. Make sure you know which one you're going to when you put it in your GPS!
Grassy Creek Falls
Can you spot Grassy Creek Falls, below and to the left of me? It's not the most iconic of the waterfalls in Dupont State Forest, but you'll have it to yourself.
Perhaps the least-visited of the Dupont State Forest waterfalls, Grassy Creek Falls is full of character. This cascade resembles Bridal Veil Falls in that it drops along a shallow granite slope. But it's much smaller than its cousin and gets a fraction of the tourist traffic.
Given how off the beaten path it is, you might be surprised to learn that this is one of the easiest Dupont State Forest hikes! Starting from High Falls Access Area, walk across the covered bridge and go straight at the intersection. You'll come to another small bridge and another intersection, where you take a slight left. Shortly after this you'll see a sign to a small path for Grassy Creek Falls.
You'll come out at the top of the falls, which is also the best view. If you're feeling brave, you can also hike down to the base — just continue on the (steep, narrow, muddy) path. When I last hiked it in December 2020 there were a few big blowdowns and it was quite overgrown. The views from the bottom aren't all that exciting so don't feel bad if you can't make it down this rough trail.
You should not swim at Grassy Creek Falls. The only options for swimming holes would be too close to the falls or in places where the river's current is dangerously strong. You can mountain-bike to the turnoff where it becomes single-track, but you cannot take your bike down the trail along the waterfall.
Trail Length: 2 miles
Elevation Gain: 200 feet
Difficulty: Easy if you don't go to the base of the falls. Hard if you do.
Best Time To Go: Anytime
Local tip: Wear orange in fall and winter in this area — hunting is permitted!
Wintergreen Falls
It's more popular to mountain bike to Wintergreen Falls than it is to hike.
One of Dupont's smallest waterfalls, Wintergreen Falls is off the radar of most visitors, far from the major access areas. It's the only hiking destination in this part of the forest and you'll often have it to yourself.
For this hike, it's easiest to start at Guion Farm Access Area. Start on Tarklin Branch Road, a wide, flat shared path. You'll start to descend slightly after about half a mile. Shortly after, you'll come to an area where there's a field in front of you and a questionable path through the field, or a trail to your left into the pine forest. Take the trail and continue to descend.
Another 0.5 miles on, you'll come to a clear marking for Wintergreen Falls Trail. Take that path to the end, which has mountain laurel bushes all around. You'll have to make your way through the bushes and rock-hop a bit to reach the falls. Return the way you came.
I wouldn't recommend swimming at Wintergreen Falls. The pools at the base of the falls are small and rocky, and the river narrows so much that the currents are pretty swift. You also should not take the very visible manway up to the top of the falls — it's not a maintained trail and you risk damaging the fragile ecosystem.
Source https://www.hikewnc.info/trailheads/dupont-state-forest/
Source https://www.nctripping.com/dupont-state-forest/#:~:text=There%20are%20restrooms%20at%20both%20the%20Hooker%20Falls,Dogs%20on%20leashes%20are%20allowed%20in%20the%20Park.
Source https://trainsplanesandtuktuks.com/dupont-state-forest-waterfalls-and-hiking-trails-a-locals-guide/