Superior Hiking Trail
The Superior Hiking Trail is a 300-mile point-to-point hike in Minnesota best hiked in spring, summer, or fall. The trail is well-marked, the camping and water is plentiful, and it can be hiked in 2-4 weeks.
Region: Great Lakes Midwest (Minnesota; a variety of land ownership)
Length: 300 miles (15-30 days)
Physical Difficulty: Moderate
Generally good tread for most of trail
Lots of elevation change in some sections
Trail can be rocky, muddy, and full of roots
Challenging weather possible, especially during shoulder seasons
Logistical Difficulty: Easy
No permit needed
Shuttles available to terminuses and throughout trail
Many well-spaced town and resupply options
Plentiful water year-round
Season: Spring, summer, fall
Elevation: 600 to 1,800 feet
Total Elevation Gain: ~43,000 feet
Hiking the Superior Hiking Trail
Photo: Eli Simmer
The Superior Hiking Trail (SHT) follows the North Shore of Lake Superior in Minnesota, from the southern terminus at the border with Wisconsin to the northern terminus near the border with Canada. The topography may seem unexpectedly varied for the Midwest, as the "Sawtooth Mountains"—though topping out around 2,000 feet—give the trail a bit of cumulative elevation gain. The boreal forest, lake views, and expanses of wild lands give the trail a scenic and unique character. This is an accessible trail that's also worthwhile for the experienced hiker.
The SHT's southern terminus is at the border of Wisconsin, where tread continues east as part of the 4,700-mile North Country Trail. From there, the trail goes through wooded Jay Cooke State Park and soon enters the 85,000-person city of Duluth—unusually urban for a long trail, but worthwhile in showcasing the city's high-quality urban parks and trail network and allowing the hungry hiker ample opportunities for restaurant food. Hotel stays and private/state park camping required here. North out of Duluth, hikers will enter the backcountry, where there are free Superior Hiking Trail Association-maintained campsites through 250 miles of uninterrupted forest trail.
The trail is well-constructed, blue-blazed, and maintained with ample signage. Sights include views of Lake Superior (including 1.5 miles of lakeshore near the northern end), roaring rivers and imposing cliffs, tall stands of pine and other boreal trees, and the possibility of seeing moose, wolves, bears, and more. Some sections are flatter while others involve lots of elevation gain and loss over constant ups and downs. Tread is generally good, but is at times rough and muddy, depending on conditions.
A northbound hike allows for an increasing sense of ruggedness as the hiker approaches the remote northern terminus, whereas a southbound hike brings the city of Duluth and its comforts closer as the hike goes on.
How to Get to the Superior Hiking Trail
Photo: Eli Simmer
Northern Terminus here
Southern Terminus here
This is a simple trail to access. If flying to MSP airport in St. Paul-Minneapolis, Groome Transportation or Jefferson Bus Lines can get you to Duluth, Minnesota.
A shuttle from Superior Shuttle Service or Harriet Quarles Transportation can get you to the northern or southern terminus (or the skip-Duluth southern) terminus from Duluth, or any trailhead in between and arrange for a ride back.
When to Hike the Superior Hiking Trail
Photo: Eli Simmer
The SHT's hiking season is the typical spring-fall window, though extreme-cold winter hiking is done on the SHT. A summer hike can be muggy and mosquitoes will be a constant factor, though bug pressure lessens by late August, but the lush forest and comfortable temperature range make this a fine time to hike.
Spring and fall are usually preferred for their lack of bugs, with fall having the bonus possibility of incredible leaf colors. There's always a risk of extended wet weather on the trail, which can really push comfort and safety levels in the shoulder seasons—snow is possible in May or October.
Superior Trail Terrain
Photo: Eli Simmer
Expect boreal forest, cliffside hiking, lakeshore views, and even urban road walks. The trail is low in elevation, never cresting 2,000 feet, but the shorter ups and downs through the forest can add up. Tread and trail maintenance is usually superb, but be ready for sections of mud and some rooty, rocky miles.
Logistics: Permits, Camping, Water, Resupply
Photo: Eli Simmer
Permits: The SHT does not require any permits. There are a variety of landowners along the trail, including county, state, federal, and private land, but the trail is permit-free throughout and the campsites are frequent, conveniently spaced, and free north of Duluth.
Camping: Outside of the 50-mile section through Jay Cooke State Park and Duluth, where campsite reservations and hotels are necessary, campsites are free and open to the public on a first-come, first-served basis. A hiker will usually have some company on weekends near popular trailheads, but there will always be room, especially for a solo hiker or a pair of thru-hikers.
Care should be taken to respect landowners, but this is of no concern to the hiker staying on trail and camping at designated sites.
Water: There are plenty of streams and water is predictably plentiful in the Land of 10,000 Lakes, but heavy beaver presence demands appropriate water treatment. Hikers will notice obvious water sources on their maps that can be relied upon. Again, extra consideration will be necessary when hiking through the city of Duluth, where park fountains (and potentially brewery stops) will be necessary to assure hydration.
Resupply: Food resupplies for the thru-hiker are easy to plan and manage. Many towns/resupply locations are within walking distance or a short hitch off trail and are friendly tourist spots. Post offices, grocery stores, restaurants, and lodging are all widely available. Further resources linked below.
Know Before You Go
Thru-hike designation: I've described a "full" thru-hike beginning at the Wisconsin border, but it's generally accepted as legit if a hiker starts/finishes north of Duluth in order to avoid the complications of urban hiking. However, the northern terminus must be part of a thru-hike.
The SHT is not remote, but it's not easy: The SHT is like the Appalachian Trail in that it's never too remote, except near the northern terminus, making it seem deceptively "easy" to hike, when in reality weather, bugs, rough trail and terrain can be quite challenging at times.
Extension options: The SHT, in addition to being a part of the North Country NST, connects with the Border Route Trail that leads to the Kekekabic Trail, allowing a hiker to continue another 110 miles across the extremely remote and rugged Boundary Waters Canoe Area Wilderness—a highly recommended addition if possible.
Resources
The Superior Hiking Trail has a great trail association and a highly informative website.
Superior Trail resupply info can be found here
Eli Simmer lives in St. Paul, Minnesota, and has thru-hiked the Superior Hiking Trail three times, among other trails.
Discover the North Shore
Welcome to the Superior Hiking Trail — a resource for everyone where individuals discover, learn and connect with nature, themselves and each other.
Preparing for your trip
The SHT is a rugged footpath that requires appropriate planning and gear. Whether embarking on a leisurely day hike or an extensive thru-hike, we have what you need to be prepared.
Know Before You Go
Important information and guidelines for using the trail
Trail Conditions
An up-to-date listing of trail conditions and closures
Parking and Shuttles
Details about parking, shuttles and transportation along the trail
The Trail Stewards
The Superior Hiking Trail Association (SHTA) protects the trail to foster growth and connections–to nature, as individuals and to each other. Our Association is honored to serve as stewards and promoters of this North Shore treasure.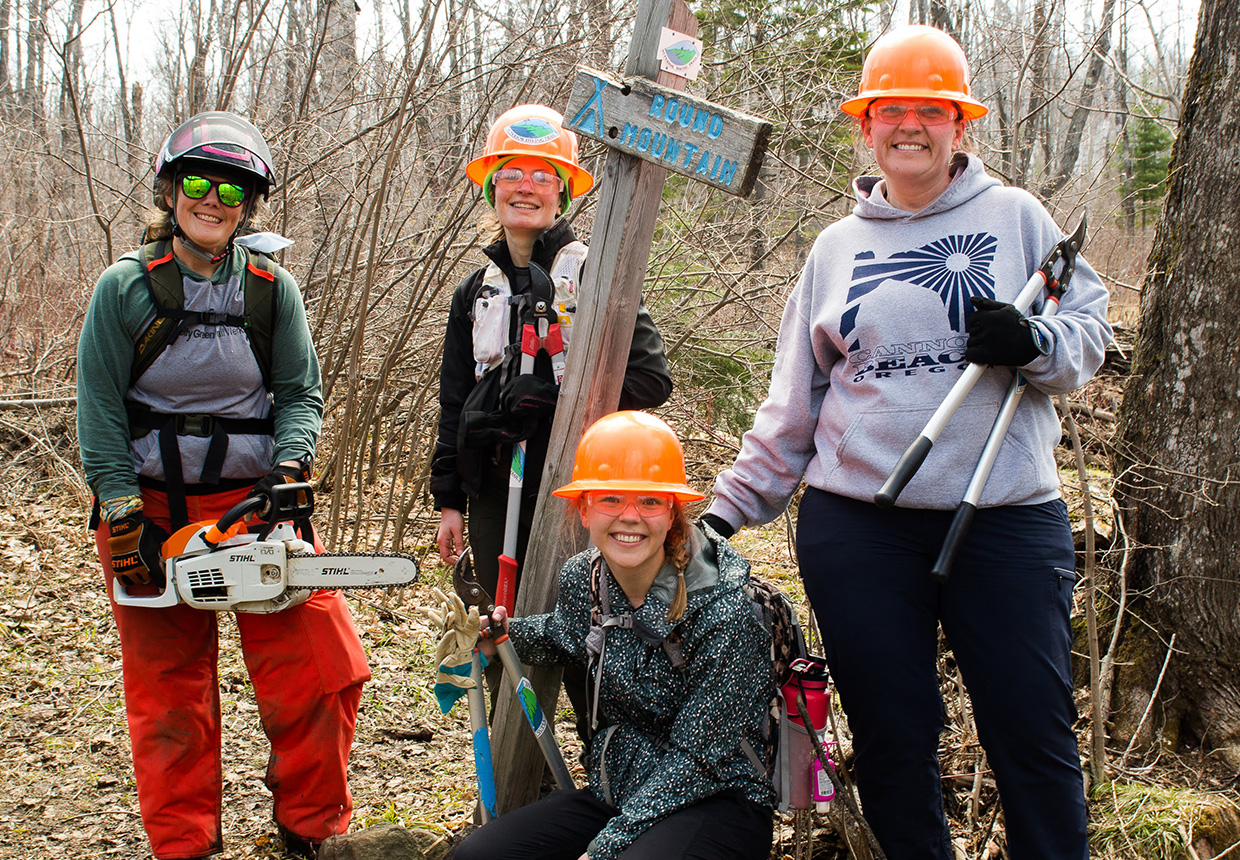 Giving Back to the SHTA
For more than 30 years, a diverse community of trail users, volunteers, and supporters has worked to make the Superior Hiking Trail one of the most desirable hiking and running destinations in the country. By becoming a part of our community, you can help us maintain the Trail for generations to come.
Become a Member
Do you love the Superior Hiking Trail as much as we do? Join the trail community and demonstrate your commitment today.
Sign up for Trail Mix – our monthly newsletter
Stay in the know with trail news, conditions, and events
Privacy Policy | © 2021 Superior Hiking Trail Association
SHTA OFFICE & STORE
Trail Store Hours: May 19-Dec. 23, open Thursdays and Fridays 10 am-4:30 p.m. Closed Thanksgiving weekend. Online store and curbside pickup also available.
618 1st Avenue
PO Box 315
Two Harbors, MN 55616-0315
Tax ID: 41-1569104
Office Hours: M-F, 8:30am – 4:30pm
How Long Is The Superior Hiking Trail?
Hiking Made Easy – Do you know how long is the superior hiking trail? If not, then you should know that the superior hiking trail is 310 miles long.
That's it? Of course not. We are going to take a look at everything about the superior hiking trails. So, let's get started.
Superior Hiking Trail
In Wisconsin and Minnesota, the Superior Hiking Trail is a more than 300-mile trail that follows a rocky ridgeline above Lake Superior from their respective borders until it reaches the Canadian border.
The Superior Hiking Trail Association (SHTA), a private nonprofit organization located in Two Harbors, Minnesota, is responsible for the construction, maintenance, and administration of the Trail.
Where To Begin Hike On Superior Hiking Trail
All along the north shore of Lake Superior and across Highway 61 from west of Two Harbors to the north of Grand Marais, there are more than 50 locations where you may start your trek.
In addition to trail running, the steep and demanding pathway is perfect for day walks, backpacking expeditions, and thru-hikes. Natural attractions such as waterfalls, boreal woods, and animals will be visible to trail users.
The SHTA maintains 94 free, shared backcountry campsites along the trail, which are spaced every 5-8 miles and are accessible from the trailhead. So, now you know how long is the superior hiking trail.
(Please keep in mind that there are no SHTA campgrounds inside the city limits of Duluth. A number of fee-based campsites are available along the Trail in Duluth.)
The Superior Hiking Trail – Total vs. Traditional Thru-Hike
You have two choices as a thru-hiker: a total thru-hike or a traditional thru-hike, depending on your preferences.
Exactly what it sounds like, a total thru-hike consists of trekking the entire 310 miles from the Southern to Northern Terminus.
A classic thru-hike begins from Martin Road and continues to the Northern Terminus. This eliminates the 53-mile Duluth segment of the route.
Because the Superior Hiking Trail Association does not have any campsites accessible along the Duluth portion, hikers must rely on hotels or other fee-based campgrounds to accommodate them during their stay. Many hikers avoid this section since it is more difficult to plan.
We completed the total thru-hike; however, it appears that the traditional thru-hike is the more popular option among hikers.
Due to the fact that you must pay for campsites/hotels as well as transportation to and from trailheads, the overall cost of the thru-hike is higher, but the scenery is some of the most beautiful on the path.
Since you know how long is the superior hiking trail, you should also know why hiking SHT.
Why Hike the Superior Trail?
When it comes to thru-hiking, the Superior Hiking Path is a fantastic shorter "long" trail. The shorter distance of 310 miles is far more manageable than the longer distance of 2,000 miles.
The Superior Hiking Trail passes through forested landscapes for most of its length. When the larches, birches, and maples are in full bloom, the view may be breathtakingly beautiful when the fall foliage is at its fullest.
When compared to some of the other long trails, the fact that this path isn't overly crowded is a huge selling feature for many hikers.
There's a good chance you'll encounter people every day, mostly day or section hikers, but you won't be swamped by a swarm of people on the trails or at the campgrounds.
Overall, it's a fantastic route if you're seeking to get out into the wilderness and relax.
Climate and Weather of The Superior Hiking Trail
Northern Minnesota has a variety of weather conditions, from freezing winters to hot, humid summers.
The snow usually doesn't melt until the end of May, and the resulting muck isn't very suitable for hiking, not to mention the swarms of bugs and ticks that emerge around this time of year.
Since we are talking about how long is the superior hiking trail, you should also know its weather before starting your hike.
It should go without saying that Minnesota's winters are not conducive to hiking or other outdoor activities.
Summer and October are the greatest seasons for hiking, so plan your trip accordingly. During the summer months, it is not so much the heat (which is normally 70-80 degrees) as it is the humidity that is a problem.
We began the trail in the middle of August when the humidity ranged between 60 and 70 percent. It is likely that it will rain one to two times every week, so be prepared to get wet on a regular basis, whether from sweating or rain.
As the weather changes from summer to fall, temperatures will drop, daylight hours will shorten, and the amount of rain will remain relatively constant.
In the event that we were to tackle this path again, we would most likely begin in mid-September so that we could get in some serious leaf-peeping. Hiking through a forest of beautiful green trees, on the other hand, was not unpleasant.
Gear Suggestions For The Superior Hiking Trail
In addition to being hot and wet, the weather in Minnesota during the peak hiking season will be quite warm and humid.
Although the temperatures don't differ much between night and day, dressing in a light layer for colder mornings or sleeping in is a sensible decision in this climate. We hiked in shorts and T-shirts almost all of the time unless it was pouring rain outside.
While talking about how long is the superior hiking trail, you should also know which gears to bring on this trail.
Bring rain gear, because it's going to rain. You're going to be rained on. Given our newfound knowledge, we'd recommend ponchos in lieu of rain pants and coats.
In the warm weather, we'd feel so hot hiking in our rain gear—wet with perspiration on the inside and dripping with rain on the outside; ponchos will provide far greater ventilation in this situation. Remember to have a waterproof backpack cover or liner with you.
Trail runners will perform better than hiking boots in this environment because of the moisture.
Hiking with trekking poles is another thing we encourage. With steep (but swift!) climbs and descents, the Superior Hiking Track is difficult to navigate, and most of the trail is covered in thick roots and rocks. It will be easier to go through these areas if you have trekking poles with you.
Don't forget to bring insect spray as well. Mosquitoes are the official state bird of Minnesota.
Camping At The Superior Hiking Trail
On the Superior Hiking Trail, there are a total of 94 campsites. Each campsite contains two to eight tent pads, a fire ring with benches, a backcountry latrine (which is a nice feature), and most of them are close to a water supply, which is convenient.
So, now you know how long is the superior hiking trail, let's take a look at the distance of campsites.
The distances between campsites can range from.2 to 12 miles, with the vast majority of them being roughly three miles apart, based on the weather. Additionally, there are no fees or restrictions for using the route. There is no scattered camping allowed along the way.
The path runs through eight state parks, where hikers can stay for a charge in the designated campsites.
In addition, as previously stated, there are no Superior Hiking Trail campsites during the 53-mile Duluth portion, which makes hiking this part logistically challenging.
At Spirit Mountain, Indian Point, and Jay Cooke, you may book a campground, or you can choose to stay in a hotel or motel. Aside from being more expensive, staying at a motel gives you the opportunity to slackpack, which is always a pleasant relief.
Water Sources At The Superior Hiking Trail
The Superior Hiking Trail features a diverse range of water sources, including streams, lakes, rivers, and the spectacular beaver ponds that dot the landscape.
The dry temperatures in the late summer might cause water supplies to become depleted. It is quite OK to carry a scoop (for example, a cut-off Powerade bottle) if you are prepared in advance.
While discussing how long is the superior hiking trail, you should also know about the water sources.
Flowing water appeared to be a little more limited in the northern portions, with beaver ponds being the most common source.
The majority of campsites are located near water sources. There are several more water sources that you will pass by throughout the day.
As a result, it is possible to get away with carrying only two liters of water at any one moment. On the Superior Hiking Trail's website, the Trail Conditions page, you'll see if there's a water problem.
We utilized the Sawyer Squeeze water filtration system. It worked quite well and appeared to be the technology that the majority of other hikers were employing as well.
Backflushing tools are recommended since the beaver ponds might clog the filters, so carry one with you.
How long does it take to hike the Superior Trail?
The majority of hikers take between two and four weeks to finish the Superior Hiking Trail through-hike, while some opt to hike only a part of the SHT.
Traditionally, the SHT begins in the northern Duluth Martin Road Trailhead and travels north for 260 miles, passing through several towns (not counting spur trails breaking off from the main route).
Now you know how long is the superior hiking trail, so it takes approximately 2 to 4 weeks to complete this hike of 310 miles.
It is advisable to hike from south to north because mobile phone coverage is not available at the most northern end of the trail. If something goes wrong at the beginning of the process, it becomes more difficult to adjust your plans as a result.
Upon reaching its northern terminus, the Superior Trail links with the Border Route Trail (which is 65 miles long) and afterward with the Kekekabic Trail (41 miles).
Hikers who want to go all the way into the Boundary Waters Canoe Area Wilderness enjoy the beautiful, birch-covered landscapes along the trail.
Conclusion
Anyone who does not have the time or resources to complete a lengthier thru-hike should consider taking advantage of the Superior Hiking Trail's shorter route.
Moreover, it is an excellent choice for people who are unclear whether or not they are ready to take on one of the Triple Crown trails.
While the trail does not provide spectacular vistas of the surrounding mountains, it does provide an opportunity to indulge yourself in nature and experience some of the best trails in the Upper Midwest and beyond.
Source http://backpackingroutes.com/superior-hiking-trail/
Source https://superiorhiking.org/
Source https://hikingmadeeasy.com/how-long-is-the-superior-hiking-trail/