Best National Parks for hiking: 12 of the greatest to explore on foot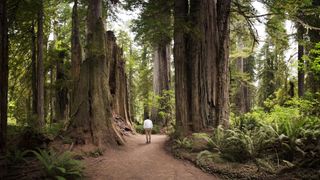 The best National Parks for hiking feature lots of dedicated hiking trails and take you through diverse and unique environments, from rainforest to desert and from glacier to volcano (Image credit: Carmen Martínez Torrón)
Here at Adventure, we're big fans of National Parks. These areas protect some of the most beautiful and precious ecosystems for the enjoyment of future generations, but when it comes to hiking, some of them are better than others. Whereas some Parks are located under the sea or focus more on cultural preservation than recreational trails, the best National Parks for hiking feature lots of dedicated hiking trails and take you through diverse and unique environments, from rainforest to desert and from glacier to volcano. It's time to lace up your hiking boots – whatever type of adventure you're seeking, you're bound to find it here in our list of the best National Parks for hiking.
1. Yellowstone National Park
Hiking on Yellowstone's 1,000 miles of trails provides you with a chance to see its astounding geysers and hot springs (Image credit: Ignacio Palacios)
Set on 2.2 million acres of land mostly in Wyoming, Yellowstone is massive (bigger than Rhode Island and Delaware combined), rugged and remote. It is widely considered to be the first National Park in the world and is famous for its unique hydrothermal and geologic wonders, including 500 or so geysers (erupting hot springs).
Hiking on Yellowstone's 1,000 miles of trails provides you with a chance to see its astounding geysers and hot springs, its 290 waterfalls, the largest high elevation lake in North America and the possibility of viewing its wildlife such as bears, wolves and moose. The park is open year-round but the best times to visit are spring and fall. Check out our guide to the best hikes in Yellowstone National Park.
2. Yosemite National Park
We've said it before and we'll say it again: Yosemite is one of the most spectacular places on earth. First protected in 1864, Yosemite's place as one of the most famous National Parks in the world is rightfully earned. The Park is located near Fresno, California and centers around Yosemite Valley, which was carved by glaciers and cuts 3,500ft deep into the earth and is walled by massive granite summits like El Capitan and Half Dome. The valley creates some of the longest and most stunning waterfalls you will ever see cascading over the edge of steep granite cliffs.
The Park's 1200 acres are also home to pine trees, tranquil lakes, colorful wildflower meadows and sun-dappled giant sequoia groves, all of which you can explore on foot on its 37 well-maintained hiking paths that range from easy to strenuous. The park is open year-round. The best time for waterfall viewing is in the spring during runoff season, while winter is a quiet and magical time to visit and hike in the Park. Check out our guide to the best hikes in Yosemite National Park.
3. Rocky Mountain National Park
Colorado's crown jewel, Rocky Mountain National Park, is the quintessential Rocky Mountain hiking destination (Image credit: Roschetzkylstockphoto)
Let's face it, when you think of hiking, you think of the dramatic rocky mountains, pine forests and high alpine lakes. Colorado's crown jewel, Rocky Mountain National Park, is the quintessential Rocky Mountain hiking destination. The Park sits near the scenic resort town of Estes Park in northern Colorado and its 415 square miles of stunning wilderness that attracts millions of visitors every year for good reason. It is home to more than 100 peaks over 11,000ft and only an hour and a half drive from Denver.
The best hikes in Rocky Mountain National Park range from family-friendly strolls with wildlife viewing of elk, bighorn sheep and moose to challenging-but-rewarding climbs to turquoise lakes and breathtaking peaks. The Park is open year-round, weather permitting, but spring and fall are the best times of year to visit.
4. Redwoods National Park
The best hikes in Redwood National Park are often relatively flat, but uniquely memorable (Image credit: Christopher Kimmel)
While we love the big, showy vistas of parks like Yosemite and Rocky Mountain National Park, there's nothing to really beat the quiet and solitude of a stroll through Redwoods National Park. Redwood National Park is located in northern California, close to the border with Oregon, and sees far fewer visitors than many other Parks – about 500,000 in 2019 compared to Yosemite's whopping four million – as it is miles from any metropolitan area. It is part of a partnership with four state parks which encompasses about 139,000 acres and protects almost half of all remaining old-growth coastal redwoods.
The best hikes in Redwood National Park are often relatively flat, but uniquely memorable. You can wander among the hulking trunks of the tallest living trees on earth, through temperate rainforests, ancient fern-lined canyons, waterfalls and even along rugged coastline. Due to the temperate climate, you can hike here year-round, however, the summer months when the weather is dry are often busier.
5. Arches National Park
A thousand miles away from the temperate rainforests of Redwoods, Arches National Park showcases the best of the Utah desert in otherworldly geological red rock formations. Located just outside the town of Moab in eastern Utah, Arches is famous for having over 2,000 natural sandstone rock arches as well as hundreds of other spectacular rock formations like pinnacles, fins and balanced rocks.
Hiking in Arches provides little in the way of shade as you travel on slickrock trails that range from short strolls to day-long primitive adventures that will take you up close and personal with 65 million years of geological evolution. The best times to visit are spring and fall to avoid the temperature extremes of summer and winter. Check out our guide to the best hikes in Arches National Park.
6. Glacier National Park
With 700 miles of hiking trails, Glacier is a true paradise for anyone seeking solitude in the wilderness (Image credit: Evgeny Vasenev)
With 700 miles of hiking trails, Glacier is a true paradise for anyone seeking solitude in the wilderness. Set in Montana's Rocky Mountains, Glacier covers over 1500 square miles and hiking there takes you through glacier carved valleys and rugged peaks. The Park is bisected by the famous 50-mile Going-to-the-Sun Road and the hikes here take you to pristine lakes and forests with wildlife viewing from grizzly bears to mountain goats. Summer is the best time to visit.
7. Hawai'i Volcanoes National Park
Hawai'i Volcanoes National Park extends from the sea to a whopping 13,677ft, encompassing the summits of two of the world's most active volcanoes (Image credit: Stuart Westmorland)
Hawai'i Volcanoes National Park extends from the sea to a whopping 13,677ft, encompassing the summits of two of the world's most active volcanoes – Kīlauea and Mauna Loa. This UNESCO World Heritage Site, located on the Big Island, protects some of the most diverse and unique geological and biological landscapes in the world. Believe it or not, you can explore these volcanoes on foot. The Park boasts some 150 miles of hiking trails that take you through volcanic craters, scorched deserts and rainforests and ancient petroglyphs. Spring is the best time to visit.
8. Zion National Park
The best hikes in Zion National Park include the hair-raising rock fin of Angel's Landing (Image credit: Jordan Siemens)
Down in the southwest corner of Utah lies another treasure trove of geological phenomena in Zion National Park. This famous Park centers around Zion Canyon, which frankly should be on everyone's bucket list. The Virgin River cut this 15 mile long canyon up to 2,640ft deep into the earth leaving high red sandstone walls, sparkling waterfalls, emerald rock pools and hanging gardens, creating a unique setting of red rock desert, and lush flora and fauna. The best hikes in Zion National Park include the hair-raising rock fin of Angels Landing and wading through the Narrows. The best times to visit are late fall, winter and spring.
9. Acadia National Park
Acadia National Park protects areas of coastal Maine, including 19 of its outlying islands (Image credit: Jonathan Hart (Getty))
Acadia National Park protects areas of coastal Maine, including 19 of its outlying islands. Southwest of Bar Harbor, the Park boasts rocky Atlantic headland and rugged beaches as well as lush forests and the highest mountain on the East Coast, Cadillac Mountain. It is one of the most-visited National Parks in the country and its 158 miles of hiking trails take you from sea level to summits while breathing the salty air. Fall is the best time to visit – however, if you love winter sports you might enjoy it in the cold months too.
10. Grand Canyon National Park
As one of the seven natural wonders of the world, it's clear that Grand Canyon National Park is worth a visit. Located in Arizona, about a three-and-a-half hour drive from Phoenix, this massive canyon was carved by the Colorado River on its journey from the Rockies to the Gulf of California. The canyon is 277 miles long and up to 18 miles wide, making it one of the biggest canyons in the world. The Grand Canyon is home to the Hualapai, Hopi and Havasupai tribes, the latter of which live in the canyon's only town, Supai Village, an eight-mile hike from the canyon's rim.
While many visitors might skip the hiking and just drive to the rim, or even take a helicopter ride overhead, we love the Grand Canyon for its hiking opportunities. While hiking all the way down to the bottom of the canyon is an overnight backpacking trips, you can hike partial descents or even enjoy a casual rim stroll with the best hikes in Grand Canyon National Park. The South Rim is open year-round while the North Rim closes in winter.
11. Olympic National Park
Olympic National Park is on Washington State's beautiful Olympic Peninsula (Image credit: Diana Robinson Photography)
Olympic National Park is on Washington State's beautiful Olympic Peninsula. This sprawling park covers several diverse ecosystems, from glacial peaks to over 70 miles of rugged coastline with old growth forests in between. Hiking in Olympic National Parks is a true wilderness experience, whether you're walking down to the beach to see the famous sea stacks or hiking up to rocky peaks. Spring is the best time to visit when the scenery is at its most lush.
12. Shenandoah National Park
Just over an hour's drive from DC, Shenandoah takes you from the bustle of the capitol to the tranquility of Virginia's Blue Ridge Mountains (Image credit: Pierre Leclerc Photography)
Just over an hour's drive from DC, Shenandoah takes you from the bustle of the capitol to the tranquility of Virginia's Blue Ridge Mountains, part of the Appalachian Range. These lower elevation mountains are rich in vegetation and wildlife and often shrouded in an atmospheric haze. Hiking here takes you to cascading waterfalls and rocky lookouts, pioneer settlements and even a section of the Appalachian Trail. The best times to visit are spring and fall.
Hiking in Amsterdam: top 7 places for wandelen near the city
Escaping to the wilderness is an ideal solution for managing stress, yet, it can seem tricky when you're in a crowded sinking city made of brick propped up on stilts and the only elevation gains are the 14,000 stairs to your apartment.
Fortunately, Amsterdam has some surprisingly stunning walking trails in her big bag of tricks, perfect for a little dose of nature therapy.
With no hiking boots required, here's where you can find our top seven spots for "hiking" around Amsterdam, all within cycling distance .
1. Nieuw-West's best-kept secret: Lange Bretten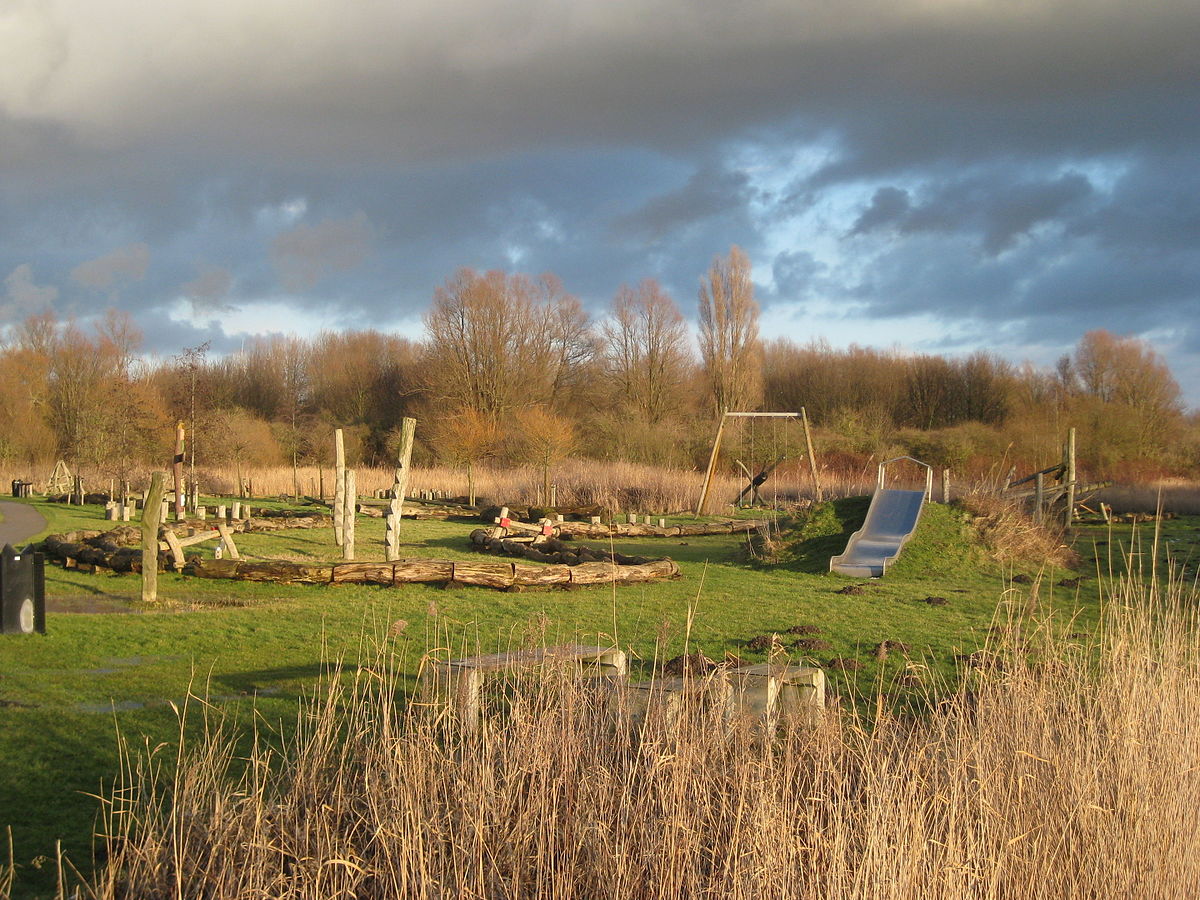 An adorable park along the Lange Bretten trail. Image: Marion Goldstein /Wikimedia Commons/ CC4.0
Walk distance: 10+ kilometres, each way.
How to get there: Lange Bretten is a 25-minute cycle from Amsterdam Centraal.
Starting point: Volkstuinpark De Bretten.
Route: Keep heading west along any of the paved or unpaved trails.
A nature reserve in Nieuw-West, Lange Bretten is uniquely beautiful, and unlike anywhere else in Amsterdam. It's quiet and secluded, far enough from the city centre that you're unlikely to spot a single tourist, but still close enough to access with ease. ‍♀️
An extensive network of trails winds you through 10 kilometres of varied natural landscapes. You'll also find plenty of grassy offshoots along the way to venture off the beaten path.
Lange Bretten is chock-full of wildlife. Big buzzards and falcons fly overhead, while little rabbits and squirrels skitter below. You'll hear croaking frogs and toads and may even spot a few highland cattle.
The hardest part is turning around and heading back — if you simply cannot, head another couple of kilometres west and you'll find yourself in a whole new forest to explore, the Spaarnwoude.
2. Amstelveen's wooded wonderland: Amsterdamse Bos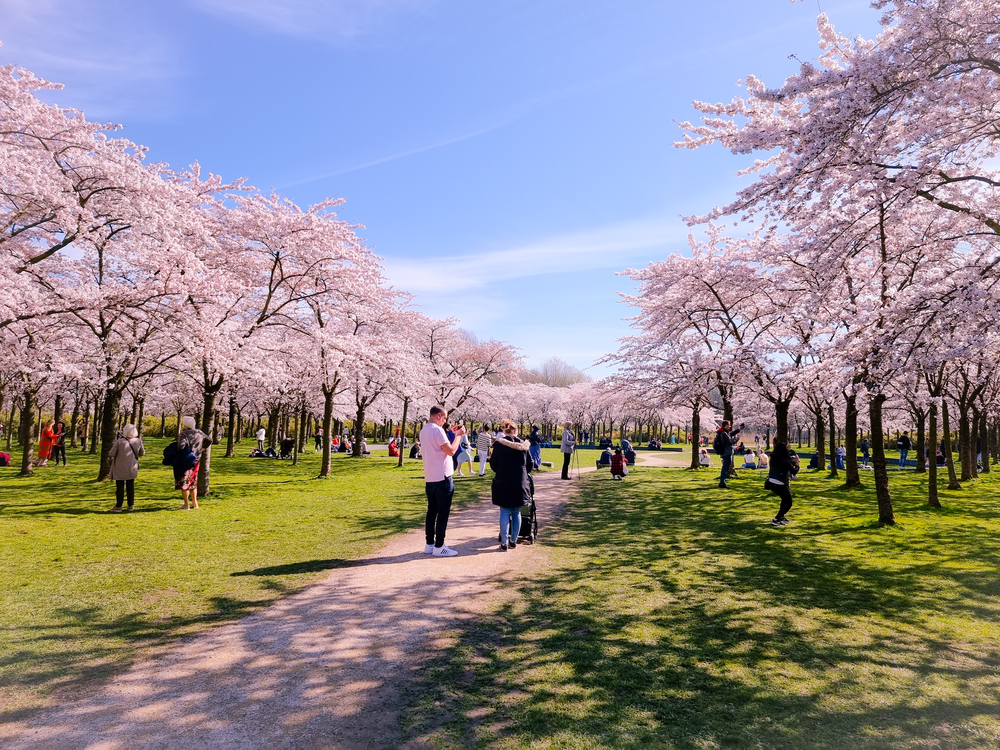 Amsterdamse Bos even has a whole area with cherry blossoms! Image: Depositphotos
Walk distance: 15+ kilometres (and many shorter routes).
How to get there: The Amsterdamse Bos is a 30-minute cycle southwest from Amsterdam Centraal.
Starting point: Bosbaanweg (among others).
Route: There are many routes to choose from. For a nice 15 km wandel, try the Long Forest Walk.
The Amsterdamse Bos (meaning forest) is unrivalled for one of the largest green spaces in the city, the largest being in Amstelveen . Covering over 1,000 hectares, this park is three times bigger than New York's Central Park, and one of the largest city parks in Europe.
If you're looking to get a little lost, this is probably your best bet within the city. With its infinite winding paths, you can easily spend hours exploring the park
Around 150 indigenous species of trees and over 200 species of birds call the Amsterdamse Bos home. It's the go-to place to spot rare flora and fauna, encounter dozens of varieties of mushrooms, and see a diverse range of birds, reptiles, and insects.
3. The woods of Nieuw-West: Rembrandtpark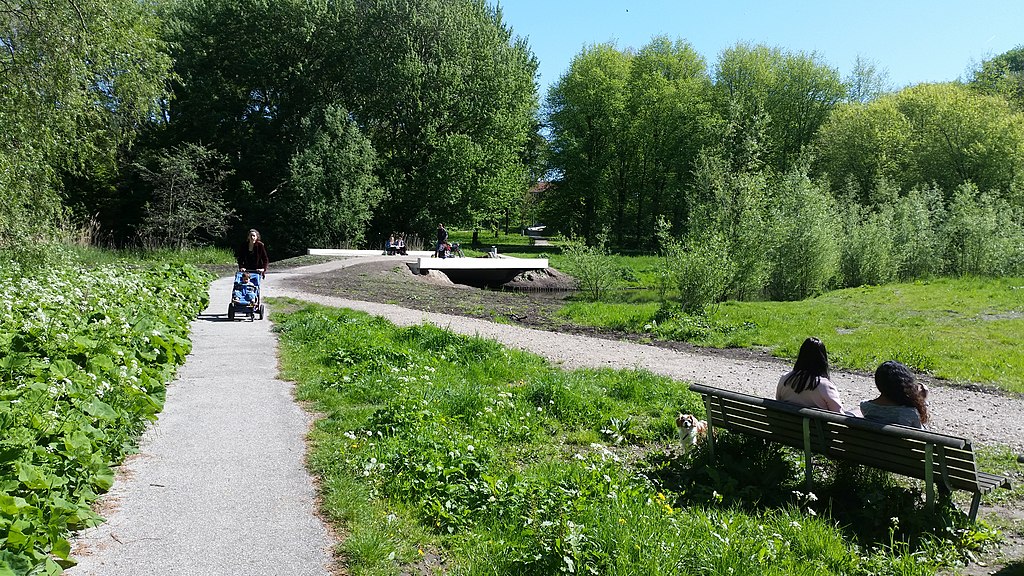 Ultra close for convenience, Rembrantpark is an easy choice. Image: Ceescamel/Wikimedia/CC4.0
Walk distance: A loop around the perimeter is a little over 3 kilometres.
How to get there: An 18-minute cycle west from Amsterdam Centraal.
Starting point: Main entrance at Postjesweg.
Route: Lots of space but you won't get lost — follow any of the trails and meander around.
Rembrandtpark is a top choice for a quick urban nature escape. The leafy and watery park spreads over 45 hectares, with a mix of paved, and dirt paths. Tall leafy trees, bushy shrubs, grassy knolls, and water features make Rembrandtpark an interesting area for spotting birds and other small wildlife, while a handful of unexpected art sculptures add a bit of pizazz. ⛲
It's also a nice area for walking dogs, and a family favourite, with a playground, and a petting zoo .
Pro tip: If you're up for a longer wandel, you can link your route to the nearby Vondelpark. Both parks are only separated by a 5-minute walk and this way you can have a good, 1,5-hour walk if you fancy.
4. A suburban sweetheart: Heemtuin Sloterpark and the Ruige Riet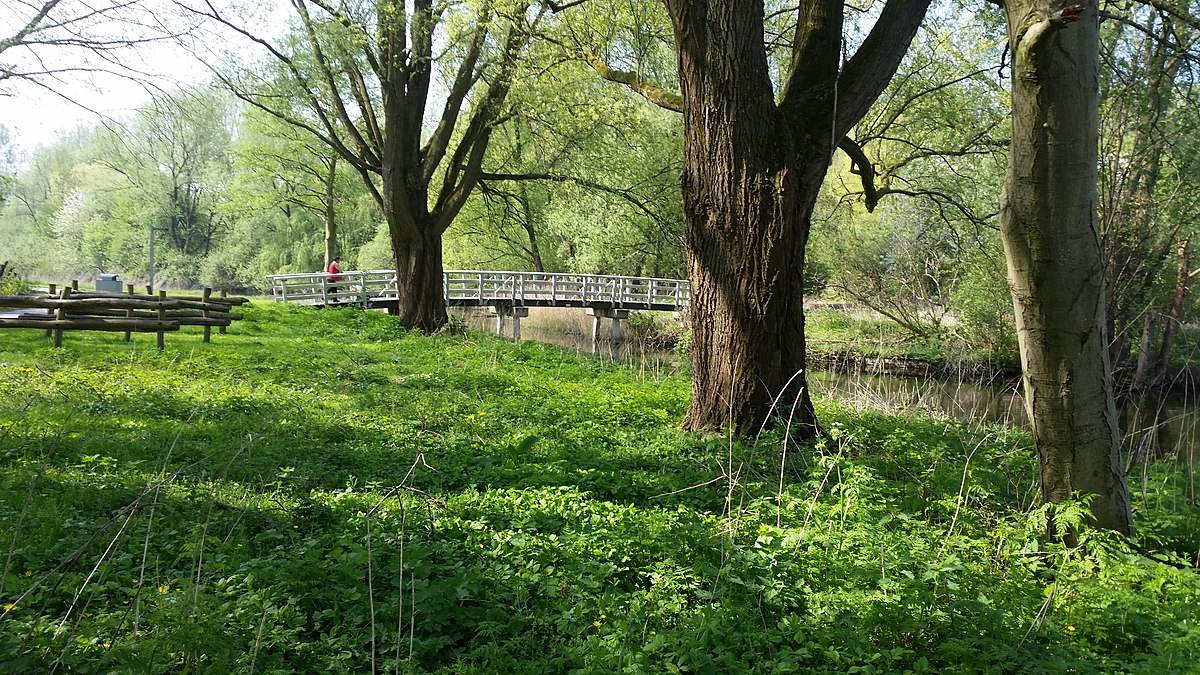 Plenty to explore in the Heemtuin Sloterpark. Image: Ceescamel/ Wikimedia Commons/ CC4.0
Walk distance: 5.8 kilometres around the lake plus another couple of kilometres for the nearby nature trails.
How to get there: From Amsterdam Centraal, a 20-minute cycle west.
Starting point: Begin at any point around the lake.
Route: Take a lap around the lake, or head straight for the nature reserve and wander through the winding paths.
A popular park for walking, the green space around Sloterplas (lake) in Nieuw-West is surprisingly full of trails and wilderness. The Rondje Sloter is a 5.8-kilometres loop trail around the lake. While this loop doesn't quite offer a full escape to nature, add on a wandel in the Heemtuin and Ruige Riet area to forget all about your city woes.
Heemtuin Sloterpark is a young nature reserve, established in 1975 and maintained by volunteers. This stunning little forest hides just west of the Sloterplas.
Native plants and wildlife thrive in these wetlands and woodlands. The reserve also hosts a botanical garden, petting zoo, and a nature education centre called Drijfsijs.
In the north-western-most corner of the park, you'll find the Ruige Riet, a modest 14.3-hectare protected bird island.
With its rather primitive, mushy trails, you'll almost certainly be bringing home muddy shoes as a souvenir — a small price to pay for this urban nature retreat.
5. Zuid and then some: Amstel River route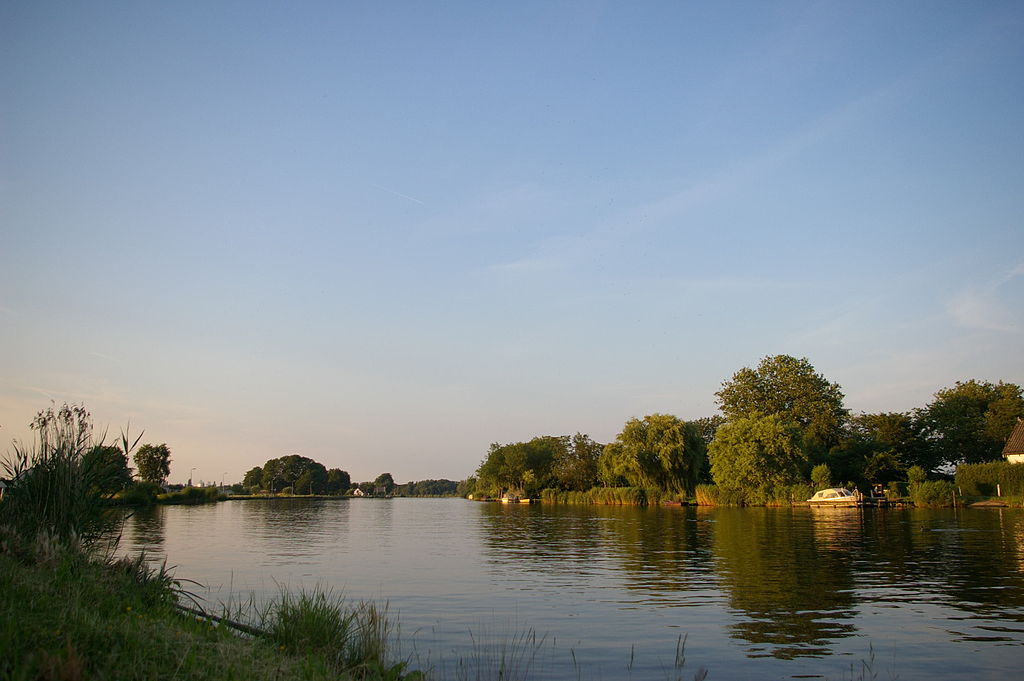 This view is just a three-hour walk down the river from Amsterdam. Image: MartinD/Wikimedia/CC3.0
Walk distance: From Magere Brug to Amstelpark is 4.5 km, continue as long as you please.
How to get there: Less than 10-minutes cycling from Amsterdam Centraal.
Starting point: Start anywhere along the river, let's say Magere Brug.
Route: Head south alongside the river for as long as your legs will carry you.
The Amstel River trail is a wonderfully expansive path that's adored by pedestrians and cyclists alike.
Hop on the trail at any number of entry points along the river. Once there, you can experience the picturesque Dutch landscape, windmills, and cows. Take in the tranquillity of the water along the way, and be sure to pay a visit to the beautiful Amstelpark. It's full of large leafy trees and botanical gardens, including a rosarium and rhododendron garden with 139 varieties.
Past the park, the trail will lead you as far into the rural countryside as you're willing to go. To give you an idea, from the Magere Brug (Skinny Bridge) in central(ish) Amsterdam to Amstelpark, the distance is about four and a half kilometres. The exit on the opposite side of the park and the river path continues for another six kilometres to Ouderkerk aan de Amstel, a lovely village for a break.
If you still haven't had your fill, take a lap around the Ouderkerkerplas (lake) and you've added on another five kilometres to your walk. Now, if you've got some good trainers, a sandwich in your pocket, and an inordinate amount of pep left in your step, you can keep going as long as you like. After another nine kilometres, you've reached the quaint little hamlet of Nessersluis. Although, anything this far from the centre is obviously achieved more easily by fiets than o n foot.
6. The urban classic: Vondelpark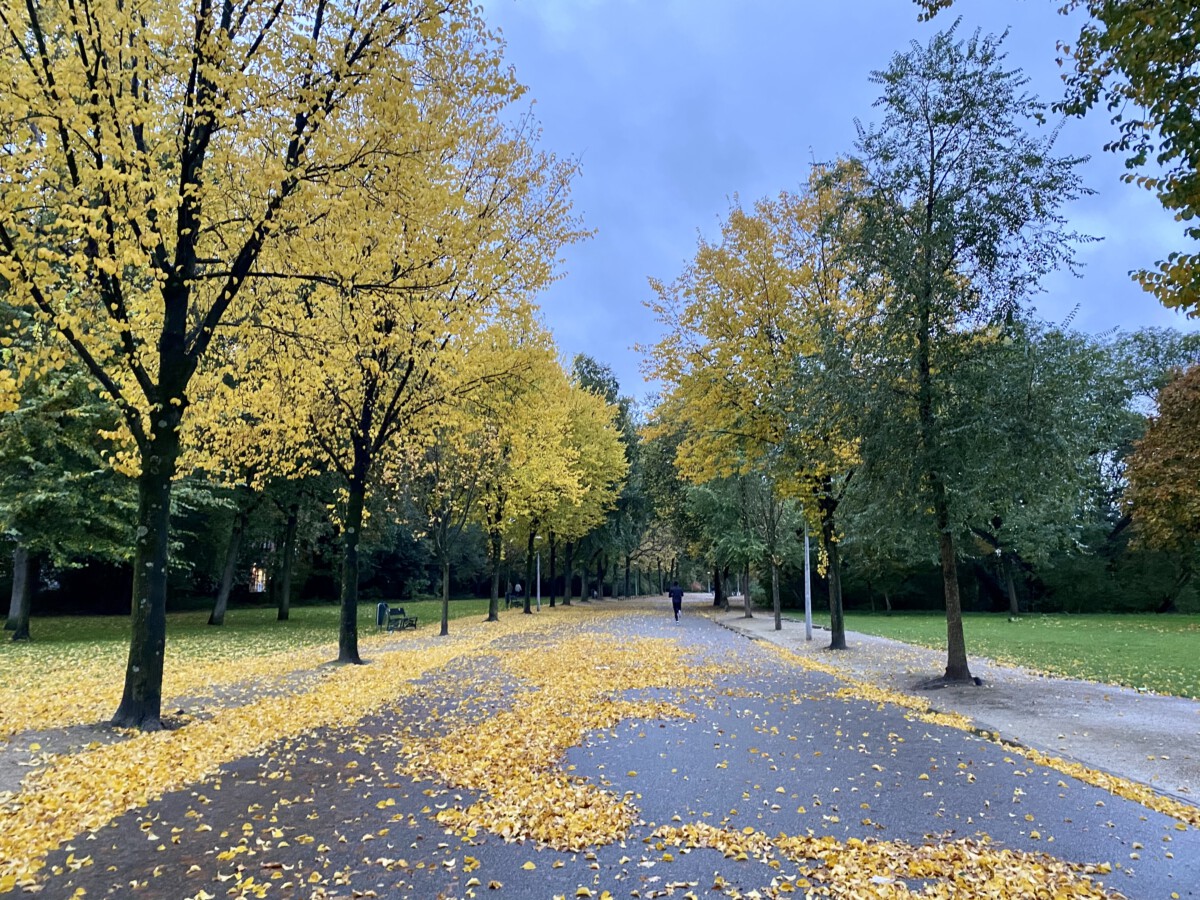 The early morning calm in Vondelpark. Image: Brin Andrews/Supplied
Walk distance: A loop around the perimeter without diversion is roughly 4.5 km.
How to get there: From Centraal Station, it takes about 15 minutes by bike.
Starting point: Maid of Amsterdam (main entrance).
Route: Straight ahead, then choose right or left. Make a loop, or weave your way around.
The famous Vondelpark: a park so accessible no wonder it receives more tourists than any other park in the city.
Particularly on an early morning weekend wandel , the park is calm and quiet. The tall trees help you forget you're in the city and the expansive paths lead you through interesting twists and turns. A hearty mix of trees, shrubbery, and ponds invite a range of interesting wildlife , such as grey herons, toads, bats, and even the famous Amsterdam parakeets.
7. North's soggy wandelen: 'T Twiske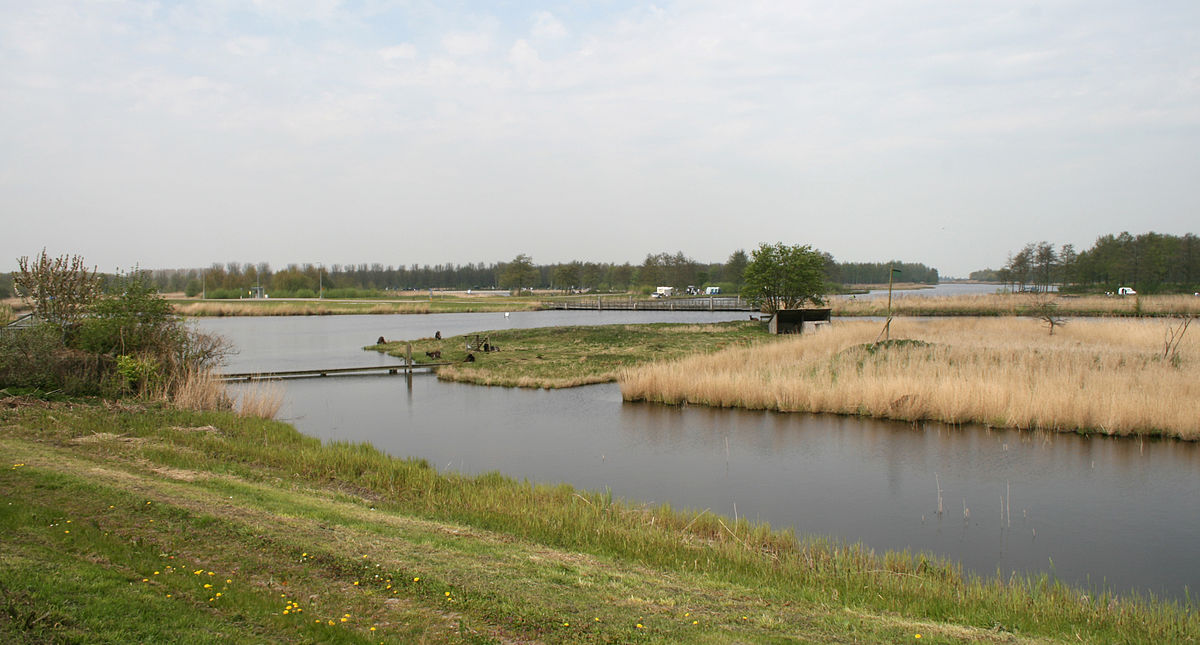 Waterland walking at its finest in 'T Twiske nature reserve. Image: S Sepp /Wikimedia Commons/ CC3.0
Walk distance: 3.5-16 km.
How to get there: A short ferry from Amsterdam Centraal and then a 30-minute cycle north.
Starting point: An easily accessible starting point is Twiske Speelsloot.
Route: For a 16 km walk, follow red signs for the Twiskeroute.
30 to 40 minutes north of Amsterdam by bike and a short ferry ride, 'T Twiske is the furthest wandelen area from Amsterdam to make the list. The park has various well-marked walking routes to choose from between 3.5 and 16 kilometres long.
By following the longest route, the Twiskeroute, you can cover a large majority of the nature reserve. You'll walk along both paved and unpaved trails around the Stooterplas (the lake), pass through meadows, dikes, and the Roemersveld and Het Smaal forests. Along the way, you'll have the chance to encounter pheasants, rabbits, countless forest birds, and the handsome Scottish Highland cattle. Plenty of benches line the way to rest your feet and have a snack.
If you're up to exploring more of the region, it's easy to tie in a visit to the neighbouring nature reserves, Ilperveld, Varkensland, and Oostzanerveld. Together, the four reserves form an enormous peat bog complex. A wandel through any of these watery landscapes is sure to offer a rich variety of flora and fauna to feast your eyes upon and the squishy peat will quite literally put a spring in your step.
There you have it — seven incredible areas for a stroll through nature around Amsterdam. So get out and enjoy! And if you're still hungry for more, check out some of the other beautiful forests , lakes , and nature reserves in the Netherlands.
Will you visit any of these great hiking and walking areas in Amsterdam? Do you have any additional favourites to add to the list? Tell us in the comments!
Editor's Note: This article was originally published in November 2020, and was fully updated in April 2022 for your reading pleasure.
The 9 Best Hikes In Amsterdam
As the capital city of the Netherlands, Amsterdam is home to many of the low-lying country's top cultural institutions and attractions. It's also notorious as a European sin city, thanks to its liberal legislation regarding drugs and prostitution. However, anyone who has visited Amsterdam can tell you that there's far more to the city than just its famous red light district. And if you don't take some time to explore both the city and its natural surroundings, you're really missing out.
Despite being one of Europe's first-tier cities, Amsterdam is also a place that embraces the natural world. The city itself offers plenty of great walking trails, including ones that take advantage of the endless network of canals. Alternatively, you can explore the quaint former village of Sloterdijk , which was once a peripheral town but has now been absorbed into the greater Amsterdam area. It's easy to discover some of the best areas to hike Amsterdam, because the city has a public transport network that rivals any in Europe. To find out more, check out our guide on how to get around Amsterdam .
If you're the type of person that likes to get some miles behind you even on a city break, you'll find that Amsterdam is both a fascinating city to explore and an easy place to escape and see more of the true nature of the Noord Holland region. Whether your tastes lean toward a stroll through the city and its crowds of tourists, or hiking through the woods and listening to the birds, you'll find this notoriously bike-friendly city is also a hiking paradise.
So drop off your bags at a Bounce luggage storage in Amsterdam and explore some of the best hiking routes both in one of Europe's most historic cities, and in the Dutch countryside. The lighter you travel, the more you'll be able to enjoy the fresh air and scenic countryside of the Netherlands.
Our Top Hiking Trail Picks in Amsterdam
Brouwersgracht
If you're just looking for an easy walk that will show you some of the city and let you get some miles on the pedometer, Amsterdam has plenty of options for you. One of the best is the Brouwersgracht, a historic district of the city. This region is often voted the prettiest canal sidewalk in all of Amsterdam, which in a city with so many canals is really saying something. Still, once you see the historic brick buildings, sidewalk cafés, interesting restaurants, and classic Dutch architecture of this area, you'll find it hard to disagree. Even if you walk up one side of the canal and down the other to capture all the best views of Brouwersgracht, you'll only clock a couple of kilometers. Still, given how often you'll want to stop to take photographs, exploring this lovely district could take longer than you think.
The Jordaan
Located right next to Brouwersgracht, The Jordaan shares the historic beauty of the famous street. This is inarguably one of Amsterdam's most picturesque districts, and a fantastic place to enjoy a short walk and get some impressive photos. Wandering through The Jordaan means you'll be surrounded by other tourists and visitors, just as you will by locals, but that's almost the point. All these other pedestrians make for great people-watching, after all. Plus, one of the benefits of hiking in a city like this is the sheer number of restaurants and bars where you can stop and get refreshments whenever you feel the need.
Vondelpark
If you're eager to get a glimpse of nature while walking in Amsterdam, visit the famous Vondelpark. This urban oasis is where Amsterdam locals come to get a taste of the country without leaving the city. Although this popular park is only around a five-minute walk from the center of Amsterdam, it feels a long way away.
Like the rest of the city, the scenery in Vondelpark is completely flat. Plus, while it's not hard to find some pleasant trails to walk in the park, it's not a destination for long-distance hiking. With that said, the trees and the scenic bridges over the canals make this a wonderfully picturesque place to explore. Besides, you'll be getting a glimpse of the real Amsterdam. And how many hikes do you know that will let you see a Picasso sculpture and visit some of the best restaurants in Amsterdam?
A late brunch is the perfect accompaniment to an early morning walk in the Vondelpark. To find the best places to eat, check out our guide to the best brunch in Amsterdam .
Rembrandtpark
Vondelpark gets most of the attention when it comes to urban oases in Amsterdam. But if you prefer a more varied trail for your urban hiking, consider a trip to Rembrandtpark. Here, you'll find 45 hectares of forest, lawns, rivers, and trails, both paved and unpaved. The small lake is a fantastic place to spot birds and other wildlife in the heart of the city, and the many hiking routes that wind their way through the park will make you feel like you're much further from downtown than you actually are. A loop around the perimeter of the park will give you about three km or just under two miles of hiking, but you can add to that by following the trails deeper into the park. Not bad for a place that can be reached from the center of Amsterdam in just 20 minutes on a bike.
Amsterdamse Bos
If you're looking to experience nature in the city, the sprawling woodlands of Amsterdamse Bos are hard to beat. Not many tourists find their way out here, but it's a shame, because this park is a kind of natural playground much loved by Amsterdam locals. At three times the size of New York's Central Park, Amsterdamse Bos is one of the biggest urban forests in Europe, and is the perfect place to wander along the trail beneath the trees and enjoy this famous forest. The winding paths are especially beautiful in fall, when falling leaves carpet the ground. And although the trails are mostly flat, like everywhere in Amsterdam, you can challenge yourself by going for distance on the Long Forest Walk, which offers 15 km of woodland trails to hike.
Heemtuin Sloterpark
Twenty minutes on a bicycle will bring you to this hidden gem within the city. Heemtuin Sloterpark is a green space that encompasses a lake known as Sloterplas. You'll find a 6 km or 3.75 mile loop trail that winds its way around the lake, allowing you to experience the plant and animal life of this suburban beauty. There's also a nature center, a petting zoo, and a botanical garden in this park, meaning there's plenty to do once you've finished hiking. Because it has so much to offer, this underrated park may be one of the best free things to do in Amsterdam. The trail starts at any point you choose around the lake, so make the short journey out here from Central Amsterdam and discover this oasis for yourself.
Lange Bretten
If you really want to get away from the tourist crowds, Lange Bretten can offer you a true taste of the country. Peace and quiet await for those who make the surprisingly quick journey to this park. It can be reached in around 30 minutes by bus from Amsterdam Centraal station, or you could rent a bike and travel under your own steam.
However you choose to reach Lange Bretten, you'll find yourself in a nature preserve that will make you forget the city you've left behind. You'll also find no shortage of hiking trails, with more than 10 km of paths to explore. This is also one of the best places to see wildlife close to Amsterdam, with buzzards and falcons patrolling the skies and frogs and rabbits hurrying through the bushes. The sprawling park combines woods with grassland and marshes, letting you see a little bit of everything the Dutch countryside has to offer.
Amstel River Route
Avid hikers will surely be aware of the Amstel River Route, one of the most famous hiking trails in Amsterdam. Just to the south of the city, the trail starts near the village of Ouderkerk aan de Amstel and covers over 20 km or 13 miles of countryside. It's the perfect place to explore not only the nature of the region, but also some of its historic villages. Riverside trail lets you see a side of Amsterdam most visitors never do, and the winding route will slowly bring you back toward the city. It's the perfect way to see more of what the Netherlands has to offer, and you'll find no shortage of peace and tranquility waiting for you on this impressive trail.
'T Twiske
Heading a little further out of the city means you get to experience more of an adventure. And you still don't have to go all that far. You'll need to take a short ferry ride to reach 'T Twiske, but you'll be glad you went to the effort when you see what the place has to offer. The hiking trails here range from an easy three-kilometer route to a much more challenging 16 km hike. Taking the longer route allows you to explore meadows, woods, lakes, and all kinds of other topographical features. You'll also encounter plenty of wildlife and maybe even some Highland cattle as you wander along your route. The winding paths are ideal for walking and experiencing the wilder side of the Netherlands without venturing too far from the city.
Easy Hikes in Amsterdam
If you're just looking to do some easy walking along a route in Amsterdam, there are plenty of places to do that. Brouwergracht and The Jordaan are excellent places to see the historic architecture of the Netherlands and stay close to all of the city's bars, restaurants, and other amenities. However, if you'd rather something a little more natural, Rembrandtpark offers a walking route that isn't too challenging but will still let you get out in the fresh air.
Intermediate Hikes in Amsterdam
For more of a challenge, Heemtuin Sloterpark offers a shortish route with plenty of points of interest along it. Likewise, the Vondelpark lets you stretch your legs without leaving town, and is big enough that you can get some miles behind you without being unduly taxing.
Difficult Hikes in Amsterdam
The relentlessly flat scenery of the Netherlands means you won't be climbing any mountains on your vacation. Therefore, if you want to challenge yourself by walking, you're going to have to go for distance. Larger parks like Amsterdamse Bos and the Amstel River Route give you enough distance to get some real exercise. Plus, they are often connected to other natural areas so that you can keep your exploration going and really give your hiking boots a workout.
Conclusion
Most visitors to Amsterdam come to explore the city's museums, its cafés, or its seedy underbelly. Those who prefer to explore the natural side of the country, therefore, have an advantage when it comes to getting away from the tourist crowds. Exploring the wilder side of Amsterdam means seeing the city like a local and getting a better understanding of what it's like to live in this famous place. Plus, it's a great way to get some exercise on your vacation, and walking is a free thing to do in what can be an extremely expensive city.
Don't forget to drop off your unneeded luggage at a Bounce luggage storage in Amsterdam. That way, you'll be ready to head out to the trails unencumbered and really enjoy a good walk on your vacation.
Source https://www.advnture.com/features/best-national-parks-hiking
Source https://dutchreview.com/traveling/cities/amsterdam/hikes-walks-amsterdam/
Source https://usebounce.com/guides/amsterdam/best-hikes-in-amsterdam