Best Crampons for Hiking of 2022 (Guide & Reviews)
When you're dealing with steep trails or snow-covered paths, having crampons on hand to keep you stable and secure in the great outdoors is a must. Choosing the right hiking crampons doesn't have to be stressful. However, with so many selections and materials on the market to pick from, the choices can be overwhelming.
We did the work, conducted the research, and narrowed the list down to the top 5 best crampons for hiking on the market currently. For a detailed guide to picking out crampons, plus our top 5 picks (and the final winner!), keep reading.
The top 5 crampons for hiking we recommend for 2022:
The Best Crampons for Hiking Reviews
Ready to discover the top 5 recommended crampons for hiking? Let's go!
Grivel G10 Crampon
Grivel's G10 Crampon has 10 rounded steel points that improve your grip while you're climbing glacial mountains, and they're not bulky or difficult to walk in.
Easy to use
Highly durable Chromoly steel
Flexible features
10 point design
Works with regular hiking boots
Not compatible with snow boots
Metal design is pretty stiff
The first selection on our list will be the Grivel G10 New Classic, an ideal one-size-fits-all pick for activities ranging from traditional hiking to backpacking to ski mountaineering.
We love these crampons because they are very light with flexible features, so you can adjust them to fit your regular hiking boots. Manufactured from highly durable Chromoly steel, these crampons are much stronger than regular steel and will last you far longer.
We like that the Grivel G10 Crampon sports 10 points to give you plenty of grip on everything from steep mountains to slippery trails. The number of points on these crampons makes them ideal for both moderate hikes and more intense climbs. They also feature anti-balling plates to enhance your stability.
For a simple set of crampons that are light and user-friendly, you can't go wrong with the Grivel G10 Crampon.
Black Diamond Contact Crampons
Black Diamond Contact Crampons are lightweight while having a stainless steel construction that won't rust, and the flexible toe straps to fit most boots or gear.
Comes in both clip and strap-on models
Durable, weather resistant stainless steel
10 point specifications
Great for moderate to intense hikes on steep terrain
You might need to purchase additional bars to ensure the crampons fit
Toe cap could be snug for larger shoe sizes
The Black Diamond Contact Crampons are one of the most lightweight selections on the market currently. If you've been on the fence about purchasing crampons because you're concerned about getting weighed down on the trail, these could be for you.
Designed from stainless steel, we like how durable and weather resistant these crampons are.
The strap-on design means these flexible crampons are a fantastic choice for a wide range of hiking activities, including both moderate hikes and intense cold-weather mountaineering. We also like the 10-point specifications that give you plenty of grip on icy terrain without being uncomfortable or weighing you down.
One element that really makes the Black Diamond Contact Crampons stand out is that you have the option to purchase them in 2 models— clip and strap. If you're planning on wearing regular hiking boots, you'll definitely want the strap-on kind.
Black Diamond Serac Strap Crampon
Black Diamond Serac Strap Crampons are lightweight, come in three configurations, and they have 12 points to increase your grip while fitting any mountain boot type.
3 different models for all hiking needs
Anti-balling plates
Corrosion resistant stainless steel
Power 12 point design
Heavier than some other crampon models on the market
May not be ideal for more moderate hikes
Another excellent product by Black Diamond, the Serac Strap Crampon features 12 rather than 10 points. The higher point specifications mean that these crampons will definitely provide you with more gripping power on super steep slopes, but they are considerably heavier than the 10-point variety. You can select the Black Diamond Serac Strap Crampon in 3 different models, featuring strap-on bindings, hybrid bindings, or step-in bindings.
The strap-on bindings are best for traditional hiking boots while the hybrid and step-in variety are suited to technical boots. No matter which model you select, all of them feature anti-balling plates so you won't have to worry about snow catching in the crampons and leaving you with frozen feet.
We liked that these crampons are designed from corrosion fighting stainless steel, which also makes them a good selection for mountaineering and hiking on steep surfaces.
Petzl Leopard Fl Crampons
Petzl Leopard Fl Crampons features a CORD-TEC flexible linking system that makes them very lightweight and easy to carry, and the FLEX LOCK binding system keeps them secure.
Incredibly lightweight at 360 grams a pair
Very user-friendly
Works with any type of hiking boots
Comes with storage bag for easy transportation
No anti-balling plates
May not hold up as well against very rugged terrain
The Petzl Leopard FL Crampons are made of aluminum, rather than steel, which means they are very lightweight and easy to wear. They weigh in at just around 360 grams total for a pair. So, if you frequently do heavy hiking and need a very light pair of crampons that won't distract you from your climb, the Petzl Leopard FL Crampons are a quality pair to consider.
Featuring a 10-point design, they sport strap-on bindings which makes them compatible with any type of hiking boot you have. We also really liked their built-in Cord-Tex system which makes the crampons more compact when you need to pack them up and take them on the go. The crampons come with a special storage bag too, so it's easy to move them from place to place and pull them out as needed.
Camp Stalker Universal
Camp Stalker Universal Crampons secure to any standard mountain boot with nylon straps, and they have durable thermoplastic heel and toe harnesses that adapt to different terrains.
Very affordable
Highly durable with 12 point, Chromoly steel design
Perfect for rough terrain where extra grip is needed
Pretty heavy
Tends to rust faster than a stainless-steel set might
The final pick on our list are the Camp Stalker Universal Crampons. These weigh quite a bit more than our last selection at 948 grams, but this also means they will offer you great stability on rough trails and steep slopes. We love the durable 12-point design manufactured from Chromoly steel for extra gripping power.
We were pleased to see that these crampons also sport anti-balling plates, a thermoplastic heel, and sturdy nylon straps for user-friendly ease. These are a great option for recreational outdoor enthusiasts who need a sturdy option for longwear use.
Even better, the Camp Stalk Universal crampons feature CC4U wear indicators so there's no guesswork involved when it's time to replace them. The crampons also come with a storage case so you can put them in your backpack and take them out as needed.
The Definitive Guide to Choosing Crampons for Hiking
Here's exactly what you need to know to select the right crampons for hiking to meet all your outdoor needs.
If you're going to be hiking on icy or snowy surfaces, wearing crampons is nonnegotiable. When hiking in icy alpine settings, you're most likely going to be wearing synthetic leather or leather hiking boots for durability.
These footwear selections are most compatible with horizontal frame crampons, but your activity is going to be the ultimate determinant of the type of crampon you select.
There are very lightweight crampons designed for regular walking and hiking in winter settings, with regular crampons that are ideal for glaciers, snow, hiking with an ice ax, and good old-fashioned mountaineering.
Here's a quick overview of the right crampons for common outdoor activities in icy and snowy conditions.
Regular mountaineering: Steel semi-rigid crampons with a fixed horizontal frontpoint
Technical mountaineering: Steel semi-rigid crampons with a fixed horizontal frontpoint
Snow walking: Steel or aluminum flexible crampons with a fixed horizontal frontpoint
Mixed climb and waterfall ice: Steel semi-rigid crampons with modular vertical frontpoint
Consider the Frame
The next thing you need to consider when shopping for hiking crampons is the frame. There are different types of frames, with varying materials, weights, and degrees of alignment.
As a rule of thumb, steel crampons are best suited to traditional mountaineering. They are highly durable, which makes them a great pick for icy slopes.
Stainless steel crampons are also compatible with general mountaineering and are very resistant to corrosion, wear, and tear just as regular steel crampons are. Aluminum crampons are best for ski mountaineering and approaches, as they are very lightweight.
However, they do usually wear out much more quickly than stainless steel or steel crampons do if you're hiking on rugged terrain.
Horizontally aligned frames are the industry standard now for hiking boots crampons, because they are compatible with the insulated hiking boots that most outdoor enthusiasts wear for extensive excursions.
So, unless you climb in plastic boots (which most hikers don't these days), you're going to want a horizontal crampon frame.
Horizontal frames are great because they give you plenty of freedom to walk, the aluminum or steel design aligns flat with the ground, and the bars are resistant to gathering snow, so you don't get bulked down. Aluminum frames are definitely more lightweight than steel frames, but this also makes them slightly less durable and not quite as sturdy.
If you typically engage in non-technical hiking though, aluminum will serve you well. You'll just want to stay away from activities like snow and mixed rock climbing with aluminum hiking crampons.
Design
The design of crampons is another key element to consider when shopping for the right pair. You can purchase rigid and hinged crampons, but most of the ones on the market today are semi-rigid.
Semi-rigid crampons perform well in a wide range of weather types, giving you enough flexibility for regular winter hikes but enough stability for icy climbs.
Some crampon models let you alter the linking bar situated between the heel and toe to adjust the device from semi-rigid to fully flexible. While not a part of all crampons, this feature is certainly handy and will ensure more comfort on the road.
Crampon Binding
Crampons typically sport 1 of 3 kinds of binding to connect to your hiking boots. The first type of crampon binding is hybrid, also known as semi-step or mixed crampons. Hybrid crampons sport a toe strap and heel lever. They are compatible with rigid soled boots with a welt or groove to secure the heel lever.
The second type, step-in binding, features a wire bail that secures the toe, plus a heel cable with a lever to connect the heel and crampon together. Step-in crampons are super easy to put on when it's snowy outside and you're wearing gloves. If you select a crampon with step-in binding, your hiking boots should feature rigid soles with a minimum ⅜ inch groove or welt at the toe and heel.
The final type of crampon binding is a strap-on. Strap-on crampons typically sport nylon webbing, so they are compatible with almost any type of hiking footwear you can imagine, provided the middle bar fits with your shoe. It takes a little longer to secure strap-on crampons to your shoe, but they are sturdy enough to hold up against moderate ice.
If you want to use different types of hiking footwear with a single type of crampon, strap-on devices are an excellent choice. Strap-ons don't have quite the accuracy of step-in crampons though, so you'll notice a modicum of motion between the crampon and your hiking footwear.
Bear in mind the kind of boot you have, and whether it is rigid, semi-flexible, or very flexible. Make sure the crampon frame is sufficiently flexible to fit your hiking footwear. If you're not sure which is best for you, a strap-on is always a good choice because it works with almost any type of shoe.
Points
The right crampons for hiking boots typically feature either 10 or 12 points. Points should be situated beneath your instep and adhere to your footwear shape. You may have to adjust the crampon bails to ensure the right point extension, but some newer models include serrated areas so crampons can cling to terrain even when the point doesn't.
A device with higher points is going to be more rigid and better suited to intense outdoor activities. For example, the majority of 10-point crampons will serve you well when hiking glaciers or ski touring. There are also crampons designed specifically for activities like mixed climbing, with more forceful frontpoints.
Frontpoints (or the points at the front of the device) come in horizontal, vertical, or monopoint configurations. Horizontal frontpoints are best for snow/ice and alpine climbing, while vertical frontpoints are suited to mixed climbs and waterfalls. Monopoint crampons are good for mixed climbing or technical waterfall climbing.
Points can be either non-modular or modular. You can sharpen non-modular points, but they shorten with extended use. They are lighter than modular points and don't have any moving parts. With modular points though, you can switch out the teeth based on the activity you're going to be doing.
The Winner
While each of the best crampons for hiking on our list are suited to a variety of user needs, our favorite and the ultimate winner out of the group are the Black Diamond Contact Crampons. There were so many things we loved about these crampons, from their lightweight design to their flexible toecap to their durable stainless-steel exterior.
They are highly durable and weather resistant, with 10-point specifications that make them well suited to a plethora of hiking activities. We were also impressed that the Black Diamond Contract Crampons come in both strap-on and clip designs.
While most hikers will probably use the strap-on bindings, we like the fact that you have the option for both. From freezing hikes to winter mountaineering adventures, the Black Diamond Contract Crampons have you covered.
I'm passionate about all things outdoors, bridging the gap between generations and sharing my passion for hiking and camping. My goal is to spread the endless benefits of being outside, always striving for better performance, new challenges, and ways to explore responsibly.
We are a family-run site with a team of outdoor experts who strives to inspire and motivate people of all ages to venture outside with confidence.
A little more about us.
Can You Use Crampons With Hiking Boots? (Answers Explained)
If you want to start hiking where there's snow or slippery and wet terrain, crampons are a great addition to your gear. Crampons are spikey traction devices that attach to footwear and provide better grip and stability. They are mainly used for icy and snowy terrains.
Many people mistakenly call them "clamp-on," but that is incorrect. Crampon is a french word for a 10-point style piece of climbing gear designed in 1908. You might also find crampons with 2 points (tines) in the front to make climbing steep terrains easier.
There are different types of crampons for different purposes. So let's see if they're good for hiking and what you need to know before buying any.
Table of Contents
Can You Put Crampons on Hiking Boots?
Yes, you can generally put strap-on crampons on your hiking boots. But a few factors will decide if your hiking boots and crampons are compatible.
The main thing to consider is the crampon flexibility compatible with your hiking boots. Moreover, the different types of crampons, sizing and fitting, accessories, and the terrain you plan to hike on are some more things to consider. It would be best to get familiarized with flexibility grading and sizing to ensure a comfortable fit.
If anything between your crampon and hiking boots is off, you might have a hard time hiking. It is important because it can be dangerous to lose grip while walking or climbing ice.
Ensure Flexibility Grade Will Work Between the Crampons and Hiking Boots
B0: very flexible soles and uppers, best to use while trekking and walking on hills, not good in snow
B1: rigid midsoles and flexible uppers, best for longer mountain hikes, winter hill walks and hiking, not very good in snow
B2: stiff midsoles and uppers, best for mountaineering and easy mixed climbing on lower grade snow.
B3: most stiff soles and uppers, best for mountaineering on steep, icy terrains and mixed climbs in all grades of snow.
C1: strap-on crampons that are very flexible, easy to secure with most hiking boots. Best for walking in winters and flat route glacier traversing.
C2: hybrid crampons that are stiffer than C1s; they might need to be secured to heel welts. Best for climbing in winters and inclined routes/alpinism.
C3: step-in crampons that are very stiff must be secured from boots toe to heel welts. Best for steep and icy slopes and difficult routes and climbs.
Next, you must ensure that your boots are stiffer than your crampons. If the boots are not stiff enough, you could lose the crampons mid-hike. Stiff soles help with secure attachment and prevent further issues.
B0 boots are not suitable for crampons. B1 boots are suitable for C1 crampons, and B2 boots are suitable for C1 and C2 crampons. B3 boots are suitable for all 3 crampon grades.
What Are Crampons Made Of?
Crampons are usually made of steel alloy, lightweight aluminum and sometimes both. Their best purposes can vary depending on the material they're made of. For example, lightweight crampons are best for alpine ski touring.
However, heavier crampons might be best for trekking/hiking or climbing snowy, icy terrains or frozen waterfalls. You could also use them in non-snowy, non-iced conditions.
Choosing the Correct Crampon Binding (3 types)
As mentioned earlier, there are 3 types of binding. Each crampon flexibility grade has a different type of binding. It is important to select the right binding for you for your safety!
The three bindings are strap-on, step-in or hybrid. You will often find strap-on binding on C1 and C2 crampons, hybrid binding in C2 and C3 crampons, and step in on C3 crampons. Each binding is best for a certain set of activities, though.
For example, waterfall ice and mixed climbing require hybrid or step-in binding, while snow walking/hiking requires strap-on binding.
Sizing Your Crampon
EU size 36-46
UK size 4.5-11.5
US size 5-13
How To Attach Crampons To Hiking Boots
Fortunately, crampons are pretty simple to attach to your hiking boots. You can also search for videos to explain it to you. However, let us explain how to attach different crampons.
C1 strap-on crampons
C2 hybrid crampons
C3 step-in crampons
Like the hybrid binding crampon, you have to fit the front of your boot in the toe cage. Once you've done that, lock the heel clip on your boot's heel welt. Loop its straps around your boot and make sure it is tight.
Conclusion
To conclude, you can use crampons with hiking boots. You need to size them correctly and choose the appropriate flexibility grade and binding for you. You also need to make sure your boot's flexibility grade is compatible with crampons.
We hope that we've answered all your questions about crampons and hiking boots. You're now ready to buy yourself some crampons and hike up and down that snowy and icy trail you've heard about! Remember, choose the correct crampons and stay safe out there.

report this ad
This post may contain affiliate links. If you click an affiliate link and make a purchase, I may earn a commission. Also, as an Amazon Associate I earn from qualifying purchases. report this ad report this ad report this ad
Vasque Hiking Boots Review: Are These the Best Boots for You?
When it comes to hiking boots, choose wisely. You're sure to come across a massive array of brands and prices, but not all are equal. A pair of Vasque hiking boots will be vastly different than a pair of Hi-Tecs. After all, you don't want a cheap pair of boots that will soak your foot with the first puddle you step in. Or even worse, whose treads are slippery and dangerous to use on a wet trail.
You need to get a few things out of your hiking boots. Are they waterproof? A waterproof hiking boot is a must for any serious hiker or camper. Second, are they safe? That is, do the treads grab on to terrain, and are they non-slip? Third, are they durable and rugged? There's no point spending money on a boot if it's going to fall apart after one use. And finally, do they offer the same boots for both men and women? Everyone should be able to enjoy the same hiking experience. If your hiking boots don't offer all of these things, you could be wasting your money, or even putting your safety at risk!
Vasque Breeze hiking boots (Men)
Vasque Breeze hiking boots (Women)
Vasque Talus hiking boots (Men)
Vasque Talus hiking boots (Women)
Vasque Snowblime winter hiking boots (Men)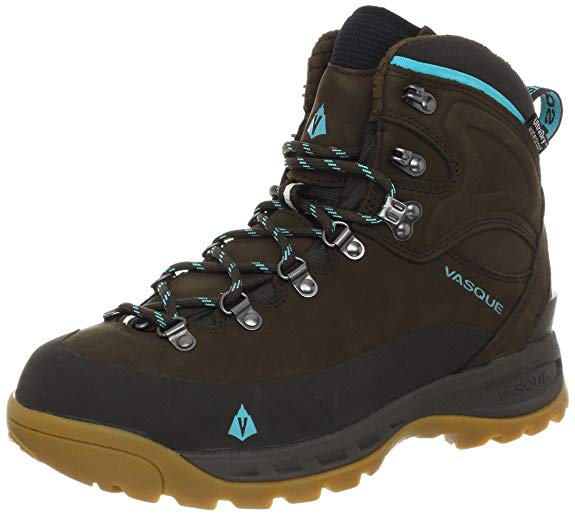 Vasque Snowblime winter hiking boots (Women)
[amazon fields="B01HU5DSR4″ value="thumb" image_size="large" image_align="center"]
[amazon link="B01HU5DSR4″ title="Columbia Newton Ridge Plus" /]
[amazon fields="B01HU5DSR4″ value="button"]
Timberland Mount Maddsen
Hi-Tec Skamania
Salomon X Ultra 3 GTX
What Are Vasque Hiking Boots?
Vasque Breeze III GTX Men's Boot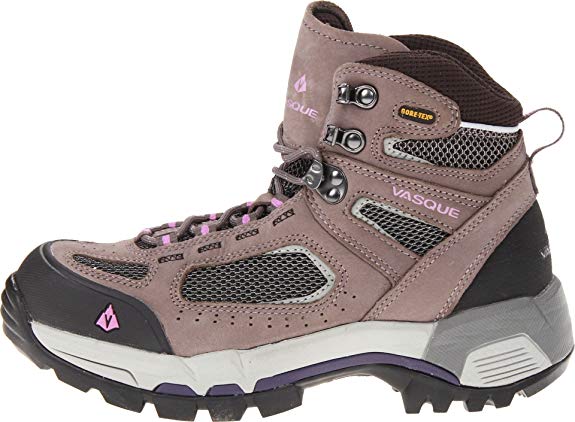 Women's Breeze 2.0 Gore-Tex Boot
Before we looked at the actual boots Vasque produces, we checked out the company itself. Did you know that Vasque hiking boots have been helping people enjoy the outdoors since 1964? That's when William Sweasy started the company after spending some time in Europe, where mountaineering is all the rage. He saw the quality of French, Swiss, and Austrian hiking boots and wanted to bring that same quality home to America. During the early '60s, the outdoor lifestyle hadn't reached North America yet. Sweasy helped change that with Vasque hiking boots. The company gets its name from Sweasy's favorite town in the US: Fort Vasquez, Colorado.
Today, Vasque creates several lines of quality boots for all things outdoor. Of course, Red Wing Shoes now owns the brand. However, Vasque still operates as a semi-autonomous company, and you can see that in the craftsmanship of their hiking boots.
What sets them apart?
What sets Vasque hiking boots apart from the others is their tradition of recreating the handmade mountain boots of the Alps. There's a certain vintage appeal to Vasque hiking boots that you don't see in many other brands. They don't try to look modern. For instance, you won't find any Gore-Tex in a Vasque hiking boot, but you will find genuine leather and rugged assembly. Also, just because Vasque harks back to a different time doesn't mean they don't embrace modern technology. Vasque hiking boots use modern materials and machines to make waterproof, rugged boots. So what really sets Vasque hiking boots apart is their heritage.
How We Reviewed
When we set out to review Vasque hiking boots, we wanted to make sure we were able to give you enough information to make an informed buying decision. So we delved into as much information about Vasque as we could. We learned the company history, and we checked out several of their most popular lines of hiking boots. Then, we read through customer reviews on Amazon to get an idea of how these boots hold up in the real world.
Finally, we compared Vasque hiking boots to a few of the biggest hiking boot brands you're sure to come across. These include Columbia and Timberland hiking boots.
The Vasque Hiking Boots Line
Because Vasque produces several lines of hiking boots, we reviewed a few of their most popular. One thing we love about Vasque hiking boots is that the same lines are available for both men and women.
Vasque Breeze hiking boots
4.2 out of 5 stars
The first Vasque hiking boots we checked out were the Breeze 2 and Breeze III line. The Breeze hiking boots are immensely popular. Although they are assembled in America, the materials are imported. This includes the leather. The Vasque Breeze boots feature breathable mesh panels held together by a sturdy leather frame. These boots are great for arid climates. Also, the Breeze boots come with patented "Vibram" mega-grip, so your foot can always get a good hold on the surface. Both the women's boots and the men's boots cost between $100 and $150.
Amazon customers gave the Breeze line 4.2 out of 5.0 stars. Almost everyone raved about the amazing treads on these boots, with one man calling them "like glue." The only complaints were from men, who found the shoes a little too snug.
Vasque Talus hiking boots
4.4 out of 5 stars
Where the Breeze boots were breathable, if you want waterproof boots the Talus line is what you want. Vasque calls them "Ultradry." These boots feature thick cushioning for extreme comfort, wrapped in a leather and synthetic boot. They have a Vibram outsole for superior grip. These are smaller boots and end just above the ankle. This makes them feel more like you're wearing a comfortable pair of jogging shoes and not big, clunky hiking boots. Thanks to this design, you're more easily able to spring along the terrain while being close to mother nature. The men's boots and the women's boots will cost you between $80 and $200.
On Amazon, customers gave them 4.4 out of 5.0 stars. Almost everyone praised the great ankle support the Talus boots offer. One woman said that she spent 6 hours hiking in the snow and mud, and her feet stayed dry. Once again, many men complained that the boots were too small and that the sizing is innaccurate.
Vasque Snowblime winter hiking boots
4.3 out of 5 stars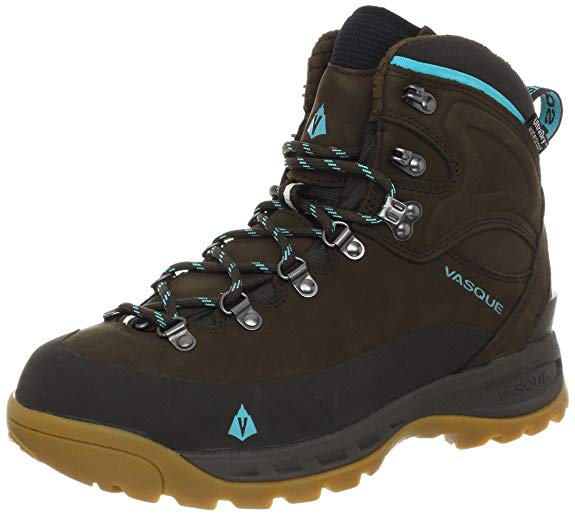 Although the Talus line of hiking boots do a good job keeping your feet waterproof, they're ultimately not designed for serious winter hiking. Those who hike in colder climates, whether that be Minnesota, Maine, Canada, or even Alaska, will want a set of Vasque hiking boots like the Snowblime. These snow boots feature a tall shaft which is 6 inches above the arch, so no snow is getting down there. A thick rubber sole locks out all the water. Also, the entire interior is kept warm by 3M "thinsulate." Women and men can expect to pay between $110 and $150 for these Vasque hiking boots.
Customers gave them 4.3 out of 5 stars on Amazon. Everyone said that the boots keep their feet very warm, with one guy writing that even at -4F, his feet stayed cozy and dry. Again, like all the other Vasque hiking boots, many men found that the boots were too small for their feet.
Pros and Cons of Vasque Hiking Boots
If Vasque hiking boots are the best boots for you, then we would certainly recommend them. Of course, no hiking boot is perfect. Despite all the great things about Vasque hiking boots, and all the glowing reviews, they have their share of problems.
Pros
Cons
How Do They Compare?
The last step in determining if these are the best hiking boots for you is to compare them against the competition. For this, we looked at Columbia, Timberland, and Hi-Tec, the three biggest boot-makers on the market. Are Vasque hiking boots better than any of these? We took a look.
[amazon link="B01HU5DSR4″ title="Columbia Newton Ridge Plus" /]
4.4 out of 5 stars
[amazon fields="B01HU5DSR4″ value="thumb" image_size="large" image_align="center"]
[amazon fields="B01HU5DSR4″ value="button"]
The first hiking boots we compared Vasque hiking boots to were the Columbia Newton Ridge Plus. Like Vasque hiking boots, Columbia produces the same line of boots for both men and women. Columbia hails from Beaverton, Oregon. These guys know mountains and wet northwest Pacific trails. These particular boots are waterproof and consist of a leather-synthetic mix. They have a rubber sole compression-molded EVA foam in the interior. You can wear these boots in moderately-cold weather, although they won't keep you as warm as the Vasque Snowblime boots. Whether you're a man or a woman, expect to pay between $50 and $90.
On Amazon, customers gave the Newton Ridge Plus' 4.4 out of 5.0 stars, citing how dry they keep your feet. Almost every woman was in love with these boots, saying they are comfortable and grippy and waterproof. However, quite a few men had problems with the width of the boots, which they said were constricting and uncomfortable.
Timberland Mount Maddsen
4.3 out of 5 stars
Next up is Timberland's most popular hiking boot, the Mount Maddsen. Timberland, from Boston, created the Mount Maddsen hiking boot two decades ago and the line is still going strong. This boot is rugged. Timberland made it for hiking the Appalachians, Rockies, and Cascades. A rubber sole keeps feet dry and the boot safe from slippage. Because they only come up to just above the ankle, you won't want to wear these in the snow. Also, they're not insulated so cold weather isn't an option. Both the men's boot and the women's boot costs between $70 and $120.
Meanwhile, customers on Amazon gave the Mount Maddsen 4.4 out of 5.0 stars. Customers reported that the Timberlands are waterproof and extremely rugged. One Scout leader wrote that for six days he would put them on at seven in the morning and take them off at midnight. His feet were dry and comfortable the entire time! On the other hand, people reported that the sizes are off and the boots are too tight.
Hi-Tec Skamania
4.4 out of 5 stars
Next is England's own sports supplier, Hi-Tec, and their Skamania line of waterproof hiking boots. These come in sizes for both men and women. Unlike other footwear manufacturers, Hi-Tec remains independently owned while almost all of their production happens in England. The Skamania line of hiking boots are mid-rise, so they'll come up to your ankles. These aren't meant for wet or snowy conditions. The shoe itself is a mix of mesh and suede, while the sole is rubberized. The mesh allows your feet to breathe while the inner lining keeps everything dry. The women's boot costs between $35 and $100, while the men's boot costs between $40 and $130.
Customers on Amazon gave the boots 3.9 out of 5.0 stars. Almost everyone praised the comfort these boots provide. People said they are effectively waterproof and the cushioning inside is soft to walk on. One woman wrote that her feet didn't slide around inside the boots because they were a perfect fit. A few customers complained that the shoelace rings started to rust and sometimes break off.
Salomon X Ultra 3 GTX
4.3 out of 5 stars
Lastly, we took a look at the Salomon X Ultra 3 GTX hiking boots for both men and women. Salomon is a French company who began producing sports equipment shortly after World War II, in 1947. However, in 2005 Amer Sports, from Finland, bought the brand. Regardless of who owns the company, Salomon is known for outdoor equipment. The X Ultra line is one of their best hiking boots, and the "X Ultra 3 GTX" is the newest of the line. The boot is leather and synthetic, while the sole is rubber. Salomon designed a "sensifit" system so feet are held in place by soft foam cushioning all around. This makes it easier to go downhill. Finally, they used two different types of rubber to provide ultimate grip. Both the men's boots and the women's boots cost between $120 and $200.
On Amazon, customers gave the Salomons 4.3 out of 5.0 stars, with many praising the lightweight feel of these boots. One woman wrote that she loves her feet and wants to keep them cute, and the Salomon X Ultra 3 GTX does that perfectly. Both men and women wrote that these hiking boots keep your feet cool, have a great grip, and fit comfortably. However, many people complained that the boots caused blistering around the ankles and that the ankle support is lacking.
Which Hiking Boots Are Best For You?
Because Vasque hiking boots have so much competition in a crowded market, they need to concentrate on quality. They do this exceptionally well, and in our research, we noticed that Vasque hiking boots consistently garnered higher customer ratings than the other brands. Also, Vasque hiking boots come in a variety of flavors for all different types of trails. So, whether you're hiking through the Sierra Nevada or camping in the snow of northern Alberta, Vasque has a pair of boots for you.
Which is why we can recommend a pair of Vasque hiking boots for you. We think these are the best boots for almost anyone, although Salomon runs a close second. The only problem we don't like about Vasque is the sizing issue. In fact, we found that all of the companies who outsourced their production to China had problems with proper sizing. On the other hand, the two European brands, Hi-Tec and Salomon, were praised for their perfect-fits. This may or may not be an issue for you. It seems that men experience size problems with boots being too small more than women do, so take that into consideration.
All in all, if you go with Vasque hiking boots, you won't be disappointed!
Source https://www.outdoorsgenerations.com/best-crampons-for-hiking/
Source https://theoutdoorfanatic.com/use-crampons-with-hiking-boots/
Source https://camplonger.com/vasque-hiking-boots/