A Guide to Hiking and Rock Climbing in Torres del Paine
Defined by the three distinctive granite peaks that compose the Paine Massif, Torres del Paine National Park draws 250,000 visitors each year from just about every corner of the earth. It has long been the subject of European and North American fascination, with the first foreign tourists arriving in the 1880s and millions more exploring the scenic spot since.
The park has long been recognised for its preeminent beauty. It has been elected the fifth most beautiful place in the world by National Geographic and the Eighth Wonder of the world by TripAdvisor.
Containing four large lakes, three glaciers, numerous valleys and mountains as well as encompassing a portion of the Southern Patagonia Icefield, the park was also named a UNESCO World Biosphere Reserve in 1978, in recognition of its unique fauna, flora and terrain.
During the summer, which stretches from December to February, hiking and rock climbing are two of the popular draws for this rugged and beautiful region. They have become so ubiquitous for outdoor adventurers that they are often done in tandem.
Indeed the park offers a varied and ideal landscape for the two activities. The popular Circuit trail is one of the park's most iconic routes, circling around the massif. Meanwhile, each of the three granite spires of the massif also make for some of the most challenging and extreme big wall climbing routes in the world.
Sprawling over 1.800 square kilometers, there is enough in Torres del Paine to keep even the most avid adventurers occupied for a lifetime. In order to get the most out of the park in the limited time that you likely have to explore it, we've compiled some useful facts and information to aid you in booking your next adventure here.
3 reasons why you should travel to Torres del Paine
Fantastic views
Outdoor adventurers have been visiting this region even before it became a national park, in order to enjoy its sublime beauty. Whether you climb to the top of one of the granite towers in the massif or hike around its base, you will be met by stunning views at every turn.
The combination of mountains, glaciers, lakes and valleys, means there is no shortage of stunning scenery to take in. Be sure to bring extra batteries for your camera!
Plenty of variety
Whether you are looking to do some rock climbing, hiking or both, Torres del Paine will not disappoint you with its various options for both sports.
While there is not much here for beginners, there is more than enough for intermediate and advanced rock climbers. Whether you head out for a three-day climb up the Aleta de Tiburón or a half-month expedition to the top of one of Torres del Paine's three towers, you could spend a lifetime climbing in this pristine location.
For hikers, there is even more variety. Head out for the famed Circuit trek and spend nine days exploring the exquisite wilderness or spend a single day hiking around the outskirts of the famed towers. Whatever you choose to do, you're sure to be met with stunning views and make lasting memories.
Fantastic fauna and flora
While you're in Torres del Paine, keep your eyes peeled for some of the impressive wildlife that can be found in and around the park. The South American gray fox, rhea, guanaco and caracara are among the many unique animals you might see here.
The park also boasts seven different types of Orchidaceae, among many other unique species of plants, all of which can be seen as you trek through the park.
Hiking in Torres del Paine
The Circuit Trail
Perhaps the best known trek in the whole national park, the Circuit Trail takes you all the way around the massif. It was first completed in 1976 by the British mountaineer John Gardner, and has since become the park's preeminent hiking route.
Lasting for about nine days, the trek usually starts at the Laguna Amarga hut. From here you head west into the valley and pass by Lake Dickson before making your way south over John Gardner Pass.
You then continue south and further west, past the Paine Grande and down into the Valle Francés at the foot of Mt Fortaleza. From here, the trip takes you past the shores of Nordenskjöld Lake and back around to the eastern side of the massif to the starting point of the trip.
There are numerous highlights all along the route, including stunning views of the Paine Massif and Mt Fortaleza. Each night, you will camp in a different, scenic location and take in unique views of the surroundings. The trek is also an excellent way to see some of the unique flora and fauna in the park.
The W Circuit (W)
For those who do not have the time to complete the entire Circuit Trail, the W Circuit is a shorter alternative that offers spectacular views.
Beginning at the same spot as the Circuit Trail, the route heads west into the valley, following the full trail until Valle Francés. From here, you will transfer back to Puerto Natales. This variation of the trip takes about five days.
The West Circuit trek has a bit of a faster pace than the full trek because it takes you well past the trip's halfway point and, therefore, requires participants to be able to hike between six and eight hours a day with minimal stopping time.
However, the time spent on the trail is spectacular. Enjoy hiking on Grey Glacier, snap a photo of the iconic Lake Mirador and take in views from several scenic overlooks as we go.
This route is sure to whet your appetite for more adventures in Chilean Patagonia, while leaving you time to also sample some hiking over in neighboring Argentina.
The Sendero de Chile
Taking a slightly different approach, the Sendero de Chile starts at the Serrano lodge and runs for about 18 kilometers up along the western bank of Lake Pehoé before finishing at the Pehoé Lodge.
The trail takes about a week, but could last longer depending on how quickly you choose to go. Along the way, there are spectacular views of the Paine Massif and surrounding mountains as well as Grey Glacier.
Heading up into the mountain passes before descending back down into each of the valleys that divides them is a breathtaking experience. During the trek, enjoy spectacular views of the massif as well as surrounding wilderness.
Like the W Circuit, this is an ideal trip to sample these spectacular surroundings and is easily combined with a hiking expedition in neighboring Argentina as well.
Rock climbing in Torres del Paine
North Tower of Paine Massif
Rising 2.260 meters above sea level, the North Tower presents a challenging mix of trad, alpine and ice climbing, even in the summer. The solid granite tower boasts several multi-pitch routes and is quite challenging, making it well suited for advanced rock climbers.
The approach requires two to three days of incredibly scenic hiking and, overall, the whole trip takes about a week. Guides generally offer a one-week option that focuses solely on climbing the North Tower or a longer, two-week option that involves several other warm-up climbs prior to finishing off with the North Tower.
From the base of the tower, 500 meters separate you from the usually snowy summit. The climbing is quite technical and the ascent takes about 10 hours from base to summit and back.
The views from the top are truly sublime and well worth the effort. Expect panoramic vistas out over Chilean Patagonia and unrivaled views of the rest of the massif.
Central Tower of Paine Massif
Often considered some of the best and most challenging climbing in all of the Torres del Paine region, the Central Tower is a technically difficult climb that is perfectly suited for advanced-level rock climbers.
At 2.460 meters in elevation, the imposing solid granite massif is the second highest of the three iconic spires. From the top, there are expansive views out over Chilean Patagonia as well as of the rest of the massif.
Getting to the top requires ascending the 44-pitch eastern face of the spire. This involves a combination of trad climbing, crack climbing and some ice climbing toward the top. The base is separated from the summit by 1.300 vertical meters of rock and the climb takes about an entire day to complete.
However, before you even get to the climbing, you need to arrive at the base of the spire. This takes between two and three days depending on the point from which you begin your trip.
Most guides offer the trip over a two-week period in order to get a few practice climbs in prior to making the final approach and ascent of the Central Tower.
Aleta de Tiburón
Outside of the iconic towers, the Aleta de Tiburón, or 'shark's fin' as it is known in English, is an incredibly popular climbing location in the Torres del Paine National Park.
Located in the Valle Francés, this granite spire offer climbers a 500-meter vertical ascent to its summit. The climb is of intermediate difficulty, requiring several multi-pitch ascents to the top.
Like the rest of the rock formations in the park, the Aleta de Tiburón is composed of solid granite, aside from the first 20 meters of climbing, which requires scrambling over loose rocks.
For those preparing to climb one of the iconic towers of the Paine Massif, the Aleta de Tiburón is considered the perfect warm-up option. There are spectacular views from the top to whet your appetite for more and the hike to the base of the spire is quite spectacular as well.
From base to summit, the climb takes less than a day, but factoring in the approach guides offer two lengths of trips. The half-week option is the more basic and only includes the approach and climb. The slightly longer, one-week option includes a bit more hiking in the national park, beginning from a slightly farther point.
What is the best time to go hiking & rock climbing in Torres del Paine?
Like most places in Patagonia, the weather in Torres del Paine is fairly unpredictable and extremely changeable. You can experience all kinds of weather in the same day! The region is also famous for its fierce winds, which make outdoor activities more extreme and challenging.
The best time to visit the park for rock climbing and hiking is from September to April. Due to the location's southerly latitude, days are quite long throughout the late spring and into the early autumn.
During the summer, average daily temperatures are about 16°C, but can dip down below freezing at higher altitudes and at night. It is therefore best to pack warm clothes, even for the high summer months.
The park does not receive much rain during the summer, but showers are not uncommon. The autumn is the wettest time of year, with the most rain falling from March to May.
How much does it cost?
How much a trip to Torres del Paine costs depends on several factors, including how many people you are traveling with, what is included and how long you are staying for.
Hiking and rock climbing trips to the park generally cost between $1.500 (USD) and $6.000 per person. The lower end of the spectrum is generally for one-week trips, while the higher end is for trips that last two to three weeks. Some single-day rock climbing trips may cost as little as $300 per person.
Guides generally include the their fee, accommodations, meals, transport to the start of the trip and equipment (for rock climbing trips) in the price. Going with a group is likely to bring prices down. However, every guide's prices are different, so be sure to confirm the cost and what's included prior to completion of booking.
What is often not included is the park entrance fee, which is about $30 per person from October 1 to April 30. In order to rock climb in the park you will have to fill out an application beforehand. The permit is free.
How to get there?
Getting to Torres del Paine may not be the easiest of tasks, but the effort is certainly worthwhile. Since it is located right along the border with Argentina, there are options of getting to the park starting in both countries.
From Chile
Fly into the international airport at Santiago (SCL) and then to Punta Arenas (3h 30m). From Punta Arenas airport, take a bus to the small city of Puerto Natales. From there, you can reach the park by a scenic drive up Chile Route 9. Buses head from the city to the park and back each day.
From Argentina
Fly into the international airport at Buenos Aires (EZE). You then transfer on a domestic flight to El Calafate. From El Calafate, it is a three hour drive to the park down Argentina's National Route 40, before making a right over the border on the Y-205 and connecting with Chile Route 9. There are also some buses to the park from El Calafate.
Where to stay in Torres del Paine?
If you plan on doing a series of single-day activities in the park, there are numerous places to stay just outside of the park, including in the cities of Torres del Paine, Puerto Natales and Calafate, Argentina.
Inside of the park, there are numerous mountain huts and campsites in which to stay as well. In order to better preserve the park, you must book all mountain huts or campsites prior to entering the park.
The huts are basic, but perfectly adequate for treks and rock climbing expeditions. Camping is forbidden anywhere except the marked campsites and wood fires are banned throughout the entire park.
Many guides will book the accommodations for you, in order to avoid the headache, but not all of them do this. Be sure to check with your guide what is included prior to completion of booking.
So what are you waiting for? Book your next rock climbing and/or hiking trek to stunningly scenic Torres del Paine today and get ready for the adventure of a lifetime!
For booking assistance
Our experienced outdoor adventure team is ready to help you boost your experience and will assist you throughout the whole process, from the moment you choose a program until you return from your trip.
A Guide to Hiking in Torres del Paine: W, O, and Q Treks
If it's your first time visiting Patagonia, a trip to Torres del Paine will most likely be on your itinerary, and with good reason. This spectacular Chilean region offers some of the best trekking in the world. With dramatic granite spires, immense glaciers, and glistening turquoise lakes, Torres del Paine has all the ingredients for an unforgettable and rugged adventure.
For all its beauty and grandeur, hiking in Torres del Paine can be a very accessible activity. Trekking tourism has been rapidly increasing in Patagonia over the past five years, so you should expect to be sharing the trails. Though many people hike with organized tour groups, hiking independently is very possible. While we were planning our 2018 trip, we found a scarcity of up-to-date, good information for this region. We created this guide to help people navigate all the details of trekking in Torres del Paine: which trek to choose, campsite information, hiking itineraries, what to pack, and more.
For more information, check out our additional resources on backpacking and hiking in Patagonia
WHEN TO VISIT
SUMMER (December-February): The peak hiking season in Patagonia is during the summer months of December through February when the temperatures are the warmest and days the longest. Though hiking in 60-70 degree temperatures is quite nice, the crowds will be high and the wind can be quite fierce during the summer months, with gusts up to 75 mph at times. It's common to receive some precipitation during the summer months, though with less intensity than in the fall.
FALL (March-April): Hiking in the fall months can be a nice alternative to summer. The temperatures will be slightly cooler, but the crowds will be lighter and the wind is often less intense during this time. However, precipitation can be highest during the months of April and May, so you'll want to plan accordingly. Many people also choose to come during fall months to watch the trees turn from green to a fiery red, which is a breathtaking contrast against granite and glaciers.
SPRING (September-November): Hiking in the spring months is a great way to enjoy Patagonia before the swathes of tourists arrive. Temperatures will be cool with daytime highs averaging in the 50's, so you'll need to bring warmer clothing. You can also expect less wind and less precipitation during spring months compared to summer.
Weather (and wind!)
The weather in Patagonia is ever-changing and unpredictable. You can plan your trip (and gear) around the season, but we recommend to always be ready for any weather condition. You'll often hear people talk about how you can experience all four seasons in one day, any day of the year. During your trip, you'll most likely experience some rain, but what will stick with you are the winds. They will be like nothing you've experienced before. The strongest winds occur during the summer months of December to February, with calmer air in spring and fall, and the winds almost non-existent in winter. Be careful on exposed ledges, suspension bridges, or on pass days if winds are high. The best source for finding information on weather is at www.windguru.com, which will provide information on wind speed and gusts, precipitation, and cloud cover. If you stop by a ranger station in the area you'll be hiking, they will most likely have the Wind Guru forecast printed and can help you decipher the somewhat confusing grid of numbers.
HIKING ROUTES: THE W, O, OR Q
Map of torres del paine national park – image from torresdelpaine.com
W TREK: The most popular trek in the park, the W trek is roughly 80 km (50 miles) long and can be completed in 3-5 days. It covers some of the most iconic highlights in the park: Grey Glacier, Frances Valley, and the infamous Torres (towers). In high season, the route will be jam-packed with independent hikers, large tour groups, and day hikers. Though the route is busy, the sights are undeniably awe-inspiring.
O TREK – Also known as the Circuit, the O Trek covers the same trail as the W Trek, but circumnavigates the Cordillera del Paine over the course of 110 km (68 miles). Generally completed in 6-9 days, you'll spend 2-3 nights camping on the less-traveled back side, which offers more solitude and opportunities to see the varied terrain of Torres del Paine. Traveling on the backside of park requires you to cross Paso John Gardner, which can be challenging (and sometimes closed) due to poor weather, high winds, and/or low visibility. The O trek is definitely a notch up in difficulty, but if you're looking for more adventure, it's truly a spectacular route away from the crowds. You can only complete the Circuit Trek in a counterclockwise direction.
Q TREK – Covering the most trail in Torres del Paine, the Q Trek travels the same route as the O, with an additional day of hiking south of Refugio Paine Grande along Lake Pehoe. Very few hikers cover this additional section so you'll have some solitude and also earn one of the most spectacular views of the park, the Cordillera Paine rising above Lake Pehoe. You used to be able to begin your hike with the Q portion, leaving from the last bus stop, Administracion, and hiking towards Paine Grande. However, now CONAF only allows one-way travel from Paine Grande to Administracion, which requires you to end your Torres del Paine hiking there.
GETTING TO TORRES DEL PAINE
Most people begin their journey to Patagonia through either Santiago or Buenos Aires with a connecting flight to Punta Arenas. From Punta Arenas, you'll take a roughly 3.5 hour bus ride to Puerto Natales, which is the gateway town to Parque Nacional Torres del Paine. There are many bus companies running this route and most buses are in good shape, comfortable, and punctual. We recommend buying your bus tickets ahead of time, especially during peak season. Purchasing your bus tickets online is easy and convenient with BusBud and Recorrido.cl.
From Puerto Natales, you'll need to take a 90 minute bus ride to Torres del Paine on the day you plan on beginning your hike. You can either buy these online as well, or buy them at the bus station in Puerto Natales.
TREKKING PREPARATIONS
There is a large UniMark grocery store in town as well as many small shops catering to hikers with dried fruits, nuts, and other trekking grub. You'll most likely need to pick up an isobutane-propane canister or two for your backpacking stove and can find this readily around town. Puerto Natales is also a great place to purchase or rent any backpacking gear.
Prior to your trek, we highly recommend stopping by Erratic Rock Hostel for their Torres del Paine info session. It's held everyday at 3:00 pm. and covers any and all details you'll need for your trek (weather, equipment, trail food, packing, refugios, trekking, climbing, transportation, the catamaran etc.) We found it incredibly helpful and the people leading the talk were awesome!
INDEPENDENT OR GUIDED HIKING
This is an important question for many planning a visit to Torres del Paine and the choice will likely come down to experience, personal preference, and your desire to put in the time to plan your own trip. If you're an experienced backpacker, it is absolutely possible to hike independently. The trails are well-marked and maintained and if you stay on trail (and you absolutely should), it's near impossible to get lost. If you plan to hike independently, you'll need to have a good map, necessary campsites booked, and your own backpacking gear. There is also an option of renting gear in Puerto Natales or pre-arranging installed camping gear (tent, mattress, sleeping bag) with each campsite (more on that in the accommodations section below).
If you don't want to sweat all the planning details or you can't obtain the reservations you need independently, you have the option of going with a guide or tour. Guides can bring more to the table than just logistics management. Booking campsites in Torres del Paine can be confusing and hard to acquire. When you book with an agency, they take care of all the details (lodging, food, transportation, permits, etc). Furthermore, a good guide can also teach you about the local culture, flora, and fauna. You'll most likely have a group consisting of hikers from all over the world, which can make for a fun and interactive trip. However, be expected to pay a high price for these services.
Though quality of service, lodging options, and prices can vary greatly by travel agency, below are some average costs of guided treks within Torres del Paine with full board (all meals and accommodation) included. Some agencies include all your transportation and lodging from Punta Arenas.
W Trek : $800-$3000 per person
O Trek: $1500-$4000 per person
GUIDED TREKKING PROS
All pre-trip details handled (permits, campsites,etc)
All transportation arranged
Little worry about any details while hiking (lodging, meals, route, schedule, etc.)
A Complete Guide to Torres del Paine National Park
Visiting Torres del Paine in Chile is one of the top things to do when traveling around Patagonia. Read our guide on everything you need to know before visiting this beautiful national park and hiking the famous trails to Mirador las Torres, Grey Glacier, and multi-day treks W or O.
Torres del Paine in Chile is one of those magical places that you don't get to see every day. Maybe that's the main reason why visiting this pristine national park is such a beautiful experience.
The scenery is just out of this world, and the park offers plenty of things to see and do for all travelers and outdoor lovers.
And there is no doubt that the W and O Treks are among the top multi-day hikes in Chilean Patagonia, while the Las Torres, French Valley, and Grey Glacier are among the world's top day hikes.
One would have thought that after almost one month of hiking in Chilean Patagonia, we should have enough of all physical activity.
And that we wouldn't have enough will left to see another glacier, river, or mountain. But the opposite was true. We still had energy left in the tank.
Patagonian nature can be addictive, and it's hard to say no to the next adventure that awaits behind every corner here.
And we definitely did not want to miss the most famous Chilean national park, Torres del Paine, on our way across the entire South American continent.
Chances are that we might never have the opportunity to visit this part of the world again. Therefore we wanted to make sure that our trip to Torres del Paine went as smoothly as possible.
In the past few years, Torres del Paine has become a mecca for avid hikers and mountaineers from around the world, but the park is more and more visited by locals as well.
The newly acquired popularity increased prices, and more strict and complicated rules replaced the once simple directions.
Even we, who are used to searching for information about unknown places on a daily basis, were confused about how to plan our trip the right way.
At first, we got overwhelmed by the sheer amount of information we put together about the park and couldn't imagine how we would handle our travels to Torres del Paine.
That's why we've created this Torres del Paine guide to provide you with information we believe is essential to know before visiting the natural gem of Chilean Patagonia.
Where is Torres del Paine National Park Located
Although Torres del Paine is the most famous national park in Chile, it doesn't mean that it is either easy or cheap to reach its entrance.
Quite the opposite, but the natural beauty is so overwhelming that many people are willing to undergo the long journey or spend some cash to witness all the park's features.
Torres del Paine lies in the southern part of Chile, in the Magallanes and Chilean Antarctica region, close to Argentina's borders.
Even though this remote region is disconnected from the Chilean mainland by a network of deep fjords and Argentina, there are several ways to get there.
However, none of them include overland access via Chile.
How to Get to Torres del Paine
There are several ways to get to Torres del Paine, but almost all of them exclusively include getting to Puerto Natales first.
Once you reach Puerto Natales, the hard part is behind you, and getting to Torres del Paine won't be difficult.
There is a paved road between Puerto Natales and the national park, so that's one less thing to worry about.
Still, the entrance to Torres del Paine is 100 kilometers north of Puerto Natales, and it takes about an hour and a half to get there (and the same amount of time to get back).
The quickest and easiest option to get to the national park is by car.
This is an excellent choice for people who don't want to do multi-day treks or depend on a bus schedule.
Honestly, if you have only a day or two for the park, a rental car will give you the most freedom and flexibility and save you a lot of time.
On top of that, the easiest way to get around Torres del Paine is by car.
Simply put, having a car will make your life in Patagonia easier and allow you to see as many places as possible in a short amount of time.
If you plan to do W or O Trek or stay in a hotel inside the park for a few days, you should use public transport instead.
Still, even without a car, it's easy to reach the park.
Several bus companies run daily services to the Torres del Paine, at least during the high summer season.
Terminal Rodoviario, Estacion de Autobuses or simply bus terminal in Puerto Natales is located on Avenida Espana 1455.
The only thing you must do is to buy a ticket, usually one day in advance, at the bus terminal. Sometimes your hostel might help you with that as well.
When we arrived in Puerto Natales and saw the massive line of travelers, we were worried that there wouldn't be any seats left on the bus the next day.
Apparently, when the bus is full, the company dispatch another one, so worry not.
As this is a fairly short journey, you don't need to speculate which bus company you should choose.
From what we saw, all the buses looked the same, had similar schedules, and we believe they offered the same service.
The roundtrip open ticket from Puerto Natales to Torres del Paine costs between 10.000 – 15.000 CLP.
We paid 13.000 CLP, but the host in our accommodation told us he would have been able to arrange it for us cheaper.
The first buses to the park leave at 7 AM, then at 8 AM, and 2:30 PM. To get from Torres del Paine, take a bus (with the same company) at 2:30 PM or 7 PM.
The ride from Puerto Natales to the park's entrance and the trailhead to the Towers took one and a half hours.
When going all the way to Grey Glacier, add another 45 minutes to your travel time.
Private Transport
Don't forget that if you decide to stay in one of the lodges within the park, they usually offer a transfer from Puerto Natales to their property.
Tours
The main advantage of guided tours to Torres del Paine is that you don't have to worry about how you will get there and your itinerary.
In case you feel that a guided tour would be the right option for you, you can check out this Base of Torres del Paine Hike.
It is one of the classic moderately-difficult trails in the national park, perfect for hikers who are looking for a challenge but don't want to go alone.
Obviously, you can always take a Torres del Paine National Park Tour from Puerto Natales, which includes transportation and a local guide.
Alternatively, take a Torres del Paine Tour from Punta Arenas.
It's perfect for people short on time as it will allow you to see some of the park's finest places without too much effort.
Bus Stops in Torres del Paine National Park
On the way to the national park, you might start to wonder where to get off the bus. No worry, it is easy.
The first stop is in Laguna Amarga. It is where the visitor's center is, where you need to buy or show your ticket, and where the most famous day hike to the Towers starts.
Keep in mind that the actual trailhead is about fifteen minutes from this spot.
Therefore, you have to take a shuttle bus from here to get to the trailhead to start the Las Torres hike.
You can also get off here if you want to walk a multi-day W Trek from east to west. Don't forget that you must start your O Trek here as it can only be done counter-clockwise.
The next stop, approximately another 30 minutes by bus, is Pudeto.
From here, you can make a short but rewarding hike to a waterfall Salto Grande.
However, you will most likely arrive here to take a boat across Pehoe Lake to start your W hike or, as we did, a day hike to Grey Glacier.
The last stop on the bus route is at the park's administration office called simply Administration. Not many hikers get off the bus here.
Usually, only those willing to hike the most ambitious trek out of all in Torres del Paine, Q Trek.
How Many Days for Torres del Paine
As usual, your Torres del Paine itinerary can vary greatly, depending on what activities you want to do in the national park.
While it's possible to see some of the most beautiful places in the park in a day, we don't think this is the ideal approach.
If you've made it all the way down here, do yourself a favor and make sure you have enough time for at least two or three hikes.
Trust us. Once you see the Towers for the first time, you will be glad you squeezed in an extra day or two into your itinerary.
In our opinion, three to five days for Torres del Paine should be more than enough for the majority of hikers.
You will have enough time to hike the Mirador Las Torres, French Valley, and Grey Glacier, one of the less popular trails, or even join a guided wildlife tour.
Don't forget that you will need full days for the hikes and most tours.
If you're lucky enough to secure camping spots on one of the multi-day hikes (or you've booked the tour), you should allow yourself at least five to ten days for Torres del Paine.
Is Torres del Paine Crowded?
Despite being located in the heart of Chilean Patagonia, Torres del Paine can be crowded at peak times.
In the summer season, the campsites are fully booked out several months in advance, and the most famous trail to the Towers Base will be crowded.
The trails where day trippers meet the multi-day trekkers are obviously the busiest ones.
Don't forget that Torres del Paine is one of the tourist symbols of Chile, so keep your expectations low in this regard to avoid disappointment.
Expecting to have some of the most popular trails just for yourself in February is naive and can ruin your experience.
All things considered, the national park is still relatively underdeveloped, and there are still plenty of ways to avoid the crowds while you are in the park.
Remember, having a positive mindset is key to success.
Is Torres del Paine Safe?
As crime is almost non-existent in Patagonia, Torres del Paine is one of the safest places you can visit in Chile and South America.
In general, the national park and even Punta Arenas should be extremely safe places to visit.
But there is another point of view on this topic.
Despite its popularity, easy access, and excellent safety ranking, the deceivingly tame exterior of Torres del Paine can be misleading.
It is a remote place, and help is not as close as you would think.
The weather can change in a matter of seconds when you're out, and the strong wind gusts are a chapter on their own.
Moreover, hiking accidents can happen to anyone at any time.
When hiking, it's always recommended to go with someone and not just alone.
If you're a solo traveler, always tell about your plans to people around you. It doesn't matter whether it's your roommate, receptionist, or a family member.
Moreover, make sure you have everything you need to stay in the wilderness on your next hiking trip.
Always come prepared. Use common sense. Stay Safe.
Travel Insurance
We never leave our home without travel insurance which is designed to help cover your expenses if something goes wrong on your trip.
World Nomads Travel Insurance has been designed by travelers for travelers to cover your trip essentials.
Travel smarter and safer!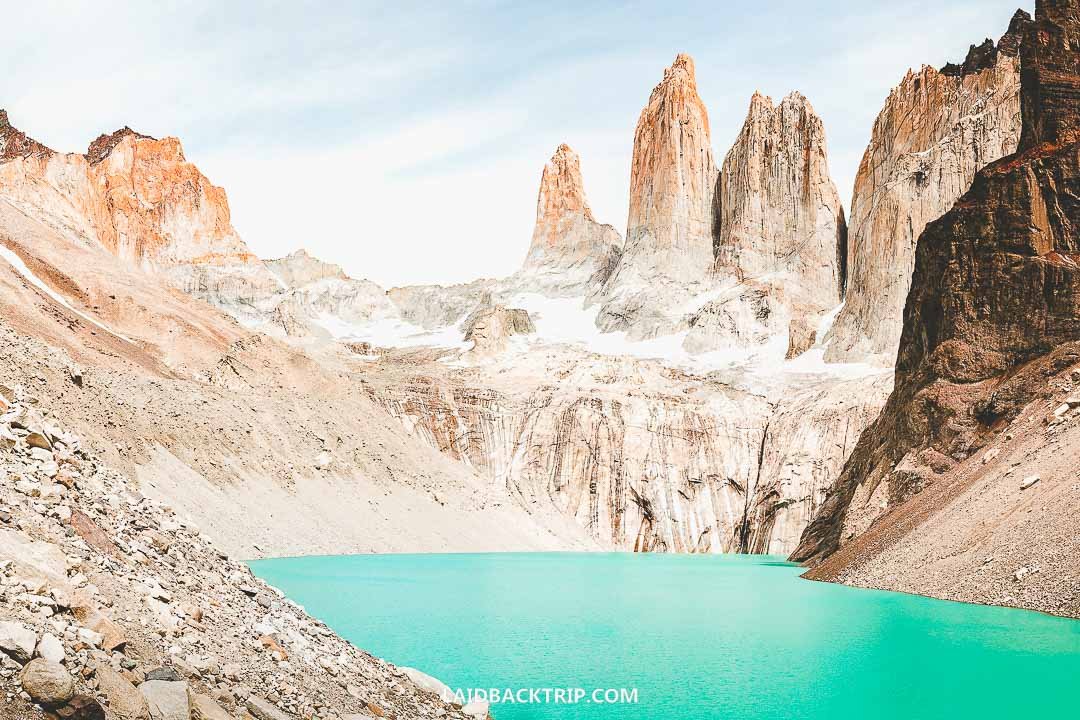 Entrance Fee
The entrance fee to Torres del Paine is 21.000 CLP per person in high season and is valid for three days.
We found the entrance fee to Torres del Paine quite expensive, especially when we could hike in Pumalin National Park, Laguna Cerro Castillo, or Patagonia National Park for free.
When we compare all those places, we did not find Torres del Paine that special to pay 21.000 CLP (this price is only for foreigners as locals pay only 6.000 CLP).
And maybe because of that, the most popular hike in the park leading to the base of Torres seemed a bit overhyped to us.
Don't get us wrong.
Torres del Paine is an incredible place to visit, and we didn't mind paying the entry fee.
But if you're a budget traveler, don't forget that there are plenty of places you can visit for free in Chilean Patagonia.
Once you pay the entrance fee, you are allowed to hike multi-day treks in the park (so the entry fee is not that steep when you spend more days in the park), but you must pay the same amount of money even for a day trip.
If you're not planning on staying in the park but want to do several day hikes, you can enter the park for three consecutive days at no additional cost.
It is crucial to have your passport with you (a copy or screenshot on your phone will work as well) for registration.
You can pay your entrance fee at the park's entrance, where they accept cash only, or you can buy it in advance at the main bus terminal in Puerto Natales and pay by credit card (no cash).
It won't give you any advantage as you will have to queue in line anyway.
Read More:
Where to Stay in Torres del Paine National Park
To answer one of your most burning questions, yes, you can stay in Torres del Paine overnight. Moreover, you can find even accommodation options within the national park.
Staying overnight in Torres del Paine is a fantastic experience, but there are a few things that need to be explained before you start booking your trip.
Technically, you have two options.
Stay in the hotels located on the park borders or stay within the park in one of the designated campsites and refugios.
Hotels
For starters, reserving hotels in Torres del Paine is not complicated, but you still need to book your rooms early.
Moreover, staying in one of the Torres del Paine hotels doesn't come cheap. On the other hand, you're paying for the location, and we have a feeling that waking up within reach of one of the world's most beautiful parks is an incredible experience.
The biggest advantage is that after a long and tiring day of exploring Torres del Paine, you won't need to jump on the bus or travel back to Puerto Natales by car.
You will have the unique chance to stay and relax instead while still being close to nature and incredible scenery.
It also might be a good idea to treat yourself to an overnight stay in one of those nice hotels after you finish one of the challenging multi-day W or O treks.
So what are the best hotels in Torres del Paine?
Hotel Lago Grey | Arguably one of the best hotels in Torres del Paine, Lago Grey is a fantastic place that will get you close as possible to the raw power of Patagonian wilderness. The hotel features rooms with fitted heating and spectacular views, complimentary breakfast, and welcoming staff.
Hotel Las Torres Patagonia | If you want to stay inside the national park and right at the Las Torres Trailhead, then this hotel should be on your list. Due to its perfect location, this is one of the most popular hotels in Torres del Paine. Rooms are clean, cozy, and have heating. There is also an on-site restaurant, and the hotel offers all-inclusive packages.
Explora en Torres del Paine | Located by the shore of Pehoe Lake within the Torres del Paine National Park, this stunning lodge offers all-inclusive packages that will allow you to enjoy this stunning place from a completely different perspective. Mind you. The package rates are not for the faint-hearted.
Camping and Refugios
So what if you want to camp or stay in a hut (Refugios) within the national park?
Camping in Torres del Paine is often regarded as one of the best things to do while there, but there are a few essential things you should know about this topic before you go.
Firstly, reserving the campsites and refugios is a fairly complicated process as you will need to do some serious planning first.
The problem is enlarged by the fact that that are currently three separate companies managing the campgrounds and refugios.
It is CONAF, Vertice Patagonia, and Las Torres Patagonia (Fantastico Sur).
Basically, you will have to figure out how many days you want to stay in the park, decide which campsites you need to book, and then check with three different companies whether they have available spots or not.
It can be a nerve-racking process that will leave you seriously confused and potentially disappointed, as the slots are often booked out months and months in advance.
Secondly, the camping experience is aimed mostly at hikers doing the W or O Trek.
If you want to do the W or O Trek, it also means practically that your entire trip to Chilean Patagonia will revolve around your selected dates in Torres del Paine leaving you with basically zero flexibility.
Camping is the cheapest option to stay in the park as one night costs around $9 per campsite per person or $29 per tent (up to two people).
CONAF campsites are free, but you still need to book them in advance.
Once you make the reservation, do not forget to print it out and bring it with you on the hike altogether with your passport.
You can bring your own food or buy breakfast, lunch, or dinner at the refugios.
What to See and Do
While most visitors are focused on hiking to the towers or driving around the park, there are far more activities to do in Torres del Paine.
We have to admit that excellent trails with stunning scenery are the main reason why people visit this park in the first place.
Honestly, you will find some of the best day hikes in Patagonia here.
Still, you might take a different approach than the hordes of avid hikers and try one of the adventure activities.
You can go wildlife watching, camping, kayaking, ice trekking, horseback riding, biking, or fly fishing in Torres del Paine National Park.
Staying in one of those remote lodges is a perfect way to disconnect from your hectic daily life.
Simple put, there are things to do in Torres del Paine for all ages and abilities.
Best Day Hikes in Torres del Paine
There are many great day hikes in Torres del Paine National Park for all types of hikers.
One of the best parts about the national park is that you don't actually need to endure the grueling multi-day hikes to enjoy one of the finest sceneries in the world.
If you were not successful in securing your accommodation for one of the popular multi-day treks, or you just generally prefer day hikes, do not despair.
Here are some tips on the top hikes in Torres del Paine. Keep in mind that there are no wrong choices here.
No matter where you go, the scenery will leave you in awe.
Las Torres
Often regarded as the best day hike in Torres del Paine, Mirador Las Torres is the highlight of every trip to this national park.
The 9-kilometer in-and-out trail (18 kilometers round trip) is part of the W and O Trek, so you will get a taste of that special adventurous atmosphere that's soaring through the air.
The trailhead is located near the Las Torres Hotel, and this moderate to difficult hike will allow you to explore the eastern part of the national park.
The trail will take you through a stunning Patagonian landscape all the way to the base of the iconic Towers of Paine and turquoise lagoon.
The best time to do the Las Torres hike is just before sunrise to catch the first sunlight on the Towers peaks.
Unfortunately, that's only the privilege of those doing the W or O Trek.
The Las Torres is a great hike, but to be completely honest, we liked the trail to Glacier Grey much more.
It was way less frequented, and the track was more fun despite the constant wind gusts.
Fauna Trail
As the name suggests, Fauna Trail is one of the best hikes in Torres del Paine to see wildlife.
Herds of guanacos, condors, and even the elusive pumas live in this area, meaning that this is a must-visit place for all those who are eager to spot some Patagonian fauna in the wilderness.
The trail connects Porteria Lago Sarmiento with Porteria Laguna Amarga and features not only wildlife but also prehistoric paintings estimated to be at least 3000 years old.
While spotting the puma will be a rare occasion, seeing the guanacos is pretty much guaranteed.
The trail is unmarked and best visited with a guided tour.
Laguna Azul
Located in the east part of the park, Laguna Azul is a lovely place to visit for families with kids. The shores of the lake can be reached by car via Road Y-160.
From here, you can take an easy walk by the lake or have a picnic at the designated area while enjoying the views of the Towers.
In fact, you get a perfect opportunity to see all three Towers of Paine from here without doing any strenuous hike.
Sure, they're in the distance, but it's still better than nothing.
Laguna Azul is a great introduction to Torres del Paine for everyone who's not looking for some extensive hiking experience.
Laguna Cebolla
If you're enchanted by the magical look of Laguna Azul, you might want to extend your hike to Laguna Cebolla.
Unlike Laguna Azul, Cebolla lake is much smaller, but the relativeness of its size won't take anything from its beauty.
Mind you. This is another long hike, so you will need to tackle about 22 kilometers to get to a point where you should turn around.
Laguna Cebolla can't compete in popularity with its more famous counterparts, but that also means that this is a relatively quiet trail away from the crowds.
Glacier Grey
To reach the Glacier Grey trailhead, you must take a boat from Pudeto across Pehoe Lake for 30.000 CLP per person per round trip.
While it might seem a bit pricey, it's worth every penny.
The trail starts at Paine Grande Refugio at the westernmost tip of the lake, where the boat drops you off.
We consider the Grey Glacier to be the best day hike in Torres del Paine, but that's only our opinion.
The scenery in the western part of the park was just mind-boggling, and we were so glad that we included this hike in our itinerary.
The 12-kilometer (24 kilometers round trip) in-and-out trail is moderately difficult, but you will need to complete it in a certain time to catch the catamaran back to Pudeto.
French Valley
Both Las Torres and Glacier Grey hikes are part of W Trek, and you can do one more day-hike to the French Valley, which will allow you to see most of W without actually booking anything.
Like the Grey Glacier hike, the French Valley trail starts at Paine Grande Refugio.
Once again, it means that you will need to take the catamaran in order to get to the trailhead and get back in time to catch the boat.
The 9.5-kilometer in-and-out trail (19 kilometers round trip) is moderately difficult and has an elevation gain of 500 meters.
By the way, after 7.5 kilometers on the route, don't forget to turn left (in Campamento Italiano) to get to the mirador.
Also referred to as Valle Frances, French Valley is sandwiched between the stunning mountains of Paine's massif and will show you some of its finest geological features in the southern part of the park.
You will also have a chance to see Lago Skottsberg, Lago Nordenskjold, and French Glacier along the way.
Once you reach Mirador Valle Frances (French Valley), it's time to get back, so you have enough time to reach the Refugio.
From here, the trail continues through the valley for another three kilometers to Mirador Britanico.
But once again, continuing beyond this point is not recommended as you don't want to get stuck here.
Salto Grande
Hands down, Salto Grande, is one of the most rewarding short hikes in Torres del Paine. It's one of those trails that everyone has to love.
It takes less than twenty minutes to reach the deafening waterfall, so it's perfect for beginning hikers.
The 1.7-kilometer trail is well-marked, and the views along the way are simply breathtaking.
While the trail profile is easy, don't forget that this is an open area, and the extreme wind gusts will make sure you will have to push a bit harder than you thought.
We did the hike in the summer, and the weather notice at the trailhead warned against the wind gusts reaching up to 120km/h.
That was definitely fun.
Mirador Los Cuernos
If you've found the Salto Grande trail too easy but can't get enough of the views, you can continue all the way to Mirador Los Cuernos.
Leave behind the glacier-fed waterfall and walk along the southern edge of Nordenskjold Lake for another hour or so.
The turquoise lake was named after a Swedish geologist and polar explorer, and the trail will eventually lead you to a viewpoint with the impressive Paine Horns.
It takes about two hours to complete this 3.5-kilometer (one-way) trail as there is almost no elevation gain (less than 100 meters).
As mentioned above, you will find the Los Cuernos trailhead at the Pudeto station.
Best Multi-Day Hikes in Torres del Paine
Torres del Paine is best known for several amazing multi-day treks with strange names – W and O. There is a very simple explanation, though.
All the names refer to the rough shape of each trail when looking on the map.
Both W and O Trek can be done on your own without a guided tour during the summer season. However, you will need to arrange a guide for the winter season.
If you decide to do one of those treks, we believe you will have a great time there.
Do not forget to book tent sites or dormitories in advance, be prepared to carry all your stuff to cut down your expenses or reserve a spot with pre-pitched tents, and buy meals at the refugios.
W Trek
The most iconic hike of all is the 5-day W Trek (there are also four and 6-day variants) which will take you through one of the most amazing Patagonian landscapes.
At first, we were thinking of doing this hike as well.
Unfortunately, we traveled long term in South America and did not have a set itinerary.
Therefore, we did not know when we would arrive in Torres del Paine and were not able to make a reservation ahead of time.
This is the W's biggest disadvantage.
The trail became so popular that you must make campsites and refugios reservations well in advance.
The main reason is that the spots are very often booked out soon after the reservation system for a new year opens. We can't stress this point enough.
Make sure to make a reservation for your W Trek early.
Our disappointment from not hiking W wore off soon once we saw how many people were on the trail and realized that we still would have a chance to see the most beautiful places on day hikes.
Simply put, W Trek is one of those victims of its own popularity.
There has been so much talk about W Trek being the only proper way to enjoy Torres del Paine that it can make you feel bad if you miss your chance to secure your campsite spots.
Don't despair. The truth is that you can still see the main highlights of this trek even if you're not staying in the park.
Las Torres (Base Towers), French Valley, and Grey Glacier can be easily explored via three separate day hikes.
Of course, you have to travel to and from Puerto Natales each day and won't be camping in the park. But that's only a small price to pay.
Alternatively, you can try to make your reservations for the off-season when the park sees far fewer visitors.
And always keep in mind that there are so many beautiful places in Chilean Patagonia, such as Chaiten, or Villa O'Higgins, that you can explore for free or without crowds.
O Trek
Hands down, the 120-kilometer O Trek is the ultimate trail in Torres del Paine, allowing you to go deep within the national park.
So, what should you know about trekking the O Trek before you go?
For starters, you will need to be moderately fit to complete this trek, as it takes about 8 to 10 days (fastest hikers can do it in 6 days) to walk around the impressive Cordillera de Paine.
You also need to be very quick when making your campsite reservations as the empty spots fill up extremely quickly.
The reason is that the O Trek actually includes the W Trek.
The main reason why to decide on the entire O Trek and not just the W Trek part is that the other side of the mountain range is far less popular, so the crowds quickly disperse.
Being able to escape the crowds is a huge advantage of this trail that doesn't see that many visitors, but don't forget that you eventually join the busy W Trek trail.
Also, keep in mind that you must do the upper part of the O Trek counter-clockwise!
At first sight, the track profile might not seem that hard, at least when you split your adventure into eight or more days.
But don't forget that the strong winds and unpredictable weather can make this mentally challenging.
O Trek is open only from the 1st of November till the end of March, and you should always check what are the trails' current conditions before you set off.
Q Trek
The Q Trek is identical to O Trek but adds a small extension from Refugio Paine Grande.
It adds another day to the O Trek, but the main advantage is that there will be barely any hikers on the trail.
Wildlife Watching
While everyone is talking about the breathtaking scenery and hikes when it comes to Torres del Paine, you should also know that the park is home to many wild animals.
Huemul deer, guanacos, condors, armadillos, foxes, and other bird and mammal species can be seen in the park.
And if you've ever seen one of those fantastic wildlife documents from BBC (or other producers), you already know that Torres del Paine is home to one of the largest populations of pumas.
In fact, this is one of the best places for spotting pumas in the wild in the world.
When to Go
While the locals will tell you that you can visit Torres del Paine all year round, there is a reason why most visitors go there during the summertime.
The rule of thumb is that if you know what to expect, you can enjoy Torres del Paine any time of the year.
By the way, the weather in Patagonia and Torres del Paine is extremely unpredictable.
Therefore, you should check the weather forecast only one or two days before your hike to get some useful results.
Still, don't ever entirely rely on it, as the reality will probably look quite different from what you've seen in your weather app.
Summer
Although summer is often considered to be the best time to visit Torres del Paine, it doesn't mean you'll be guaranteed clear skies and rainless days all the time. Rather the opposite.
It's also the peak season and busiest time of the year, and the park might seem a bit crowded.
Obviously, temperatures are highest in the summer months, usually from December to February.
As the days are long, it is a perfect time for hiking, but be prepared that even those months receive quite a lot of rain.
Moreover, the mighty Patagonian winds are at their full force during this period.
Haven't we mentioned the wind yet?
We were pretty surprised by the strong winds in Torres del Paine.
It was unquestionably the hardest thing we had to deal with when hiking. Don't get us wrong.
We had experienced some windy days in the previous days, but wind gusts often reach up to 120 kilometers per hour in Torres del Paine!
Still, we would again choose to visit Torres del Paine in summer as the weather is more stable compared to the rest of the year.
If you want to find more information on this topic, make sure to read our guide on when to visit Patagonia.
Spring and Autumn
An excellent alternative to the crowded summer season might be late spring or early autumn, usually March to April and September to October.
The weather should still be fairly acceptable, but you will increase your chances of escaping the crowds.
If you luck out on the weather, you will have the opportunity to enjoy Patagonia at its finest form.
Be prepared for lower temperatures, especially when you decide on camping.
Winter
If you want to avoid the crowds, the best time to visit Torres del Paine is in winter.
During winter, the winds usually cease in Torres del Paine, so that's one less thing to worry about.
On the other hand, the days are short, temperatures low, and there will be snow in the national park.
Some trails are open for solo hiking, but it is advisable to hire a local guide unless you are well-experienced.
The main issue with visiting Torres del Paine in winter is that the cold and short days together with snowy conditions will affect your entire trip to Patagonia.
What to Pack for Torres del Paine
Weather in Patagonia has its specifics, and you should take them into account when planning on hiking there.
Before going to Torres del Paine, always check the local weather forecast.
However, do not forget that the weather in the mountains can change several times a day and that the weather forecast is not very accurate.
There is no other way around it.
Always be prepared for all types of weather. For starters, always think layers when packing for Torres del Paine trip.
Regardless of whether you're visiting the park for a day or five, we would never leave Puerto Natales without a rain poncho and a good rain jacket.
Strong winds and heavy rains are pretty common in the mountains, and Torres del Paine is no exception. Staying dry and warm is the most crucial thing when hiking in the wilderness.
Other must-have items that don't need elaboration are hiking pants, rain pants, a fleece jacket, and a functional T-shirt.
Wearing good, sturdy, and waterproof hiking boots will help you to deal with uneven trail surfaces and keep your feet dry for most of the day.
Never forget to break in your brand new boots before you go trekking in the mountains to prevent blisters.
When hiking in Torres del Paine, you will need to pack snacks, water, and extra layers of clothes to stay warm.
Always bring a daypack with good back support and a waist strap that will have enough space to contain all your items.
We don't have to mention that having a comfortable backpack is even more important for multi-day hikes.
Trekking poles are super useful for multi-day hikes when carrying a heavy backpack. Still, you can use them even for day hikes, as they will help you keep your balance and steady pace.
Don't forget that despite the cold weather, you should stay hydrated troughout the entire day.
You don't need that much water with you, though. Generally, water in the park from streams is drinkable, so a reusable water bottle should be enough.
And if you're not hiking with a tour that includes lunch, you should prepare your own one and bring it with you. Some snacks or energy bars will come in handy too.
Don't forget that a hat and strong sunscreen should not be missing from your packing list as well.
We've created an in-depth Patagonia packing list that includes what to pack and what to leave behind for your entire trip to this remote part of the world.
Do I Need a Guide?
No, you don't need a guide for Torres del Paine. In fact, Torres del Paine is easily accessible even for first-time visitors to Chilean Patagonia.
The trails are well-marked and clearly visible. And we've already talked about how easy it is to get trailhead of the most popular hikes.
Being said that, this is always a tricky question. Taking a local guide to hike with you in Torres del Paine depends on your travel style and travel budget.
Whenever possible, we always prefer hiking on our own.
However, we completely understand that some people prefer to have everything arranged without looking for necessary information all the time.
Another valid point why not to explore Torres del Paine on your own is when you're not exactly an experienced hiker.
If you've just started hiking, the idea of being alone on the trail somewhere in the Patagonian wilderness can be overwhelming.
Therefore, exploring the great outdoors with someone around you might be a better and safer option.
Overall, we don't think hiring a guide is necessary for Torres del Paine if you want to hike the most popular trails. Still, it's always to be safe than sorry.
How to Get to Puerto Natales
Nowadays, Torres del Paine is easily accessible by car or public transport. Still, you must get first to Puerto Natales, the gateway to Torres del Paine.
It's the nearest town to the national park and serves as a base for visitors before and after exploring the wilderness.
Public Transport
Taking a bus is one of the best ways to reach Puerto Natales from pretty much any corner of Patagonia.
In fact, getting there by bus is your best bet, especially if you're planning on doing one of the multi-day treks, such as the W Trek.
If you're hiking in the mountains, then you don't surely need a car.
We arrived to Puerto Natales from El Calafate in Argentina.
Even though it might sound complicated to travel via another country, it is actually a very straightforward and easy journey.
It also gives you an opportunity to visit some of the most beautiful places in Argentinian Patagonia, such as El Chalten, featuring the iconic Fitz Roy, or one of South America's biggest glaciers Perito Moreno near El Calafate.
The easiest way to get to Puerto Natales by car is from Punta Arenas. In fact, this is the only reasonable way to get there.
Unfortunately, rental car companies usually don't allow you to pick up and drop off their cars in Chile or Argentina.
Here you will find the Here you will find the best deals on rental cars in Chile.
Plane
The most efficient, but also the most expensive way to get to Puerto Natales is to fly in the heart of Chilean Patagonia.
Although Puerto Natales has an airport, it's not very busy.
Therefore, your best bet is to buy a flight ticket to Punta Arenas and then take one of the frequent buses to Puerto Natales.
If you have only a few days in Chile, flying combined with a rental car is the best way to get to Torres del Paine instead of spending tens of hours on the bus.
Ferry
Puerto Natales, as you can tell from its name, is a port town.
This simple fact raises a rather interesting question of whether you don't want to undergo a bit more adventurous way to reach Puerto Natales.
For instance, you can travel to Puerto Natales from Puerto Montt, the beginning of Carretera Austral, by boat.
Be ready that the scenic journey takes three nights and four days, so it's not for everyone. But again, it offers a unique Patagonian experience.
If you plan on getting to Villa O'Higgins, which is the end of Carretera Austral, you can travel to Puerto Natales from nearby Puerto Yungay.
In this case, the journey from there takes a bit under two days.
Where to Stay in Puerto Natales
Most likely, Puerto Natales will be your home for at least a couple of days. It does not matter if you'll be returning here after one of the day's hikes or if you will be mentally and physically preparing yourself for one of the long multi-day treks.
Choosing the right accommodation is a vital step in your trip's success.
Believe us, a warm and cozy room after a long day of hiking in Patagonian wilderness can make a difference.
Luckily, Puerto Natales has everything you need before and after visiting Torres del Paine.
There are several nice hotels and cheap hostels, a few grocery and outdoor stores, ATM, a bus terminal, and some restaurants.
So the only question remains, where to stay in Puerto Natales? You have basically two options here. You can either stay close to the bus station or around the main square and waterfront area.
Honestly, Puerto Natales is fairly compact, so the location is not that important.
Don't forget that the hotels offering great value for your money will be booked out well in advance in the peak season.
We have hand-selected the best hotels in each budget category for you here.
Budget | Hostal Boutique Factoria Patagonia – One of the nicest and most modern hostels in Puerto Natales, Factoria Patagonia features both dormitories and private rooms, a filling breakfast, and good Wi-Fi. Don't forget to try the homemade pasta in the on-site restaurant.
Mid-range | Kau Lodge – Located at the waterfront, Kau Lodge is one of the most popular accommodations in Puerto Natales. Rooms are cozy, bright, and equipped with heating and offer fantastic views of the Canal Senoret. The complimentary breakfast is just icing on the cake. Simply put, this hotel offers great value for your money.
Luxury | Hotel Simple Patagonia – Do you want to feel the real Patagonia from the comfort of your hotel room? Simple Patagonia is often considered to be the best hotel in Puerto Natales. It's located outside the town and offers fantastic views, beautiful design, and excellent services. If budget is not an issue, you won't find a better place than this hotel.
Source https://www.explore-share.com/blog/a-guide-to-hiking-and-rock-climbing-in-torres-del-paine/
Source https://www.cleverhiker.com/blog/a-guide-to-hiking-in-torres-del-paine-patagonia
Source https://www.laidbacktrip.com/posts/torres-del-paine-trekking-and-hiking-guide