Are Doc Martens Good For Hiking? (It Depends)
The popular Doc Martens shoes are both stylish and comfortable to wear.
These shoes have been around for years and are associated with musicians, punk culture, and the working class. Although it isn't that common, you can even find some people wearing their Doc Martens out for adventures on hiking trails and paths.
Are Doc Martens good for hiking? While you can hike in Doc Martens, they aren't designed for hiking and can cause discomfort and blisters during the trip. For serious hiking, it's recommended to wear hiking boots that are durable and provide better ankle support than a pair of Doc Martens.
Now that we know they aren't the best option for hiking, let's weigh the pros and cons of hiking in Doc Martens and decide whether or not it should be done!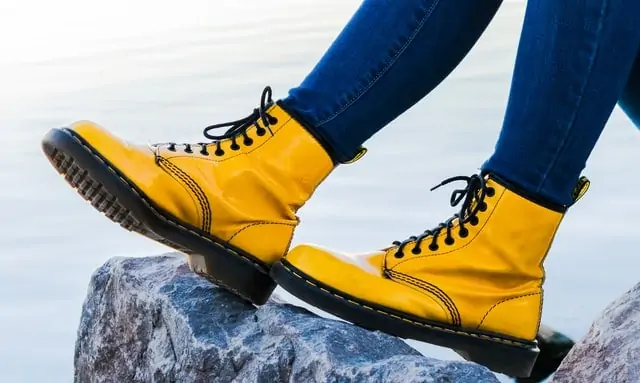 Hiking In Doc Martens
There have been numerous changes in the brand since it was first created back in 1901. When they first began production they were known for making sturdy and durable work boots, and here's what their site describes their products as now:

It's always a good idea to gather different perspectives, so I asked around and found the following problems from those who have hiked in their Doc Martens.
They take forever to break in
They are uncomfortable on uneven ground
They lead to getting heel blisters
They don't give proper support for your ankles
Zero traction & no insulation
Kind of heavy for trails
One user with experience selling the boots offered this quote below.
I sold and wore them for years and I would never buy a pair of docs and try to hike in them.
You may be able to get away with wearing them on short and easy hikes, but, like the majority of hikers I agree that they should be avoided.
Benefits of Hiking With Doc Martens
1. Good Looking
Doc Martens, being a style of boots, are also good-looking. The boots' upper half is leather covered with the bottom being puffy. This gives the Doc Martens its distinctive look and keeps you from slipping on hard surfaces while traversing rough terrain. The color of the boots also adds to their good looks.
2. Good Stance
The position of the Doc Martens shoe is also good. The heel is relatively thin, which makes the feet more flexible.
3. Durable Upper
The upper portion of the Doc Martens is very durable. This allows you to put up with a heavy load without any hindrance. It can also keep your feet warm in cold weather conditions thanks to its insulation properties. However, it cannot handle being dropped or otherwise damaged.
4. Mobility
The Doc Martens have a classic all-leather upper that allows you to move freely without restriction. The boots' construction is also light to make long treks very easy. The shoes can also withstand rough surfaces without difficulty.
5. Protection
By wearing Doc Martens, you can feel the protection the boots offer from a foot injury and other forms of danger while outdoors. This is because of the style's good stance, upper construction, weight, and durability qualities.
Downsides of Hiking With Doc Martens
1. Lightness
The Doc Martens shoes can be light. However, this means that the boots' upper end can be easily damaged in case of a fall. The shoes' external use also makes them susceptible to moisture. Their lightness also reduces their durability if you have a hard time carrying heavy loads.
2. Size
The size of the Doc Martens may also be a drawback. These shoes are somewhat limited in terms of sizing. They're also hard to fit accurately. This means that you might end up buying a pair that's either too small or too big for your feet.
3. Restrictive Around The Ankles
The Doc Martens shoes can be restrictive around the ankles. This is due to the shoes' very high tops. When first breaking these shoes in, there can be a lot of ankle discomfort, and even blistering in some cases.
4. Uncomfortable
Some people also claim that the Doc Martens shoes can be uncomfortable if they have to deal with a lot of moisture. Some people also claim that the boots are too stiff and pre-break in period is very hard.
5. High Prices
The Doc Martens shoes may also be overpriced for some people because of the limited number of styles and colors on the market. These prices might also be unaffordable for some people who dig into their savings to buy these shoes.
Tips for Hiking in Doc Martens
I've found that experiences definitely differ between hikers so I'm sure some people are fine with the downsides listed above. If you do venture out for a hike with your docs, here are a few tips that can make your trip much more enjoyable.
Make sure they're tight to your feet and won't move around
Choose an easy trail with terrain that's easy to walk over
Never wear a brand new pair of shoes or boots for a hike
Final Thoughts
All things considered, Doc Martens aren't the best shoe for hiking. There are many more affordable and comfortable hiking shoes on the market, that are designed for that specific purpose.
The biggest risk would be being uncomfortable during your hike, but if you must hike with Doc Martens you'll be safe and your feet will be protected.

report this ad
Recent Posts
report this ad Amazon Associates Program

HikingSoul.com is a participant in the Amazon Services LLC Associates Program, an affiliate advertising program designed to provide a means for sites to earn advertising fees by advertising and linking to amazon.com. report this ad

report this ad

report this ad
HikingSoul is a team of adventurers who hope to share with you their experiences and love of the outdoors!
Are Doc Martens Good For Hiking? (pros/cons/verdict)
Doc Martens are a timeless fashion staple that many users also consider for hiking. These iconic leather boots have a passionate following of wearers who swear that there's no better shoe on the market than a classic Doc Marten. But while they might look great in the city, are Doc Martens actually good for hiking?
The short answer is that Doc Martens are okay for hiking, but they're not ideal. Docs are relatively durable, but the leather on Doc Martens is stiff, so it can cause blisters and discomfort on the trail. Docs are also heavy and they don't breathe well as you hike. The better option is to wear a pair of purpose-built hiking boots in the mountains.
However, when it comes to footwear debates, there are always two sides to consider. Up next, we'll take a closer look at whether or not Doc Martens are a good choice for use while hiking so you can find the best boots for your adventure needs.
Can You Hike in Doc Martens?
You can hike in Doc Martens, but doing so isn't a great idea unless you plan to stick to very short and mostly flat trails.
Although Docs are now known as fashion icons, they actually started out in the early 1900's as work boots that were sold to factory workers and police officers. As a result, Docs were designed with ruggedness and durability in mind, but they weren't crafted for walking miles and miles on end through rocky terrain.
Plenty of people have worn Docs while hiking, but most complain of one or more of the following issues when they get back from their trip:
Discomfort – Doc Martens have an air-cushioned sole that makes them comfortable to wear if you're standing around on your feet all day. However, the stiffness of the leather used in Docs can wreak havoc on your feet if you're walking long distances over steep and rugged terrain. Many people find that they end up with blisters or foot pain if they walk for too long in Doc Martens.
Lack of Breathability – The classic Doc Marten is made with smooth leather that looks fantastic as you walk down the street. But Docs weren't made with breathability in mind, so many people end up with stinky and sweaty feet after a long day of hiking.
Weight & Bulk – If you're just walking around town, you might not notice how heavy Docs are, but this added weight and bulk can hold you back on the trail. In fact, the average pair of size 9 Doc Martens weighs about 3.2 lbs (1.5 kg), which is substantially more than the weight of a pair of uber-popular Salomon X Ultra 3 Mid GTX hiking boots (2 lbs/900 g). If you opt for trail running shoes over hiking boots, the weight savings compared to Docs are even greater.
We should also point out that, although the leather on Doc Martens gives the boots natural water resistance, they're generally not fully waterproof (unless you buy one of the very few waterproof models that the company sells). Treating your Docs with a leather waterproofing product or wax can help, but this wax won't ever be as good as the waterproof-breathable liner you get in a true hiking boot.
Are Doc Martens Good for Walking All Day?
Doc Martens are okay for a full day of walking in the city so long as they're thoroughly broken in. But the tough leather that's used in Docs takes a long time to break in and your boots won't be very comfortable until that happens.
That said, Doc Martens aren't a great option if you're looking for a boot that's perfect for all-day walking on trails—even if they're fully broken in. Docs are heavy and they lack breathability, so they're no match comfort-wise to a proper hiking boot.
Do Doc Martens Get Ruined in the Rain?
Most Doc Martens can handle a bit of rain, though it's not a great idea to soak them in water or to wear them in a storm.
Leather that's well-cared for and that's treated with waterproofing waxes can handle a decent amount of exposure to rain. However, real leather is porous and frequent exposure to water can cause leather to become stiff and brittle when it dries.
Therefore, it's best not to wear Doc Martens in the rain. If you regularly apply wax or leather conditioner to protect your Docs from water damage, they'll likely be okay when exposed to water for moderate periods of time. But if you want shoes that can withstand whatever weather you throw at them, consider getting a pair of true hiking boots.
What Boots Are Good for Hiking?
The best boots for hiking are the ones that feel the best on your feet and that provide you with the traction and protection you need on the trail. As a general rule, the ideal hiking footwear is a pair of purpose-built hiking boots or hiking shoes, but some people prefer to wear lightweight trail running shoes on hikes, instead.
There are hundreds of shoes out there that are great for hiking, so we can't list them all here. If you need a quality pair of hiking boots, consider checking out brands like La Sportiva, Lowa, Hoka, Keen, Merrell, Salomon, Oboz, and Vasque. Hiking boot manufacturers design their shoes to cater to specific types of hikers and hiking styles, so it's just a matter of finding a pair that's right for your needs.
The Verdict
Doc Martens are excellent boots, but they wouldn't be our first choice if we were planning a long hike in steep and rocky terrain. A well-broken-in pair of Dr. Martens is okay for use on short and mostly flat trails, though we wouldn't recommend them on more strenuous hikes.
Ultimately, we love the style and durability of a good pair of Docs, however, they lack the comfort and breathability that most people expect from their hiking boots. If you're looking for quality boots that can join you on all your adventures, you'll probably be better off with purpose-built hiking boots or trail running shoes.
Are Doc Martens Good For Hiking
Yes, Doc Martens boots are suitable for hiking, but you must keep in mind that the boots are not designed for hiking and may become uncomfortable after a while. Because these boots are not breathable, they are not recommended for multi-day hikes or overnight camping trips. Consider wearing a pair optimized for hiking on lengthy and strenuous excursions.
What Are The Defining Features Of Doc Martens?
Doc Martens are mainly work boots that are designed and manufactured for use by workers in various industries. As a result, they've been built to be rugged and suitable for challenging workplaces. Over the years, the most compelling feature of these boots has been their ability to offer exceptional levels of comfort to staff.
Doc Martens are equipped with innovative features because demanding work environments necessarily require an increased level of protection. Notable features of the boots include a slip- and puncture-resistant sole, a breathable leather surface, an air-cushioned sole, and a welted frame. Additionally, the brand offers models with a steel toe, an extra-rugged metatarsal guard, and shock-absorbing soles for added protection.
Since the 1960s when these boots were introduced to the market, their construction has always been focused on the work environment. It is for this reason why Doc Martens are ranked highly as one of the well-made boots in the world. But, is this enough to make them great for hiking?
Since their introduction to the market in the 1960s, the construction these boots has always been geared toward the work environment. This is why Doc Martens is regarded as one of the best-made boots in the universe. However, is this sufficient to qualify them as excellent hiking boots?
What Characteristics Define Good Hiking Boots, And Do Doc Martens Possess These Characteristics?
When purchasing hiking footwear, the following factors should be considered:
Finding The Appropriate Fit
It doesn't take a genius to figure out that you will need a pair of boots that match perfectly before you start your hike. These are not the times to scrimp on your hiking shoes' shape and size; they must be ideal. Boots that comfortably fit around the ankle and heel while still allowing enough space for your toes to wiggle are ideal.
When it comes to Doc Martens, you must understand that getting the perfect size is not a challenge, but you must first break them in. Because of the hardness of these shoes, you won't be able to wear them until you have spent weeks loosening and acclimating to them. This is an important step that you can never miss, and it entails wearing them every day for brief periods of time until they no longer hurt your foot.
During the time when you are breaking in your shoes, thick woollen socks are important and must be worn. To soften the leather, you are expected to use the leather softener and protector offered by the firm. You can never wear these boots for extended periods of time before you have completed this rite of passage, or you will suffer from serious blisters.
Traction
Traction is a term that refers to a shoe's ability to resist slipping. When hiking, this is a critical consideration because you do not want to be wearing slick shoes. Rather than that, you need a pair with a rugged and treaded outsole that will not slip under any circumstances.
Doc Martens has a strategic advantage in this aspect because their boots are designed to be slip-resistant. The rubber soles add to the versatility of these boots, allowing you to wear them in a variety of conditions without fear of injury.
Breathability And Comfort
Hiking is a physically exhausting exercise, and in order to navigate the terrain safely, you must wear shoes that allow for proper foot ventilation (breathability). This is because your comfort is important while hiking, since it decides how much fun you can have. Doc Martens are well-known for their comfort and durability, and once you've broken them in, you'll enjoy walking in these boots.
Support And Stability
Most hikes require covering so many kilometres of walking on uneven terrain, necessitating the use of shoes that offer the best protection and stability. Doc Martens earns a key point once again, thanks to the sturdy construction of these boots. The shoes' air-cushioned soles is a bonus, as they make walking easier in these boots.
Protection
A good pair of hiking shoes should keep your feet safe from the environmental hazard. Doc Martens has always prioritized providing workers with protective footwear. Highly necessary protection is the hard leather surface and the steel toe included in a few models. Regrettably, the brand's heavy-duty versions lack the flexibility necessary for strenuous hikes.
Weight
The mass of your hiking boots is an important factor to consider because it influences your output. To ensure a positive experience, you should put on lightweight boots that will not drag you backwards irrespective of the distance walked. Doc Martens do not score well in this aspect because they are a little heavier than specially designed hiking boots.
What If Hiking In Doc Martens Or Not Hiking At All Is The Only Option?
Might a situation occur where you have the opportunity to go hiking, which you should seize with both hands, but your only boots is a pair of Doc Martens? Yes, we can envision that happening. Who are we to suggest you shouldn't take advantage of the opportunity? Besides, some people have hiked in their Docs and had a good time doing so.
Docs' most distinguishing characteristics, such as their springy soles, leather support, and durable shape and structure, make them a viable choice in the right situations.
Take a hike in your Docs if you're in such a tight position. However, there are five things you should know before going out:
1. Restrict your hike to a stroll through the woods, not an overnight or lengthy trek through rugged terrain with a backpack.
2. Bring your most worn-in pair of Doc Martens and leave your most rigid and new pair at home. The perfect Doc Martens for you are those you've worn for a while, allowing them to mould perfectly to the shape of your feet. Doc Martens can see you through one end of a reasonable trail to the other comfortably and in incredible style if you break them in properly.
3. Under your Docs, put on a pair of socks that stretch above the top of the boot to prevent rubbing against your lower legs.
4. While you're at it, consider donning a second pair of socks to avoid the formation of blisters.
Here Are A Few Hints On How To Properly Break In Your Doc Martens.
Whether it's to get you in the perfect possible condition for those rare hikes where all you have are Docs, or simply to get the most relaxed, trendy, and attitude-laden utilization of your Docs, here are some guidelines to follow:
Sizing Is Crucial For Doc Martens Boots
Sizing on Docs is generally accurate, but you should put them on before purchasing. While this is more difficult when buying online, do not accept ill-fitting Docs. The ideal fit is snug, but not oppressively so. Round down rather than up if your feet are in the categories of a ½ size. Docs are only available in whole sizes.
Put On Thicker Socks
While breaking in your Docs, put on thick socks to minimize friction and discomfort from the padding. Additionally, removing the insole would also assist with the break-in procedure. They can be abrasive and contribute to the formation of blisters.
Cycle Your Wearing
Begin by wearing your Docs for about ten minutes at home and removing them as soon as they begin to hurt. Persist not in the face of pain but remove them. For a time, the soles will be stiff, and the leather will feel snug. They will become flexible with time.
Guard Areas Of Blistering
Many people initially experience blistering with them. Defend your skin with moleskin or bandages wherever your feet ache or become blistered, most commonly in the heel. After shielding your blisters, stretch by putting on your Docs at home for 60 minutes at a time. Once more, remove them as soon as they begin to ache.
Treat Them Well
For several weeks, repeat this process of intermittent hour or two at a time break-in session. Utilize Doc Martens' own products seldomly to clean, protect, and loosen the leather. However, any product containing lanolin, coconut oil, or beeswax will perform the similar function and will significantly increase the waterproofing aspect.
If You Want A Way To Speed Up The Process, Here Are Three To Explore:
1. Swaddle your Docs in a clean towel and use a hammer or mallet to beat the heel and sole for up to 15 minutes.
2. Take away the laces and stuff the Docs to the brim with newspaper to attempt stretching the leather slightly.
3. After applying the lanolin product made reference to above, try heating the toughest areas of your Docs with a hairdryer on low heat. Put them on and wear them till they are cool.
In conclusion, Doc Martens can be used as hiking boots and they have many amazing qualities that will make you appreciate them. However, it is worth noting that the majority of the brand's boots would be suitable for light hiking. This is due to the fact that they were not designed for the purpose of hiking, but they will work well if the hike will not be too strenuous.
Last update on 2022-11-03 / Affiliate links / Images from Amazon Product Advertising API
Source https://hikingsoul.com/hiking-in-doc-martens/
Source https://trailandsummit.com/are-doc-martens-good-for-hiking/
Source https://outdoorshelp.com/are-doc-martens-good-for-hiking/