A Guide to Hiking the Lake Superior Coastal Trail
Plan your day, overnight or multi-day adventure on this world-class backpacking trail.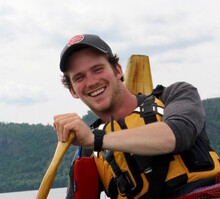 Jake O'Flaherty is a freelance outdoor guide who loves to explore the remote corners of the world, but Lake Superior is where he feels most at home.
The Lake Superior Coastal Trail is coastal in the truest sense. The 65-km trail runs from the Agawa Bay Visitor Centre in the southern end of Lake Superior Provincial Park to Warp Bay in the northern end. Along the way, it clings to the cobble beaches, rocky headlands, and dense boreal-transition forests on the shore of the largest and least developed Great Lake. Camping along the coast offers spectacular scenery and its remote location makes it one of the darkest Dark Sky Preserves in Ontario.
The Agawa Rock Pictographs: Ancient Indigenous Art on Lake Superior
The rugged nature of the trail and significant distance from Toronto means you can expect technical walking and few crowds along the way. There are few actual trail markers aside from rock cairns and small blue markers on trees. This adds to the wilderness experience, which is key as you escape the crowds and enter the expanse of the Lake Superior region. To hike the full trail, you should have strong backcountry camping and travel experience, but there are lots of shorter day or overnight options along the trail as well.
Hiking the full trail
Hiking the Lake Superior Coastal Trail is best done in five to six days in order to really appreciate the scenery. Hikers have the option to start at either Agawa Bay and head north, or Gargantua Harbour and head south. I would recommend hiking the trail north to south for the following reasons. In terms of shuttling vehicles, it is more practical to be dropped by a shuttle at the end of the 14-km dirt road leading into Gargantua Harbour than to drive down to drop a car off, have a shuttle pick you up and drive back out. Although only 14 km long, it can take at least 45 minutes to drive this winding, single-vehicle road. The hiking section directly south of Gargantua is also quite challenging, so it is nice to start the hike with fresh legs!
The trail is more rugged and technical at the northern end—prepare to travel much slower along this section as you hike over uneven rocks. Source: Kaydi Pyette
If starting at the south end of the trail, hikers have the option to stay at the Agawa Bay campground the night before. This is also one of the places you can purchase permits and trail maps before your hike. Backcountry permits need to be bought the day you begin your hike either at the desk or the self-registration kiosk. There is also a self-registration kiosk located at the northern access in Gargantua Harbour. I would highly recommend spending time at the well-curated interpretive section in the Agawa Visitor Centre to learn more about the lake, flora, fauna and people who have and continue to use the land.
From Gargantua, the trail extends approximately 8 km north to Chalfant Cove for those who are committed to travelling the true length of the trail. Hiking up this way will reward you with great views of the Devil's Chair and a secluded beach campsite at Warp Bay.
Please note that the Devil's Chair and Agawa Rock pictographs are two of many sites in this area that are sacred to the local Anishinaabe people. Visitors should remember to be respectful.
Continuing south after Gargantua, the stunning rock formations at Rhyolite Cove begin to appear. The reddish, pocketed rock brings to mind the surface of Mars and there are many excellent swimming holes a short distance from the two spacious campsites.
The hiking gets increasingly technical between Rhyolite Cove and the Baldhead River, so prepare to travel a bit slower than your typical pace. Due to the steep climbs and large rocks to navigate, plan to hike between 1 and 2 km per hour in this section. Setting conservative goals will make the hike safer and more enjoyable. This is the most remote section of the trail, far off from any highway sounds or day users, so enjoy the serenity. There are pleasant beach camping options in Beatty Cove, or, if you're up for a longer and tougher day, you can push on to the campsites on the north side of the Baldhead River. If you follow the Orphan Lake Trail a short ways up the Baldhead River, you can view several waterfalls before returning to the Coastal Trail.
The campsite at Robertson Cove is one of my favourites in the park; it is a tombolo site, where what was previously an island is now connected to the mainland by a sandy spit. Gnarled cedars rule the island, but there are spots to pitch a tent among them and enjoy the stunning sunsets.
Moving southbound from Robertson, more beaches and cobble walking awaits. In wavy conditions, the lake can actually lap up onto the trail, reinforcing the coastal nature of the hike. There are some river crossings at the Sand and Barrett rivers, which can be negotiated by either travelling up to the highway or walking across pending safe water levels. Camp near the Barrett River for one last starry night on Superior before finishing the trail the following day.
The Agawa Bay pictographs is one of the most visited Indigenous archaeological sites in Canada. Source: Ontario Tourism
Approaching Agawa Bay, cobble beaches give way to a wild, forested section of the Coastal Trail. Take in the view from the lookout at Sinclair atop the headland and reflect at the incredibly preserved pictograph sites at Agawa Rock before finishing at the Visitor Centre. On arrival, congratulate yourself on successfully hiking the Lake Superior Coastal Trail!
Accommodations
South of the trail, hikers can stay at the Voyageur Lodge in Batchawana Bay (45 minutes from Agawa) or one of the many accommodation options in Wawa, north of the park.
Section hikes
Not all of the trail is right along the coast—you'll also experience forested sections, with moss-covered rocks and thick undergrowth. Source: Kaydi Pyette
If you only have a day, there are plenty of day hike options:
Orphan Lake is an 8-km loop that offers a taste of Lake Superior Provincial Park. The trail travels through a variety of ecosystems including an inland lake, bluffs, cedar groves, riverbanks and typical Lake Superior cobble.
The section of the Coastal Trail from the Agawa Visitor Centre to the pictographs has another excellent mix of coastal hiking, inland forests and cobble beaches, finishing at one of the highlights of the park. Shuttling this route with two vehicles is easy and quite quick. This moderate hike has uneven terrain, slick rock and takes around three hours.
For an overnight trip:
Drive to Gargantua and hike out to the Devil's Chair, camping at Warp Bay. Return the same way the following day for an enjoyable 14-km hike.
For a two-night trip:
Link the Orphan Lake Trail to the Lake Superior Coastal Trail. Start at the Orphan Lake trailhead and camp at the Baldhead River the first night. Then head north on the Coastal Trail and camp at Rhyolite the second night, ending on the third day at Gargantua Bay.
Shuttle
As this is a linear hike, the easiest way to start and finish is by using one of the local Lake Superior Coastal Trail shuttle services. Based out of Wawa, these operators will pick you up at your vehicle and drive you to the beginning of the hike. That way, you hike back to your vehicle, jump in, and drive away.
U Wanna Cab and Naturally Superior Adventures both offer shuttle services to any road-access point along the trail. Contact them for quotes.
Outfitters
Make sure you have the proper gear before setting out on the trail. You can purchase last-minute equipment from Naturally Superior Adventures. Source: Kaydi Pyette
Joe's Sports and Surplus in Sault Ste. Marie has an array of outdoor gear if you need to pick up any last-minute items. Naturally Superior Adventures also has a small paddling and outdoor shop on-site. Hiking gear is not available to rent in the region. For Lake Superior self-guided hiking packages, contact Blaq Bear Adventures.
Guided hikes
There are presently no guided hike options available for the Coastal Trail. For more information about trip planning and current conditions of the trail, reach out to Lake Superior Provincial Park or Friends of Lake Superior Provincial Park. For other guided and self-guided hiking packages in Algoma Country, contact Blaq Bear Adventures.
Trail map
Spend one to several days on the Coastal Trail to experience the rugged beauty of Superior. Source: Ontario Tourism
The Lake Superior Coastal Trail map can be purchased at the park offices, Naturally Superior Adventures or online.
Jake's tips on hiking the Coastal Trail
I've had the fortune to work as a sea kayak guide based out of Wawa for the past six summers, making Lake Superior Provincial Park my backyard. When I wasn't exploring on the water, I was along the coast, day-hiking in the park. Growing up in Southern Ontario, I never realized there was so much beauty to be found along the upper Great Lakes. Here are a few of my "insider tips" for hiking the area:
Best time to go
Be prepared to experience all types of weather on the trail, from heavy fog and rain to sunshine and wind. Source: Kaydi Pyette
Late August into early September is a great time of year to hike the trail as the water is warm, the leaves are beginning to change, and, best of all, there are no bugs! The trail is very lightly travelled, so even in "peak season" crowding is not too much of an issue.
Best lookout
The view just south of Gargantua along the headland is spectacular. It feels a little nerve-wracking on a rough day as Superior's swells crash and roll beneath you, but the view cannot be beat.
Best swim spot
The Baldhead River has waterfalls to swim in. Or you can go for a dip in Superior if you're feeling brave!
Best post-trail snack
Apple fritters or smoked fish are both easy to find on the drive back to Sault Ste. Marie. Wherever you stop for those will not disappoint.
Best thing about the trail
It's clean, rugged and remote. You will find much less garbage and human impact here than on many of the other, more heavily travelled trails.
Plan Your Trip
The Lake Superior Coastal Trail in Lake Superior Provincial Park is coastal in the truest sense. If you like hiking, this is one trail you definitely need on your bucket list.
Snowmobile Around Lake Superior Tour
No Longer Possible To Snowmobile Around Lake Superior…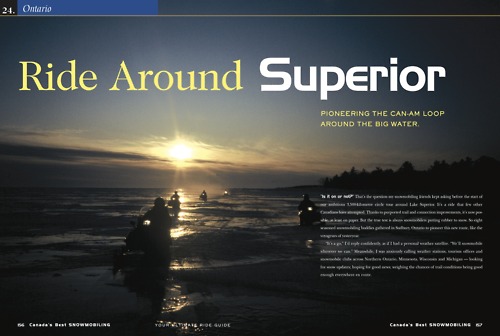 Snowmobile Around Lake Superior – Click on photo to view full tour article
…But it Still Makes A Great Story!
"Can we snowmobile around Lake Superior or not?" That's the question my snowmobiling friends kept asking before the start of our ambitious 3,500-kilometre circle snowmobiling around Lake Superior.
It's a snowmobile tour that few other Canadians have attempted on their snowmobile vacation. Thanks to purported trail and connection improvements, it was possible, at least on paper. But the true test is always snowmobilers putting rubber to snow. So eight seasoned snowmobiling buddies gathered in Sudbury, Ontario to pioneer this new route, like the voyageurs of yesteryear. (Editor's Note: Due to the subsequent closure of trails north of Lake Superior, riding this loop is no longer possible.)
Getting Ready For Our Snowmobile Tour
"It's a go," I'd reply confidently, as if I had a personal weather satellite. "We'll snowmobile wherever we can." Meanwhile, I was anxiously calling weather stations, tourism offices and snowmobile clubs across Northern Ontario, Minnesota, Wisconsin and Michigan — looking for snow updates; hoping for good news; weighing the chances of trail conditions being good enough everywhere en route.
Our goal was to circumnavigate the largest of the Great Lakes – Superior – by riding some of the world's most renowned snowmobile trails on both sides of the international border.
We had ten days for our voyage of discovery. Little did I know that before our trek was over, I'd ride on many strange surfaces, be transported in surprising ways, rent my own house, snowmobile Lake Huron for heart-stopping hours, arrive after dark each day and test the limits of my endurance, too.
We spent the night before departure in preparation. Snowmobiles have minimal storage space – stowed gear has a nasty habit of shaking loose along the trail. So each of us devised ingenious ways to pack rat and secure a dozen litres of oil, emergency parts, tools and personal luggage on board, using as many bungee cords as money could buy. No one carried spare gas, but I had a small jerry can of oil, which would serve when emptied. By departure, my sled resembled a junk wagon more than a sleek engine of conquest.
Read more about my snowmobile ride around Lake Superior as published in my sold-out book, Canada's Best Snowmobiling!
Riders should reconfirm the routes and services mentioned in this article as they may have changed since publication.
Trail Profile: Superior Hiking Trail
The Superior Hiking Trail is a 310-mile trail that takes you along the North Shore of Minnesota. The trail can take two to three weeks depending on your daily mileage and nero/zero days, or four weeks if you really want to take your time. You'll travel through rolling hills, eight Minnesota state parks, old-growth forests, and the city of Duluth. There's even a Great Lake. It's Superior.
Quick Facts

Length: 310 miles
Location: Northern Minnesota
Trail type: Point-to-point
Scenery: Mixed old growth forests with occasional views of Lake Superior
Terrain: Moderate, with consistent rolling hills and occasional short, steep climbs
Navigation:Guide to the Superior Hiking Trail , Superior Hiking Trail Maps , and this reference sheet
How to Get There
To get to the Northern Terminus: From Hovland, continue north on Hwy. 61, turn left on Co. Road 16 (Arrowhead Trail) at mile marker 129 and go 11.5 miles. Turn right on Otter Lake Road and go four miles to trailhead parking lot on left ( Google maps link ). The terminus is a one-mile hike from the trailhead and is shared with the Border Route Trail. This parking lot is for day-use only. For overnight parking continue on Otter Lake Road for another 0.2 miles and the trailhead parking lot will be on the right.
To get to the Southern Terminus: From Wrenshall, turn left on Carlton Co. Road 18 and go 3.1 miles. Turn left on Hwy. 23 and go 0.3 miles. Turn right on Wild Valley Road and go 0.5 miles to trailhead parking lot on left ( Google maps link ). The terminus is a 1.9-mile hike from the trailhead. Overnight parking is OK. The trailhead parking lot is only open from late May to mid-November and then is closed by a gate.
There are some shuttle options to help transport you between trailheads: Superior Hiking Shuttle and Harriet Quarles Transportation .
Total vs. Traditional Thru-Hike
As a thru-hiker you have two options: a total thru-hike and a traditional thru-hike.
A total thru-hike is what it sounds like—hiking the total 310-miles from the Southern to Northern Terminus.
A traditional thru-hike starts from Martin Road and goes to the Northern Terminus. This removes the 53-mile Duluth section. The Superior Hiking Trail Association doesn't have any campsites available in the Duluth section, so hikers have to stay in hotels or other fee-based campsites. Since this part is trickier to plan, many hikers skip it.
We did the total thru-hike, but the traditional thru-hike seems to be the more popular option. The total thru-hike is more expensive with having to pay for campsites/hotels and transportation to and from trailheads, but it has some of the prettiest scenery on the trail.
Direction
The Superior Hiking Trail can be hiked northbound or southbound. We hiked southbound, but both directions seemed equally popular.
There isn't significant benefit of hiking one way versus the other. The one thing to note is that there isn't cell service in the northernmost section of the trail. If you choose to hike southbound and get injured or want to bail early it'll be difficult to contact someone. If you choose to hike northbound you may have difficulty coordinating a pickup from the Northern Terminus.
Why You Should Hike the Superior Hiking Trail
The Superior Hiking Trail is a great shorter "long" trail to thru-hike. The 310-mile length is a lot more digestible than 2,000 miles.
The majority of the Superior Hiking Trail is through forested areas. Between the larches, birches, and maples, the scenery can be absolutely gorgeous when fall foliage is at its peak.
A major selling point for a lot of people is that this trail isn't heavily trafficked compared to some of the other long trails. Chances are you will still see people every day, primarily day or section hikers, but you won't be overwhelmed by crowded trails or campsites.
Overall, it's a great trail if you're looking to immerse yourself in nature.
Climate and Weather
The climate in northern Minnesota ranges from frigid winters to hot, humid summers. The snow doesn't typically melt until the end of May and post-melt mud isn't ideal for hiking, not to mention the swarm of bugs and ticks that come out during this time. It should go without saying that winter isn't a suitable season for hiking in Minnesota.
With that said, the best options for hiking are summer and fall. In the summer months it's not so much the heat that is an issue (typically 70-80 degrees), but the humidity. We started the trail mid-August and most days were 60-70 percent humidity. Chances are it will rain one to two times per week, so be prepared to be wet—from sweat or rain—most of the time.
As the weather transitions to fall temperatures will drop, daylight will decrease, and the amount of rain will stay about the same.
If we were to do this trail again we'd probably start mid-September so that we could get some major leaf peeping in. However, hiking through lush green trees wasn't unpleasant.
Gear Suggestions
As mentioned, the climate in Minnesota during the prime hiking season will be hot and humid. The temperatures don't fluctuate much between night and day, but having a light layer for cooler mornings or to sleep in is a wise choice. Unless it was raining we were basically always hiking in shorts and T-shirts.
Speaking of rain, bring rain gear. You will get rained on. We both wore rain pants and rain jackets, but knowing what we know now we'd recommend wearing ponchos instead. In the warm rain we'd get so hot hiking in our rain gear—wet with sweat on the inside and rain on the outside; ponchos will give you a lot more ventilation. Make sure to have a waterproof backpack cover or liner as well.
Because of the wet climate, trail runners will work better than hiking boots.
We also recommend hiking with trekking poles. The Superior Hiking Trail has steep (but quick!) climbs and descents and a lot of the trail is covered in thick roots and rocks. Having trekking poles will help you navigate through these sections.
And don't forget the bug spray. Mosquitoes are the Minnesota state bird.
Camping
There are 94 campsites on the Superior Hiking Trail. Each campsite has two to eight tent pads, a fire ring with benches, a backcountry latrine (a pleasant feature), and most are located near a water source. Distances between campsites can range from .2 to 12 miles, with the majority of them being about three miles apart. There are no fee, reservation, or permit requirements and there is no dispersed camping along the trail.
The trail passes through eight state parks where there are campsites available for a fee.
As mentioned earlier, there are no Superior Hiking Trail campsites through the 53-mile Duluth section, which makes hiking this section logistically difficult. You can reserve a campsite at Spirit Mountain, Indian Point, and Jay Cooke or you can stay at motels. Although the motel option is more expensive it does give you the opportunity to slackpack, which is always a nice treat.
Highlights
The Superior Hiking Trail travels through eight state parks: Jay Cooke, Gooseberry Falls, Split Rock, Tettegouche, Temperance River, George Crosby Manitou, Cascade, and Judge C.R. Magney. Froman iconic swinging bridge in Jay Cooke to the mysterious Devil's Kettle in Judge C.R. Magney, each one brings beautiful scenery and a classic Minnesota experience.
One of our favorite sections was hiking through Tettegouche State Park to Mount Trudee and then over to Bean and Bear lakes.
Other highlights include the lake walks along Lake Superior, the old-growth white pine forests southeast of Duluth, and the overlooks from Ely's Peak, Piedmont Knob, Mount Oberg, Carlton Peak, and Section 13.
Aside from scenery highlights, it was a treat to be able to stop into a bar for a midday burger and beer while hiking through the the city of Duluth, despite the awkwardness of being a sweaty, stinky hiker in a populated city.
Another highlight of the trail is the opportunity to see or hear some amazing wildlife. The northern reaches of the trail are home to moose and gray wolves. Black bears also call the entire Superior Hiking Trail home. While we did not see any of these large mammals, we did see tracks and scat.
Water Sources
The Superior Hiking Trail has a variety of water sources—streams, lakes, rivers, and the glorious beaver ponds. The drier weather in the late summer can lead to lower water sources. If you bring a scoop (i.e., cutoff Powerade bottle) you should be totally fine.
Flowing water seemed to be a little more scarce in the northern sections, with the most popular source being beaver ponds.
Most campsites are located near water sources, plus there are multiple other sources that you'll pass by in a day. This makes it easy to get away with carrying only two liters of water at a time. If there is an issue with the water source it'll be listed on the Trail Conditions page on the Superior Hiking Trail website.
We used the Sawyer Squeeze filtration system, which worked really well and seemed to be what most other hikers were using. The beaver ponds can clog the filters, so it'd be wise to bring a backflushing tool.
Resupply Options
It is easy to resupply on the Superior Hiking Trail.
You can resupply by shipping yourself packages to either local businesses or post offices, or by visiting grocery and convenience stores. The Superior Hiking Trail Association has documents that list the package hold options and town services .
There is a town every 35 to 55 miles, so depending on your mileage you can typically resupply every two to five days. Hitchhiking into town is difficult as most people aren't accustomed to seeing thru-hikers. Some towns, like Grand Marais, are a short 1.5-mile road walk while others, like Two Harbors, are a grueling 6.5-mile road walk. Uber/Lyft don't exist north of Duluth and cab services are limited.
We used Cadillac Cab in both Silver Bay and Two Harbors. Scheduling a shuttle with Harriet Quarles is another popular choice.
If you choose to resupply at local stores rather than sending yourself boxes be prepared to shop at convenience stores. We did a majority of our resupply shopping at Holiday Stationstores, which have all the typical hiker foods – ramen, instant oatmeal, Clif Bars, trail mix, beef jerky, candy, water bottles, and Powerade. Most towns will have a full grocery store or market as well, but we found Holiday to be the most convenient.
The towns along the Superior Hiking Trail are not cities. They are small towns with basic amenities and limited hotel options. With that said, we enjoyed staying at AmericInn hotel chain. These hotels were located in every town. They have guest laundry, decent rooms, and a nice breakfast buffet.
Closing Thoughts
The Superior Hiking Trail is a great shorter-distance option for those who don't have the time or the funds to do a longer thru-hike. It is also a good option for those who are unsure if they are ready to tackle one of the Triple Crown trails.
While the trail doesn't offer sweeping mountain views it does give you the opportunity to immerse yourself in nature and enjoy some of the finest trail in the Upper Midwest.
This website contains affiliate links, which means The Trek may receive a percentage of any product or service you purchase using the links in the articles or advertisements. The buyer pays the same price as they would otherwise, and your purchase helps to support The Trek's ongoing goal to serve you quality backpacking advice and information. Thanks for your support!
Source https://www.northernontario.travel/outdoor-adventures/lake-superior-coastal-trail-hiking-guide
Source https://intrepidsnowmobiler.com/snowmobile-around-lake-superior/
Source https://thetrek.co/trail-profile-superior-hiking-trail/