Places For Bungee Jumping in India
Love adrenaline rushes? butterflies in your stomach? not afraid to experience flying? want to overcome your fear of heights? Does the above click anything? Bungee Jumping of course. Were we on the sa (Read More) me page when you were reading the above? I hope so because then you're at the right place. I bet all of you know what Bungee Jumping is! If you don't let me tell it to you short and sweet. It is when you jump off from a height while attached to an elastic cord, this cord is attached to a building, bridge but people also do it from a helicopter and hot air- balloon.
First of all let's begin with important points to remember while Bungee Jumping in India
For the company, get a person who is trained and a professional to avoid any mistakes and be on the safer side.
Ask any question that you want to ask, it is better if you get all your doubts cleared and in the process get to see how much the person knows.
All the equipment should be given by the person taking you for the Bungee jumping. Make sure the harness and strong and is soft by the ankles so your ankles don't hurt. Also, make sure that the rope is being tied to a sturdy place. Do not go with the person who has a little old equipment just because it is a little cheaper. A life is much more precious than a few hundreds.
The place where you go for the Bungee jumping should be clear of rocks and trees plus it should be really high so you don't hurt yourself
Lastly if you suffer from any heart or breathing problems please do not attempt Bungee Jumping.
Oops sorry forgot to mention a small detail. You need to be at least 12 years old and your weight must be at least 40 kgs.
Here is the list of 6 Places For Bungee Jumping in India
1. Jumpin Heights in Rishikesh, Uttarakhand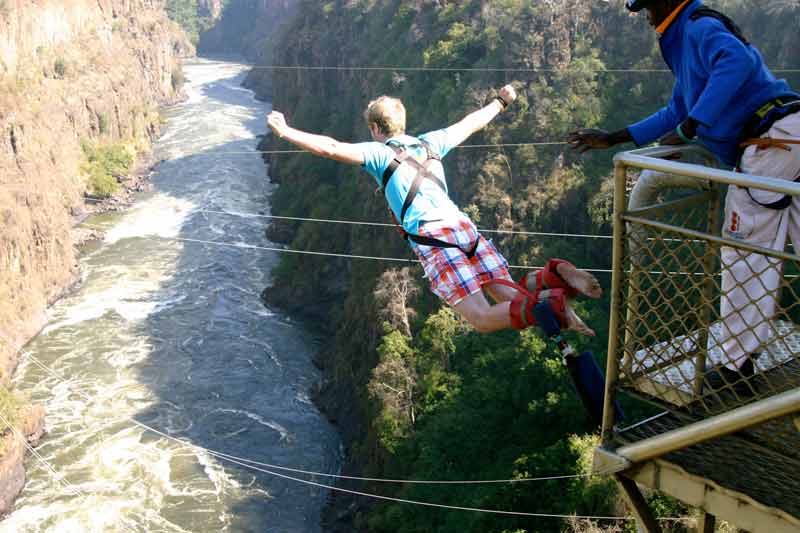 Known For : Rafting in Rishikesh Lakshman Jhula Triveni Ghat
A small town in Dehradun where many people come to find their inner peace but it is also the place with the height of 83 metres perfect for bungee jumping and also the highest spot for Bungee Jumping in India and one of the best who provides this facility is Jumpin Heights. A long, sturdy beam (Cantilever) is built over a cliff that gives it the amazing height. You have to spend some time on the best experiences 🙂
Cost Per Jump: INR 3500
Height of Bungee Jump: 83 m
Best Time: Throughout the year
2. Della Adventures in Lonavala, Maharashtra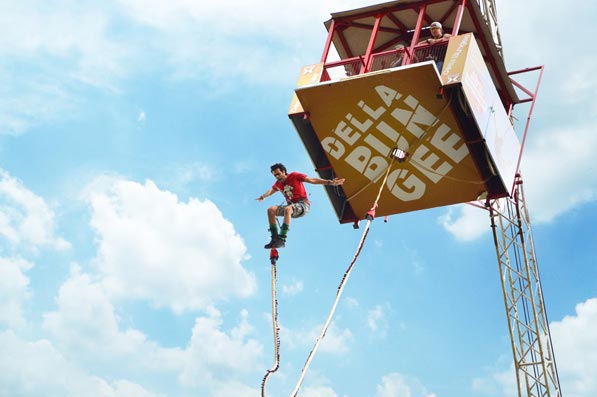 Known For : Tiger's Leap Rajmachi Fort Imagicaa
A small hill station on the outskirts of Pune, a beautiful place and a perfect one for Bungee Jumping in India which takes place in an adventure park called Della Adventures. The equipment is attached at a height of 150 ft and lasts for about 7-10 minutes. People above the age of 10, with a body weight of above 35 kgs are allowed to take the jump. The experts explain all the safety measures before the jump and most importantly after the thrilling experience that leaves you dumbfounded you even receive a certificate saying you have successfully overcome your fears:)
Cost Per Jump: INR 1500
Height of Bungee Jump: 45m
Best Time: Throughout the year
3. Ozone Adventures in Bangalore, Karnataka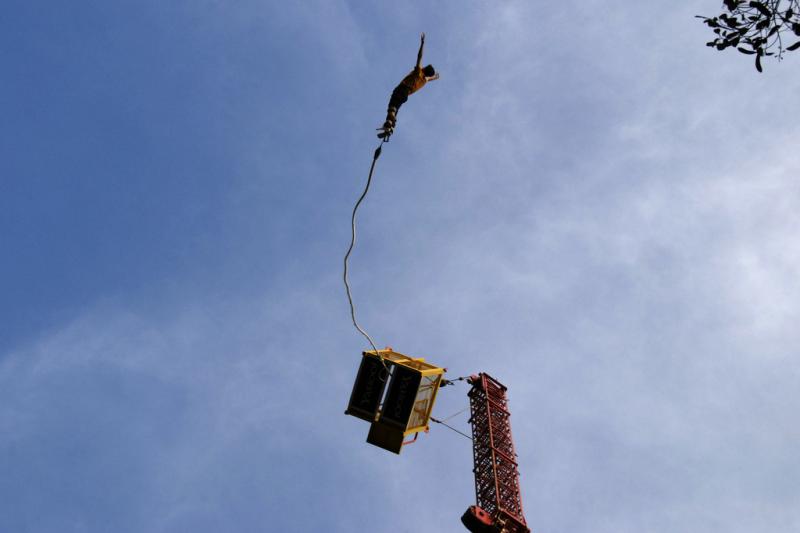 Known For : Lalbagh Church Street Bannerghatta National Park
One of the most popular bungee jumping in India is at Ozone Adventures in Bangalore. Bungee jumping being conducted by Ozone Adventures takes place from a height of about 80 feet above the ground. The only difference between bungee jumping in Bangalore and Rishikesh is that there is no fixed platform in Bangalore. The entire equipment for bungee jumping is fastened to a 130 ft high mobile crane. It might not be very safe jumping off a platform being held by a crane. People who belong to the age group of 18 and 60 years can enjoy this adrenaline-filled experience. Taking all the factors into consideration the safety of the jumper is given the utmost priority as bungee jumping from cranes is not as relatively safe as jumping from fixed platforms.
Cost Per Jump: INR 400
Height of Bungee Jump: 25 m Platform, 40 m Crane
Best Time: Throughout the year
4. Wanderlust in New Delhi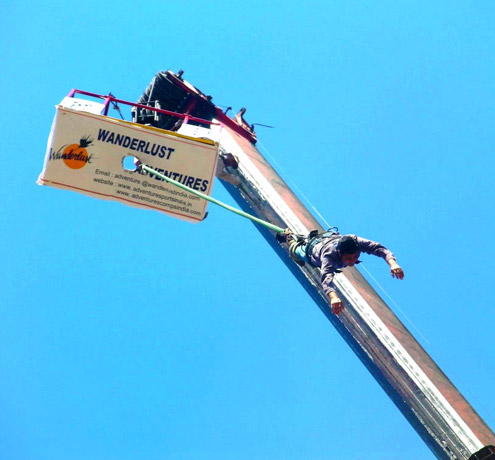 Known For : India Gate Qutub Minar Akshardham Temple Delhi
Finally! Yes, bungee jumping is available in Delhi too. Wanderlust is the provider for this sport. All the equipment is imported from Japan and all the staff are also trained from Germany so people don't fear you are safe. The equipment is attached to a 130 feet high crane and after you've taken your leap of faith and survived, you get a certificate and 'I did it' T-shirt and a cap.
Cost Per Jump: INR 3000
Height of Bungee Jump: 52 m
Bungee Jumping in Mumbai – 5 Companies You Can Trust
Love adrenaline surges? Not reluctant to encounter flying? Need to defeat your dread of statutes? Does the above snap anything? Bungee Jumping.
We should begin with the touch of a presentation of bungee jumping. It is a game wherein you hop off from a stature while connected to a versatile string, this rope is joined to a structure, connect yet individuals additionally do it from a helicopter and sight-seeing balloon.
As a matter of first importance, we should start with significant focuses to recollect while Bungee Jumping in India. For the organization, get an individual who is prepared and an expert to maintain a strategic distance from any mix-ups and be on the more secure side. Pose any inquiry that you need to ask, it is better if you get every one of your questions cleared and, simultaneously, get the chance to perceive how much the individual knows. All the hardware ought to be given by the individual taking you for the Bungee jumping. Ensure the outfit and solid and is delicate by the lower legs so your lower legs don't do any harm. Likewise, ensure that the rope is being attached to a tough spot. Try not to go with the individual who has a little old gear since it is somewhat less expensive. Life is considerably more valuable than two or three hundred. Where you go for the Bungee jumping ought to be away from rocks and trees in addition to it ought to be truly elevated so you don't hurt yourself Lastly if you experience the ill effects of any heart or breathing issues kindly don't endeavor Bungee Jumping. Uh oh sorry neglected to specify a little detail. You should be at any rate 12 years of age and your weight must be more than 40 kgs. Be that as it may, a few spots where tallness of the stage isn't much doesn't have any age limitation. If all the above is clear and comprehended you are flawless to go. So we should simply dive into the organizations in Mumbai where you can go for an astonishing encounter of Bungee Jumping.
Kolad Bungee by Flysports
This Kolad bungee bounce is sufficient to persuade you that you have wings! It is built upon the shores of the Kundalika stream and offers boundless choices in experience sports. Kolad Bungee by Flysports is the first water plunging bungee. Jumping Platform is 40mtr from the water level of the Kundalika stream. The jumping station is mounted on the head of a solid steel tower with astonishing flying creature eye perspectives on stream Kundalika from the top. All security safety measures have been taken into consideration at the hour of development of the pinnacle and all the rigging is marked and appraised. The prepared group follows all security methodologies at the hour of jumping to make your hop safe and upbeat.
The organization will guarantee your arrival by verifying your booking followed by instructing you with the security techniques and general wellbeing registration. You simply need to scale to the jumping station and wear security gear. You will be given a pre-jumping meeting before you take a jump for your most anticipated Bungee jumping. The organization likewise gives you a testament after your adrenaline surge.
Bungee Jumping by BhatkantiMaharashtrachi
An ideal mix of peacefulness and experience- what else would you be able to request?
The Bungee jumping by BhatkantiMaharashtrachi offers water plunging bungee jumping that makes you feel that adrenaline surge when you'll plunge into the water and bounce high in the sky! Investigate and experience the experience more than ever with BhatkantiMaharashtrachi. All you need to ensure is that you weigh more than 40 kgs. Rest care is taken by the organization.
BhatkantiMaharashtrachi, established in 2015, is an association of enthusiastic nature darlings and explorers. The occasions and outings incorporate journeying, outdoors, boating, rock climbing, and so on. The organization assembles a bond with each client and deal with them more like a family than a client. BhatkantiMaharashtrachi is a stage to find out about nature, improve your aptitudes, and show your ability. They will likely be the best at offering the best encounters to our clients.
Bungee Jumping in Kolad by The Great Next
Experience a definitive rush of free tumbling from the stature of 40 meters (130 feet) on this insane bungee jumping experience in Kolad, Maharashtra. Move to the bungee pinnacle and hang tight for your chance eagerly. If you have any inquiries before the hop, a specialist guide will be accessible to clear the entirety of your questions. When you're agreeable and prepared, stride ahead to the edge of the stage, take a full breath to quiet your brain and bounce!
Bungee Jumping by Treebo
Bungee Jumping by Treebo is one of the most looked for after experience sports in Mumbai. There is nothing gutsier that making a jump from 147 feet above ocean level and ricocheting back up in the sky. Before you hop, ensure you see all the directions and put on the wellbeing gear.
Bungee Jumping by Trillophilia
Experience a bounce more than ever with Trillophilia! The organization backs your security and your medical problems. You should simply hop and feel the adrenaline racing through your veins.
Bungee jumping near Mumbai, Maharashtra
Located just 3 hours from Mumbai, Kolad offers you a range of activities like rafting, bungee jumping, trekking, and more. Sign up for bungee jumping near Mumbai for the ultimate weekend thrill!
Enquire about Bungee jumping near Mumbai, Maharashtra
Call us at +91 9920250519 to talk to
India's most talkative adventure advisors 🙂
Bungee Jumping
Camping
Multi adventure trip
Bungee jumping near Mumbai, Maharashtra Trips Done
Price from: ₹ 4,200
View Photos >
Price from: ₹ 2,500
View Photos >
Price from: ₹ 2,000
View Photos >
Price from: ₹ 4,200
View Photos >
Price from: ₹ 5,000
View Photos >
Bungee jumping near Mumbai, Maharashtra
About bungee jumping near Mumbai
Kolad is the perfect destination for thrill-seekers looking for a quick weekend adventure, owing to the easy connectivity via road and trains. In Kolad, one can do activities like whitewater rafting, trekking, camping, and now bungee jumping near Mumbai.
The bungee jump platform is 130 feet high, which is equivalent to the 13th floor of a building. You'll climb to the top, and WHOOOSH – before you know it, you're racing the wind to the ground below!
If you haven't had your fill of Kolad yet, there are a plethora of other activities you can do! And once you've tasted bungee jumping near Mumbai, you're going to want to check out India's tallest bungee jump in Rishikesh!
Itinerary – Bungee jumping near Mumbai
08:00 am: Arrive at the bungee jumping site.
08:00-08:30: After you arrive, the instructors will brief you on the safety procedures and introduce to the equipment.
08:30-09:00: As you strap into your gear, enjoy the stunning views of the lush forests and the splashing Kundalika River from the jumping platform. Send your prayers and clutch onto the ropes as you jump over the edge, plummeting straight to the ground below, screaming at the top of your lungs!
09:00 am: Once you've conquered this feat, you'll be commemorated with a certificate and an endless supply of bragging rights!
Recommended itinerary for bungee jumping near Mumbai
There are many fun adventures you can do in Kolad, but bungee jumping and river rafting are the most popular. Whitewater river rafting in the Kundalika is a great choice, but you will not be able to do it on the same day as your bungee jump, as river rafting in Kolad also begins at 08:00 am.
If you have the time, plan to spend a night in Kolad. You can arrive at 08:00 am on the first day and complete your bungee jump. After that, enjoy a day of fun activities at your campsite. Different campsites offer different activities: Burma Bridge, Tarzan Swing, bumper boats, banana boat ride, etc. In the evening, you can enjoy a bonfire if the weather permits. The next morning, you can go rafting!
Source https://www.holidify.com/collections/bungee-jumping-in-india
Source https://trippingindia.in/bungee-jumping-mumbai/
Source https://www.thegreatnext.com/bungee-jumping-in-mumbai/