Bungee Jumping Equipment List
Bungee jumping is an activity that has drawn the bravest and boldest of participants; those who seek to test their courage or get a thrill of adrenaline. As death defying as it seems, the bungee cords, harnesses, and rigging systems are perfectly safe in professional hands.
Table of Contents
Bungee Equipment
Bungee jumping is a sport where you're up against your own fear. Those who take the dive get to test their courage and enjoy breathtaking scenes of nature with a bird's eye view of the world. It is a daunting but rewarding activity which attracts the boldest and most daring of participants.
A lot of care and calculated science goes into the setup of bungee cords, harnesses, and rigging systems to ensure the jumper's utmost safety. All the essential equipment for bungee jumping will be provided by your professional trainers and hosting establishment. Unless you are a trained professional with knowledge and access to reliable resources, you should never attempt to assemble and test your own bungee jump setup. Failsafe equipment and an instructor's guidance are absolutely crucial for your safety during a bungee jump.
Make sure to research your establishment before you sign up! You should consider what kind of scene you want to (quite literally) dive into, whether it be off a bridge, over a body of water, a crane or tower, or a famous landmark. The environment you choose is part of the experience. Safety regulations for bungee jumping are in place both in the US and overseas, but you want to make sure your host keeps up to code and properly follows safety procedures. Bungee jumping is safe when done correctly, but can be fatal in the wrong hands.
Bungee Body Harness
The body harness is the padded, securely strapped gear that connects you to the bungee cord and helps you absorb the drop's shock. There are different types of body harnesses to choose from, and whichever you select may call for a different kind of dive.
The most common is the full body harness, which is worn around the chest, shoulders, waist, and thighs. It is comprised of two pieces, a leg or seat harness which protects your lower half, and a chest harness which protects your back, shoulders and chest. The proper jump for the full body harness is to jump out horizontally with your head tilted downwards in a swooping position, sometimes called the bat drop or the Superman dive. You can also take a backwards plunge, which means falling backwards with your head tilting towards the ground.
The other kind of harness is an ankle harness, which is somewhat less popular. The ankle harness is wrapped around both your ankles and accompanied by a leg harness wrapping around your thighs. The ankle harness is meant to leave you dangling by your feet after the jump, so your dive has to be more starkly nose-down. Instead of a swoop it should be more akin to a swimmer's dive, a head-first plunge. As one might expect, ankle harnesses are not for the faint of heart.
Bungee Cord
Never, ever forget your bungee cord. Sometimes called a shock cord, your bungee cord is the key piece of equipment to every bungee jump. It attaches to the jumper via the harness and connects them to their jumping point. It puts the crucial stopper to your free dive, bouncing you up and down once you reach the bottom of your fall. The elasticity of the cord is crucial for softening the blow and ensuring a gentle as possible bounceback; if you were to jump attached to a chain or regular stiff rope, the blunt shock at the end of the fall would cause you great harm, or the rope could snap.
There are a few different styles of bungee cords, but they are all essentially made with a rubber core and a nylon or cotton cloth covering on the outside. Your average bungee cord can elongate anywhere from 100 to 300 percent, but its starting length varies with the altitude you choose to jump from. Cords usually last for 500 to 1,000 jumps before they are replaced. It is very important to make sure your bungee cord has proper elasticity.
Carabiners
Carabiners are the D-shaped metal junctions that connect the cords to the harness. They are made of pure steel and can withstand up to 14,000 pounds worth of stress, an essential feature of a high-impact sport like bungee jumping. They're also used for rock climbing.
Comfortable Clothing
The main dress code requirement for bungee jumping is to make sure you're comfortable and dressed for the weather. You can bungee jump in athletic wear, jeans, shorts, a ski jacket, or a wet suit if you're by the water. Skirts, dresses, and anything too loose fitting should all be avoided, especially if they might interfere with the security of the body harness. You shouldn't wear accessories like jewelry, glasses, or a watch because you're likely to lose them in the fall. Hard eye contacts are also not recommended, but soft contacts are fine.
Bungee Jumping Helmet
A helmet isn't absolutely necessary for bungee jumping, but most organizations and instructors encourage jumpers to wear one as a precaution. A well secured body harness is usually sufficient for safety equipment, as daunting as the dive might seem. However, an instructor will always insist on a helmet only in cases where a jumper wants to get close to the ground or touch the water they're jumping towards. In recent years it's increasingly popular for participants to attach GoPro or camera devices to their helmets, capturing their jump to watch back later.
Platform
The platform is the metal plank you jump from. Trainers advise you never to look down from the platform right before you jump, as it might cause last-minute nervousness which affects your ability to dive. It's important to jump with as much calmness and clarity as possible so that you can make the proper head-first diving position and ensure your dive is clean. If you jump or step off the platform reluctantly, the improper position will likely put you through some needless whiplash during your jump.
The view from the platform can be daunting, but instructors will encourage you not to overthink it when you make the leap of faith. The highest raised platform in the world is currently the AJ Hackett Macau Tower bungee jump in Macau, China, which is a staggering 764 feet above ground.
Bungee Jumping Rigging System
The rigging system is the connection of pulleys and reels, ropes and metal connecting devices called carabiners that pull a jumper back onto the platform after the jump is completed. In some instances a jumper can be lowered to the ground and get off there, but more often than not a bungee setup will require a jumper to be returned to the jumping platform. In locations like bridges, towers, or platforms raised over a body of water, the rigging system is necessary to pull you back up.
Sneakers
Comfortable, securely tied sneakers are ideal for a bungee jump. Boots, heels, or anything with straps up the ankles should be avoided because they could interfere with your harness or cord. Sandals, flip flops, or anything too loose are also not recommended because you'll likely lose them in the fall. You can also jump barefoot, which is somewhat common for more tropical jumping locations, but instructors recommend athletic shoes to get a proper grip of the ground for your jump.
Harrachov Jump from a 36-meter tv tower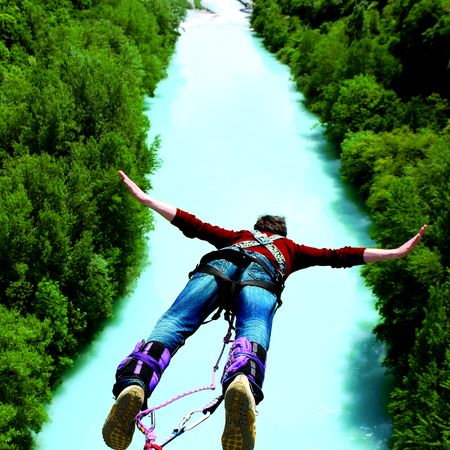 Our instructors are using only the first-class equipment, which is regularly controlled and proofed. Our philosophy is simple: "Safety consists of redundancy in both equipment and procedures coupled with an impeccable attention to detail."
Pick-up in Prague
Your driver picks you up at any address in Prague you choose.
Transfer 1 hour and 15 minutes
Enjoy a comfortable ride in an air-conditioned minibus to the bungee jumping area.
Instructions 10 minutes
Your English speaking instructor will teach you the safety and the techniques of bungee jumping.
Jump 10 minutes
One, two, three. jump!
Celebration
Get your honest bungee jump diploma.
Transfer back 1 hour and 15 minutes
Take a rest on the way back to Prague to your chosen address or to another Magical Prague experience.
Drop-off in Prague
Enjoy the rest of your day in our magical city.
Notes
For the bungee jumping from the tv tower, the minimum number to book are two jumpers. Single jumper bookings are also possible, but not guaranteed. It is necessary to wait for confirmation if there is a group available to join. It is recommended to wear comfortable clothes and tight shoes for the bungee jump. Participants younger than 18 years have to produce evidence of parental consent or other legal representatives in written form.
118 customer reviews

We done a bungee jump with these guys. It was a fantastic experience. The staff were very funny, friendly and helpful.

I went bungee jumping today and it was such a rush. the whole thing felt very safe but still jumping off a bridge is thrilling!! so worth the money. and Bob (our driver) was very nice

Awesome experience! Kate was our driver, gave great advice for a first time jumper, super friendly, and she made the day so much fun! Definitely recommend! They also try to get you there early so you don't have to wait in line which was a bonus!

Great service with a taxi to the bungee jump and nice people all day. Amazing experience and I would recommend everyone to try!

I've done my first bungee jump in Prague, great value for money! Such a professional staff and a beautiful location. I will definetely try the rest of activities soon 🙂
More about Bungee Jumping Prague
Safety is one of the foundation-stones of our company. That´s why we choose the way with a guarantee of the highest credit of safety.
We became the membership of NABA- North American Bungee Association (1993) and assumed their system of safety. In 1994 we also obtained the Ministry of Education, Juveniles, and Physical Training for training the instructors.
We can realize your bungee jump if your weight is between 40–160 kg (88–350 lb). Applicants younger than 18 years have to produce parental consent or another legal representative in written form.
You have two following possibilities of jumping: Bungee jump: leg jump, chest jump, or tandem jump. Swing jump: giant swing with the experience of the free fall and weightlessness.
Parachute Jumping vs Bungee Jumping
Call us biased, but we think skydiving is the creme brule of extreme sports.
If you're looking to try something extreme that involves falling or flying of some sort, you may find yourself bouncing between videos of bungee jumping and skydiving. They both are pretty accessible, both provide a vague feeling of flying, and both cause your adrenaline to spike as you leap from your comfort zone. But the similarities end there.
When making your decision, we urge you to consider which will provide the greatest bang for your buck and leave you with longer-lasting memories. To help you out, we've broken down why we favor parachute jumping over bungee jumping.
Skydiving can be done with a fear of heights
There's something about standing on the edge of a plane 13,000-feet above the Earth and staring at its curvature on the horizon that completely numbs any fear of heights you might harbor.
With bungee jumping, you're so close to the ground that you might feel that same sense of vertigo or fear you might get by standing on the roof of a skyscraper or bridge. You can see the rushing water and rocks below you. They're so close you can make them out and your brain can process all of the things that can potentially go wrong.
With skydiving, the ground below looks a beautiful painting.
Skydiving takes much less of a toll on your body
Not only is the ground rush much more prominent with bungee jumping, but it also tends to take a much harder toll on your body.
Your heart is pounding, a nervous feeling doesn't leave your throat and you're entering into dead air, which gives you as similar a feeling of weightlessness as you might get driving fast down a steep hill or flipping around on a rollercoaster.
At the same time, your are whipped upward after the bungee cord has been stretched fully, which can cause people to feel a bit of whiplash.
With skydiving, on the other hand, you are jumping from a moving object — a plane — which produces relative wind that offsets some of those uncomfortable feelings of falling. At the same time, the parachute opens slowly and smoothly, moving your body comfortably from a lying position to a vertical position under canopy.
The overall experience is better with skydiving
Besides the amazing views and better physical effect skydiving has on your body, it's also just a better experience.
The skydiving experience is significantly longer than bungee jumping, which tends to be over in a blink of an eye. With skydiving, you enjoy a 15-or-so minute plane ride, where you can check out views of Newport and the surrounding area.
You then freefall for an entire minute before pulling your parachute, which gives you an exhilarating rush. Once under canopy, you have a peaceful five-minute ride until you're back down on the ground, which gives you more time to check out the bird's-eye view of the Atlantic Ocean and the beautiful area surrounding the island of Newport. Make your reservation with Skydive Newport today!
Source https://www.rookieroad.com/bungee-jumping/equipment-list/
Source https://magicalprague.com/en/bungee-jumping
Source https://www.skydivenewport.com/dropzone/skydiving-articles/parachute-jumping-vs-bungee-jumping/