How Much Does Bungee Jumping Cost
High altitude always gives a thrilling sensation. For people who are afraid of it, the thrill may be too much to bear, but for those who are addicted to challenges and adventures, high altitude is something that they love to bask in.
Thrill-seekers who believe that overpowering their fear of high altitude is the real mission of their life will love to enjoy such sports activities as skydiving and bungee jumping.
For professionals, skydiving seems to be a more challenging and interesting option. On the other hand, for beginners and those who prefer a more casual high-altitude sport, bungee jumping seems to be a more reasonable option.
If cost is a consideration, how much does bungee jumping cost? The cost of a single jump may range from around $20 to over $200. This wide cost range is there because several factors affect the cost of bungee jumping, as the location, the height, and the package.
If you see someplace offering the same adventure, but the cost of doing it is more expensive, the main reason is listed here.
Table of Contents
3 factors that change the price of the bungee jump
1-Location
In Longqing Gorge, China, you can enjoy the thrill of bungee jumping by paying only about $22. In Nevis Bungy, New Zealand, you have to pay more than $180 to enjoy the same thrill.
Different locations in the world offer different bungee jumping costs. This location vis-à-vis cost rule also applies to other thrilling sports.
In the following table, I resume the average cost for try this fantastic adventure of bungee jump:
| Country | Price |
| --- | --- |
| Dubai | 103$ |
| Goa | 50$ |
| South Africa | 40$ |
| USA | 100$ |
| New Zealand | 200$ |
| Finland | 130$ |
| Nepal | 100$ |
| Italy | 150$ |
| Switzerland | 170$ |
| Austria | 160$ |
| Macau Tower, China | 430$ |
As we will see during the article, the price is related to the location and height.
Cost of Bungee Jump in Dubai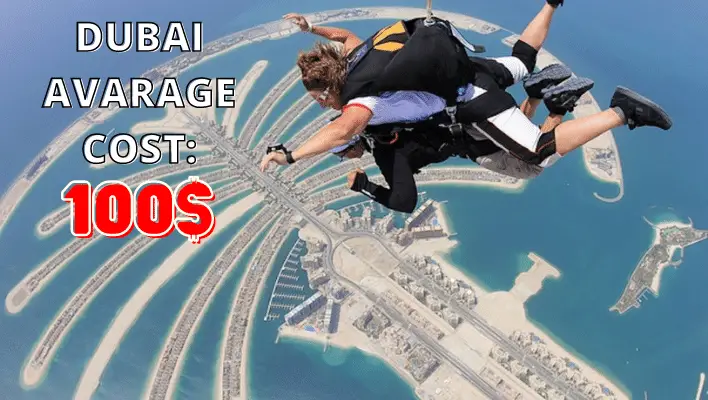 Dubai is well known to be a very healthy place, where all the celebrities are usually spending their money on expensive jewelry or other things.
But if you are there for some of your holidays, you can't miss the adrenaline that the gravity zone in Dubai can offer you.
The gravity zone in Dubai is the first bungee jump operator with a high of 50 meters; you will have a fantastic experience considering that the view is fantastic.
The cost for having a unique experience on a gravity bungee jump in Dubai is 100$.
Cost of Bungee Jump in Goa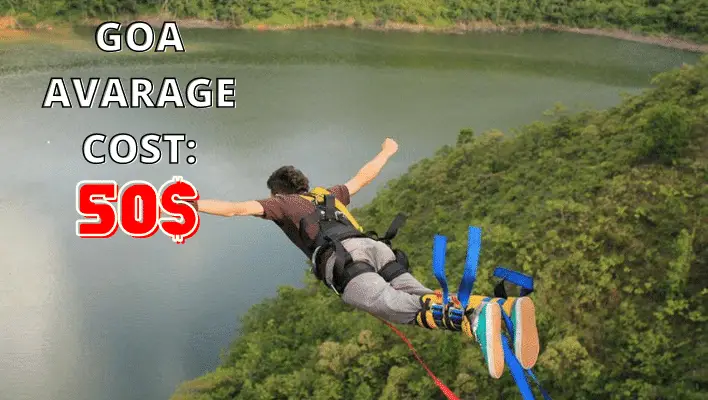 Goa is a very popular place where people, usually passionate about bungee jump, do it.
If you paid for a tour, I am pretty sure that the tour manager offers you to visit and try this amazing experience.
The bungee jump in Goa is close to Anjuna Beach.
In the last years, the bungee jump in Goa has always become more popular due mainly to its cost.
The cost for doing a bungee jump in Goa is around 20-40$; these largely depend on the seasonality.
Cost of Bungee Jump South Africa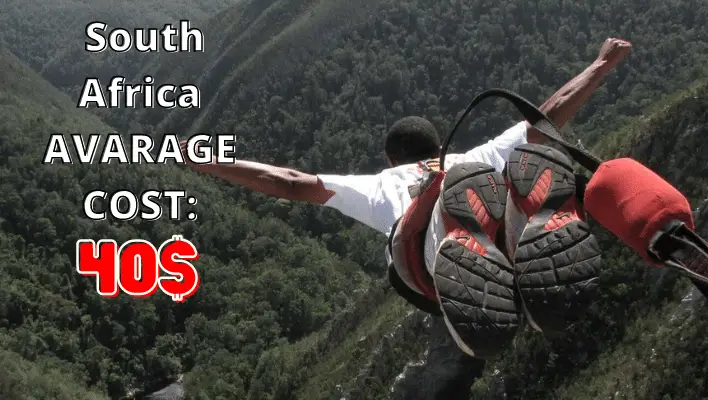 On this list of cost cannot miss one of the world's highest bungee jumping, the Bloukrans Bridge.
With a height of 216 meters, the adrenaline that will give you will be fantastic.
If you are the kind of person that likes the challenge and the high-intensity activity, you should try it at least once time on your life.
The total timing for this experience is 7 seconds.
Considering the cost of only $40, the bungee jump in South Africa cannot miss, if you are in the vicinity.
Cost of Bungee Jump in USA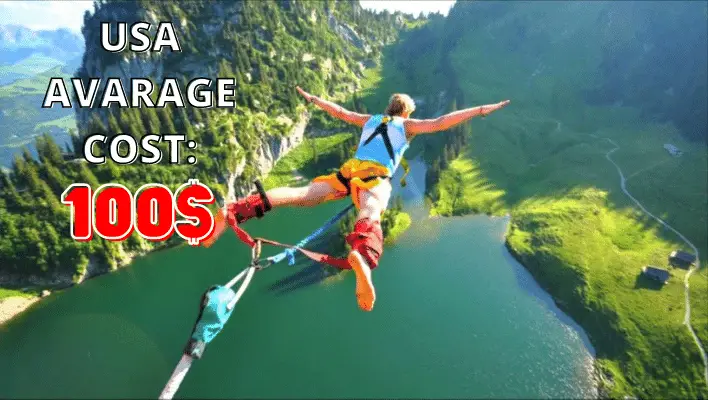 Thanks to the amazing initiative and enthusiasm the USA always has, you have many places where you practice Bungee Jump if you travel into the USA.
In the following part, we will see the cost of the relative location of bungee jump in the USA.
1-high steel bridge Washington Bungee Jump Cost
Located in an arch of a bridge, the high steel bridge is incredible.
I don't have to explain to you why.
The most interesting thing is that the Jump is direct under the Skokomish River , giving you the impression to be catapulted like a real movie.
The height of the high steel bridge is 114m above the river, and the cost is $225 per jumper.
2-royal gorge suspension bridge canyon city Colorado bungee jumping cost
Fantastic if you are in the vicinity of Canon City in Colorado.
If you decide to make part of this experience, you have to consider that the second of the Jump will be 15 seconds, a little bit higher than the other bungee jumping place.
This is primarily due to the height of the bridge, 286m
The cost for making bungee jumping is between 30-70$ depending on the age.
3-Rio Grande Bridge, New Mexico bungee jumping cost
The Rio Grande is one of the highest bungee jumps in the United States, and it is also known as the most expensive place to jump from.
The cost to make a bungee jump from Rio Grande Bridge is Cost: $350 Standard Jump.
With an incredible height of 210 m, you can try this fantastic experience only a few times for years; in fact, as per the official website; you need to book it in large advance.
Cost of Bungee Jump in New Zealand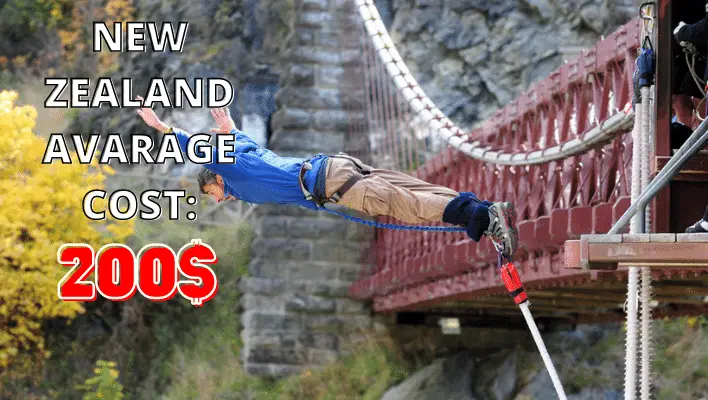 New Zealand is also a famous place when we speak about bungee jumping; there are many bridges and other structures made to allow people to try this experience.
The medium cost for doing Bungee Jump In New Zealand is 204$.
The most famous Jump in new Zealand are:
1-AUCKLAND BRIDGE BUNGEE cost 165$
Height 40 meters
2-AUCKLAND SKY TOWER SKY JUMP cost 163$
Height 192 Metres
3- QUEENSTOWN KAWARAU BRIDGE cost 148$
With a height of 43 meters, the Queenstown Kawarau bridge is the first bungee jump activity open; if you are a fan, you should pass at least once in your life.
Cost of Bungee Jump in Finland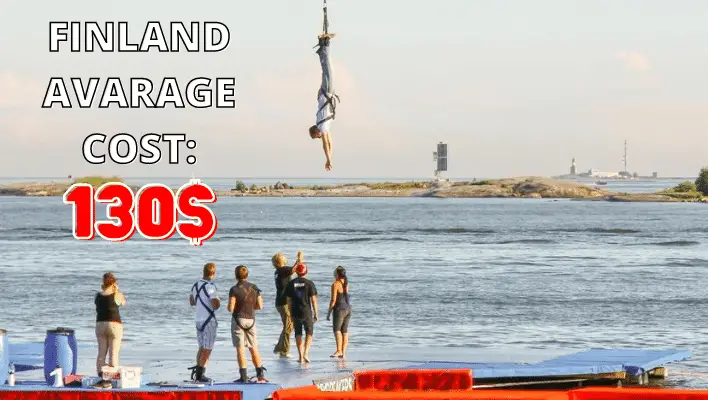 If you are visiting Finland, and in particular Helsinky, you have to know that August is open the largest Bungee jumping constructed in Finland during July.
We are speaking about the Kaivopuisto.
The height is around 150 Metres, and information is seen on the web and tells that the speed reached during the Jump can reach 120 km/h.
The cost to do bungee jump in Kaivopuisto is around 150$.
Cost of Bungee Jump in Nepal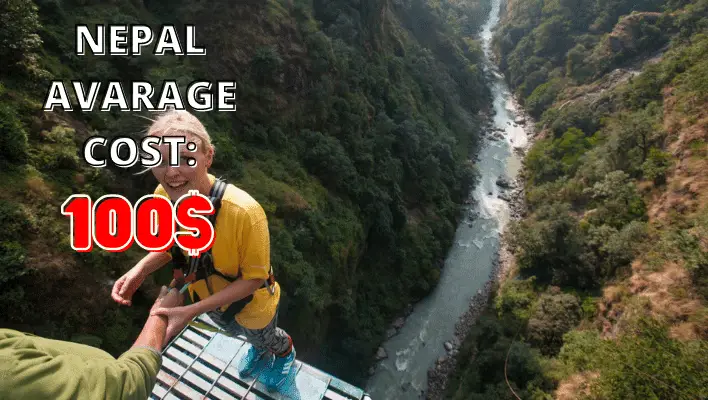 Nepal is famous for many things, but in the last period more and more young people are speaking about the amazing experience that bungee jumping can give.+
There are two main places in Nepal where you should try bungee jumping.
The Bhote Koshi Gorge
Hema, Pokhara
Bhote Koshi Gorge bungee jump cost
This is the highest Bungee jumping in Nepal, with 160 meters.
The Jump will take place from a bridge, and of course, as well as the others locations mentioned before; they are made under the supervision of an expert.
The cost to do a bungee jump in Bhote Koshi Gorge is 100$.
Hemja Bungee Jump cost
Pokhara is for sure one of Nepal's most known and famous place, the main difference respect to the other one is that on Pokhara you the height is less, we are speaking about 80 meters.
What will be amazing about that Jump is that it will give you the sensation to touch the water.
The cost for Bungee jumping in Hemja Pokhara is around 80$.
Cost of Bungee Jump in Italy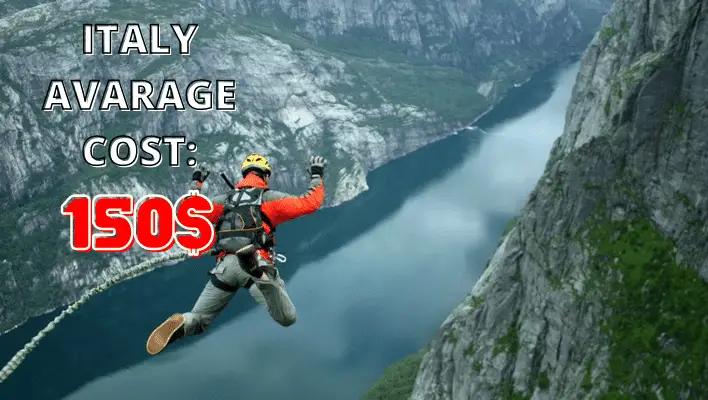 If you are in Italy and want something different to do during your daily activity, I am here to give you my best 4 places with their relative price, of where do Bungee Jump in Italy.
Bungyxteam Valgadena Asiago (Veneto):
Bungee Center di Veglio-Biella (Piemonte):
Bunjee Jumping Abruzzo al Parco della Majella – Caramanico Terme (Abruzzo):
Acqualandia Park di Jesolo Beach (Veneto):
Cost of Bungee Jump in Switzerland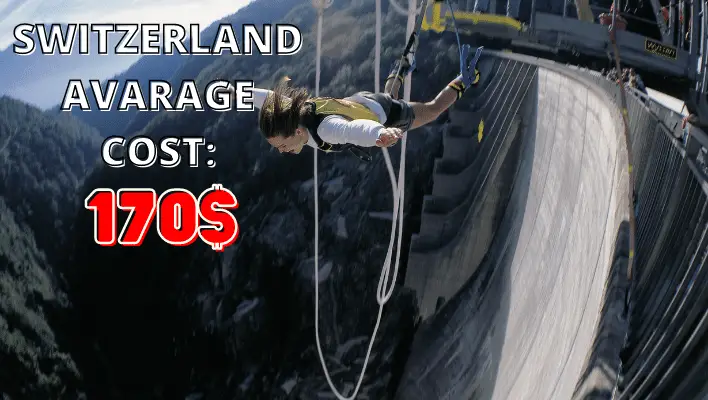 One of Switzerland's most famous and attractive Jumps is the bungee jumping from the Verzasca Dam.
If you have ever seen the movie of James Bond, for sure, you will remember the epic scene where he jumps from.
That shot was in Verzasca Dam, and this fantastic place gives you the possibility to recreate it.
The height is 220m, and the cost is $200 per Jump.
Cost of Bungee Jump in Austria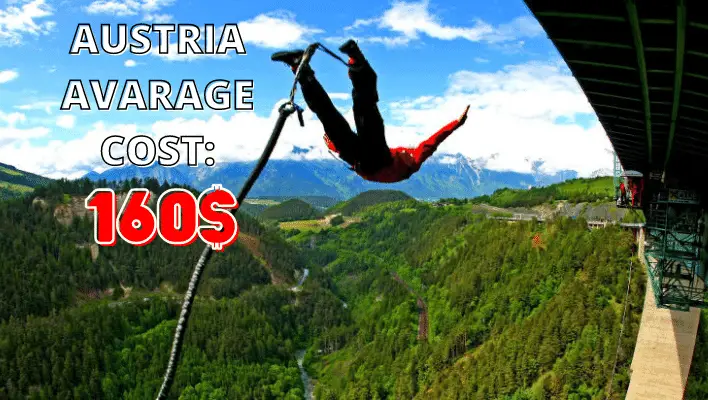 Europabrücke (Europe Bridge), Innsbruck is the biggest and most famous place where people like to do bungee Jump in Austria.
The Jump is immersive; you will be in direct contact with nature and surroundings.
This place has an amazing height of 190m that makes this one of the height places were to jump from.
The cost for a single jump is $200, and if you like a video recording while you are jumping, you have to pay an extra of 35$.
Longqing Gorge Bungee Jumping
Perfect first experience to do if you are in china due to the not excessive height of 58 metros.
The Longqing Gorge Bungee jumping is fantastic, not so height and with a relatively low budget of only 40$, you can try the sensation if you like to do this or not.
Cost of Bungee Jump in Macau Tower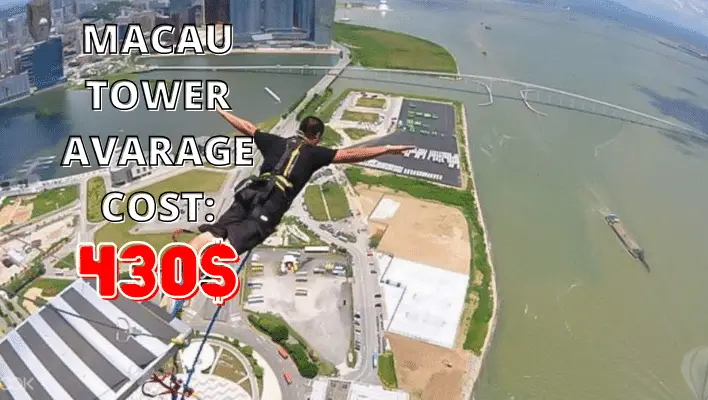 We cannot finish this list without naming the tallest of bungee jumping.
The bungee jump in Macau Tower.
The bungee jump of Macau Tower is an impressive thinks to do; only very courageous peoples will win on this challenge.
The height of Macau Tower is 233m, making this the Highest Commercial Bungy Jump in the world.
The cost to try Bungee jumping from the Macau Tower is $380, but if you like to have the full package of the service that includes Video and Photo, the price will increase, reaching $450.
2-Height
The difference between Bungee jumping cost in Longqing Gorge and that in New Zealand is affected by location and height difference.
In China, you can jump from around 50 meters above the ground.
In New Zealand, the altitude is almost three times higher.
If both location and height are considered when calculating the cost, you will find out that in Longqing Gorge, you pay $0.5 per meter, whereas, in the Nevis Bungy, you pay around $1.4 per meter.
You can see that both location and height determine the cost.
3-Package
If you want to jump multiple times, the cost of all jumps after the first is usually cheaper than the cost of the first Jump.
In Southern California, for example, you are charged $99 for the first Jump and $50 for each subsequent Jump.
You can get a further discount if you buy a package. For example, you can enjoy a package of 5 jumps by paying only $275.
Those are three factors that determine bungee jumping cost.
The average cost of bungee jumping has been mentioned above.
Therefore, you can make your calculation to find out how much money that you have to spend to enjoy the thrilling sensation of this high-altitude sport.
Differences Between skydiving and Bungee Jump
There are many reasons why bungee jumping is more favorable than skydiving.
First, it is safer because, in bungee jumping, an accident involving impact with the ground is more unlikely.
Second, it is easier. Beginner bungee jumpers can usually go solo when beginner skydivers have to assist an instructor.
Third, it is cheaper because bungee jumpers don't need an airport, a plane to reach the preferred altitude and expensive equipment. The cost is the primary reason why many people choose Bungee jumping instead of skydiving.
Others adventure cost that might be interested :
Conclusion
The cost for the bungee jump differs for three main reasons: Locations, Height, and package choice, anyway. We can say that in general, the average price around the world is $150, and if you consider the fantastic remember and emotions that you will have in your mind, we can say that the cost can pass in behind.
Bungee Jumping Berlin | Die besten Orte, Preise und Termine
Bungee Jumping ist einfach der Hammer! In Berlin habe ich im Juni meinen bereits zweiten Bungee-Sprung absolviert. Beim Christopher Street Day bin ich von einem Kran aus 70 Metern Höhe gesprungen.
Bungee Jumping ist eine einmalige Erfahrung und ich kann jedem nur empfehlen, so einen Sprung mindestens einmal im Leben zu machen.
Ich weiß, es ist angsteinflößend und nur etwas für Leute, die sich trauen, an ihre Grenzen zu gehen, aber hey, du lebst nur einmal. Also worauf wartest du?
In diesem spannenden Blogartikel zeige ich dir, wo du Bungee Jumping in Berlin machen kannst, wie viel der Spaß kostet und zu welchen Terminen in Berlin Bungee Sprünge angeboten werden.
Lass uns loslegen mit dem ultimativen Artikel zu deinem Adrenalin-Erlebnis in Berlin.
Bungee Jumping in Berlin – Die Orte, Preise und Termine
In Berlin gibt es zurzeit kein Feststation zum Bungee Jumping wie in anderen deutschen Städten. Das heißt, hier wird nur zu bestimmten Terminen im Jahr ein Bungee Jump angeboten.
Die Sprünge finden in Berlin von einem mobilen Kran statt. Meist beträgt die Höhe aus der du abspringst zwischen 60 und 70 Metern. Reicht dir das?
Da es sich um mobile Bungee Jumping Stationen handelt, sind diese nicht das ganze Jahr über verfügbar, doch im Winter kannst du sowieso nicht springen. Da machen nämlich auch die Feststationen in der Regel dicht.
Die Termine für das Bungee Jumping liegen in Berlin meist zwischen Juni und September. Denn in den anderen Monaten ist es meist zu kalt, um einen Bungee-Jump durchzuführen und die meisten Leute bevorzugen eher warmes Wetter für ihr Erlebnis. Da es aber nur eine begrenzte Anzahl an Terminen gibt, empfiehlt es sich, schon frühzeitig zu buchen, damit du dir garantiert einen Termin sichern kannst.
Die Buchung funktioniert in der Regel über ein Gutschein-System. Das bedeutet, du besorgst dir zunächst einen Wertgutschein, den du dann zu deinem Wunschtermin beim Anbieter einlösen kannst. Die Gutscheine haben meist mehrere Jahre Gültigkeit, womit du bei deiner letztendlichen Buchung deines Bungee-Jumps sehr flexibel bist.
Bungee Jumping in Berlin – Was kostet es?
Einen Bungee-Sprung in bekommst du aktuell für 77 € (Stand 2019) Die Preise können aber je nach Saison variieren. Darum solltest du immer die aktuellen Preise checken. Für dieses unglaubliche Erlebnis ist das ein guter Preis, denn du wirst dich daran dein ganzes Leben lang erinnern.
Für mich ist ein Bungee-Sprung eine gute Investition. Du investierst in die Bewältigung deiner Ängste und legst dein Geld in Erinnerungen an.
Für etwa den gleichen Preis bekommst du übrigens auch einen Base-Flying "Flug". Was ist das und was hat das mit Bungee Jumping zu tun? Das erkläre ich dir jetzt.
Bungee Jumping Alternative in Berlin: Base Flying
Eine Alternative zum Bungee Jumping in Berlin ist das Base Flying.
Beim Base Flying* vom Dach des Park Inn Hotels aus 125 Meter Höhe wirst an einer Spezialkonstruktion angeseilt und fliegst dann 98 Meter im freien Fall in die Tiefe.
Im Prinzip erwartet dich hier die schnellste Personen-Seilwinde der Welt. Welche dich zunächst sicher in luftiger höhe hält und dann, wenn du es nicht erwartest, nach unten fallen lässt.
Du musst also beim Base Flying nicht selber abspringen, wie z.B. beim Bungee Jumping, sondern einfach nur trauen und das Team vor Ort erledigt dann den Rest.
Die Termine für das Baseflying finden in der Regel bis Oktober statt. Hier hast du also etwas länger die Möglichkeit, zu springen.
Beim Baseflying war ich schon aufgeregt. Wie du im Video siehst, hatte ich ganz schön die Hosen voll. Aber warte mal ab, jetzt erzähle ich dir nämlich von meinem Bungee Jump in Berlin auf dem Christopher Street Day 2015.
Ich mach mir in die Hose! Mein Bungee Sprung in Berlin beim CSD
Ich konnte mal wieder die ganze Nacht nicht schlafen, so einen Schiss habe ich. Obwohl ich schon zwei Mal aus einem Flugzeug gesprungen bin und einmal Bungee Jumping gemacht habe, habe ich wieder Angst.
Dieses Mal wurde ich zum Bungee Jumping in Berlin auf dem Christopher Street Day eingeladen. Um 12:00 soll es losgehen und ich bin mal wieder überpünktlich.
Die Bungee Station befindet sich noch im Aufbau und ich muss mich noch ein bisschen gedulden, bis ich endlich springen darf. Das Bungee-Team trifft die letzten Vorbereitungen und bereitet den Kran vor, von dem ich dann aus 70 Metern Höhe springen soll.
Mir geht schon vor dem Sprung ordentlich die Muffe. Langsam kommen immer mehr Leute und melden sich für einen Bungee Sprung an. Darek, eines der Team-Mitglieder sagt mir, dass ich heute den ersten Sprung machen darf, um das Seil zu testen. Haha, lustig! Ich sollte nicht immer so große Sprüche klopfen.
Warum tu ich mir so etwas schon wieder an?
Doch gleichzeitig weiß ich, dass ich mich nach dem Sprung unglaublich gut fühlen werde. Wovor habe ich eigentlich Angst? Bungee Jumping ist verdammt sicher und ich glaube, dass es tausend Mal gefährlicher ist, in Neukölln die Straße zu überqueren. Doch die Aufregung geht nicht weg.
Einen der höchsten Bungee Jumps findest du in Neuseeland. Der Nevis Bungee lässt dich aus mehr als 130 Metern Höhe an einem Seil in eine Schlucht springen. Aber auch die 70 Meter, die ich auf dem CSD in Berlin gesprungen bin, haben es in sich.
Einfach springen! Bungee Jumping ist so einfach!
Es ist soweit. Langsam ist die Bungee Station bereit und ich werde für den Sprung fertig gemacht. Eine Mitarbeiterin legt mir das Sicherungsgeschirr an.
Außen befestige ich noch die Brusthalterung für meine Action Cam und schalte die Kamera schon mal ein, damit ich es vor Aufregung später nicht vergesse.
Ich steige mit meinem Bungee Jumping Master in die Gondel und es werden die letzten Vorbereitungen getroffen. Ich habe Schiss!
Das kleine Metall-Tor geht zu und langsam setzt sich die Gondel in Bewegung. Der Kran hebt uns auf 70 Meter Höhe und die Aussicht wird immer besser. Ich kann die Siegessäule sehen und auf der anderen Seite das Brandenburger Tor, den Berliner Tiergarten und den Reichstag.
Eines ist sicher: Wenn du Bungee Jumping in Berlin machst, hast du eine geile Aussicht.
Doch diese Aussicht kann ich nicht allzu lange genießen, denn gleich geht es los. Oben angekommen sollten wir eigentlich an einem kleinen, dort befestigten Seil ziehen, um die Gondel in die richtige Position zu bringen, doch irgendwie ist die Gondel zu weit weg. Jetzt werde ich gefragt, ob ich mit meinen langen Armen da ran komme.
Wenn ich nicht so aufgeregt wäre, würde ich es vielleicht schaffen aber mit meinen zittrigen Armen: no way! Der Jump Master baut sich eine kleine Konstruktion und kann so das Seil erreichen. Die Gondel dreht sich in die Sprung-Position. Fuck! Jetzt geht es gleich los.
Der Jump Master öffnet die kleine Metalltür und zählt runter! 3… 2… 1…
Ich denke keine Sekunde nach. Ich zögere nicht. Denn ich weiß, wenn ich jetzt mein Gehirn anschalte, traue ich mich nicht zu springen. Ich scheiße einfach auf alles und springe an einem Bungee Seil befestigt in Richtung Berliner Boden.
Ich habe glaube ich noch nie so laut geschrien. LEBE GEIL!! JAAAAA! JAAAAA! Der Boden kommt immer näher. Am Umkehrpunkt angekommen merke ich, wie das Seil mich sanft wieder nach oben befördert.
Es geht wieder in Richtung Himmel und oben angekommen merke ich erneut das unglaublich geile Gefühl des freien Falls.
Ich strecke meine Arme aus und genieße den Bungee Jump. Es ist einfach der Hammer. Meine Angst ist komplett weg und ich fühle nur noch die unendliche Freiheit und vor allem ist mein ganzer Körper voller Adrenalin.
Die Bewegung wird immer langsamer und ich werde vom Kran nach unten gelassen. Am Boden empfängt mich eine Mitarbeiterin mit offenen Armen und begleitet mich langsam bis zum Boden.
Ich habe es geschafft! Da liege ich nun und kann es noch gar nicht glauben. Die anderen Springer warten schon auf ihren Bungee Jump und sind mindestens genauso aufgeregt wie ich.
Hier siehst du, wie ich mich beim Bungee Jump in Berlin angestellt habe
Bungee Jumping in Berlin – Lohnt es sich?
Bungee Jumping in Berlin ist der Hammer! Die Aussicht, das unglaubliche Gefühl der Freiheit, das Adrenalin! Ja, es lohnt sich auf alle Fälle!
Sicher dir also auf jeden Fall deinen Gutschein für deinen Sprung und buche dann so schnell es geht einen Termin. Hier findest du noch mal den Link, unter dem du den Bungee-Sprung buchen kannst.
Auch ein Tandem Bungee Jump zu zweit ist übrigens möglich. So kannst du dir die Angst mit jemandem teilen und es ist vielleicht nicht mehr ganz so schlimm.
Wohnst du nicht in Berlin und möchtest trotzdem Bungee Jumping machen, findest du hier andere Möglichkeiten in ganz Deutschland.
Hast du schon mal Bungee Jumping gemacht? Wenn ja, in welcher Stadt? Ich freue mich auf deinen Kommentar und deine Sprung-Empfehlungen.
Auch in Nordrhein-Westfalen findest du einige coole Bungee-Jumping Orte. In diesem Blogartikel habe ich dir die besten Orte, Anbieter und Buchungsmöglichkeeiten zusammengestellt.
Einen weiteren sehr coolen Artikel findest du hier. Ich habe Keenora interviewt, ein als Wolf verkleideter Vertreter der Furry-Community. Er springt in seiner Freizeit gerne aus Flugzeugen oder von Brücken und verbindet das Ganze mit einem guten Zweck.
Meinen ersten eigenen Bungee-Jump habe ich übrigens in Neuseeland gemacht. Hier bin ich in der Nähe von Queenstown auf der Südinsel von einer Brücke in eine Schlucht gesprungen. Der Nevis Bungee war eines der aufregendsten Erlebnisse meines Lebens.
In Neuseeland kannst du auch noch viele weitere Adrenalin-Aktivitäten erleben. Planst du mal nach Neuseeland zu reisen, kann ich dir meinen Blogartikel über die besten Tipps für deine actiongeladene Neuseeland-Rundreise ans Herz legen.
Und jetzt viel Spaß beim Erleben!
Jan Stein
Ich bin Jan, dein Crashtest-Dummy für die besten Erlebnisse und Freizeitaktivitäten auf der Welt. Ich liebe es, neue Dinge zu testen und auszuprobieren. Meine Bucketlist ist voll und das Leben ist kurz. Auf lebegeil schreibe ich seit 2014 über die besten Freizeitaktivitäten, die extremsten Erlebnisse und die coolsten Erlebnisgeschenke.
How Much Does It Cost to Bungee Jump? (Country Prices)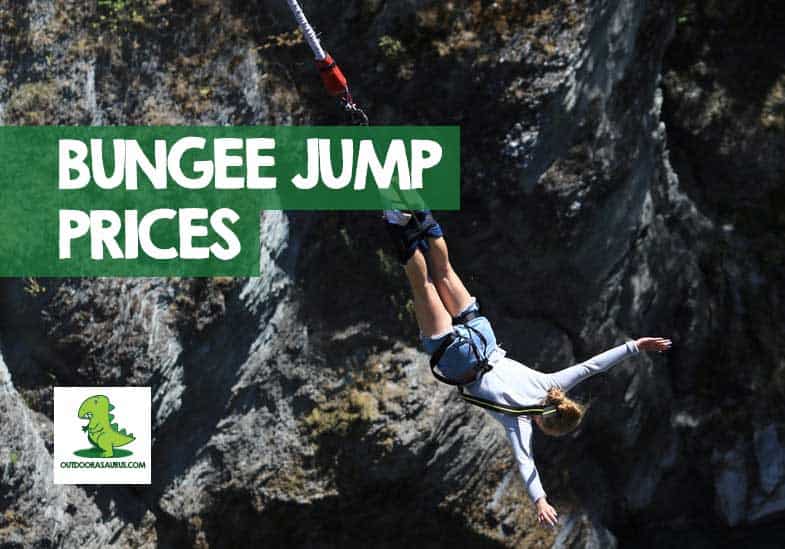 You can't beat the thrill of a bungee jump. Some have stunning locations, some are higher than others, and some are just from a crane. This accounts for the wide range in bungee jumping prices that world over. But just how much should you expect to pay?
What does it cost to bungee jump? In the US, bungee jumping costs between $30 and $400, UK prices between £50 and £190, and New Zealand $150 to $275. The price of a bungee jump will vary depending on the height and location of the jump.
Prices in different countries or locations
All of the costs shown below have been converted from the local currencies into US dollars and into GBP pounds. I tried to get an average price in each location where possible. If not I found the cheapest and the most expensive experiences.
Australia: costs $149 / £116
Canada: costs $122 / £95
France: costs $44 to $153 / £34 to £119
Goa: costs $42 to $63 / £33 to £49
Nepal: costs $100 / £78
New Zealand: costs $150 to $275 / £117 to £214
Rishikesh: costs $47 / £37
South Africa: costs $64 / £50
United Kingdom: costs $64 to $244 / £50 to £190
United States: costs $30 to $400 / £24 to £311
Bungee jumping costs from around the world
I also researched into some of the most stunning and popular bungee jumps across the globe. Here's how much it costs to bungee jump if you want a great location, experience, and view!
1. The Kawarau Bridge in New Zealand
This is often referred to as the home of the bungee jump. It's where AJ Hackett set up the first ever commercial operation in 1988 (read more about the history).
The jump itself is 43 meters high, so not the highest around, but that's more than made up for with the stunning views of Kawarau River… and you can even dip your head in the water if you're brave enough!
Bungee jump costs: $150
2. Albufeira Beach in Portugal
After spending a day relaxing on the Algarve beach, why not take things up a notch with a thrilling dive over the water? That's exactly what you get with this Portuguese operator!
This is one of only 5 water touch jumps in the world, and lets you jump from a 40-meter height to dip your head for a cool and refreshing adrenalin rush.
Bungee jump costs: $57 / £44
3. Nevis Bungy Jump in New Zealand
At 134 meters, this is the highest jump experience in New Zealand, and the third highest in the entire world. Often referred to as the birthplace of bungee jumping, this is one location you cannot miss once you get bitten by the bungee bug.
Jumpers will fall for nearly 9 seconds, plummeting towards the ground in a mix of adrenalin and fear. Are you brave enough to jump from the Nevis Bungy?
Bungee jump costs: $245 to $275 / £194 to £217
4. The Sky Tower in New Zealand
This is another one of AJ Hackett's operation, so you know you're in for a thrill as this guy is the godfather of bungy (as they spell it in New Zealand). At 328 meters high, this is the tallest building in the country, so nerves of steel are required!
However, the jump will only be from a height of 193 meters. Only I say! Well, that still makes it one of the highest bungees you will ever encounter so get strapped in and ready for big fall.
Bungee jump costs: $175 to $225 / £138 to £178
5. The Stratosphere in Las Vegas, USA
At almost 270 feet, this will be one of the biggest leaps of your life. You will accelerate up to a speed of 40 miles per hour above the Las Vegas skyline.
This one actually holds a world record for the highest commercial decelerator descent facility. That's a bungee jump in case you were wondering.
Bungee jump costs: $130 / £101
6. Niouc Bridge in Switzerland
This bridge is 200 meters high, so not for the feint hearted. However, if you are brave enough to give it a shot, you will experience what the operator calls the most beautiful bungee jump in the whole of Europe.
In 1996, the facility was renovated and started offering bungee experiences. At that point in time it was said to be the highest bungee bridge on the continent.
Bungee jump costs: $202 / £160
7. Souleuvre Viaduct in France
This is one of AJ Hackett's European sites, so you are guaranteed quality, safety, but more importantly… fun! The viaduct is 61 meters off the ground and offers stunning views from the specially designed jumping platform.
To get to the jump location you will need to walk 140 meters across the viaduct whilst taking in the views of the stunning valley. And once you jump, you're going to get an even closer look!
Bungee jump costs: $154 / £128.
8. Valgadena Bridge in Italy
At 512 feet high, this isn't one for those who don't have a head for heights. It's located high up in the mountainous Plateau of the Seven Communes, offering amazing views and an amazing jump experience.
Once you reach the ground you can opt for a bit of rock climbing. That's if you can still muster the energy of course! This is Italy's highest bungee jump and has to been seen to be believed.
Bungee jump costs: $111 / £88
9. The Flying Fox in Rishikesh
The Flying Fox is the highest bungee jump in the whole of India. It's 83 meters high and has very strict safety standards that are on a par with Europe, New Zealand, and the United States.
Once you jumped you can also have a go on the giant swing and other extreme sports facilities located on the site.
Bungee jump costs: $50 / £40
10. The North Greenwich Arena (the O2 London Dome)
This crane jump is in London, slap bang next to the famous O2 Arena. At 160 feet high, it's one of the highest in the UK, and offers views of the whole of London and River Thames.
Book early to avoid disappointment as this will frequently get busy during the summer months. You spend 2 hours on site and get a personalised certificate at the end of the experience.
Bungee jump costs: $95 / £75
11. Titan Crane in Glasgow, Scotland
At 45 meters high it's not on the list of the tallest, but you will fall towards water which more than makes up for the lack of seconds you spend in free fall.
Currently the Titan Crane is closed due to construction work, but it is anticipated to re-open next year, so why not see if you can book now to avoid the inevitable rush to jump again once it's back up and running.
Bungee jump costs: $97 / £75
How much does is cost to bungee jump from a helicopter?
Bungee jumping from a helicopter costs a lot more than a static jump location from a crane, bridge, or building. I found a couple of suppliers globally with prices ranging from $730 to $1,000 dollars. You can read this guide to heli-bungee which includes a handful of locations around the world that offer it.
I even found one supplier based in Chile who will let you bungee jump from a helicopter… but over a live volcano! Madness, as are the prices which are set at over $15,000 dollars!
Handy Hint: Find out what my first bungee jump was like in this article about what a bungee jump will feel like the first time. Also includes comments from other people who took the plunge!
How much does it cost to build a bungee jump?
But how about if you want to set up your own bungee jumping business? How much will it cost to get up and running and build the bungee jump?
Unfortunately, there aren't any companies I could find that will sell you a business set-up ready to go. However, the price really does depend on how you want to do it.
For example, will it be a crane bungee jump? Will it be from an existing structure such as a building or bridge?
Because there are so many variables at play involved including local legislation, insurance, and laws there is no right or wrong answer here.
I would recommend you first contact your local authorities to find out what the law is, and then based on that approach suppliers of the equipment and venues you will need.
Handy Hint: If you are worried about jumping for the first time, read this article which tells you how to prepare for a bungee jump. It includes tips on how to prepare mentally, how to choose an operators and some do's and don'ts.
Conclusion
Bungee jump prices differ wildly depending on where you are. For example, in Asian counties the prices are very low in comparison to Europe, New Zealand, and USA.
However, if we take what I've found and made a calculation based on the average, I would say what it costs to bungee jump will typically be around $150 in the West, and around $60 elsewhere around the world.
The bottom line is this; how much your next bungee costs will depend on the jump location, how high the jump is. In most cases, the higher the jump, the more expensive.
You might also like…
Recent Posts
Over the last month, my 7 year old son and I have started geocaching as our new hobby. Despite what you might have heard, you don't need a load of expensive gear as beginner. In fact, most people.
For those new to geocaching there can some weird and wonderful terminology and phrasing at play. Most acronyms and sayings are easy enough to get the hang of and will make complete sense once they.

report this ad
About Us
My name is Marc, and this is my place on the web where my son and I share the adventures we have in the great outdoors. That includes urban exploring, WW2 history, camping, geocaching, and anything else that we can find to do out of the house.

report this ad
LEGAL INFORMATION
Outdoorasaurus is a participant in the Amazon Services LLC Associates Program. This is an affiliate advertising program which has been designed to provide a means for websites like ours to earn advertising revenue by advertising and linking to Amazon. Outdoorasaurus is compensated for referring users and business to Amazon plus other businesses linked to on out website. As an Amazon Associate I earn from qualifying purchases.

report this ad
Source https://howmuchdoescost.com/how-much-does-bungee-jumping-cost/
Source https://www.lebegeil.de/bungee-jumping-in-berlin/
Source https://outdoorasaurus.com/bungee-jumping/how-much-does-it-cost-to-bungee-jump/