Victoria Falls Bungee Jumping
As of 2022, bungee jumping Zambia prices are USD 160. The Victoria Falls bungee swing is USD 160 for a solo jump and USD 240 for tandem (so USD 120 each).
Bungee Jumping in Victoria Falls
Despite the fact that Victoria Falls is the highest bungee site in the world, you may not know where to start your jump. The bridge at the base of the falls is 365 feet high, making it the highest commercial bungee site. Many bungee enthusiasts have deemed the Victoria Fall bungee jump the best in the world.
You will be weighed before bungee jumping, and a crew will tie a harness around your ankles. This is your swinging point, so focus on the view and your body as you dangle from the cable. Once you've reached the top, your jump master will winch you back down the bridge to a catwalk below the bridge. It is recommended that you look out to the horizon and not down.
The Victoria Falls Bridge bungee is considered one of the safest in the world, with only one reported accident since it opened in 1993. Moreover, it has been operational for over twenty years, so you can be assured that there won't be any complications. A good idea is to go bungee jumping with someone with no previous experience. You'll be able to see the magnificent Victoria Falls from a completely new perspective, which is not possible without a professional training.
About Bungee Jumping in Victoria Falls
With the Falls behind you and the river rushing below the Victoria Falls Bridge this is certainly no ordinary bungee jump. At 111 metres it is also one of the highest jumps in the world and the adrenaline rush is as wild as the river itself.
You meet at the Day Activity Centre at a time convenient to yourself and stroll to the Victoria Falls Bridge with your passport, passing through the Zambian immigration point. Including the walk, the entire experience takes approximately 45 minutes to an hour.
The minimum age is 14 years, with a minimum weight of 40 KGs and a maximum weight of 140 kgs.
Info About the Victoria Falls Bungee Jumping
• It is 111 meters high.
• Operates off Victoria Falls Bridge the border crossing point between Zimbabwe and Zambia.
• Minimum age 14 years.
• Minimum weight of 40 kg, a maximum weight of 120 kg.
• Passports are required by clients to access the bridge. You must notify passport control that you are going to Bungee. This does not entitle you to enter the country on the other side.
• Jumps operate from 9 am to 5 pm every day – (10 am March to June.), with a lunchtime break between 1 pm and 2 pm
• Ankle and body harnesses are attached separately to clients.
• After jumping clients are winched back onto the bridge.
• Photographs and videos are taken of each jumper and are available for purchase.
• Videos cost US$55 each, and photos are US$30. A combination of video and photos is packaged at US$65.
• Transfers are not included with this activity, so clients are expected to make their own way there, or make use of the Bridge Bus which leaves the Shearwater Cafe at 10 am and 2 pm daily. You can book your seat when you book your bungee.
• During the rainy season (November to May), there may be interruptions in jumps because the cords have to be kept dry.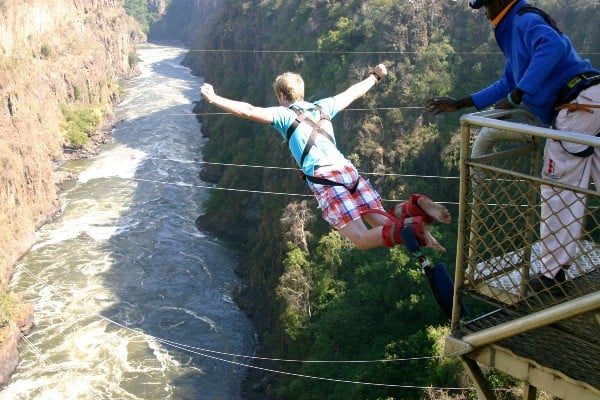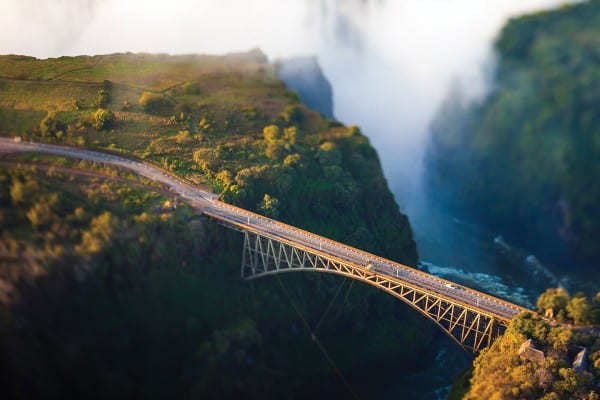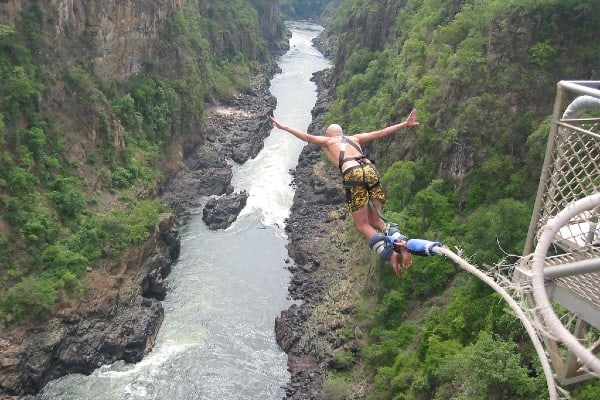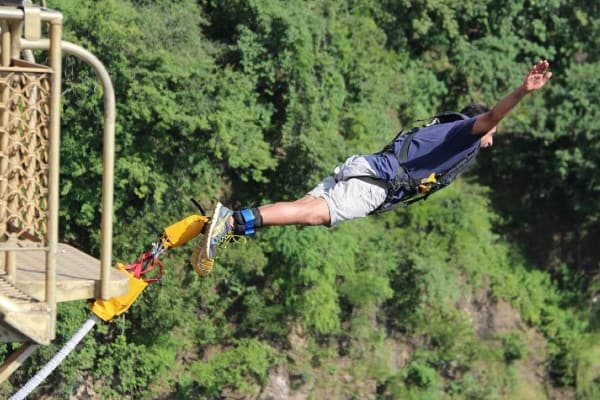 There is nothing in this world that compares to bungee jumping off the Victoria Falls bridge
Victoria Falls Bungee Jump FAQs
Can you bungee jump off Victoria Falls?
The Victoria Falls Bungee Jump is undoubtedly the most scenic bungee jump in the World. With the Victoria Falls themselves as the backdrop, and the mighty Zambezi River flowing beneath you, this is sure to be one of the greatest bungee jumps in the World.
How much is bungee jumping in Victoria Falls?
The Victoria Falls bungee swing is USD 160 for a solo jump and USD 240 for tandem (so USD 120 each). They do a special deal – and this is where they get you – of USD 220 for the bungee jump, bungee swing, and zip line.
How old do you have to be to bungee jump in Victoria?
You have to be at least 14 years old to do the bungee jump. Although transfers are not included to the Victoria Falls Bungee Jump bridge, there is a complimentary shuttle from the Shearwater Cafe in Victoria Falls town at 10 am and 2 pm daily.
How high is the bungee jump in Zimbabwe?
It is 111 meters high. Operates off Victoria Falls Bridge the border crossing point between Zimbabwe and Zambia. Minimum age 14 years. Minimum weight of 40 kg, maximum weight of 120 kg.
How fast do bungee jumpers fall?
Between about 2.5 seconds and 4.5 seconds, the jumper is freely falling and the acceleration is near –9.8 m/s2. When all of the slack is out of the bungee cord, the acceleration begins to change. As the bungee cord stretches, it exerts an upward force on the jumper.
Guide to Bungee Jumping in Victoria Falls
If you've ever wanted to jump off a bridge, then Bungee Jumping in Victoria Falls is an experience that should be on your bucket list. The bridge, which marks the border between Zambia and Zimbabwe, is the perfect location to do it, and there are options for physically challenged individuals, too. Most people who go bungee jumping in Victoria Falls will do the traditional headfirst dive. Experienced bungee jumpers will try backflips, flips, and inward tucks. If you're looking for a thrill, you'll have to book your spot early and pre-pay, or you can cancel your reservation for free.
The Victoria Falls Bungee Jump is a thrilling activity that you can take with your family and friends. The bridge provides amazing views of the Falls, including the Zambezi River thundering into the Batoka Gorge below. When you arrive at the bridge, you'll be connected to a bungee cord that is attached to your body and lower legs. Once you've jumped, you'll be winched back onto the bridge, where you'll be greeted by the master of the leap.
The Victoria Falls Bungee Jump is an adrenaline rush that is sure to make you feel exhilarated and ecstatic. You'll experience the awe-inspiring views of the falls from the heights of 111 meters! Then, you can try the zip-line or an ankle-tied backflip! You'll feel like you're floating over the Zambezi River at an incredible height of 150 meters!
The Victoria Falls Bungee Jump is an adrenaline rush that you won't soon forget. This 111-metre drop will send your heart racing and your blood pounding. As you plunge through the Zambezi River, the sound of crashing waves will echo in your ears, and your breath will be filled with excitement. Afterwards, you'll be rewarded with breathtaking views of the waterfall.
One of the best platforms for Bungee Jumping in the world is the Victoria Falls bridge. With a drop of 345 meters, it's one of the highest bungee jumps in the world. You'll need to have a passport and pass through an immigration point in Zambia to partake in this adventure. However, despite the sheer height, the elation that comes afterwards will be worth the thrill of a lifetime.
The Victoria Falls Bridge is a great place to bungee jump. It's the highest platform in the world and is 111 metres high. If you're brave enough, you can even jump over the falls! To make it a memorable experience, go with a school that specializes in bungee jumping in Victoria Falls. There are reputable and experienced instructors at these locations who follow strict safety standards. Some of these schools also offer other activities such as bridge swings and slides.
The Victoria Falls Bridge is the highest platform for bungee jumping in the world. At 111 metres high, the bridge provides a unique jumping experience. The bridge is also home to a bridge slide and a swing, so you can try your luck on these thrilling adventures. The height is only limited by your imagination. You must be at least 14 years old to do the activity. Minimum weight of 40 kg is required and you must weigh at least 140 kg.
If you're a seasoned bungee jumper, you can watch them in action from the ground. It's an experience that's not for the faint of heart, but it's well worth it. The sheer height of the jump is impressive, and the view from the top is truly breathtaking. You'll experience the sensation of weightlessness after jumping over the crocodile-infested river.
If you're looking for a thrilling adventure, Bungee jumping in Victoria Falls is the ideal activity. There are many activities for visitors to enjoy, including hiking trails, ziplining, and canoeing trips. No matter what you do, Bungee Jumping in the city is a fantastic experience for any age. The only thing you should bring is your passport. If you're unsure about whether you're allowed to bungee in Victoria Falls, you can consult with local authorities to find out if you need to have a visa or an exemption.
Bungee Expeditions
Bridges are located below. Clicking on the "schedule of jumps" link on any bridge will take you to a calendar listing the upcoming jump dates. Many bridges are illegal because they fall under a general "no jumping" rule, some are specific to bungee some are just to keep people from jumping period. Many of the bridges will not have specific dates or times so that we can continue to jump out of the public eye.
Bungee jumping is under constant attack as a legal activity, there are more regulations every day to stop us from jumping. Some times it is the police but more often it is one person at a transportation department that creates a rule with no real laws to back them up. These situations are becoming more common and have cost us thousands of dollars to fight. Without the support of interested enthusiasts like you this company would have had no choice but to shut down. Please support the recognition of bungee jumping as a legal activity by donating through PayPal to our legal fund.
Highway 21 Bridge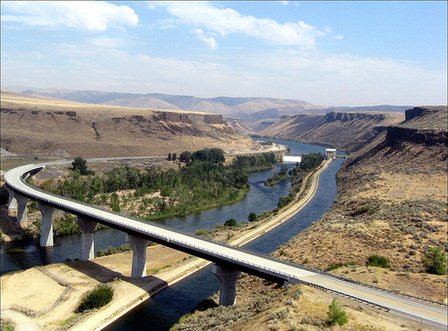 Highway 21 bridge – Boise, ID. 100ft.
Located 10 minutes from Downtown Boise. Don't let the small height fool you. This bridge is crazy fun, you will only be a couple feet off the river and a couple feet below the understructure
Weight limits 115lbs-225lbs. $250 per jumper for two jumps
click here for bridge location
Navajo Bridge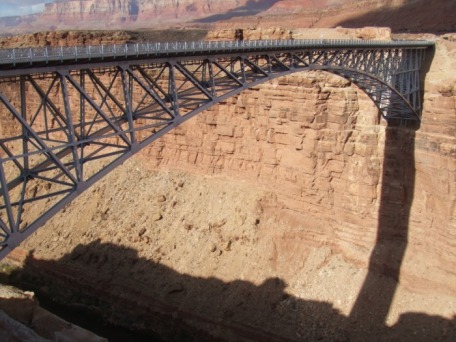 Navajo – Marble Canyon, Arizona. 467ft/141.5m Located near the North rim of the Grand Canyon over the Colorado river. Located just 4.5 hours from Las Vegas.
Check "schedule of jumps" for upcoming jump dates.
$300-$350 per jumper
​Bridge to Nowhere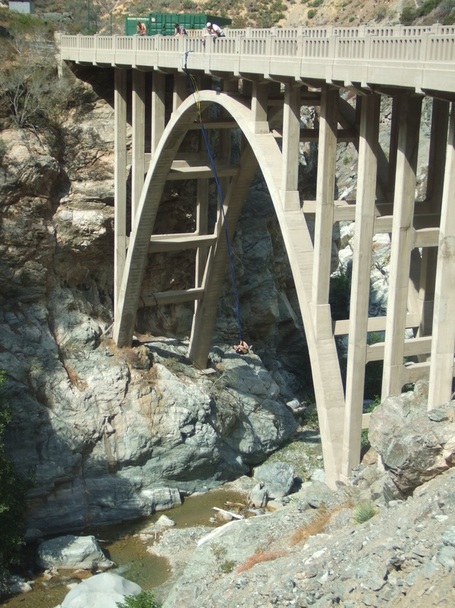 Bridge to nowhere ​ Azusa, California 120ft.
​ Located in the San Gabriel mountains with a 5 mile hike into the bridge. Fun jump over the San Gabriel river and a great place to cool off afterwards.
​This trip is a full day with many jumpers camping overnight.
​ $200 per jump, $260 2 jumps $200 3 jumps (most popular)
​Private groups of 6 or more jumpers can be booked at this location.
High Steel Bridge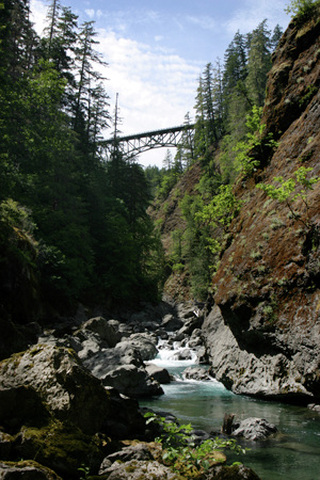 High Steel Bridge -Shelton, Washington. 385 ft/114m.
This bridge is an amazing jump in the scenic Skokomish river canyon in the Pacific Northwest, located not far from Seattle and Portland.
​Private groups of 8 or more jumpers can booked at this location
$300-$350 per jumper
Perrine Bridge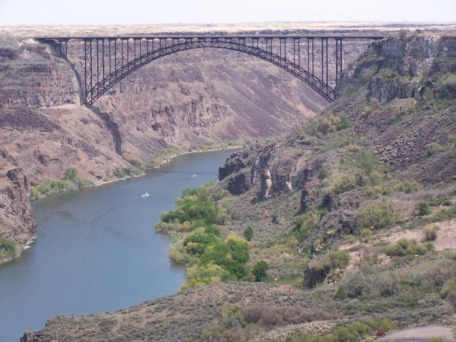 Perrine Bridge– Twin Falls, Id. 500ft/151.5m over the Snake river. Jumping from this bridge has been restricted but I am currently working on getting it opened up. It will typically only be scheduled for 1 day a year, No private group bookings.
$300-$350 per jumper
Crooked River Bridge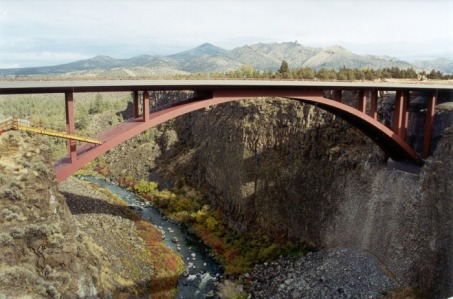 Crooked River Gorge– Bend, Oregon. 300ft/91m. Located between Bend and Madras near the famous Smith Rock climbing area.
Check "schedule of jumps" for jump dates
Hansen Bridge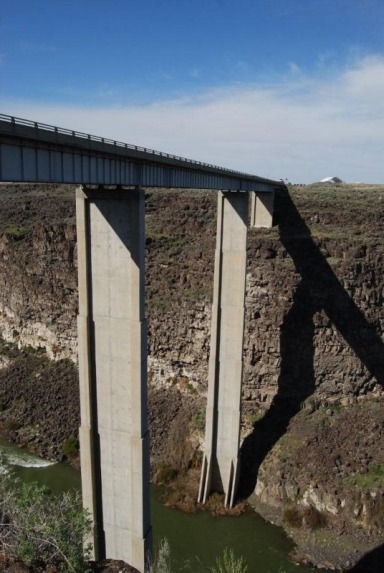 Hansen – Eden, Id. Located just up the Snake River from the Perrine bridge, 400ft/121m. Much narrower than the Perrine this bridge has a very high feel to it.
Because of an increase in traffic the Hansen bridge will be scheduled for only 1 jump during the summer months and it will be very early morning or late night under a full moon.
$250-$350 per jumper
Rio Grande Bridge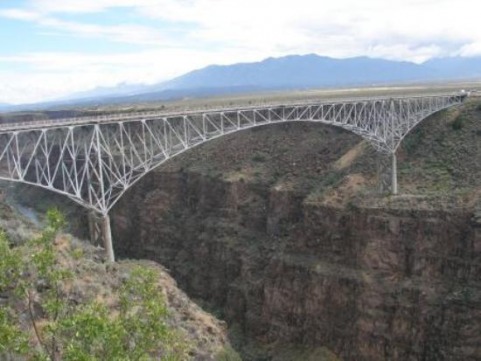 Rio Grande Bridge -Taos,New Mexico The Highest bridge we currently jump! 680ft/206m.
$400-$500 per jumper
I am currently looking to franchise this bridge to someone in the Taos/Santa Fe area It will take a high level of dedication and responsibility. You will have around $30k investment in equipment. Please contact me if you are interested in this opportunity.
Heli Bungee

Heli Bungee– 1500ft. Currently suspended. Our Heli-pilot Miles will be flying for the military for the next year, possibly two so our heli-jump operation is on hold for a while.
Crane Bungee Jumps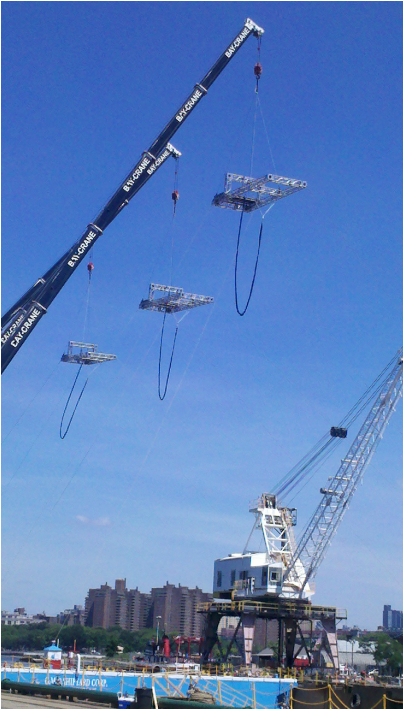 Crane owners/operators. If you own a crane and would like to organize a jump for a local event we can make it happen. Contact us and we can help.
This photo is from the jump we did in the Brooklyn Navy yard for the 2012 season of "the amazing race"
Unknown Jump Spots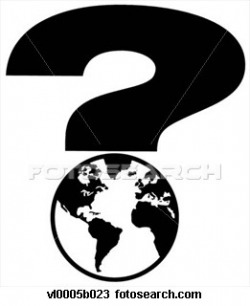 I'm always looking for a new bridge. Have a bridge close by? Bridges should be at least 150 ft. Send me the details and maybe we can schedule a jump there.


Below is a few of the bridges we have lost to the growth of government and the loss of individual freedom.
Glenn's Ferry Bridge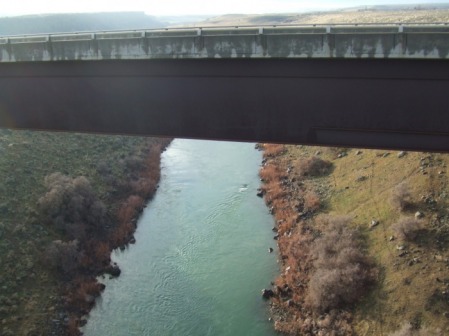 Glenn's Ferry/King Hill – 1 hour from Boise 170ft/51.5m
Because of regulations in the local county we are no longer jumping this bridge. At least we have the memories and videos.
Dirty Devil Bridge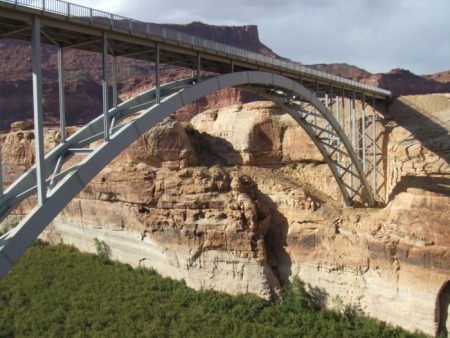 Dirty Devil – Lake Powell, Southern Utah. 230ft/70m. Great camping and amazing scenery right at Hite marina .
Because of new Federal regulations I will no longer be jumping the Southern Utah bridges.
click for general bridge location
White Canyon Bridge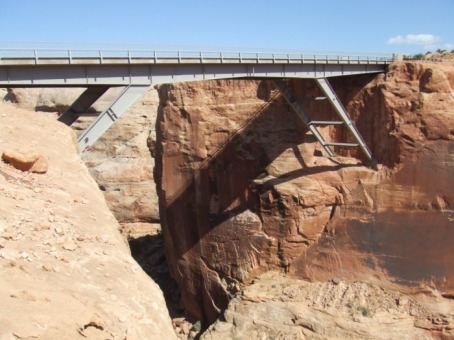 White Canyon – Lake Powell, Southern Utah, definitely one of the scariest bridges we jump. 260ft/79m deep and only 30ft/9m wide at the bottom.
Because of new Federal regulations I will no longer be jumping the Southern Utah bridges.

click for general bridge location
Hite Marina Bridge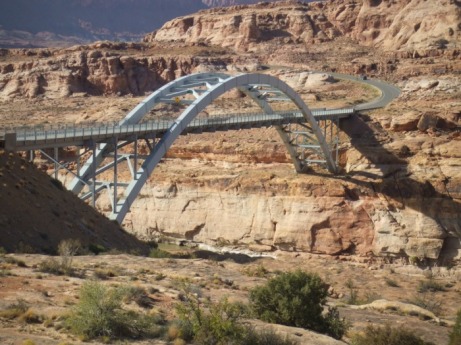 Hite Marina Bridge – Lake Powell, Southern Utah. 120ft/36m over the Colorado river where it feeds into lake Powell.
Because of new Federal regulations I will no longer be jumping the Southern Utah bridges.
Harrachov Jump from a 36-meter tv tower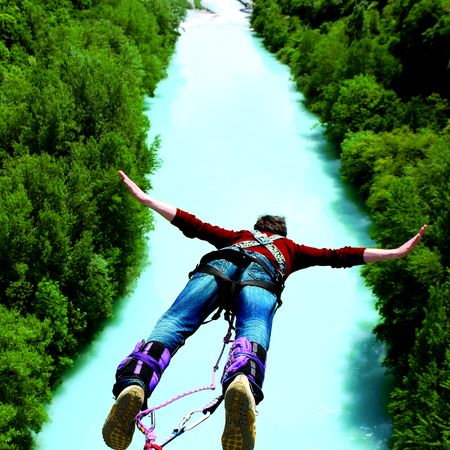 Our instructors are using only the first-class equipment, which is regularly controlled and proofed. Our philosophy is simple: "Safety consists of redundancy in both equipment and procedures coupled with an impeccable attention to detail."
Pick-up in Prague
Your driver picks you up at any address in Prague you choose.
Transfer 1 hour and 15 minutes
Enjoy a comfortable ride in an air-conditioned minibus to the bungee jumping area.
Instructions 10 minutes
Your English speaking instructor will teach you the safety and the techniques of bungee jumping.
Jump 10 minutes
One, two, three. jump!
Celebration
Get your honest bungee jump diploma.
Transfer back 1 hour and 15 minutes
Take a rest on the way back to Prague to your chosen address or to another Magical Prague experience.
Drop-off in Prague
Enjoy the rest of your day in our magical city.
Notes
For the bungee jumping from the tv tower, the minimum number to book are two jumpers. Single jumper bookings are also possible, but not guaranteed. It is necessary to wait for confirmation if there is a group available to join. It is recommended to wear comfortable clothes and tight shoes for the bungee jump. Participants younger than 18 years have to produce evidence of parental consent or other legal representatives in written form.
118 customer reviews

We done a bungee jump with these guys. It was a fantastic experience. The staff were very funny, friendly and helpful.

I went bungee jumping today and it was such a rush. the whole thing felt very safe but still jumping off a bridge is thrilling!! so worth the money. and Bob (our driver) was very nice

Awesome experience! Kate was our driver, gave great advice for a first time jumper, super friendly, and she made the day so much fun! Definitely recommend! They also try to get you there early so you don't have to wait in line which was a bonus!

Great service with a taxi to the bungee jump and nice people all day. Amazing experience and I would recommend everyone to try!

I've done my first bungee jump in Prague, great value for money! Such a professional staff and a beautiful location. I will definetely try the rest of activities soon 🙂
More about Bungee Jumping Prague
Safety is one of the foundation-stones of our company. That´s why we choose the way with a guarantee of the highest credit of safety.
We became the membership of NABA- North American Bungee Association (1993) and assumed their system of safety. In 1994 we also obtained the Ministry of Education, Juveniles, and Physical Training for training the instructors.
We can realize your bungee jump if your weight is between 40–160 kg (88–350 lb). Applicants younger than 18 years have to produce parental consent or another legal representative in written form.
You have two following possibilities of jumping: Bungee jump: leg jump, chest jump, or tandem jump. Swing jump: giant swing with the experience of the free fall and weightlessness.
Source https://victoriafallshq.com/activities/bungee-jumping/
Source http://bungee-expeditions.com/bridgesjump-sites.html
Source https://magicalprague.com/en/bungee-jumping