How to Travel South America on a Budget
Do you like the idea of traveling to South America on a budget?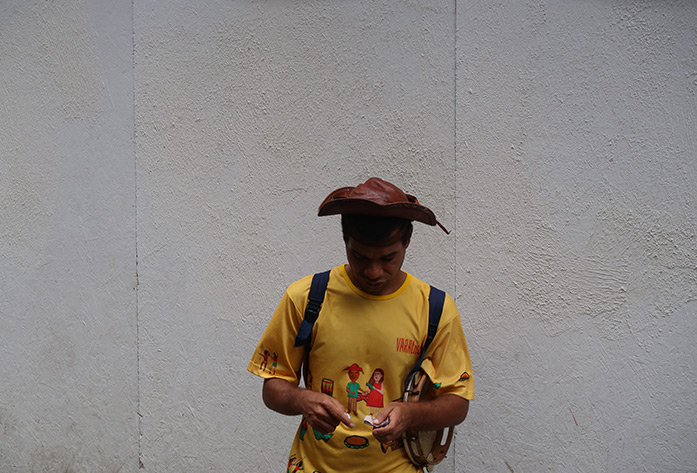 Me too, that has been one of my main goals right from the start since I embarked on my first backpacking trip to Brazil way back in 2012.
In this South America travel budget guide, I'd like to share some tips with you that will help you save money whilst you travel.
Table of Contents
South America on a Budget
I'll share some practical tips you can use for traveling in South America and beyond.
Not only will you learn how to save your hard-earned cash but you may even travel back home with some money in your pocket.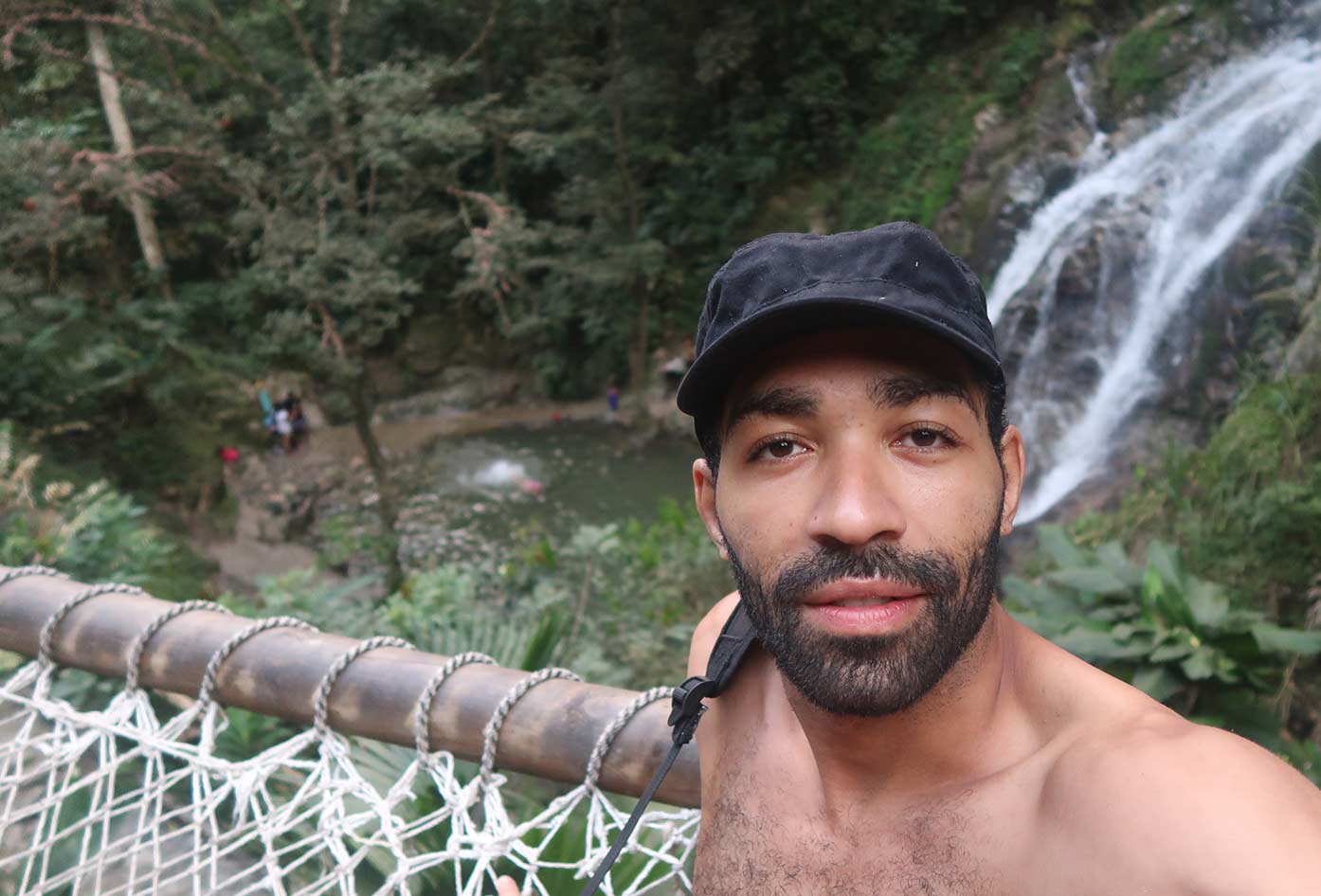 After considering the budget tips I have exercised over the years traveling around Latin America, I think I did well.
They say Bolivia is one of the cheapest countries in South America, however, when weighing up the cost of backpacking Central America, remember that the cost of living in South America is higher.
It's still very affordable for most backpackers but difficult to do on a budget, simply because you have a ton more options in South America.
Also, tourism is much more developed in South America.
Now, let's talk about some of the amazing things I've learned on how you can do South America on a budget that works for you.
South America Travel Budget Advice
Now, let's look at some of these practical tips you can apply when you travel around South America.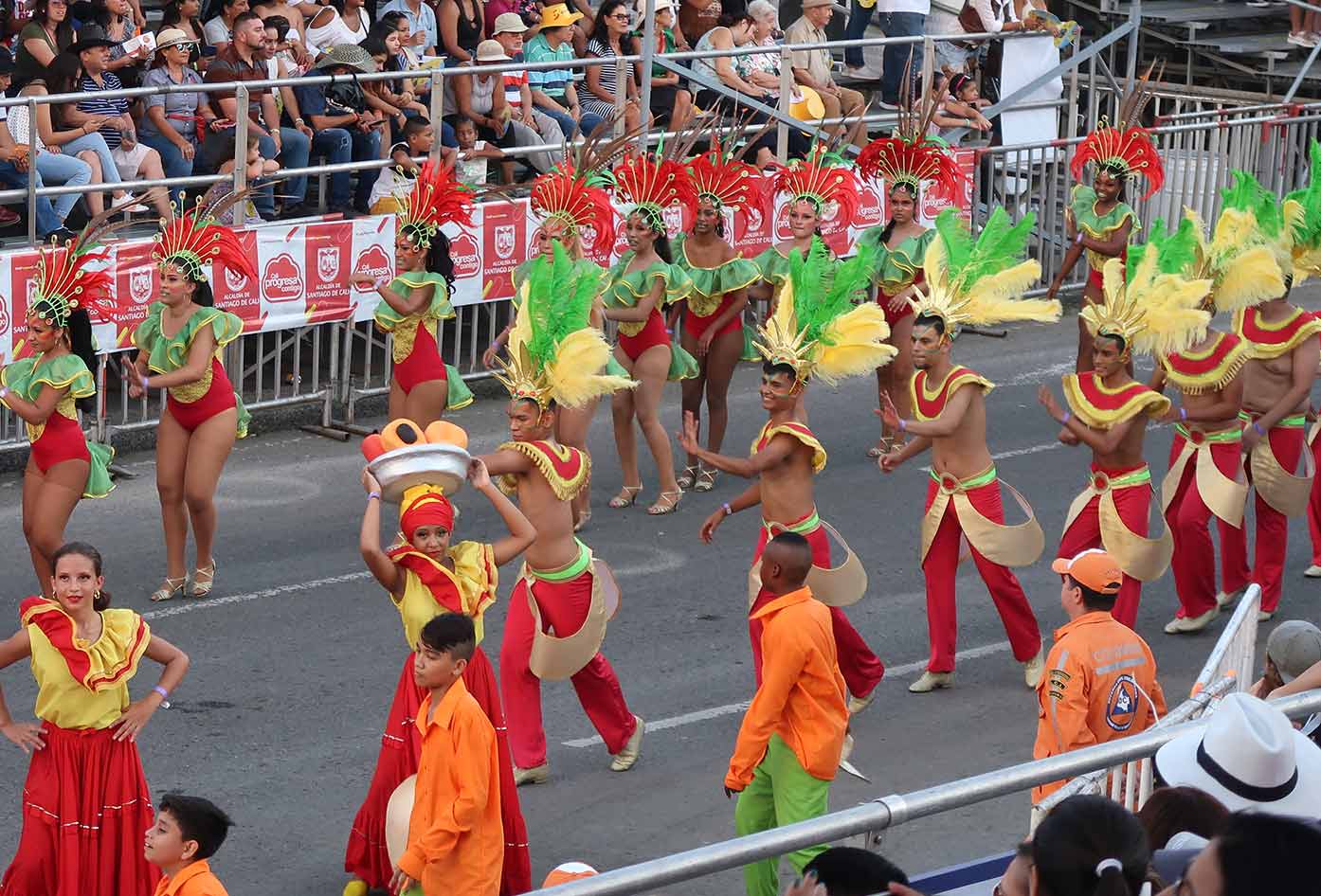 Disclaimer
These South America travel Budget tips are based on insights I conjured up whilst spending extended periods of time in each country. Read more about my backpacking South America itinerary on this site.
Colombia Travel Budget: Learn the Lingo
In South America, take the opportunity to practice languages, whether it's Spanish or Portuguese (most widely spoken in Latin America).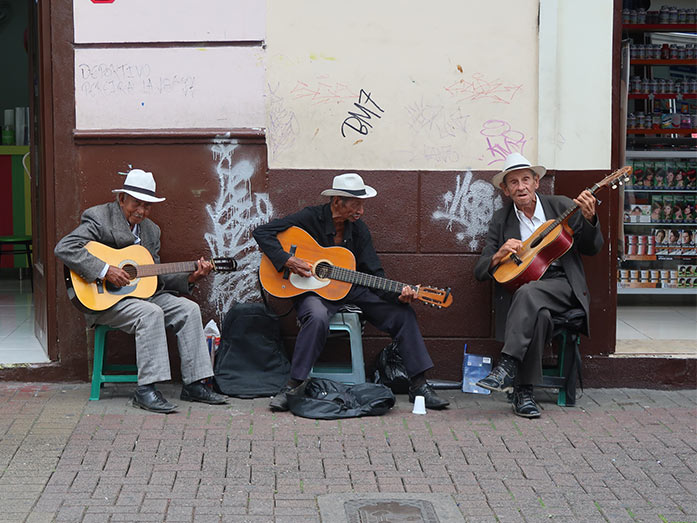 I've found Colombia the cheapest place to fly to in South America from the USA and I always recommend travelers start learning a little Spanish before they go, to get a head start.
I personally, never thought I'd become fluent in Spanish, but after many years of perseverance, it's finally paying off.
As I mentioned in my Travel Bible, learning to speak Spanish is a rewarding experience, both personally and culturally.
Having the local lingo adds an interesting dimension to your trip.
You may be interested to know there are also some indigenous languages like Quechua in Bolivia or Guaraní in Paraguay.
Brazil Travel Budget: Travel Light
With all the tips for backpacking South America on this blog, you'll know I mention this all the time.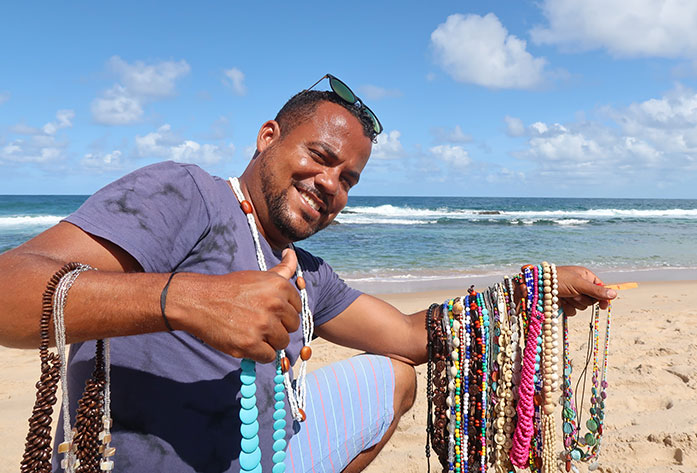 No matter what people say, packing light is the way! If you find it difficult to do or struggle with a bad back, don't let it hinder you.
I recommend viewing these backpacks for back pain that I'm looking at; they'll help you alleviate the pain.
Try not to let packing be your downfall. It may take you many trips to get it right, but when you do, you'll feel like an advanced traveler.
Traveling South America, especially countries like Argentina and Chile, can give you an experience of a lifetime if you follow the right guides.
In Peru, there are many hikes and off the grid treks, but if you're not hiking, it make no-sense to carry camping equipment.
I carry a travel size shaving cream everywhere I go, but never the full-size version, only the necessities that can fit in my smallest bag.
Argentina Travel Budget: Dress Correct
You can never be too sure what you get invited to do. Maybe, you'll go to Machu Picchu or the Salt Flats in Bolivia.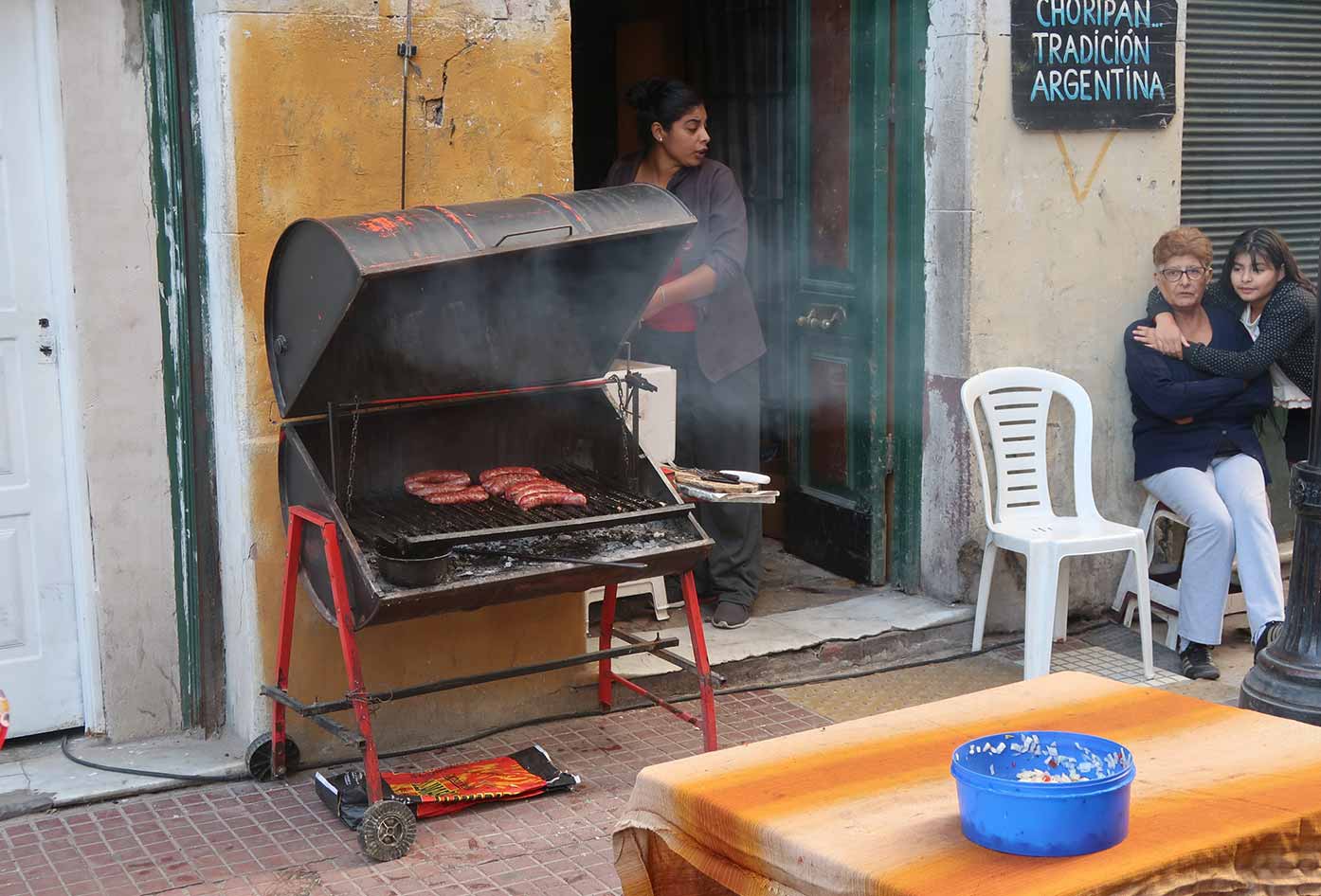 Whatever you decide, in the end, just have something suitable for all occasions. Save yourself buying expensive clothes in South America.
If you plan to take buses in South America, be sure to carry a fleece or a warm throw-over. Otherwise, you'll likely get frozen by the air con.
Either way, by having a few lightweight clothing options, you'll save space and maintain traveling light, as I mentioned above.
Peru Travel Budget: Look After your Health
One of my biggest questions after backpacking continuously for many years is how to get around South America while staying healthy.
Once I thought it was easy to eat well with the abundance of fruits and vegetables found on the continent. But, that's not always the reality.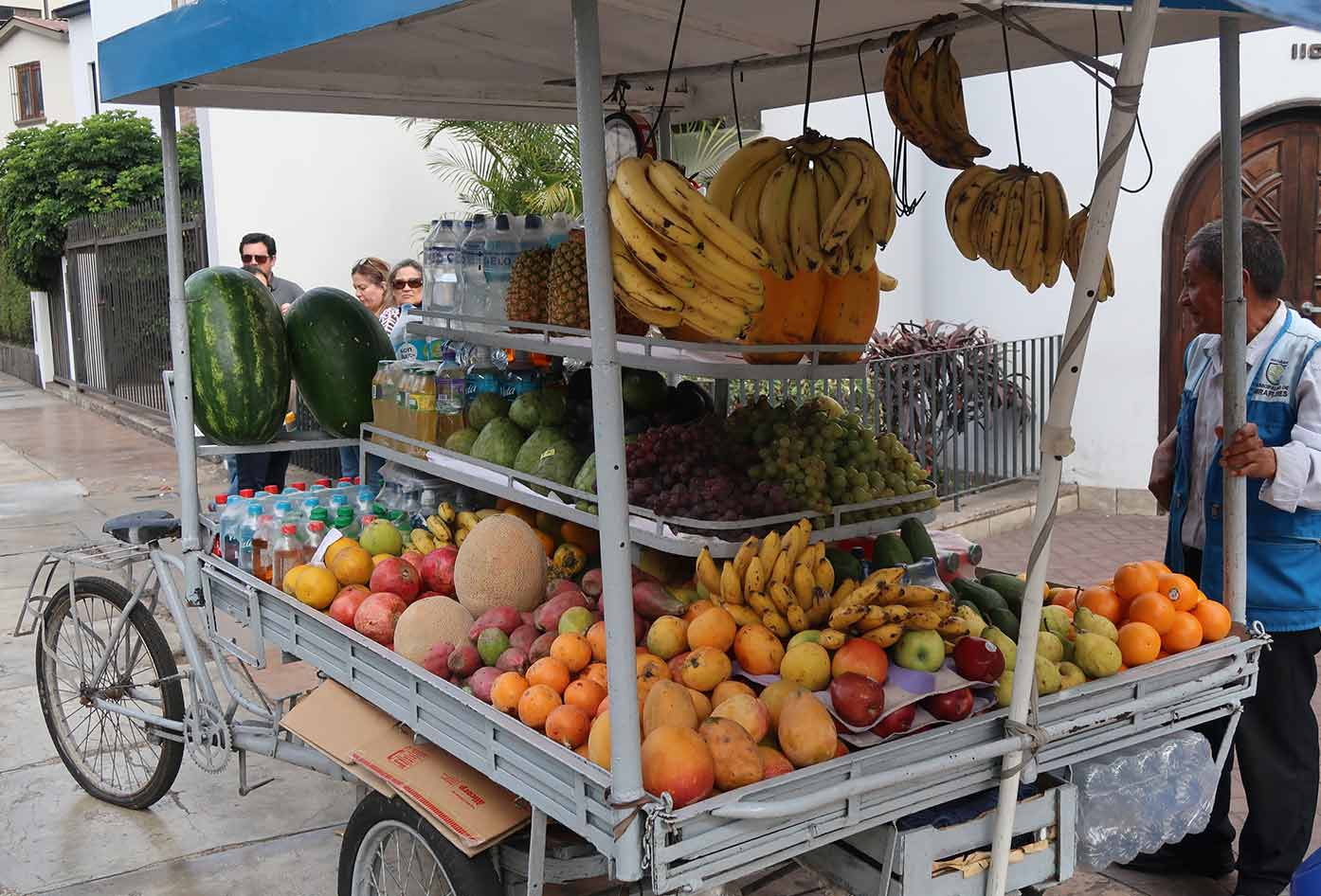 When backpacking in South America and eating street food etc you'll notice that most of the food that meets the eye is deep-fried, full of dough, and high in saturated fats.
It varies, though, depending on what country you're in.
It's what you eat every day that counts.
If you're a sucker for hot dogs and other cheap processed products, you'll be degrading your health with every bite.
The solution? Dig deeper and find healthy options. There is always at least one, no matter where you are in South America.
Connect with Locals
So, now you're learning how to backpack South America, you'll need to meet people, right? Especially local people.
If you read my post on how to connect with locals, you'll understand how important this concept is.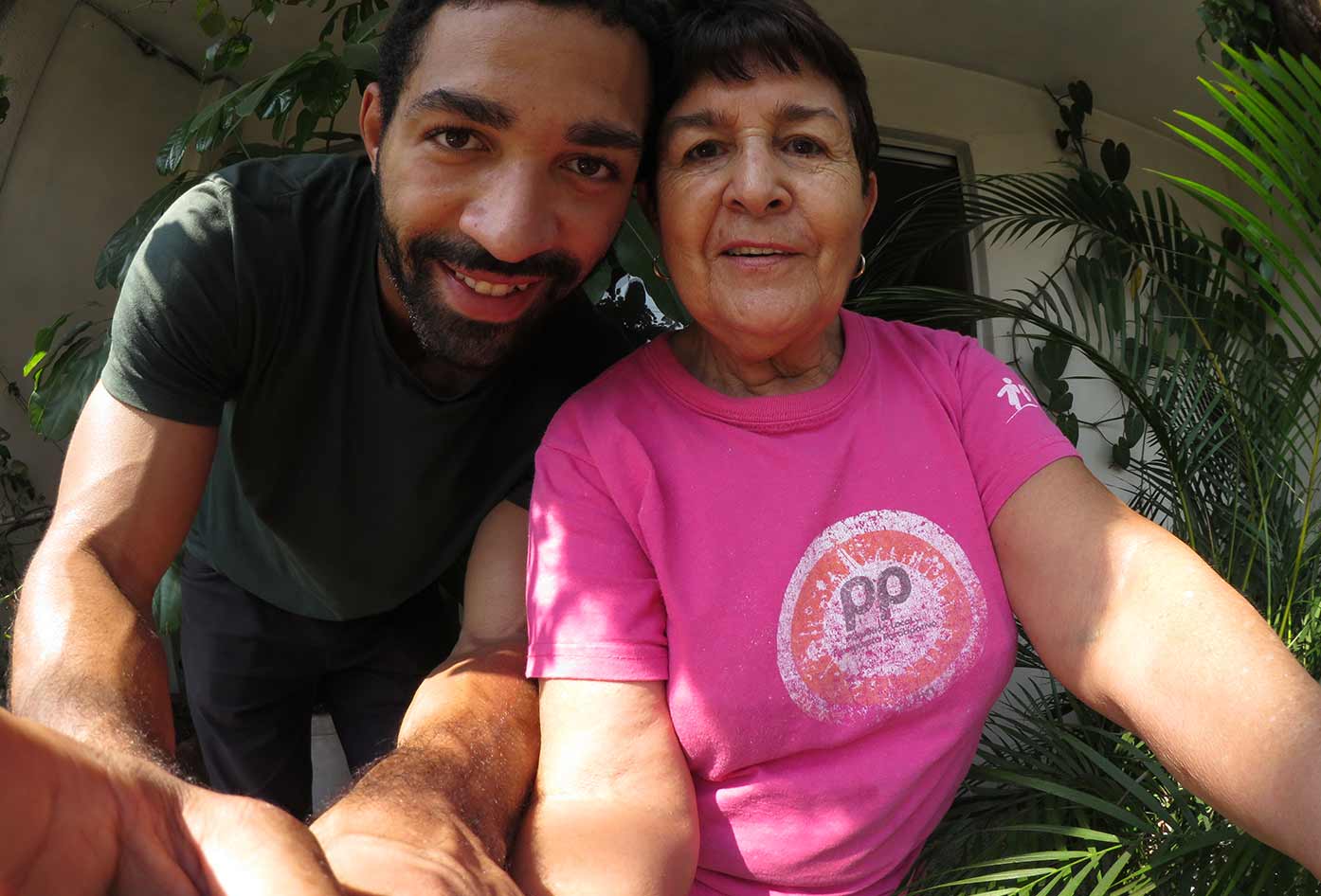 If you really want to get a 4-dimensional view of a place, connecting with local people is your free entry pass.
There are many ways you can this. When I first started to backpack Latin America, I always had this in mind.
I'd not be as knowledgeable and open as I am today without connecting with local people in Latin America.
Chile Travel Budget: Carry Cash + Credit Card
One question I would ask is how much money do you need to travel South America on a budget?
The truth is, there is no definitive answer. However, keep in mind that I found carrying a credit card helps you save money as you spend.
As long as you're not getting charged on foreign transactions, you'll be literally saving money as you spend it.
I tend to buy things like food and daily items in the supermarkets.
If I'm not using Uber, then I use cash for things like taxis and smaller transactions that require hard cash.
For me, one month in South America requires around $1000 minimum.
This is a good rule of thumb. If you're in Bolivia or Colombia, you can survive on much less as a backpacker.
However, in countries like Uruguay and Argentina or the south of Brazil, expect to walk away with much less in your pocket.
Depending on your travel style and the activities you want to do.
Travel Insurance For South America
I always recommend backpackers and travelers (no matter who you are) use World Nomads Insurance for fully comprehensive cover.

If you are due to travel soon, you can get a Get A Free Quote by clicking the link or the image above and filling out your details – that way you'll get instant cover from the exact date that you choose.
On many occasions World Nomads has provided me with reliable insurance cover for travel in Latin America and the rest of the world.
My Travel Bible shares tips for saving money while backpacking South America, including information on the best air miles credit card to use for saving money and collecting points when purchasing flights.
Book Accommodation in Advance
I tell travelers this all the time, especially if you're traveling South America alone. Book your accommodation beforehand to not only save money but also to avoid disappointment.
Whilst traveling around South America, the last thing you want to do is end up in some remote village or that infamous party hostel to find out the room you wanted is fully booked.
This has happened to me once, and it will never happen again. Keep your options open.
Usually, when visiting some of the more popular places in South America, you'll find the best accommodation gets booked up much further in advance.
I'm not sure which is the best hostel in South America, but what I do know is that it's easy to find a hostel in South America.
I use booking.com or, if I don't like the look of the hostel, I'll check Airbnb to see what is on offer.
You can get a private room using Airbnb for the same price as you can for an 8-bed dorm room in a hostel.
Traveling South America on a Budget
Travel is one of the fastest ways to innovate your life.
When I travel to South America, my aim has always been to connect with families and to be living in different households.
The more I did this, I began to realize that everything I knew from home was kind of obsolete. I had to learn how to live in a new culture.
Upon arrival in my home country, I felt like a completely new person.
See my thoughts on innovating life as you travel if you'd like to learn more about cultural travel in South America during your travels.
Like this article? Pin it…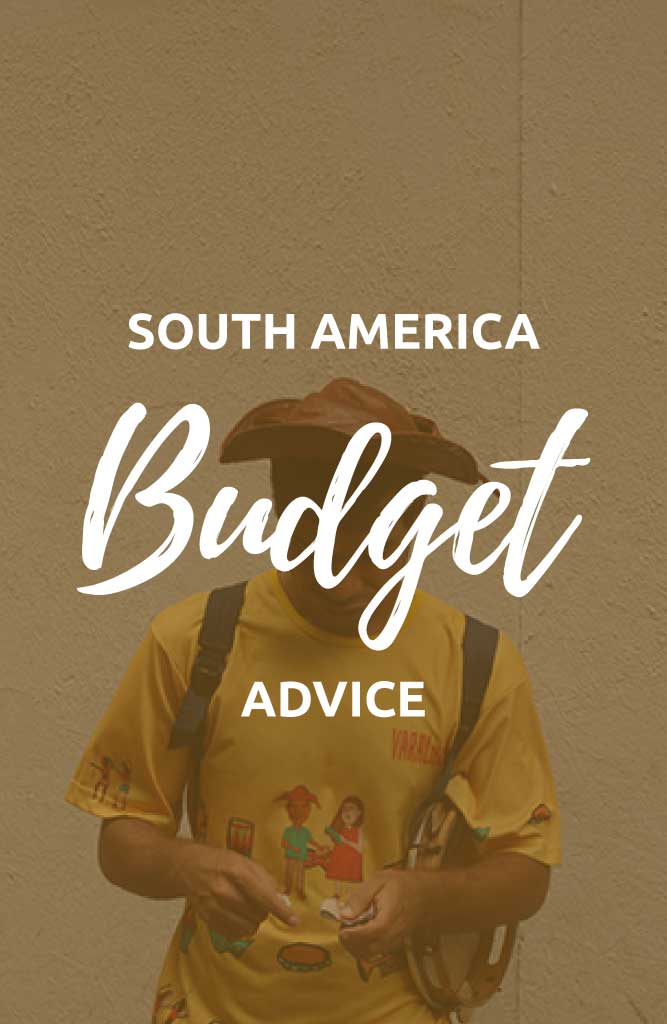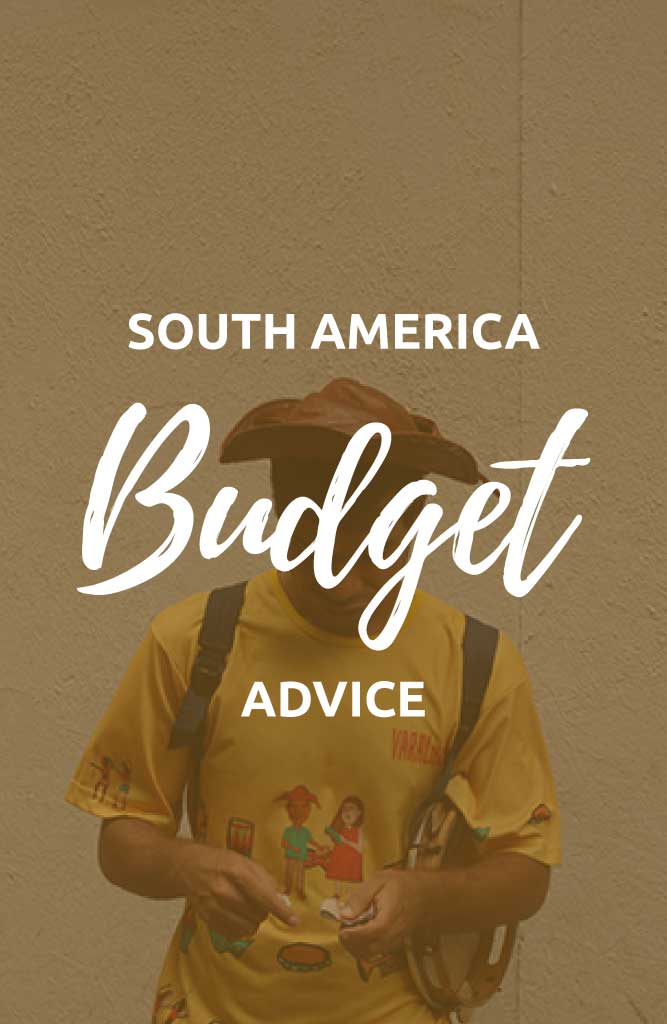 Did this advice help you with traveling South America on a budget?
Leave a nice comment or let's start a conversation below!
" Dear friend! Some links in this post contain affiliate links. Meaning, if you click through and make a purchase, book a hostel or sign up for a tour, I may earn a small commission at no additional cost to you . Your support means a lot and helps me to keep traveling and maintaining the quality of this site for you."
Daniel James
Helping thousands of people worldwide with independent travel in Latin America. Layer Culture means to dig deeper into the ideas, customs, and behavior of a group of people.
Primary Sidebar
Meet Dan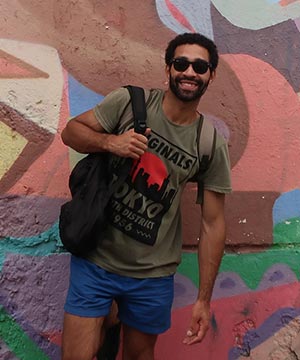 After spending years on the road Dan is now offering to help you find your feet in Latin America; inspire you to learn Spanish and get you started on your adventures. Learn how to travel longer and stronger!
How Much Does Backpacking In South America Cost? A Budget Travel Guide
South America is a great choice for backpackers. Nature lovers will find beguiling flora and fauna, majestic waterfalls, and wild landscapes, from volcanoes to deserts. There is plenty for city slickers too. The continent hosts world-class museums, delicious gastronomy, and nightlife galore. So, how much does it cost to backpack South America?
While the continent is generally pretty budget-friendly, this isn't true of every country. Read on for our guide to planning a backpacking trip that hits all the best places while still staying within your budget. We'll break down the cost of backpacking in the most popular countries as well as offer you our top tips to travel South America cheap. ¡Vamos!
Related: (opens in new tab)
Travel Costs for Backpacking in South America
Daily Cost of Backpacking in South America – Quick Answers!
Cost of street food in South America: $1-5USD
Cost of local restaurant food in South America: $5-30USD
Cost of food in a tourist restaurant: $10-30USD
Cost of water in South America: less than $1USD
Cost of beer in South America: $0.50-3USD
Cost of hostel bed in South America: $4-30USD
Cost of private room in South America: $15-60USD
Cost of Backpacking South America by Country
Costs in South America can vary widely depending on where you are, both within countries (e.g. cities versus countryside, mainland versus islands, etc.) and between countries, depending on exchange rates and other factors.
When planning your trip, consider a combination of countries depending on what sights you most want to see – this will allow you to plan a trip that suits your budget accordingly. South America's islands tend to be universally expensive regardless of the country but don't dismiss them right away!
Overall, Uruguay, Argentina, Brazil, and Chile are considered to be the more expensive backpacking destinations. However, many of the continent's must-sees are located in these countries, such as the Patagonia region and the Atacama Desert.
Paraguay, Peru, Colombia, and Bolivia are often considered the cheapest, largely due to favorable exchange rates, and are also packed with things to see. Mainland Ecuador is quite economical, but the Galapagos Islands can get very expensive. The above-mentioned countries are often the most popular with backpackers, but there are a few more to consider like Guyana, Suriname, and French Guiana. These aren't necessarily budget destinations, but don't rule them out entirely!
Conversely, Venezuela is extremely cheap, but this is largely due to the political instability of the past few years. The decision to travel here shouldn't be taken lightly, so make sure you check with your State Department equivalent prior to traveling.
Recommended daily backpacker budgets are in the table below (scroll left and right to see the full table on mobile).
| | | | |
| --- | --- | --- | --- |
| Country | Shoestring Backpacker Daily Budget $ (USD) | Livin' it Large Backpacker Daily Budget $$ (USD) | Flashpacker Daily Budget $$$ (USD) |
| Argentina | $30-50 | $60-85 | $85-100 |
| Bolivia | $15-25 | $30-50 | $50-60 |
| Brazil | $30-40 | $50-80 | $80-110 |
| Chile | $35-45 | $50-80 | $80-100 |
| Colombia | $20-40 | $40-60 | $60-90 |
| Ecuador | $30-40 | $40-70 | $70-100 |
| Paraguay | $25-40 | $30-50 | $50-70 |
| Peru | $20-35 | $40-60 | $60-80 |
| Uruguay | $45-60 | $60-90 | $90-120 |
Note: Exchange rates can change quickly and should always be used as a guide. All exchange rates are correct as of March 2022 but we recommend seeking an up-to-date conversion when planning your trip.
Argentina Backpacking Budget
Argentina is one of the top destinations in South America, and for good reason! It has gorgeous, chic cities like Buenos Aires and Rosario, the sprawling countryside in La Pampa, the beautiful wine country in Mendoza, and of course, a major bucket list item: the Perito Moreno Glacier in the one-of-a-kind Patagonia region. Argentinian beef is considered one of the best meats in the world, and you can't miss an asado with a nice glass of wine while you're there.
While asado can get fairly expensive, there are lots of places where you can buy cheap eats, like Argentine empanadas, choripan, pizza, and other local treats. Food prices increase quite a bit in the towns around big tourist destinations, like El Calafate, so consider grocery shopping here.
There is a wide variety of accommodation available, from dormitory-style hostels (from $12USD per night) to a private room (from $50USD per night), or lots of camping opportunities in the national parks (from $5-7USD per night.)
Argentina has great public transport, from the Buenos Aires metro (the Subte) to an interconnected web of buses spanning the whole country. When planning your travel, keep in mind that Argentina is huge, and large distances between major attractions mean that it may be best to fly to places like Patagonia or Ushuaia.
Even on budget airlines like Aerolineas Argentinas, the popularity of these trips mean that these flight prices are expensive even in the off-season. It is definitely worth putting on a flight alert when you know your dates!
Activities vary widely in cost – entrance to Los Glaciares National Park to see the Perito Moreno glacier costs $13USD, but many parks are much cheaper or free in other places. Similarly, a winery tour in Mendoza can cost as much as $200USD per person, but the individual wineries often have much more reasonably-priced tasting fees.
Bolivia Backpacking Budget
Bolivia is often considered the cheapest country for backpackers in South America, and it is packed chock-full of wonderful adventures to be had. From cycling Death Road, marveling at the Uyuni Salt Flats, hiking in the Amazon, or visiting Lomas de Arena, there is so much to explore for outdoor enthusiasts. Gastronomy fans will love the foodie scene in Cochabamba and don't miss a ride on cable car Mi Teleférico to see La Paz from above.
While most things are very inexpensive, lodging isn't quite as bottom-of-the-barrel as you may think. A dorm bed will cost $6-9USD per night, and a private room starts at about $15USD.
Food and transportation, however, are indeed super inexpensive, so be sure to take advantage of eating the delicious fare at local markets. The best way to get around is by bus or taxi but beware of common scams and pickpockets while doing so.
Brazil Backpacking Budget
Brazil is an intimidatingly large country, which makes it a marvelous destination for backpackers. From Carnaval or a soccer match in Rio de Janeiro, hiking in the Pati Valley or Tijuca National Park, learning samba or capoeira, and trying the country's many delicious cuisines, Brazil is a feast for the senses.
However, depending on the time of year and destination, Brazil gets expensive fast. Unless you have your heart set on Carnaval, consider skipping it. Prices skyrocket during this time, up to quadruple normal levels, and peak season (December to March) is very costly.
As in other countries, street food like pão de queijo or pastéis is very budget-friendly. Restaurants can get expensive, so consider grocery shopping, but definitely make sure to try feijoada (a meat stew, Brazil's national dish) while you're there– typically served for lunch.
Due to Brazil's vast size, there are many options for accommodation, ranging from hostels (from $11USD per night) to Airbnbs or budget hotels (from $20USD per night) or camping near the beaches (from $8USD per night.)
Public transport is widespread and convenient, but perhaps best avoided at night. Keep in mind that pickpocketing, carjackings, and other forms of theft are sadly very common in Brazil, and always pay close attention to your surroundings. We recommend investing in a money belt or alternative to keep your valuables out of sight.
Chile Backpacking Budget
Chile's long and slender shape provides an astounding amount of biodiversity, from the peaks of Torres del Paine in Patagonia to the high-altitude, other-worldly Atacama Desert.
Moai sculptures and volcanic craters dot intriguing the Easter Island, and Santiago, Valparaiso, and Viña del Mar offer beautiful parks, museums, and architecture to admire. You can visit poet-diplomat Pablo Neruda's homes, explore the serene Lake District, and visit a variety of wineries that rival neighboring Argentina's Mendoza.
Dormitory-style hostels and Airbnb rooms range from $10USD per night, with a private room starting at about $40USD. Take advantage of set lunch menus, starting at $6USD or so, as well as the abundance of reasonably-priced seafood due to Chile's long coastline. Note that (similarly to Argentina) food prices increase sharply in towns bordering tourist sites.
Relatedly, food often must be imported to these areas, which leads to high prices. Traveling by bus is comfortable and affordable, but due to Chile's length, not always doable time-wise. There are several budget airlines, and renting a car and driving yourself places is largely considered safe. In fact, Chile is actually one of the safest countries in the whole of South America!
While many outdoor attractions are free, note that entrance to Torres del Paine specifically is about $25USD per person for non-Chileans. This can be a wallop to your wallet if you don't know ahead of time. Chile also has a less-developed tourism infrastructure in Patagonia than Argentina does, making an off-season visit to Torres del Paine very challenging (and perhaps impossible.)
Colombia Backpacking Budget
Colombia has a big and bold backpacker scene, with hostels, parties, and excursions galore. It's one of the most popular places for backpackers for good reason, and your money will go quite far here.
It's a great place to take Spanish lessons and boasts gorgeous beaches, beautiful colonial architecture, and great weather. Bigger cities include Bogotá, Cartagena, Cali, and Medellín, and there are great beaches in Santa Marta, Rosario Islands, and Playa Blanca.
Colombia is known worldwide for its coffee production, as well as its wonderful musicians, like Juanes, Shakira, Fonseca, and more. Outdoor enthusiasts can trek to the Lost City, sail to Isla Gorgona, or explore Tayrona National Park.
A bed in a hostel dorm room can cost as little as $4USD per night, but keep in mind that budget accommodation is often not air-conditioned, and mosquitoes may prevent you from opening windows. A private room with AC is likely to cost between $10USD and $20USD per night depending on the time of year.
Street food like arepas or empanadas can cost as little as $1USD, and set lunch menus are also common for $3-4USD.
Mini-buses, called colectivos, are the best way to get around internally, and intercity (charter) buses are also common. Budget airline Viva Air has great deals on flights– often cheaper than the bus, though certainly with more environmental impact. Be careful of pickpockets and robberies, and avoid renting a car or walking around too much at night.
Ecuador Backpacking Budget
Ecuador's size-to-activities ratio truly can't be beat, with all sorts of sights eminently accessible to backpackers. From outdoor adventures in Baños or Ibarra, to the cool, urban vibe in Quito, and the natural wonders of Cajas National Park, Ecuador has something for everybody.
You can easily explore the Amazon, hike the Cotopaxi Volcano and Laguna Quilotoa, and marvel at Incan splendor in Ingapirca. All in all, Ecuador is much more than just the Galapagos.
That said, mainland Ecuador is also much cheaper than the Galapagos. If spending time in the Galapagos is a dream destination for you, keep in mind that it's very pricey, and likely will cost over $1000USD for just a few days. However, hostels on the mainland can cost as little as $6USD, and budget hotels or Airbnbs around $20USD.
Food from street vendors or markets, as well as a set almuerzo menu, can cost as little as $2-3USD, and many attractions are relatively inexpensive. Be sure to try Ecuadorian empanadas and arroz con pollo, or perhaps (if you're feeling a bit more adventurous), guinea pig, or cuy.
Buses are comfortable and very inexpensive, and there are also budget flights for longer distances.
Paraguay Backpacking Budget
Paraguay is one of the lesser-known destinations in South America, and many make the mistake of skipping it. You shouldn't! It's very budget-friendly, less touristy, and offers you the rare opportunity to get completely off the "gringo trail" for some new and different experiences.
Asunción is a lovely mix of old and new, with horse-drawn carriages pausing in front of modern shopping malls and Encarnación is home to two UNESCO World Heritage sites, Jesuit ruins, and the Itaipú Dam.
If you haven't visited Iguazú Falls in Brazil or Argentina, it's often cheaper and easier to do so from Paraguay – the falls are very close to Ciudad del Este in eastern Paraguay. There are ample other opportunities for nature, from Eco Reserva Mbatoví to the vast Chaco wilderness or Paraguay's most-visited park, Parque Nacional Ybycuí.
Dorm beds cost around $6-10USD per night, or $20USD plus for a private room. Public transportation is very cheap, but (as in other areas) beware of pickpockets. Meals at local restaurants can start at about $3USD per person, and $10-20USD can get you a very nice dinner with drinks.
Note that Paraguay is known for being quite conservative, and many travelers recommend refraining from too much PDA while out and about.
Peru Backpacking Budget
Peru is best known for the iconic Machu Picchu and the aptly-named Inca Trail leading to it. While these are absolutely transformative experiences and must-sees while in the country, Peru has many other fabulous experiences to offer!
Hiking in Colca Canyon, relaxing at Lake Titicaca, sightseeing in lovely Lima, and exploring Cusco's old town and Rainbow Mountain are all budget-friendly and fun. There's definitely a reason why Peru is such a popular destination for backpackers!
Peru is another place to try guinea pig if you didn't try it in Ecuador, and many of their speciality dishes are filling and substantial, featuring root vegetables and lean protein. Ceviche is from Peru and a must-try dish. Peruvian food at a local restaurant can be almost mind-bogglingly cheap, as little as $2USD or so for a full meal. It's quite doable to eat out for practically every meal in Peru without overdoing your budget, provided that you stick to local places.
Accommodation is also quite cheap: you can get a dorm bed for as little as $7USD per night, or a private room for about $20USD. It's easy to travel around the country by bus or colectivo, or a budget flight for longer distances. Flights aren't necessarily cheaper but will save you a lot of time.
What begins to add up in Peru is the excursions. Machu Picchu will cost at least $50USD per person, and if you choose to do the Inca Trail, this can cost close to $1000USD per person for a multi-day trek.
Uruguay Backpacking Budget
Uruguay is often considered the most expensive country for backpackers in South America. However, this doesn't mean you should rule it out! There is plenty to see in Montevideo, plus opportunities for relaxation in Punta del Este or small-town charm in Colonia del Sacramento (also the jumping-on point for the quick ferry to Buenos Aires.)
Check out artist Carlos Páez Vilaró's gorgeous seafront Casapueblo, catch a performance at Teatro Solís, or enjoy horseback riding or hot springs along the Río Uruguay.
Lodging in particular in Uruguay can get pricey fast, with even a dorm-style accommodation costing upwards of $20USD per night. The big tip for budgeteers visiting Uruguay is to head there in the off-season, as you will save a lot on lodging. In the high season, expect to pay upwards of $35USD per night.
The cheapest set lunch menu will cost about $7-8USD per person, and a cup of coffee is likely to cost more than $2USD. It may be best to go grocery shopping while in Uruguay rather than eating out. Traveling by bus is relatively cheap, but again, not as cheap as other destinations in South America.
8 Tips to Travel South America for Cheap
Keep an eye out for free days at museums and cultural attractions, and prioritize which higher-cost activities are must-sees for you. A lot of outdoor attractions are very inexpensive, often just with a nominal entrance fee, but major attractions (like the Perito Moreno Glacier) in Argentina, are much more expensive.
The best way to save on lodging is to book a dormitory-style room with a shared bathroom. While you may be sharing with lots of people, each bed is very cheap and breakfast is often included. Be sure to bring a padlock for your belongings.
If dorm life isn't for you, be sure to check prices for small hotels or locally-run B&Bs, called hospedajes. They are often cheaper than private rooms in a dorm and sometimes even include meals, with lovely and welcoming proprietors.
If you're planning to stay longer-term in a place, consider a work-exchange program like Workaway or Worldpackers. Here, you exchange a few hours of labor at a hostel, farm, store, etc. for free lodging. Couchsurfing (while less popular than it used to be) is also a great option to save money and meet people.
Eat local! There is an abundance of delicious, cheap street food and lunch deals in South America. Sometimes a set lunch menu (almuerzo) can cost less than $1USD.
When visiting somewhere outside a city for the day, bring your lunch, as the restaurants surrounding parks and popular day trip areas have super inflated prices and often subpar options.
To keep costs low, independent travel is far cheaper than tours. While sometimes a day tour can be the best way to see a place, overall stick to planning your transport and transfers yourself. Public transport is very cheap and largely safe and reliable in South America, an easy way to save money.
If you do decide to go somewhere on a tour, be sure to price-compare. There are almost always multiple tour operators running the same or very similar tours. Read reviews and check what each tour offers– maybe similarly-priced tours offer different things, like an included lunch or an extra excursion.
South America is often depicted as being an ultra-cheap destination for backpackers. However, depending on where you go, the continent can get expensive quickly – an unpleasant surprise if you're not prepared ahead of time.
You needn't worry though, it is very possible to travel cheaply with some planning! Taking advantage of free walking tours, public transportation, and mixing higher-priced must-sees with free or cheap options will save you a lot of money.
And, as always, getting off the beaten path can lead to you making some of your best memories. Exploring the countryside and prioritizing cheaper countries is perhaps the most reliable way to save, and don't forget those almuerzo deals!
What are your tips for a budget-friendly South America backpacking trip? Let us know in the comments!
Tegan George & Alex McKenzie | Why Not Walk
Tegan and Alex are travel, hiking, and biking enthusiasts currently based in Boston, USA. There is nothing they love more than exploring new places by walking, and they have visited over 30 countries together since they met in 2015. Their love for "walking the world" led them to found Why Not Walk, a travel guide site. Follow them on Instagram, Facebook, or Pinterest to start planning your next adventure!
The Cheapest Places to Travel in South America
Now that the whole continent is open again, where are the cheapest places to travel in South America? This can be a moving target because of economic conditions and exchange rates, plus pandemic times produced a lot of changes.
I spend a lot of time traveling in South America and the continent features prominently in two of my books. There's a lot of overlap between countries covered in my living abroad book as well as The World's Cheapest Destinations, currently in its 5th edition. It makes sense that destinations that are a compelling travel bargain are often a good value for expatriates as well.
I just spent a few weeks in Argentina this year, however, and I'm headed back to Colombia in September, so let's start with those.
Cheap Travel in Argentina
Argentina might just be the best travel value in the world right now. Definitely the cheapest place to travel in South America for those who are not at the shoestring level and are looking for great value.
It's cheaper than Mexico right now and presents a quality of food and drink that's hard to top anywhere south of there. It's not in first place for vegetarians and tea-totalers, but everyone else will have a smile on their face most of the time when pulling out their wallet.
Prices rise and fall with currency exchange rates and Argentina's currency has been in freefall for quite a while. You have to bring cash to get the best rate, however, a rate that's dramatically different from the official one you receive from a credit card or ATM withdrawal.
$1 equals around 200 pesos
I already did a full post recently on Argentina travel prices, so go check that out to find out more about $1.50 craft beers, $2 bottles of wine, and $20 steak dinners for two that will leave you stuffed. Public transportation is good, the Airbnb rental scene is robust, and the country provides lots of fresh fruit and vegetables in an array of good restaurants. I feel like we ate better during our three weeks in Argentina than we have in three weeks anywhere, mostly because we never had to worry about how much it was going to cost when we walked into a place.
Colombia is a Travel Bargain Now
The first time I visited this country, back in 2008, it felt kind of expensive. The second time and third times it felt middle-of-the-road for Latin America. This time I'm looking forward to cheap travel in Colombia.
Colombia's currency hasn't fallen off a cliff like Argentina's, but the long and steady drop has left the U.S. dollar being worth a lot more there than it used to be. At this time in 2012, $1 got you around 1,800 Colombian pesos. In 2017 it had dropped to 3,000 to 1. As I write this in May of 2022, a buck may get you 4,000 pesos.
Sure, there's been inflation, especially for imported goods, but anything produced in Colombia is going to be far cheaper than it used to be. That's food & drink, nightlife, taxi rides, rentals, a shoeshine, museum admissions, and on and on. Apart from a few prices that are often set in dollars, like high-end hotels, the whole country should feel like it's on sale.
In September I'll be spending time in Bogota and Medellin, maybe more, so I'll post an update with exact prices then. But this map will show you what it costs in the latter for hotels and vacation rentals.
Brazil Was Once Expensive, Now it's a Deal
I'm going to keep talking about exchange rates because they can make or break your budget depending on your timing. Brazil's chart looks a lot like Colombia's: in 2012 a buck got you two Brazilian reais (plural of real). When I wrote about travel prices in Rio in 2019 when I was there, it was around four to the dollar. Now a U.S. dollar gets you at least five reais most of the time.
Brazil botched its Covid response as badly as the USA did in the beginning, for the same reason: bad leadership that didn't really believe the threat was real. The country has the second-highest death toll in the world behind the USA, well ahead of much more populated India. They've done a better job this year in fighting it though and it's probably as safe as the USA or Europe now to travel around.
What are prices there like? If you pull up Numbeo and compare prices to your city, you'll probably be pleasantly surprised. Here's what I found when I compared Salvador to Tampa:
– Rent Prices in Salvador are 81.62% lower than in Tampa, FL
– Restaurant Prices in Salvador are 66.87% lower than in Tampa, FL
– Groceries Prices in Salvador are 54.93% lower than in Tampa, FL
To put that in real terms, you can get a draft beer or cappuccino for less than $2, a good meal of the day for $5.
Although it's sometimes hard to find cheap flights to Brazil, there are plenty of bargains for getting around once you're there. The country has the most robust domestic airline system in South America, with heavy competition.
If you're thinking about sticking around for more than three months, Brazil has two things going for it. They're launching a digital nomad visa, first of all, which would let you stay longer if you meet the income requirements. Just be advised you'll be liable for local taxes if you stay more than half a year at a time.
If you're pregnant, there's another big advantage. If you give birth to your child in Brazil, not only is that kid an automatic resident, but the parents can get Brazilian passports too! See more on that here.
Peru is a Perennial Bargain – If You Do It Right
Peru is one of my favorite countries in the world and I'm losing track of how many times I've been there. As I wrote in this earlier post though, the country can seem expensive or crazy cheap depending on how and where you travel. Is Peru a cheap place to travel?
The quick rule of thumb is, go slow and go beyond the tour bus routes. If you're in a hurry like the package tourists are, Peru will seem very expensive. If you chart your own path, it'll feel like a great value. Just understand that a trip to Machu Picchu is going to cost you, especially if you try to go straight from Cusco and back.
If you get away from tourist zones, you can find a hearty meal of the day for $3 and it'll take a few drinks for your bar tab to hit $10. Seasonal fruit and vegetables are often a dollar a kilo or less and you can find a private hotel room with good reviews for $20 to $25 in most locations.
Although Peru's most famous site was one of the poster children for overtourism before the pandemic, the crowds were thin the past two years and have not gotten anywhere close to 2019 levels yet. Then get away from that iconic site and it'll probably feel like you have Arequipa, the Colca Canyon, Lake Titicaca, or Gocta Waterfall all to yourself.
There's a dark reason behind the thin crowds so far though: Peru actually leads the world in the Covid-19 mortality rate, at 6,387 deaths per million residents. The whole country has been under quarantine at times and despite a major vaccination push, earlier this year they were struggling badly with Omicron variants. Thankfully, after a spike in February of 2022, death rates have declined dramatically. Just be smart about masks and crowds if you go and try to spend most of your time enjoying the beautiful outdoors.
There's also been a fair bit of unrest in the country the past two years, so allow extra time and don't cut it too close. On the day I'm writing this, a strike shut down all transportation to the town where Machu Picchu is located, so nobody could visit the citadel unless they were already there…and they couldn't leave then if it was time to depart.
Bolivia is the Cheapest Country Overall
By any objective measure, Bolivia is at the top of the list for the cheapest places to travel in South America, but with one caveat: they're the only country still charging you to enter in the first place. If you're American, you'll need to pay a visa fee of $160 upon arrival, so just popping across Lake Titicaca for a few nights from Peru doesn't make sense. Spread that out by staying for a while.
If you only head to Uyuni to go to the huge salt flats, it may not seem like such a bargain. That's a tourist town, with prices to match. But the gateway city of Potosi is priced normally. Nicer is the city of Sucre, which you can reach by bus from Potosi or on a flight from La Paz. I'd go live in that adventure base town (pictured above) with no hesitation.
Few people get excited by La Paz and the altitude there is brutal if you're arriving from sea level. It's better to head elsewhere, especially if you can explore the Andes Mountain towns where the women are all dressed up in their traditional garb. If you go shopping for local handicrafts you'll pay half what you would in the Sacred Valley of Peru and hearty meals are a bargain.
In an excerpt from my book, what you can get for a buck or less in Bolivia: a few days' supply of coca leaves, a kilo of clean laundry, two empanadas, a few Bolivian chocolates, a pair of wool gloves, snacks for three from a street stall, a kilo and a half of bananas, ten bread rolls, two liters of bottled water, a liter of milk, a box of teabags, a few rounds of billiards, three local bus rides, 10 eggs, a basic set lunch, a fortune-telling session.
Mainland Ecuador for Budget Travelers
The big tourist draw for Ecuador is a collection of islands that are hours away by plane. That archipelago is not a budget destination though. The Galapagos should wait until you have a working stiff's vacation budget or grandma is planning a big multi-generational trip.
Mainland Ecuador is a different story, however. Quito is one of the nicest big cities in Latin America, Cuenca has long been an expat retiree haven, and there are dozens of locations where you can get close to nature in the mountains. Ecuador's beach locations are seasonal thanks to the way Pacific currents work, but since they're relatively undiscovered by foreign visitors, prices are quite reasonable.
They use the U.S. dollar in Ecuador, so no currency exchange needed. You won't need a lot of those dollars at lunch time either: I've often found set meals for $1.50 or $2 that had several courses. I've also found some of the cheapest dollar-denominated taxi rates: a couple of dollars for a ride in Cuenca or Quito. Buses are cheap, frequent, and ubiquitous. Local buses in Quito are a mere 25¢ and one out to neighboring towns will rarely top a dollar.
Check day tours from Cuenca here to get an idea of what those prices are like.
Have you visited one of the cheapest places to travel in South America in the past year? Tell us how it went!
Source https://www.layerculture.com/blog/south-america-on-a-budget/
Source https://southamericabackpacker.com/south-america-travel-budget/
Source https://www.cheapestdestinationsblog.com/2022/05/20/cheapest-places-travel-south-america/