Can You Drive a Car From North America to South America?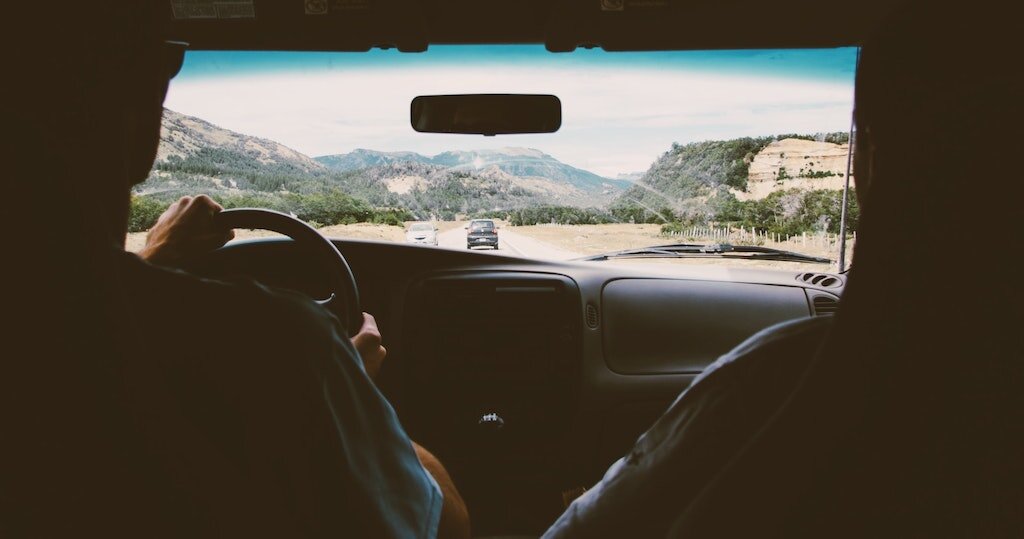 Yes you can, however it does involve shipping your vehicle over the Darien Gap between Central and South America. This stretch of dense jungle doesn't have any drivable roads. The rest of the route through North, Central and South America is paved highway.
I'm sure you have more questions, so in the rest of this article we will discuss what the official route looks like, learn more about the Darien Gap, discuss how long it would take to drive the entire distance and discuss safety on different parts of the route. It is a long article so I hope you have your coffee ready!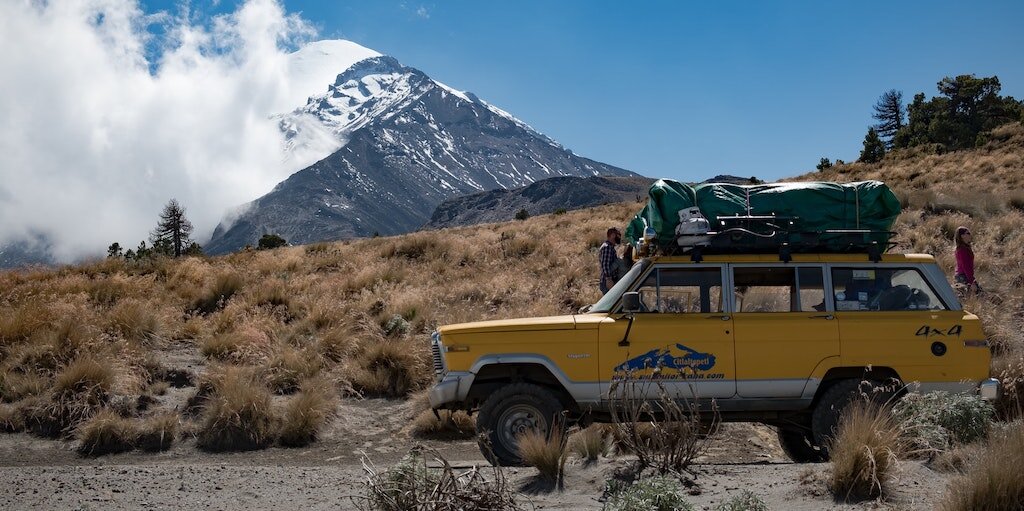 Photo by Jon Hieb
Let's flip the question around…
Why Can't You Drive From North America to South America
Even though geographically North and South America are connected by land, on the edge between Panama and Colombia there is no road linking the two countries and continents therefor you cannot drive from one continent to the other.
But you typed this question into google, so you must be intrigued by the idea, or maybe watched a show like Long Way Up. Or maybe you want to visit relatives in South America. Whatever the reason you are interested, I'll share all the details you need to know before heading off on such an adventure.
A little history lesson
The first proposal of infrastructure connecting the two continents was proposed at the first Pan-American Conference in 1889. The original plan was to build a railroad but the idea never came to fruition. As cars started to become the popular mode of transportation, the concept changed into a highway.
After the great depression, all countries from North to South signed a convention to speed up construction. Mexico was the first country to complete their section of the highway network. In Latin America, the roads that are part of the official Pan-American highway are also marked as Vía Panam or Vía Panamericana. The only official section starts in Laredo, Mexico and ends in Buenos Aires, Argentina. The USA was only a supporter of the convention, but was never part of the plan. Most people consider the entire highway system in the USA as part of the Pan-American. Similarly in Canada there is no official route.
The unofficial route
That means that in the North there is no official route to follow, even if you would want to. However, most people who embark on this life changing adventure, drive north to dip their toes in the Arctic Ocean and use this as the official starting point. Traveling through Canada and the Rocky mountains before heading back to the USA where you can stick to the West coast or go exploring. For non US residents that part of the adventure can easily take up a year if you would take the time to enjoy each state.
Central America leaves less room for exploration as the land physically narrows to 38 miles or 61 kilometres. After reaching Panama you could turn around and explore the other coast going up and that would be an amazing adventure by itself. If you've set your mind on driving to South America, this is the point where you will have to find transportation for your vehicle to the other continent. Depending if you travel by car, rv, truck, motorcycle or bicycle you have different option.
In South America the route also largely follows the West Coast crossing different countries until reaching Chile where it bends of the reach across to Buenos Aires. Most travellers finish the route by driving all the way down to Tierra del Fuego and the town of Ushuaia which is the southern most town reachable by road.
How long does it take to drive the Pan-American highway?
The official section from Laredo, Mexico to Buenos Aires, Argentina is 7,244 miles / 11.658km long and would take between 21 – 29 days driving every day 8 – 6 hours straight.
The unofficial route from Alaska to Ushuaia is 10,927 miles / 17.586 km and takes a minimum of 28 days to complete. Even though the fastest record is 11,5 days, most travellers will take at least 6 months to complete the journey. Having more time means you can stay longer in places you like or take more detours from the main road. Both of which I highly recommend because the main highway isn't what is going to make this journey memorable.
How long should you drive each day on a road trip?
On a long road trip you should not drive longer then daylight allows you to. Driving at night is the biggest risk you can take. On average calculate with 6 – 8 hours of driving time each driving day and schedule a break day every three days.
How much does it cost to drive the Pan-American Highway?
Most people spend between US$20 – US$100 per person per day driving the Pan-American highway. An average journey of Alaska to Ushuaia lasting 6 months, 2 people in a car will cost about US$20,000 including shipping the car twice.
It really depends on your style of travel in what range your budget will lie. A shoestring budget traveling by bicycle and bushcamping or couchsurfing most of the times will be at the bottom end of the spectrum whereas staying in a few luxury hotels, doing a trip to the Galapagos or eating out in a nice restaurant in every capital will shift you to the higher range.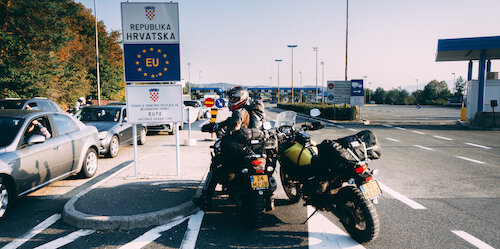 Is the Pan-American Highway dangerous?
No, driving the Pan-American Highway is not particularly dangerous. The biggest risks are other traffic users and animals on the road. As well as driving at night. Take the right precautions and use common sense to stay safe.
You might google this question and see some posts from the most dangerous road in the world, but I wouldn't take that page too seriously for most of the sections they write about. As well as reading about the Darien Gap being a dangerous place to drive. Factually, nobody except crazy ex-marines dare to embark on the expedition to cross this piece of jungle, all other travellers are pragmatic and ship their vehicle across.
What is the most dangerous part of the Pan-American Highway?
It is difficult to factually pinpoint a geographical area that is the most dangerous part of the Pan-American Highway. The official crime and theft rates are highest in Guatemala according to the World Bank. However there are many other dangers that you need to take into account.
Danger is a broad term that cannot be measured because it is undefined. Does is mean the amount of murders or the amount of robberies that happen yearly in a country? What about car accidents or flash floods? All of those things you need to take into account while assessing if a country is safe enough to travel through. My personal biggest fear, after doing two big overland trips, are the other traffic participants and getting into a car accident.
Road safety
Factually, South America is safer to drive than on the African continent, but it's in second place when it comes to estimated road traffic deaths according to the World Health Organisation. The Pan-American highway is a well maintained stretch of road crossing through multiple countries and what makes it dangerous is the fact that the unwritten rules of the road change while you drive and before you know it you are in a whole different culture and environment that you've never driven in before.
This requires you to adapt your driving style, observe how the locals do and adapt to allow the the be able to anticipate your behaviour. Don't do this for everything you see, because cutting corners where you can't see anything is lethal wherever you drive.
Use common sense to stay out of harms way
I'm sure you also have your preconceived ideas about safety in places like Mexico, or Colombia and off course there is truth to the horror stories you hear on the news. But at the same time, you have to realise that 99.9% of the time you can easily avoid those kinds of situations and stay safe. As long as you use common sense and don't do or smuggle drugs, do anything that is illegal in the country you are traveling through, avoid conflict with locals, stay away from conflict areas and be aware of the weather around you.
Those are the main point that should keep you safe and out of harms way. Even when we were traveling through Sudan amidst a public uprising that eventually toppled the president and our embassy was advising all travellers to evacuate we stayed in the capital, where most of the protesting was happening and stayed out of any trouble and safely crossed the country to our next. So as long as you follow the advice of the locals, doing what they do to stay safe, you will probably be too.
Is the Pan-American Highway paved?
Yes, the official stretch from Mexico to Argentina is completely paved and in excellent condition. Except for the Darien Gap, between Panama and Colombia, where there is no road at all.
You can travel the Pan-American highway in any kind of vehicle you would like, it doesn't have to be an offroad capable 4×4. Even the long version, from Alaska to Ushuaia can be done without an all terrain vehicle. As far as I know, this entire route is also paved although the quality will vary.
If you want to venture off the main route and explore the smaller villages and remote mountain passes, you will be better off with a vehicle that is not a low riding ferrari but most of the time a normal 2wd car with decent all terrain tires will do the job.
Getting down into the details of traveling the PanAm highway
For the rest of this article I'll divide the journey into three sections: North America and Alaska Central America and the Darien Gap South America and Ushuaia
For each section we will discuss the route options, the safety issues, time to take and the best season to travel in.
North America and Alaska
The journey from the United States to Alaska is not an official part of the Pan-American Highway, but a lot of travellers want to experience everything the Americas have to offer from the most Northern point you can reach by road. For most that means driving to Prudhoe Bay although in the last few years the more adventurous route through Canada to Tuktoyaktuk has also been gaining popularity. Wether you choose Alaska or Canada, there are a few common risks involved.
How hard is it to drive to Alaska?
In general, driving to Alaska is not extremely difficult, however there are long sections without any habitation and breaking down might mean you have to wait for help for a long time. This can be dangerous is the cold winter months.
As a traveler you have the luxury of time, so take advantage of that to stay safe on the long boring drives. In summer, daylight lasts deceivingly long, which can give you the impression you can keep going.
I don't think I need to mention it, but since there are not that many people in Alaska, you will need to prepare for the long stretches and bring enough fuel, food and water as there won't be a Starbucks every 10 minutes.
The other issue we already talked about is breaking down, we all hope our vehicle doesn't let us down, but sometimes it's just a matter of bad luck. It is not a bad idea to have a basic tire repair kit with you and knowing how to put on your spare tire so you can keep going and stay safe for the night. Even if you don't plan to camp on a trip like this, for these kind of situations it is a good idea to have at least some warm sleeping bags in your vehicle for an emergency overnight stay.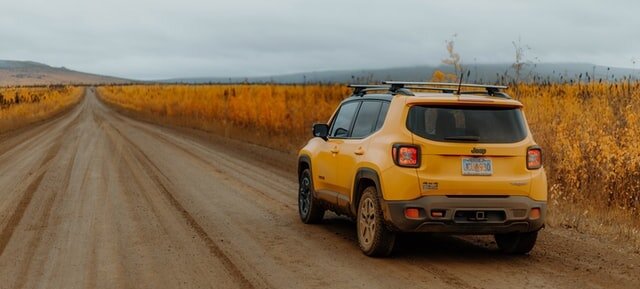 Photo by Chris Henry
How long does it take to drive to alaska?
Driving from Seattle to Prudhoe Bay takes 7 – 9 days of continues travel for 8 – 6 hours a day. This route goes through Canada so make sure to bring your passport.
The route takes you from Seattle, passing by Vancouver heading to Prince George and up to Whitehorse. Here you decide if you want to drive to Alaska or go up the Dempster highway to Tuktoyaktuk. You cross into Alaska at the Alcan border and continue to Fairbanks. From there it is a long a lonely way up to Deadhorse in Prudhoe Bay.
This last part is called the Dalton highway and very busy with trucks all year round. Not every part of the highway is paved, although accessible with any road vehicle in summer. In winter most travellers should think thrice before attempting the drive. Therefor I do advice to do this part of the trip in summer, anywhere in between May and September would be best. It is also the time when nature is blossoming which gives spectacular views with the white mountain peaks.
One of the reasons more and more people are deciding to drive up the Dempster (Canada) highway instead of the Dalton (Alaska) is that you cannot actually reach the Arctic Ocean by yourself in Alaska. That is because it is part of a restricted area where the oil fields are. To be able to dip your toes in the Arctic ocean you need to pay US$69 per person to go on a shuttle and get you there whereas in Canada you can drive yourself to the end of the Dempster highway and take a picture under the sign that says Arctic Ocean. You can even take a swim if you dare!
How much does a road trip to Alaska cost?
A three week road trip through Alaska will cost around US$75 per person per day adding up to a total of US$3.150. This doesn't include any expensive excursions like dogsledding or a whale watching cruise.
In the end it really depends on your budget and travel style how much you spend in Alaska. It is relatively more expensive compare to other parts of the Pan-American Highway especially for accommodation and excursions. I highly recommend taking a trip down to Anchorage, not to visit the city but for the amazing scenery along the way and down in the bay area.
Is driving to Alaska worth it?
If driving to Alaska is worth it depends on your goals, however the road trip is a gorgeous one and is going to make for a memorable trip and having a your own car and equipment to explore will give a huge amount of freedom. If it is worth your time and effort is up to you to decide.
Is it worth it to make it a part of your PanAm adventure? That also depends on your goals, time and budget. If it means you'll have to rush the rest of the trip, then I would say no. Alaska is always going to be "around the corner" whereas South America is a long way away. Focus on what you are looking forward to explore the most and don't look at "official" routes or what other people are doing.
Making your way down through Canada and the United States
Once you've made it to the top of the continent, or not, it is time to make your way down. Since the USA made the entire highway network part of the Pan-American Highway, you have options here albeit pretty straight forward. Head down in a straight line following the West Coast Head inland once in a while to explore some national parks and mountain ranges Go everywhere you ever wanted to visit and leave a real messy line on the map, because who cares I'm not going into any detail here about those routes because I'm guessing that is not why you are here, so we'll jump right into the next section of the trip through Mexico and Central America.

Central America and the Darien Gap
Just South of the border on the east side of Mexico, lies Laredo, the official start of the Pan-American highway, however most travellers stick to the West Coast on the Pacific because the roads and scenery are better. Or because of the world class waves, whale watching options and the cool Spanish ruins.
However you choose to descend through Mexico, it will bring you to the border with Guatemala. Just like Mexico and Costa Rica, the inlands of Guatemala is quite mountainous and rough. The official route sticks to the coast where it is flat and easy to drive. Choose your route wisely and based on your vehicle and travel goals.
Next up on the official route are El Salvador, Nicaragua, Costa Rica and Panama. All these countries are covered in lush greenery. That is because it get's plenty of rain throughout the year. The official Pan-American highway route remains close to the coast, where it is easy to drive. Except from a small area in the North, Nicaragua is mostly flat. But it has some of the friendliest locals, great surf, some beautiful colonial architecture and a lot of volcanoes that you can hike up.
Once you get to Panama, you will have to find your way over or around the Darian Gap, more on that later, which signifies the end of your trip through Central America. How exciting, onto a new continent! But first, some more details about Central America to help you prepare.
What is the best time to travel to Central America?
The best time to travel through Central America is between November and April, which is the end of the rainy season in most of the region. At the coast, the temperatures stay consistent throughout the year at an average of 25°C or 77°F. Temperatures can drop significantly at higher elevation.
From May until October the rainy season arrives with 200 – 400mm of rain each month. The rainy season can be quite beautiful with greener landscapes, lower prices and fewer tourists around. The rain usually doesn't start until the afternoon so the mornings are perfect to explore. Find shelter on time and sit out the rain reading a book the rest of the day. It sounds quite romantic, doesn't it?
Be aware that rainy season also brings the risk of floods, in some parts of Costa Rica the roads and rivers will merge into one and easily sweep you and your vehicle off the tarmac.
How long would it take to drive through Central America?
Driving from Mexico to Panama will take about 10 days, driving every day for 6 – 8 hours a day. With a vast amount of history, nature, activities and culture to explore, it is recommended to plan at least 2 – 6 months for this trip.
I feel like I am starting to repeat myself, but again, make this trip your own. Don't stick to the official Pan-American highway but venture out and see the small towns in the jungle. There is so much to see and do in this part of the world that driving straight through would be a waste of your time. My recommended time planning, 6 months, going to Mexico in October and heading on to South America around March.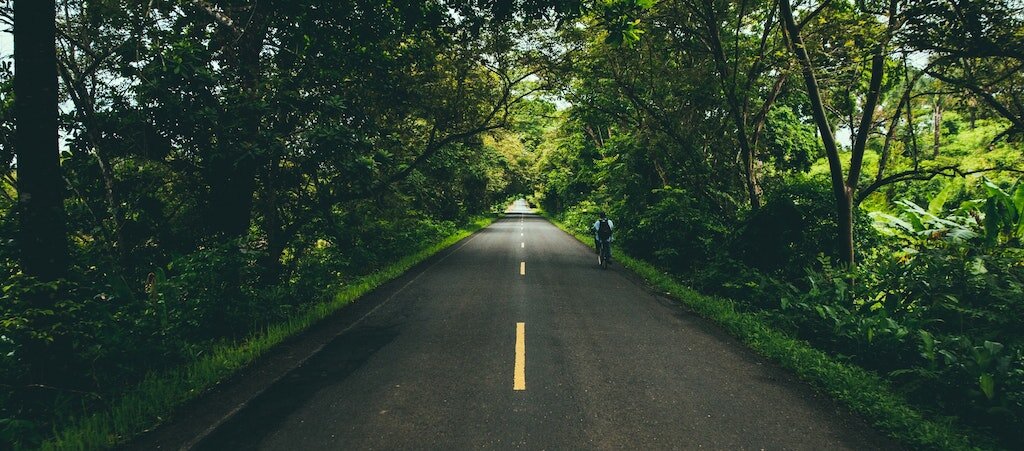 Is driving through Central America dangerous?
Driving through Central America has it's risks, but so does driving anywhere else in the world. For foreigners traveling through the most important safety rule is: Do not drive at night.
Look, I'm not here to tell you that it is all daisies and rainbows in these countries. We all know it is not. But as a general rule of thumb you have to understand that the troubles you see on the news are conflicts between drugs gangs, law enforcement and the press. As a tourist you are not necessarily on their radar.
Petty crime exists, just like in any other place. This means that you use your common sense to keep yourself and your stuff safe. There will be places where you drive with your windows rolled up and doors locked. Where you will always find a hotel with a gate or garage to safely store your vehicle at night. Things like that.
It is up to you to decide if you want to take the risk of losing some stuff vs the reward of exploring. For me, it is always worth it. So it has been for thousands of fellow travellers who have done this route before you.
The next topic we need to discuss is how to get to south america? Let's assume that you've driven all the way to Panama and are ready to explore the other continent. You keep on driving until you get to the end of the road in Panama. That is right, the road ends in Panama. Before your eyes arises the densely packed jungle of the Darien Gap.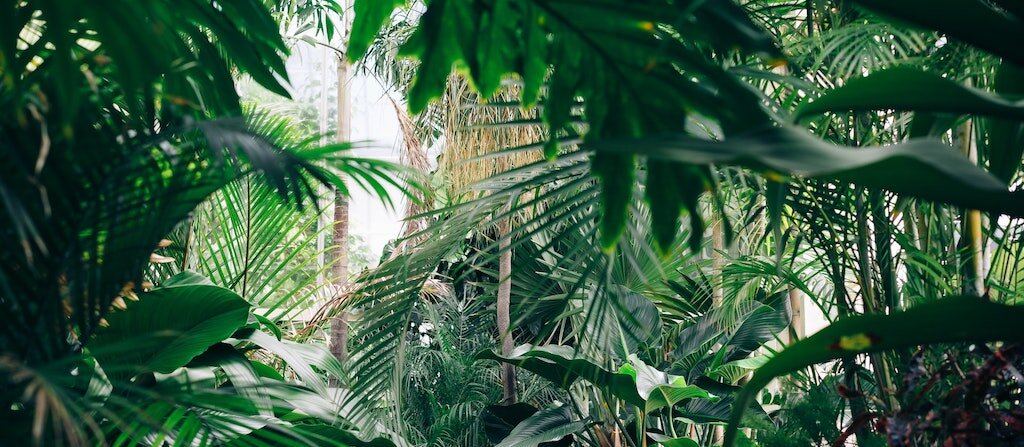 Photo by Chris Abney
Why is there no road between Panama and Colombia?
The narrow stretch of land in between Panama and Colombia is covered in dense jungle filled with exotic animals, swamps, drug smugglers and guerillas. It serves as a natural protective barrier between North and South America and environmental concerns blocked both attempts at building a road.
It is not impossible to drive through with a car or motorcycle and several expeditions have managed to do so but most ordinary people take the more sensible approach and find their way around.
How do you get around the Darien Gap with a vehicle?
On a (private) boat, taking your vehicle on board with you Shipping your vehicle on a RORO ship, while flying yourself In a container on a ship, while flying yourself Flying over
Those are the 4 options that exist and depending on the type of vehicle you are traveling with some of those might not be available.
Finding a boat or sail ship to take you across such as the Stahlratte is not impossible and quite an enjoyable way to get around the Darien Gap but only works with small vehicles such as bicycles and motorcycles.
Shipping your vehicle in a container, even if you share the container with other travellers vehicles can costly and your vehicle will have to fit inside. Standard cars and 4x4s will have no issues and motorcycles are great to fill up a container. Bigger rigs might be too tall and therefor are condemned to RORO shipping.
Roll On, Roll Off or RORO shipping is a vessel designed to transport vehicles. Any shape or size will work on these boats as they are gigantic. There is a risk that comes with shipping in this way because you need to hand over the keys so the company will be able to drive your vehicle on board. If there is a lot of your gear on board you might find a few items missing at the end of the journey. The reward is that RORO is usually cheaper then container shipping.
The last option of flying over is practically also only reserved for motorcycles and bicycles because you pay for weight instead of size making cars and trucks too expensive to transport in this way. Two wheelers are still doable and the costs are comparable to the other options.
Is there a ferry from North America to South America?
There is currently no ferry service available, the last time the Ferry Xpress sailed was in 2002. All plans to launch a new sailing schedule from new investors seem to fail and no new plans have been published in the last 5 years.
You've now made it to South America! Let's dive into the challenges and rewards of this new continent together.
10 Best Road Trips in South America
When the high altitudes of traveling by plane have become too boring or stuffy for you, why not consider going.
By Car Bibles Staff | Updated Sep 6, 2022 12:34 PM
When the high altitudes of traveling by plane have become too boring or stuffy for you, why not consider going on a road trip with some of your closest friends? In a lot of cases, it's also cheaper to travel by road compared to flying. Also, unlike flying where you simply go from one location to another, going on road trips allows you to experience the wonders of the places you pass through on your way to your final destination. It's true what they say – "getting there is half the fun." It may even be most of the fun like in many of the routes on this list.
If ever you're wondering where you should go on your next road trip, consider taking an excursion to the beautiful continent of South America. Doing so will allow you to experience its awe-inspiring landscapes and unique culture that you won't find anywhere else in the world. When you embark on one of the ten road trips listed below, we promise that you won't be disappointed – not even a little bit.
The Southern Patagonian Andes
The first route you should take on a South American road trip is the one that goes through the Southern Patagonian Andes. Driving through this route will make you pass through Argentina and Chile, two of the most popular countries in the entire continent. This route is perfect for those with an appreciation for nature and outdoor activities. The entire trip through this route takes around 10 days to complete.
First, you'll pass through El Chaltén, which is a rather small mountainous village located in the heart the Los Glaciares National Park of the Santa Cruz province. The mountain chains here are not that steep, making them perfect hiking spots for beginners and veterans alike. If you're a fan of camping and exploring the wilderness, you'll also enjoy pitching a tent and taking long walks against a beautiful background featuring the Torres dal Paine and Fitz Roy. If you're not big into sleeping in tents, El Chaltén also has a couple of serviceable hotels.
Afterwards, you'll be passing through Ruta 40 – an iconic highway in Argentina similar to the United States' Route 66 – going to Lago Argentino, which is famed for its glaciers and ice fields such as those in Puerto Bandera and Perito Moreno. Next, you'll be heading on over to El Calatafe – located around 30 miles to the east of Puerto Bandera – one of the more populated stops featured on this route. Lastly, you'll end up in the previously mentioned Torres del Paine for a one of a kind four or five-day trekking tour of its famous "W" route.
The Incan Heartland in Peru and Bolivia
Up next on this list we have the Incan Heartlands route, which goes through key locations in both Peru and Bolivia. You've probably learned about the culture in these parts from your time in school, but that's nothing compared to experiencing it firsthand. If you happen to be a history buff that's also quite the foodie, you'll surely enjoy the seven to 10 days you'll be spending on the trip going through this route.
Your first stop on this route is La Paz, which is found right on the foot of the Illimani Mountain in Bolivia. You'll definitely be able to see the growth of the region when you pay a visit, as towering skyscrapers are juxtaposed with old houses and native structures. This is an ideal place to sample authentic Incan cuisine such as alpaca and guinea pig meat, chichi morada, as well as amaranth and quinoa. When you're done stuffing yourself with all that good food, try booking a day trip in one of Copacabana's beautiful lakeside resorts.
To get the full Andean experience, take a bus or train to the regions of Puno and Cuzco. Over there, you'll see natural wonders such as volcanoes, deserts, and mountain ranges, as well as grasslands where various animals like alpacas graze. Puno and Cuzco also boast some of the best hotels and restaurants you'll find in South America, so it's definitely worth the visit. Finally, you'll arrive at Machu Picchu where you can visit those traditional homes you've seen in travel guides you've read. You'll also get a taste of Incan traditions and culture.
The BR-319 Highway in Brazil
On the off chance that you've already experienced the two scenic routes we just mentioned, maybe something off the beaten path would tickle your fancy. The colorful country of Brazil is home to what's become known as the worst highway in South America – the BR-319. Similar to the Transamazônica, the BR-319 highway was one of the first roads built that goes directly through the Amazon rainforest. You may be wondering why you'd want to endure going through a route that's filled with cracked pavement and possible perils. However, if you go here you're definitely going to be in for a unique experience. A trip going through this road is surely one for the books.
If you decide to adventure here, you better be prepared since you won't solely be going through land. Camping spots here aren't necessarily the most peaceful or welcoming either. Since this road was built on swampland back in the 1970s by the Brazilian military, it's obviously no longer in the best condition. Floods and other natural disasters have brought ruin to the bridges and other integral infrastructures that help keep this route together as well. You'll have to go by ferry to get through certain spots on this infamous highway.
Salar De Uyuni in Bolivia
As opposed to the BR-319's rough and rugged terrain, Salar De Uyuni in Bolivia holds the claim to having the smoothest road surfaces in the entirety of South America. Driving a car through here has often been compared to going down a freshly paved highway. There are no bumps in the road to prevent you from speeding through the vast expanse of these salt-filled plains. Before you unleash your inner Evel Knievel though, take all of the necessary precautions to prevent altitude sickness since the plains are located 12,500 feet above sea level.
You can book a tour to these white salt plains in one of the many travel agencies in the city of Uyuni. You may even get lucky and find a local that's willing to take you there for a much cheaper price. If you're feeling a bit adventurous, you could also rent a car and go brave the salt flats on your own or with the people you brought along for the trip. If you choose to go alone, you can also set up camp on the flats all by yourself, which has proven to be a very rewarding experience for many of the visitors who went here.
Birdwatching in Santa Marta, Colombia
If you just want to relax on your next getaway, a good option would be going on a road trip in Colombia. A trip through this region, which features six breathtaking locations, usually takes around 10 days to finish. This excursion is perfect for those who want to appreciate nature's beauty through bird watching, since almost 2,000 avian species call this country home. You could also dabble in a bit of photography or just some good old-fashioned sightseeing while you're here. You won't run out of amazing sights to see in this particular route.
Your first stop here is Bogotá, which is rich in history that's featured in their museums and historical centers. If you time your trip well, you could spend a Sunday here biking through streets that are temporarily closed off to the usually busy traffic. After a weekend of biking and brushing up on Colombian history, make your way north to the Chingaza National Park. This natural attraction is known for its forests, moorlands, and lakes. This is also one of the spots where you can observe Colombia's rich selection of birds and other forms of wildlife.
Next, go to Pereira, a region famed for its coffee production. You can travel by horseback to one of the many haciendas in the region to enjoy a cup of newly roasted and freshly brewed coffee. After a short car or bus ride, you'll find yourself in Jardin, where you can stay the night in beautiful accommodations and dine at swanky restaurants. It's also good to watch birds here. Last, but not least, are Santa Marta and its mountain ranges, which is the most popular bird watching spot in Colombia. Santa Marta also features some wonderful beaches.
The 365-Curve Road in Argentina
For our next road trip, we find ourselves back in Argentina at the "365-curve road." This highway is partly a dirt road, but a majority of it has already been paved. In reality, this road has more than 365 switchback turns, with the actual count being 370. We think that the "365" just sounds catchier then 370, but your guess is just as good as ours. This road's Spanish name roughly translates to "the road of the snails." This could be because of its shape – having multiple twists and turns – or simply because it takes a long time to go through its entirety.
The 365-curve road crosses the East and West Andes and connects the regions of Mendoza and Santiago. This road even passes by the Aconcagua, which is the highest mountain outside of Asia – truly a wonder to behold. The best way to experience this route is through the windows on the second floor of a double decker bus. Contrary to what many people might think, it's actually quite easy to accomplish this since a lot of companies offer bus tours of the area. All you have to do is go to Mendoza and find one that fits your budget.
The Galapagos in Ecuador
On the seventh spot on this list, we have the Galapagos located in Ecuador. Let's make one thing clear here, when we say the Galapagos, we're not talking about the iconic island where Charles Darwin discovered all those new species of flora and fauna. You'll need to book a plane ticket to get there. However, on the road, you could get very close. Plus, you'll still get to see a lot of the wildlife that inhabits this special region. If you're a big fan of nature, you definitely need to go through this route on a road trip at least once in your life.
This route begins in Quito, which is the second largest city in Ecuador. Once you leave the Ecuadorian capital, you'll pass through a number of volcanic areas including Cotopaxi ­­– one of the world's tallest active volcanoes. After that, you'll find yourself in Guayaquil, which is a city famed for its beaches – it is known as one of the gateways to the Pacific – as well as its more modern establishments such as hotels and restaurants. Like we've said before, if you choose to do so, you can charter a plane and fly to the Galapagos Island from here.
Costa Verde in Southern Brazil
If you want something short, but sweet, go on a five-day road trip across Costa Verde in Southern Brazil. This is ideal for someone who wants a quick getaway filled with sightseeing, good food, and beautiful white sand beaches. Your road trip here will start in Santos or Guarujá. The first option is better for those who want to pay respects to the culture of Brazil. Here, you can visit Brazil's largest port as well as the Museu de Futbol, which is dedicated to arguably the best player the sport has ever seen – Edson Arantes do Nascimento or simply Pelé. On the other hand, the latter option is ideal for those who want to experience Brazil's beautiful coastline.
You'll then make your way through the BR 101 highway, where your first stop will be Ilhabela. This place is a great example of Brazil's nightlife and party culture. Afterwards, you'll drive up to Ubatuba, which goes directly through the Serra do Mar mountains. Drive a little bit more and you'll make it to Catuçaba, which is best known for its relaxed ranches and horseback riding spots. Next is Paraty, which is deemed as one of Brazil's most romantic cities – perfect for when you go on a trip with your significant other. You can take a detour by ferry to Ilha Grande if you want to experience serenity before heading over to the more populated Rio de Janeiro.
Carretera Austral in Chile
On the penultimate spot on the list we have the Carretera Austral in Chile, which is also known as the sole road from the north to the south. This route is more than 600 miles long. The roads are mostly constructed from gravel, which is perfect for those looking to go for an off-road adventure. However, you should expect a lot of construction already being done in and around the area. Drive through here and you'll be able to see some of the most breathtaking mountains, rivers, fjords, and glaciers you've ever feasted your eyes on.
If you can, reserve three weeks of your schedule so you can experience as much as possible here. That may seem like a lot of time, but all that hiking, cycling, and trekking you'll be doing can't fit in just a couple of days. Just make sure that you get gear for all kinds of conditions since it's hard to predict what the weather's going to be like on this route. Also, stock up on as many of your necessities as you can before you leave Puerto Montt. At the end of the Carretera Austral, you'll discover that you've found your way to Argentina's El Chaltén.
Pampas and Playas in Uruguay
Finally, we have the Pampas and Playas in Uruguay. It takes approximately one whole week to traverse this route that goes from Carmelo all the way to the Inland region. You should go through this route if you want to get a taste, figuratively, of Paraguay's ranches and beaches as well as, literally, of the country's delectable cuisine. You'll kick things off in the beautiful city of Carmelo, which is on the east of River Plate. After a couple of rounds of wine tasting in the local wineries, make your way through Colonia to the capital city of Montevideo.
Up next on this route is Punta del Este, which is an iconic city that's home to some even more iconic beaches. You can make your way to the beaches at José Ignacio and La Barra if you find the shores near Punta del Este to be too crowded for your liking. You'll then make your way to Cabo Polonio, which features a bounty of picturesque camping and trekking locations. Finally, you'll go to Garzon where you can stay in a small and unassuming, yet beautiful inn. You can eat also some of the best food in the region at the Garzon restaurant run by chef Francis Mallmann. Horseback riding and bird watching are other activities you can enjoy here also.
Those are the ten most scenic and most adventurous road trips you can take in South America. This just goes to show that many of the countries in that continent have a lot to offer. No matter which route you choose to take on your next holiday, you can't go wrong.
Source https://www.adventurism.tv/blog/2021/7/18/can-you-drive-a-car-from-north-america-to-south-america
Source https://www.carbibles.com/best-road-trips-in-south-america/
Source