Central America Travel Guide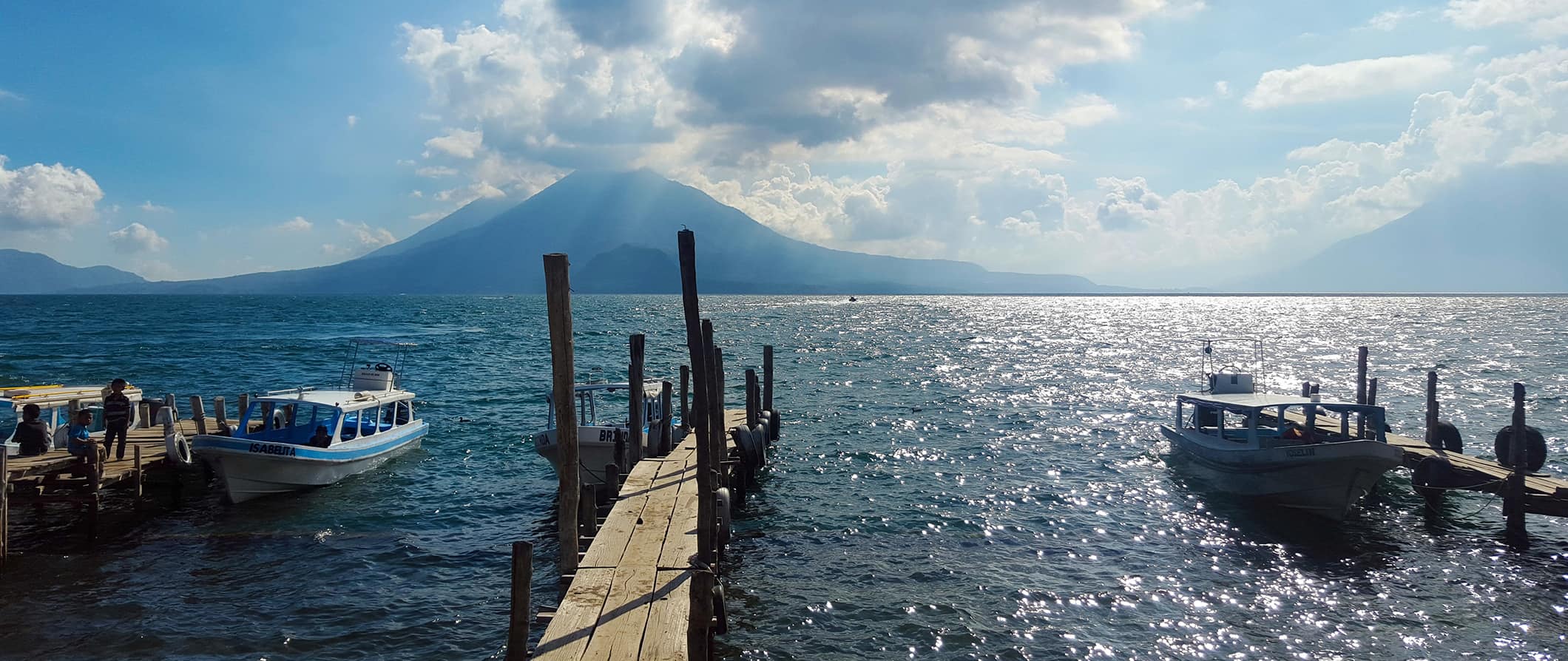 Surrounded by the Pacific and Atlantic Oceans, the slender land bridge of Central America runs from Mexico to South America and is made up of seven countries — Guatemala, Belize, El Salvador, Honduras, Nicaragua, Costa Rica, and Panama.
Political and civil unrest in the 1980s kept most tourists away, but now the area is a slowly becoming hotspot for travelers, surfers, luxury travelers, and even retirees.
Because traveling Central America is beautiful, filled with history, affordable, and much safer than it used to be.
While there are still regions where you need to be vigilant, people have realized that it's not the place the media makes it out to be. I'm glad the collective consciousness is shifting.
The region's rainforests are filled with unexplored Mayan ruins and wildlife, its beaches are great for surfing, its reefs offer world-class diving, there's a huge variety of flora and fauna here, and the cheap accommodation, food, and transport throughout the region make it a budget traveler's dream.
I began my nomadic life traveling around Central America.
Whenever I return to Central America, I fall in love even more with the friendliness of the people, the tasty food, the weather, history, and beauty.
This travel guide to Central America will give you all the tips you need to have a memorable trip to this part of the world.
Table of Contents
Click Here for Country Guides
Top 5 Things to See and Do in Central America
1. Explore the volcanoes
This region is rich in volcanoes. Pacaya (Guatemala) frequently erupts ash clouds; Poás (Costa Rica) is famous for its crater lake; Arenal (Costa Rica) has hiking trails, geothermal springs, and a gorgeous lake; and you can sand-board down the side of Masaya in Nicaragua.
2. See Mayan ruins
The region has many ruin sites but the most impressive are Tikal in Guatemala, Copán in Honduras, and San Andrés in El Salvador. The intricate wall carvings, imposing pyramids, and crumbling columns should not be missed. Prices vary but expect to spend around $20 USD for admission.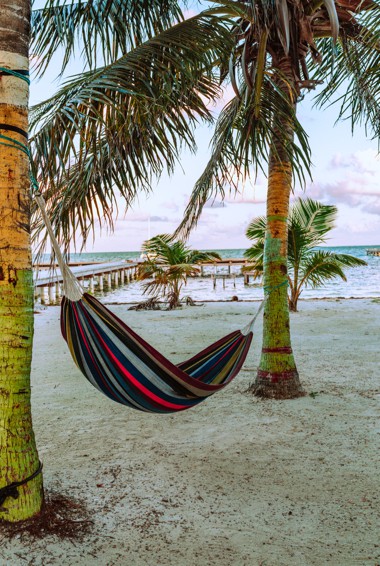 3. Relax on Caye Caulker, Belize
This little island is incredibly popular with backpackers. It is less expensive than some of the larger islands in the country and has a relaxed atmosphere to it. July is a great time to go because of their lobster festival. Eat at Wish Willy's for amazing seafood and chicken.
4. See the Panama Canal
First opened in 1914, the Panama Canal is a 50-mile marvel of human labor and engineering. It relies on three sets of locks — Miraflores and Pedro Miguel Locks on the Pacific side and Gatun Locks on the Caribbean side. The most common place to see the canal is at Miraflores Locks. Entry is $20 USD per person.
5. Trek through the rainforests
Much of Central America is covered in lush and humid rainforests. A popular way to see these is to take a canopy tour ($40-65 USD), where you'll be suspended on a zip-line and glide over the tops of the trees. The rainforests are filled with howler monkeys, jaguars, lizards, and tropical birds.
Other Things to See and Do in Central America
1. Head to Antigua
Considered one of the best-preserved colonial cities, Antigua (in Guatemala) is a major travel hot spot for backpackers. There are tons of pubs, restaurants, coffee shops, hostels, and even Spanish language schools if you want a reason to stay longer!
2. Go diving
The shores around Central America are home to many coral reefs. As such, diving is hugely popular. The colors and variety of fish will amaze you, as will the clear visibility. Diving here is cheaper than in the Caribbean and most parts of Mexico. Popular dive countries include Panama, Honduras, and Belize. Expect to pay $50-100 USD for a two-tank dive, or a few hundred dollars for your certification course.
3. Tour coffee plantations
This entire region is known for its coffee, particularly Costa Rica and Panama. Tour the plantations and see how the beans are grown, picked, and ground. You can also buy fresh coffee at heavily discounted prices (it's a great souvenir). I found the best coffee to be from Monteverde, Costa Rica — and I don't even like coffee! But I drank it and loved it (it tasted like chocolate!).
4. Visit Chichicastenango
Most people who come to Guatemala visit Chichicastenango, the largest indigenous market in Central America. Stalls sell handicrafts, blankets, pottery, souvenirs, and more. It's the best place to find local food for cheap and take in the hustle and bustle of local life.
5. Tour the museums
Most cities in Central America are filled with museums, particularly those paying homage to Mayan civilization. The Pre-Columbian Gold Museum in San José, Costa Rica is fascinating, with over 1,000 different gold objects such as animal figures, and jewelry, as well as a scale model of a Pre-Columbian village. For Mayan artifacts, head to the Copán Archaeology Museum in Honduras ($3 USD admission).
6. Sail the San Blas Islands
This archipelago in Panama consists of 378 islands and cays to explore. Taking a day, or even a week-long sailing trip throughout them is super fun. There are incredible seascapes to behold, as well as fascinating people to meet and colorful reefs to see up close. There is an abundance of wildlife to check out and the boats make frequent snorkeling and scuba diving stops. These trips are popular with budget travelers and can be organized anywhere in the country. Expect to spend upwards of $600 USD for a 4-5-day cruise. It's not super cheap, but it's worth it!
7. Surf down a volcano in Nicaragua
If you like adrenaline activities, try volcano boarding. Cerro Negro, a young and active volcano in Nicaragua, offers tourists a chance to ride a surfboard down its graveled slopes. You have to hike up to the top yourself (which takes around an hour) so be prepared for a climb and to get dirty! A half-day outing excursion costs $35 USD, with transportation, gear, and drinks included.
8. Dive the Great Blue Hole
This natural wonder in Belize is part of the Lighthouse Reef system. It's a near-perfect circular hole that stretches 480 feet below the surface. The water here is almost completely motionless, so visibility is clear to about 200 feet. The Great Blue Hole is an amazing place to dive or snorkel and is considered one of the best natural dive spots in the world! Tour prices vary, but snorkeling tours cost around $220 USD, and diving tours start at $260 USD.
9. Walk through the Treetops
The Rainmaker Aerial Walkway in Costa Rica was the first aerial walkway to be built in Central America and it's still considered one of the top aerial walkways in the region. At the highest point on the walkway, you'll find yourself 20 stories above the ground. Tours start at $75 USD and include two light meals.
10. Visit the Macaw Mountain Bird Reserve & Park
Located in Copán Ruinas, Honduras, this enclosure is in a tropical rainforest brimming with an amazing range of birds. You'll see everything from brilliant Buffon Macaws to vibrant Blue and Gold Macaws to colorful Keel-Billed Toucans. Included in the ticket price is a three-day access pass to the park, a one-hour guided tour, and a 20-minute walk through an adjacent coffee plantation. Admission is $10 USD.
11. The Barrier Reef, Belize
This is the second longest barrier reef in the world. It's home to a vibrant coral reef is home and magnificent marine life (including sea turtles, rays, and sharks) and is the country's most popular tourist attraction. In 1996, the reef was designated as a UNESCO World Heritage Site and it's now a popular spot for diving, snorkeling, and boat tours. A three-tank dive costs around $125 USD.
12. Go to Ometepe Island, Nicaragua
Located on Nicaragua Lake, this is the largest volcanic island in the world that resides inside a freshwater lake. It's easy to get to and is close to Managua. There is a plethora of restaurants and hotels on the island. Be sure to check out Cascada San Ramon, a waterfall you can access via a beautiful four-hour hike. Also, don't miss El Pital where you can learn how chocolate is made (tours are $15 USD).
13. Take in the Nicoya Coast, Costa Rica
This is a beautiful peninsula in Costa Rica peppered with quaint little towns and plenty of beaches. It is constantly sunny here, and there's a lot to see and do. Some of the main attractions include Barra Honda National Park, Isla Tortuga, scuba diving, and driving along the coast. My favorite town in this area is Santa Theresa.
14. Visit La Libertad, El Salvador
For those of you who are big on surfing, this is considered the best place to catch a wave in Central America. While there is the risk of bumping into a swarm of beach-bum types, it doesn't take away from the amazing waves, the endless seafood barbecue, and cool accommodation. Surfboard rentals start at $15 USD.
15. Enjoy Carnival
The biggest carnival in the region is La Cieba in Honduras. Held every May, the streets fill with bright costumes and dancing, while bars and clubs burst with locals and tourists alike, all vying to soak up the party atmosphere. Different neighborhoods host "Carnavalitos" (little carnivals), competing on who can throw the best party.
16. Visit the Montecristo Cloud Forest
This cloud forest has a diverse swath of flora and fauna including ferns, orchids, mosses, spider monkeys, and anteaters. Hike to the highest point, El Trifinio, where the borders of El Salvador, Honduras, and Guatemala converge. It's a steep 4-mile (7-kilometer) climb, so bring lots of water. There's a limit to how many people can visit the park each day so it's best to arrive bright and early and finish before the park closes at 3pm.
17. Dive the Bay Islands in Honduras
The Bay Islands are one of the best diving spots in Central America. The Roatan, Utila, and Guanaja archipelagos all offer stunning dive sites. Get up close to colorful coral formations or deep dive 2,000 feet into the abyss for bluntnose sixgill shark sightings. It's also super affordable; prices start at $40 USD.
Be sure to visit our Central America country travel guides for more detailed information about what to see and do in each place:
Central America Travel Costs
Accommodation – Dorm rooms with 6-8 beds cost $5-20 USD while private room cost between $15-30 USD for single or double bed with private bathroom (in Belize, Costa Rica or Panama, you will pay on the higher end of that range).
Family-owned guesthouses or hotels are the next most affordable accommodation. These rooms average $25-40 USD per night for a private room with an ensuite bathroom. Many include breakfast, not to mention the added bonus of meeting a local.
In cheaper countries like Honduras, a private room can cost $15 USD per night while in a more expensive destination like Panama City, you can expect to pay on the higher end, about $30 USD per night.
Airbnb is also an option around Central America, with private rooms starting around $30 USD per night. For an entire home or apartment expect to pay at least $70 USD per night (though prices are often double that).
Camping can be done easily at hostels and in certain national parks. Most hostels have space where you can pitch a tent or string up a hammock for under $5 USD per night. National parks require camping fees that vary from country to country. See country guides for specifics on where to stay.
Food – While the cuisine for each country in Central America varies, there is some overlap. Expect to find dishes centered around rice, beans, tortillas, meat, and seafood. Generally, you'll find a mix of Spanish, Caribbean, and traditional Mesoamerican influences here.
The cheapest food option is to eat at the roadside restaurants that dot the region. Buying your own groceries and cooking is also super affordable, though not all hostels have kitchen facilities.
At small restaurants serving the regional cuisine, expect to pay around $5 USD for a meal. If you want really cheap food, you can find empanadas (fried pastries filled with meat, cheese, or potatoes) for under a dollar.
If you plan on cooking your own meals, head down to the local market and pick up fruit, vegetables, rice, and some meat or seafood for $20-40 USD per week depending on your diet.
The local markets have tons of fresh fruit for incredibly cheap, so fill up on that when you can. A typical restaurant meal per main dish and a drink is about $10 USD, however, western food will cost about three times as much as the local dishes. See country guides on specifics!
Transportation – In cities, public buses are the cheapest and most convenient way to get around. Fares cost less than a dollar, and buses are widespread. However, keep in kind that in some cities, public transportation is rife with petty theft so you'll want to be vigilant.
Longer bus rides and overnight trips from one country to the next are generally between $10-30 USD. Be prepared, though — buses here (often called "chicken buses" due to the abundance of chickens and rice transported on them) stop everywhere to let people on and off. They are interesting but slow. If you're in a hurry, pay extra for the direct coach buses.
Trains are virtually non-existent in Central America so you'll need to stick to buses if you're on a budget.
Not surprisingly, this region of the world actually relies a lot on hitchhiking. Buses can be late or sporadic and sometimes extremely full. I've done this in Belize, Costa Rica, and Panama because there is a limited regional air network here and flights are expensive. That said, hitchhiking isn't appropriate everywhere so use Hitchwiki for more information and safety tips.
Flying around the region is possible, but expensive. A one-way flight from Guatemala City to Belize City is $300 USD, whereas the bus is only $50 USD. From Belize City to Panama City also costs around $300 USD each way. In short, avoid flying!
Activities – Entrance to national parks is typically inexpensive, usually starting at $10 USD. Mayan ruins cost around $10 USD as well, with Tikal in Guatemala costing $20 USD. Diving is likely to be your most expensive activity, costing between $50-100 USD for a two-tank dive. A half-day manatee-spotting tour ranges from $35-50 USD while a visit to a wildlife sanctuary costs around $5 USD. The Copán Ruins can get expensive if you factor in the entrance fee ($15 USD), entrance to the tunnels ($8 USD), and a guided tour ($20 USD). Canopy tours (zip lining) usually costs between $30-50 USD per person.
Backpacking Central America Suggested Budgets
On a backpacker budget of $30-50 USD per day, you can stay in a hostel dorm, eat some local street food and local fruit, visit a few attractions (like museums and national parks), do some free walking tours, and take local transportation to get around. If you plan on drinking, you'll need to add a few extra dollars.
On a mid-range budget of $75-150 USD per day, you can stay in a private hostel or Airbnb with air-conditioning, eat at more sit-down restaurants, have a few drinks, visit some historical sites and do some tours, and take coach buses and the occasional taxi.
On a "luxury" budget of $180-290 USD per day, you can stay in a hotel, drink as much as you'd like, eat out for all your meals (including at Western restaurants), take private tours, rent a car for day trips, go diving, and even take the occasional flight. This is just the ground floor for luxury though. The sky is the limit!
Note that if you visit Costa Rica and Panama (the region's two most expensive countries), you'll spend on the higher end of these ranges (and above).
This chart can give you a rough idea of day-to-day costs. Prices are in USD.
21 BEST Places to Visit in Central America
This blog may contain affiliate links. Read our disclosure policy for more info.
Central America is one of the most exciting places to travel in the world. This tiny region really has it all including world-class beaches, iconic volcanoes, and vibrant culture.
But with so much to offer, it can be hard to know where the best places to visit in Central America are.
For that reason, I've written this blog. After spending a few months exploring Central America thoroughly, I've chosen the 21 best places to visit. These are the most unique and famous attractions in Central America that are sure to impress any traveler!
Note: I did not include Mexico on this list (some consider Mexico to be part of Central America and some do not.) For simplicity's sake, I've focused on the 7 main countries that make up Central America. If you want more info on traveling to Mexico, we have that too!
Where are the Best Places to Visit in Central America?
This blog includes 21 specific destinations in Central America that I think every tourist should check out! The map above shows where exactly each destination sits geographically.
To me, it also shows a very clear travel route for those looking to plan their Central America itinerary! And just in case that's what you're looking for, I've written this blog in order so that someone traveling by land from Panama all the way to Belize!
Best Places to Visit in Panama
1. San Blas Islands
The San Blas Islands are so beautiful they have to be seen to be believed!
The San Blas Islands are at the top of most people's Central America bucket-list. This group of tiny islands off the Caribbean Coast of Panama makes for the perfect island-hopping adventure! In fact, many people travel by boat from Colombia to Panama via the San Blas Islands.
However, you can also just go on a trip to the islands from Panama and return back to Panama. Tours from Panama City are also available. Just be sure to book a multi-day tour as you're going to fall in love with island life and wish you never had to leave!
2. Panama City
Mirrador Cerro Cedro in Metropolitan National Park, Panama City
Panama City is the most modern city in Central America. With skyscrapers and luxury hotels as far as the eye can see, Panama City looks almost like a cross between Miami and Las Vegas. Spoil yourself and stay in one of Panama City's most luxurious hotels on the strip for an extra special experience.
There is also a range of different things to do in Panama City, with my favorites being visiting the Panama Canal and just exploring the old part of town. Also, walk the Amador Causeway and enjoy dinner with a sunset over the ocean – it's beautiful!
3. Bocas del Toro
The view of the main island in Bocas del toro, Isla Colon
Ah, Bocas! The tiny island on Panama's Caribbean coast is famous for diving and snorkeling, incredible nightlife, and beaches! This tiny island is littered with backpacker hostels and small guesthouses but also presents a super relaxed vibe with few roads, and small speed boats being the only method of transport to get there.
There are lots of different things to do in Bocas del Toro, which is why so many spend so long there. You could easily spend a week at Bocas exploring different beaches, going to other islands, partying the night away, and of course, eating as much seafood as you want!
For people traveling Central America by land, Bocas is often their last stop in Panama on their way to Costa Rica. From Bocas, you can easily cross the Panama and Costa Rica border by land and make your way straight to Puerto Viejo.
Best Places to Visit in Costa Rica
4. Puerto Viejo
Riding on a beach in Puerto Viejo!
Puerto Viejo is a small town on the Caribbean Coast of Costa Rica. With lush jungle, amazing beaches, a wildlife rescue center, and vibrant nightlife, Puerto Viejo is easily one of the best places to visit in Central America.
Puerto Viejo is one of those destinations where you could easily spend weeks. There are tons of things to do in Puerto Viejo, however, simply relaxing at the beach can easily take up most of your time.
Whatever you do, be sure to visit the Jaguar Rescue Center. This non-profit organization rescues animals from the area and you can do a tour there that supports their efforts. If you're lucky, you might see a jaguar or baby sloths (like I did!)
5. Cahuita National Park
We watched this family of monkeys for hours in Cahuita National Park.
Only 20 minutes from Puerto Viejo is Cahuita National Park. Here, you can walk a trail through the park along the coast and enjoy beautiful views of the coast and jungle.
When we last visited Cahuita National Park we saw tons of wildlife too (which is what the park is most famous for!) We saw Howler monkeys, a snake, a tarantula, and even coatis! With so many opportunities to see wildlife, this beautiful park is one of the best places to visit in Costa Rica.
You can visit the park on your own, but for the best chance of spotting wildlife, it's best to book a guided tour. Guides carry binoculars and are pros at finding all of the unique wildlife in the park.
6. San Jose
Just one example of the greenery you can find in San Jose!
San Jose is the capital city of Costa Rica, and although not a beach destination, it is still worthwhile to visit. The huge range of things to do in San Jose makes exploring this city exciting and interesting! Drink craft beer, explore museums, join a city tour – you can definitely keep yourself busy for a few days in San Jose.
San Jose also has a large international airport which makes it a great place to start or end your travels in Central America.
7. Monteverde Cloud Forest
The forest is so beautiful!
Monteverde Cloud Forest Reserve is a unique destination in Central America. Located in central Costa Rica, Monteverde is the country's most famous cloud forest showcasing a misty jungle and a huge variety of wildlife.
Santa Elena is the name of the town closest to Monteverde Cloud Forest, and from here, you can actually explore a couple of different cloud forests in the area. The higher altitude of Santa Elena presents cooler temperatures and a nice escape from the typically hot beach towns in Costa Rica.
You can visit Monteverde and Santa Elena on a day trip from destinations such as San Jose. Or, if you have time, I suggest spending a couple of nights in the area. Hotel El Bosque is the cutest boutique hotel located only a few minutes from Monteverde. It is a peaceful nature retreat that I highly recommend!
8. Arenal National Park
What a view!
Arenal Volcano is a must-see destination in Central America and it makes up the majority of Arenal National Park. Arenal Volcano is considered one of the world's most beautiful volcanos with its perfectly symmetrical cone shape.
At Arenal National Park you can walk the many hiking trails to enjoy views of the volcano, or even go to waterfalls such as La Fortuna. You can also join zip-lining tours or relax in natural hot springs (with volcano views of course!)
To visit Arenal Volcano, you can choose to either spend a couple of nights in the very small town of La Fortuna (my recommendation since there are lots of things to do in La Fortuna) or visit on a day trip from San Jose. Either way, you'll love this beautiful landscape and it'll likely be one of your favorite places in Central America too!
Best Places to Visit in Nicaragua
9. San Juan del Sur
Daniel, going for a sunset swim in San Juan del Sur!
San Juan del Sur is a picturesque beach town, and easily one of the most popular places for tourists to visit in Central America. As Nicaragua's prime beach destination, luxury travelers, backpackers, and travelers in between all visit San Juan with hopes of living their best beach life.
Surfing in San Juan del Sur is one of the most popular activities. Beginners can take cheap surf lessons here or even join a multi-day surf camp (like we did!) Or advanced surfers can just head straight out, catching waves at different nearby beaches every single day.
But besides surfing, there are a few other fun things you can do in San Juan del Sur including hikes, parties, and so much more!
It's honestly one of my personal favorite places in Central America, and somewhere I will definitely be returning to for an extended amount of time one day in the future!
Related read: We've been traveling pretty much non-stop for 3 years now. Find out how we afford long-term travel in our blog article!
10. Isla de Ometepe (Ometepe Island)
Relaxing on Ometepe Island with one amazing view!
Another top destination in Nicaragua is the stunning Ometepe Island. This island is actually located smack dab in the middle of Nicaragua, in the middle of a large lake! Ometepe Island is actually made of two volcanos, and the towns on the island are spread out around the perimeter of the volcanos.
There are lots of different towns and villages around the island, and therefore, choosing where to stay in Ometepe can be a little challenging. My top choice though is the small village of Balgue, where you stay at the eco-conscious Totoco Eco-lodge.
Balgue is located nearly in the middle of Ometepe Island and makes for the perfect base for exploring all of the different things to do on Ometepe. Rent a motorbike and explore waterfalls, natural swimming pools, beaches, cafes, and of course, sunset lookouts! If you dare, hike to the summit of one of the volcanos!
11. Granada
The view from the Cathedral of Granada.
Granada is the most vibrant city in Nicaragua, and as such, one of the top places to visit in Central America! Located in central Nicaragua, Granada offers a range of both natural and cultural experiences for tourists to enjoy.
My personal favorite out of all of the different things to do in Granada was visiting the Masaya Volcano. Seeing molten lava in person from the top of the volcano's crater was a once in a lifetime experience!
Just on the outskirts of Granada, you'll find another one of the best places to visit in Nicaragua, Apoyo Lagoon. Stay at Paradiso Hostel or Laguna Beach Club for a peaceful escape from the city for a couple of days while enjoying the large crater lake.
12. Leon
That's me! Volcano boarding is the reason most people visit Leon.
Leon is likely Nicaragua's most underrated city. People often skip it, and those who do visit, usually only stay for a day or two to do the famous volcano boarding. Sure, volcano boarding in Leon is an absolute blast (and you should do it), but there are a few other worthwhile things to do in Leon too!
Check out the Basilica Cathedral and walk on the roof! The views from up there are very cool, plus, just walking on a cathedral's roof is pretty neat in itself.
Be sure to also go to the local market and eat lots of food! Leon has plenty of local restaurants, cafes, and pubs that you're sure to enjoy.
Travel tip: After Leon, you can choose to visit Honduras or just go straight to El Salvador. Read our blog about getting from Nicaragua to El Salvador for all of the info!
Best Place to Visit in Honduras
Honduras is the least visited country in Central America. In fact, many travelers skip Honduras completely. With that said, Roatan has an international airport and you could easily fly there for a few days to experience one of the nicest islands in the Caribbean!
13. Roatan
Roatan Honduras
Roatan, Honduras is one of the best beach destinations in Central America. Located on the Caribbean Coast, Roatan is an island off Honduras' northern coast that boasts crystal clear waters, amazing hotels, and restaurants, as well as incredible snorkeling and diving opportunities.
There are some all-inclusive resorts on Roatan that make for a great place to spoil yourself for a few days. Or for budget travelers, affordable guesthouses and hostels are also available.
Roatan is best reached by air. You can book direct flights to Roatan from various other places in Central America, making it a great little trip within your Central America travels!
Best Places to Visit in El Salvador
14. El Tunco
Heading into El Salvador from Honduras or Nicaragua, El Tunco is often where travelers first stop. While El Salvador is rumored to be unsafe and challenging to travel around, this couldn't be further from the truth in the town of El Tunco. It's a bustling tourist town complete with ex-pats who've called this place home for years.
In El Tunco you'll find lots of amazing places to stay and things to do. Go surfing (it's one of the best surf destinations in Central America), or simply just relax at the beach. This seaside town offers plenty of amazing restaurants to eat with views of the ocean, and its cobblestoned streets are filled with unique boutique shops and cafes.
15. Ruta de las Flores
Wandering the vibrant streets of Juayua, El Salvador.
After El Tunco, the next most popular tourist destination in El Salvador is the Ruta de las Flores. This name directly translates into "Road of the Flowers"- which is exactly what it is! The Ruta de las Flores is actually a small region in central El Salvador that consists of a handful of friendly and vibrant towns.
These towns are connected by one road which is famous for having blooming flowers all around it every spring. Seeing the flowers is the reason the area became famous, but it isn't the only reason to visit today.
The town of Juayua stole my heart. Their weekend food market was to die for offering more food than I could possibly consume, and vibrant parades seemed to never end. From here, I was able to hike to waterfalls and stay at wonderful little guest houses.
Of course, there are other towns to explore on the Ruta de las Flores, and you can simply catch the local chicken bus to get from one town to the next (and check out the flowers along the way!) Concepción de Ataco and Apaneca are a couple of my other favorite towns and well worth a visit!
16. Santa Ana Volcano
The view from the top of Santa Ana Volcano!
As we make our way out of El Salvador towards Guatemala, there is one last stop that you definitely don't want to miss. Santa Ana Volcano is one of Central America's most gorgeous volcanos, and you can easily hike to the summit and back down in just a day!
Located in Cerro Verde National Park, Santa Ana Volcano is best accessed on a day trip from the city of Santa Ana. For this reason, you'll likely need to book two nights in Santa Ana in order to spend a full day hiking Santa Ana Volcano. Otherwise, you can visit Santa Ana Volcano on a guided day trip from El Tunco or San Salvador.
Although somewhat steep, hiking to the top of Santa Ana promises amazing views of the surrounding landscapes as well as views into the blue lake of the volcano's crater. One word of advice though, be sure to hike on a clear day as when there's cloud cover, you might not see a thing!
Best Places to Visit in Guatemala
17. Acatenango Volcano
Our tour group at the summit for sunrise!
If you have time for only one hike while you're in Central America, make it the hike up Acatenango Volcano! From the top of Acatenango Volcano, you can clearly watch Fuego Volcano erupt every couple of minutes. – it's amazing to see!
The hike up Acatenango is usually done over two days on a guided tour where you spend the night camped up there. Tours depart from Antigua, Guatemala, and are really affordable.
Camping on Acatenango Volcano was a highlight of my Central America trip, and a must-do experience if you ask me! So, be sure to include it in your Guatemala itinerary!
18. Lake Atitlan
Boats are the main method of transport on Lake Atitlan.
Lake Atitlan is one of the most popular places to visit in Central America. This huge lake is nestled between volcanoes and surrounded by the most vibrant little towns you could imagine.
There are a ton of fun things to do in Lake Atitlan including hiking, yoga, kayaking in the lake, and so much more. Be sure to visit a few local restaurants, shop at the markets, and take in the stunning views as much as you can!
The only problem with visiting Lake Atitlan is deciding where to stay. With so many towns to choose from, it's hard to know where to stay in Lake Atitlan. With that said, most tourists base themselves in San Maros, San Pedro, or Panajachel and explore the other towns on day trips.
19. Semuc Champey
Not a bad place for a swim!
Located in Guatemala, Semuc Champey is a national park that features the most amazing blue pools and waterfalls. Seriously, the water is bright turquoise and it's stunning.
At Semuc Champey you can simply swim in the pools and relax. But don't spend all of your time there, be sure to walk up to the viewpoint too! From a couple of hundred meters above, you get a unique vantage point to enjoy this natural attraction.
For something a little more exciting, join a caving tour in Semuc Champey!
There are a few places to stay in the jungle very close to Semuc Champey such as Utopia Eco Hostel and El Portal De Champey. Both of these are places to relax, disconnect, and enjoy nature.
Alternatively, you can stay in the small town of Lanquin which is located only about 40 minutes from Semuc Champey. Lanquin is tiny, but there are a few good hotels including Guayaha, and El Retiro is a good option for backpackers.
20. Tikal
The main plaza at Tikal in Guatemala.
Tikal is one of the most impressive ancient ruins you can visit in Central America. Located in Guatemala not far from the Mexico border, Tikal is a Mayan ruin site that features five huge temples. One temple is actually 65 meters tall and is believed to be the tallest Mayan temple!
One of the things I like most about visiting Tikal is that in comparison to many other ruins around Central America and Mexico, it is not very busy. You can explore the ruins by walking through the jungle without seeing many other people around at all. In fact, you'll likely spot wildlife including monkeys and toucans!
The best way to visit Tikal is on a guided day trip from the city of Flores. I recommend spending at least 2 nights there in order to enjoy all of the other things to do in Flores. This way, you can also do a sunrise tour to Tikal, which is the best time for views, peace and quiet, as well as spotting wildlife!
Best Place to Visit in Belize
While there are a few interesting places to visit in Belize, in this blog I've chosen to write about just one – Caye Caulker. It is the most popular destination in Belize and where most travelers visit.
21. Caye Caulker
Caye Caulker, Belize
Caye Caulker was my last stop in Central America before crossing the border to Tulum, Mexico. This tiny island is often the place travelers visit in Belize. It's a sandy island with little to no roads, where the main method of transport is walking. You'll find people cooking up lobster on BBQs lining the streets, friendly street dogs, bumping bars and restaurants, and possibly the friendliest locals you could ever meet.
Caye Caulker is somewhat like a dream and going on a dive trip here is world-class. In fact, this is the island on which you can access the famous Great Blue Hole. Alternatively, snorkel trips on Caye Calker are very popular.
It's easy to get wrapped up in the island life here and feel as though you never want to leave. Somewhere between the crystal clear waters and an endless supply of cocktails and seafood, Caye Calker becomes one of the best places to visit in all of Central America!
Before you go…
Thanks for reading our blog, and we hope you enjoy all of the amazing places to visit in Central America!
Thanks for reading my blog and I hope it helped you nail down some must-visit destinations in Central America for your upcoming trip. Of course, if you need more detailed info, then keep browsing around our blog – we have dozens of in-depth guides to the best places to visit in Central America.
But for now, check out a couple of these related blogs below, they are a great place to start:
Backpacking Central America
Welcome to this backpacking Central America itinerary.
Lush rainforests, picturesque beaches, ancient temples, and more, Central America is a great adventure just waiting to be uncovered.
Whilst each of the seven countries are small and easy to get in and around, each packs a unique explosion of culture and vibe that will both surprise you and leave you wanting to know more.
Table of Contents
Backpacking Central America
This guide will explore all of the countries in their region, with a great one-month itinerary to make the most of your time there.
Read on to learn more about Central America!
Why Travel to Central America?
First, let's start by getting a couple of misconceptions out the way.
Many tend to dispute the continent of Central America, by lumping the countries here along with Mexico, the USA, and Canada.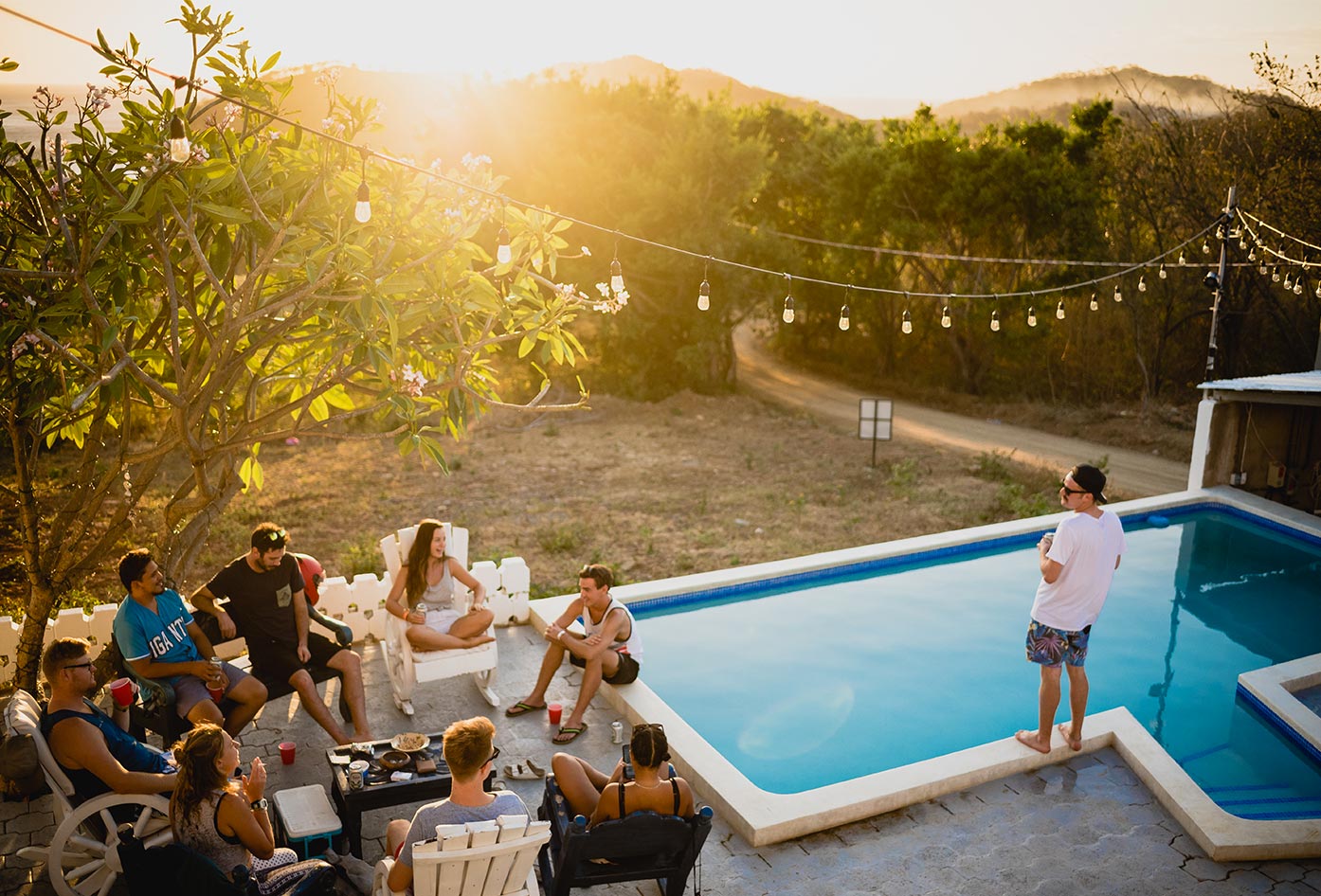 Whilst, geographically and politically, this may be true, once you arrive here you will feel a million miles away from the others!
Similarly, many see this region as a short stint or even as a "warm-up" before traveling around South America.
Do not underestimate this region.
You can easily spend up to a year here, especially if you are interested in uncovering the deeper cultures of the areas and learning Spanish.
Why travel to this region? First, you have the pristine, untouched beaches in Panama and Belize, and more off-the-beaten-path islands to explore.
Places such as the San Blas and Coiba island (both Panamanian territory) should be on any adventurer's itinerary.
Some of the best historic artifacts and sites of old Latin culture reside here, such as the pyramids of Tikal in Guatemala as well as the Copán ruins in Honduras.
Did someone mention tequila?
Central America is one big party, with both beachside towns that have some great vibes such as San Juan del Sur in Nicaragua.
As well as the untamed capitals that each have lots of events and things going on all year!
Map of Central America
When we compare other regions in Latin America, Central America seems tiny.
See the map above to see the countries part of this Central America backpacking itinerary.
Is it safe to travel to Central America
Whilst I love to get everyone excited to visit such an amazing part of the world, it's also my obligation to give an honest verdict on safety here.
First off, most news stations and broadcasters (which I have stopped watching) really make the area sound a lot worse than it is.
I think this unfair and actually harms the economies of these countries (which really depend on tourism to grow).
But there are some truths, which I will mention now.
The cities of San Pedro Sula and Tegucigalpa (both in Honduras) are among the highest in the world for violent crimes, so I would recommend only using these as passing points, or for flights.
You will most likely already be aware of the Darien Gap, which connects this region to South America.
The easiest ways of navigating are by flying over or via boat around.
Hiking through is not impossible, but with no unmarked hiking territory, there are the obvious risks, as well as being an autonomous zone with drug traffickers and rebels.
Central America One month Itinerary
Whilst I strongly recommend against packing lots of destinations into a small trip, it's obvious that not everyone will have time to travel around at a similar pace.
This one-month Central America itinerary starts up in Cancún, where you will enter Belize via the Chetumal border, and finish up in Panama City.
Of course, stopping at some of the best party hostels along the way.
This itinerary is very adaptable, and you can even fly out earlier or join up later via any of the international airports (usually the capital cities).
Read on to learn more about the best destinations in the region!
Backpacking Belize
We will begin our adventure in Belize, which shares its northern border with Mexico.
If you are already in Mexico see this backpacking Mexico guide to visit some places in the Yucatan area before heading down to Belize.
Belize is unique in that it is the only country where English is the primary language spoken, which makes communication and traveling around a lot easier for those who don't know Spanish.
The best way of entering Belize is either by flying into Belize City, or heading south from Cancun and crossing the land border (or by ferry, of which both are located in Chetumal).
Caye Caulker (3 Days)
This will be your first stop on this trip! Head to the island of Caye Caulker for some relaxing vibes, great snorkeling and plenty of tasty food.
This is one of the best areas to learn to dive, and for those who are the more experienced divers, you can't miss the blue hole, which in itself is an amazing spectacle to see.
You can, on the contrary, easily spend your time walking around the sleepy beachside towns and lounging on the beautiful beaches that are on offer here!
Places to stay in Belize:
You should also try to organize a boat to take you out to the other nearby islands like Cangrejo Cay, Caye Chapel, and San Pedro (the latter being more touristy with more nightlife options).
Get even more ideas on where to stay in Belize on this blog.
San Ignacio (1 Day)
Setting off early from Caye Caulker, you will only have one day to spend in San Ignacio, a small town situated near the border with Guatemala.
Once you arrive, you will have enough time to see the Actun Tunichil caves, which feature old skeletons and ancient Mayan artifacts.
You can also do some cave-tubing here which is great fun!
Backpacking Guatemala
Guatemala is one of the most popular countries to visit in the region, and is home to some really cool landscapes and attractions.
Markets, small cultural towns, volcanoes, mountains, jungles and beaches. You name it. Guatemala most likely has it!
This is also one of the best countries to settle down for a bit and pick up some of the Spanish lingo, where you will find many schools around the Antigua and Lake Atitlan areas.
Flores (2 Days)
From Belize, you will arrive in Flores, a town situated in the middle of the Petén Itzá lake.
Whilst the most popular visit is to the Tikal Ruins, one of the largest Aztec settlements in the continent, you should also spend some time around the town.
Aside from going from Flores to Tikal, I% recommend visiting Jorge's rope swing, which is based on a nearby island accessible only by boat.
It's owned by a really lovely family who will make your stay there really welcome!
Antigua (3 Days)
An hour away from the capital lies Antigua, which is a colonial town that offers cheap Spanish lessons and is close to the Acatenango and Pacaya volcanoes.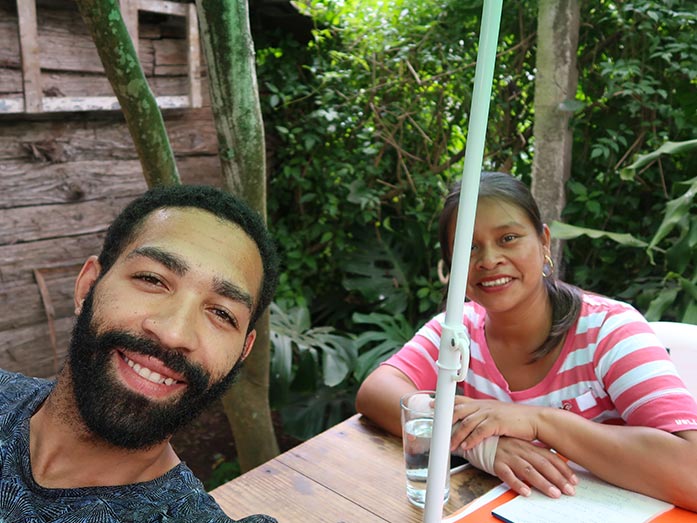 You will have three days to familiarise yourself with this "cobblestone town", and should definitely include a visit to the Chichicastenango market (the largest market in Central America) and a hike to one of the volcanoes nearby.
Lake Atitlan (2 Days)
Head to Lake Atitlan for some great scenery and lots of lakeside towns which each offer a unique vibe and cultural feel.
Base yourself in any of these towns such as Panajachel, San Pedro or Santa Cruz.
Be sure to visit others such as San Marcos, which has a very unique, bohemian feel.
Places to stay in Guatemala:
You will easily find a fisherman ready to take you wherever you want to go by the waterfront (the waves can get really choppy to be prepared!).
Backpacking Honduras
Next up we have Honduras. This will be your only day in the country with this itinerary!
If you want to spend more time (which I highly recommend – there are a lot more things to do here than just the ruins) then you can chop and change as you wish.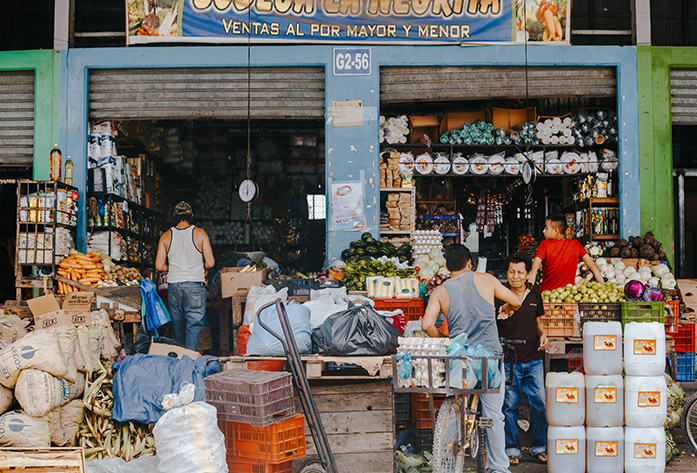 Another popular visit that is not included in this itinerary is the Bay Islands, which offer great beaches and diving if that's your thing.
See the honorable destinations section below to learn more about these islands!
Copán (1 Day)
Heading south from Guatemala, it's best to use the night bus to get most of the traveling done without "losing time".
Copán ruins offer a unique style of ancient Mayan architecture and is a nice stop off on the way to El Salvador.
Copán is also considered the most important cultural destination in all of Honduras. Hopefully, you had a good rest in Guatemala, as you will only be stopping here for a short while.
The bus towards Santa Ana will take around 4/5 hours.
Backpacking El Salvador
Out of all the countries on this list, El Salvador is without a doubt the "Venezuela" of Central America.
Many fear going here, and as a result, most itinerates of Central America, unfortunately, tend to skip this country.
El Salvador really is a beautiful country, and the security situation has improved considerably here in the last few decades.
Of course, still, use caution, but if you decide to visit then you will be pleasantly surprised during your time here!
Santa Ana (2 Days)
Home to an impressive stratovolcano, the second-largest city in the country has lots to do and see.
As well as a hike to the volcano, the region is infamous for its rich coffee, which is as good as if not better than the Guatemalan variety.
Be sure to grab some while you are here!
In the city itself, you should head to the Cathedral of Santa Ana, which is a gothic-inspired building that is neat to the eye.
Places to stay in El Salvador:
San Salvador (1 Day)
With just one day in the capital, it would be best to set off early to get the most in during your day here.
Once you arrive, your first stop should be to the Libertad Plaza when you can stroll and admire the history of the capital.
Next up you can check out the San Salvador Cathedral and the National Palace, which are both photo-worthy destinations (and very interesting for the history buffs out there).
Get ready for a long overnight journey, as the buses to your next destination will take you through two national checkpoints!
Backpacking Nicaragua
Nicaragua boasts a reputation of being one of the safest countries in Latin America, and also feels like the most "off the beaten path" due to its more rustic and less developed feel.
As well as housing some cool volcanoes, lakes and islands, Nicaragua is also home to the oldest city in all of Latin America – León, which is over 500 years old!
León (2 Days)
Having arrived from a (very) long overnight journey, you will be relinquished of any harsh activities on the first day.
Spend some time in coffee shops dotted on cobblestone streets of this old Nicaraguan gem, and see the old ruins of León Viejo.
On your second day, you should head to Cerro Negro, a large volcano that you can sandboard down the side of! You can easily book a sandboarding tour with your hostel, so just ask around to get on board.
Ometepe Island (2 Days)
Your next stop will see you staying on an island in the middle of the largest lake in Central American – Lake Nicaragua.
You can easily arrange a house stay here if you are interested in cultural experiences, and this area is one of the most popular to do so in all of Central America.
You can also hike up the Concepción volcano, as well as to the San Ramón waterfalls.
San Juan del Sur (3 Days)
A quick trip of two hours will land you in this Pacific Paradise!
Lounge around on the beaches, get stuck into some surfing (this is one of the best spots in Latin America) and make the most of the great nightlife options around here!
Playa Maderas is the more popular beach with lots of restaurants and amenities nearby, those who want a more off the beaten path option should head to Playa Marsella.
Backpacking Costa Rica
Arguably the most popular country on this list, and it certainly does not disappoint.
With many US citizens having moved here, the country is now a lot better built for tourists with improved facilities and transport options.
With this itinerary, you will be passing through quite quickly and will not spend so much time on the beaches, which you will be able to do later in Panama.
However, you can see in the recommended section some beaches to see in Costa Rica if you want to change up this itinerary!
Monteverde (3 Days)
Up in the north of the country lies this cloud forest, which is home to an abundance of wildlife with over 100 species of mammals and over 160 of reptiles, making it one of the most endemic areas on earth.
Some popular animals to spot range from howler monkeys and sloths to toucans and jaguars!
It is well worth the time to hike around and spot nature, and you can head to some off the beaten path beaches on the Pacific coast if you fancy.
Places to stay in Costa Rica :
Also with the generous time you have here, you can easily take a day trip down to La Fortuna and visit the Arenal Volcano National Park.
San José (2 Days)
The capital of Costa Rica has a much more cosmopolitan feel than the other capitals in this region.
As well as visiting different museums here, you can also head off to nearby Jaco as a day trip for more surfing.
The Juan Santamaría international airport is located here and is one of the best connected in the region.
So, if you decide to start or end your backpacking Central America trip here, then this option will offer much more affordable and accommodating flights. See this Costa Rica planning guide for more.
Backpacking Panama
Now we arrive at the last country on our trip. Panama is a great country to visit, which is one of the safest as well as developed in certain areas due to US influence and tourism.
As promised you will have your beach time here, and if traveling onto South America then I highly recommend doing the 5-day boat tour to Colombia, which stops off at the San Blas islands.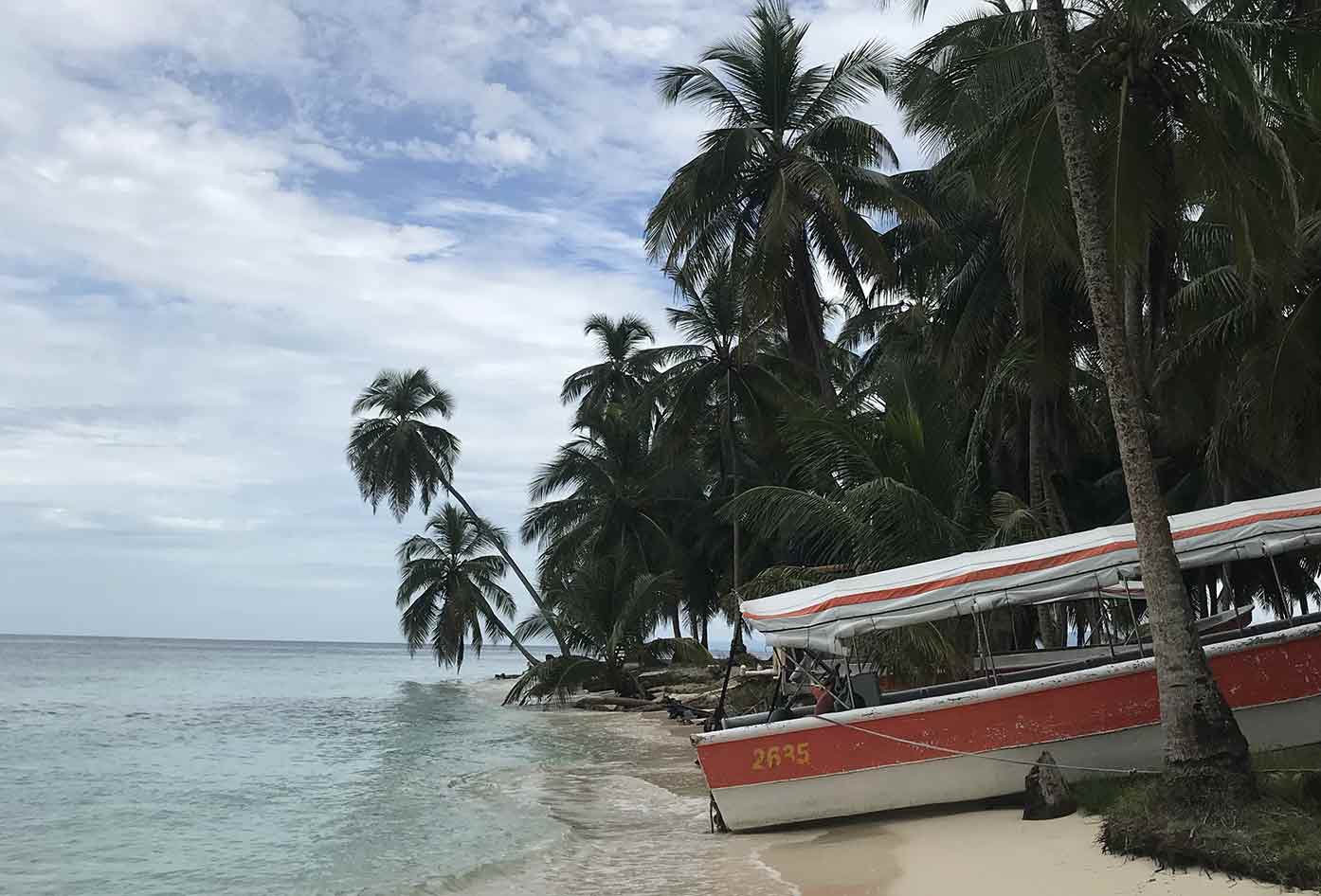 Bocas del Toro (3 Days)
This archipelago is made up of lots of small islands, which is located just off the west coast, close to Costa Rica.
Head to Isla Zapatillas which is more off the beaten path which features great beaches and chances to spot dolphins.
Also, visit Isla Bastimentos, another island here with many unspoiled beaches.
Head to Red frog beach which, unsurprisingly has lots of red frogs nearby and also many coves which give a more private beach experience to those who would like that.
Panama City (2 Days)
Your last stop on the trip! You will probably want to take the night option, as the total travel time is well over 10 hours.
You can also fly cheap using some of the domestic airlines.
Head to the infamous Panama Canal, which sees hundreds of boats passing every day.
Don't miss Panamá Viejo, which is the old historic quarters of the former capital city and is a listed World Heritage Site.
Onwards from Panama City you can fly into Colombia, or take (the much better option in my opinion!) boat tour which visits the San Blas islands on the way to Cartagena.
Places to stay in Panama:
The San Blas are protected as the Kuna tribe still inhabit them to this day, who is also one of the last remaining indigenous tribes in all of the Caribbean.
Central America Travel Tips
In all the backpacking guides on Layer Culture, I do my best to update them and add travel tips that you can use.
Please see below for some useful information that is worth considering before you go.
Best time to go to Central America?
Whilst every country is a little different, a good reference point for travel is the dry and wet seasons.
The dry season generally runs from January to March, where there is less rainfall.
For Honduras, Nicaragua, and Panama this stretches further from November to April, which gives greater flexibility when planning a trip to these regions.
There are advantages for a visit during the wet season, however.
As well as more beautiful scenery (more bright green and higher water levels in rivers), you will also avoid the busier tourist seasons and the height of the cruise season which runs from February till' April.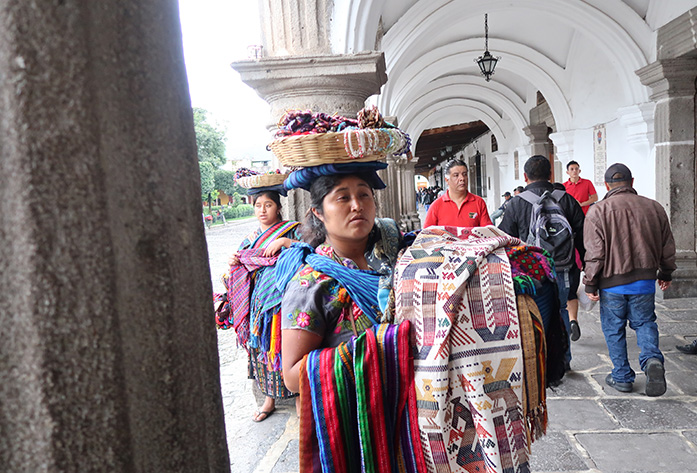 Vaccinations
Disclaimer: I am not a doctor nor am I certified to give medical information in any way. Advice should be sought by with your doctor.
Central America requires quite a few injections, as a lot of the region is still a lot less developed than parts of the Western world as well as some of the regions being quite remote.
Recommendations include Typhoid, Rabies and Hepatitis A and Hepatitis B.
For those who are traveling from South America (and other parts of the world) may need proof of a Yellow Fever Vaccine to enter certain countries.
Speak to your doctor to get more information and be sure of what you need!
Travel Insurance for Central America
I always recommend backpackers and travelers (no matter who you are) use World Nomads Insurance for fully comprehensive cover.

If you are due to travel soon, you can get a Get A Free Quote by clicking the link or the image above and filling out your details – that way you'll get instant cover from the exact date that you choose.
On many occasions World Nomads has provided me with reliable insurance cover for travel in Latin America and the rest of the world.
Now, having mentioned that we'll look at some of the must-see places in Central America, you can see a list that I have made below.
I wrote some more places in another guide which I have linked to below:
Best Places to See in Central America
Admittedly, the above itinerary is very fast-paced and will miss out on some other amazing destinations.
If you have more time, consider adding these to your travels in Central America.
Lanquin (Guatemala) – Located in the central region of Guatemala, Lanquin is a nature lovers paradise.
Far from the cities, you can take a multi-day tour to Semuc Champey (if time permits), a crystal-clear blue river that you've most likely already seen on Pinterest.
The Bay Islands (Honduras) – Off the eastern coast of Honduras lies Roatan, Utila, and Guanaja. Utila is the most popular choice among backpackers, with hostels and more budget-friendly options set up there.
Utila is also one of the best (cheapest!) areas in Latin America to grab your driving license, and even then just snorkeling around the island will reward you with beautiful, crystal-clear views.
Limon Province (Costa Rica) – This is where you want to go for the beaches. Puerto Viejo is infamous for its Afro-Caribbean culture, and for more off the beaten experiences you should head to Cahuita and Tortuguero (the latter also features a national park infamous for nestling turtles).
Coiba Island (Panama) – What used to be a prison island is now a paradise for divers and hikers alike.
With clear water on the Pacific side of Panama, there are also many hiking trails where you can really get out and feel like you are on the beaten path.
The easiest way to get here will be from Panama city, where you will then head to Santa Catalina and catch a boat to the island.
Backpacking Central America
Having read this article you hopefully have a better idea regarding destinations in Central America, the best time to go, keeping safe as well as an awesome one-month itinerary to get ideas flowing.
Adjust the itinerary as you need, and of course, aim to spend longer there so you can see more of the real regions.
Central America is beautiful, and once you travel around you will wonder why people are so scared to even go. Don't be one of those people!
Read more on Central America travel for a plethora of advice, tips, and itineraries for exploring the rest of the region.
Like this article? Pin it…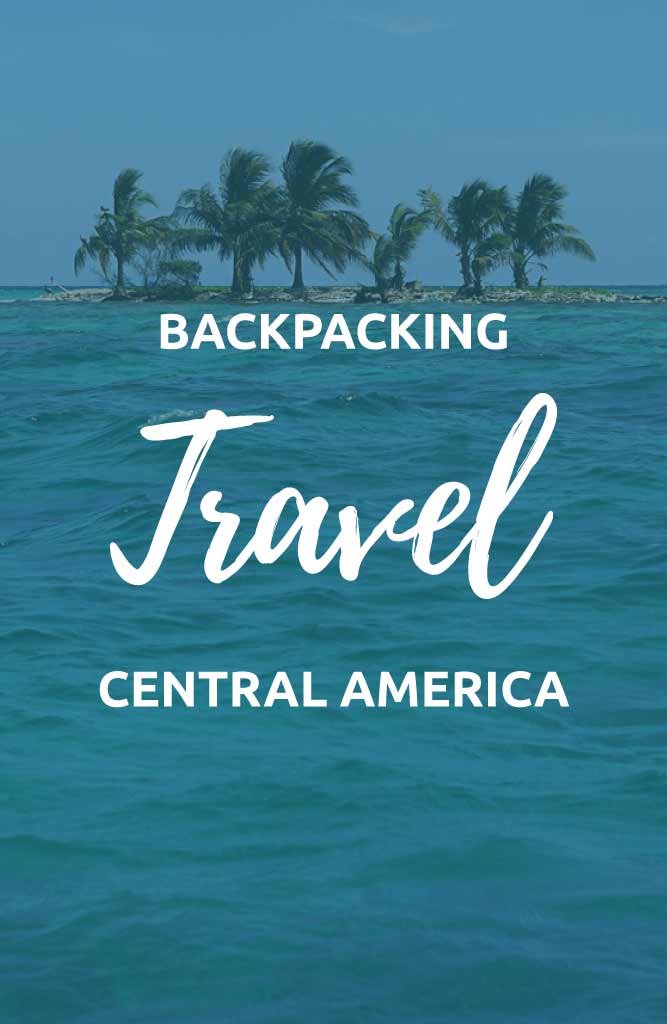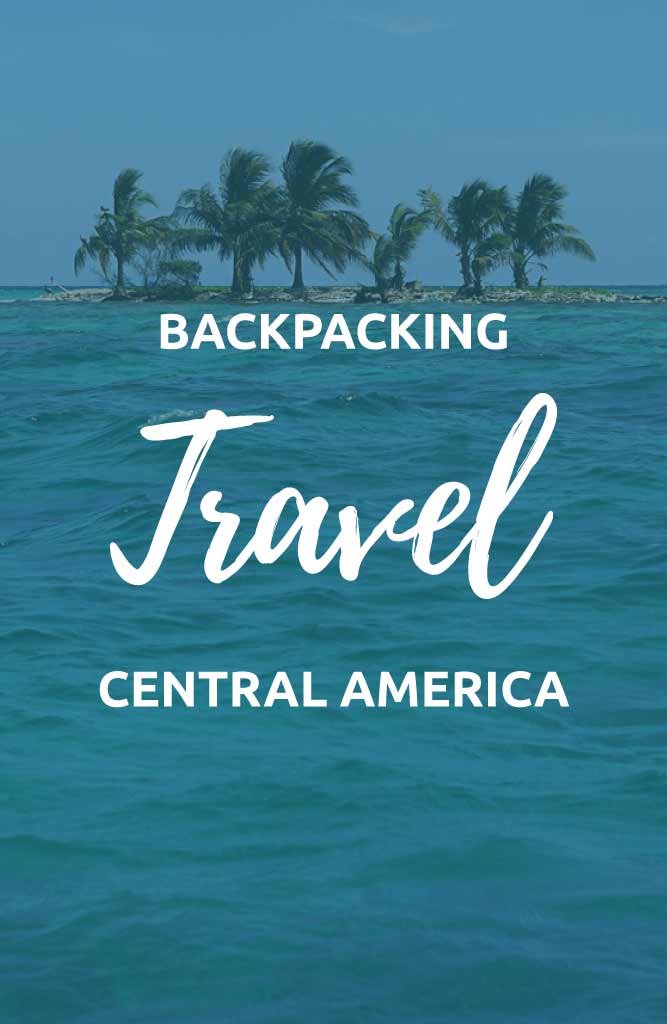 Missing something? Got tips, tricks & advice we can learn from?
Leave a nice comment or let's start a conversation below!
" Dear friend! Some links in this post contain affiliate links. Meaning, if you click through and make a purchase, book a hostel or sign up for a tour, I may earn a small commission at no additional cost to you . Your support means a lot and helps me to keep traveling and maintaining the quality of this site for you."
Daniel James
Helping thousands of people worldwide with independent travel in Latin America. Layer Culture means to dig deeper into the ideas, customs, and behavior of a group of people.
Primary Sidebar
Meet Dan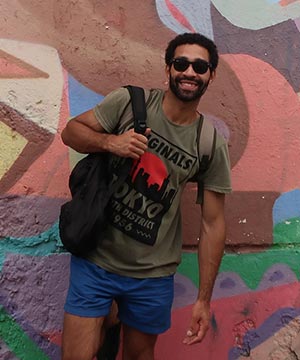 After spending years on the road Dan is now offering to help you find your feet in Latin America; inspire you to learn Spanish and get you started on your adventures. Learn how to travel longer and stronger!
Source https://www.nomadicmatt.com/travel-guides/central-america-travel-tips/#:~:text=Other%20Things%20to%20See%20and%20Do%20in%20Central,Dive%20the%20Great%20Blue%20Hole%20…%20Meer%20items
Source https://destinationlesstravel.com/best-places-to-visit-in-central-america/
Source https://www.layerculture.com/blog/backpacking-central-america/