Best Places to Travel with Kids in South America | Travel Tips
Hands down, the best places to travel with kids are in South America. If you're planning your next family holiday, and are looking for relaxation and adventure for all your family members, I recommend South America as your next family trip destination. The countries of South America have so much to offer that will entertain big and small ones in your family. Plus, South American culture is famous for being very family oriented so all children are more than welcome in each country.
Additionally, if you opt for a customized travel package, you don't have to worry about rushing with a group and can focus on your family's needs and preferences. It can be a nice, enjoyable vacation you have always imagined, where your kids will not get bored throughout the tour. Get started and read below for our expert-rated list of the best places to travel with kids in South America.
1. Peru
Perfect for nature, food, and adventure
Why visit Peru?
Peru is one of the first countries in South America that everyone wants to visit. Why is that? The reason is simple. Peru has it all – history, nature, culture, food, and adventure. In just one week you can get familiar with the highlights and see many unique places that cannot be seen elsewhere.
What to do in Peru?
There are plenty of things to do with kids in Peru. After you dedicate some time exploring the ancient ruins and history of Peru, it might be a good idea to choose something a bit more kid-friendly. Lucky for you, the options are endless. Your kids might be bored in a traditional museum but will they be bored in a chocolate museum? Both Lima and Cuzco have ChocoMuseo that organizes chocolate workshops where your kids can create their own piece of this coca delicacy. And, really, who doesn't love chocolate?
Peru also has vast areas of nature and wildlife perfect for active children and teenagers. The landscapes in Peru are one big green playground for kids. For example, Machu Picchu is a memorable family vacation as it might feel like an Indiana Jones adventure, and visiting one of the Amazon lodges can be like a story from "The Jungle Book" movie. Also, Peru Amazon Cruises, such as the Delfin, are very child friendly and prepare special activities for little ones like night safaris to spot caimans, zip-lining, kayaking, and visiting a parrot clay lick.
Lastly, kids will definitely enjoy their time in Sacred Valley. They can opt for horseback riding or soft adventure biking which can be organized for a whole family as well. Smaller kids will be excited to see and even touch or feed numerous animals like llamas and alpacas raised on local farms.
Best Peru Tours for Kids
2. Colombia
Perfect for relaxing on the beach, horseback riding, and butterfly spotting
Why visit Colombia?
A family vacation to Colombia might be a perfect choice for those families from the US or Canada that are looking for shorter flight connections and avoid long hours on planes. In just some hours you can enjoy your family vacation on one of the most beautiful Caribbean beaches relaxing your toes in turquoise waters watching your kids playing in the sand. Sounds like a dream and Colombian hospitality can make it come true.
What to do in Colombia?
The first thing I would do in Colombia is visit a coffee region. The coffee region is just a short flight from the capital city of Bogota. This area of Colombia offers numerous farm type accommodations called fincas where you can enjoy the peace and quiet with outdoor activities that often include swimming, hiking, horseback riding, visiting coffee plantations, or even zip-lining among the coffee trees!
While you're in the region, there are two locations that are definitely worth visiting. One is the National Coffee Park in the Quindio department which is not only a huge area of exotic vegetation but also offers many attractions like coffee boat rides, coffee trains, carousels, and aquatic mountains. The whole family can enjoy ecological walks and picnic areas here. The second is the Botanical Garden and Butterfly Farm. Your kids can wander around this place for hours running around gardens of flowers, exotic trees, and over 50 species of butterflies.
Also, if your type of holiday is a beach holiday you can take your kids to enjoy the Colombian coast of Tayrona National Park or one of the Rosario Islands close to Cartagena. Some hotels offer special facilities for children like little playgrounds, toddler pools, kid-friendly dining, or in-room childcare.
Best Colombia Tours for Kids
3. Argentina
Perfect for countryside adventures and meeting the cowboys
Why visit Argentina?
Argentina is one of the most fascinating places in the world and many people visit Argentina first when choosing to go to South America. The country oozes romantic cities, incredible landscapes, and delicious food and culture. While it's true that Argentine wine or Tango shows might not be the best option for kids, there are plenty of other options completely family-friendly. As a matter of fact, if you venture outside of the city to the countryside they will be more than grateful.
What to do in Argentina?
There are plenty of things to do in Argentina with the family. You can opt for a day trip from Buenos Aires to see the gaucho ranch (typical Argentine cowboy farm) or even stay at one of the farm hotels so your kids can enjoy horseback riding, carriage rides, cattle farm visits.
For another adventure close to Buenos Aires, you can take the kids to the Temaiken Biopark. It's a unique place where your kids can learn about the relationship between humans, animals, and plants. This big green space covering over 179 acres offers not only bird watching but also such fun activities like participating in milking cows, feeding calves, petting goats.
For those of you who want to visit Iguazu Falls, you're in for a treat as it's a perfect place to take kids. They will love the boat ride under the falls and seeing various exotic birds and cute coati animals walking around. If your children are a bit older, stay at the Yacutinga Lodge. The idea of the lodge is to show its visitors some unique examples of fauna and flora but also just to relax in a natural environment by the pool, taking small hikes, canoeing.
Lastly, if you wish to visit Patagonia (as many of us do), choose to explore the Puerto Madryn area. Puerto Madryn is ideal for kids. You can see penguins, sea lions and spot whales!
Best Argentina Tours for Kids
4. Galapagos Islands
Perfect for wildlife spotting and snorkeling
Why visit the Galapagos?
Many of you might wonder if Galapagos Islands is a good place to visit with kids? The answer is yes! It's a great place to travel with kids in South America. If you are concerned about taking your children on a boat you can simply stay in one of the land hotels and spend sufficient time there to see some animals and also enjoy your time by a pool or on a beach.
What to do in the Galapagos?
Typically, the best things to do in the Galapagos consist of wildlife spotting and water-based activities. With kids, we recommend visiting Santa Cruz Island – it's quite easy to get to and it offers various accommodations with good access to white sandy beaches and daily excursions to see famous giant tortoises.
Though, no matter which island you visit, the whole family can enjoy the Galapagos as it's like a big open zoo for children and for parents a great opportunity to visit unique places and get some professional knowledge about endangered species living there. You can opt for kayaking or snorkeling to see some marine iguanas or the Galapagos penguins. Also, if you have brave children you can ask them if they wish to swim with the sea lions.
If you need to spend some time exploring Quito before heading to the Galapagos Islands don't rush. The capital of Ecuador is a great place to visit as well. There are some nice amusement parks for children including the museum of water. Or you can take your family for a full day tour to Mindo Cloud Forest including a chocolate factory visit. Mindo is great for spotting hummingbirds, butterflies, zip-lining, hiking.
Best Kid-Friendly Destinations in South America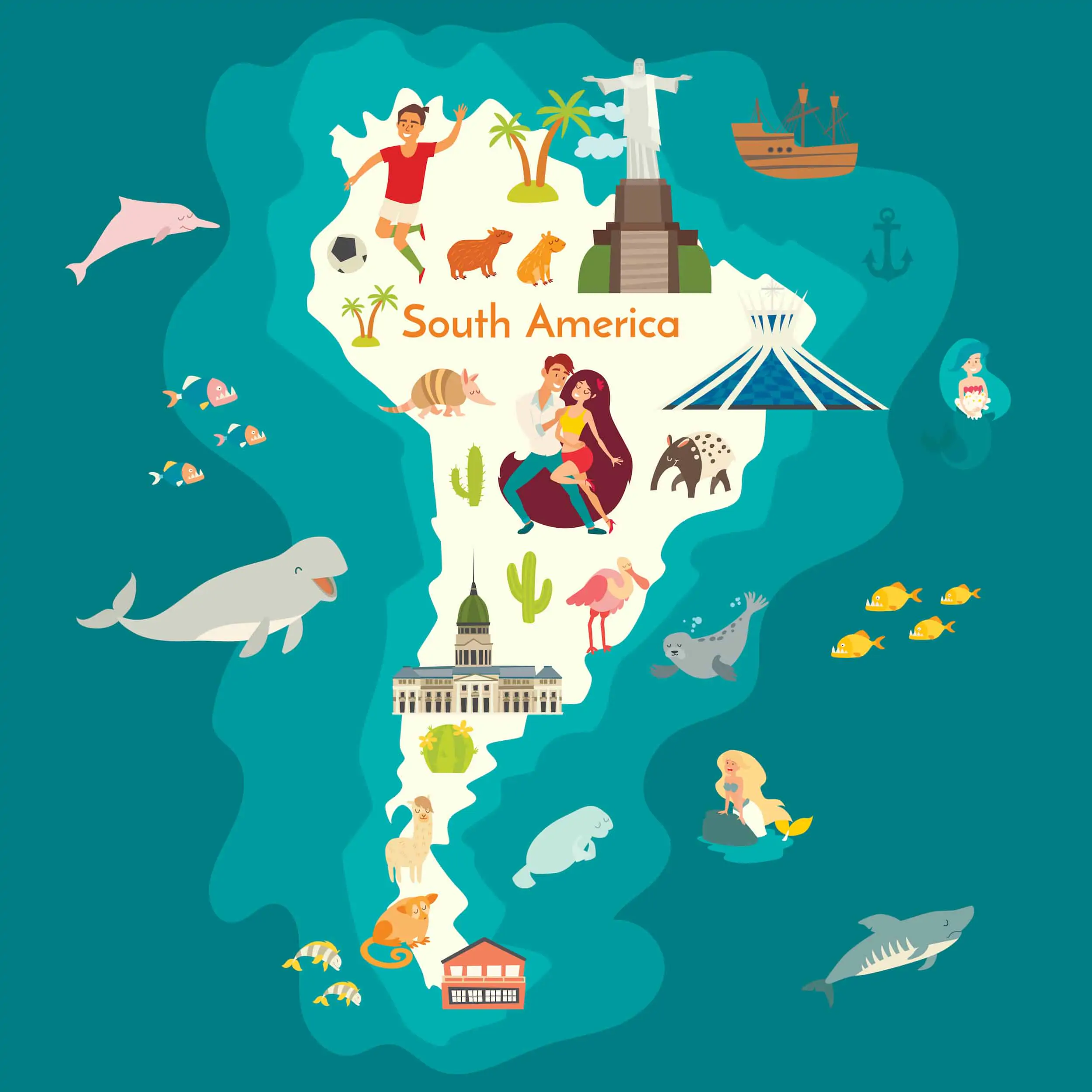 On the search for the best kid-friendly destinations in South America? From Ecuador to Argentina, here are the places you are going to love.
Buenos Aires, Argentina for Families
You could spend a month just exploring the enchanting streets of Buenos Aires. With its stunning architecture and buzzing cafés, you might feel like you're lost in Paris. The real joy in visiting the Argentine's capital city is simply in soaking it all in. Spending your time wandering around, biking through the parks, and soaking in the sun at the playgrounds.
When you're ready to get out of town, explore the incredible line of 275 waterfalls that line the border of Brazil and Argentina at Iguazu Falls. To really dive into the natural beauty of the country, explore Patagonia. Hike Andes Mountains, swim the lakes, and bike through the fjords and glaciers.
Planning Tip: You will find some of the best kid-friendly destinations in South America on the southern side of the continent, in part, thanks to their low crime rates. Countries like Argentina, Chile, and Uruguay have crime rates similar to Europe (which typically sees about half the crime you'd see in the U.S.).
Kid-Friendly Montevideo, Uruguay
Bordering Brazil and Argentina, you'll find one of South America's hidden gems: Uruguay. The capital city of Montevideo is a seaside dream. Lounge at some of the best beaches on the planet then explore the friendly city as you sample the incredible cuisine. This relaxed city is easy to navigate and family-friendly throughout.
Wander down the Rambla of Montevideo (fun fact: this is the longest continuous sidewalk in the world) along the coast then mingle with the locals at the Mercado Agricola on your way to the Montevideo Plaza Independencia.
Want to go all out this year? Punta del Este is a swanky destination that where you can find a wide array of luxe beachside resorts. For a more laidback pick, the second-largest city, Salto, is another great option for families who want to get a look at authentic Uruguayan life.
Planning Tip: Uruguay has the longest Carnival season in the world. Considering visiting between January to mid-March to take part in this incredible celebration.
Family Adventures in Quito, Ecuador
Ecuador has a fascinating culture and diverse landscape. Best of all, it is an incredibly family-friendly place where the locals are charmed by children. You'll find that kids enter the majority of places for free and it's not unusual for shop owners to give little gifts to their smallest customers.
Take the time in Quito to explore the Museo Templo del Sol Pintor Ortega Maila to learn about indigenous art and culture. When the kids need to get some energy out, explore Parque Metropolitano, a vast space with plenty of room to play and explore.
Outside of the city, the flawless beaches of Machalilla National Park and the dense forest of Podocarpus National Park are well worth the trip. Of course, for nature lovers, the true superstar is the Galapagos Islands. An absolute bucket list destination, kids of all ages will be completely blown away by the incredible wildlife here.
While the Galapagos Islands is certainly one of the best kid-friendly destinations in South America, do be aware that it requires a lot of travel just by its remote nature. There are daily flights from Quito, which take about two and a half hours. You can typically expect a layover though so plan for a fairly full day of travel. Once you get to the island, also note that most days you'll be exploring by car and boats to see the different areas of the islands. There are definitely kid-friendly tour options (and the kids can learn SO much there!) but if you have very young ones who struggle with longer days, plan ahead.
Visiting Machu Picchu With Kids
Machu Picchu is another once in a lifetime destination. You can make it a highly active trip so if you have young ones who could spend hours running around, you'll find great options here. On top of being a cultural wonder, it is a top-notch hiking spot.
As soon as you start planning, you will see, there is usually a hard path and an easy path at different stages in the journey. If you have younger kids, and even a little one still in a carrier, you can find doable options. There are easy-to-walk paths and you can be drop off right at the entry.
At Machu Picchu, there are three areas to visits (and you will see these as the three ticket types). There is the citadel ruins, Machu Picchu Mountain, and Huayna Picchu option. The most kid-friendly pick is the citadel ruins. It is arguably the most interesting option and generally just the most accessible.
When it comes to getting to the site, your easiest route will be to take the train out of Cusco. That will take you to the Urubamba Valley. From there, there is a range of options for buses that will take you straight to the entry.
Check out our article on Safe Latin American Destinations.

Considering staying north of the border? Try a different time of trip! Here are the very best US Train Travel Adventures.
Howlanders
If you love to travel, have children, and would like to discover Latin America, you are in luck! At Howlanders we know that enjoying your passion with the ones you love the most is a pleasure. That's why, and because there is no minimum age to start discovering the world, in today's post we have prepared a series of ideas in different destinations to travel with kids in South America.
Why travel with kids in South America?
Not only for the little ones but traveling is a way to learn about life for everyone at any age. However, Latin America is a perfect destination to go with children, as they will have the opportunity to enjoy, have fun and learn different lessons at the same time.
It is a destination to mingle with a wide variety of cultures. Therefore, children can interact with other children accustomed to a very different life and learn from traditions that in other destinations they would not do.
Besides, We are sure your kids love animals, right? There is nothing more fun than the moment when a child meets a llama on a trip to Machu Picchu or is amazed by the giant tortoises in the Galapagos Islands.
We won't keep you waiting any longer! Here you have some activities that you can find in different countries if you decide to travel with kids in South America.
Kid-friendly activities in Ecuador
Horseback riding
One of the many things to do with children is horseback riding through the volcanic lands. Today, there are many traditional cowboys in Ecuador who keep cattle on the high slopes and this often catches the attention of the little ones.
Visiting an active volcano
If you're not interested in horseback riding, you can take a ride up one of the many living volcanoes of Ecuador. They may be too young to ascend the Chimborazo volcano, but you can always go for a visit to Cotopaxi National Park, which is about an hour from Quito.
Adventure tourism in Baños
If your kids are a little older, Baños would be a great place to visit. There you can go rafting, mountain biking, rock climbing and a lot of activities.For those who are a little less adrenaline junkies, a moment of relaxation in the thermal bath under the Tungurahua volcano might be more palatable.
Ecuador has a coastline with beautiful beaches and areas that are ideal for surfing, snorkeling and whale watching, which is ideal for families who love the sea.
That's why a trip to the Galapagos Islands is a perfect idea if you're the type who loves to soak all day on vacation. Besides, in this place there are a lot of animal species not found anywhere else in the world.
Live an adventure in the jungle
If instead of the beach, you are more of an adventure lover, you must visit the Cuyabeno Reserve. Here, you can feel in the middle of a Tarzan movie by sleeping in a lodge, eating typical local dishes or discovering animals.
Don't worry, there are expert guides to take care of all of you and explain the flora and fauna of the area. Surely the children will be surprised by the tree frogs or the Epiphyllum cactus.
Discover Machu Picchu
Traveling in Peru with children is quite easy and comfortable. An essential stop for the whole family is Machu Picchu. You can travel there on one of the most famous trains and also discover all the things to do in Cusco, the Inca capital.
Visiting Manu National Park
Peru has great wildlife and a huge area of jungle. It has been declared a World Biosphere Reserve and with a tour to Manu National Park you will discover endangered species such as the giant river otter, the black caiman or the jaguar. In addition, children can learn about the different ecosystems of the area.
Although if what you want is a real jungle adventure….travel to the Iquitos jungle is amazing.
You will be able to see pink dolphins, monkeys, and caimans while exploring the rivers by boat. During your stay in the jungle of Iquitos, you will live with a native community who will teach you about the customs of the jungle.
Sailing Lake Titicaca
Lake Titicaca is the highest navigable lake in the world, and another must-see on your trip to Peru. Sailing on Lake Titicaca, children can observe the culture of the islands and also the daily life of the inhabitants who still live there.
With children in Bolivia
View real dinosaur footprints
Bolivia has its own 'Jurassic Park' and is ideal for children to learn about dinosaurs in the Cretaceous period: Torotoro National Park. It is a dinosaur park where you can observe real footprints dating back 120 million years ago.
Playing with perspective in the Uyuni Salt Flat
The Uyuni Salt Flat is the largest salt desert in the world, and there creates a very funny mirror effect for creating original photos. In addition, you can visit a train cemetery and Incahuasi Island, inhabited by giant cactus (keep an eye on kids!).
Moreover, travelling to the Salar de Uyuni with children is perfect because with the organised tours you only have to worry about going and enjoying yourselves.
La Paz is a bit chaotic city, but using the Cable car and touring from end to end is sure to attract the attention of the little ones. Flying over the streets on such a characteristic means of transport is something that everyone will love.
Family holidays in Mexico
Having fun in Riviera Maya
The Riviera Maya is a great place for families due to the large number of child-friendly resorts. You can visit Tulum and its beautiful beaches along with archaeological sites for the little ones to enjoy.
One of the must-do activities is to visit Chichen Itza, one of the wonders of the world. Most tours combine this stop with a dip in a sacred cenote where everyone will have a great time, not just your children.
If you're travelling with children in Latin America, Chile could be a perfect destination. It is ranked as the safest country in South America and one of the 25 safest in the world.
Stargazing in San Pedro de Atacama
Did you know that San Pedro de Atacama is one of the best places in the world to see the stars? Surely your children have dreamed of being astronauts, and taking an astronomical tour in this place will be a sure hit.
Surprised by the Moais on Easter Island
In Chile there are many national parks to visit that children tend to love. Rano Raraku, located in the Rapa Nui National Park on Easter Island, is one of them and the little ones will be amazed by the giant statues that inhabit the place, the moais (no wonder!).
Driving in Latin America: Is it safe? Best and worst countries to drive in One of the best ways to get to know a country, whether travelling solo or with someone else, is on the road. Being able to drive by ourselves allows u.
Places to experience an amazing carnival in Latin America Streets are full of colours, costumes, dances, joy. We know you've been waiting all year for these dates to arrive and it's no wonder. it's carniv.
The most photographed places in Latin America Thinking about your next adventure with your camera? Latin America has infinite corners where you can discover the beauty of travel. If you love photo.
Amazon jungle: most impressive places to sleep The Amazon rainforest is the largest in the world, occupying more than six million square kilometres along the Amazon River, also known as the "lungs .
Source https://www.southamerica.travel/south-america/news/best-places-to-travel-with-kids
Source https://totochie.com/best-kid-friendly-destinations-in-south-america/
Source https://www.howlanders.com/blog/en/south-america/travel-with-kids-in-south-america/