21 BEST Places to Visit in Central America
This blog may contain affiliate links. Read our disclosure policy for more info.
Central America is one of the most exciting places to travel in the world. This tiny region really has it all including world-class beaches, iconic volcanoes, and vibrant culture.
But with so much to offer, it can be hard to know where the best places to visit in Central America are.
For that reason, I've written this blog. After spending a few months exploring Central America thoroughly, I've chosen the 21 best places to visit. These are the most unique and famous attractions in Central America that are sure to impress any traveler!
Note: I did not include Mexico on this list (some consider Mexico to be part of Central America and some do not.) For simplicity's sake, I've focused on the 7 main countries that make up Central America. If you want more info on traveling to Mexico, we have that too!
Where are the Best Places to Visit in Central America?
This blog includes 21 specific destinations in Central America that I think every tourist should check out! The map above shows where exactly each destination sits geographically.
To me, it also shows a very clear travel route for those looking to plan their Central America itinerary! And just in case that's what you're looking for, I've written this blog in order so that someone traveling by land from Panama all the way to Belize!
Best Places to Visit in Panama
1. San Blas Islands
The San Blas Islands are so beautiful they have to be seen to be believed!
The San Blas Islands are at the top of most people's Central America bucket-list. This group of tiny islands off the Caribbean Coast of Panama makes for the perfect island-hopping adventure! In fact, many people travel by boat from Colombia to Panama via the San Blas Islands.
However, you can also just go on a trip to the islands from Panama and return back to Panama. Tours from Panama City are also available. Just be sure to book a multi-day tour as you're going to fall in love with island life and wish you never had to leave!
2. Panama City
Mirrador Cerro Cedro in Metropolitan National Park, Panama City
Panama City is the most modern city in Central America. With skyscrapers and luxury hotels as far as the eye can see, Panama City looks almost like a cross between Miami and Las Vegas. Spoil yourself and stay in one of Panama City's most luxurious hotels on the strip for an extra special experience.
There is also a range of different things to do in Panama City, with my favorites being visiting the Panama Canal and just exploring the old part of town. Also, walk the Amador Causeway and enjoy dinner with a sunset over the ocean – it's beautiful!
3. Bocas del Toro
The view of the main island in Bocas del toro, Isla Colon
Ah, Bocas! The tiny island on Panama's Caribbean coast is famous for diving and snorkeling, incredible nightlife, and beaches! This tiny island is littered with backpacker hostels and small guesthouses but also presents a super relaxed vibe with few roads, and small speed boats being the only method of transport to get there.
There are lots of different things to do in Bocas del Toro, which is why so many spend so long there. You could easily spend a week at Bocas exploring different beaches, going to other islands, partying the night away, and of course, eating as much seafood as you want!
For people traveling Central America by land, Bocas is often their last stop in Panama on their way to Costa Rica. From Bocas, you can easily cross the Panama and Costa Rica border by land and make your way straight to Puerto Viejo.
Best Places to Visit in Costa Rica
4. Puerto Viejo
Riding on a beach in Puerto Viejo!
Puerto Viejo is a small town on the Caribbean Coast of Costa Rica. With lush jungle, amazing beaches, a wildlife rescue center, and vibrant nightlife, Puerto Viejo is easily one of the best places to visit in Central America.
Puerto Viejo is one of those destinations where you could easily spend weeks. There are tons of things to do in Puerto Viejo, however, simply relaxing at the beach can easily take up most of your time.
Whatever you do, be sure to visit the Jaguar Rescue Center. This non-profit organization rescues animals from the area and you can do a tour there that supports their efforts. If you're lucky, you might see a jaguar or baby sloths (like I did!)
5. Cahuita National Park
We watched this family of monkeys for hours in Cahuita National Park.
Only 20 minutes from Puerto Viejo is Cahuita National Park. Here, you can walk a trail through the park along the coast and enjoy beautiful views of the coast and jungle.
When we last visited Cahuita National Park we saw tons of wildlife too (which is what the park is most famous for!) We saw Howler monkeys, a snake, a tarantula, and even coatis! With so many opportunities to see wildlife, this beautiful park is one of the best places to visit in Costa Rica.
You can visit the park on your own, but for the best chance of spotting wildlife, it's best to book a guided tour. Guides carry binoculars and are pros at finding all of the unique wildlife in the park.
6. San Jose
Just one example of the greenery you can find in San Jose!
San Jose is the capital city of Costa Rica, and although not a beach destination, it is still worthwhile to visit. The huge range of things to do in San Jose makes exploring this city exciting and interesting! Drink craft beer, explore museums, join a city tour – you can definitely keep yourself busy for a few days in San Jose.
San Jose also has a large international airport which makes it a great place to start or end your travels in Central America.
7. Monteverde Cloud Forest
The forest is so beautiful!
Monteverde Cloud Forest Reserve is a unique destination in Central America. Located in central Costa Rica, Monteverde is the country's most famous cloud forest showcasing a misty jungle and a huge variety of wildlife.
Santa Elena is the name of the town closest to Monteverde Cloud Forest, and from here, you can actually explore a couple of different cloud forests in the area. The higher altitude of Santa Elena presents cooler temperatures and a nice escape from the typically hot beach towns in Costa Rica.
You can visit Monteverde and Santa Elena on a day trip from destinations such as San Jose. Or, if you have time, I suggest spending a couple of nights in the area. Hotel El Bosque is the cutest boutique hotel located only a few minutes from Monteverde. It is a peaceful nature retreat that I highly recommend!
8. Arenal National Park
What a view!
Arenal Volcano is a must-see destination in Central America and it makes up the majority of Arenal National Park. Arenal Volcano is considered one of the world's most beautiful volcanos with its perfectly symmetrical cone shape.
At Arenal National Park you can walk the many hiking trails to enjoy views of the volcano, or even go to waterfalls such as La Fortuna. You can also join zip-lining tours or relax in natural hot springs (with volcano views of course!)
To visit Arenal Volcano, you can choose to either spend a couple of nights in the very small town of La Fortuna (my recommendation since there are lots of things to do in La Fortuna) or visit on a day trip from San Jose. Either way, you'll love this beautiful landscape and it'll likely be one of your favorite places in Central America too!
Best Places to Visit in Nicaragua
9. San Juan del Sur
Daniel, going for a sunset swim in San Juan del Sur!
San Juan del Sur is a picturesque beach town, and easily one of the most popular places for tourists to visit in Central America. As Nicaragua's prime beach destination, luxury travelers, backpackers, and travelers in between all visit San Juan with hopes of living their best beach life.
Surfing in San Juan del Sur is one of the most popular activities. Beginners can take cheap surf lessons here or even join a multi-day surf camp (like we did!) Or advanced surfers can just head straight out, catching waves at different nearby beaches every single day.
But besides surfing, there are a few other fun things you can do in San Juan del Sur including hikes, parties, and so much more!
It's honestly one of my personal favorite places in Central America, and somewhere I will definitely be returning to for an extended amount of time one day in the future!
Related read: We've been traveling pretty much non-stop for 3 years now. Find out how we afford long-term travel in our blog article!
10. Isla de Ometepe (Ometepe Island)
Relaxing on Ometepe Island with one amazing view!
Another top destination in Nicaragua is the stunning Ometepe Island. This island is actually located smack dab in the middle of Nicaragua, in the middle of a large lake! Ometepe Island is actually made of two volcanos, and the towns on the island are spread out around the perimeter of the volcanos.
There are lots of different towns and villages around the island, and therefore, choosing where to stay in Ometepe can be a little challenging. My top choice though is the small village of Balgue, where you stay at the eco-conscious Totoco Eco-lodge.
Balgue is located nearly in the middle of Ometepe Island and makes for the perfect base for exploring all of the different things to do on Ometepe. Rent a motorbike and explore waterfalls, natural swimming pools, beaches, cafes, and of course, sunset lookouts! If you dare, hike to the summit of one of the volcanos!
11. Granada
The view from the Cathedral of Granada.
Granada is the most vibrant city in Nicaragua, and as such, one of the top places to visit in Central America! Located in central Nicaragua, Granada offers a range of both natural and cultural experiences for tourists to enjoy.
My personal favorite out of all of the different things to do in Granada was visiting the Masaya Volcano. Seeing molten lava in person from the top of the volcano's crater was a once in a lifetime experience!
Just on the outskirts of Granada, you'll find another one of the best places to visit in Nicaragua, Apoyo Lagoon. Stay at Paradiso Hostel or Laguna Beach Club for a peaceful escape from the city for a couple of days while enjoying the large crater lake.
12. Leon
That's me! Volcano boarding is the reason most people visit Leon.
Leon is likely Nicaragua's most underrated city. People often skip it, and those who do visit, usually only stay for a day or two to do the famous volcano boarding. Sure, volcano boarding in Leon is an absolute blast (and you should do it), but there are a few other worthwhile things to do in Leon too!
Check out the Basilica Cathedral and walk on the roof! The views from up there are very cool, plus, just walking on a cathedral's roof is pretty neat in itself.
Be sure to also go to the local market and eat lots of food! Leon has plenty of local restaurants, cafes, and pubs that you're sure to enjoy.
Travel tip: After Leon, you can choose to visit Honduras or just go straight to El Salvador. Read our blog about getting from Nicaragua to El Salvador for all of the info!
Best Place to Visit in Honduras
Honduras is the least visited country in Central America. In fact, many travelers skip Honduras completely. With that said, Roatan has an international airport and you could easily fly there for a few days to experience one of the nicest islands in the Caribbean!
13. Roatan
Roatan Honduras
Roatan, Honduras is one of the best beach destinations in Central America. Located on the Caribbean Coast, Roatan is an island off Honduras' northern coast that boasts crystal clear waters, amazing hotels, and restaurants, as well as incredible snorkeling and diving opportunities.
There are some all-inclusive resorts on Roatan that make for a great place to spoil yourself for a few days. Or for budget travelers, affordable guesthouses and hostels are also available.
Roatan is best reached by air. You can book direct flights to Roatan from various other places in Central America, making it a great little trip within your Central America travels!
Best Places to Visit in El Salvador
14. El Tunco
Heading into El Salvador from Honduras or Nicaragua, El Tunco is often where travelers first stop. While El Salvador is rumored to be unsafe and challenging to travel around, this couldn't be further from the truth in the town of El Tunco. It's a bustling tourist town complete with ex-pats who've called this place home for years.
In El Tunco you'll find lots of amazing places to stay and things to do. Go surfing (it's one of the best surf destinations in Central America), or simply just relax at the beach. This seaside town offers plenty of amazing restaurants to eat with views of the ocean, and its cobblestoned streets are filled with unique boutique shops and cafes.
15. Ruta de las Flores
Wandering the vibrant streets of Juayua, El Salvador.
After El Tunco, the next most popular tourist destination in El Salvador is the Ruta de las Flores. This name directly translates into "Road of the Flowers"- which is exactly what it is! The Ruta de las Flores is actually a small region in central El Salvador that consists of a handful of friendly and vibrant towns.
These towns are connected by one road which is famous for having blooming flowers all around it every spring. Seeing the flowers is the reason the area became famous, but it isn't the only reason to visit today.
The town of Juayua stole my heart. Their weekend food market was to die for offering more food than I could possibly consume, and vibrant parades seemed to never end. From here, I was able to hike to waterfalls and stay at wonderful little guest houses.
Of course, there are other towns to explore on the Ruta de las Flores, and you can simply catch the local chicken bus to get from one town to the next (and check out the flowers along the way!) Concepción de Ataco and Apaneca are a couple of my other favorite towns and well worth a visit!
16. Santa Ana Volcano
The view from the top of Santa Ana Volcano!
As we make our way out of El Salvador towards Guatemala, there is one last stop that you definitely don't want to miss. Santa Ana Volcano is one of Central America's most gorgeous volcanos, and you can easily hike to the summit and back down in just a day!
Located in Cerro Verde National Park, Santa Ana Volcano is best accessed on a day trip from the city of Santa Ana. For this reason, you'll likely need to book two nights in Santa Ana in order to spend a full day hiking Santa Ana Volcano. Otherwise, you can visit Santa Ana Volcano on a guided day trip from El Tunco or San Salvador.
Although somewhat steep, hiking to the top of Santa Ana promises amazing views of the surrounding landscapes as well as views into the blue lake of the volcano's crater. One word of advice though, be sure to hike on a clear day as when there's cloud cover, you might not see a thing!
Best Places to Visit in Guatemala
17. Acatenango Volcano
Our tour group at the summit for sunrise!
If you have time for only one hike while you're in Central America, make it the hike up Acatenango Volcano! From the top of Acatenango Volcano, you can clearly watch Fuego Volcano erupt every couple of minutes. – it's amazing to see!
The hike up Acatenango is usually done over two days on a guided tour where you spend the night camped up there. Tours depart from Antigua, Guatemala, and are really affordable.
Camping on Acatenango Volcano was a highlight of my Central America trip, and a must-do experience if you ask me! So, be sure to include it in your Guatemala itinerary!
18. Lake Atitlan
Boats are the main method of transport on Lake Atitlan.
Lake Atitlan is one of the most popular places to visit in Central America. This huge lake is nestled between volcanoes and surrounded by the most vibrant little towns you could imagine.
There are a ton of fun things to do in Lake Atitlan including hiking, yoga, kayaking in the lake, and so much more. Be sure to visit a few local restaurants, shop at the markets, and take in the stunning views as much as you can!
The only problem with visiting Lake Atitlan is deciding where to stay. With so many towns to choose from, it's hard to know where to stay in Lake Atitlan. With that said, most tourists base themselves in San Maros, San Pedro, or Panajachel and explore the other towns on day trips.
19. Semuc Champey
Not a bad place for a swim!
Located in Guatemala, Semuc Champey is a national park that features the most amazing blue pools and waterfalls. Seriously, the water is bright turquoise and it's stunning.
At Semuc Champey you can simply swim in the pools and relax. But don't spend all of your time there, be sure to walk up to the viewpoint too! From a couple of hundred meters above, you get a unique vantage point to enjoy this natural attraction.
For something a little more exciting, join a caving tour in Semuc Champey!
There are a few places to stay in the jungle very close to Semuc Champey such as Utopia Eco Hostel and El Portal De Champey. Both of these are places to relax, disconnect, and enjoy nature.
Alternatively, you can stay in the small town of Lanquin which is located only about 40 minutes from Semuc Champey. Lanquin is tiny, but there are a few good hotels including Guayaha, and El Retiro is a good option for backpackers.
20. Tikal
The main plaza at Tikal in Guatemala.
Tikal is one of the most impressive ancient ruins you can visit in Central America. Located in Guatemala not far from the Mexico border, Tikal is a Mayan ruin site that features five huge temples. One temple is actually 65 meters tall and is believed to be the tallest Mayan temple!
One of the things I like most about visiting Tikal is that in comparison to many other ruins around Central America and Mexico, it is not very busy. You can explore the ruins by walking through the jungle without seeing many other people around at all. In fact, you'll likely spot wildlife including monkeys and toucans!
The best way to visit Tikal is on a guided day trip from the city of Flores. I recommend spending at least 2 nights there in order to enjoy all of the other things to do in Flores. This way, you can also do a sunrise tour to Tikal, which is the best time for views, peace and quiet, as well as spotting wildlife!
Best Place to Visit in Belize
While there are a few interesting places to visit in Belize, in this blog I've chosen to write about just one – Caye Caulker. It is the most popular destination in Belize and where most travelers visit.
21. Caye Caulker
Caye Caulker, Belize
Caye Caulker was my last stop in Central America before crossing the border to Tulum, Mexico. This tiny island is often the place travelers visit in Belize. It's a sandy island with little to no roads, where the main method of transport is walking. You'll find people cooking up lobster on BBQs lining the streets, friendly street dogs, bumping bars and restaurants, and possibly the friendliest locals you could ever meet.
Caye Caulker is somewhat like a dream and going on a dive trip here is world-class. In fact, this is the island on which you can access the famous Great Blue Hole. Alternatively, snorkel trips on Caye Calker are very popular.
It's easy to get wrapped up in the island life here and feel as though you never want to leave. Somewhere between the crystal clear waters and an endless supply of cocktails and seafood, Caye Calker becomes one of the best places to visit in all of Central America!
Before you go…
Thanks for reading our blog, and we hope you enjoy all of the amazing places to visit in Central America!
Thanks for reading my blog and I hope it helped you nail down some must-visit destinations in Central America for your upcoming trip. Of course, if you need more detailed info, then keep browsing around our blog – we have dozens of in-depth guides to the best places to visit in Central America.
But for now, check out a couple of these related blogs below, they are a great place to start:
Central America Itinerary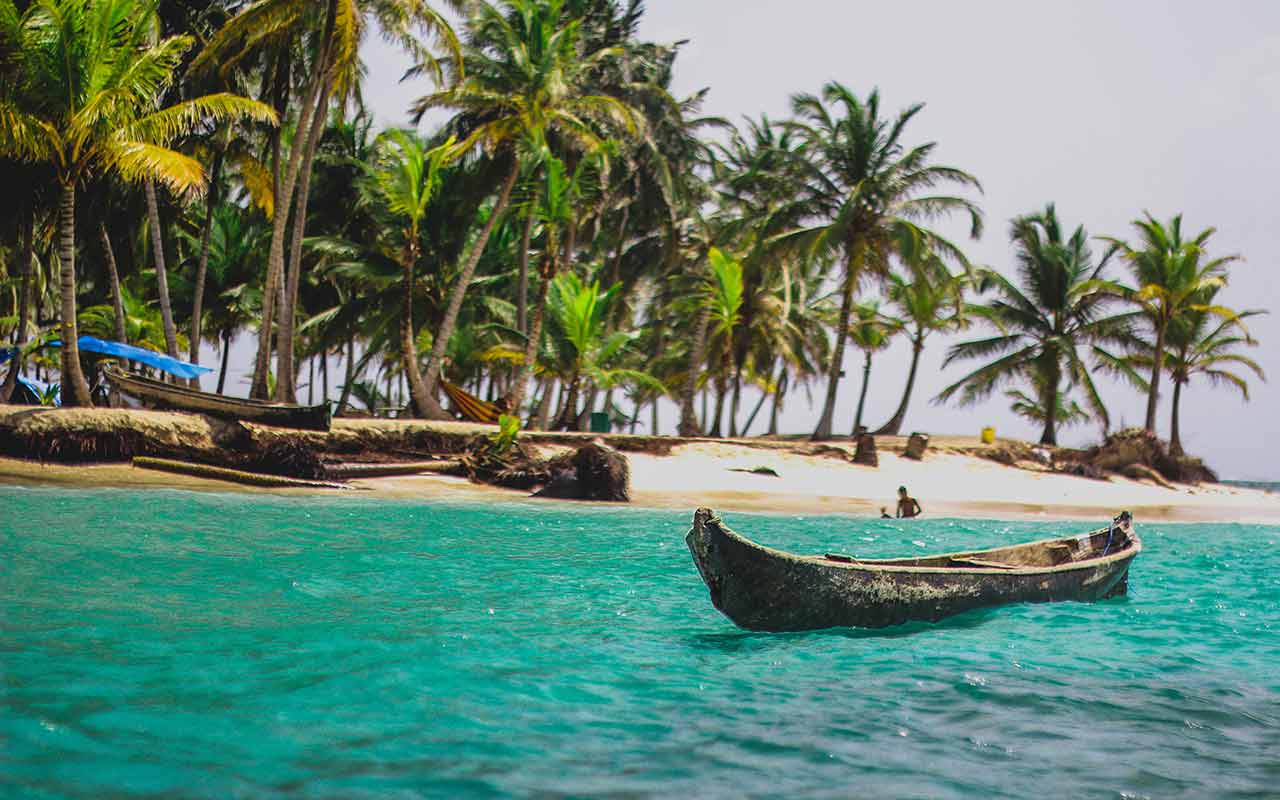 Central America attracts tourists of all kinds, especially those who are passionate about culture, history, and outdoor adventures.
If you want this to be your destination, this Central America travel itinerary is exactly what you're looking for.
Table of Contents
Central America Itinerary
You will find cerulean seas, the greenest of forests, breathtaking Mayan ruins, over 300 volcanoes, and so much more.
Whether you want to spend 1 week in Central America or 2 weeks in Central America, this itinerary will help you get organized!
Is Central America Itinerary Safe?
Central America is not a dangerous place to visit overall. Granted, there are a few risks, but you can avoid them by taking precautions and following basic travel safety tips.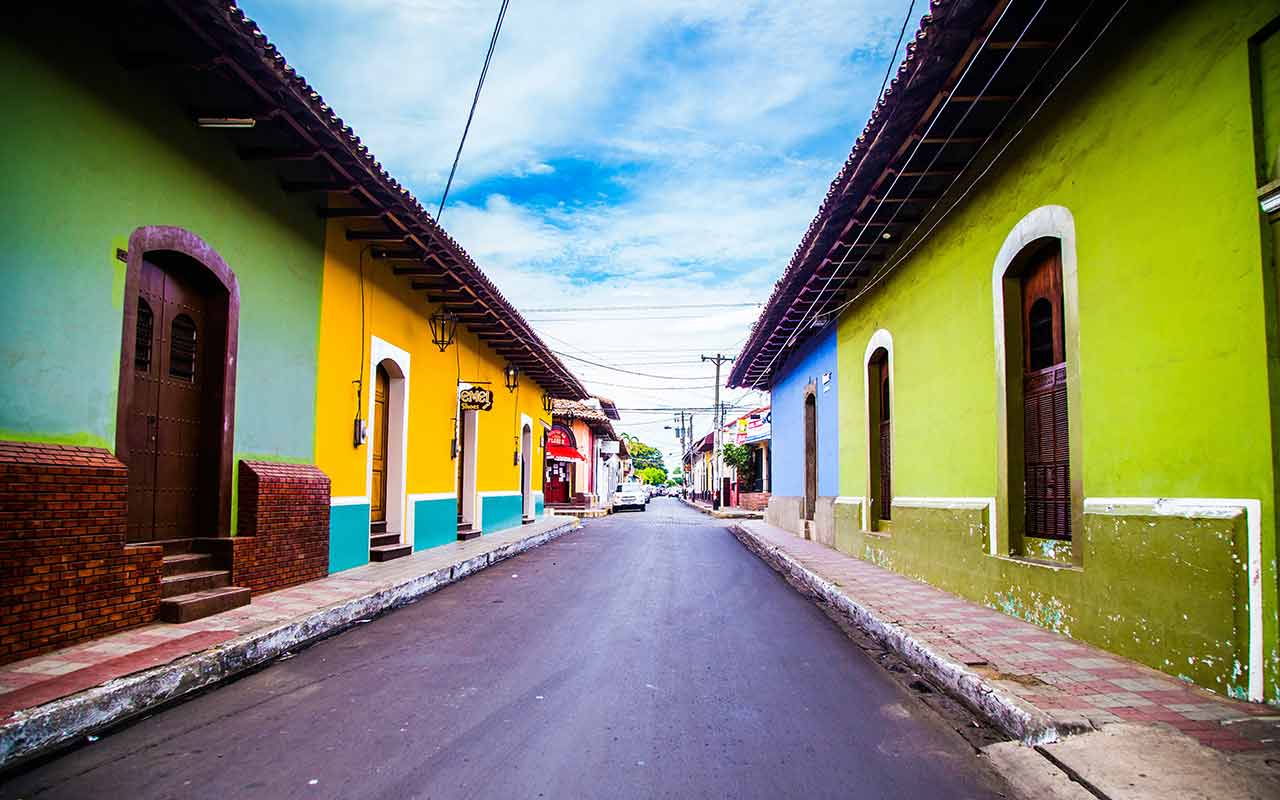 It's important to note that Central America is a transit zone for cocaine markets, so certain countries have a higher crime rate and gang activity.
The risk of natural disasters is also something to consider because there are so many volcanoes and coastlines in the region, which means flooding and hurricanes are a possibility.
To avoid this, visit outside the hurricane season so you can enjoy your Central America backpacking itinerary to the fullest.
Planning a trip to Central America
So you've decided you want to go to Central America? Now comes the important part of properly planning for your trip.
The first top tip is to have all of your necessary vaccinations taken care of. There are a lot of diseases in the area, and it's more than worth getting a few jabs before to prevent any serious conditions down the line.
Another important piece of advice is to pack properly. When we think of Latin America we tend to think of the hot climates and beautiful beaches, and yes of course these are in great abundance here.
However, there are some areas that can get quite cool such as the Guatemalan highlands.
So if planning on visiting everything, then it will be wise to bring a mix of light clothes as well as some layers for when things get chilly.
Also make sure to bring quality, sturdy pair of hiking boots as many of the trails are not properly developed, and you'll also keep your grip better if heading during the rainy seasons.
How long do you need in Central America?
The general opinion is that Central America can be backpacked very quickly.
And to be fair when looking at a map, of course, it's pretty small when compared with South America and other regions of the World.
However there's still a lot to see, so the minimum time needed from Belize (or The Riviera Maya in Mexico as a popular jumping-off point) to Panama would be 3 months.
This will be enough to cover all countries and see all of the top sights.
Alternatively, for those with more time or desire to really sink their teeth into the region – 4/5 months would be much better.
How much does it cost to backpack Central America?
Costs in Central America really do vary between countries.
For example, backpacking Costa Rica and Panama fall on the more expensive side, with a daily budget of between $30-35 needed.
Belize is more moderate, with between $25-30 needed daily.
Then we have Guatemala, Honduras, El Salvador and Nicaragua making up the rest, which are all very cheap to backpack.
You can travel these countries on a daily budget of $20-25.
Of course these are rough estimates, and take into account only the daily costs of a dorm bed, food and some extras.
What you'll end up spending really depends on your style and comfort, as we're all different at the end of the day.
Central America Travel Itinerary
With so many places to visit in Central America, this article looks at each country's best spots so you get to see the places you simply can't miss.
Guatemala
You can start your Central America travel itinerary in Guatemala City, where you can visit museums, breweries, and many different attractions to get a feel of the country.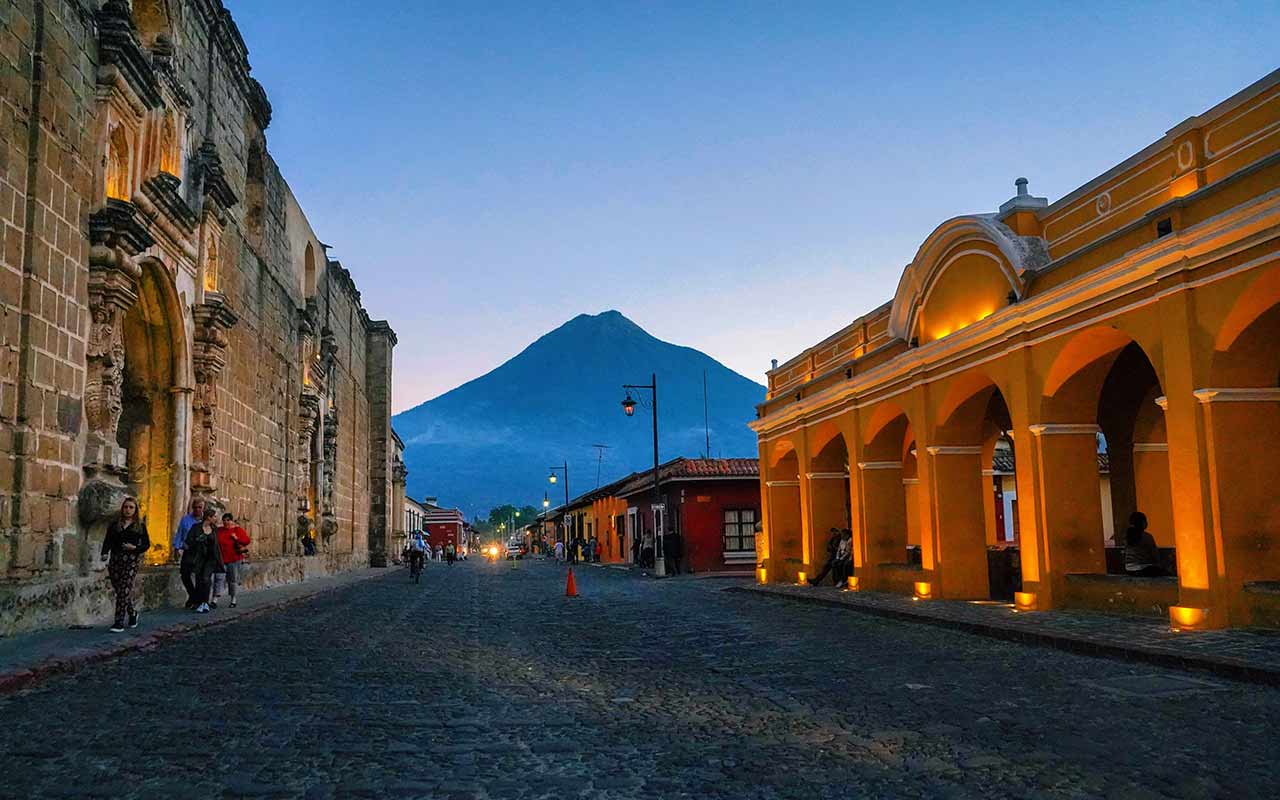 Then, you can go to colonial Antigua and spend a few days exploring the town. It's known for its cobblestoned streets, handicraft markets, and surrounding mountains.
The Pacaya and Acatenango volcanoes are worth visiting, Lake Atitlan is gorgeous, and you can visit surrounding towns such as San Pedro, San Marcos, and Santa Cruz.
Belize
Once you're done in Guatemala, you can head to Belize to continue your Central American backpacking itinerary.
We recommend you spend most of your time in San Ignacio, which is the heart of inland Belize.
Here, you'll find Mayan Ruins such as Cahal Pech and Xunantunich, vibrant local markets, and a cave system you'll be able to explore.
Then, you can head to Caye Caulker, a lovely island that's perfect for relaxation.
El Salvador
El Salvador could be the next stop on your Central America backpacking trip. At this point of the trip, you may want a relaxing beach retreat.
If so, head to El Tunco, a small beach town known for its surfing. There is plenty of local eats, surfing, and exciting nightlife waiting for you.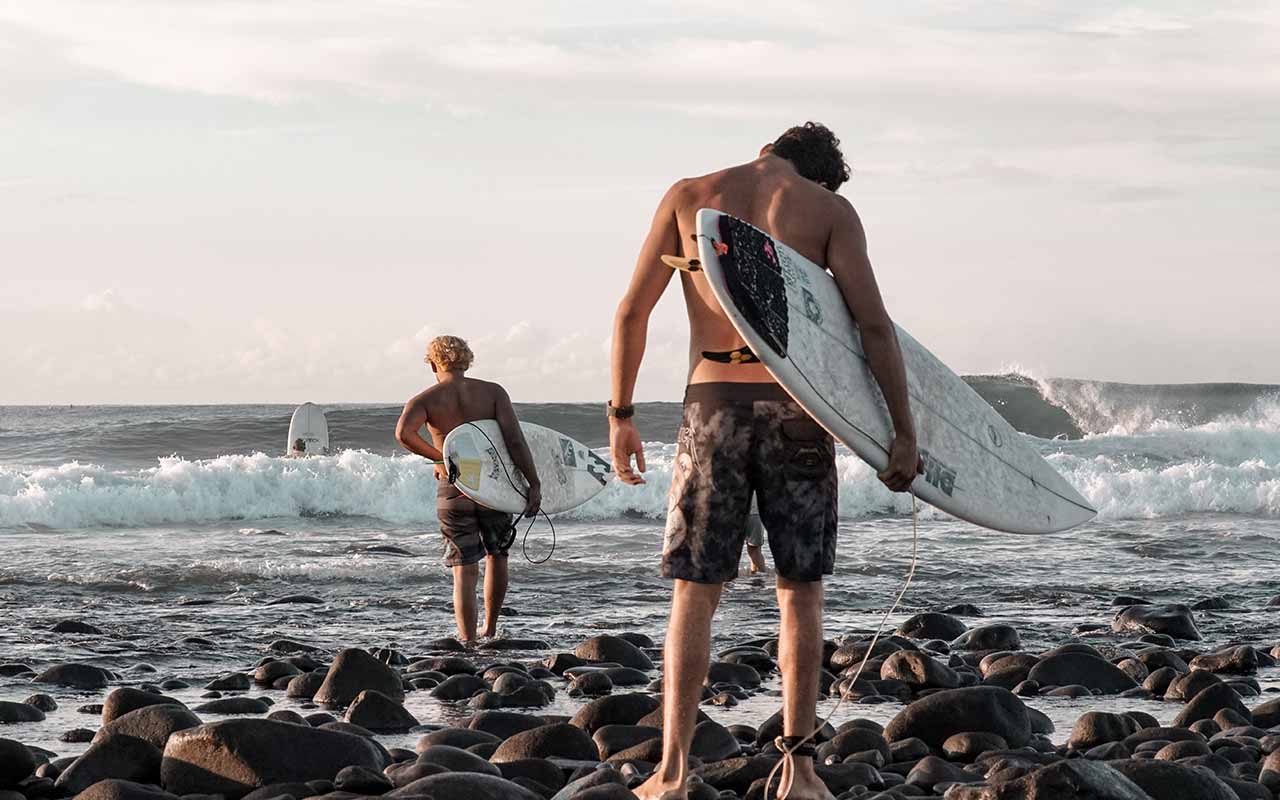 Then, you can go to El Cuco to relax and refuel by a hammock on the beach or enjoy some swimming or paddleboarding.
Honduras
Honduras is another great place to visit for your Central America travel itinerary.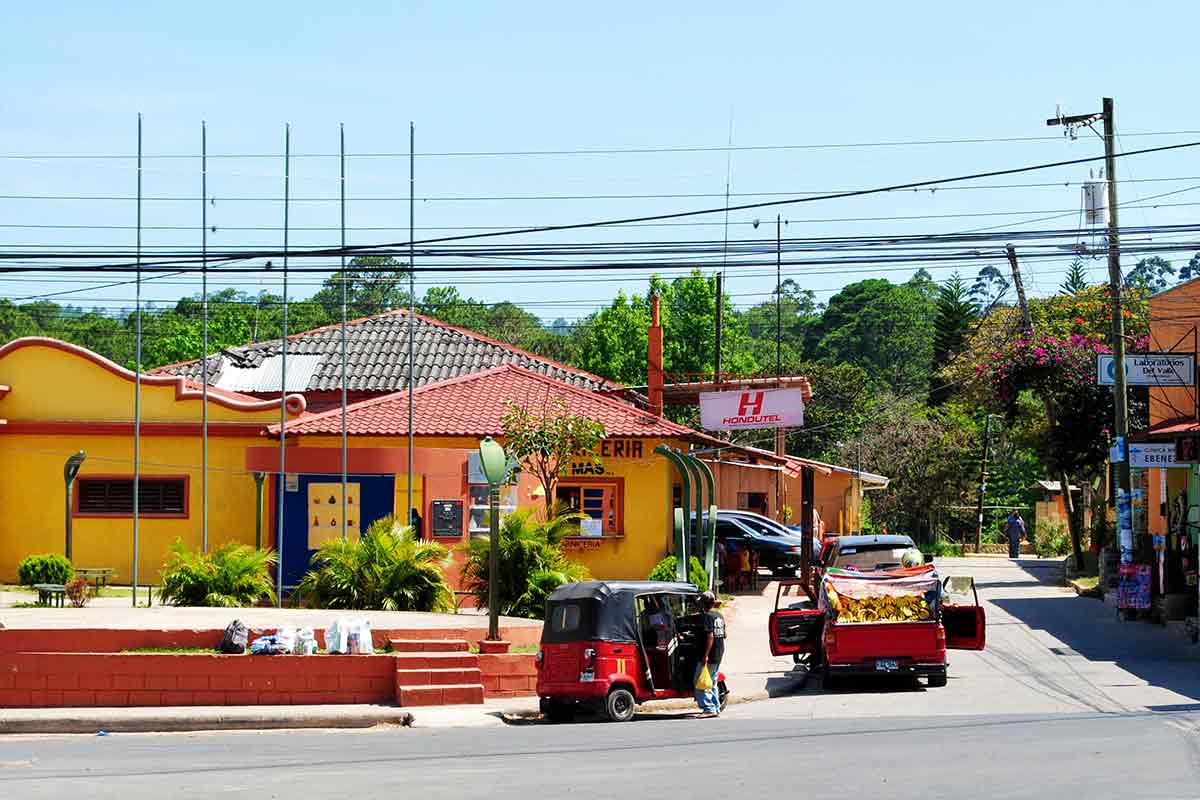 You can go to La Ceiba, a lovely seaside town where you can enjoy your time, and then take a ferry to Utila, a nice island where you can enjoy a PADI Open Water 4-day diving course.
If you're already a certified diver, you should consider the Advanced Open Water course or simply sign up for dives that interest you. There are also jungles and freshwater caves to explore!
Nicaragua
Next, you can go to Nicaragua where you can visit Leon, which is the best introduction you can have to this country.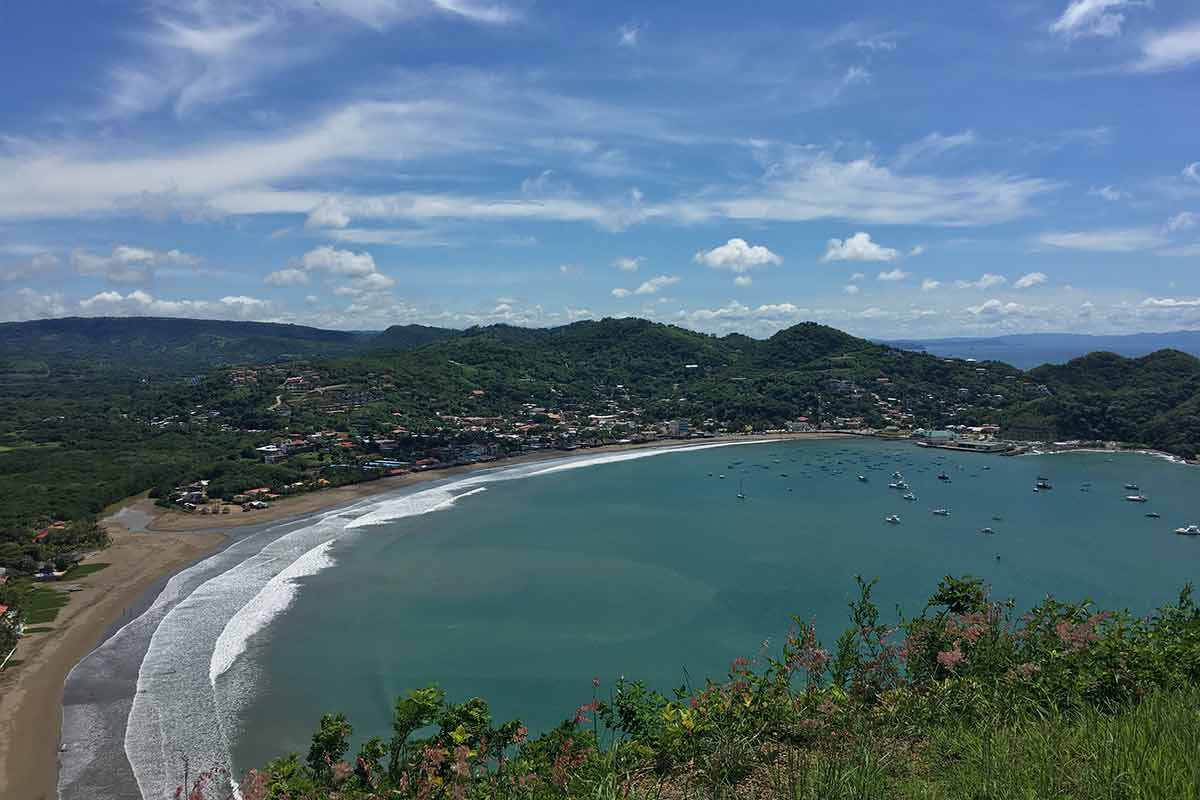 Leon is a colonial town where you'll be able to enjoy amazing food and visit places such as the Leon Cathedral at the heart of the town and go black sandboarding at Cerro Negro.
How about visiting Lake Apoyo? Or, even look into an active volcano by visiting Masaya, the only open volcano you can drive to instead of hiking.
Costa Rica
To continue your Central America travel itinerary, you can go to Costa Rica and visit the Monteverde Cloud Forest Reserve.
It's paradise on earth and you will enjoy exploring coffee plantations, hiking trails, and even have zip-lining adventures.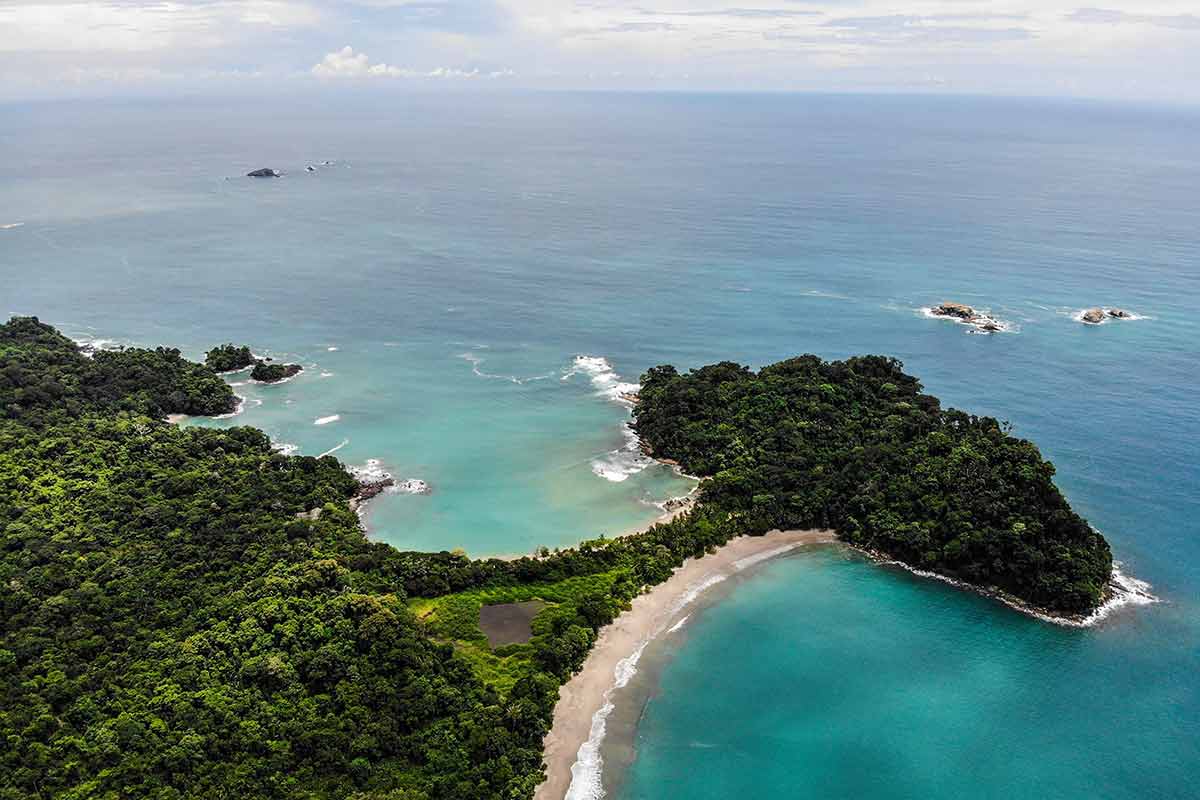 There are also butterfly, hummingbird, and frog sanctuaries, and you can walk on hanging bridges and spot wildlife.
You can end your stay in Tortuguero, a jungle known for being a nesting area for native turtle species.
Panama
You can wrap up your Central America travel itinerary in Panama and head to Cerro Punta where you can take a 1-day hiking tour on the Quetzal Trail.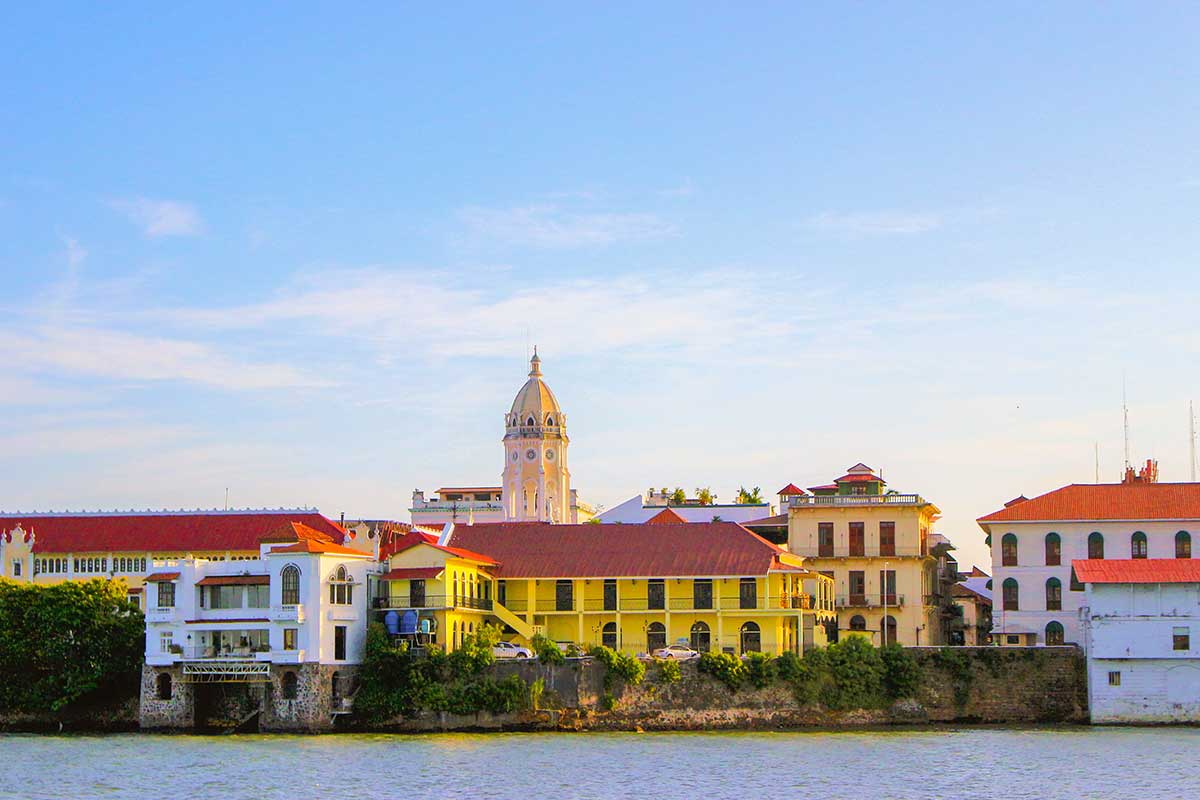 You can send your luggage ahead of you and it will land in Boquete, a lovely town where you can rest in bungalows before you head to Bocas del Toro, a party town.
There, you can explore Cayos Zapatillas and other wonderful places.
Central America Travel + Safety Tips
Generally, Central America is not too dangerous to visit, but you still need to take precautions. Follow these travel safety tips:
If you follow these precautions, you won't have a bad experience while traveling in Central America.
Traveling Around Central America
Traveling around Central America by bus can be a good option because it's cheap and easy.
Short-distance buses are known as chicken buses. They are inexpensive but not 100% safe, so be careful and keep an eye on your belongings.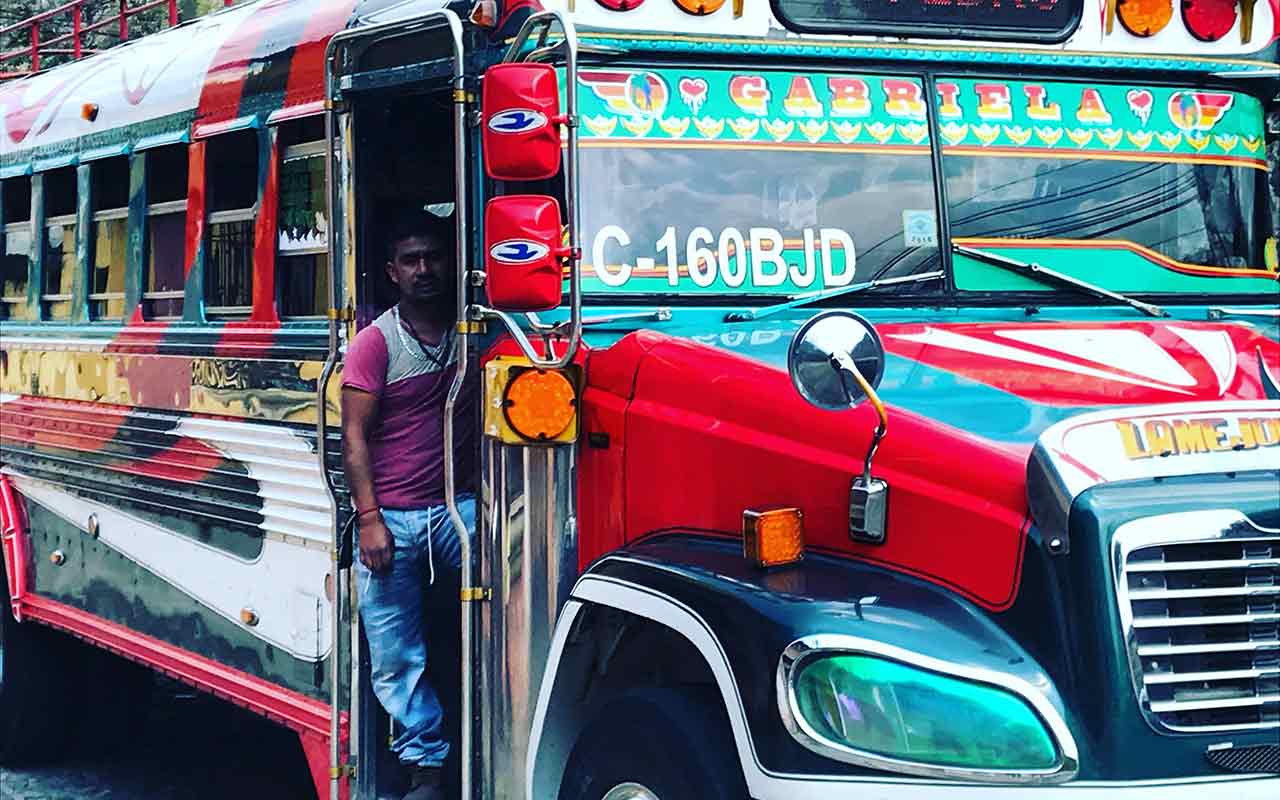 For long-distance travel, use luxury liners like Ticabus, King Quality, or Transnica, which are reliable and safe but will cost a little more.
Buses in Central America
By far the best and most inexpensive way to get around Central America is by the good ol' buses. Whilst the cost-benefit makes sense, you'll even find that some areas of this region can only be accessed by bus anyway.
In Costa Rica and Panama, they are the best developed, and the rides will be pretty smooth with most roads in good condition.
In the more northern parts (especially Guatemala and Honduras) you're gonna be in for a ride!
Within cities and towns, be sure to take a chicken bus at least once for the experience, as it really is one of a kind and also a rite of passage for travelers heading to Central America.
Best time to visit Central America
Thankfully due to its small size, Central America is much easier to plan for when it comes to the weather, especially in comparison with its giant neighbor of South America.
Most of the region follows the same dry and wet season patterns, so you'll know what you'll most likely be in for. The dry season runs from December until April, and is often considered the best time to visit.
Puerto Viejo in Costa Rica, for example, has average temperatures of 75-79°F, with highs of 84°F and lows of 68°F.
Rainfall ranges from 180-310mm for each of these months. The wet season, which runs from May until November, is of course much wetter.
Whilst it can make challenges for getting around, it's also a really beautiful time to visit as the jungle comes alive with its bright and luscious greens.
It's also cheaper, as you'll be there during off-peak season. An example of a location during the wet season is Flores, in northern Guatemala.
Average temperatures range from 75-83°F, with highs of 94°F and lows of 68°F. Rainfall ranges anywhere from 4-7.5 inches each month, which is a big increase from the 1-3 inches expected in the dry season months.
Central America Itinerary: Final Words
Central America is quite a magical place to visit and this Central America travel itinerary can serve as a guide.
Use it to plan your trip and have fun backpacking through incredible countries with a lot to offer!
If you are thinking about heading further South you can see our South America itinerary to get some ideas on where to go.
This post contains affiliate links, meaning, if you click through and make a purchase or sign up for a program, we may earn a commission. This is at no additional cost to you.
South America vs. Central America: Where Should You Go?

Choosing between Latin America tours or, more specifically, ascertaining which of the two Latin American regions are 'best to visit' is a very common conundrum for potential visitors, especially first-time ones. The South America vs. Central America: Where Should You Go? is certainly a question we're asked often enough. Yet notwithstanding all our combined personal experiences and wealth of information (which trust us, is impressive) even WE find it difficult to succinctly reply to this question. The answer, intrepid adventurer, isn't nearly as clear-cut as you might imagine: the variables are simply too many.
Our following comparison guide aims to give you a great overview of the similarities and differences between South and Central America, highlighting the most important travel-related aspects of both regions. So, whether you're heading over on Latin America tours for days, weeks or maybe even months, choosing the right destination for you should be infinitely easier.
So happy planning…and buen viaje!
South America's geographical diversity
Choose your favorite destination here.
Being the fourth-largest continent on earth makes South America the more overwhelming choice, for options of Latin America tours here are nearly endless. Greater geographical diversity due to its gargantuan size, means South America is the ideal destination for lovers of the extremes and the superlative.
In South America you can stand atop a 7,000m peak on the longest mountain range on earth, take a nipple-freezing dip in the world's highest lake and look out from the southernmost headland on the planet (next stop, Antarctica!), as well camp out in the driest desert, drive across the largest salt plains and meet rare and unusual creatures in the largest rainforest of all. Yep…South America is home to some of the world's most famous BIG-named attractions and if you're quite partial to travel name-dropping, the region certainly holds an immense appeal.
This doesn't mean, however, that Central America travel is lacking in anything, it might just lack it in size and fame but certainly not in content and inspiration. The 1,800km-isthmus which joins Mexico to South America packs a mighty punch for its diminutive size. Volcanic in nature, Central America showcases a very different geography and although the highest peak here is 'only' 4,200m it is an impressive peak nonetheless and there are many, many more. Plus, they're all volcanic!
The nutrient-rich volcanic soil has dictated almost every aspect of the region and here you'll still find pristine rainforests, fertile lowland plains and more tropical gorgeousness than you could ever soak up in one visit. It boasts dreamy stretches of superb coastline, a ridiculous number of stunning waterfalls and lakes and being so genially located a superbly mild climate. So, if you're a lover of 'softer' destinations, at least geographically speaking, Central America is simply tops.
Volcano in Central America
Wildlife of South America and Central America
Explore diversity of wildlife with Viva's tours to South or Central America.
Whilst both South and Central America boast world-class wildlife watching destinations – some of the best in the world, in fact – South America holds the trump card when it comes to larger mammals, arguably the wildlife species most travellers want to see. From the Pantanal in Brazil to the Galapagos Islands of Ecuador, Patagonia's Valdes Peninsula and Torres del Paine National Park, you'll be excused for thinking that no matter where you go, in South America, there's some big-ass creature just waiting for you to come visit. Yet if size weren't such a big deal (which it still is, in Mexico) then Central America can certainly hold its own. Mexico's Baja California is often dubbed the world's best whale-watching destination and, when it comes to wildlife diversity and astounding bird-life, then look no further than Costa Rica's Osa Peninsula, where coatimundi, tapirs, ocelots and several species of monkeys make for stellar animal-spotting. Where Central America gets the upper hand (and by a lot) is under the sea. The second-largest coral reef in the world (the Mesoamerican Barrier Reef System) hugs the eastern coast of the region and the concentration of marine life in Central America is astonishing. Accessible from no less than four countries (Mexico, Honduras, Belize and Guatemala) this splendour of Mother Nature leads us to the next point you should consider.
A diversified wildlife
SCUBA diving and snorkelling
Explore diversity of marine world in South or Central America with Viva's tours.
South America attracts divers and snorkellers galore to its Galapagos archipelago (and for good reason) but avid SCUBA enthusiasts know that if they want an immensely rewarding journey dedicated to their prime passion, then Central America is THE place to be. Diving and snorkelling here are both sensational, making this one of the world's premier underwater-frolic destinations. The climate is idyllic for languid day-long swims and dives, you can include multiple destination all in close proximity and see more exotic marine life than almost anywhere else in the world. The reef is pristine, options abounding and Central America diving and snorkelling is also among the cheapest in the world so if you're a fan of the seas, you simply can't miss it.
Activities – in general
For more unforgettable hiking experiences search our tours to South and Central America.
If sea-based vacations are not really your thing, however, then the two regions become more balanced. Central America offers a myriad of chances for climbing picturesque volcanoes although if you're a serious mountain hiker then South America, and its impressive Andes Mountain range are going to seduce you a lot more, especially in the southern region of Patagonia where you can indulge in mountainous hikes for decades on end. Seriously! When it comes to sightseeing in general, then we might lean our preferences towards South America, where vibrant cities like Buenos Aires, Santiago and Rio de Janeiro make for excellent city-capes. Central America countries all boast a few very special colonial treasures (Colombia, especially) but its capitals – with the clear exception of impressive Mexico City – are not as popular with those looking for exciting city-based discoveries. For everything else (from horse riding to mountain biking, small ship cruising, etc) both regions offer enough options to keep everyone happy.
The famous Christ the Redeemer in Rio de Janeiro
Ease of travel
Being so compact and narrow, Central America is much easier to get around in a short(er) amount of time, even when considering the expanse of Mexico. Flying between countries may cost the same in both South and Central America but you'll spend much less time transiting if you travel through the latter. This means you can indulge in the Central America's landscape and cultural diversity more often, travelling from the Pacific to the Atlantic coasts on the same day, if you wish, or reaching remote jungles, hiking volcanoes and visiting several ancient sites in just a few days. By and large, the ease of travel only comes into play if you have a very limited time frame AND you wish to visit more than one country.
Archaeology/ancient history
Find the assortment of historical and archaeological sites in Viva's tours to South and Central America.
Central America is the archaeological hub of the Americas and is home to a kaleidoscope of ancient historical sites which would make any buddying anthropologist swoon with infinite delight. Pyramids hidden in the heart of luscious jungles, enormous ancient complexes bursting with exotic birdlife and an array of world-class sights make Central the more varied of the Americas for lovers of ancient history. South America has the world-famous Inca city of Machu Picchu, of course, and a long list of equally impressive sites, yet the greatest concentration is in Peru alone, a country that boasts such illustrious sites as Trujillo, Nazca, Caral and Chiclayo, not to mention the numerous in the Sacred Valley, home to Machu Picchu. Head to Central America, however, and you can hop between different countries soaking up the delights of Copan, Tikal, Lamanai, Tazumal, Chichen Itza and Tulum to mention but a few. All in various countries, all magnificent and all offering unique sightseeing experiences. If ancient archaeological sightseeing is right up the top of your must-do list then we'd be forced to put our money on Central America. At the very least, you can visit different sites whilst still experiencing a number of different countries. For this 2-for-1 deal, Central America is unsurpassed.
Learn more about South America history
Magnificent landscapes
Visit remarkable places of the world with our tours to South or Central America.
When it comes to scenic landscapes that'll WOW your socks off, it's quite difficult to travel past South America. The sheer size of the continent and diversity translates to endless horizons of absolute stellar natural beauty, something which loses a few points when cut down to size. The thing about the magnificent landscapes of South America is that they're not only difficult for Central America to rival. They're impossible to replicate anywhere in the world. From the huge expanse of the Atacama Desert to the blinding white horizon of Salar Uyuni, the spellbinding contours and colours of the Bolivian Altiplano, endless snowy peaks of Patagonia, the heart-stopping depth of Colca Canyon and awe-inspiring sight of Iguazu Falls: South America proves that, sometimes, BIG-named attractions are world-famous for a reason. And that reason is that they are all, in their own unique way, totally awe-inspiring. If big, once-in-a-lifetime spectacles are what you crave…then a South America tour is for you.
Bolivia salt flats, South America
Stunning beaches
To find out more about fascinating views and recreational attractions check our tours to South and Central America.
If you're dreaming of ending your sightseeing tour de force with a dreamy beachside vacay, however, then do hop on that plane and head to Central America, a hive of tropical beauty with few rivals. That is, as long as you're happy to fly right past the glorious beaches of Brazil, Colombia and Venezuela. Stunning beaches are among the most coveted calling cards of all of Latin America yet, generally speaking, the closer to the Caribbean you get the more glorious they get. In a region where you're famously never more than 200km from a beach, Central America and its idyllic climate, palm-fringed beaches and turquoise waters make this one of the world's dreamiest seaside destinations. When planning a marvelous seaside stop, look to Belize, Guatemala, Honduras, Mexico, Costa Rica, Panama and Nicaragua for the most picturesque beaches of all.
Clearwater beach, South America
Climate
The tropical climate of Central America also has its downside, which primarily comes in the shape of a sometimes-brutal hurricane season. This is something you simply don't have to worry about if travelling to South America, where extreme cold and excessive rain are simply nuisances for the most part, not travel obstacles per say. Heavy rains can greatly hinder travel plans in Central America, especially given the high concentration of wilderness areas, where things like mudslides and road closures are common. For South America tours in winter, however, all you'll need is warm thermals: even the far south of Patagonia is resplendent when covered in snow and although many hiking routes may close down for a few weeks, there is still a lot you can do. The time of year in which you can travel may well turn out to be the biggest deciding factor in choosing between South America vs. Central America tours.
Better? There's no such thing!
You've probably come to the correct assumption, by now, that there simply isn't a 'better' option when choosing between South and Central America. Each region is distinct in its offering, pros and cons, and it all comes down to what you prefer doing, seeing and experiencing, as well as when you travel and for how long. You'll enjoy excellent local cuisines no matter where you go, encounter friendly locals and discover fascinating new cultures. You can explore famous and well-visited site or head to more remote destinations, the gorgeous Latin authenticity will be ever-present. Both regions showcase an impressive diversity in landscape, cultures, wildlife and history. Both boast great infrastructure in generally popular areas and slightly less so in off-the-beaten-path destination.
So the only real deciding factor here…is YOU.
What's on your bucket-list? What is, to you, a once-in-a-lifetime dream? We assure you that both Central and South America will offer countless unforgettable memories, so why not start with the one you've been dreaming about for years when planning your Latin America tour?
At VivaExpeditions, we're in the business of making your Latin America dreams come true! YES, we are your travel cupid! Check out our extensive list of brilliant South America and Central America tours and if you're still undecided as to where you should go then tell us…and we'll know just the right questions to ask to help you on your way.
Source https://destinationlesstravel.com/best-places-to-visit-in-central-america/
Source https://www.urbanabroad.com/central-america-itinerary/
Source https://vivaexpeditions.com/blog/south-america-vs-central-america-where-should-you-go