Travel Insurance for South America
Learn more about World Nomads travel insurance for your trip across South America.
Essential Travel Insurance Tips – South America
Stunning South America is where you can find some of the world's oldest treasures, including the remnants of the ancient Incan empire in Peru, and the Aztec and Mayan empires from Mexico.
You might be taking a road trip from north to south from Laredo, Mexico to Buenos Aires, Argentina, a cool 7,244 mi (11.658 km), exploring the whole continent slowly, or enjoying a short break a short break in Argentina, Peru or Brazil. Wherever you visit, you'll be with lasting memories of beautiful beaches, ancient cultures and vast landscapes.
While traveling through South America, it's a smart move to consider travel insurance as the safety net that helps when things don't go to plan, with a 24/7 Emergency Assistance Team available and travel insurance benefits.
Travel Insurance can offer cover for:
What's covered?
When traveling through South America, World Nomads offers two travel insurance plans, the Standard Plan and the Explorer Plan.
Both plans offer cover for things such as lost baggage and emergency medical evacuation, however, the Explorer Plan offers higher benefit limits and cover for a wider range of activities. If you know you're planning to tackle some adventure sports, check our list of activities to decide which travel insurance policy best suits your needs.
South America is great for travelers seeking adventure, but if you're planning to go white-water rafting on the Mendoza River or glacier walking on the Perito Moreno Glacier, and an accident happens, travel insurance could help with reimbursement of medical expenses or the cost of evacuation should a physician advise it's necessary.
Whenever you leave home to travel overseas there are risks – it's important to remember travel insurance isn't designed to cover everything so you should take the time to understand what your policy covers you for.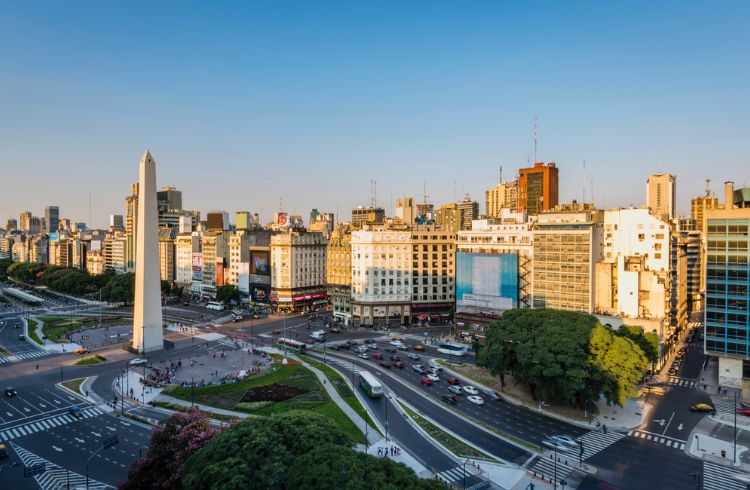 The obelisk on Ave 9 de Julio in Buenos Aires, Argentina. Photo credit: Getty Images / Andrew Peacock
What should I look out for when traveling to South America?
Getting away from the 'gringo trail' (the tourist hotspots) and discovering a more authentic South America will make for holiday memories that stay with you long after you return State-side. Whether you visit Chile's Marble Caves, explore Lamas Castle in Peru, or take in the stunning Hill of Seven Colors in Purmamarca, (locally called the Hill of Seven Skirts), South America has an array of experiences for the adventurous traveler.
However getting away from the bright lights can also be risky as armed robbery is a possibility in some South American countries. Always stick to well-lit areas at night and avoid traveling alone. But if the unthinkable happens, your life and your safety is paramount so don't try to save your wallet if it means risking your life. Your things can be replaced, but you can't.
Cover for activities and sports when in South America: Hiking to Choquequirao through the cloud forest above the Apurimac River is a great way to explore Incan civilisations, but you'll need to know the height of your hiking trail to make sure you're covered by the right plan – check the plan details before you buy to make sure you've the cover you need. It's advisable that you plan the sports and activities that you're doing and then check the list of covered activities to see if you need the Standard Plan or the Explorer Plan.
Access to our 24/7 Emergency Assistance Team around the clock: World Nomads travelers have access to 24/7 Emergency Assistance. If something goes wrong and you need help, contact our team. They can help get you find local medical facilities if needed, provide local consular details and information and in the worst-case scenario, help get you home if you're seriously injured or ill and need to be repatriated. When you call (free from anywhere in the world), make sure you have your policy number and a contact number for where you are so we can help.
Overseas medical insurance and cover for Coronavirus-related events: There's no denying that the way we travel has changed following the impact of coronavirus. Depending on your Country of Residence and the travel insurance plan you choose, you may also have access to Coronavirus (COVID-19) coverage for certain events. Some of our plans offer:

Emergency medical cover, evacuation and/or repatriation if you're diagnosed with COVID-19 while overseas;
Cover for some additional Coronavirus-related events such as cancellation following a diagnosis to assist our travelers on the Explorer Plan.

To find out what cover applies to you, read our What's Covered for Coronavirus article which has some of the details, including benefit limits, conditions and exclusions.

Lost, stolen or delayed baggage cover: Overseas travel can bring all kinds of unexpected surprises and traveling to South America is no different – the sheer deliciousness of a street vendor's pao de queijo (cheese bread), the kindness of a helpful stranger, the beauty of a beach sunrise. These are the moments you will remember. But it's important to be prepared for everything – the theft of your wallet and passport while you sleep, your rental car being damaged or stolen while you hike an Incan trail, or the garden variety luggage being lost by your airline carrier. World Nomads travel insurance offers cover for many of life's unexpected and unwelcome surprises.

Travel insurance tip

If something is stolen, make sure you report it as soon as possible after you've discovered the theft and as you buy items keep receipts of your purchases as proof of purchase in case you need to make a claim in the future.

Botafogo bay, Rio de Janeiro, Brazil. Photo credit: Getty Images / Andre Pinto

What's not covered?

Understanding what's not covered is just as important as knowing what your insurance does cover you for. Things that won't be covered by travel insurance include:

Gear that was stolen from an unattended car (even if it was locked)
Medical evacuation or repatriation for any incidents related to drug and alcohol abuse, or that is not pre-authorized by a physician
Medical costs related to a pre-existing condition
Not having visas or passports issued on time or properly fulfilling the entry requirements of your destination.
Leaving your gear behind, or not keeping an eye on your things and they get stolen.
Business equipment.

If you've any questions, or are unsure if something is covered, please contact us for more information.

About World Nomads

World Nomads polices are designed by travelers for travelers to provide simple and flexible travel insurance. Featuring coverage for more than 150 activities, you can get a quote, claim, or extend your policy online at www.worldnomads.com. All the information we provide about travel insurance is a brief summary only. It does not include all terms, conditions, limitations, exclusions, and termination provisions of the travel insurance plans described. Coverage may not be available for residents of all countries, states or provinces. Please carefully read your policy wording for a full description of coverage.

Travel Insurance Benefits: how we can take care of you *

Trip Cancellation

Been working hard for your trip?

We'll work hard to protect it.

Trip Protection

Unexpectedly hospitalised?
Travel buddy unfit to travel?
Close relative suddenly dies?

We've got your back.

Emergency Medical Expenses

Feeling fit and healthy? What if you get sick or injured?

Take the pain out of medical or dental costs.

Emergency Medical Insurance

Need meds quick?
Accidentally injured?
Suddenly sick?

We've got your back.

Emergency Medical Transportation

Know where the nearest hospital is?

Don't stress, we'll get you there quickly.

Evacuation and Repatriation

Banged up abroad?
Need a hospital urgently?
Medivac home?

Help starts here.

Protect your gear

Love photography, filming or sport?

Cover your bags, tech or gear.

Protect your gear

Passport stolen?
Airline lost your gear?
Bags delayed?

Help starts here.

Emergency Overseas Medical & Dental Expenses
Emergency Medical Evacuation & Repatriation

Trip Cancellation or Interruption
24-Hour Assistance Services

Baggage
And more (depending on your country of residence)

*This is a general summary only. Restrictions, exclusions and limitations will apply. Coverage may not be available for all countries, states or provinces. Benefit limits may vary depending on the plan chosen. Get a quote for full details.

24/7 emergency assistance

Whether you need medical assistance or emergency evacuation, our teams are available 24 hours a day, 7 days a week, 365 days a year before and during your trip.

Are you in need of emergency assistance right now?

Travel insurance. Simple & flexible.

Travel insurance for independent travelers and intrepid families. Nobody wants to think about all the things that could go wrong on their trip, but these things can and do happen. So be prepared and get your travel insurance today.

Travel insurance doesn't cover everything. All of the information we provide is a brief summary. It does not include all terms, conditions, limitations, exclusions and termination provisions of the plans described. Coverage may not be the same or available for residents of all countries, states or provinces. Please carefully read your policy wording for a full description of coverage.

Please select your country of residence

World Nomads
Travel insurance
Get a quote
Travel alerts
Footprints donations
Responsible travel
Travel guides
Creative scholarships
Storytelling tips
Travel podcasts

About us
Who we are
Meet the team
Travel Manifesto
Media Center
Partner Program
Job openings
Be a contributor
Site map
Terms of use
Privacy

Need help?
Help & emergencies
Make a claim
Help center
Contact us

Travel insurance doesn't cover everything. All of the information we provide is a brief summary. It does not include all terms, conditions, limitations, exclusions and termination provisions of the plans described. Coverage may not be the same or available for residents of all countries, states or provinces. Please carefully read your policy wording for a full description of coverage.

WorldNomads.com Pty Limited (ABN 62 127 485 198 AR 343027, NZBN 9429050505364) at Governor Macquarie Tower, Level 18, 1 Farrer Place, Sydney, NSW, 2000, Australia is an Authorised Representative of nib Travel Services (Australia) Pty Ltd (ABN 81 115 932 173 AFSL 308461, NZBN 9429050505340), and is underwritten in Australia and New Zealand by Pacific International Insurance Pty Ltd, ABN 83 169 311 193, NZBN 9429041356500. nib Travel Services Europe Limited trading as nib Travel Services and World Nomads (CN 601851), at City Quarter, Lapps Quay, Cork, Ireland operates in both Europe and the UK; in the UK it is underwritten by Inter Partner Assistance S.A. UK Branch; in Europe it is underwritten by Inter Partner Assistance S.A. nib Travel Services Europe Limited trading as nib Travel Services and World Nomads is regulated by the Central Bank of Ireland. nib Travel Services Europe Limited trading as nib Travel Services and World Nomads is deemed authorised and regulated by the Financial Conduct Authority. The nature and extent of consumer protections may differ from those for firms based in the UK. Details of the Temporary Permissions Regime, which allows EEA-based firms to operate in the UK for a limited period while seeking full authorisation, are available on the Financial Conduct Authority's website. WorldNomads.com Pty Limited markets and promotes travel insurance products of nib Travel Services Limited (License No.1446874), at PO Box 1051, Grand Cayman KY1-1102, Cayman Islands. World Nomads Inc. (1585422), at 2201 Broadway, Suite 300, Oakland, CA 94612, USA, plans are administered by Trip Mate Inc. (in CA & UT, dba, Trip Mate Insurance Agency) at PO Box 939073, San Diego, CA, 92193, USA, with 24-hour and Assistance Services provided by Generali Global Assistance and plans underwritten by Nationwide Mutual Insurance Company and affiliated companies, Columbus, OH. World Nomads (Canada) Ltd (BC: 0700178; Business No: 001 85379 7942 RC0001) is a licensed agent sponsored by AIG Insurance Company of Canada at 120 Bremner Boulevard, Suite 2200, Toronto, Ontario, M5J 0A8, Canada. World Experiences Seguros De Viagem Brasil Ltda (CNPJ: 21.346.969/0001-99) at Rua Padre João Manuel, 755, 16º andar, São Paulo – SP, Brazil is an Authorized Partner (Representante) of Chubb Seguros Brasil S.A. (CNPJ: 03.502.099/0001-18) at Av. Nações Unidas, nº 8.501, 27º andar -, Edifício Eldorado Business Tower, Pinheiros through the SUSEP Process 15414.900439/2015-34. All World Nomads entities listed above, including nib Travel Services Europe, nib Travel Services Limited and nib Travel Services (Australia) Pty Ltd, are subsidiaries of nib holdings limited (ABN 51 125 633 856).

Cookies We use cookies to help us improve website user experience. If you continue, we'll assume that you are happy for us to use cookies for this purpose. Find out more.

11 Best Travel Insurance for South America

It is always a good option to travel with insurance. If you're planning to travel South, this list of the best travel insurance for South America can be handy.

Traveling is all fun and games until you, unfortunately, have to cancel your plans due to weather or any other unforeseen reason, or you find yourself stuck in a medical emergency in a foreign land.

When planning a trip, most of us are on a hunt to find the best backpack and choose the safest flights, yet the thought of buying travel insurance rarely occurs.

However, getting travel insurance for South America or any other part of the country is crucial.

Travel insurance helps save you money in case your trip is canceled due to illness, weather, or political conditions in your country of destination.

World Nomads Travel Insurance is the best option for international travel, because it's affordable, reliable, and offers great coverage.

TravelInsurance.com offers the widest selection of travel insurance policies from the top providers, so you can find the perfect coverage for your trip.

AIG Travel Guard is reliable, trustworthy, and has been providing travel insurance for over 25 years. Get a quote for an affordable trip insurance policy now.

Some insurance policies also cover medical services and lost luggage.

Since you might be busy putting together the essentials and accessories for your trip, I've taken care of the insurance legwork. Find the best travel insurance for South America below.

Table of Contents

Do I Need Travel Insurance For South America?

Previously, travelers needed insurance for traveling to South America, especially Brazil. The country's laws required travelers to have valid proof of health insurance. However, this is no longer a requirement.

As for travel insurance, you can choose to get it or not as South American countries do not have any regulations that restrict your entry into the region without insurance.

It's preferable to buy travel insurance if you're a senior or a frequent traveler since insurance coverages can make your trips a breeze.

Best Travel Insurance Provides for South America

If you're on the lookout for insurance for traveling to South America, here are some highly reviewed and reliable options to pick from.

1. World Nomads

World Nomads aims to help travelers 'explore their boundaries' while providing travel insurance for over 130 countries. No matter where you are in the world, you can file a claim for lost baggage, overseas dental, natural disasters, travel health, and much more.

More importantly, the company's insurance plans cover a comprehensive range of travel activities, such as skiing, snowboarding, bungee jumping, scuba diving, and surfing. If you're an adventurer at heart, you'd love the security and liberty that comes with World Nomads.

The company offers various insurance plans depending on your country of residence. Fortunately, Americans can opt for plans covering medical care, baggage damage, trip cancellation, medical repatriation, terrorism acts, baggage loss, gear loss, and much more.

The company's trustworthiness is also proved by its affiliation with the A+ rated Nationwide Insurance.

As for the prices, they depend on your plan. For instance, if you select emergency medical insurance plans, they may offer coverage as high as $300,000.

Typically, you'll have to select between the Standard Plan and Explorer Plan. While the former is suitable for shorter travels, the latter offers premium features, such as $10,000 in trip protection and $100,000 in medical emergencies.

Sound interesting? Read our full World Nomads travel insurance review to find out if this is the best service for you.

2. TravelInsurance.com

When searching for travel insurance for South America, you might want to consider a few options before settling for one. TravelInsurance.com lets you do this.

Let's say you're planning a month-long vacation to a South American country and want to find the best travel insurance for the region.

On TravelInsurance.com, you merely have to enter your trip details and get quotes from some of the best companies in the country.

Then, you can compare their plans and prices, choosing the one that fits your needs and budget. Since the website offers unbiased comparisons, you're guaranteed to find the best prices every time.

Additionally, you get coverage emails instantly from the insurance providers and travel without worry.

Like what you are hearing? Read our full TravelInsurance.com review.

3. Travelex

Travelex is a reliable travel insurance company based out of Nebraska.

Berkshire Hathaway Speciality Insurance company underwrites the policies by Travelex, boasting an A++ rating on AM Best and Standard & Poors.

Their plans start at as low as $28 and go higher depending on the services you include. Most of their policies cover medical emergencies, evacuations, and trip interruptions.

You can also upgrade your plan or customize it according to your needs.

In the Travel Select plan, you get the following features:

$500,000 for medical evacuation in emergency situations
$50,000 for dental and medical coverage
$1000 for stolen, lost, or damaged baggage

While most travelers choose their Travel Select plan, the company also has a Travel Basic Plan.

It's preferable for domestic vacations, and short trips since the limits are lower in this plan. One of the best things about Travelex is the coverage of kids under 17 at no additional cost.'

Read our full Travelex insurance review to see if this is the right insurance provider for you.

4. AIG Travel

Another company for South American travel insurance is AIG Travel, offering three plans. If you're an avid traveler, get their Annual Plan that covers all trips you take in a year. Meanwhile, the Pack N' Go plan is for the last-minute trip you planned for your birthday or one-time vacations.

You can further ensure your one-time trip with Deluxe, Preferred, or Essential coverage, as per your trip's duration and cost. New York state residents can choose from a Platinum, Gold, or Silver plan, according to their needs.

As the insurance costs differ based on the travel details, you have to get a quote from the company's website. If you choose the Preferred Plan, you can qualify for 100% of the trip cancellation coverage and 150% of the trip's cost.

Like what you are hearing? Check out our full AIG Travel Guard review.

5. IMG Travel Insurance

If you're a retiree planning to travel the world with your partner, IMG Travel Insurance is an excellent option since they have a particular package for travelers over 65.

Apart from the GlobeHopper Senior Plan aimed at retired travelers, the company also has plans for students, government workers, business travelers, and ex-pats.

Their main focus is on international health insurance, travel, and medical insurance.

Their travel plans include iTravelInsured Travel LX, iTravelInsured Travel Lie, and iTravelInsured Travel SE. If you're traveling with family, choose the iTravelInsured Travel SE plan, which is suited for international and domestic vacations. Here are some benefits of this plan:

150% of the trip's cost for interruption coverage
$50,000 per person for trip cancellation coverage
$500 for travel delay coverage
$500,000 for emergency medical evacuation

IMG Travel Insurance is very flexible in the regard that you can buy a plan just a day before your flight. Moreover, the delay coverage policies also cover certain things that are overlooked by other insurers, such as kennel charges for your furry friends.

If you're planning on renting a car, add auto damage protection to your plan with $40,000 in coverage.

6. InsureMyTrip

InsureMyTrip lets you find plans from reputable insurance companies in the US. All you have to do is enter your trip details, and the website will churn out the best travel insurance for traveling to South America.

You can also filter the results to customize them for your needs. For instance, you might want a higher medical coverage or a plan that covers activities, such as adventure sports.

Some basic features of all plans include travel delay, luggage coverage, and medical care.

All insurers listed on InsureMyTrip have high ratings from reputed authorities. Moreover, these companies are financially stable, freeing you of any worries.

However, it's still a good idea to read the policy details on the insurer's official website before buying the plan.

Showing you results from over 20 travel insurance companies, InsureMyTrip is a one-stop for all your travel insurance needs.

7. Seven Corners

Seven Corners exclusively offers insurance plans to people living or coming to the US. The company offers travel insurance plans for students, groups, and frequent travelers.

If you're a US resident and only plan to take one trip a year, the Round Trip Cancellation Insurance policy will be a good option for you. It's available in Elite, Choice, and Economy, depending on your travel needs. Here are some features of this plan:

$750 in dental coverage
$20,000 in trip cancellation coverage
150% of the trip's cost for trip interruption coverage
$600 in trip delay coverage
$100,000 in medical coverage
$1000 in missed connection coverage
$1500 for stolen, lost, or damaged luggage
Repatriation and evacuation coverage of $500,000

If you meet certain conditions, you'll also qualify for coverage on your existing conditions. Additionally, you can customize your travel insurance plans by adding car rental coverage and cancellations, etc.

Read more about the policies in our Seven Corners Travel Insurance review.

8. Allianz Travel Insurance

If you frequently travel to South America for business or any other purpose, Allianz Travel Insurance must have a suitable plan for you.

Apart from annual plans, the company also offers packages for one-time trips tailored to your requirements.

The OneTrip Prime is their most commonly bought plan as it comes with plenty of features, such as:

$150,000 trip interruption coverage
$100,000 trip cancellation coverage
$25,000 emergency medical coverage
$500,000 emergency medical transportation coverage

In addition, you get perks such as luggage loss and delay coverage. If you're a US citizen, your existing conditions will also be covered by Allianz Travel Insurance, provided you meet certain conditions.

9. AXA Assistance

AXA Assistance has many plans covering South America travel insurance, such as Platinum, Gold, and Silver. The Gold Plan, being the mid-tiered offering, is suitable for families, students, and business travelers.

It comes with the following features:

100% trip cancellation coverage
150% trip interruption coverage
$200 per day in case of delays with up to $1000 maximum
Missed connection coverage for up to a $1000
Emergency medical evacuation coverage up $500,000
$100,000 for sickness coverage
Baggage delays up to $300

If you want to increase the benefits, opt for the Platinum Plan that also covers adventure sports, such as skiing, and equipment rentals for different sports, including golf.

Even better, you can enjoy the 'cancel for any reason' feature in this plan, allowing you to get 75% of the trip's cost back in case you cancel your trip. However, you have to meet a few requirements for this.

Moreover, the company gives a 10-day money-back guarantee for all its plans. Therefore, if you change your mind, you can always get your money back if the trip hasn't begun yet.

10. Berkshire Hathaway Travel Protection

Berkshire Hathaway Travel Protection offers plans covering travel insurance for South America, giving you a free quote for your selected package. Their plans are listed in tiers – ExactCare Extra, ExactCare, and ExactCare Value.

Besides standard features, such as baggage and interruption coverage, the company also has specialized plans for cruises, road trips, and adventure sports.

If you're traveling with your friends or family, the ExactCare plan should be an optimal option since it offers:

$500 in coverage for missed connections
$500,000 for emergency medical evacuation
$25,000 for medical coverage
$1000 for trip delay
100% in trip cancellation coverage
150% for trip interruption coverage

All plans from the company come with 24/7 travel assistance all over the world. It's particularly helpful in cases when you're in a different time zone and lose your wallet or need emergency medical help.

While you're in South America, you can easily file a claim on the company's online portal and view your plan's details. You can also read safety tips for traveling from industry experts on Berkshire Hathaway's website.

More importantly, Berkshire Hathaway Travel Protection is known for paying claims five times quicker than other companies. Most travelers have positive experiences with the company. Thus, if you're looking for the best travel insurance for South America, you might want to get a free quote.

11. HTH Travel Insurance

HTH Travel Insurance has been serving travelers since 1997 and focuses on medical coverage. Thus, if you're a senior, check out the company's plans, as one of them offers up to a million dollars in medical coverage.

Moreover, if you already have primary insurance, you get 100% coverage for hospital fees, such as tests, inpatient stays, prescriptions, surgery, etc. Although the company's medical plans are incomparable, its travel insurance coverage isn't as great as some other insurers.

The coverage for baggage damage and trip interruption is relatively lighter, making this plan suitable for older – even aged 95 or above – travelers.

Travel insurance for South America: 5% discount

Are you traveling to one or more countries in South America? If so, purchasing travel insurance for South America is one of the essential steps when planning your trip. When we travel to a country where we do not have medical insurance, travel insurance will make life easier for us if we have an accident or fall ill. As I always say, investing in travel insurance is investing in your health, safety and, if you are unlucky enough and end up using it, in your bank account.

Thanks to this article, you will be able to know if it is mandatory to have travel insurance for South America, what coverage requirements the insurance should have, which company I recommend (I have a small discount for you), the vaccines you need to travel to different countries in South America and some safety tips.

Table of contents

1. Is having travel insurance for South America mandatory?

With the reopening of tourism during the global COVID-19 pandemic, some countries are requiring travelers to have travel insurance. At the moment, there isn't a country in South America that requires mandatory travel insurance to enter the country. This can change at any time however, therefore you should check the current requirements in each country.

Regardless of whether it is mandatory or not, purchasing travel insurance for South America is extremely necessary and essential.

We never know when we are going to get sick or have an accident. If this happens to you in a country that you do not know and where you don't have medical coverage, it can become a real nightmare. You will be on your own to find the best medical attention and you will have to face all the economic expenses. However, if you have travel insurance, there will be a team of people who will help you emotionally and financially.

Your travel insurance for South America should meet the following requirements:

– CUSTOMER SERVICE IN YOUR LANGUAGE. Something very important is that your insurance company offers all the information and service in your language. Explaining a claim in detail in a foreign language can cause misunderstandings and add complications to the process.

– ADVENTURE SPORTS. Basic insurance does not cover certain sports or activities. For example, if you are going to travel to Peru and are going on a hike in Huaraz or Ausangate, you should include adventure sports coverage. The added coverage will be cover hikes above 3,000 meters of altitude. It is also necessary to add this extra coverage for sports such as canyoning, diving, mountain biking or rafting.

– MEDICAL COVERAGE. Since you invest in travel insurance, make it a good one. I recommend that you cover a minimum of 100,000 in terms of medical assistance.

– *COVID-19 COVERAGE*. It is very important that your travel insurance covers medical care in case of Covid-19 infection. Not all insurance covers the coronavirus. Do not worry, the insurance that I am going to recommend does cover it.

– NO MONEY UP FRONT. I recommend looking for a company that does not make you advance the money since doing all the paperwork to get the money is quite a hassle. Before heading to a center yourself, you should call the company so they can tell you where to go and take care of all the paperwork.

– CANCELLATION COVERAGE. Some policies give you the option to add coverage for trip cancellation expenses. The insurance company cover several cancellation reasons: new hiring, job dismissal, call from the hospital to operate, etc.

2. Travel insurance for South America

Now that you are aware of what travel insurance should cover, I recommend what is, in my opinion, the best travel insurance for South America: HEYMONDO.

Why purchase travel insurance for South America?

The travel insurance for South America that I recommend will not only be useful if you have an incident in which you need medical attention, but it also covers a series of other things:

– MEDICAL ASSISTANCE. In case you get sick, have an accident, get Covid-19, etc. The insurance will cover the costs of treatments, surgeries, medications, hospitalizations, emergencies, medical tests, etc.

– FAMILY DISPLACEMENT. If you are hospitalized for more than 5 days and you do not have the company of a family member, the insurance covers the costs of moving a family member to your destination. In addition, it will also cover the expenses of the displaced family member for 10 days.

– BAGGAGE DAMAGE. The insurance covers your checked baggage. In case of theft, serious damage or loss, the insurance will give you financial compensation. Similarly, you will also receive compensation if the waiting time for the delivery of the suitcase is too long.

– LEGAL AND CIVIL LIABILITY. In case you need legal help abroad or in case you inadvertently cause material or bodily harm to third parties.

– DENTAL EXPENSES. The insurance covers certain expenses if you urgently need dental treatment (endodontics, caps, prostheses and implants are excluded).

– EARLY RETURN. The insurance will cover early return travel in the event of death or serious hospitalization of a family member or serious damage to the home or workplace.

Best travel insurance for South America

As I mentioned before, the travel insurance that I have been using for the last few years and the one that I always recommend is HEYMONDO. Some of the best aspects about his travel insurance are:

↠ VALUE-FOR-MONEY. The coverage offered by Heymondo travel insurance is one of the most comprehensive in the market and, however, they maintain a very competitive price. You will be covered during your trip to South America without having to increase your budget too much.

↠ 24/7 MEDICAL CHAT. Something that I love about HEYMONDO and that I have used on several occasions is the medical chat. You can contact a doctor or pediatrician 24 hours a day to ask any questions you have about your health. This has come in handy for me while traveling when I had some symptoms. Better to ask a doctor than Google.

↠ REFUND OF POLICY. If, for whatever reason, you aren't able to go on your trip and you had already bought travel insurance, HEYMONDO can provide a full refund for the policy.

↠ HEYMONDO APP. One of HEYMONDO's latest innovations is the exclusive HEYMONDO app for its customers. When you purchase an insurance policy for the first time, you can download the app. Thanks to this you will be able to call the insurance through the internet (something that is great because when traveling we do not always have a sim card that can make calls), talk to a health professional through the medical chat, review your policy and coverage, make claims, etc.

↠ COVID-19 COVERAGE. If you are looking for travel insurance to South America that covers COVID-19 related issues, I am happy to tell you that HEYMONDO covers the costs of medical assistance if you contract the virus. On the other hand, it also covers expenses if you have to extend your stay in the hotel due to medical quarantine. In addition, if you add cancellation coverage, it will cover your travel expenses if you have to cancel it due to illness or death of the traveler or family member due to COVID-19.

This is why Heymondo is the best travel insurance for South America.

How much does travel insurance for South America cost?

We've come to one of the most important points: how much does travel insurance for South America cost? The price of your insurance will depend on the duration of the trip and the coverage. HEYMONDO offers three types of insurance: Heymondo Top, Heymondo Premium and Heymondo Medical.

PRICE FOR TRAVEL INSURANCE FOR SOUTH AMERICA:
– 2-week coverage: from $76.63 USD
– 3-week coverage: from $96.81 USD
– 1-month coverage: from $120.95 USD.
– 2-month coverage: from $265.84 USD
– 3-month coverage: from $257.41 USD (long stay)

Below you can see the price and coverage of a HEYMONDO travel insurance policy for a 1-MONTH TRIP TO SOUTH AMERICA:

↠ HEYMONDO TOP: $120.95 USD.

250,000USD in medical assistance, repatriation and early return included, $1,700USD in baggage coverage, $3,500USD in cancellation, $450USD in travel disruption, tech coverage add on.

↠ HEYMONDO PREMIUM: 145.14 USD.

$500,000USD in medical coverage, repatriation and early return included, $2,500USD in baggage coverage, $7,000 in cancellation and interruption, tech coverage add on optional, adventure sports coverage optional.

↠ HEYMONDO MEDICAL: $116.10 USD

$500,000USD in medical assistance, repatriation and early return included.

You can see the complete coverage of each policy before purchasing it by clicking on "General conditions".

As you can see in the table, the price of travel insurance may be expensive for some but as a reader of my blog, you can purchase an insurance policy with a 5% discount.

3. Vaccines for South America

MANDATORY VACCINES TO TRAVEL TO SOUTH AMERICA

To travel to Uruguay, Brazil, Paraguay, Bolivia, Ecuador, Guyana, Suriname and French Guiana, it is mandatory to have the yellow fever vaccine if the traveler is coming from a country where yellow fever exists (endemic).

RECOMMENDED VACCINES TO TRAVEL TO SOUTH AMERICA

Regardless of the destination: It is recommended to have the tetanus vaccine, the triple viral vaccine (measles, rubella and mumps) and the Hepatitis A vaccine.

Depending on the areas of the country or countries you plan on visiting: It is recommended to have the yellow fever vaccine.

According to the clinical characteristics of the traveler or the trip: In special cases it may be advisable to have the Hepatitis B vaccine, the typhoid fever vaccine, the typhoid fever vaccine, the flu vaccine, the rabies and pneumococcal vaccine.

You can refer to the CDC's website to see which vaccine is recommended to travel to certain countries in South America.

I also recommend consulting a health professional about any vaccine related question or concern.

4. Safety in South America

Safety in South America is one of the reason many people hesitate to travel to South America. Unfortunately, what we read in the media or see in the news about South America is all negative, which ultimately makes us think that all countries in the continent are dangerous. In fact, whenever you tell someone you are traveling to South America, the first question he or she asks is, is it dangerous? Aren't you worried or afraid? Etc.

Obviously, we all know countries in South America aren't among the safest in the world; however, if you practice basic precautionary measures and you aren't a victim of bad luck, nothing bad will happen. I've travel to Colombia, Peru, Chile and I haven't run into any safety issues. Below, I will give you a few safety tips you should follow before departing to South America.

– VALUABLE ITEMS. It is very important that, especially in big cities, you do not go around showing your valuable items. Use your phone or camera when you have to and then store it well. Also, I recommend being discreet and not carrying many expensive items with you (watches, jewelry, etc.). If you are going to take a long bus trip, always keep your valuables with you.

– VISIT PLACES DURING THE DAY. We all know that any place is safer during the day than at night. If you are going to move around the city at night, I recommend doing it by taxi instead of public transport or walking.

– BEWARE OF TAXIS. Always use official taxis. If in doubt, ask the hotel or restaurant to call a taxi for you. At the airport, always go to the accredited taxi zone. Many robberies take place in unofficial taxis, so you have to be careful with this. Another option is to use Uber or a taxi app.

– KEEP YOUR PASSPORT IN A SAFE PLACE. Take a photocopy or picture of your passport with you and leave the original in a safe place inside your hotel.

– DO NOT RESIST. If you are unlucky and end up being a victim of assault, don't even think about resisting. Better to finish the trip with a little less money than to end up injured or not finish it at all.

As I said before, if you are careful, everything will most likely be fine… Although you can have bad luck anywhere in the world.

I hope that this post about the best travel insurance for South America has been very useful when planning your trip. If you have any questions, I encourage you to leave a comment. Until next time, traveler!

Source https://www.worldnomads.com/travel-insurance/destinations/south-america

Source https://viatravelers.com/travel-insurance-for-south-america/

Source https://comeamaviaja.com/en/travel-insurance-for-south-america/#:~:text=PRICE%20FOR%20TRAVEL%20INSURANCE%20FOR%20SOUTH%20AMERICA:%20%E2%80%93,$120.95%20USD.%20%E2%80%93%202-month%20coverage:%20from%20$265.84%20USD