When can Americans fly to Europe? EU announces new travel rules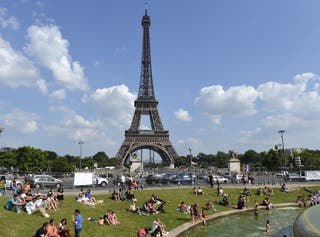 European Union ambassadors met on Wednesday to finalise plans to allow fully vaccinated people to fly to Europe without quarantine or Covid testing.
The US is expected to be included on a so-called "green list" of countries, from which all tourists will be allowed to enter the continent.
Residents of seven countries, including Australia, New Zealand, Singapore, and Israel, are currently allowed into the bloc for non-essential travel.
The US and UK, which now have low incidences of Covid-19 and high rates of vaccination, are expected to be added to that list in the coming days.
It will consider countries that have fewer than 75 Covid new infections per 100,000 people — the current eligible rate is below 25.
The US has 35 per 100,000, and the UK has 44, according to recent figures.
The EU's "green list" will also take into consideration the vaccination rates, and instances of variants, in non-EU countries.
It is all in the hope of salvaging some of the lucrative summer tourism season in 2021, after a disastrous 2020.
Just under 50 per cent of the adult population in the US is fully vaccinated, having received full doses of one of the approved vaccines. For the EU, it is 16 per cent.
Either way, EU ambassadors also agreed to ease restrictions for all fully vaccinated persons.
In order to be eligible to travel it is expected individuals will have to wait until 14 days after their second dose.
A formal adoption of the EU's plans will follow on Thursday, with a signing-off by EU trade ministers. The list of eligible countries will be updated every two weeks.
Talks are continuing over how to make US vaccine certificates eligible as proof of immunity for visitors.
Leading the push to open up are diplomats from countries such as Greece, Italy, and Spain that are more heavily dependent on tourism. They argue that increased levels of vaccination make the existing measure of infection rate less relevant.
Greece had already moved to accept US visitors with proof of vaccination or a negative Covid test.
Much of Europe remains under a "Do Not Travel Advisory" per the US State Department website, though it is thought that this may also change in the near future.
Current exceptions for Americans in the EU that are classified at the lower advisory level of "Reconsider Travel" are Spain, Denmark, Estonia, and Austria.
The UK, Bosnia, Albania, and Belarus are the non-EU countries that currently fall under that classification.
In a statement, the US state department told The Independent that remained "in close contact with our foreign counterparts and we are continuously adapting to evolving conditions."
"We appreciate the transparency and concerted efforts of our European partners and allies to combat this pandemic, [and] We look forward to the resumption of transatlantic travel as soon as our medical and public health professionals advise."
It added: "We are closely monitoring health and safety conditions across the globe, and will continue to update our destination-specific information for US travellers as conditions evolve."
Register for free to continue reading
Registration is a free and easy way to support our truly independent journalism
By registering, you will also enjoy limited access to Premium articles, exclusive newsletters, commenting, and virtual events with our leading journalists
Already have an account? sign in
By clicking 'Register' you confirm that your data has been entered correctly and you have read and agree to our Terms of use, Cookie policy and Privacy notice.
This site is protected by reCAPTCHA and the Google Privacy policy and Terms of service apply.
Register for free to continue reading
Registration is a free and easy way to support our truly independent journalism
By registering, you will also enjoy limited access to Premium articles, exclusive newsletters, commenting, and virtual events with our leading journalists
Already have an account? sign in
By clicking 'Register' you confirm that your data has been entered correctly and you have read and agree to our Terms of use, Cookie policy and Privacy notice.
This site is protected by reCAPTCHA and the Google Privacy policy and Terms of service apply.
Join our new commenting forum
Join thought-provoking conversations, follow other Independent readers and see their replies
Here Are The Current Travel Restrictions For Americans Traveling To Europe
Editorial Note: We earn a commission from partner links on Forbes Advisor. Commissions do not affect our editors' opinions or evaluations.
Getty
Americans can still travel to European countries, although each country makes their own decisions about who can enter and what precautions are required to help prevent the spread of Covid-19.
Before deciding to travel to Europe, check the testing and vaccination requirements for your destination. Be sure to also consider any countries you transit as there may be testing or vaccination requirements even if you don't leave the airport. You'll also want to travel masks with you at all times, since some forms of transportation as well as public and private businesses may require them to enter. Many European countries specifically call for FFP2 masks (or similar-style masks such as KF94 or N95s).
Here are some of the latest European travel rules and restrictions for U.S. travelers.
Looking for Travel Insurance?
Compare Quotes With Over 22 Travel Insurers
France
U.S. citizens can travel to France with full proof of vaccination , which you may have to show to your airline and to border patrol.
Spain
U.S. citizens are not required to quarantine when arriving in Spain, but proof of vaccination or a recent negative test is required. Your test must be from within 72 hours prior to departure for PCR tests or 24 hours for antigen tests. Spain recently revised their requirements to define fully vaccinated travelers as those who received their final dose 14-270 days prior to arrival. Therefore, some travelers may need to obtain a booster dose prior to travel to Spain.
Before departure, you must complete a Health Control Form (FCS) and obtain and download the QR code to show at boarding and health controls upon arrival in Spain.
Requirements for Traveling to the U.S.
As of June 12, U.S. citizens returning from Europe to the United States no longer need to provide a negative Covid-19 test in order to return home. The Centers for Disease Control and Prevention (CDC) lifted the previous mandate that had required travelers to supply a negative Covid test or documentation of recovery in order to re-enter the U.S.
However, if you're not a U.S. citizen or are on an immigrant visa, you'll still need to show proof of vaccination to fly to the U.S. from Europe.
Get Travel Insurance Before Your Next Trip
Compare & Buy Travel Insurance
Was this article helpful?
Best Covid-19 Travel Insurance
Best Travel Insurance
Best "Cancel For Any Reason" Travel Insurance
Best Senior Travel Insurance
Best Cruise Insurance
Group Travel Insurance
Best Travel Credit Cards
How Much Is Travel Insurance?
How To Get Cheap Travel Insurance
Trip Cancellation Travel Insurance
Medical Evacuation Coverage Guide
Medical Insurance Guide
Reimbursement For A Travel Insurance Claim
Trip Cancellation Travel Insurance
Annual Multi-Trip Travel Insurance
Making A Travel Insurance Claim
Trip Interruption Insurance
More from
Chase Sapphire Reserve: Dining Perks To Tempt Your Tastebuds
By Forbes Advisor Brand Group
Weekly Travel Insurance Costs And Trends: Week Of Nov. 20, 2022—United States, Mexico And Israel Are The Most Popular Destinations
By Michelle Megna Editor
10 Worst U.S. Airports For Flight Cancellations Last Week
By Kelly Anne Smith Forbes Advisor Staff
Best Travel Insurance Companies Of November 2022
By Amy Danise Editor
Best Covid-19 Travel Insurance Plans Of November 2022
By Amy Danise Editor
10 Worst U.S. Airports For Flight Cancellations This Week
By Kelly Anne Smith Forbes Advisor Staff
Travel Insurance Outlook For 2023: Hello, Big Spender
By Michelle Megna Editor
Information provided on Forbes Advisor is for educational purposes only. Your financial situation is unique and the products and services we review may not be right for your circumstances. We do not offer financial advice, advisory or brokerage services, nor do we recommend or advise individuals or to buy or sell particular stocks or securities. Performance information may have changed since the time of publication. Past performance is not indicative of future results.
Forbes Advisor adheres to strict editorial integrity standards. To the best of our knowledge, all content is accurate as of the date posted, though offers contained herein may no longer be available. The opinions expressed are the author's alone and have not been provided, approved, or otherwise endorsed by our partners.
Becky Pokora is an avid traveler with a particular love for the outdoors. She's always looking for new ways to make travel easier, more memorable, and more affordable, particularly by using miles and points.
© 2022 Forbes Media LLC. All Rights Reserved.
The Forbes Advisor editorial team is independent and objective. To help support our reporting work, and to continue our ability to provide this content for free to our readers, we receive compensation from the companies that advertise on the Forbes Advisor site. This compensation comes from two main sources. First, we provide paid placements to advertisers to present their offers. The compensation we receive for those placements affects how and where advertisers' offers appear on the site. This site does not include all companies or products available within the market. Second, we also include links to advertisers' offers in some of our articles; these "affiliate links" may generate income for our site when you click on them. The compensation we receive from advertisers does not influence the recommendations or advice our editorial team provides in our articles or otherwise impact any of the editorial content on Forbes Advisor. While we work hard to provide accurate and up to date information that we think you will find relevant, Forbes Advisor does not and cannot guarantee that any information provided is complete and makes no representations or warranties in connection thereto, nor to the accuracy or applicability thereof. Here is a list of our partners who offer products that we have affiliate links for.
How Europe's doors are slamming shut for Americans
While summer saw much of Europe open up to American visitors, offering them the chance to fulfill lockdown dreams of eating gelato in Italy or touring the art museums of Paris, the season's end has brought with it new restrictions, and the doors to the continent begin to close.
Earlier in September the European Union recommended that US visitors should be banned from nonessential travel to its member states due to rising Covid-19 cases in the States.
The news has prompted various European countries to update travel restrictions for Americans, while some have prohibited entry to US travelers completely.
Unsurprisingly, the changes have prompted widespread confusion, particularly for those planning to travel to Europe in the coming months.
Can Americans still travel to Europe?
Yes, they can. Only a small number of countries have so far restricted all nonessential arrivals from the United States. Since the EU advice was issued, Bulgaria, Norway and Sweden are the only ones to restrict all access.
However, while at least one destination — Greece — has ruled out imposing new curbs on travel in the near future, it's safe to say that Americans, particularly those who are unvaccinated, are likely to face more restrictions in the days and weeks to come.
What are the new EU rules?
The European Union has dropped the United States from its safe list and advised its member states to reconsider allowing US travelers to enter without an essential reason.
Its advice is non-binding, however. There's no pressure for countries to adopt this measure and they're free to ignore it if they choose.
That means there's no blanket rule covering the continent. Instead each destination country is at liberty to adopt or ignore the advice according to their own preferences.
Given how valued US visitors are to Europe's tourism economies, it's likely that any decision to restrict their arrival will be taken with considerable reluctance.
What do the EU rules mean for Americans traveling to Europe?
Ultimately it means that traveling to European countries is likely to become harder for Americans in the weeks ahead, although not necessarily impossible.
As the rules change, it's up to individual travelers to check their eligibility to travel. Although airlines may also do checks before departure, they won't need to in order to sell tickets.
It's worth checking CNN Travel's Unlocking the World guides for up to date info where relevant or the US embassy in the country of destination. And then keep checking as the rules can change with just a couple of days' notice.
Some countries may keep their doors open, but tweak requirements such as pre-departure Covid tests, quarantine arrangements or proof of vaccination.
Which countries can Americans visit in Europe?
Austria, Belgium, Croatia, Cyprus, Czech Republic, Denmark, Estonia, Finland, France, Germany, Greece, Hungary, Ireland, Italy, Latvia, Lithuania, Luxembourg, Malta, Netherlands, Poland, Portugal, Romania, Slovakia, Slovenia and Spain are currently all open to fully vaccinated Americans.
The restrictions in place vary from country to country. Many destinations require travelers to submit a negative Covid test on arrival, while some have both testing and quarantine measures in place for vaccinated visitors.
France currently has no travel restrictions for fully vaccinated Americans, but a negative Covid test taken no more than 72 hours before arrival is required before they can enter Italy. A mandatory 10-day quarantine is set for fully vaccinated US travelers visiting the Netherlands, while those entering Germany must provide a negative Covid test result before being permitted to enter.
Fully vaccinated Americans are allowed to visit the United Kingdom, as well as Iceland, Liechtenstein and Switzerland.
Is travel to Europe safe?
No travel during the pandemic is entirely Covid-risk free, even for vaccinated travelers, and the best way to stay safe is to remain at home and minimize exposure to the virus.
That said, if safety protocols like mask wearing, social distancing and hand sanitizing are adhered to, there's no reason why travelers can't have a safe trip to Europe. Statistically, most western European countries have lower Covid rates than the United States.
There are still Covid hotspots — Montenegro recently experienced a major spike in cases — so it's worth checking US Embassy travel advice at the destination. Again, it's a matter of research.
Are more countries going to close their borders?
It's not entirely clear. Since several European countries have introduced new restrictions for US travelers based on the EU's advice, it's possible that others will follow suit in the coming weeks.
The restrictions have come about because of the spread of Covid's Delta variant in the United States, with cases reaching their highest numbers in many months throughout July and August. As numbers remain high in September, and colder months expected to fuel the disease's spread, more restrictions seem likely.
What should I do if I've booked a trip to Europe?
If you've booked travel to a country that remains open to Americans, you shouldn't encounter any problems provided you follow all of the recommended advice.
But if the rules have changed since you booked, many hotels and airlines recognize the problems with Covid and restrictions and may offer refunds if you've booked directly. It's worth asking.
Luis Araujo, President of the European Travel Commission, a nonprofit that promotes tourism in the continent, stresses that US travelers are still a huge priority for Europe despite the rule changes.
"American travelers are crucially important for Europe, and most European destinations are still open to US visitors and eager to welcome them back to our shores," Araujo tells CNN Travel in a statement.
"That said, we must accept that we are still living through the reality of this ongoing pandemic and will experience some setbacks on our way to recovery.
"Travelers from the US still have to be conscious of health measures and respect rules at their destination."
Should I book any future travel to Europe?
As mentioned above, with any travel plans in the current pandemic, there are risks they may have to be changed or canceled. If you're looking for an escape entirely free of bureaucratic hassle, uncertainty and stress, then perhaps the answer is a straightforward no.
But Araujo insists US citizens should "continue planning their trips to Europe," while keeping "an eye on all the latest travel rules and cancellation policies."
He adds: "Travelers are best advised to check the Reopen EU website and the websites of national tourism offices, which contain all information and safety requirements that are being regularly updated, including information on testing, passenger locator forms, as well as any other health measures in place.
"With current vaccination rates and safety protocols in place, safe international travel is absolutely possible, with this summer season proving that."
Which European countries have banned unvaccinated US travelers?
Denmark, Finland, France, Latvia, Malta, Netherlands, and Spain have all banned nonessential unvaccinated US travelers. Meanwhile, all nonessential American travelers are prohibited from visiting Bulgaria, Norway and Sweden, regardless of their vaccination status.
Which vaccinations are accepted in Europe?
To be considered as a fully vaccinated visitor, travelers must have been administered with a complete dose of the vaccines approved by the European Medicines Agency (EMA) — Pfizer, Moderna, AstraZeneca, and Janssen — two weeks before their trip.
Can I travel to Europe with unvaccinated kids?
The new rules will not impact children who are too young to be vaccinated. Those under 12 can travel with vaccinated adults to European countries where US travelers are permitted to enter. But while under 12s are exempt from all restrictions in some countries, others require a negative Covid test.
Those aged between 12 and 18 are subject to the same rules and restrictions as adult travelers. Again, it's worth double-checking for each destination in case variations on these guidelines are introduced.
A year of the world's Best Beaches There's a perfect beach for every week of the year. Join us on a 12-month journey to see them all
Source https://www.independent.co.uk/news/world/americas/when-americans-travel-europe-eu-b1850942.html
Source https://www.forbes.com/advisor/travel-insurance/travel-restrictions-us-europe/
Source https://www.cnn.com/travel/article/what-americans-need-to-know-about-eu-restrictions/index.html