How Do I Use My Cell Phone While Traveling to Europe
Cell Phone While Traveling to Europe – In today's connected world, it's more important than ever before to be able to access our network at any time. Fortunately, these days we have plenty of different options, Verizon, T Mobile, AT&T, and Straight Talk.
You can still use your cell phone while traveling to Europe if you plan properly and use all of the tools at your disposal. One word of advice: Don't just use your plan without speaking with your provider. You could rack up hundreds, or even thousands of dollars in roaming fees. Compare this to something simple like a $10 a day extra fee — just by a bit of pre-planning.
Avoid sticker shock with your next phone bill by being smart and planning in advance.
Many travelers prefer to use their own cell phones while traveling to Europe. Some people even like to bring their other mobile devices for email, communications, watching videos, browsing the Web and so on.
The good news is, it isn't that difficult to use your smartphone in Europe (or Traveling to Asia) to access the Internet, make calls or text. The following explains everything you need to do.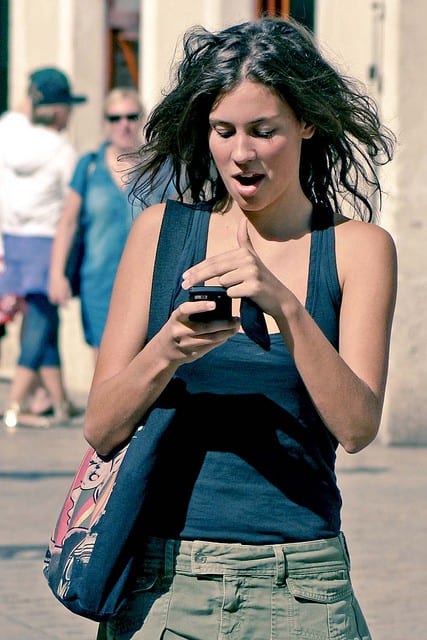 Cell Phone While Traveling to Europe
Using My Cell Phone While Traveling to Europe: Talk To Your Current Provider
Your current provider probably has some kind of international plan that will allow you to use your cell phone while traveling to Europe. People go on vacations all of the time, so it is not outside of the realm of possibility that they have some sort of package that would work best for you.
Your Smartphone cell plan provider in advance and speak with them about your options. Make sure that you cancel your international plan when you return home! Tips for Traveling Internationally
How to Use Your Smartphone in Europe
If you are from the United States, Canada, Mexico, or another country, traveling with your smartphone in Europe means additional fees, be it for calls, text or other types of data access.
If you are going to use your own phone, decide first how you intend to use it (for calls only, for text, the web, etc.). You can use your regular plan for calls, text and web browsing, but it will be more expensive.
There are international service plans you can sign up for a lower cost, i.e. flat fee or limiting you to a specific number of megabytes.
Before doing any of these, make sure first that your phone does work in Europe (you can check with your carrier), and then check the international rates.
Before you go to Europe, activate your phone's international service or call your carrier and ask them to turn on international roaming for data, voice, text or whatever service you plan to use.
Once your phone has been set up, you can access Wi-Fi in Wi-Fi hotspots, which are pretty common in the continent.
What type of phone do I have
The easiest way to find what type of phone you have and what phone model, is to check the settings in your phone.
Go to the Settings or Options menu, scroll to the bottom, and click on 'About phone'.
The name and model number of your Smartphone will be listed.
Cell Phone While Traveling to Europe and Smartphone Data Plans and Texting
If you want to use smartphone data plans and texting in Europe, keep the following things in mind.
First, Europe uses the GSM ("Global System for Mobiles") system.
All American carriers use GSM except Verizon and Sprint that use CDMA (Code Division Multiple Access).
However, this should not be an issue since most smartphones today can connect to both network systems.
European SIM Card
The easiest way to use data plans and text services in Europe is to use international roaming as suggested above. If you find it too expensive, you can sign up for an international data plan which is something your carrier and other services will offer.
The cost will depend on how you plan to use your mobile device, and it's certainly going to be more expensive if you're going to watch movies or YouTube videos.
Plan ahead for e-Learning success as well, including a language while you are on holiday. Even a simple language translator website will be helpful for specific words and phrases as you need them.
Get a Local SIM Card
Depending on where you're traveling, it might make a lot of sense to get a local SIM card. In order to install your SIM card, you will need to unlock your phone. Many carriers will allow you to do this as long as the phone is paid for.
If your carrier pushes back on unlocking your phone, you can always have it unlocked once you arrive in Europe. There is no real standard of excellence for having your phone unlocked by a local shop, so make sure that you check around and get solid references before you go this route.
Once your phone is unlocked you can use your local SIM card with ease! Make sure that you keep your American SIM in a safe spot because you'll need it when you return home.
Using a European SIM Card
The simplest and most practical option is to use a European SIM card, and you can get these from various European mobile carriers. In most cases you're going to have to unlock your phone so it can use the SIM card from other carriers.
The majority of US smartphones are locked, and you may want to get in touch with your mobile company for assistance on unlocking it. If you'd rather unlock your smartphone yourself, download software that unlocks smartphones and use their codes to unlock your device.
There are several services like these available online and the process is fairly straightforward:
Pay the fee
Provide some info about the phone on the website
The service will email you the code to unlock your mobile
Once your phone is unlocked, you can look for a SIM card in mobile phone stores, electronics counters and in some cases, vending machines.
These SIM cards cost anywhere from 4 to 8 euros, and they don't come with any commitment or contract. If you want a SIM card with data access good for a month, expect to pay around 13 to 25 euros for the card.
Before you buy, take a look at your smartphone and make sure that the card is compatible. Some mobile devices like the iPhone use a different type of nano-SIM card, so make certain the card fits your phone.
Talk to the clerk and check the rates for calls and to and from the European countries you will be visiting. Use the same approach for texting.
Once you've got a SIM card that works with your smartphone, ask the store personnel to install it and do a test call.
Turn your mobile on, enter the PIN and if necessary switch the language to English.
Don't forget to record the PIN number and ask how to check the credit balance.
In some European countries, your SIM card may have to be registered along with your passport for security reasons. Follow the instructions and after an hour or two you'll be able to use it.
If you run out of SIM, you can get one in any mobile phone store and tell the salesperson how much credit you want. The clerk is either going to give you the credit over the phone or you will be given a voucher with instructions.
Best Data Plan WiFi Hotspot Devices for Travel
Charging Your Cell Phone in Europe
One of the most common mistakes people make is thinking that you'll need a costly voltage converter to charge your mobile. In fact, the majority of mobile devices, tablets and laptops have battery chargers that can work on 220 volts used in Europe and countries in the world, as well as 110 volts (the US).
Cell phone chargers can work with different frequencies from 50 Hertz to 60 Hertz. Unless your mobile device specifically says to use a converter, don't use it because it could actually damage your mobile because it already has a converter.
If you want to know if your cell phone has dual voltage capabilities, read the words on the charger.
If your cell phone has dual voltage you will see something like "Input 100 – 240V, 50 – 60 Hz."
Then, if your mobile phone is dual voltage, you still need to use a plug adapter, but not a voltage converter.
Before going on a trip, you have to keep in mind that all countries have their own electrical system, and that will determine what type of plug adapters you have to use.
In Italy for instance, the majority of outlets are compatible with two round prongs, but bathrooms have three-pronged grounded outlets.
If necessary, you should purchase a multi-country plug adapter if you're not sure which type of adapter to use. Better yet, you should research the plug adapters that are used in the countries you're going to visit. Thanks to the Internet, this should be easy, and if you're not really sure you can always send an email to the website and get clarification.
If you're only going to bring a cell phone, a single adapter will do. However, if you're bringing a laptop, tablet, and other devices, it's best to have several adapters as your hotel room might only have a few electrical outlets available.
In some cases you also have to plug an adapter into another before you can use it. For instance, you can put plug a two-pronged adapter onto a three-prong European adapter to make it work.
No matter how many plug adapters you buy, make sure the plug fits in properly.
Prepaid Cell Phones in Europe
There's no lacking of prepaid cell phones in Europe, but when you buy a GSM prepaid wireless and/or a SIM card, make certain call time is included.
Charging Your Cell Phone in Europe
If you're in Germany, you can get a Handy for less than 60 euros which includes a refillable SIM card with prepaid minutes. The set up is usually pay per minute but the cost varies per country.
Almost always, however, it's cheaper compared to international roaming.
Another option is to buy a GSM phone before leaving for Europe, but if you decide to do this, check the various services online to make sure you get your money's worth. Once you've got your cell phone you can take advantage of the free Wi-Fi available throughout the continent.
Set Up a Mobile Hotspot
If you don't need to make phone calls, you can always invest in a mobile hotspot. Companies like TEP Wireless, Skyroam, and Keepgo all have mobile hotspot technology.
A hotspot will enable you to log into the internet without using local Wi-Fi. If you want to browse the internet safely and rapidly, a mobile hotspot is really the best way to go. Many accommodations offer Wi-Fi for free, but in hotels there is usually a fee.
The Wi-Fi signal also varies, as in some places it's great and in others it is less than ideal, which is the reason why many prefer to get a data plan.
Generally speaking, the speed is almost always good enough to send email and browse the web, but it's not as reliable for watching HD films or video. If you have a dedicated data plan however this won't be a problem.
All these prepaid cell phones can take advantage of Wi-Fi wherever they're available, and in most cases, your best bet will be a café. Starbucks and McDonald's also have Wi-Fi.
You can also get Internet access in popular tourist destinations as well as city squares, some public transit hubs and even trains and buses. In some cases, you will need to register and get the network password to gain access.
As you can see, you can use your cell phone while traveling to Europe in many ways.
With a good data roaming plan plus free Wi-Fi in certain locations, you should have no problem keeping in touch with those around you anywhere they are. Remember, if you have a prepaid cell phone and need more minutes, you can easily buy more airtime.
There was a time when using your mobile device and cell phone while traveling to Europe was expensive, but with all the options now available, you can save money without compromising signal quality.
TEP Wireless vs Skyroam vs Keepgo When Traveling to Europe
One of the first things that you need to consider before embarking on your next whirlwind vacation to Europe is how you will stay connected. There are plenty of providers out there, but TEP Wireless, Skyroam, and Keepgo are the top three choices.
Let's explore TEP Wireless vs Skyroam VS Keepgo when traveling to Europe.
Keepgo
Keepgo is a fan favorite these days and it's easy to see why. It offers 4G service that can be used on any corner of the planet, and you can access Keepgo through a variety of different devices.
Get Keepgo SIM cards for your existing smartphone or smartwatch, or use one of their hotspot devices. The data is a little bit on the expensive side, but it is always reliable and you can access it from almost anywhere in the world, making Keepgo a great option for business travelers.
If you need less connectivity and are worried about your pocketbook, the prices might be a little too steep for you!
Skyroam
In the battle of the hotspots, Skyroam clocks in at more affordable but less speedy than Keepgo. It's a great option for those who want to make sure that they have the internet at their fingers, but don't necessarily need top speeds.
With coverage spanning the world, Skyroam will relieve you from the hassle of having to tap into unreliable or insecure WiFi when you want to hop online.
It's a legacy player for a reason, and has amassed something of a cult following since it first came onto the scene. The only real downside is that you won't be able to get the speeds that you would with a company like Keepgo. If you need service for business purposes, you might be better off looking elsewhere.
TEP Wireless
TEP Wireless has hotspot devices that work with your smartphone or watch. You can also buy or rent a Teppy device, which acts as its own mobile hotspot and lets you get internet anywhere. One of the beautiful things about TEP Wireless is the sheer volume of different options that you have!
When it comes to fast internet, TEP Wireless is a great option, up to a point. They do start to throttle your speed after a certain amount of internet usage, which could become a problem for those who want to use it for business purposes.
As with Skyroam, TEP Wireless can't compete with Keepgo for the speediest coverage. Alternately, it is a cost-effective option, and TEP Wireless has been around for a long time, so you know that they are a solid company to work with.
So, who wins the battle of TEP Wireless vs Skyroam VS Keepgo when traveling to Europe? It all depends on exactly what you're looking for from a wireless service provider.
Each option has different strengths and weaknesses, but all of them cover the vast majority of the planet and will work in a pinch if you need wireless service right away.
Find WiFi and Use Chatting Apps
You can also rely on local WiFi for your internet usage. Use caution when selecting which WiFi options you will tap into. Try not to put in too much personal information, especially passport numbers, photos of identification, etc., and don't access banking data or other sensitive websites when you're tapped into public WiFi.
Assume that everyone can see what you're doing because that is probably the case!
There are plenty of chatting apps that allow you to communicate with loved ones back home. Skype, WhatsApp, and Messenger are just a few options.
Public WiFi could be a good option for people on shorter trips who just need a little bit of internet for places of interest, hours of operation, maps/directions, language translation and look up, currency questions, and other general travel information.
FREE iPad iPhone Travel Apps for Your Cell Phone While Traveling to Europe
FREE iPad / iPhone Travel Apps – I've had my iPod Touch for about two months now, and I'm falling helplessly in love with it more and more every day. It's my personal assistant, I use it for just about everything.
From reading books, storing recipes and workout exercises to converting currencies, booking hostels and checking the bus/train timetables.
I suppose you could call me an 'iPad NERD' – if there is such a thing…
Yeah, I admit I have also found some awesome applications which ONLY work for the iPhone, so I won't lie and say I never wish I had one of those as well – but then again I like my cellphone, it's pink!
Anyways, today I am going to share with you the best FREE Travel Apps out there right now! These are free iPad / iPhone travel apps.
Hostel Hero
This is an application that finds you the best deals by searching through every hostel website, all over the world. You have Hostelbookers, Hostelworld, etc. all in one place. From here you can book your stay from anywhere. I love it, very easy and simple.
Hostelworld
If you are an avid HostelWorld fan and just want to book through them, they have their very own application for you to book your stays.
Stanza
With this on your iPad you'll never have to carry another of those brick-like-heavy books in your backpack ever again! You can download hundreds (probably more) of books for FREE on your iPad (yes, in all genres).
Every Trail
Finds many outdoor activities (walking, mountain-biking, skiing, etc.) for you to do, anywhere in the world
What Knot
Shows countless types of knots and how to make them step by step, a skill that can be crucial to know when backpacking, camping, or hiking through the jungle etc. Trust me, you never know when you'll need it!
Skype (only for iPhone):
Now there really is a cheap way for you to call to other countries.
iTranslate
Translates whole sentences into heaps of different languages. The good thing about this one is that it doesn't only translate to or from English but from all kinds of languages: Hebrew to Korean, or Hindi to Galician, it's your choice 😉
Spending Light
Keeps track of your spending and income, how much you spend per day/week/month/year, and what you spend it on (food, clothes, entertainment, beer, etc.). It's really good to keep you from asking, "What happened? Where did all the money go??" and can help keep you on track with your travel budget.
Convert Everything
Convert Everything is a complete currency converter. What more do I need to say? This way you know exactly how much your paying anywhere in the world and can quickly determine the value.
Kayak
Now you can search for flights and hotels with the best online travel search aggregates right from your iPad!
Lonely Planet
The application is free, and you get a Phrase book and one Guide for free. But the rest you'll have to buy. But if you plan to bring a Lonely Planet guide, I highly recommend you pay for the digital version and bring it in your iPad. It sucks having all that extra weight when you could have it all in your hand.
Google Earth
I love looking at the earth globe – it really gets me into a happy state. I get so excited seeing all these places I want to visit, all cultures I want to see. So what is better than Google Earth?
Wi-Fi Finder
This way you don't have to run around all streets and corners desperately looking for a Wi-Fi connection, the JiWire application does the job for you.
If you know of anymore apps which I might find useful on my travels, please link me below in the comments! 🙂
messaging apps for traveling
Using my SmartPhone While Traveling to Europe FAQ
What should I do with my phone when traveling to Europe?
Your options for being able to use your phone while traveling Europe, including how to see if you can get an international plan, how stay connected to 3G by getting a local SIM card, and why a pocket Wi-Fi device might be a good option.
Europe EU recently ended cell phone roaming and roaming charges. Stay connected while on your Europe trip.
Do I need an international phone plan for Europe?
Unless you travel to Europe frequently and your stays are longer than a vacation, it is simpler, more cost effective and easier to set up your own cell phone with international calling and international data plan through your existing cell phone service provider.
Do US cell phones work in Europe?
If you have an iPhone 4s or newer, then yes. But you still need an international roaming plan from your SmartPhone cell plan provider. If you have an older phone or a non-iPhone, it depends on the phone and your carrier.
Europe uses a cell phone system called GSM (Global System for Mobiles) but Verizon and Sprint use CDMA (Code Division Multiple Access). All the other major US carriers use GSM, so if you use a mobile service provider other than Verizon and Sprint, you should be able.
Top 4 Best Prepaid SIM Cards for travel to Europe in 2022
Europe is one of the most visited continents around the world. There are many countries to visit, and people would surely list the specific ones they want to visit on their trip. But, when traveling, people have to remain connected to the internet to make things easier for them, that's why we need to know which are the 4 best prepaid SIM cards for traveling to Europe.
For travelers, this is something critical to keep in mind. It will help them organize their trip better, but it will also be useful for future travel plans to Europe. So, pay attention to everything we have to say here, as you will come across important information about different alternatives to having Mobile internet in Europe.
Where can I buy a Prepaid SIM Card for Europe?
Knowing where to buy an international SIM card will help people make quicker decisions and even help them save some time. People can get confused due to the wide variety of options available, such as online and physical stores.
So, let's see. When it comes to online stores, we are talking about a service that has been recently growing a lot. There's nothing to worry about when getting a SIM card through this alternative, it is safe, easy and fast to get. The downside here comes when we talk about delivery, as it can be an issue for people to receive the SIM card.
Other than that, we have the classic option of getting the SIM card through a physical store. There are many options to get one out there as these stores are located all over the city or place that people will visit, from airports to town squares and even in the hotel. But, these SIM cards are mostly used by local citizens.
Each method will have its pros and cons, but the final choice will come when people compare the best prepaid SIM Cards to use their cell phones in Europe with.
What is the Best SIM Card for Europe?
As we could expect, Europe is a continent with many options for people to get a SIM card. There are many options available, but people might not know which one is the best option to use, as they can all seem pretty similar at first sight. That's why travelers have to look at the fine print.
People must remember that using a SIM card for traveling is not the same as using a SIM card in your hometown. When choosing one, there are other things to consider, such as coverage, price, and more.
So, if you are having doubts about which one to use, we will tell you some things everyone needs to consider when looking for a SIM card to buy in Europe.
The SIM card should work with different cellular networks from all around Europe.
People should be able to buy a SIM card through different options such as online stores, physical stores and more.
The SIM card should have more than enough cellular data for people to fully enjoy their trip.
If bought with a local company, check that it has cellular data plans available for traveling, so you can choose the best one.
The company where you bought the SIM card should give you as much customer support as possible, if not the best.
Something that we can't forget to mention here is the fact that Vodafone also has coverage in other countries, such as the UK, Spain, France, and many others.
Try to keep this in mind not only when traveling to Europe but also to other countries, as well as the terms and conditions, don't change too much.
As for today, we will talk about the 4 best prepaid SIM Cards for travel to Europe: Holafly, Vodafone, O2, and Eurolink.
Holafly
The first company on our list is Holafly. This company offers different data plans for different European countries and decent coverage in all these countries. It is easy to get one through their website and easy to get through the company's delivery system. It is a hard-to-match alternative when discussing the best prepaid SIM cards in Europe.
The only downside here comes when we talk about the delivery. The delivery system works in Europe for now, but not in other countries. It is a pretty complete option people can consider for all their trips, and adding the fact that it provides travelers a phone number makes it even better.
Vodafone
Vodafone is a cellular provider company that can be found all over Europe. The thing with them is that if you are a Vodafone client from the UK, your SIM card will surely work in different countries without having to go through a hassle. Sounds interesting, right?
The downside here comes when people want to get one as a non-European citizen. It can turn things into something difficult to achieve, so keep that in mind if you plan to get Vodafone instead of another service. But, other than that, their cellular data plans work well in different destinations, and this is what customers seek the most.
Another alternative directly from Europe is O2. This company is located in the UK, but nothing to worry about. Their SIM card, similar to what happens with the Vodafone SIM card, works well in many countries in Europe, which is what makes this SIM card a viable alternative for travelers.
But, we have a problem here too. As it is a local service, if you come from a different part of the world, getting one can somehow be a problem for you. However, other than that, we can't say much more about the O2 SIM card because of how it has grown in the last few years.
Eurolink (Airlo)
Eurolink is a company that gives people the chance to use their service in most countries from the continent. There's no doubt that it is a worth-mentioning service here, but the issue comes with how much data they include on their SIM cards because the amount is pretty low.
But, that's nothing people can solve by buying more than one SIM card for their journeys, right? Thankfully, they have a website where people can get the specific SIM card they want to use, so there aren't many things to worry about here.
What is the best price?
Prices. When talking about prices, people tend to be scared about how much money they will have to spend. It is normal behavior, as people will surely like to save some money to spend on other things while getting to know Europe and its different countries.
When it comes to telling which SIM card has the best price, the Holafly SIM card comes first. It has different prices available, and people can choose the one that suits them best.
The runner-up here might be Eurolink, but the other alternatives we mentioned before are hard to match these two when it comes to prices.
Which one offers more mobile data?
Now, talking about cellular data is quite important too. People will worry if they don't have a proper way of communicating with other people, so having the right amount of data is important!
In some cases, SIM cards give people from 1 GB to up to an unlimited amount of cellular data, but the more data, the more expensive the SIM card. Here, Holafly comes first again due to the different options they have available.
Next to them, we can mention Vodafone and O2, as they are local cellular services. But when we compare them to see which one is better regarding the amount of data it provides for the prices charged, Holalfy is a clear winner.
What is the most complete SIM Card?
Talking about a complete SIM card can end up being complicated. People might have different thoughts about which one is the best service for them to use, depending on their needs and what these companies offer to their customers.
When talking about which service is more complete, Vodafone and O2 have an advantage here. We say this because they are companies located in Europe and have access to more benefits than other SIM cards.
But, when we compare this service to Holafly, for example, we can tell this company is not too far down the road from them. Holafly gives people the chance to use a SIM card with a phone number, as well as they can also receive phone calls and text messages, which is not something common to see in international SIM cards for traveling.
Which SIM card is the most affordable?
The best question people can ask themselves is how affordable a SIM card is. We know the feeling that people want to save as much money as possible or use their budget efficiently.
In this aspect, Holafly has different prices available for people. There are other options available with Eurolink with similar prices, but when comparing, the amount of data they provide, it is not as good as Holafly.
Other than that, we have the local companies that are in third place due to them charging people the same amount of money month after month for using their service.
Best SIM cards for travelling in Europe
Got plans to galavant around French vineyards? Knock back shots of vodka in Poland? Gorge yourself on pasta in Italy and all on the same trip? You're in luck: it turns out taking your phone overseas is quite simple, even if you want to hop from country to country – especially in Europe.
And thanks to more affordable global roaming options from Australian telcos, you may not even have to switch SIM cards. So whether you want to use your own plan, get a travel prepaid SIM card or pick up a local one on arrival, these are our picks for your best options.
In this guide:
Roaming in Europe with your telco
Using your Australian SIM and plan overseas can be expensive, but it's not as pricey as it used to be. Telstra, Optus, and Vodafone all offer roaming options on postpaid plans, and felix mobile is another worthwhile option.
Roaming add-ons are charged per each day your overseas, so the cost can add up quickly on a longer trip. As such, they're better suited for international jaunts no longer than seven days. After that point, you're better off buying a SIM overseas.
Other mobile providers and prepaid brands also allow for overseas roaming, but not all. You'll need to check with your provider to see if you can use your SIM overseas. If you can, you'll generally be charged pay-as-you-go rates – and that adds up very quickly. Keep in mind, as well, that roaming rates may vary from country to country. But as a general guide, for most countries and providers, you'll pay somewhere around:
Between $1.00 and $1.50 per minute to make or receive calls
Between $0.50 and $0.75 per SMS sent
Between $0.50 and $1.00 per MB of data used (that's as much as $1,000 for a gigabyte).
Roaming with Optus
If you're an Optus postpaid customer, you'll use the Roaming Pass system in order to stay connected overseas. $10 per day will give you a 1GB allowance, as well as unlimited talk and text. If you go over your 1GB allowance, you'll be billed another $10. This restarts the 24-hour clock. At the end end of 24 hours, you'll loss any unused data.
These Optus postpaid plans all work with Roaming Pass:
$49 Optus Choice Plus Plan
$59 Optus Choice Plus Plan
$89 Optus Plus Promo Plan
500GB Data
No Contract
Deal: 500GB for $69/mth for the first 12mths, then increases to $89/mth or as notified. Offer ends 31.01.23. T&Cs apply.
$69 Optus Choice Plus Plan
$89 Optus Choice Plus Plan
There is a catch, however; you can only use Roaming Pass in what Optus calls "Zone 1" countries. These include most of Europe, the UK, USA, New Zealand, and China. "Zone 2" (any country not part of "Zone 1" is predominantly made of countries in the Middle East, Africa, and Central and South America. You'll pay as you go in these countries.
Please complete all fields to subscribe.
An error has occurred. Please try again.
Thank you for subscribing!
Keep an eye on your inbox for the latest telco news and great deals
Roaming with Telstra
To use a Telstra Upfront plan overseas, you'll need to purchase an International Day Pass. This means you'll pay $10 per day while overseas for a daily 500MB allowance, unless in New Zealand in which case it drops to $5.
If you exceed your 500MB, you'll be charged an extra $10 for 1GB. This data can then be used over the following 30 days, whenever you go over your daily data.
You'll also get unlimited talk and text, but MMS is billed at $0.75 a pop. Telstra roaming works in over 80 destinations.
Here is Telstra's range of Upfront plans:
$58 Basic Upfront SIM Plan
40GB Data
No Contract
Deal: Get one month free on Foxtel Now + 2 months BINGE + 3 months Apple TV+ and 3 months Telstra Device Security
$68 Essential Upfront SIM Plan
180GB Data
No Contract
Deal: Get one month free on Foxtel Now + 2 months BINGE + 3 months Apple TV+ and 3 months Telstra Device Security
$89 Premium Upfront SIM Plan
300GB Data
No Contract
Deal: Get one month free on Foxtel Now + 2 months BINGE + 3 months Apple TV+ and 3 months Telstra Device Security
If you're on a Telstra Upfront plan and you travel outside of an eligible destination, you simply won't be able to use your service. Telstra won't bill you pay-as-you-go rates.
Note that International Day Pass inclusions tick over at midnight Australia time (AEST) rather than based on your destination's time zone.
Roaming with Vodafone
Vodafone postpaid plans are one of the best choices for heading overseas thanks to $5 roaming. For $5 per day, you're able to use your local inclusions overseas in over 100 countries. This means you don't have to worry about a separate overseas data allowance – your usage will work the same way it does in Australia.
The $5 per day charge will only be added to your bill on days where you make a call, send a text, or use data overseas. Just not you can only use $5 roaming for up to 90 days of the calendar year.
These Vodafone postpaid plans all include $5 roaming:
$40 SIM Only Lite Plan
40GB Data
No Contract
Deal: Get 30GB bonus data each month + Bonus 3 months award-winning security when you sign up and stay connected to this plan.
$45 SIM Only Lite+ Plan
120GB Data
No Contract
Deal: Black Friday Sale – Get 90GB bonus data each month when you sign up by 29.11.22 + Bonus 3 months award-winning security
$55 SIM Only Super Plan
250GB Data
No Contract
Deal: Get 190GB bonus data each month + $5 off plan fees + Bonus 3 months award-winning security when you sign up to this plan.
$65 SIM Only Super+ Plan
500GB Data
No Contract
Deal: Get 400GB bonus data each month + $10 off plan fees + Bonus 3 months award-winning security when you sign up to this plan.
$85 SIM Only Ultra+ Plan
Unlimited Data
No Contract
Deal: Save $25/mth off plan fees each month + Bonus 3 months award-winning security if you stay connected to this plan.
Roaming with felix
felix is one of the few smaller providers with a genuinely great roaming offer: a $20 roaming pack. This gets you 4GB of data, 100 texts, and 100 minutes of talk with a one-year expiry. If you're mooching off as much public WiFi as you can find while travelling, 4GB could even last your entire trip.
Here is felix mobile's sole plan:
felix mobile felix $35 Subscription
Unlike other providers, felix offers unlimited data but capped to speeds of 20Mbps (both locally and abroad). That's still fast enough for most online activities. felix is powered by the Vodafone network.
felix's roaming isn't as broadly available as options from The Big Three: it only works in around 40 destinations. Most popular countries are included, however, including the UK, the USA, New Zealand, China, and a lot of Europe.
Please complete all fields to subscribe.
An error has occurred. Please try again.
Thank you for subscribing!
Keep an eye on your inbox for the latest telco news and great deals
Get a European SIM-card
If you're travelling in Europe for more than a week, consider picking up a European prepaid SIM card on arrival. Even Vodafone's $5 roaming starts to add up when you're overseas for more than seven days.
Your Australian phone should be compatible with the GSM networks used throughout most of Europe, but you'll need to check it's unlocked before you put in a new SIM.
If you go for a European SIM card, the majority of SIM cards will let you roam across the entire European Union without needing to buy a new SIM in each destination or pay roaming charges. If you're planning on visiting more than one country on your European adventure, this is a great option. Just make sure every country you're visiting is part of the EU. Ukraine isn't, for example, and the UK isn't either anymore. Many European SIMs will still work in the UK, however. Some plans also have reduced allowances outside of your destination.
If you opt for a Europe prepaid SIM card, you'll need to make sure that your plan doesn't auto-renew, and that the service is contract-free. You should be able to pick up a local SIM at airports or convenience stores when you land. Be sure to have an app like Google Translate handy in case the SIM instructions aren't in a language you speak.
Orange and Vodafone are two of the biggest telcos all across Europe. Orange even has a Europe prepaid SIM card specifically designed for tourists.
€39.99 will get you 20GB, 120 minutes of international talk, and 1,000 text messages with a 14-day expiry. But if you activate between June 3rd and October 5th 2022, you will score 30GB instead of 20GBs. If you have an eSIM compatible phone, you can even order an eSIM direct from the Orange website. If you want a physical SIM card, you'll need to wait until you get to Europe.
This SIM works in the following destinations:
Andorra, Azores, Aland islands, Austria, Balearic Islands, Belgium, Canary Islands, Cyprus, Corfu, Crete, the Cyclades, Croatia, Czech Republic, Denmark, Estonia, Faeroe Islands, Finland, France mainland, Germany, Gibraltar, Greece, Guernsey, Hungary, Ireland, Iceland, Italy, Jersey, Latvia, Liechtenstein, Lithuania, Luxembourg, Madeira, Malta, Isle of Man, Norway, Netherlands, Poland, Portugal, Rhodes, Romania, Spain, United Kingdom, San Marino, Sardinia, Sicily, Slovakia, Slovenia, Switzerland, Sweden and Vatican.
Get a travel SIM card
Travel SIM cards are rarely a good deal, they tend to cost more than you'd pay if you just buy a local SIM in your destination. As such, we'd recommend sticking with a European local SIM for most travellers. However, if you have a phone with an eSIM, travel eSIMs tend to be the exception.
For example, if you buy a travel eSIM for Europe through Airalo, you can get a 10GB plan with a 30-day expiry for USD$37 or a 50GB plan with a 90-day expiry for USD$100 if you're heading over for a longer jaunt. Just be aware that these plans are data-only, so you won't be able to make phone calls. This eSIM also includes some destinations not always covered by other European plans, including Albania, Bulgaria, and Ukraine.
Airalo also sells travel eSIMs for individual countries, if you want to save money by just going to one destination
Use free public Wi-Fi
If you're looking to save money, you can hop on the free public WiFi networks available in hotels, cafes, attractions and city centres throughout Europe.
Mooching off WiFi doesn't mean giving up on talk and text either. Apps like Skype, Viber and WhatsApp will let you send and receive text messages and phone calls via the internet. All apps allow free talk and text between contacts who both have the app. And if you want to make calls to those who don't, you can buy a little Skype or Viber credit.
You'll want your friends and family to install your app of choice on their phones so you can contact them and they can contact you for free. You'll also want to make sure your phone is in aeroplane mode to stop any accidental calls, texts or data usage that could trigger exorbitant roaming charges.
You can check out maps of available WiFi through an app such as Wiman or Instabridge to help you connect on the go.
Do you need a different SIM card for every country in Europe?
If you're travelling within the European Union, the same SIM card should work in most destinations. You may, however, have a smaller data allowance, and some smaller countries can be omitted on certain plans, so be sure to check the fine print before you buy your SIM. When it comes to countries outside of the EU, such as Ukraine, you may need to buy a country-specific SIM.
Can you buy a European SIM in Australia?
If you're looking to buy a European SIM in Australia, there are websites like SIMCorner and SimsDirect that will ship you a SIM to your Australian address, so you don't have to spend time looking for one when you arrive. Just be sure to double-check what these SIMs include, as they're often different to the SIMs you can get on arrival.
Can I use my Australian phone in Europe?
There shouldn't be any issues with using the vast majority of Australian phones in Europe. You'll just need to make sure it's unlocked.
Source https://aswetravel.com/how-do-i-use-my-cell-phone-while-traveling-to-europe/
Source https://roami.ng/sim/best-prepaid-sim-cards-europe/
Source https://www.whistleout.com.au/MobilePhones/Guides/best-phone-plans-travelling-in-europe