Should travelers rethink Europe plans because of the war in Ukraine?
Editor's Note — Sign up for Unlocking the World, CNN Travel's weekly newsletter. Get news about destinations opening and closing, inspiration for future adventures, plus the latest in aviation, food and drink, where to stay and other travel developments.
(CNN) — With many travel restrictions finally relaxing in early 2022, Gabriele Antoni booked a trip she's been wanting to take for a while: several weeks in her home country of Germany, followed by a 12-day cruise in Norway with friends.
The 64-year-old Florida resident and US green card holder hasn't been back to Germany since her mother died in February 2020. At that time, Antoni had to abruptly return to the United States, where she's lived for decades, to avoid border closures as the pandemic gained steam.
But ever since, she has longed to return to her small hometown of Sonthofen to "properly grieve" her mother, she says, by visiting cafes they frequented together and hiking where they once did in the foothills of the Bavarian Alps.
In the lead-up to her trip, Antoni is busy booking hotels and flights, making arrangements with friends — and, like many others with plans to visit Europe, keeping an eye on the horrifying headlines coming out of Ukraine since it was invaded by Russia on February 24.
"I am doing everything, but in the back of my mind, I tell myself, you might not be able to do this, you might not be able to get there," Antoni told CNN Travel.
Antoni isn't alone in her concerns. According to a recent survey conducted by MMGY Travel Intelligence, the research division of marketing research firm MMGY Global, the war in Ukraine is now twice as likely to impact Americans' travel plans to Europe as the coronavirus pandemic.
Of the 350 adult US travelers with upcoming plans to visit Europe who were surveyed, 62% said the invasion is a factor for planning their trips, compared with 31% who cited Covid-19 health and safety concerns. In addition, 47% said they're taking a "wait and see" approach on how the situation evolves before making plans to visit Europe this year.
According to a report from flight tracker app Hopper, searches for round-trip flights to Europe from the United States were on the rise as the Omicron variant wave subsided, indicating a strong rebound for transatlantic demand.
But as news of Russia's possible invasion of Ukraine started making headlines in mid-February, that demand started to taper. According to Hopper data, since February 12, Europe has dropped from 21% to 15% of international bookings — a notable decrease from the approximately 30% of international bookings in the same time frame the region accounts for in a pre-pandemic year such as 2019.
'You can travel safely'
Ukraine and Russia currently have Level 4 "Do Not Travel" warnings from the US Department of State, but the department has not issued similar advisories for European countries that are affected by the crisis.
Poland, which is receiving the majority of Ukrainian refugees fleeing the war, is listed at a Level 4 advisory but for Covid-19 concerns, not the current conflict.
A spokesperson for Rick Steves' Europe said via email that the tour company "intend[s] to run all Eastern Europe itineraries, including the Best of Poland tour," adding that the only tours it has canceled are those with stops in Russia.
Indeed, Europe remains open for travelers despite the crisis unfolding in Ukraine. And after limping along for two years during the pandemic, the tourism sector is more eager to welcome visitors than ever.
And while concerns over traveling during a war are valid, security experts also emphasize that many of Europe's most popular tourist areas, such as Barcelona, Rome and Paris, are many hundreds (if not thousands) of miles from the current conflict in Ukraine.
"You don't need to have this sort of heightened state of anxiety, [which] is the one thing that I'm seeing the most right now," said Greg Pearson, CEO and founder of Care & Assistance Plus, a newly launched travel and crisis assistance service by global firm FocusPoint International.
"People are maybe prematurely canceling their plans, and I don't think we're there yet. It's anybody's best guess as to what's going to happen next, but as it relates to travel to western Europe, I think you can travel safely."
The island of Gotland in Sweden is a popular vacation destination. The town of Visby is pictured on March 3, 2022.
Pearson estimates that about 30% of CAP's customers over the past few weeks have either canceled or postponed trips to countries including the Czech Republic and Germany, neither of which border Ukraine. Other travelers have shifted their itineraries farther away from the conflict to western Europe.
In addition, Pearson says, some travelers are concerned about whether they should take part in shore excursions during river boat tours of eastern Europe.
"The advice we've provided them has been 'Absolutely get off [the boat],'" Pearson told CNN Travel. "They need those tourism dollars, they want to see you, they want you to visit their restaurants and shop and stay if you can, so we want people to do that. Our mantra here is to travel fearlessly, but to travel informed and stay connected."
'This uncertainty is really difficult'
Not surprisingly, some European tourism officials are concerned about the potential disruption to travel — yet another setback facing the beleaguered industry after two challenging years.
In Prague, Czech Republic, the tourism board is focusing its summer marketing campaigns on domestic tourism and visitors from other European countries, instead of the US and Asia, the organization said in a statement shared with CNN Travel.
Christian Tänzler, a spokesperson for Visit Berlin in Germany, also said that while he expects Europeans to travel as usual throughout Europe for spring and summer holidays as long as the Ukraine crisis does not spill over into other countries, the US market is a tougher sell.
In non-pandemic years, US travelers made up the second-largest group of international tourists behind the United Kingdom, Tänzler said.
However, in light of the current crisis, those travelers appear to be in a wait-and-see mode regarding booking, although the organization hasn't seen a noticeable uptick in cancellations so far.
"Nobody knows, really, if people will start canceling because of the situation," he said. "This uncertainty is really difficult."
In addition, Tänzler noted, US-based travelers may not have an accurate account of the current situation in Germany, which he said is "absolutely safe."
"Last weekend in Berlin, the cafes, bars, restaurants were all packed," Tänzler said. "Everything was crowded. Everybody was sitting outside. It was like a normal spring day."
But even for travelers who know Europe well — such as Antoni, who grew up in Germany — the specter of possible nuclear war, or fallout from war-damaged nuclear reactors in Ukraine, can add an extra layer of trepidation.
It's a fear that Antoni understands firsthand: Following the Chernobyl disaster in April 1986, she decided to cancel a trip from the United States to Germany with her young children.
"It was a big deal," Antoni said, recalling memories of warnings over possible food contamination and other health scares in Germany. "I hope and hope and hope that this is not happening again. But I always say, ' I'll cross the bridge when I get there.' No use worrying now."
'Always have an emergency plan'
As some travelers reconsider upcoming travel plans to Europe, security and risk experts note that it's always a good practice to stay informed about current events no matter where you're headed. They also emphasize the need to have a solid plan in place should things go awry, whether it's the coronavirus or a war.
"The worst time to figure out what to do in a crisis is in the middle of a crisis," said CAP's Pearson.
As two years of pandemic-caused cancellations and disruptions have demonstrated, reliable travel insurance and flexible booking policies for airfare and accommodations are more important than ever.
Before leaving, make copies of important travel documents such as passports and vaccine certificates, and US citizens and nationals should be sure to register with the State Department's Smart Traveler Enrollment Program, a free service that connects travelers with embassies and consulates in their destination country. The service also provides travel and security updates.
Figuring out where you'll go ahead of time in case of an emergency situation, such as wartime conflict, also is crucial.
"If war spreads across Eastern Europe or into one inch of NATO soil, you should have a plan to evacuate or relocate to a safer area," says Tim Hentschel, co-founder and CEO of HotelPlanner, a service provider for the global hotel sales market. "Always have an emergency plan anytime you travel to a city that's foreign to you."
Pearson also advises travelers to share a copy of their itinerary, hotel and flight information with friends or family back home. Regular check-ins are important too, he said. Also, don't forget about the basics, such as "how to dial the phone internationally while you're abroad."
In addition, travelers headed to Poland or other countries receiving a large influx of refugees should also be aware of the constraints on transportation infrastructure and hotel room availability.
Protests and demonstrations, meanwhile, continue in popular European tourist destinations, and while most of them are peaceful, travelers should always be vigilant and avoid conflicts with security.
Finally, while a devastating invasion and humanitarian crisis shouldn't prevent people from taking a much-anticipated vacation, what's happening in Ukraine can also offer travelers a profound sense of perspective, especially in light of common on-the-road gripes such as long security lines.
"I talk to people within my own circles that are interested in traveling, and one of the things I say to them is, 'Don't be an ugly American,' " Pearson said. "Of course, enjoy yourself, have a great time, but just be sensitive to the fact that there are a lot of people recently displaced and struggling right now."
Top image: People stroll in Puerto Banús marina and shopping complex in Marbella, Spain, on March 2, 2022.
A year of the world's Best Beaches There's a perfect beach for every week of the year. Join us on a 12-month journey to see them all
Should I cancel my travel plans in light of the coronavirus outbreak?
Should I cancel my travel plans in light of the coronavirus outbreak?
Feb 26, 2020 • 5 min read
The coronavirus outbreak has left people around the world wondering whether they should cancel or postpone pending travel plans. If you're one of the many people feeling anxious about an upcoming trip, remember that while your decision to stay or go should always prioritize safety, you should remain up to date on the latest developments of COVID-19.
Here's what travelers need to know in light of the current outbreak.
What is coronavirus?
Coronavirus disease 2019 (COVID-19) is a respiratory illness that spreads from person to person. Around 80% of people recover without requiring special treatment. The virus, which first appeared in Wuhan, China, has since spread to 113 countries. Of the roughly 137,000 reported cases, China accounts for over 80,000. Older people and those with preexisting conditions – including high blood pressure, heart disease, and diabetes – are the most likely to develop a severe illness as a result of COVID-19.
According to the World Health Organization (WHO), there have been over 5000 coronavirus-related deaths as of March 13, and Johns Hopkins University reports over 69,000 recoveries worldwide. On Tuesday, March 3, Dr. Tedros Adhanom Ghebreyesus, the director general of the WHO, said the fatality rate is around 3.4 percent. While this rate is significantly lower than two other recent coronavirus epidemics – SARS, identified in 2003, has a fatality rate of 10%; MERS, identified in 2012, has a fatality rate of 35% – the transmission rate of COVID-19 is significantly higher, meaning more people are likely to get sick. The announced fatality rate also doesn't take into account milder cases of those who don't seek medical attention, so officials believe the rate will eventually turn out to be between 1 and 2 percent.
Where should I avoid traveling?
Cases of COVID-19 have spread across six continents. Those with the highest risk of exposure to COVID-19 are people in China or those who have recently traveled there. Health care workers and close contacts of the sick have the highest risk of infection. People who've returned from an area with a known outbreak more than 14 days ago and are asymptomatic are not infected and cannot spread the virus.
To avoid infection, the Centers for Disease Control and Prevention (CDC) currently recommends forgoing all non-essential travel to China – the epicenter of the outbreak – as well as South Korea and Iran. On Monday, March 9, Italy announced nationwide travel restrictions. Foreign travelers currently within Italy are being allowed to leave, but flights are being canceled across the country. Israel has announced a policy of self-quarantine for foreign visitors.
On Wednesday, March 11, the Trump administration announced sweeping restrictions on travel from most of Europe.
#CDCTRAVELNOTICE: #Coronavirus in most of #Europe. CDC recommends avoiding all nonessential travel to most of Europe. More information: https://t.co/TgLdA8Zs9p pic.twitter.com/GUzKut7S1S

— CDC Travel Health (@CDCtravel) March 12, 2020
Who should avoid traveling?
Elderly travelers or those with compromised immune systems should reconsider travel at this time. According to a study of 72,000 COVID-19 patients in China, the elderly and sick people were most susceptible to contracting severe cases of the coronavirus. The CDC says those with medical conditions such as high blood pressure, heart disease, or diabetes are at a higher risk of serious illnesses. While the CDC doesn't have data on the susceptibility of pregnant women to complications caused by COVID-19, pregnant women were shown to be at risk during previous coronavirus outbreaks.
Where can I find up-to-date travel information concerning COVID-19?
Regardless of location, it's always wise for travelers to consult the websites of their intended destination for advisories and cancellations. The CDC regularly updates their site with health-related travel recommendations; the New York Times has an interactive map tracking the global spread of the outbreak. WHO is a treasure trove of information that offers regular updates on the status of COVID-19 cases around the world and answers questions for people concerned to travel during the outbreak.
Should I cancel my travel plans?
Right now, it is not the best time to travel to or from many places. For those who've already booked trips to an affected area, check the cancellation policies for upcoming reservations. If there are cancellation windows to avoid payment penalties, mark them in your calendar and reassess the situation once it's time.
Many airlines around the world are discontinuing flights to China and Italy, with US-based companies like United, Delta and American suspending travel to the region through the end of April. Be sure to check your airline's policy concerning travel waivers and rebooking flights. US carriers American, JetBlue and Alaska Airlines have announced plans to waive cancellation fees for new flight bookings for travelers who change plans due to the coronavirus.
The US State Department is warning Americans not to travel by cruise ship – particularly those with underlying health conditions.
If you must travel, the CDC recommends taking necessary precautions, including avoiding contact with those who are sick, avoiding touching your face and washing your hands routinely.
Get more travel inspiration, tips and exclusive offers sent straight to your inbox with our weekly newsletter .
Covid Update: Should You Cancel Your Trip To Europe As Cases Rise?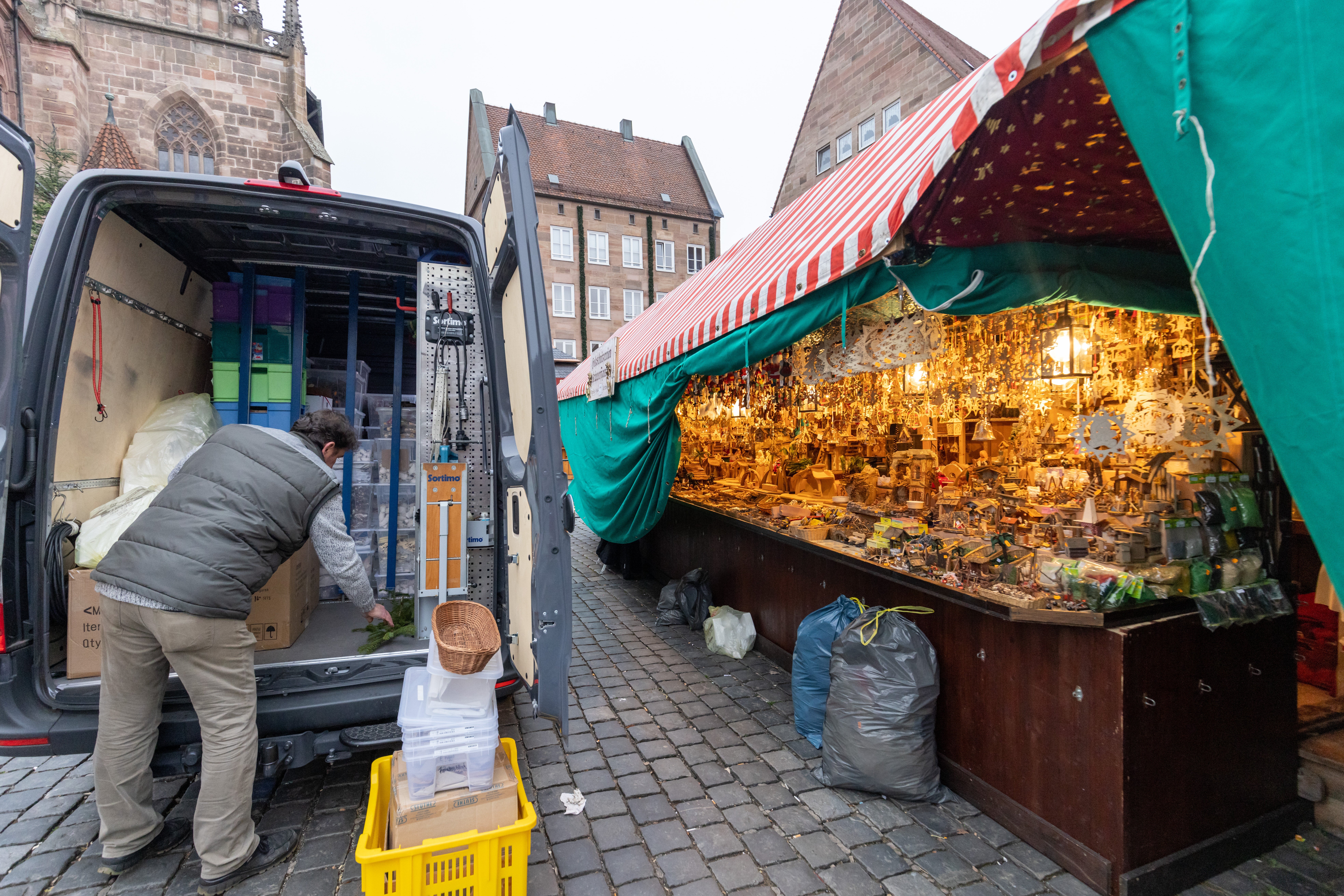 A vendor at the Nuremberg Christkindlesmarkt dismantles his stand, as the market is cancelled for a second year in a row.
Covid cases are soaring in some European countries – and you may be having doubts about any pre-Christmas trips you've got planned to the continent.
Austria has entered a nationwide lockdown this week, with people only allowed to leave their homes for limited reasons, such as work and exercise.
Meanwhile Germany – another popular winter destination due to its Christmas markets – is also battling rising numbers. On Friday, Lothar Wieler, the head of the country's Robert Koch Institute, declared "a nationwide state of emergency".
Elsewhere in Europe, thousands of anti-lockdown protesters gathered this weekend – despite rising cases – in The Netherlands, Switzerland and Croatia.
The World Health Organisation (WHO) is concerned that the latest European wave could lead to additional deaths of around 450,000 before February if not contained.
So, should you cancel your trip to Europe? And if you do push ahead, what kind of holiday can you expect when you're there?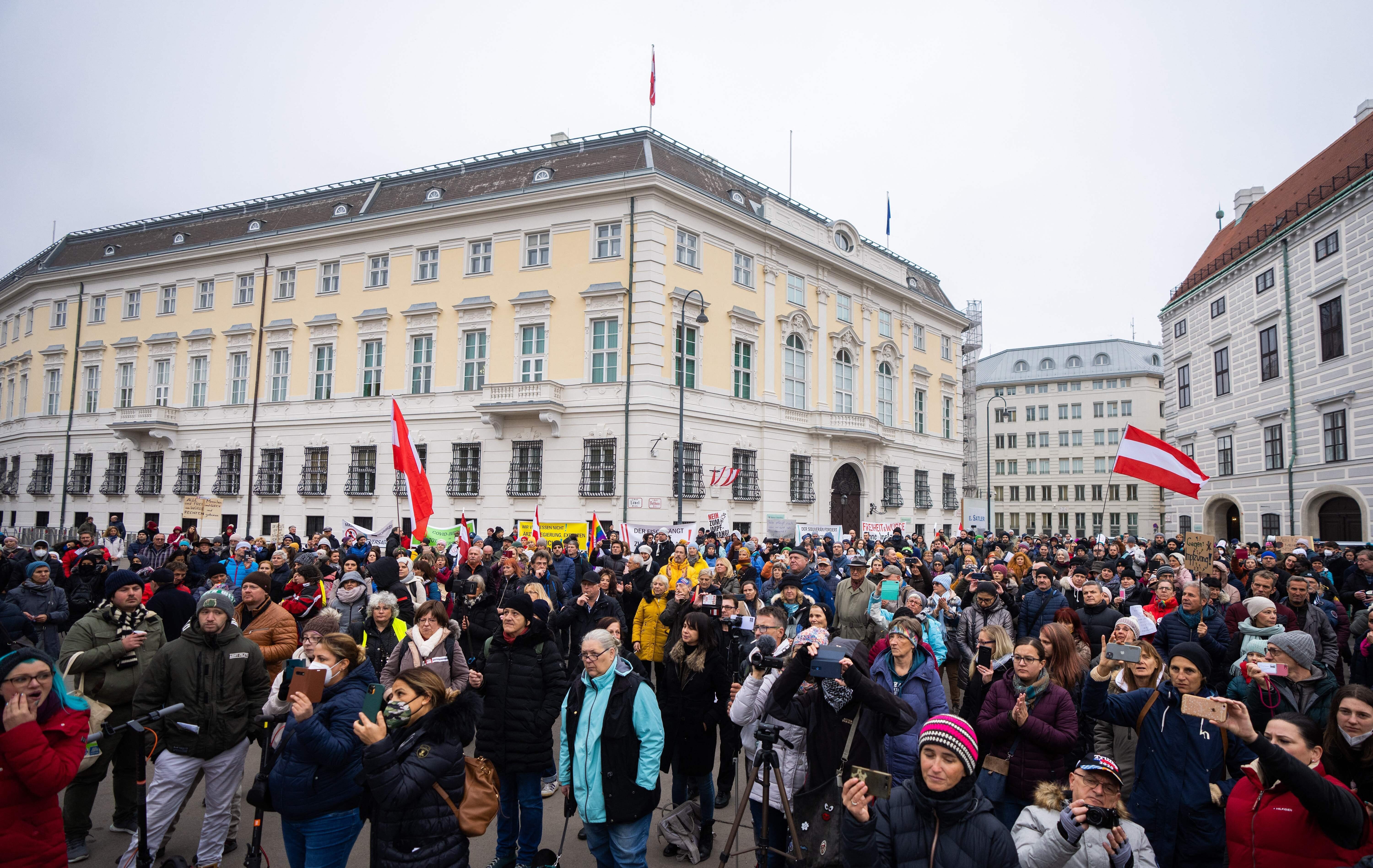 Anti-vaccination demonstrators protest at the Ballhausplatz in Vienna, Austria, on November 14, 2021/
What's happening at European holiday destinations?
Germany reported a record 52,826 infections on Wednesday (November 17) which is the largest jump in Covid cases the country has experienced since the pandemic began – and a 10-fold increase from a few weeks ago. Cases continue to rise.
The number of Covid patients in Germany's intensive care wards is also at its highest level since May. Germany is making tighter restrictions for those who aren't vaccinated, with restaurants, bars, gyms and cinemas now requesting proof of vaccination.
Parts of the country have already shut down businesses, with images showing stalls in Munich's Christmas market closed.
Belgium is reporting more than 10,000 new infections on average each day, Hospital admissions are up 30% on a weekly basis, too. The country did reimpose pandemic restrictions three weeks ago after a brief hiatus without any measures, but Covid transmission rates continue to rise.
Austria has announced a national lockdown, which begins on Monday November 22 and could last for up to 20 days. The lockdown was previously announced for unvaccinated citizens only, but the Austrian government then chose to extend it to everyone, in a bid to tackle rising cases.
Last week, infections in Slovenia were also at their peak, with 5,843 new infections reported on Friday (November 19). It's a similar picture in Croatia, while in Slovakia, a lockdown has been introduced for unvaccinated people.
Dr Michael Head, senior research fellow in global health at the University of Southampton, explained why the situation in Europe is (slightly) different to the UK.
"It is likely that many European countries are coming to the point where the UK was a few months back, in terms of some waning of immunity in the populations vaccinated earlier in the year," he said.
"The UK rolled out a vaccination programme earlier than most countries, and therefore has experienced impact of waning immunity earlier."
What are the rules about travel to Europe?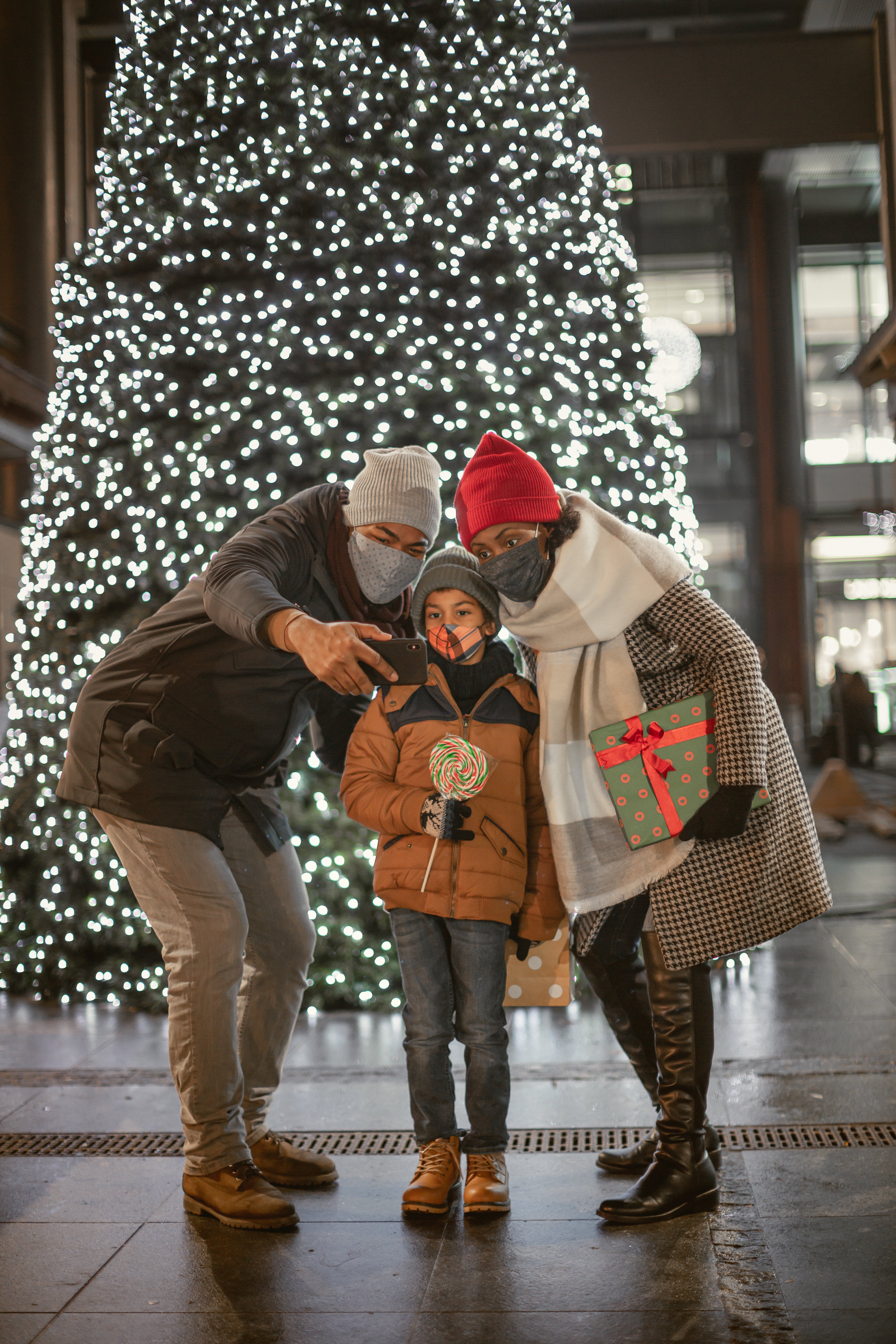 The UK government has not added any new European countries to its red list, meaning travel to holiday destinations is still technically permitted. However, it's important to look at the entry requirements for the destination you're hoping to visit.
The Austrian tourist board, for example, has issued the following statement in light of the country's lockdown: "In Austria, due to the current coronavirus infection situation, a temporary lockdown will come into effect from November 22 until December 13 at the latest. Travel to Austria for touristic purposes will only be possible again after this period."
Meanwhile Germany has designated the UK a "high-incidence area" and you can only enter Germany for tourism purposes if you are fully vaccinated.
The UK is also currently classified as red zone (high risk) on the Belgian government's travel colour code system. Unvaccinated travellers can only enter Belgium for limited reasons. Tourists who are vaccinated will still have to follow strict rules on social distancing and masking when in Belgium, and show your vaccination status before you can enter cafes, restaurants and bars.
Again, check entry requirements before you attempt to travel.
Should you go on holiday right now?
Clearly, you can't travel to the likes of Austria for a winter holiday in the next couple of weeks, but what about places like Germany, where travel is technically still permitted? Is travel to Europe safe?
That depends how you define 'safe', says Professor Paul Hunter, an expert in infectious diseases based at the University of East Anglia. If we're talking about a risk of becoming infected "nowhere is safe".
If you've got a holiday booked, Prof. Hunter recommends thinking about your personal risk of becoming ill. Factors you should consider include:
Have you already had an infection and recovered and when was it?
Have you been vaccinated and how log ago was your second dose and was if Pfizer or AZ?
Have you had the booster
How old are you?
What is your gender and ethnic background?
Do you have any underlying medical conditions?
How are you going to travel – your own car, public transport?
What are you going to do when you are overseas? Stay in a villa with your family or go partying every night in packed night clubs?
"It is up to an individual to decide what risks he or she wants to take," Prof. Hunter says. "I am a reasonably healthy male person in my mid 60s and am due my booster dose in 10 days' time and I have not so far had Covid. I do not go to night clubs, but like to eat out, and I think from about 10 days after my booster dose I would happily go on holiday to pretty much anywhere in Europe.
"But if I was over 80 or had a severe underlying health condition, I would think twice."
If you're a young person who frequents clubs or bars regularly, Prof. Hunter points out you've probably already crossed paths with the Delta variant, which remains the dominant variant across the UK and elsewhere in Europe.
The UK still has high Covid numbers, at around 40,000 new cases per day. It's because of this that Professor Lawrence Young, a virologist and professor of molecular oncology at the University of Warwick, doesn't view holidays as a particularly high-risk activity for those who are vaccinated.
"There's a lot of infection on the continent, but there's a lot of infection in this country anyway," he tells HuffPost UK. "If you look at the number of infections in this country, they're still running quite high. My view is, you're at risk here if you're not careful, and you'll be at risk oversees if you're not careful."
A major difference between the UK and the rest of Europe is that hospitalisations are more stable here, explains Prof. Young. This is largely because we're ahead in our vaccination programme, and we had an earlier surge in cases over the summer, which also boosted natural immunity in the community.
But of course, there's also the question of whether you'd actually have a good time on holiday right now. Prof Young reminds readers that you'd need to be willing to abide by local Covid restrictions, which are often stricter than back here in the UK.
"If it was me, personally, I wouldn't go abroad at the moment, because of the sheer hassle of it all," he says.
Could travel impact UK case numbers?
One criticism aimed at the UK government earlier in the pandemic is that they didn't shut down travel quickly enough. Could travel to Europe cause the same problems again? For now, the experts don't think so.
"You could clearly bring infection back [to the UK], but I don't think it would be that significant, considering the current level of infection that is already in the UK," says Prof. Young.
The Delta variant, which caused the most recent wave in the UK. was brought over from India, Prof. Young adds, but w e haven't seen any significant variants of concern elsewhere in Europe so far.
"But one could be thrown up," he says. "There is the possibility that as the virus is spreading in Europe, if we're not careful and monitoring what's going on with variants, it is a possibility that somebody could bring back another variant into the country."
Prof. Hunter also says he is "not that worried about imported infections at present".
"I doubt that overseas travel will impact hugely on case numbers here," he says. "AY4.2, the most concerning variant in Europe, is already here and because of the booster roll out and the fact that we have seen high numbers of cases during July to October, we have probably better population immunity than the rest of Europe and that is what will be controlling case numbers or at least the risk of severe disease."
What are some practical tips if you're planning a holiday?
Emma Coulthurst, a travel expert at TravelSupermarket and icelolly.com, says there's nothing to stop you booking a holiday at the moment but if you are going to book, you need to be armed with knowledge and make sure that your money is as protected as possible. She recommends following these steps:
Check the entry requirements of the country that you are going to and any restrictions which might be in place and that you are happy to meet the requirements
A package holiday will give you better legal and financial protections. If the FCDO was to change its advice on travel to that country or there was a national lockdown in the country that you are going to, the package holiday company will cancel your holiday and you are entitled to a refund within 7 days of the cancellation
Check the terms and conditions and that you are comfortable with them
Pay on a credit card if the transaction is more than £100. You have better consumer protections if you do this. As long as you put even a £1 on your credit card (and make sure you pay it off so you don't incur interest), you will be protected
Make sure you have travel insurance in place at the time of booking which includes covid cancellation cover. This means that if you were to contract covid and not be able to take the holiday, you will be able to get your money back
Source https://www.cnn.com/travel/article/europe-travel-plans-ukraine-russia-invasion/index.html
Source https://www.lonelyplanet.com/articles/should-i-cancel-travel-plans-coronavirus
Source https://www.huffingtonpost.co.uk/entry/cancel-travel-to-europe-rising-covid-ases_uk_619776a2e4b0451e54f83b19