Packing List for Europe: Men's Edition
Hey there, fellow travelers! Today, we're talking about what I pack for a trip to Europe in the summer. There are lots of blogs out there with fashion tips for traveling women, but what about the guys? Many of our readers have asked us what to pack for a trip. Whether I'm traveling for two weeks or seven weeks, my vacation packing list pretty much stays the same.
Bottoms
Even if I'm traveling in May, when I'll need long pants and shorts, I still stick to the rule of five. If you purchase specific travel clothing for men, pants are usually lightweight, easy to pack and not too heavy for hot weather.
Pajamas
It's always good to have a dedicated outfit to sleep in, or to lounge around the hotel room. Depending on the weather, I'll either bring shorts and a t-shirt or flannel pajama bottoms.
Swimwear
I almost always have a pair of swim trunks in my suitcase. Whether I'm going to the beach or just planning to use the hot tub and pool at the hotel, it's always good to have swimwear on a trip.
Tops
Again sticking to the rule of five, I bring five options for what to wear on top. (That might also include an undershirt that isn't counted in the five.) I usually bring 3-4 t-shirts and two collared shirts. The t-shirts are sometimes used as undershirts under the collared shirt. I typically wear a half-zip shirt on the plane, which layers well when it's cooler outside.
Want to sport your own Wolters World Gear? Shop here!
Socks & Underwear
If you need to be more lenient on the "rule of five" this is the place to pack more. I usually pack five pairs of socks and then wear compression socks on the plane. I highly recommend compression socks for long flights. Socks and underwear don't take up that much room, so if you want to bring more, go for it!
What you take will depend on where you are going. But always pack light.
Toiletries
I keep all of my toiletries, like shampoo and shaving kit, in a separate bag that can easily be pulled out at security. If you wear glasses or contacts, it's always a good idea to have a backup pair in case you lose or break them.
Extra Bags
I usually throw a couple of extra bags in my bag. You can never have enough Zip-Loc bags on a trip. They are great for separating dirty laundry, keeping your liquids from leaking into your suitcase, and even using it as a waterproof bag for electronics on a rainy day. I also like to have a compact drawstring bag for laundry. These are great for hauling your clothes to the laundromat.
Rain Coat
Even if you don't think it will rain, always have a raincoat. Something thin that will pack easily, and even if it doesn't rain, you might get a windy day and be grateful you have it.
Personal Items
Everything listed above goes in my carry-on suitcase and gets stored in the overhead bin when I'm flying. For my "personal item" I carry an Osprey backpack filled with travel essentials. This holds everything I need during the flight, and valuable items I don't want to have out of reach. My backpack holds:
A folder for travel documents
Eyeglasses (in a hard case for protection)
Tripod and camera
Batteries, chargers, power bank, and memory cards
Headphones
Passport
USB Drive
Flashlight
Nail clippers
Luggage locks (I recommend combination locks so you don't have to keep track of a key!)
Computer or tablet
Prescriptions or medicine
Pens and paper
Guidebooks (yes, we still buy guidebooks sometimes!)
Deck of Cards
Bottle Opener (very important in Europe!)
Power adapters
That is all I took with me for seven weeks in Europe.
If you see me anywhere in the world, I'll be carrying these items! If you use a packing checklist like this and continue to refine it after every trip, you'll have packing down to a science in no time. And it doesn't matter if you're traveling for two weeks or two months, you don't need to pack any more things!
What To Pack for Summer in Europe: Outfits + Light Packing Essentials
As the summer months approach, many of us are daydreaming about our next European getaway. Perhaps Italy, Greece, or Spain — it's a time to enjoy warm weather while exploring new experiences in old cities. Wondering what to pack for a summer in Europe?
Knowing what to pack for a Summer in Europe can be overwhelming! Especially so if you're wanting to pack lightly (perhaps you're a solo female traveler). Here are some tips to help you pack light (with all the perfect outfits to blend in like a local) for an incredible summer in Europe.
This past summer I spent quite a few weeks in southern Europe exploring Greece and Italy (my original plan included Portugal but I didn't make it there). Something that was very important to me when considering what to pack for Europe, was packing lightly. As a solo female traveler, I wanted to be able to move around quickly and easily as need be. For this reason, I made careful considerations on what I included in my suitcase.
In addition to stylish outfits that would allow me to blend in with the elegant Europeans (and not look like a frumpy tourist), included on my packing list, were some basic travel basics and recommendations that I'll also list below.
What To Wear in Europe in Summer
Summer in Europe can get quite hot. Especially so if you are in the southern European countries such as Portugal, Spain, France, Italy, and Greece. Unlike the Summers that I'm used to in Miami, it doesn't rain much at all during the summer in Europe. The Summer heat in Europe is mostly high and dry.
In Southern Europe for example, you will find local women wearing pretty summer dresses, shorts, skirts, camisoles, and tanks tops. Men and women alike wear clothes made of high-quality fabrics that a breathable and comfortable such as cotton, silks, and linens. As opposed to synthetic fabrics like polyester, these natural fabrics will help keep you cool and dry.
In addition to clothes that keep you cool, whether beachside someplace like Ibiza or Mykonos or touring a city such as Rome or Paris, be sure to pack sandals to wear to keep your toes cool and dry as well. But leave your plastic flip-flops at home, opting instead for stylish elegant sandals that can easily wear during the days and evenings. Check out some of my recommendations on clothes to create outfits to pack for Summer in Europe below.
Clothes & Outfits to Pack for Summer in Europe
As I mentioned before, for this particular Summer in Europe, I spent the most time in Italy and in Greece. I wanted to pack light so that I wouldn't have to deal with the hassle of waiting in line to check a bag, which would also mean arriving earlier to the airport with time I could be doing more sightseeing. At the same time, I wanted to have nice outfits to look nice and be able to mix and match outfits for the day and night. Oh, did I mention I wanted to be comfortable too? Here are all the clothes that I packed for my Summer in Europe (that were perfectly what I needed).
A light and sturdy suitcase.
I reccemend a light and sturday suitcase that you can expand if needed. You'll also want a suitcase that you can easily recognize if you should decide to chek it at somepoint. Personally I love a suitcase that I can also push as oppsed to drgging. The hard suitcase you see me pictured with I picked up at TJ Maxx for about $40 if I remember correctly. If your budget allows for it I reccomend checking out the ultimate suitcase in my opion — this Tumi aluminum carry-on.
Comfy walking shoes — flats or stylish sneakers.
I'm the kind of solo female traveler who likes to walk and explore. Before I jump in a taxi, which is certainly the easiest route many times, I prefer to get some steps in for the day and travel like a local — taking advantage of public transportation.
The last time I traveled solo to Rome, I took the metro from the airport to my Airbnb. Part of that journey was walking a combined total of about 40 mins or so. It will really make treks like these a lot comfier if you have on a stylish pair of sneakers or walking shoes.
Comfy dressy shoes — low heeled versatile sandal.
I have a pair of skin-toned Manoli Blanck sandals that have served me so well on all of my solo female travel trips.
I travel with these versatile Manoli Blanck sandals everywhere!
I love these shoes especially for Europe because they pair perfectly with anything for the day and night and are super comfy. I can dress them down with a casual summer dress to explore Greece during the day and I can dress them up for my Tinder date ( that storytime in another post) with an Italian stallion in Rome. They're perfect.
A stylish pair of sandals — leave the flip-flops at home.
For me, packing light while traveling is essential. For this reason, I like to carry things that I can easily mix and match, wear over and over, and I can get lots of wear out of. That's why I opt to leave the flip-flops (which are only really suitable for the beach or pool) at home. I prefer to bring a pair of flat sandals with a little pizzaz that I can wear comfortably at the beach, but if need be, I can also wear out and about without looking frumpy.
Nice sunglasses.
You'll need a pair of stylish sunglasses to protect your eyes as you'll likely be spending a lot of time outside in the sun during your travels to Europe for the Summer. But also, sunglasses are just oh so stylish. With a dark pair of shades, you can perch somewhere around the town and people-watch your destination incognito.
Versatile Shorts.
A pair of versatile shorts that you can dress up and down is especially essential to pack during a summer in Europe. When the sun is shining and it's hot outside, shorts are comfy and perfect for solo travel. Opt for a dark color that won't easily show that you've worn them more than a few times between washes. A material that doesn't wrinkle easily is also a brilliant option in the likey event you won't always have access to an iron.
I have owned these pleated shorts from Zara for years. And they are absolutely perfect. I dress them up and down with all kinds of different tops. And I don't often have to wash them while traveling solo and iron them (shh don't tell anyone).
Different little tops.
Tanks tops and camisoles are perfect for solo female travel. Especially in silk or another cool material. Additionally, they're easy to wash and wear, mix and math, and are oh so feminine and elegant.
Different little tops in vibrant summer colors that pop such as pinks are a great addition to a versatile capsule wardrobe for Summer in Europe.
Versatile dresses.
I absolutely adore dresses. And for a solo female traveler, dresses are an absolute wardrobe essential for Summer in Europe.
I picked up this versatile Summer dress from Zara.
Because we like to be stylish, but we also want to go spend our time exploring, and not spend any longer than needed picking out clothes.. dresses are a great option. Dresses are an easy option to just grab and go out and about.
Enough underwear.
Bring a good number of underwear for your summer travels, but there's no need to overpack. Simply hand wash your underwear each night after wear, and they'll dry by morning. This way you always have clean underwear and don't have to tote around dirty ones mixed in with the rest of your clothes.
One bra is usually plenty for me because I hardly ever wear it anyway, especially in Europe (many women often go braless). — free the boobies baby! But if you're a gal who can't live without a bra, bring one or two that will look great under everything. You can also wash between wear, though keep in mind your padded bras will take a couple more days than your panties to dry between washes.
Swimsuits.
This elegant one peice swimsuit I pick up at Forvever 21.
You can not go travel to Europe for the summer and not pack a couple of bathing suits — albeit, in some Southern European countries, you may not need your tops (as many ladies go topless). Nonetheless, if you're packing light 2 bikinis or one-piece should suit you just fine.
Versatile Scarf.
A scarf is great because you can use it in so many different scenarios. Wrap it around your waist and wear it as a sarong or wrap it around your shoulders if you get chilly at night (although most places in Europe don't get too chilly during the night). A versatile scarf that you can wear in different ways is definitely essential.
Nightdress to sleep in.
Make sure to pack a night dress or PJ's.
Small crossbody bag.
One small crossbody handbag is usually enough to serve me for the entire trip. I love to carry my small Prada Saffiano mini bag.
Your favorite basic accessories.
When deciding what accessories to pack for a Summer in Europe, keep it elegant and simple. Europeans are generally very conservative when it comes to make-up and accessories. Simple studs earrings and some other small simple jewelry pieces should serve you well for the day and night.
Misc. Essentials Packing List for Summer in Europe
Wall convertor.
For Summer in Europe, don't forget to pack your wall converter for all your electronics such as your phone charger, and perhaps laptop. Also, keep in mind countries in the UK such as England will have a totally different wall outlet type than countries in the EU such as The Netherlands or Spain. You can buy a wall converter that's suitable for the countries that you are visiting, or you can snag one that will easily convert for anywhere in the world including Asia (which has yet another kind of wall outlet).
Washrag.
Not sure if this is a cultural thing, but I grew up bathing with a washrag. Many people know may use a loofa or even exfoliating hand gloves. Yet whenever I travel to European countries they never ever have these in the showers, lol. I guess Europeans don't use them, IDK, lol. But I always like to bring my own so I don't have to try to explain in Italian to the maid what the heck is a washrag.
Toiletries To Pack for Summer in Europe
Facewash.
Just because you're on vacation, doesn't mean you should allow your skincare routine to go by the wayside. Make sure to bring your fash wash to wash off oil the oil, sweat make-up from the day.
Toothpaste.
Whether you are staying in a hotel or an Airbnb, many places of accommodations will often not carry toothpaste in the rooms (that is of course unless you're staying at the four seasons). You can often purchase toothpaste at an extra cost, or of course, bring your own travel-size version.
Sunscreen.
In destinations with lots of tourists and lots of sun, sunscreen will be easy to find. If you don't want to pay double for sunscreen or waste a day searching for a bottle of sunscreen you like, thrown this into your suitcase as well.
Pills and potions.
Personally, I'm the type of girl who doesn't even take aspirin for a headache. Additionally, as uncomfortable as it may be, I don't usually have any trouble usually falling asleep on the plane.
If you anticipate having trouble falling asleep at night due to the time difference or jet lag, it may be a good idea to back some sleeping pills or melatonin. Pills you also may want to include in your essentials travel pharmacy are Asprin, Ibuprofen, and your vitamins and supplements. If you take birth control pills, make sure to fill your prescription well before your travels and bring those too.
Period stuff .
You will for sure be able to find pads and tampons in Europe. They may however be different from the ones that you're accustomed to using back home. I was really thrown off at the tampons in Europe for example. Most of them don't come with plastic applicators that are all we're used to in America.
Personally, I stopped using tampons altogether about two years ago when I discovered the Lena cup (also known as Diva cup. but this is a different brand). It's so convenient (especially for travel) a better on the environment. If you're still using tampons in 2021 and beyond, I've got a single question for you — why?
Apps to Pack/Download for Summer in Europe
Kindle e-reader or phone/ipad app.
A total travel essential for me be it for Europe or anywhere else in the world is my Kindle ereader. If you love to read or would like to start reading more, a kindle will help make this so much easier. You can litterally pack thousands of books into your kindle eread or kindle app on your phone and always have them with you. This is the Kindle e-reader that I have and love.
Download a translator app.
In my article on travel tips for women traveling alone, one of the tips I mentioned was learning some language basics of countries you will travel to. But when you are in need of a bit more than the basics or your want o brush up on the go, google translate comes in very handy. I would guess there are some offline options available on the market for when you don't have wifi. Or you could consider getting a local
Google Maps.
Google maps is so essential when traveling Europe during the Summer. What makes Google maps so amazing is that you can download cities offline so that you can get directions even without the internet. While this doesnt work flawlessly all the time, it does the job pretty darn good most of the time.
Takeaway — What to pack for Summer in Europe
There you have it ladies (and gany gentlemen who;'ve read this far). Thes are all of the things I packed for my most recent travel to Europe for the Summer. And I must say, I honestly didnt miss a thing.
Europe Packing List: What to Pack and What to Wear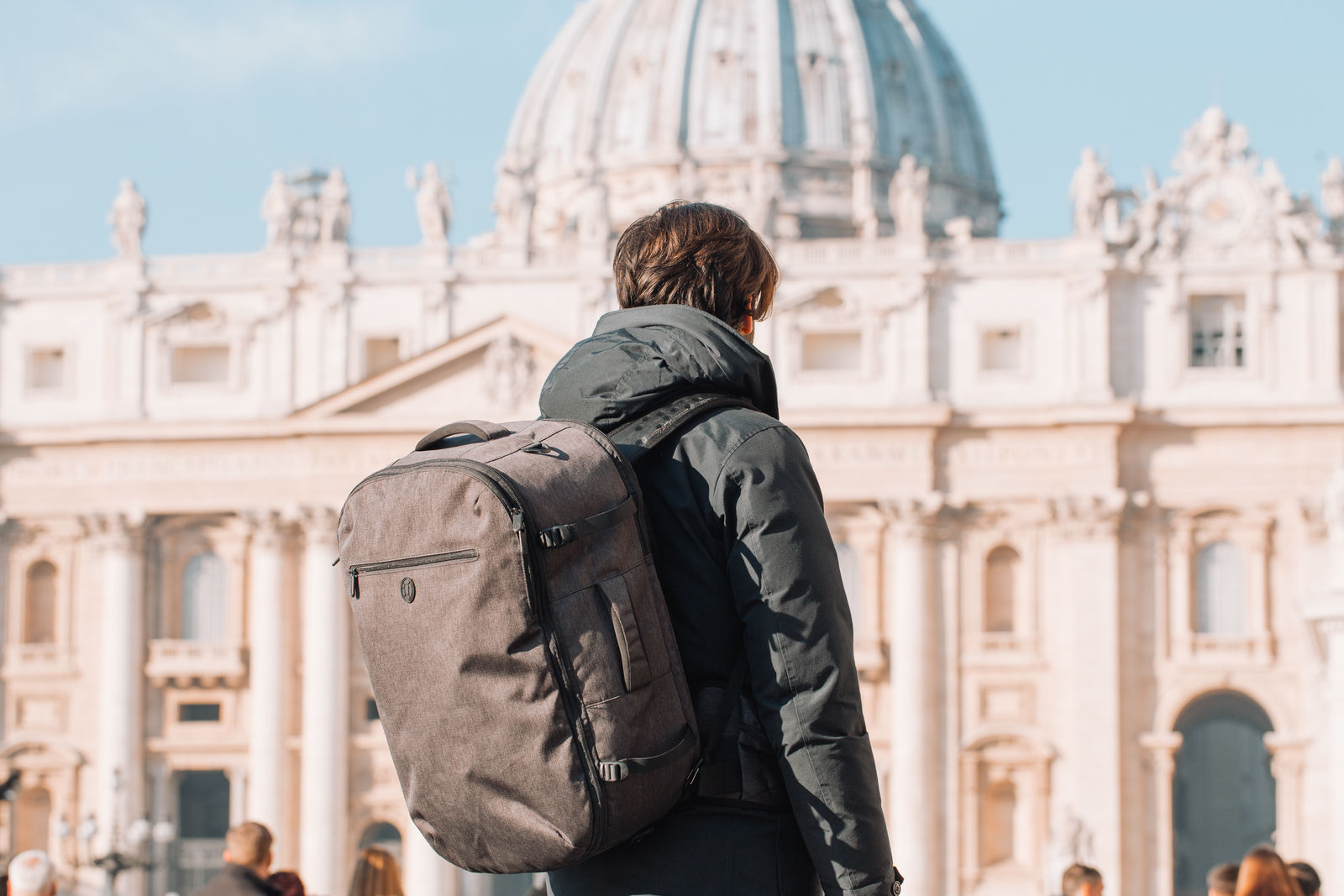 Europe's a big place with countries spanning climates from the typically-sunny Mediterranean to the moderate temperatures of the central region to the often-cold north. Depending on where and when you go, it's likely that you'll need to pack for a diverse range of circumstances.
I've had the pleasure of traveling all over Europe during every season and know from personal experience that packing for Barcelona is very different from packing for Belfast. Moreover, packing for Barcelona in August is completely different from packing for Barcelona in December.
If you plan on city-hopping your way through Europe, you need to be prepared for all of these situations. Below you'll find a comprehensive Europe packing list to suit hot and cold weather. I'll explain what to wear in Europe so that you won't look too glaringly like a tourist.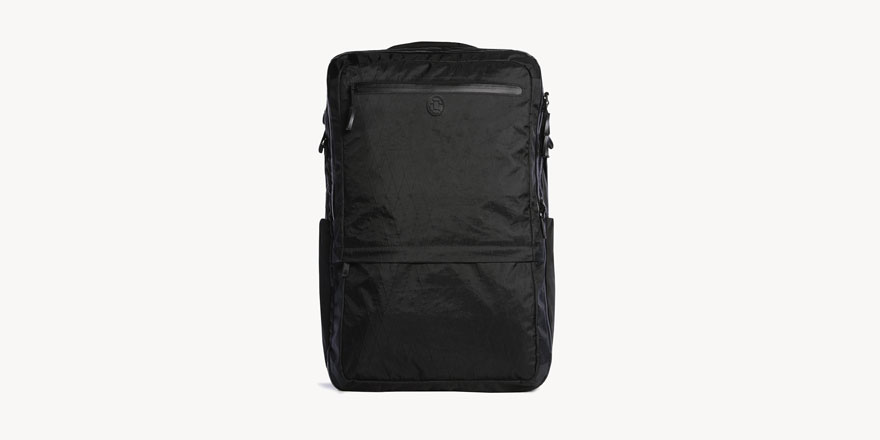 The Best Backpack for Europe
When traveling through Europe, you must bring as little luggage as possible. You'll be getting on and off trains, planes, and automobiles will want to avoid the hassle of dealing with too much baggage. You'll also want to avoid any chance of the airline losing your luggage. Avoid checking bags by going carry-on-only with a carry-on-sized travel backpack.
From my experience, the best bag for Europe is the Tortuga Outbreaker Backpack. I've spent years crisscrossing the continent with my Outbreaker and can attest that it's ideal for the journey.
No other carry on makes it so easy to pack so much into the limited space afforded by airline carry-on restrictions. The Outbreaker maximizes every square inch you're allowed and has outstanding organization to help keep everything accessible on the go.
Thanks to its adjustable harness and well-padded shoulder straps, the Outbreaker is extremely comfortable. Your comfort is essential when wandering the alleys of Paris looking for your Airbnb.
The Outbreaker's water-resistant, durable shell constructed of sailcloth also ensures that it will hold up through months of European travel.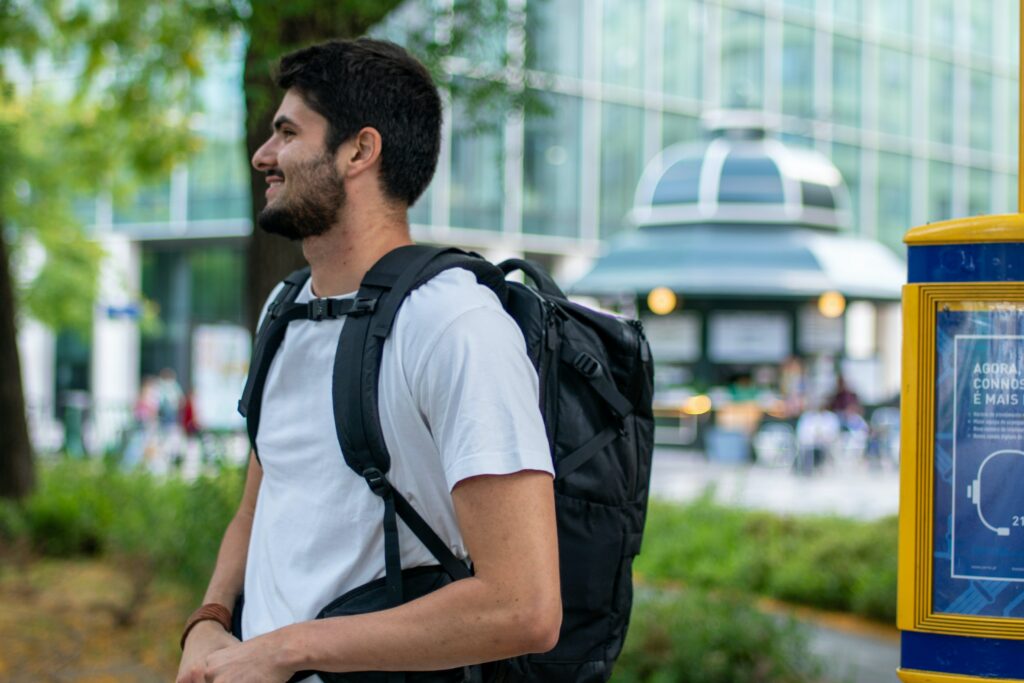 Packing List for Europe in Summer
If you're wondering what to wear in Europe in the summer, it's easy. Pack the same outfits you'd wear in any other place, except perhaps allow a little more skin to show.
In much of Europe, men wear their shorts shorter than in the United States. During the hottest points of summer, it's common for women of all ages to bare a considerable amount of skin, especially near the Mediterranean. Europe is your opportunity to show off your clothes that might be too skimpy for back home.
Beyond that, fashion in Europe doesn't stray too far from that in the U.S. Wear what you feel comfortable wearing at home, and you'll be fine.
Because you're traveling with a single bag, you should think about the tenants of minimalism when packing. Achieve this by building a capsule wardrobe that is flexible and space-efficient. This should include:
3-4 t-shirts
1 button-up shirt or blouse
2 pairs of shorts or skirts
1-2 pairs of pants
1 light dress
4-5 pairs of socks
4-5 pairs of underwear
1 hoodie or light jacket
1 pair of comfortable walking shoes
1 pair of flip-flops or sandals (especially if you'll be along the coast)
1 swimsuit
1 pair of sunglasses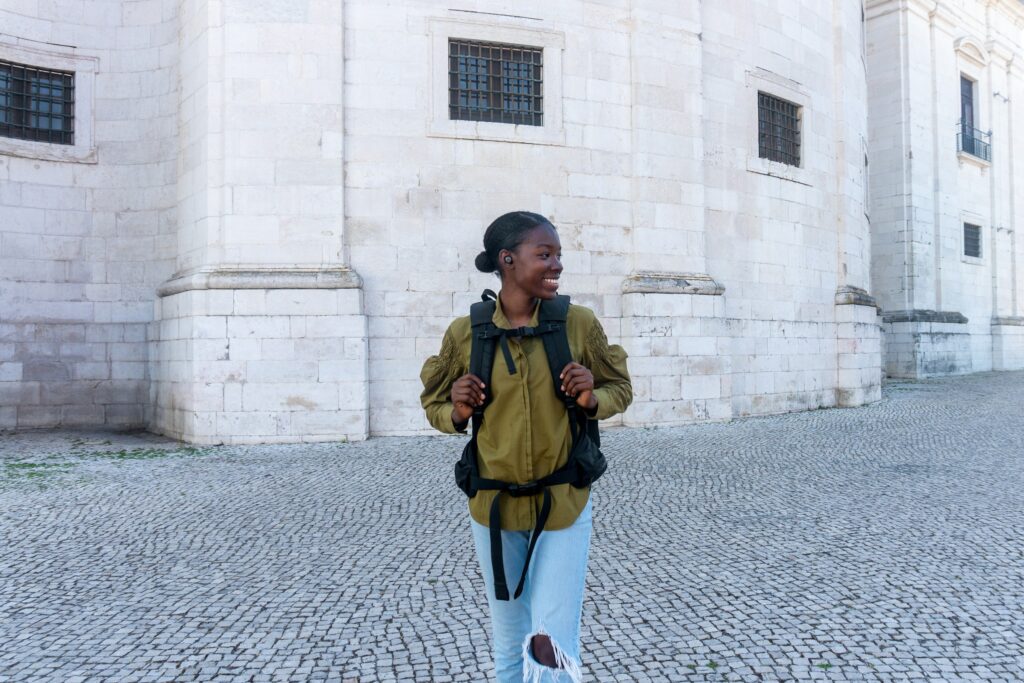 Packing List for Europe in Winter
How cold, rainy, or snowy things will get depends entirely on where you visit. You'll never need something heavier than a light jacket in southern Italy or Greece. In Stockholm, you'll definitely want a thick coat. In London, you'll be very sorry if you leave home without a proper rain jacket.
Layering is key in colder climates.
With this in mind, your winter Europe packing list will look something like this:
3-4 t-shirts
2-3 long-sleeve shirts
2-3 pairs of pants
1 dress
4-5 pairs of socks
4-5 pairs of underwear
1 hoodie or heavy coat (depending on specific destination)
1 rain jacket
1 pair of comfortable, waterproof shoes
1 knit hat
1 scarf
1 pair of gloves (optional depending on destination)
1 pair of long underwear tops and bottoms (optional depending on destination)
While snow boots might seem like a good idea for the cold north, they're unnecessary in most cities. Big boots take up space in your backpack. Unless you're sure to be venturing into the snowdrifts, you're unlikely to use them. If you think you'll need them, consider thrifting a pair at your location and donating them when you're done.
Everything Else You'll Need to Pack for Europe
Beyond clothing, your Europe packing list will be pretty straightforward. Keep things to a minimum, and leave most of the "just in case" items back home.
Toiletries
Europe has supermarkets and pharmacies, so unless there are brands you can't live without, you'll find everything you need wherever you're headed. Regardless, bring the following toiletries.
Toothbrush and toothpaste
Shaving supplies
Shampoo
Makeup (if necessary)
Contact lens supplies (if necessary)
Essential medications
Electronics
Bring the smallest amount of electronics you can get away with. Reduce your packing needs by eliminating as many cords and charging cables as possible, and leave anything at home that you absolutely don't need. Depending on your needs, your list might include:
Cell phone and charger
Laptop and charger
Portable battery pack
E-reader or tablet
Universal plug adapter
Europe Packing Lists by Destination
Conclusion
Do your best to keep your luggage as light as possible, and you'll make city-hopping across Europe much easier.
Leave "just in case" items at home because you'll have no problem finding them at your destination. Leave some extra room in your travel backpack because you'll want to bring home some souvenirs from your European adventure.
Source https://woltersworld.com/packing-list-for-europe-mens-edition/
Source https://hellobombshell.com/what-to-pack-for-summer-in-europe/
Source https://blog.tortugabackpacks.com/europe-packing-list/