How the war in Ukraine will affect European tourism
The EUI says that European tourism was expected return to pre-pandemic levels in 2023, but the Russia- Ukraine conflict has compelled it to downgrade that forecast.
The war will affect Europe's tourism industry in four ways: a loss of Russian and Ukrainian tourists; restrictions on airlines and use of airspace; higher food and fuel costs; and a big hit to traveller confidence and disposable incomes.
Turkey and Poland will suffer the biggest fall in visitors in absolute terms, but destinations such as Cyprus and Latvia were even more reliant on Russian tourists, who are traditionally high spenders.
The EUI says that the war in Ukraine, although primarily a humanitarian disaster, has set back hopes for a tourism recovery in Europe this summer. Not only will Russian tourists be unwelcome in many destinations, they will also struggle to get there, given bans on Russian airlines and restrictions on use of airspace.
Meanwhile, millions of Ukrainians are being forced abroad by the invasion, but as refugees rather than tourists. Across Europe, the war has pushed up already high commodity prices, particularly for food and energy, raising costs for debt-laden airlines, hotels and restaurants. High prices will also restrict consumers' disposable income, making holidays less affordable even if consumer confidence returns.
The loss of Russian and Ukrainian tourists will be felt widely
Before the pandemic disrupted global tourism flows, Russia was the world's 11th-biggest source of tourists, and Ukraine the 13th. Based on data from the World Tourism Organisation, we estimate that the two countries accounted for 75m tourist departures, or 5% of the global total, in 2019.
When it comes to tourism expenditure, Russians' and Ukrainians' contributions were even more important, making up a combined US$50bn (about 8% of the world total) in 2019; Russia alone was the world's seventh-biggest spender.
Now, however, most Russian and Ukrainian tourists will disappear from Europe as war and sanctions hit travel routes and the two countries' economies. In absolute terms, Turkey was the most popular destination for both nations in 2018, attracting 6m Russian and 1.4m Ukrainian tourists, which amounted to 16% of Turkey's total tourist arrivals that year.
Several million Russians head to Asian countries, such as Thailand and China, and neighbouring nations like Kazakhstan, which may still be open to them. However, Poland and Italy, two other popular destinations, will now be barred to Russians.
Some smaller tourism destinations, with closer ties to Russia or Ukraine, will be hit even harder. In 2019 Russians accounted for 20%, 29% and 36% of all tourists visiting Cyprus, Montenegro and Latvia respectively. Meanwhile, the loss of tourist spending will be felt acutely in destinations that attract the
How the war in Ukraine will affect tourism
The wealthiest Russian and Ukrainian visitors, who would typically spend heavily on hotels, restaurants and luxury retail. These include cities such as Milan, London and Paris, as well as popular spa towns like Karlovy Vary in the Czech Republic or Baden Baden in Germany. A loss of confidence since the invasion may also affect bookings by other travellers, although the full impact will not become clear until after the Easter period. Travel operators are reporting that European bookings from the US are stalling, after surging in early 2022 despite covid-related travel restrictions.
OAG, an airline data provider, reports that several scheduled flights to countries such as Finland and Sweden, as well as to much of eastern Europe, have been pulled owing to their geographical proximity to the war.
Meanwhile Russia itself will miss out on international tourist arrivals, which used to amount to 25m a year, most of which were from Ukraine. Ukraine, in turn, will lose about 14m tourists a year, many of them from Russia. Most of the well-trodden travel routes between the two countries are now blocked by tanks and missiles, and are unlikely to reopen any time soon. Most other travellers will also steer well clear.
Airlines are pulling flights from their schedules
The war and resulting sanctions will directly affect the airline industry, which had been slowly returning to normality after a disastrous pandemic. As part of the sanctions, Russian planes are now banned from EU, UK and US airspace, and planes flying over from the west are banned from Russian airspace and are avoiding Ukraine for fear of missile strikes.
Many of the most direct international routes from east to west are now impossible, forcing airlines to fly further north or south. In addition, Russia has seized foreign planes that are still on its territory, and its flag carrier, Aeroflot, has halted most of its international flights. Judging by its 2021 results, Aeroflot alone will now lose an average of about 1m passengers, or US$550m in seat revenue, per month. Russia will also lose the heavy fees—some of the highest in the world– that it charged foreign airlines for their use of Russian airspace.
Other airlines will suffer too; as at April 4th OAG reckoned that about 28m seats had been removed from flight schedules for the next three months – a drop of 2% year on year. However, although some of those cuts were in response to the sanctions, the main reason was the persistent covid travel restrictions in Asia. The pandemic remains a far bigger issue for the global airline industry than the war in Ukraine.
High commodity prices will weigh on tourism
Another issue facing airlines is the cost of fuel, which has been pushed even higher by the sanctions against Russia. Fuel accounts for 20-30% of airline costs, and jet fuel prices are now more than 80% higher than a year ago, according to the International Air Transport Association (IATA).
Insurance costs have risen sharply, too. These additional costs will be a heavy burden given airlines' fragile finances. Even before the war, IATA expected its 290 member airlines to suffer a combined net loss of US$11.6bn in 2022, after losing about US$190bn in 2020-21.
Food prices are also heading higher
This will have a direct impact on hotels and restaurants, which will have to pass costs on to customers. Moreover, consumers themselves are struggling with the rise in commodity prices and overall inflation, with wages failing to keep pace. People are keen to eat out and travel again, after two years of restrictions, but price rises will inevitably dent demand for outings and holidays.
Even so, with price rises buoying spending in nominal terms, we still expect Europe's consumer spending on hotels and restaurants to rise by 8% to US$912bn, close to pre-pandemic levels. The same is not true in Russia, where Western restaurant chains such as McDonald's (US) have ceased operations.
The EIU expects spending at hotels and restaurants to decline even in rouble terms this year, and to plummet in US dollar terms. This is just part of the heavy economic price that Russia – and, to a lesser extent, the rest of Europe – will pay as the war ra ges on.
How Russia's war on Ukraine impacts travel and tourism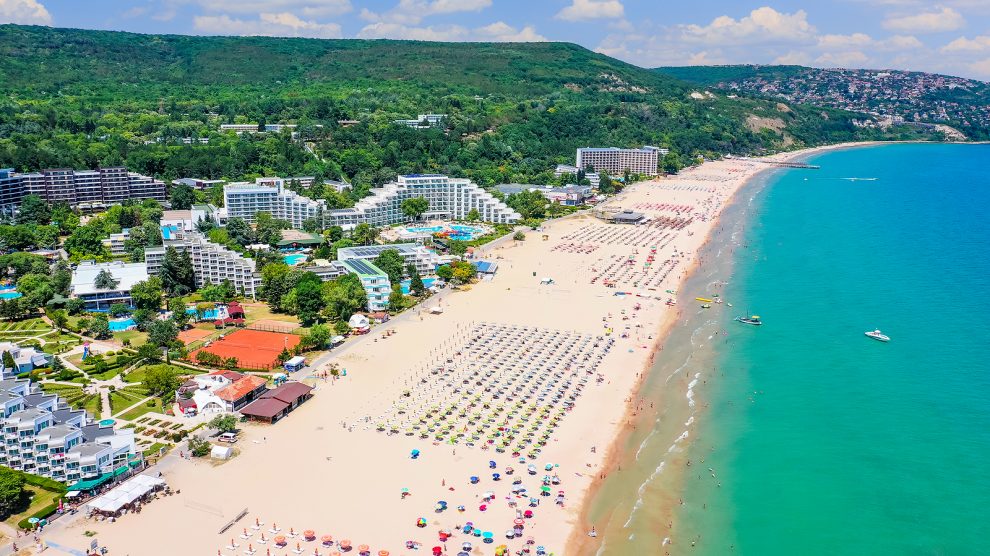 Russia's brutal war on Ukraine, while and first and foremost a humanitarian tragedy, has caused widespread economic damage across the globe, not least in travel and tourism. Between them, Russian and Ukrainian tourists usually spend around 45 billion US dollars per year on outbound travel, much of it in the countries of emerging Europe.
Hardly had the Covid-19 pandemic abated than Russia invaded Ukraine, providing the travel and tourism sector throughout emerging Europe with yet another challenge.
According to the Economist Intelligence Unit, the war will affect Europe's tourism industry in four ways: a loss of Russian and Ukrainian tourists; restrictions on airlines and use of airspace; higher food and fuel costs; and a big hit to traveler confidence and disposable incomes.
The loss of Russian and Ukrainian tourists, who spent a combined 45 billion US dollars per year prior to the Covid-19 pandemic (around eight per cent of the global total), will impact many countries in emerging Europe.
However, some regional experts also see the positive side of decreasing reliance on tourism from Russia in particular.
Loss of tourists in the Baltics?
Estonia, Latvia, and Lithuania could potentially also lose 10 per cent or more of their annual visitors owing to the effective ban on Russian travellers, as more and more countries in the Schengen space are choosing to stop issuing tourist visas to Russian passport-holders.
"The war in Ukraine came as we were all still recovering from the impact of the past two years and tourism numbers were not yet at pre-Covid levels," Kadri Gröön of Visit Estonia tells Emerging Europe.
She points to a 50 per cent decrease in the number of cruise ships docking in Tallinn as a direct effect of the war. She further argues that this is not a result of fear, but because they could no longer visit St Petersburg, a key attraction for Baltic Sea cruises.
Nonetheless, she is optimistic about the future of the Estonian tourism industry.
"We have heard about the impact of the war as a reason for cancelling group trips, but we have not seen the direct impact of the war in tourism statistics. Passenger numbers have been gradually improving every month," she says.
Regarding the cruise ships, she states that those ships that do come to Tallinn will stay longer than before. Also, more cruise ships have visited other ports than in previous years, for example Estonia's largest island, Saaremaa.
It is a similar situation in Latvia.
"The Covid-19 pandemic and war in Ukraine have had an impact on tourism sector, reducing the number of travellers from North America, Asia, Russia, Belarus, Ukraine," Janis Kovalevskis of the Investment and Development Agency of Latvia tells Emerging Europe.
"The war in Ukraine had an immediate impact on booking figures for the spring and summer season, especially for group segment. A large number of booked group reservations were cancelled during March and did not re-book for the summer season. According to estimates provided by the tourism sector, bookings have been cancelled at around 60 to 70 per cent. Currently, incoming tourism is mainly based on individual travellers and small tourist groups, also domestic travel, and domestic and regional corporate travel."
She explains that in order to ameliorate the effects of the war, in close cooperation with industry stakeholders, the Latvian tourism marketing strategy has been revisited in order to redefine priority markets and products.
"Due to the geopolitical situation, a large part of our tourism marketing budget now is invested in campaigns in our target markets in Scandinavia and Western Europe. Most of the tourists come from Lithuania, Estonia, Sweden, Finland, Germany, and other European countries," says Kovalevskis.
Loss of tourists in the Balkans?
Montenegro, which attracted wealthy Russians to its exclusive beach resorts and marinas, has also been predicted to see large drop in tourism-related income, although some Russians have still been making their way to the country through Serbia. Belgrade is one of just a handful of European airports still open to flights from Russia.
In May, the World Bank downgraded Montenegro's 2022 economic growth forecast to 3.6 per cent from a previous 5.9 per cent, partly due to the expected drop in the number of high-spending tourists.
"Russia and Ukraine represented one of the most important markets for Montenegro as a tourist destination in the last few years, as both were among the top five countries from which the largest number of tourists came. Prior to the war tourists from Russia and Ukraine made up 15.8 per cent of foreign visitors and 21 per cent of those that stay in the country overnight," Milena Vujović of the National Tourism Organisation of Montenegro tells Emerging Europe.
She says that the country's tourism industry has encountered a significant change as a result of this crisis, bust still managed to have a successful tourist season by attracting tourists from the region, Western Europe, but also from Israel, Kazakhstan, as well as some new markets for Montenegro, such as Saudi Arabia and Egypt.
"According to our data on the number of tourists since the beginning of this year, on average, we are recording a growth of 9.91 per cent compared to the same period of the pre-pandemic year 2019," Vujović says.
The Bulgarian Black Sea was another major tourist destination for Russian and Ukrainian tourists, and Deutsche Welle Bulgaria estimates that over 350,000 Russians own property on the country's seaside.
"In our country, the war had a detrimental effect on tourism. In January we recorded a very high number of bookings for the starting spring and summer season. During this time, we were also experiencing a rather satisfactory winter tourism season. In February, the hostilities in Ukraine started and this stopped virtually all sales," Pavlina Ilieva, chairwoman of the Future of Tourism Organisaiton which offers independent representation of the Bulgarian tourism industry, tells Emerging Europe.
A government scheme to boost tourism and assist some of the 297,000 Ukrainian refugees that had by the end of May settled or passed through Bulgaria included payments of 20 euros per day for food and accommodation given to hoteliers which hosted over 40,000 refugees in seaside resorts.
However, according to Ilieva the lack of clarity on when the scheme will end made it difficult for those participating to take bookings.

Tourists need not be afraid
lieva further argues that some tourists remain confused over where Bulgaria is located, something that has also contributed to the low number of seaside visitors.
"Some tourists are under the wrong impression that Bulgaria shares a border with Ukraine, and this led to the cancellation of reservations from the Western market."
Some Bulgarian tour agencies have reported receiving calls from long-term clients from western countries asking if Russian shelling of Ukraine can be heard from Bulgaria.
Kadri Gröön of Travel Estonia is also at pains to point out that currently, there is no military threat to Estonia.
"It is the same distance from Tallinn to Kyiv as it is from Berlin or Vienna. Whilst we do share a border with Russia, we are a proud northern European country, a member of the EU and NATO and just 80 kilometres across the gulf from Helsinki," she says.
Bulgaria, Estonia, and all other eastern EU member states in-between currently have the lowest (Level 1) travel warning status issued by the US Department of State.
Unlike many news and information platforms, Emerging Europe is free to read, and always will be. There is no paywall here. We are independent, not affiliated with nor representing any political party or business organisation. We want the very best for emerging Europe, nothing more, nothing less. Your support will help us continue to spread the word about this amazing region.
Should travelers rethink Europe plans because of the war in Ukraine?
Editor's Note — Sign up for Unlocking the World, CNN Travel's weekly newsletter. Get news about destinations opening and closing, inspiration for future adventures, plus the latest in aviation, food and drink, where to stay and other travel developments.
(CNN) — With many travel restrictions finally relaxing in early 2022, Gabriele Antoni booked a trip she's been wanting to take for a while: several weeks in her home country of Germany, followed by a 12-day cruise in Norway with friends.
The 64-year-old Florida resident and US green card holder hasn't been back to Germany since her mother died in February 2020. At that time, Antoni had to abruptly return to the United States, where she's lived for decades, to avoid border closures as the pandemic gained steam.
But ever since, she has longed to return to her small hometown of Sonthofen to "properly grieve" her mother, she says, by visiting cafes they frequented together and hiking where they once did in the foothills of the Bavarian Alps.
In the lead-up to her trip, Antoni is busy booking hotels and flights, making arrangements with friends — and, like many others with plans to visit Europe, keeping an eye on the horrifying headlines coming out of Ukraine since it was invaded by Russia on February 24.
"I am doing everything, but in the back of my mind, I tell myself, you might not be able to do this, you might not be able to get there," Antoni told CNN Travel.
Antoni isn't alone in her concerns. According to a recent survey conducted by MMGY Travel Intelligence, the research division of marketing research firm MMGY Global, the war in Ukraine is now twice as likely to impact Americans' travel plans to Europe as the coronavirus pandemic.
Of the 350 adult US travelers with upcoming plans to visit Europe who were surveyed, 62% said the invasion is a factor for planning their trips, compared with 31% who cited Covid-19 health and safety concerns. In addition, 47% said they're taking a "wait and see" approach on how the situation evolves before making plans to visit Europe this year.
According to a report from flight tracker app Hopper, searches for round-trip flights to Europe from the United States were on the rise as the Omicron variant wave subsided, indicating a strong rebound for transatlantic demand.
But as news of Russia's possible invasion of Ukraine started making headlines in mid-February, that demand started to taper. According to Hopper data, since February 12, Europe has dropped from 21% to 15% of international bookings — a notable decrease from the approximately 30% of international bookings in the same time frame the region accounts for in a pre-pandemic year such as 2019.
'You can travel safely'
Ukraine and Russia currently have Level 4 "Do Not Travel" warnings from the US Department of State, but the department has not issued similar advisories for European countries that are affected by the crisis.
Poland, which is receiving the majority of Ukrainian refugees fleeing the war, is listed at a Level 4 advisory but for Covid-19 concerns, not the current conflict.
A spokesperson for Rick Steves' Europe said via email that the tour company "intend[s] to run all Eastern Europe itineraries, including the Best of Poland tour," adding that the only tours it has canceled are those with stops in Russia.
Indeed, Europe remains open for travelers despite the crisis unfolding in Ukraine. And after limping along for two years during the pandemic, the tourism sector is more eager to welcome visitors than ever.
And while concerns over traveling during a war are valid, security experts also emphasize that many of Europe's most popular tourist areas, such as Barcelona, Rome and Paris, are many hundreds (if not thousands) of miles from the current conflict in Ukraine.
"You don't need to have this sort of heightened state of anxiety, [which] is the one thing that I'm seeing the most right now," said Greg Pearson, CEO and founder of Care & Assistance Plus, a newly launched travel and crisis assistance service by global firm FocusPoint International.
"People are maybe prematurely canceling their plans, and I don't think we're there yet. It's anybody's best guess as to what's going to happen next, but as it relates to travel to western Europe, I think you can travel safely."
The island of Gotland in Sweden is a popular vacation destination. The town of Visby is pictured on March 3, 2022.
Pearson estimates that about 30% of CAP's customers over the past few weeks have either canceled or postponed trips to countries including the Czech Republic and Germany, neither of which border Ukraine. Other travelers have shifted their itineraries farther away from the conflict to western Europe.
In addition, Pearson says, some travelers are concerned about whether they should take part in shore excursions during river boat tours of eastern Europe.
"The advice we've provided them has been 'Absolutely get off [the boat],'" Pearson told CNN Travel. "They need those tourism dollars, they want to see you, they want you to visit their restaurants and shop and stay if you can, so we want people to do that. Our mantra here is to travel fearlessly, but to travel informed and stay connected."
'This uncertainty is really difficult'
Not surprisingly, some European tourism officials are concerned about the potential disruption to travel — yet another setback facing the beleaguered industry after two challenging years.
In Prague, Czech Republic, the tourism board is focusing its summer marketing campaigns on domestic tourism and visitors from other European countries, instead of the US and Asia, the organization said in a statement shared with CNN Travel.
Christian Tänzler, a spokesperson for Visit Berlin in Germany, also said that while he expects Europeans to travel as usual throughout Europe for spring and summer holidays as long as the Ukraine crisis does not spill over into other countries, the US market is a tougher sell.
In non-pandemic years, US travelers made up the second-largest group of international tourists behind the United Kingdom, Tänzler said.
However, in light of the current crisis, those travelers appear to be in a wait-and-see mode regarding booking, although the organization hasn't seen a noticeable uptick in cancellations so far.
"Nobody knows, really, if people will start canceling because of the situation," he said. "This uncertainty is really difficult."
In addition, Tänzler noted, US-based travelers may not have an accurate account of the current situation in Germany, which he said is "absolutely safe."
"Last weekend in Berlin, the cafes, bars, restaurants were all packed," Tänzler said. "Everything was crowded. Everybody was sitting outside. It was like a normal spring day."
But even for travelers who know Europe well — such as Antoni, who grew up in Germany — the specter of possible nuclear war, or fallout from war-damaged nuclear reactors in Ukraine, can add an extra layer of trepidation.
It's a fear that Antoni understands firsthand: Following the Chernobyl disaster in April 1986, she decided to cancel a trip from the United States to Germany with her young children.
"It was a big deal," Antoni said, recalling memories of warnings over possible food contamination and other health scares in Germany. "I hope and hope and hope that this is not happening again. But I always say, ' I'll cross the bridge when I get there.' No use worrying now."
'Always have an emergency plan'
As some travelers reconsider upcoming travel plans to Europe, security and risk experts note that it's always a good practice to stay informed about current events no matter where you're headed. They also emphasize the need to have a solid plan in place should things go awry, whether it's the coronavirus or a war.
"The worst time to figure out what to do in a crisis is in the middle of a crisis," said CAP's Pearson.
As two years of pandemic-caused cancellations and disruptions have demonstrated, reliable travel insurance and flexible booking policies for airfare and accommodations are more important than ever.
Before leaving, make copies of important travel documents such as passports and vaccine certificates, and US citizens and nationals should be sure to register with the State Department's Smart Traveler Enrollment Program, a free service that connects travelers with embassies and consulates in their destination country. The service also provides travel and security updates.
Figuring out where you'll go ahead of time in case of an emergency situation, such as wartime conflict, also is crucial.
"If war spreads across Eastern Europe or into one inch of NATO soil, you should have a plan to evacuate or relocate to a safer area," says Tim Hentschel, co-founder and CEO of HotelPlanner, a service provider for the global hotel sales market. "Always have an emergency plan anytime you travel to a city that's foreign to you."
Pearson also advises travelers to share a copy of their itinerary, hotel and flight information with friends or family back home. Regular check-ins are important too, he said. Also, don't forget about the basics, such as "how to dial the phone internationally while you're abroad."
In addition, travelers headed to Poland or other countries receiving a large influx of refugees should also be aware of the constraints on transportation infrastructure and hotel room availability.
Protests and demonstrations, meanwhile, continue in popular European tourist destinations, and while most of them are peaceful, travelers should always be vigilant and avoid conflicts with security.
Finally, while a devastating invasion and humanitarian crisis shouldn't prevent people from taking a much-anticipated vacation, what's happening in Ukraine can also offer travelers a profound sense of perspective, especially in light of common on-the-road gripes such as long security lines.
"I talk to people within my own circles that are interested in traveling, and one of the things I say to them is, 'Don't be an ugly American,' " Pearson said. "Of course, enjoy yourself, have a great time, but just be sensitive to the fact that there are a lot of people recently displaced and struggling right now."
Top image: People stroll in Puerto Banús marina and shopping complex in Marbella, Spain, on March 2, 2022.
A year of the world's Best Beaches There's a perfect beach for every week of the year. Join us on a 12-month journey to see them all
Source https://globetrender.com/2022/04/28/how-the-war-in-ukraine-will-affect-european-tourism/
Source https://emerging-europe.com/news/how-russias-war-on-ukraine-impacts-travel-and-tourism/
Source https://www.cnn.com/travel/article/europe-travel-plans-ukraine-russia-invasion/index.html