FAQ: How to travel in Europe this summer
With the coronavirus pandemic fading, the EU has new rules on how to move around the bloc.
Press play to listen to this article
Voiced by artificial intelligence.
Europe is hoping to boost summertime travel with the help of EU-wide certificates and a common approach among governments on testing and other restrictions.
The so-called EU Digital COVID Certificate, which certifies travelers' tests, vaccinations or immunity from a previous infection, will allow people "to enjoy this most tangible and cherished of EU rights — the right to free movement," the presidents of the EU institutions said in a joint statement as they signed the regulation into law Monday. It goes into effect on July 1.
But, as usual, it's not quite that simple.
The Council coordinated countries' treatment of the certificates in a separate, nonbinding recommendation — meaning governments have leeway to deviate from it.
You may like
Putin puts the energy squeeze on pro-EU Moldova
Europe's security is at stake in Moldova
Turkey strikes Kurdish militants a week after Istanbul blast
Here's what you need to know before your summer getaway.
What is the EU Digital COVID Certificate?
There are three kinds of certificates: One proves you've been vaccinated, another documents recent tests, and a third certifies your immunity following a coronavirus infection.
The documents, which have a QR code, can be used in a digital format or as a printout, and will be issued free of charge.
Does that mean no more quarantines or extra tests?
Not necessarily. The COVID pass regulation says countries should refrain from imposing further restrictions, such as quarantines or testing, on travelers with a certificate — "unless they are necessary and proportionate to safeguard public health in response to the COVID-19 pandemic."
In a separate recommendation, EU countries agreed to limit potential restrictions to travelers who cannot prove immunity — whether by vaccine or past infection — and are coming from higher-risk areas. But that text is not binding, meaning it remains up to countries to implement its contents.
What if I'm fully vaccinated?
Countries agreed that travelers with a certificate proving they're fully vaccinated shouldn't face restrictions such as testing or quarantines. You're considered fully vaccinated if it's been at least 14 days since your final shot.
That should also cover people who've received a single dose of a two-dose vaccine following a coronavirus infection, according to the text.
EU countries have to accept all vaccines approved by the European Medicines Agency. Currently, those are Oxford/AstraZeneca, BioNTech/Pfizer, Moderna and Johnson & Johnson. But countries can also decide to accept other vaccines, such as the Russian Sputnik vaccine, which is being used by Hungary.
What if I'm still waiting for my second jab?
The certificate also certifies the first of a two-dose vaccine. But it's up to individual countries to decide whether that's enough to exempt a traveler from testing or quarantine requirements.
What if I've just recovered from COVID-19?
EU countries agreed that travelers who can prove they tested positive for the coronavirus in the 180 days preceding a trip shouldn't face restrictions such as testing and quarantines.
For the time being, only a previous positive PCR test counts as proof you were sick and have recovered, although antibody tests might be accepted later on, if scientific evidence suggests they're trustworthy, a Commission official said last month.
I'm unvaccinated and haven't had COVID. Does that mean I have to get tested?
Whether you'll need to take a test before you travel depends on the health risk at your point of departure, which the European Center for Disease Prevention and Control (ECDC) maps every week.
The color-coded map ranks the health risk in the EU's regions from green (safe), through orange (medium-risk) to red (high-risk) and dark-red (very high risk); gray indicates a lack of information.
Under the Council recommendation, travelers from a green region shouldn't face travel restrictions. If you're traveling from an orange, red or gray region, countries can still require confirmation of a pre-departure test via the certificate.
EU countries agreed to a common approach on the validity of tests: A PCR test should be taken maximum 72 hours before arrival at a traveler's destination; a rapid antigen test is valid for 48 hours. Both have to be administered by health workers or skilled personnel.
Something to keep in mind: Countries are not obligated to recognize rapid antigen tests, meaning it's best to check specific policies.
Can I travel without a certificate?
Yes, the certificate is not a precondition for travel — but you're likely to face more restrictions without one.
For example, if you're not vaccinated or recently recovered and you're traveling from an "orange" or a "red" area, countries can demand that you carry a negative test certificate. If you don't have one, your destination country may require you to get tested on arrival if you're coming from an "orange" area or require you to quarantine until you get a negative test result if you're coming from a "red" zone.
What if I'm vaccinated, but my kids aren't?
Countries agreed that children younger than 12 shouldn't be tested for travel; minors traveling with a parent or other travel companion shouldn't be required to quarantine when their adult companion isn't.
Great, so everything's settled?
Under the travel recommendation, countries can enact an "emergency brake" when the health situation in a region "deteriorates rapidly" due to the emergence of worrying coronavirus mutations. That mechanism could see testing and quarantine requirements revived — even if you're fully vaccinated or have recovered from an infection.
Also keep an eye out for the ECDC's assessment of the risk in your home country, as it guides whether your destination country may require additional measures such as tests.
Meanwhile, the common approach agreed by countries on how to treat travelers with a certificate is not binding, so it's still a good idea to keep a close eye on countries' implementation.
Want more analysis from POLITICO ? POLITICO Pro is our premium intelligence service for professionals. From financial services to trade, technology, cybersecurity and more, Pro delivers real time intelligence, deep insight and breaking scoops you need to keep one step ahead. Email [email protected] to request a complimentary trial.
What to know about traveling to Europe this summer as an American
Victoria M. Walker is a former TPG senior travel reporter. She previously taught multimedia journalism at Howard University and was the breaking news video editor at The Washington Post.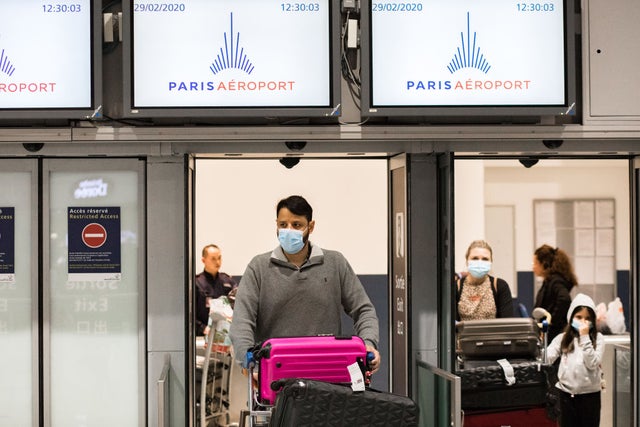 This post contains references to products from one or more of our advertisers. We may receive compensation when you click on links to those products. Terms apply to the offers listed on this page. For an explanation of our Advertising Policy, visit this page.
It's an encouraging sign for Americans who are eager to venture abroad and return to some of their favorite destinations in Europe — though an ever-changing landscape with the pandemic means that reopening dates and requirements can constantly shift.
It will also be up to individual member nations to decide when to relax border restrictions, and some countries will welcome Americans sooner than others. Greece, for example, has already reopened to Americans who can present a valid vaccination certificate or a negative COVID-19 PCR test taken within 72 hours of arrival. Italy has also reopened to tourists. And Croatia allows travelers to skip testing and isolation if they're fully vaccinated.
For more TPG news delivered each morning to your inbox, sign up for our daily newsletter.
But other countries might remain closed to visitors until late summer or even early fall, especially as cases surge in several regions worldwide and Europe continues to trail behind the U.S. in terms of vaccination rates. Additionally, the U.S. State Department still recommends that U.S. citizens reconsider traveling abroad, which conflicts with what the U.S. Centers for Disease Control and Prevention (CDC) has said publicly about travel.
And some prior reopening announcements have been updated or amended, which has made things even more confusing.
Still, travel is beginning to reopen, and many Americans are wondering whether they'll be able to take a summer vacation to Europe this year. Since several European countries have indicated they're ready for tourists again, we're answering all your questions about hopping across the pond to Europe this summer.
When will Europe reopen to Americans?
The European Union is expected to welcome vaccinated American tourists this summer.
"All 27 member states will accept, unconditionally, all those who are vaccinated with vaccines that are approved by E.M.A.," said European Commission President Ursula von der Leyen on April 25.
The European Union confirmed in mid-May that it would reopen to fully vaccinated travelers this summer. According to a spokesperson, the group's member states came to an agreement that will allow fully vaccinated travelers to enter the EU — including Americans.
What countries are open to Americans?
The European Union could add the United States and several other countries to its travel "white list" as early as Wednesday, allowing vaccinated visitors to forgo quarantine requirements and move more freely between the 27 EU nations.
A handful of European nations popular with American travelers have already reopened their borders to vaccinated U.S. citizens, including Iceland, France, Spain, Portugal, Croatia and Greece.
Portugal on Tuesday, June 15 said that nonessential travel — which includes tourism — from the U.S. to mainland Portugal is now allowed for travelers with proof of a negative COVID-19 test. And fully vaccinated visitors to Croatia no longer need to show proof of a negative COVID-19 test result and can also bypass the country's quarantine requirements.
France has reopened to tourists from a handful of nations, including the U.S. Those coming from the U.S. must still possess proof of vaccination and a negative COVID-19 test to gain entry to the country without mandatory quarantine.
Other European countries not in the EU with already eased border restrictions include Iceland, which is now open to vaccinated Americans and travelers who have recovered from COVID-19.
What do I need to travel to the EU?
Travelers must be fully vaccinated with one of the approved vaccines in the EU, which means that any vaccine approved for use in the U.S. will be accepted — Johnson & Johnson, Moderna and Pfizer. People who aren't fully vaccinated will likely need a negative COVID-19 test result and may be required to quarantine (depending on the country).
As of now, however, there's no consistent way to provide proof of vaccination across the continent. That said, there are ongoing talks to expand the EU's Digital COVID Certificates (formerly called "green passports") to Americans.
The New York Times reported earlier this month that citizens of seven European Union countries — Bulgaria, the Czech Republic, Denmark, Germany, Greece, Croatia and Poland — can use these certificates. All member nations should have access by July 1, 2021.
Under this initiative, EU member states would adopt the same entry requirements for visitors. The agreed-upon notion will see fully vaccinated travelers allowed entry to each EU country without the need for a further COVID-19 test result or quarantine on arrival.
The certificate will be available for free in digital (with QR code) or paper format, and non-EU member states, such as Iceland, Liechtenstein, Norway and Switzerland, will also use it. That does not, however, include the United Kingdom at this time — and U.S. travelers remain on the U.K.'s "amber" list, meaning a 10-day quarantine is still required even for fully vaccinated Americans.
Just remember that even if you can avoid testing in Europe, you'll need a negative test to fly back to the U.S., regardless of whether you've been vaccinated or not. All travelers 2 and older flying to the U.S. from abroad must show a negative viral COVID-19 test result taken within three days of departure before being allowed to board their flights. Documented proof from a licensed healthcare provider of recovery from the virus within the past 90 days will also be accepted.
What if I'm transiting through Europe?
There may be specific transit requirements in the airports you use to enter or travel throughout the EU — and these policies aren't always clearly disclosed. Be sure to do your research ahead of time, so you know exactly what you need to do before departing the U.S. — and during your travels to your final European destination.
For instance, all passengers (including transiting travelers) who fly to Lisbon (LIS) are required to have a negative COVID-19 PCR test result taken within 72 hours prior to departure. All passengers traveling to the U.K. — including transiting passengers — are also required to have proof of a negative COVID-19 test result. That means travelers simply passing through London Heathrow (LHR) who aren't leaving the airport still required to have a negative test result in order to board their flight.
According to Copenhagen Airport, passengers who transit via the airport are required to have proof of a negative COVID-19 PCR or antigen test taken no more than 48 hours prior to boarding a plane bound for Denmark.
The Netherlands, however, says that passengers can travel to a third country via Schiphol. The passenger must stay in Schiphol's transit zone and leave within 48 hours in order to transit — you must be able to prove that you have a connecting flight within 48 hours. However, transiting travelers no longer need to provide a negative COVID-19 test as of June 1.
What if my children aren't vaccinated yet?
Currently, there's an age limit on all three vaccines available under the Emergency Use Authorization from the FDA. The Pfizer-BioNTech vaccine is the only vaccine available for kids 12 to 17 so far. The Moderna and Johnson & Johnson vaccines are only available for adults 18 and older.
That means if you're planning travel as a family, there's a possibility not every member of your household will be fully vaccinated, and navigating different sets of rules can get confusing.
Some countries allow people traveling with unvaccinated children entry with a negative coronavirus test result, similar to what several cruise lines have done.
For instance, travelers from the U.S., EU and Schengen area are now permitted to enter Greece by providing proof of vaccination or a negative COVID-19 test. This requirement would apply to nonvaccinated children, but children under 6 are exempt.
Italy is also open to travelers again with similar requirements, as is Croatia. As more European countries open their borders, you can expect to see other vaccination and negative COVID-19 test requirements. In brief: It will be quicker and easier to bring vaccinated teens and tweens across borders, but younger kids should still be able to travel with you as long they test negative for COVID-19.
Can I use a vaccine passport to travel to Europe?
Digital International Certificate of Covid-19 Vaccination. The certificate indicates that the holder has been vaccinated against Coronavirus Covid-19 (Image by courtneyk/Getty Images)
Many destinations will accept proof of vaccination to allow some travelers to skip COVID-19 tests and lengthy quarantines. This proof, in some countries, may come in the form of a vaccine passport.
The EU is rolling out a vaccine passport dubbed the EU Digital COVID Certificate. The Digital COVID Certificate will show that a person has been vaccinated against COVID-19, received a negative test result or recovered from the virus.
Fully vaccinated travelers would be allowed entry to each EU country without the need for an additional COVID-19 test result or quarantine on arrival. However, the certificate is only available to EU residents at the moment.
And, while not an EU member, United Kingdom residents already have access to the NHS app, a digital vaccine passport only available to travelers in England.
Bottom line
While several countries worldwide have recently reopened to U.S. travelers (or didn't close at all), much of Europe has been off-limits to Americans. That's now beginning to change — albeit with some hiccups along the way. While we don't have all the details at this time, and some precautions (such as pre-travel testing) may remain, a broader reopening of Europe to travelers from the U.S. is a big step in restarting the industry.
European travel in summer 2021: What you should know
The US is no longer a COVID-19 "safe" country, according to the EU. Here's how that'll affect your travel plans.
Jessica is a writer on the Wellness team with a focus on health news. Before CNET, she worked in local journalism covering public health issues, business and music.
For the most up-to-date news and information about the coronavirus pandemic, visit the WHO and CDC websites.
The European Union removed the US from its list of "safe countries"on Monday, recommending that member states reinstate nonessential travel restrictions for Americans. The move comes as the US grapples with a surge of COVID-19 cases and hospitalizations caused by the delta variant .
Member states of the EU can still decide to allow vaccinated Americans to visit, according to the European Council. An EU source told the Washington Post that it's "widely expected that fully vaccinated Americans would still maintain unfettered access" to countries in the EU.
So you were planning a last-minute trip to Europe this summer. Does America's "unsafe" status change your plans? Here's what we know about European travel right now.
Can I still travel if I'm vaccinated?
The EU is made up of 27 countries, and each individual country sets its own requirements for travel. Given the newness of the EU's recommendation, it's a little up in the air, but it's expected countries will continue to allow Americans who can prove they're fully vaccinated. Being fully vaccinated means two weeks have passed since you received your second dose of the Moderna or Pfizer vaccine, or since you got your single-dose Johnson & Johnson vaccine.
The EU's recommendation isn't legally binding, which likely means not a lot will change if you're fully vaccinated, and more details are on the way. The Austrian embassy, for example, issued a note Monday that "until implementation" of the Council's recommendation, entry restrictions will "remain lifted for travelers from the United States or other countries with with low epidemiological risk."
Not all European countries are part of the EU. Americans are also currently allowed to travel to the UK, for example, which formally split from the EU last year. Within the UK, the specific travel rules for Americans traveling to England, Wales, Northern Ireland or Scotland will vary slightly.
To view COVID-19 travel information for any country you're considering visiting, and to see what the rules are for traveling Americans, see this page from the Bureau of Consular Affairs.
Can I go to Europe if I'm not vaccinated?
The EU's recommendation is most likely to affect your travel plans if you're not vaccinated, as member states might choose to impose stricter testing or quarantine rules, or restrict nonessential travel all together.
People who aren't vaccinated may currently travel to some countries in Europe, as long as they provide proof of a negative COVID-19 test and adhere to the country's quarantine and COVID-19 regulations.
The Centers for Disease Control and Prevention advises against international travel until you're fully vaccinated.
If you're fully vaccinated and decide to travel this summer, you must continue to follow COVID-19 testing regulations, mask rules and other health guidelines put in place by your destination.
Martin Dm/Getty Images
What about cruises?
If you want to cruise through Europe, you can take the Norwegian Cruise Line if you're fully vaccinated and submit to a COVID-19 test and health screening before you board. According to the company's website, the current regulations will be in place for cruises that sail through Dec. 31, 2021.
Other cruise lines are gearing up by setting COVID-19 vaccine requirements for passengers. Celebrity Cruises, Azamara, Royal Caribbean, Seabourn, Silversea, Victory Cruise Lines, Princess Cruises, Oceania and other cruise lines will require that passengers be fully vaccinated before boarding this summer.
Is it safe to travel right now?
The emergence of the delta variant has made everything less safe, but if you're fully vaccinated, you're less likely to contract and spread COVID-19. If you're traveling with children who can't get vaccinated yet, however, the CDC recommends you also follow recommendations for people who are not fully vaccinated. It's also important to consider who you'll come home to after you're done traveling, and if you live with a person at higher risk for severe COVID-19, it might affect your decision to travel or to make plans to quarantine once you get home. The delta variant has caused more breakthrough infections in fully vaccinated people and, while mild in most cases, the coronavirus can be passed on to others.
According to the CDC, all air passengers returning to the US from another country must provide proof of a negative COVID-19 test taken no more than three days before returning, and then test once more three to five days after returning home. Before traveling , you should consider the current prevalence of COVID-19 in your chosen country.
How will I prove I'm vaccinated?
As of now, the only way for an American to prove vaccination to an airline or anyone asking is to display the card you received after getting your COVID-19 vaccine, which carries the CDC logo and all appropriate information. You also may've been emailed or texted your proof of vaccination, or have it on an app.
The EU's Digital COVID Certificate was operational in all EU member states on July 1, but it's only for EU citizens and residents. The EU's certificate provides digital or paper proof via QR code that a person has either recovered from COVID-19, is vaccinated against it or has recently received a negative test.
COVID-19 "passports" in the US are an evolving concept, and proof of vaccination is becoming the norm in many cities in the US for indoor dining and other activities. We'll keep you updated on the future of COVID-19 passports and how they apply to European travel.
Source https://www.politico.eu/article/faq-how-to-travel-in-europe-this-summer-coronavirus-restrictions-digital-covid-certificate/
Source https://thepointsguy.com/guide/europe-summer-travel-covid/
Source https://www.cnet.com/health/european-travel-in-summer-2021-what-you-should-know/