European travel packing list: how to pack a backpack for Europe?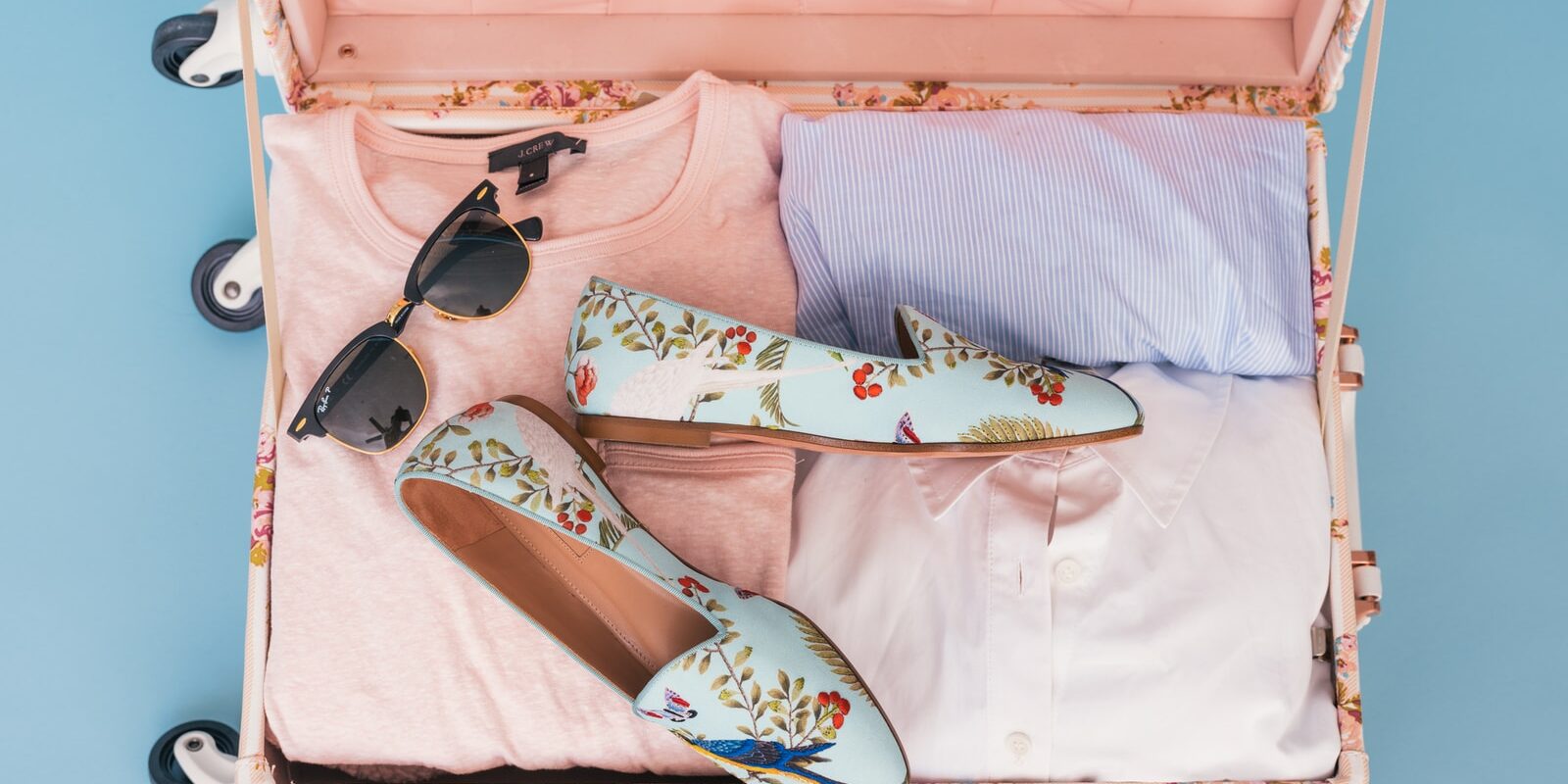 So now you're all set to go and travel to Europe. Your passport and your Schengen visa are ready, your flight ticket is booked, your itinerary is complete, and you even know where you'll be staying during your trip… Congratulations, you're ready to leave !
Oh but wait… There's still one thing you need to do, and it's not an easy one: you still have to pack! Packing to travel to Europe can be quite a long and stressful process. But no worries, to make things easier for you, we've compiled a Europe packing list which will help you pack the things you have to bring to Europe.
Europe packing list : travel backpack VS. wheeled suitcase
Before starting to pack your things, you absolutely need to figure out the type of luggage you'll bring for your trip to Europe. The Complete Guide to a Schengen Visa provides you with all the necessary information about the items you should pack when traveling to Europe. You basically have two options here, each one with its own positive and negative aspects :
A travel backpack : if you plan on walking a lot, on using public transportation and on traveling lightly, then travel backpacks may be your best option. They're pretty easy and light to carry, they often offer a lot of pockets and they are easy to carry everywhere, even in staircases and cobblestones. However, carrying a big travel backpack can be tiring and cause back pains.
A wheeled suitcase : if you plan on traveling with heavy gear, if you have any back issues or if you want your things to remain organized all the way, then you may choose a wheeled suitcase. Hard-shell suitcases, for example, will protect all your fragile items. However, wheeled suitcases are not always easy to carry around in staircases and cobblestones.
Europe packing list : clothes
If you plan on traveling to Europe soon, then you probably know it's a very fashionable destination. But how will you manage to fit in and get comfortable at the same time? The best advice we could give you would be to take ordinary-looking clothes. Of course, you could bring some fashionable outfits as well as comfortable clothes, but that would mean you'd have to bring a big part of your wardrobe with you. And the last thing you want is having to drag a very heavy bag all around Europe.
So the best thing you could do here is to bring mix and match clothes according to the weather and your destination. Try to stay casual. No one will make fun of you if you wear dark wash jeans with a white or a black t-shirt.
Bottoms to bring to Europe
Try to bring comfortable and fashionable trousers like one or two pairs of jeans. On top of that, if you travel during summertime, you may bring one or two skirts or pairs of shorts. Cotton should always be your first choice as it's both comfortable and easy to wash.
Tops to bring to Europe
Opt for basic t-shirts/blouses that will match all your trousers/shorts/skirts. During summertime, we'd advise you to bring 7 to 10 t-shirts so you can change them every day. You can also bring 2 or 3 fashionable long-sleeved shirts/tops as well as something to layer up. In Europe, the weather changes constantly so it's good to always have a jacket or a sweatshirt close at hand.
On top of that, we'd recommend you to bring an elegant outfit so you're always ready to accept an invitation to go to dinner or to a fancy party. Here we mean an elegant shirt for a man and a nice dress for a woman, for example.
Shoes to bring to Europe
With shoes, there should be no concession as comfort is always a priority. You're going to walk a lot during the whole trip, so you don't want your feet to end up full of blisters. Shoes also take a lot of space in your luggage, that's why you shouldn't bring more than two pairs. One pair of sneakers or walking shoes that you'll wear during the day, and one pair of fashionable shoes that you'll wear when you go out. On top of that, you may want to bring a pair of flip-flops, especially if you plan on staying in hostels.
Tip: Don't take new shoes on your trip, they will probably cause a lot of pain.
Underwear to bring to Europe
Travelers tend to forget that underwear is actually as important as clothes. Wearing comfortable underwear is a must to enjoy your trip. Opt for breathable and easy-to-dry underwear so you can take only 5 of them and hand-wash them frequently.
Same thing for socks, which will have to be comfortable, breathable, and easy-to-dry so you can take only 5 pairs and hand-wash them whenever you need clean ones.
Accessories to bring to Europe
Choose your accessories very carefully so they don't weigh too much in your luggage. Depending on the season, you might want to take a scarf and a warm hat. But if you travel to Europe in summer, leave them home and take sunglasses instead. Please avoid taking too much jewelry or expensive watches with you and try to keep it simple.
On top of that, since you'll probably spend most of your time walking around and doing activities, you will need a small and light backpack to carry your stuff around. A theft-proof backpack might be a good option to keep your things safe.
Europe packing list : electronic gear
Your trip to Europe will probably be the occasion to take some pictures. But what electronics should you take with you?
Smartphone to bring to Europe
Bring your usual smartphone. If it's a good one, it may be used as a camera as well. To be able to stay in touch with your friends and family during your trip, simply use the Wi-Fi connection at your hotel/hostel. If there's none and you want to be reachable at all times, then you can buy a local prepaid SIM card.
Laptop / tablet to bring to Europe
If you don't plan on working during your trip, leave your laptop at home. It's heavy and there's always a risk of it being damaged or stolen. If you want to work during your trip, then bring light and compact laptop or replace it with a tablet. A tablet is way lighter and will allow you to watch movies and series during your trip. It can also replace a smartphone while it's connected to Wi-Fi.
Camera to bring to Europe
If you have a good smartphone, then it might be enough to take reasonable pictures. But if the photo quality is not sufficient, then you might want to bring your camera. Just make sure it's light and compact.
E-reader to bring to Europe
Of course, nothing will ever replace paperbacks. But if you want to travel light, then you'll have no choice but to bring an e-reader with you.
Outlet plugs and chargers
European outlets are different from other countries so, if your electronic items don't fit, bring a voltage plug converter with you.
Europe packing list : travel & insurance documents and money
Your travel documents are probably the most important things you'll have to put in your luggage. Make sure your passport, your Schengen visa or ETIAS, and your plane tickets are always close at hand, and send yourself copies of them by email. The Schengen visa application form can be downloaded from the website.
Always have some cash money and your credit/debit card with you.
On top of this, you shall have at all times your travel insurance card in your wallet in case of emergency. Your travel insurance policy will cover you in case something happens, like an accident or an illness. Without proper insurance, going to a doctor or being hospitalized may cost you thousands of dollars.
Europe packing list : health and toiletries
Even a small health issue could ruin your trip. So you better take the right medicines with you. Bring any prescription and take all the drugs you are used to taking at home (for headaches, diarrhea, muscular pains, etc.).
Also bring a toilet bag with your toothbrush, your toothpaste, some soap, and shampoo, as well as wet wipes and tissues.
If you plan to do any laundry during your trip, you can bring a packet of detergent or laundry soap, plus a portable clothesline that will allow you to dry your underwear.
And don't forget that any store in Europe will have what you forgot. So the important things here are your travel documents, your electronic items, and your biggest smile. Yes… Don't forget to smile, 'cause you're about to leave for the trip of a lifetime !
I traveled to Europe for 13 days with just one backpack. Here are the best things I packed and 4 items I wished I left at home.
Email Twitter icon A stylized bird with an open mouth, tweeting.
Snapchat Fliboard icon A stylized letter F.
Flipboard Pinterest icon The letter "P" styled to look like a thumbtack pin.
Pinterest Link icon An image of a chain link. It symobilizes a website link url.
The author took just a backpack on her two-week train journey through Europe, and she had everything she really needed. Joey Hadden/Insider
I recently traveled by train through four European countries for two weeks with just a backpack.
I packed light, but there were some items I could have skipped to save room for souvenirs.
I was glad I brought a tote and quick-dry clothing, but I wish I had brought fewer pairs of socks.
I recently spent two weeks living out of a backpack while traveling from NYC to four European countries by plane and train.
I flew from NYC to Berlin and traveled by train from Germany to Austria, Italy, and Switzerland.
I explored cities in each country on foot, taking photos and notes along the way. I also stayed in a variety of accommodations, from train bunks to unique Airbnbs and luxury hotels.
Packing for this trip was hard for me. It was the lightest I'd ever packed for the longest trip I'd ever taken. But after a few practice packs, I was surprised to find that I could fit everything I truly needed in just one bag.
It was my first time traveling for two weeks with just a backpack and looking back, I think I could have packed even lighter.
Traveling with just a backpack works for me because I find I have less stuff to worry about losing or forgetting when getting from one location to the next, and it leaves my hands free when commuting.
Plus, fitting everything in a backpack means I don't have to check luggage and pay the accompanying fee, or feel the anxiety of whether it will make it to my destination.
For this trip, I used a 32-liter backpack, the largest one I own, to hold everything I needed for two weeks. I packed my work computer, camera, and chargers; snacks, toiletries, and medications; one packing cube stuffed with clothing, and additional necessities like a raincoat, a tote, and a pair of shower slides.
While I longed for more outfit variety, I was glad I packed so little. I didn't feel as weighed down by my backpack as I have on previous trips, so I had more energy throughout the day.
One of the most important things I packed was an all-in-one soap that cleans everything from clothes to bodies.
When I pack light, I usually bring laundry sheets, which are small, dry, scented squares that look like dryer sheets, but they're actually pads of laundry detergent that turn into a bubbly soap when mixed with water. They're great for using on the go, and I like to pack them while traveling so I can do my own laundry in sinks and then air dry my items.
But I wanted to save more space on this trip, so I brought a 2-ounce bottle of Dr. Bronner's Pure-Castille soap, which is an all-in-one soap that cleans everything from dishes to teeth, according to their website, and also works as body wash and laundry soap.
I thought Dr. Bronner's soap worked well for my laundry and left my clothes smelling fresh. I used it as body wash, too, and I could even clean my teeth with it in a pinch, according to their website. I plan to travel with it from now on instead of laundry sheets and a separate container of body wash.
Aside from Dr. Bronner's soap, the most essential toiletries I made room for were my electric toothbrush and sea salt hairspray.
No matter how lightly I'm packing, I always make room for my electric toothbrush. Although I find it bulky, with a battery, charger, and case, maintaining my usual hygiene routine away from home makes me feel more comfortable while traveling. I've used an electric toothbrush for 23 years and swear by it for keeping up my dental health, so didn't want to swap to a manual toothbrush that could cause me to miss hard-to-reach-spots or build up plague, as dentists have previously told Insider.
Another necessity I packed was for my hair: the Sea Spray from Lush. I hate doing my hair. I like to just let it do what it wants, avoiding heat products and gels, but this hair product has my heart. Made from mostly natural ingredients, according to the Lush website, the spray adds texture and shine. I find that this product is easy for me to apply with just a few spritzes, and I think it always makes my hair look good with minimal effort. That's why I never travel without it.
I think I did a great job packing versatile clothing pieces that work well for travel.
For clothing, I brought quick-dry shirts and pants made of thin, moisture-wicking materials that are designed to dry quickly in the sun.
Most of my quick-drying clothes are from Under Armour or Prana and are good for exercise, but I thought they'd serve a dual purpose on this trip considering my laundry strategy. I dried my freshly-laundered quick-dry clothing on the balconies of hotel rooms and the porches of Airbnbs, and it never took longer than 20 minutes.
I was also satisfied with the versatility of the clothing I selected. With mostly neutral tones, like my gray t-shirt and navy sweater, as well as pops of color, like my purple striped long-sleeve tee, every article I brought paired well with everything else. So I wore every combination of pieces to have as many different outfits as possible. While I still longed for more variety in my style abroad, I was impressed by how many outfits I was able to make with such a small selection.
I was happy with the single pair of shoes I packed, which were black and grey sneakers.
I find that shoes take up quite a bit of room in my backpack, so I try to travel with just one pair. I thought these black and grey New Balance sneakers I got from Asos were the perfect everyday shoes for this trip because they were comfortable enough to walk around in all day without hurting my feet. And with a neutral color scheme, I think they looked good with every outfit.
I found that my slides were crucial for showers throughout my trip.
Besides my pair of sneakers, I also brought a pair of rubber slides to wear in the shower.
Unless I'm at a nice hotel, I prefer to wear shoes in the shower when I'm traveling. I can be a bit of a germaphobe, so having a layer of protection between my feet and the floor makes me feel at ease in places like in the outdoor shower at my Airbnb in Switzerland, or the tiny home hotel in Germany where the toilet and the shower shared one floor.
The weather on my trip ranged from 40 to 80 degrees Fahrenheit, so I was glad I brought a windbreaker.
My Members Only jacket is my go-to travel jacket in the fall, and I thought it was the perfect pick for this trip since it's comfortable in various temperatures. Since this jacket is a little big on me, I was able to fit long-sleeved layers underneath on cooler days. And it's black, so I think it goes with everything.
It also has four pockets, one of which is hidden on the inside. I used that pocket to hold essentials like my phone while walking around each city.
I packed a rain jacket, too, which came in handy when it rained in Vienna and Switzerland.
I checked the forecast during the week leading up to my trip and saw that some locations were expecting rain. I packed my smallest rain jacket so I could wear it alone on warmer rainy days and layer it underneath my windbreaker on cooler days.
I caught the most rain of the trip during my second day in Vienna. Although it was pouring, I was able to walk around the city all day and stay relatively dry thanks to the jacket. When it cooled down at night, I wore my windbreaker over the rain jacket and felt cozy.
I also packed a tote bag in my backpack to separate some items for easier access during my travels, like my notebook and camera.
On travel days, I used a tote to separate and hold personal belongings I wanted quick access to so that I could stuff my backpack in the overhead bins of planes and trains.
This made it easy to quickly find items I needed, such as my headphones, while keeping my bulky backpack out of the way. By stowing my backpack on the shelf above me, I was able to maximize leg room, too.
On non-travel days, I left my backpack at my hotel or Airbnb and explored with a lighter load in the tote. The tote was large enough to fit all the essentials for a day out on the town, including my camera.
Since outlets in Europe are different from the US, having an outlet adapter was essential for charging my devices.
Different countries have different outlet ports, so I thought my outlet adapter was one of the most important items in my backpack. One side has a European plug and another has one US outlet port. On the bottom, there are four USB ports. I brought my iPad, phone, laptop, and camera on this trip, and I was able to charge them all at once with this device. Since this particular converter has plugs for outlets in Europe, the UK, and Australia, I think it will also come in handy for potential future trips.
To keep myself entertained during flights and train rides, I brought my iPad for reading, watching TV, and drawing.
I bought several ebooks on my iPad to be able to read as much as I wanted on the trip, and to avoid bringing physical books that would take up too much space.
Most of the books I read were travel guides. Before my trip, I downloaded some guidebooks for each country I visited. When I was on my way to each destination, I read about the sights that awaited me. These books helped me decide how to spend my time in each location and built up my excitement for my upcoming adventures.
During my trip, I downloaded a few episodes of my favorite TV shows to bring me comfort when I was feeling homesick, which for me was usually around bedtime. I also used my iPad to draw cover art for my band with the Procreate app, so I spent some time sketching designs for upcoming singles. Watching TV and exercising hobbies that I do at home made me feel more grounded while traveling.
I packed my film camera and my digital camera. I was glad I made room for both.
The author's film camera (L) and a cropped version of a photo she took with it in Switzerland (R). Joey Hadden/Insider
While I take photos digitally for work, I shoot and develop film pictures as a hobby. For me, this includes manually loading film into a mechanical camera and taking my time with each shot before developing the negatives in my kitchen using a combination of chemicals.
I hadn't brought my film camera on previous work trips, but since Europe was my longest adventure yet, I packed my Minolta Autocord to help me find a work-life balance by taking film photos just for myself. When I was in work mode, I shot digitally, and during my breaks, I took pictures with my film camera. This made me feel so much more creative during my trip, and I think I got some great photos. Although this camera is quite heavy for its size, I thought it was worth bringing to feel inspired and maintain an artistic mindset throughout my European adventure.
Bringing snacks and meal bars helped me save money while traveling.
With hobbies like film photography and playing musical instruments, I can't afford to eat out every meal, whether I'm at home or traveling. So packing meal bars and snacks for travel days helped me save money I would have spent on munchies in airports and train stations.
During my 8-hour flight from NYC to Berlin, I saved money on an in-flight meal by consuming an entire bag of Combos. On busy days spent exploring, I often had RX bars for breakfast or lunch to save money and keep me energized.
However, I also think it's important to try local cuisines while traveling to new places, so I maintained a balance of meal bars and dining out during my trip. I made sure to taste things I hadn't before, like kebab and fresh pasta.
I think I did a decent job of packing light, but there were a few items I could have left behind to make my bag even lighter. For my next work trip, I'll leave the digital camera extra lens, and I'll bring less film.
I brought way too much film for this trip. I packed eight rolls of film and only shot four of them due to some rainy days. Plus, I was surprised by how easy it seemed to buy film in Europe — if I'd needed more, I could have stopped at one of the many film stores I passed in Vienna and Berlin. In Vienna, I even spotted a film vending machine on the street.
Because I overestimated how many film pictures I'd take, next time, especially if I'm traveling to Europe, I'll bring half the film I think I'll use.
I find that rolls of film feel bulky in my bag if I have too many, but my camera lenses feel even bulkier. I brought two lenses for my digital camera: a zoom lens and a lens with a fixed wide angle. I think I could have just brought the zoom lens. Although I used both, I thought the majority of the shots I got could have been taken with my zoom lens, which has a pretty wide setting and can take close-ups.
I brought a maxi dress for more formal settings, but found it wasn't very versatile.
I brought a maxi dress for days when I wanted to dress formally. But apart from different jackets over top, my dress looked the same to me every time I wore it. And since it was so long, I thought it took up the amount of space in my packing cube that a pair of shorts and a couple of more shirts could have taken. Replacing the dress with a pair of nice shorts and some blouses would have given me nice outfits that were more versatile.
Since I spent two nights in most of the locations I visited, I had ample time to dry my socks after washing them, so I wish I'd brought fewer pairs.
I brought 10 pairs of socks for my two-week trip since I'd had trouble drying my socks in just one night on previous trips, leaving me wishing I had packed more. But since I booked two nights in most of the cities I visited in Europe, I found I had plenty of time to dry my socks. I probably could have done with six pairs to leave more room in my bag for small souvenirs.
Packing so lightly allowed me to bring home some small souvenirs, like 3D puzzles and tiny sculptures. Next time, I'll save even more space for treasures I find along the way.
Apart from having less stuff to keep track of and less weight on my back, the best part of packing so lightly was saving room for trinkets to remind me of my trip. In Vienna and Zurich, I bought tiny framed paintings of landscapes to display on my desk at home. In Venice, I purchased three 3D puzzles, which came in small, flat packs, to put together and display once I got home. I also picked up a few other flat items I like to collect that slid easily into my backpack, like bookmarks and a thin, paperback photo book.
With so many reminders of my European adventure scattered around my apartment in NYC, I think having fewer belongings during my journey was worth gaining extra space to bring a piece of each place home with me. And next time, I'll pack even lighter.
Backpacking Europe Packing List (Updated for 2022)
Anywhere you go you need your backpack full of all the essential things like clothes, traveling gear, traveling essentials. Also, you have to avoid less useful things. So here is the ultimate backpacking Europe packing list for making your backpack perfect for any trips and slow travel. Here we give you tips for how to make lightweight travel backpack, backpacking essentials, backpacking Europe gear, ultralight backpacking gear list for your Europe vacation. Also, I give you which list of things I do not put in my bag. So get ready to challenge yourself to pack less for your next trip.
Pack light – Backpacking Europe Packing List
Whether you are going to some of the best hiking trails in Europe, camping, or backpacking trips to Europe, Asia or Australia, the first most crucial thing is pack light your bag.
Do you know why you should pack light?
Pack your bag within 20 lbs because mostly low-cost airlines allow handbag within this weight limit. If you have a heavy backpack, then you can't choose these airlines, and eventually, your traveling budget will go out of its limit.
You will get tired and getting stress during walking, tracking with a heavy backpack.
After all, during traveling, you will understand that many items you are carrying without any reasons!!
Thinks about if you would lose any items within your bag or even full suitcase then you may not have to worry and your travel will be going on.
What to Pack
First, bag packing for travel is the most challenging task. We become confused about what to put and what not to put in a bag. Take many bags with you during the journey will make difficulties in every phase of travel. Whether you are in the metro or any public transport, take more than one bag with you create a problem during traveling. Also, Make bag with lightweight is a significant task. Here we give a list of items and gear you should take with you during your backpacking tour through Europe. Let's start our Backpacking Europe Packing List.
Full Backpacking Europe Packing List
First, we make the list of items that should be in our Backpacking Europe packing list. After we will discuss each in detail.
I during backpacking travel usually take two pairs of h me. I choose dark color jeans, and others I want light blue jeans. Any color you choose, but it should be making a good pair with all your other outfits.
Also, take one pair of nightwear with you which you need for a relaxing time. Choose lightweight clothes as nightwear.
Socks
If you on any trip then you do not want your socks to become wet and make a smell. Buying a pair of socks is also a vital thing. Your socks should have some characteristics.
Should be dry quickly:
If you wash them, then it should be dry overnight, and you would use it the next day.
Should be odorless after use:
You know that if you buy any cheap socks, wear them for one day then it will make a bad odor. So buy your socks wisely. Good material and branded socks never get smell even after two-three times use.
Buy three to four pairs of excellent quality socks which you can take with you during your trip. It should be worn two-three times without getting any trouble. Instead of cotton socks, buy nylon, polyester and wool material mixed ultralight socks.
Underwear
Buy underwear with your choice and in which you get comfortable. Because trying a new brand feels you uncomfortable while traveling. You can use brands like Exofficio, Uniqlo Airism, Saxx, Under Armor. These brands sell the best backpacking underwear, which is very comfortable.
Backpacking Towel and Tissue Paper
While your any backpacking, you do not get tissue paper near your hands. Small and cheap hostels do not provide tissue paper most of the time. So put one packet of tissue paper in your backpack. After you get there at your destination, you can buy it anytime. So do not take tissue paper in large quantities. I recommend you to choose the second option also, the backpacking towel if you sweat a lot or you are going on camping and backpacking. Take two backpacking towels made with nylon microfibers which will dry quickly, light in weight, compressible. The backpacking towel differs from a regular towel. Just wipe your face after wash with this backpacking towel; you would feel fresh. PackTowl Ultralite, Sea to Summit Pocket Towel and PackTowl Nano are the best backpacking towels.
Power bank and Adapter
Don't forget to take a power bank with you. You will need a power bank any time during traveling. It is the easiest option to make your mobile always on condition. Sometimes mobile battery drain when you get late to reach your hostel or during a full-day visit to different places. At this time mobile can be charged by power bank. Also, take an adapter with you which is also must required thing while you are planning for a Europe trip or going to the World tour. Mingtong Universal travel adaptor is an excellent choice for your Europe trip.
Download offline maps
Here we are putting offline maps as an essential thing you should consider before traveling to Europe. Sometimes you may not get the internet during your traveling. Also, download an offline google map for Europian countries like France, Italy, Spain, Iceland and more which you are going to visit. Download train time tables, local train route maps. Do not depend on mobile always. Write down some frequently required phone numbers and addresses in your diary.
Packing Cubes – Backpacking Europe Packing List
If you are listening to this word the first time, then let me explain to you about this. It is a small fabric container with zip lock which you can put in your backpack, suitcase or bag.
You can put many packing cubes in your bag. Packing cubes make your clothes organized in your bag. Also, it will keep your clothes compressed so your clothes can be kept in good condition, neat and clean.
As a result, it makes more space in your backpack. After choosing packing cubes, do not worry about finding in a full bag and unfolding everything for one cloth because you can put clothes by category.
Packing cubes target, Ikea packing cubes and Rei packing cubes are among the top packing cubes brands available nowadays.
Credit cards and Debit cards
Choosing the right debit cards and credit cards during your Europe tour will make a significant effect. If you are a frequent traveler then select your bank cards which allowed international transactions with no additional fees. You can check their website for the best available packs for the global traveler. Also, your credit card should be valid for international use. Sometimes there are chances of blocking the card by the bank after its first international use.
Medicines
Take your medicine with doctor's prescriptions. Keep regular medicine like for cold, headache, diarrhea and painkillers. Also, take vitamin tablets if you use them regularly. Prescribed drugs are required to avoid any trouble during immigration time. Take mosquito repellent with you to protect your body from danger mosquitos.
Important documents
Keep important travel documents, Identification documents and, passport and flight tickets, hotel tickets in one small pocket type bag. Also, put them properly so you can get it quickly when you need it. Also, take scanned documents on your mobile.
What not to pack for Europe – Backpacking Europe Packing List
We have discussed things you should pack during your Europe trip. Now let's see items you need not include in your backpacking Europe packing list.
Expensive Jewellery
Don't take expensive jewelry, electronic items. Only take a maximum of two electronics with you.
If you are going to visit Paris in Europe then check this Discover the Beauty of Paris.
Over-ear headphones
Don't take over-ear headphones rather you really need it. Use of earbuds is the best replacement for over-ear headphones. Otherwise, use wired earpiece during traveling. Choose the noise-canceling option for these items.
Heavy cloths
Try to eliminate heavy cold-weather clothes in your backpack. It will take most of the weight of your backpack. Nowadays warm thin layer clothes are famous in the winter wardrobe. So wear clothes in layers. It will look nice and also you can make space in your bag. You can add or remove these layered clothes as per the outside temperature. It is the best benefit you can get from this idea.
One best item I found on the internet for a woman who travels alone is infinity scarf with zipper pocket. It should be in the backpacking Europe packing list. You can put extra cash, cell phone, credit cards and many more little but important items in its pocket.
Do not take too many toiletries. You can buy most of the things in a place where you are traveling. Also for a large size, you have to check your luggage which is more expensive than you buy it from traveling place. Also, you can use it all during your trip if you buy a small size.
Point and Shoot Camera
If you have a DSLR camera then you can take it in a camera bag as personal items at the airport. If you have a point and shoot camera than in my opinion you should avoid it. Nowadays mobile camera photo quality is as good as this point and shoots camera.
Bathing Towel and Bedsheets
Don't take a bathing towel in your backpack. Most of the hotels and hostels provide bathing towel during your stay. You can inquire before by a phone call for your requirements.
Don't take bed sheets with you. First, check out the hostel review on the internet. If you find any bad reviews regarding bed cleanness then you can change your hostel. But most of the hostels keep their things clean and also serious about visitor's reviews. That's why we have not included bedsheets in our backpacking Europe packing list. So don't make your bag full of bedsheets and get more space.
Restricted Foods
Don't take restricted foods with you. Fruits, vegetables are permitted in little quantity in most of the countries. You should not take meat or any dairy products as much as possible. Otherwise, try to eat before you land.
We always want to hear from you. Give us feedback and suggestions in below comment box.
This post may contain some affiliate links which will not any cost to you. I will earn if you will click through affiliates and make booking or purchase.
Source https://blog.onwardticket.com/complete-guide-schengen-visa/european-travel-packing-list
Source https://www.insider.com/how-to-pack-backpack-for-two-weeks-europe-trip-2022-11
Source https://tripntricks.com/backpacking-europe-packing-list/