7 Things to Know When Planning Your First Trip to Europe
If you are planning your first trip to Europe, it can be an overwhelming experience. Where should you go? How much will it cost? How many places can you visit?
Does this sound familiar?
We get emails every day from people who want advice planning their first trip to Europe. And we see the same questions over and over again. So we wrote this post to answer your questions and give you some things to think about as you plan your Europe itinerary.
Table of Contents
How to Plan Your First Trip to Europe
Don't Try to See Everything on Your First Visit
I can't tell you how many times we get emails that go something like this: "I have 10 days in Europe and I am planning to visit Rome, Venice, Paris, London and Belgium. Do you think that's too rushed?"
It's just like saying "I have 10 days in the United States. I would like to visit Boston, New York City, Washington DC, Miami, and Los Angeles. Do you think that's too rushed?"
We get it. Europe is huge and it's loaded with "must-see" spots. Paris, Rome, Barcelona, London, Amsterdam, and Venice all make the must-see list for many first time travelers Europe. They are all amazing places to visit. And with so many fantastic sites to see, it can be very difficult to narrow your list down to just a few destinations.
You will have a much better time if you don't try to get to a new city every day. The longer you spend in each place, the more you get to know it. There are some cities, like London, Paris, and Rome, which literally could keep you very busy and very entertained for a good five or more days.
Here are some basic guidelines for how many places you can visit depending on how much time you have:
With 7 days: 2 cities OR one city with day trips
With 10 days: 3 cities OR 2 cities with day trips
With 14 days: 4 cities OR a road/train trip through one or two countries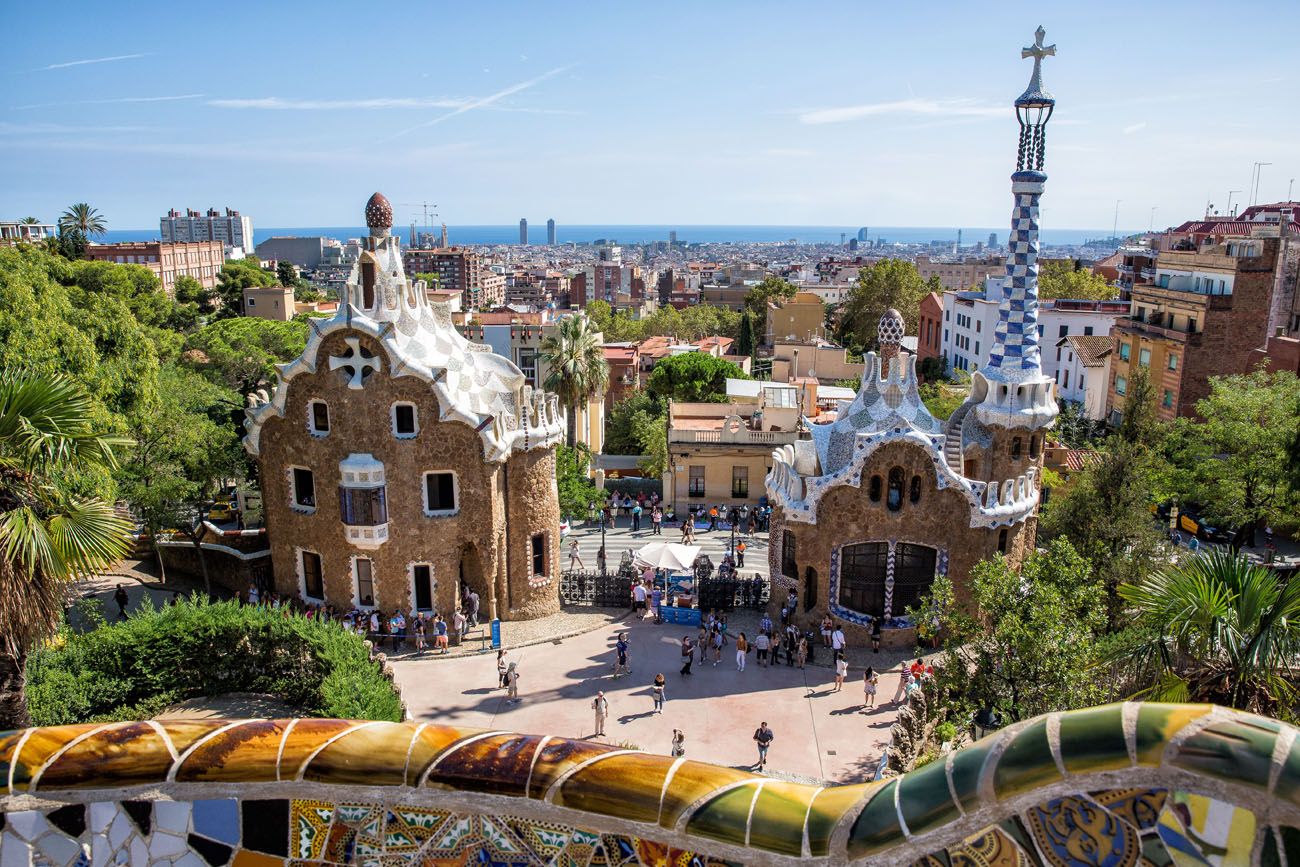 If you look at your itinerary and you wonder if you are moving too fast or you are trying to squeeze too much in, odds are, you probably are.
If you have 10 days and you plan to visit 4 major cities, it can be done, but it will be a rushed, exhausting experience. And you will be spending most of that time on trains and planes. Don't forget that you will have to spend time traveling between destinations as well as packing, unpacking, and checking into hotels.
Here is a sample itinerary through London, Amsterdam, and Paris:
Day 1: Arrive in London
Day 2: London
Day 3: London
Day 4: London
Day 5: Morning train to Amsterdam, sightseeing in the afternoon
Day 6: Amsterdam
Day 7: Morning train to Paris, sightseeing in the afternoon
Day 8: Paris
Day 9: Paris
Day 10: Fly home
On this itinerary you get to three major cities. And even this itinerary is a bit rushed. You could really use an extra day in each city simply because there is so much to see and do in each of them.
For some more examples on how to plan 10 days in Europe, check out these itineraries:
Examples of visiting 3 cities:
Examples of exploring one region: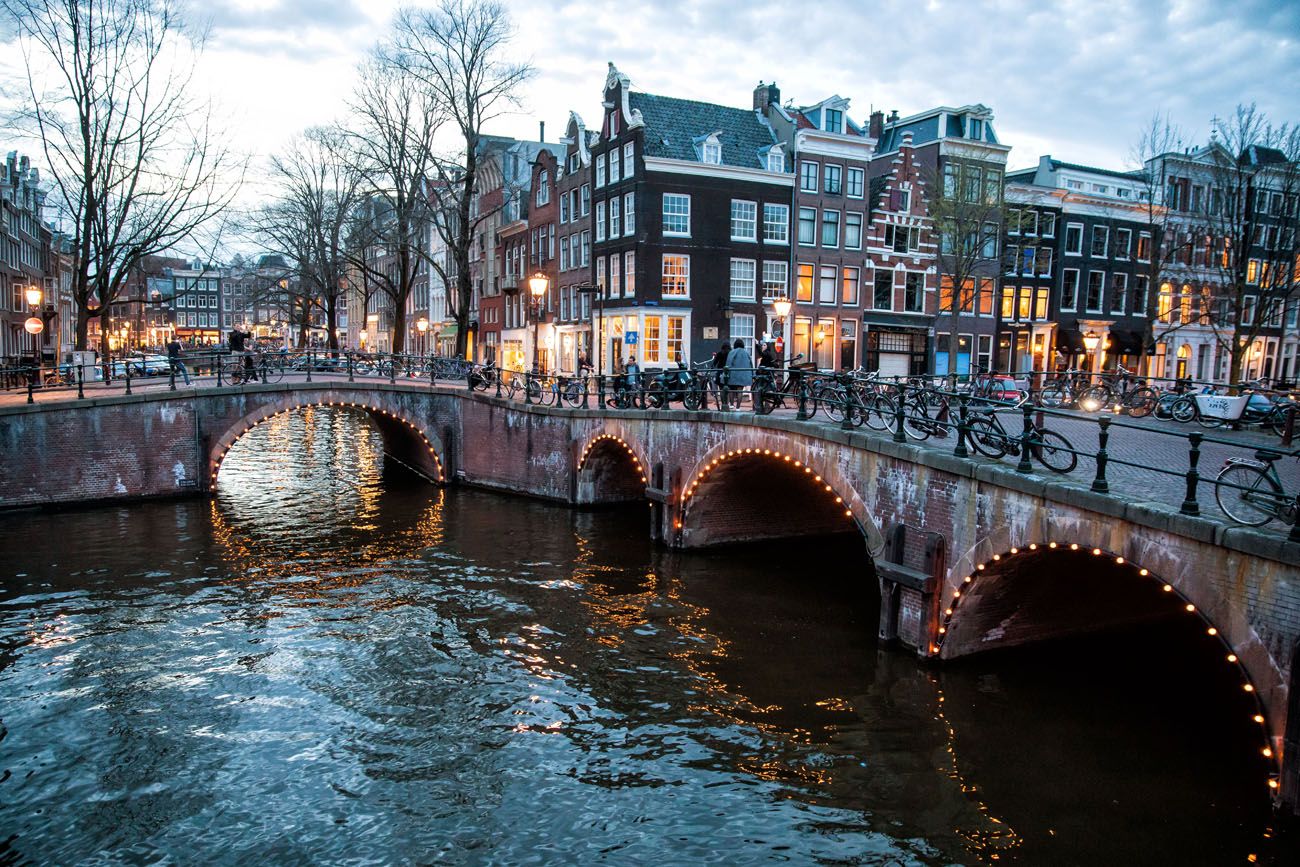 Don't Forget to Factor in Travel Time
So let's say that you have 10 days in Europe and you've narrowed down your itinerary to 3 cities. How do you get around?
That depends on where you are going.
For cities that are close to one another, say Barcelona, Madrid, and Seville, the train would be your best option. If you are visiting Stockholm, Copenhagen, and Amsterdam, then you will use a combination of planes and trains to get around.
Getting from city to city takes time, of course. And you need to factor this in, not only when planning your itinerary but also choosing where to go.
Just as a rough estimate, it will take about 4 hours, or half of a day, to get between two cities. This time can go up if the cities are far apart. So, if you are visiting three cities, you will lose about one day in total just traveling from place to place.
We usually plan to transfer between cities first thing in the morning. By taking an early train, we can usually check into our hotel by noon and have the entire afternoon for sightseeing. Occasionally, we will take an evening train if we want to have a little extra time in our departure city.
PRO TRAVEL TIP: What about luggage? Let's say you arrive by train to Florence at 11 am. It's too early to check into your hotel, so what should you do with your luggage? You have two options. You can either store you luggage at the luggage storage area in the train station (and retrieve it at the end of the day) or have your hotel hold your luggage for you. We email our hotel ahead of time just to make sure they can hold our luggage for us (but so far no one has told us no).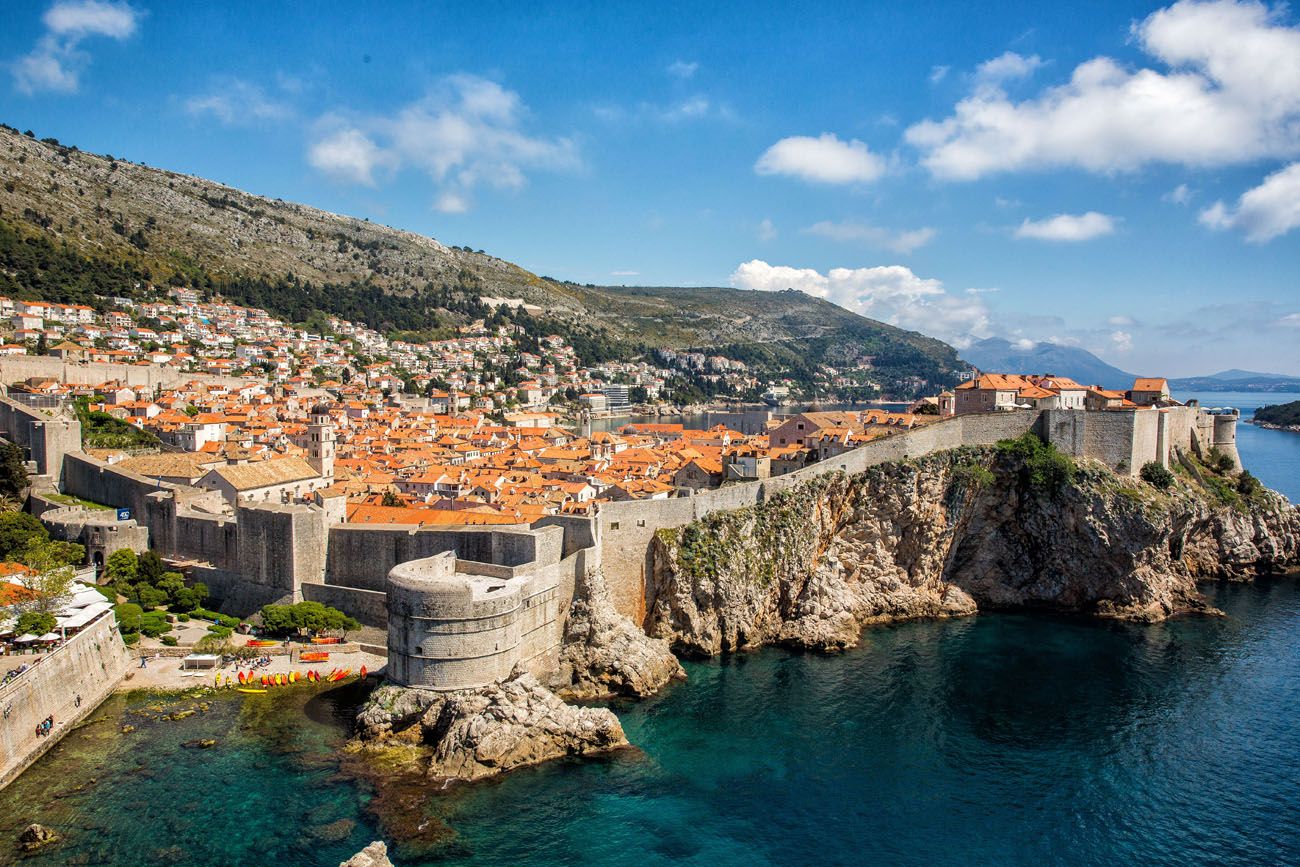 Using Trains versus Planes
In some scenarios, you might have the option to fly or to take a train to get from one city to another. When looking at travel times, a one hour flight may look a lot more time efficient than a 3 hour high speed train, but that is not always the case.
There is much longer check-in process for flights (we usually check in two hours before our flight). For train travel, in most cases you can arrive just before your departure time, although some high-speed trains request that you arrive 30 minutes before departure time.
Train stations are located in city centers. From the station, it might be just a short walk or metro ride to get you to your hotel. Airports are located outside of the cities and it can take 15 to 30 minutes (or even longer in some cities) to get into the city center. You'll have to do this twice and this could tack on another hour to your travel time if you plan to fly.
We tend to lean towards train travel whenever possible. It's fast, it's cheap, and it's much more eco-friendly than plane travel.
PRO TRAVEL TIP: You can save time (and money on a hotel room) by booking an overnight train. It might also be worth getting a rail pass if you plan to hop from city to city.
Use Open Jaw Flights to Maximize Your Time
Open jaw flights arrive in one city and depart from a different city (for example, you arrive in London and depart from Paris).
You can save a lot of time by booking different arrival and departure cities.
Let's say you want to visit Rome, Florence and Venice (who wouldn't?!). If you fly to Rome and then fly home from Venice, you save about half of a day, the time it would take to backtrack to Rome.
In many cases, it is not more expensive to do this. We have flown open jaw many times for the same price as a round trip flight.
In some cases, it may be more expensive to fly open jaw. If it is, then you have to decide if it is worth spending a little extra money to save some time. Maybe it's worth spending a little more money for extra time in Venice than to take the train back to Rome (and don't forget to figure that train cost into the decision to take an open jaw flight).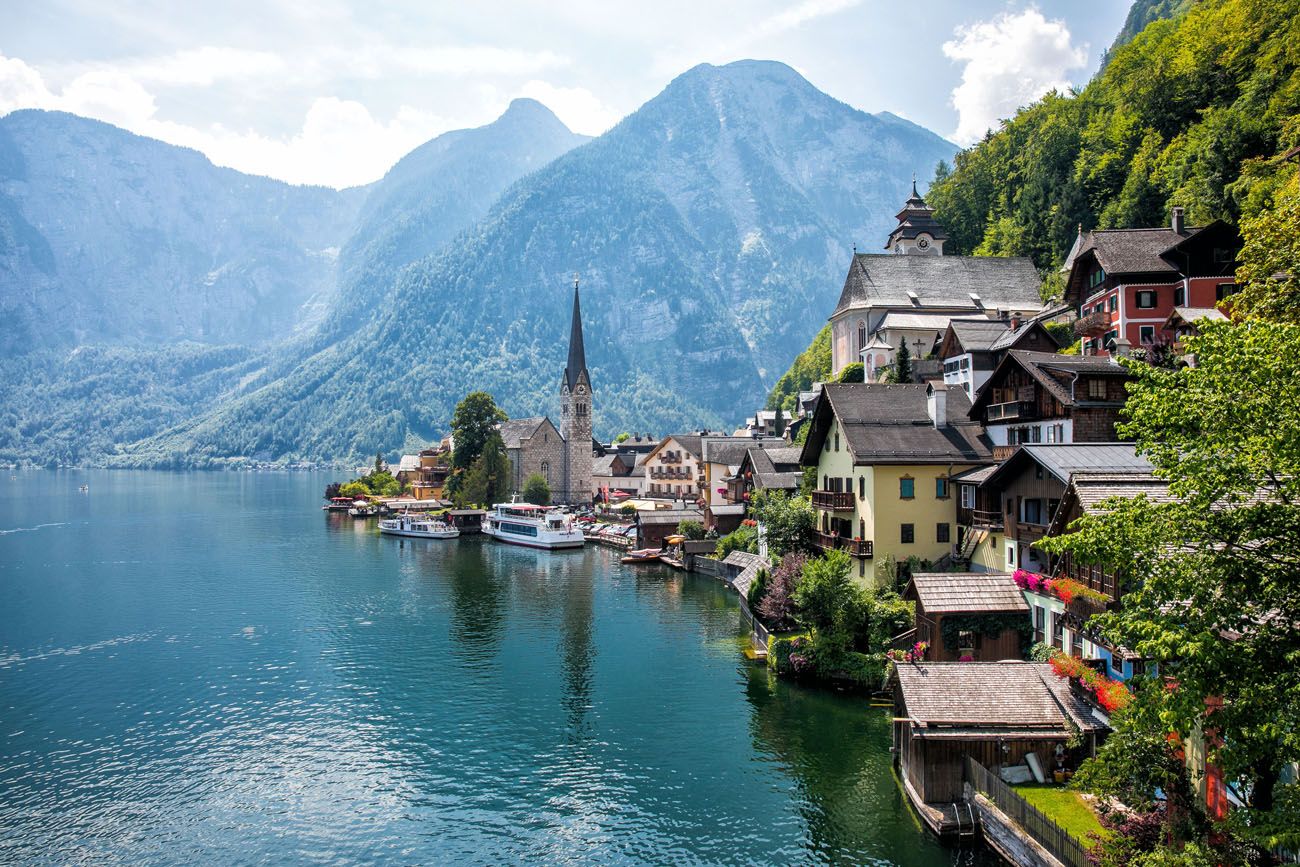 What about Jet Lag?
Jet lag is the feeling of fatigue you get from crossing multiple time zones. Some lucky people have minimal symptoms while others can feel exhausted for several days.
If you are flying to Europe from the USA, most likely you will be on an overnight flight, arriving in the morning or midday. There is a very good chance that you will feel tired on your first day but if you had trouble sleeping on the airplane, you may feel more like a zombie.
To get over jet lag quickly, it's usually best to stay awake that first day and go to bed early. I will admit that there have been a few times where we took a midday nap because we desperately needed it.
With this being said, it is usually best not to schedule a busy list of things to do on the first day of your itinerary. Sure, you will be excited to be in a new place and that can be energizing, but it will still be difficult for most people to function at 100% on that first day.
Should You Rent a Car?
There are some spots in Europe that are simply perfect for a road trip. Norway, Ireland, Slovenia and the Balkan Peninsula are all some of our favorite spots to explore with the freedom that a rental car provides. But before you rent a car there are some things you should know before you go.
If you are considering renting a car for your European trip, we have an article all about exciting things like International Drivers Licenses, how to choose a rental car company, vignettes and more. Read it here: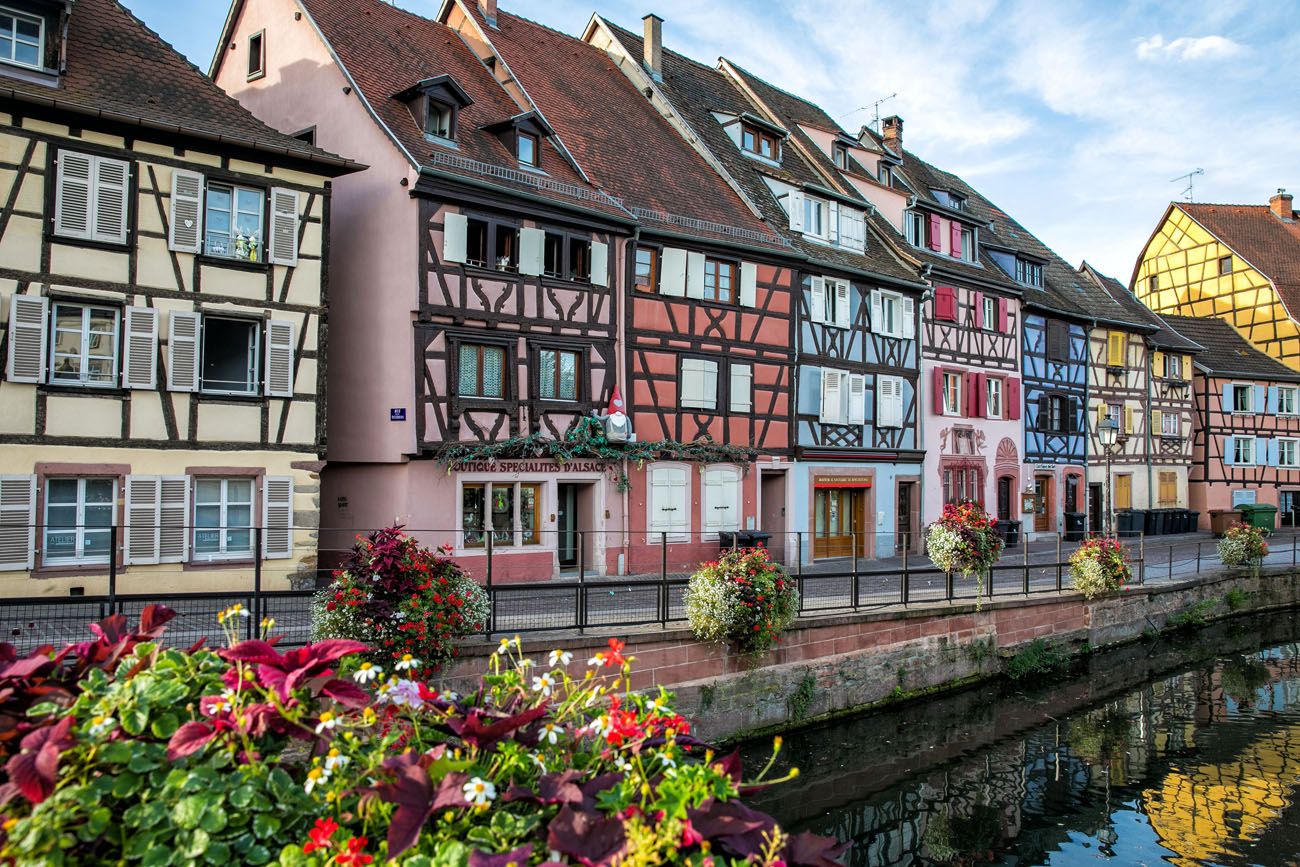 How Do We Plan Our Itineraries?
Before you plan out your itinerary you need to do some research first. Flight costs, time of year, hotel availability, and tour availability all need to be factored into your decision-making.
Let's say you decide to spend 10 days in Ireland. What do you need to know before you start making reservations?
We start off by researching flight costs. If you can be flexible with your dates you might be able to save money by flying mid-week versus the weekend.
Once we have our flight dates, we plan out our itinerary within those specific dates.
If you are planning a tour or a visit to a major attraction, make sure those dates align and work with your itinerary.
You can also do a quick hotel search to make sure that there are no surprises with hotel costs or availability. If you are booking your trip well in advance (4 months or earlier) this will be less of an issue. But at destinations like the Isle of Skye, the Lofoten Islands, the Cinque Terre, the islands in Croatia, and the south coast of Iceland, hotels can sell out many months in advance, leaving either no availability or dreadful places that you normally wouldn't consider.
Once everything looks like it works out, we book our flights and then book the hotels, the rental car (if necessary) and activities.
Nowadays, with the increase in tourism, it also helps to research the main sights you are visiting and then book your tickets in advance. We recently went to San Francisco and missed out on touring Alcatraz because tickets were sold out for three months!!
In our articles, we let you know what you need to reserve ahead of time to avoid disappointment (like our Alcatraz experience). It may be extra work to book your tickets ahead of time, but in today's world it has become a necessity in order to see some of the world's most popular sites.
Have fun planning your first trip to Europe! And if you still have questions about your itinerary, feel free to comment below.
For more travel ideas and inspiration, take a look at our Itineraries page. We have lots of sample itineraries for Europe as well as Asia, Africa, South America, and the USA.
More Information to Help You Plan your First Trip to Europe
EUROPE TRAVEL INSPIRATION: For more great ideas on where to go in Europe, check out our article 30 Beautiful Places to Visit in Europe and the 20 Best Hikes in Europe.
EUROPE ITINERARY IDEAS: Let us take the guesswork out of planning your next trip to Europe. Check out our articles 10 Ways to Spend 10 Days in Europe and One Week in Europe: 25 Amazing Itineraries.
TRAVEL GUIDES: For more travel inspiration, check out our travel guides for Italy, France, Norway, Switzerland, and Iceland. Visit our Destinations page for links to all of our content about Europe.
TRAVEL PHOTOGRAPHY: For more information about the camera gear we carry, check out our Travel Photography Gear Guide. And tips and tricks for taking great photos in our article How to Take Better Photos while Traveling.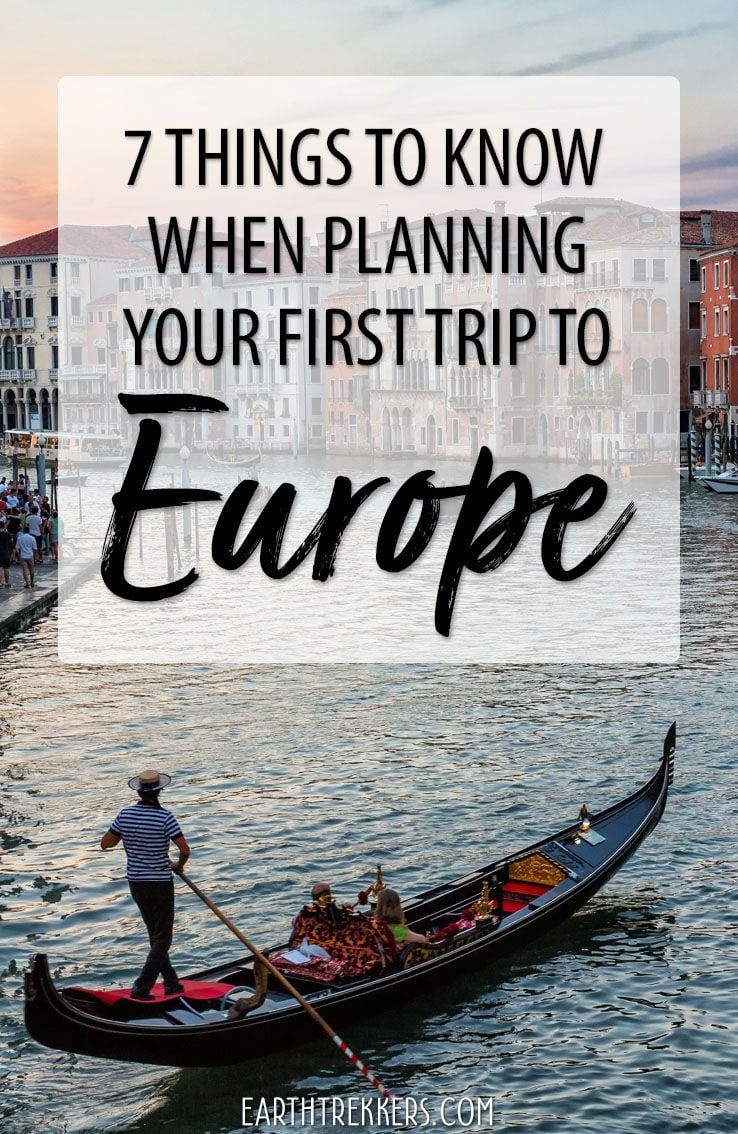 All rights reserved © Earth Trekkers. Republishing this article and/or any of its contents (text, photography, etc.), in whole or in part, is strictly prohibited.
Related Posts
Comments 151
we are trying to decide whether to cruise Europe (but only gives you a day in certain cities) or do a self guided tour and take like 7 weeks to do. my places of interest are all the usual places, malta, italy (vience, rome, milan) sweden, switerland, germany, paris, london, scotland and whatever i have left out.. what are your suggestions PLEASE
Seven weeks in Europe sounds wonderful!!We only do "land tours," not cruises, because spending the night in the cities immerses you more and provides a better overall experience, in our opinion. And most places you list can't be visited on a cruise, or at least not very easily. It's probably best to get a Eurail pass and use this to travel through Europe. You could group Scotland and London together, then train to Paris, and then continue through Europe from here. If you need ideas on what to do an how to plan your time, you could string together a few of our 10 day itineraries or one week itineraries. Cheers, Julie
We will be heading to London December 17-29th with our family of 6 (all older children) My daughter will be studying there for a few weeks through January and thought it would be perfect to see her surroundings and make it a vacation. We have never been to Europe before and our list of places to see is extensive. London, Paris and Rome are a few we are sure of. With time I would like to know if we could add a 4th city. If time allows where would you pick for your 4th destination? How long do you think we should spend in each? My daughter will be doing lots of sight seeing in London since that's where she'll be studying so she's not as thrilled to spend s lot of time there. If we just spend s couple days in London what are must do's while in the city?
Hello Heather. We will be back in London in December also, but just before you will be getting in. With 13 days, you could potentially add on a 4th city, if you only spent a few days in London. Cities I recommend adding on are Amsterdam (since it is close to London and Paris) or Florence (since it is close to Rome). Start in London, spend 3 days here, then Amsterdam for 2 days and Paris for 3 days (check out our London Amsterdam Paris itinerary). Then fly to Rome and spend the rest of your time here. Or, do London, then Paris, then fly to Rome and take the train to Florence. It would be best to fly home from Rome since traveling back to London will add on more travel time. We have a post with a long list of things to do in London, but you can cover the key sights on days 2 and 3 of our London itinerary, and do the British Museum + London Eye on your 3rd day. Cheers, Julie
I am trying to plan a trip to Europe with a friend. We are wanting to visit Spain. Paris, and England! We know there is a train we can take between those countries! We do not know how to plan for the trip! Our first time traveling outside the North America continent!
The first two questions I have are when and how much time do you have. Yes, you can get around by train to visit all of those places, depending on where you want to go in England and Spain. And if you have particular places you would like to visit in England and Spain that would be helpful too. Let me know and I can help you out. Cheers, Julie
My wife is studying abroad in Ireland for a few weeks. Afterwards we want to do some Europe travel for the month of December but are unsure what is realistic. We have friends doing Ireland, Amsterdam, Paris, Florence, Rome, and Portugal. We are also trying to be somewhat reasonable with the expenses and trying to cut costs where we can.
If you don't want to spend a lot, it's best to slow travel, to help cut down on transportation costs. You can do Amsterdam and Paris together, and see them very well, with 7 to 10 days. From there, you could spend the rest of your time in Italy. You would have about 3 weeks and with that time, travel through Rome, Florence, and Tuscany. You also have enough time to add on another area, like Sorrento and the Amalfi Coast, or Venice, Verona, and Milan, or Puglia (the heel of Italy).
Tim and I are currently on a big 6 week road trip through Italy. We did Rome for 4 days, 10 days in Tuscany/Florence, then to Assisi, 9 days in Puglia, and currently we are in the amazing city called Matera. There is a lot to do in Tuscany, and if you like the idea of exploring picturesque hill towns, drinking wine, and eating really good food, you could spend a week to 10 days here and never run out of things to do. I think 2 to 3 nights in Florence is great (to visit Florence) and then base yourself in Siena to explore Tuscany. We did quite a lot but won't have it written up in time for your trip.
We haven't been to Portugal yet, but planned a big trip here the summer of 2020, which was COVID-cancelled. We are hoping to get here in 2023. For the best experience, you should spend at least 10 days here (but 2 weeks or a little more would be even better), to visit Lisbon, Sintra, and then road trip through the rest of the country. In my opinion, it would be too rushed to do Paris, Amsterdam, parts of Italy, and parts of Portugal in one month. Yes, it can be done, but you would be very busy. If it were me, I'd start with Paris and Amsterdam (we love those cities) and then choose between Portugal and Italy for the rest of your month in Europe.
My fiancé and I want to explore more days on Rome, ,
Austria 3,
Spain 4,
Paris 3,
Germany 4,
Norway 2,
Greece 5 &
London4
within a month. Where is best to start off @ is traveling by train good enough to explore? In need of help with planning and organizing a trip for us please.
That is a lot of moving around in Europe and you will spend a lot of you time on planes and trains and buses. I recommend skipping Norway (with 2 days you will only get to see Oslo and there are many better places to go in Norway, but you need at least 7 days to do it) and Greece (it takes quite a bit of time to get there and get to the islands and is best done on a 7, 10, or 14 day trip). For Spain, pick one city for your 4 days there (Barcelona gets my vote because it is beautiful, there's a lot to do, and you can take some great day trips).
You could fly into London, spend 4 days here, take the chunnel to Paris and spend 3 days here. Fly or take a train to Munich and spend a week in Bavaria and Salzburg. Then, take the train to Venice, spend a few days here, train to Rome, spend 4 days here, and then fly to Barcelona, ending your trip here. If you have more time, you could easily add on more places in Italy, getting around by train.
My family and I are planning a trip to Europe and our number #1 destination is Norway, as that is my husbands background. However, I have always wanted to go to Ireland and my daughter (grad trip) has always wanted to go to Spain. Is it just too complicated to try to make all three work on one trip? We have never been before and of course are trying to squish in as much as we can. We are hoping to be there for 3 or 4 weeks.
Thank you!
Cindy
With 3 to 4 weeks, you could do all 3, spending about a week in each one. However, I think a great trip would be 10 days in Norway, 10 days in Ireland, maybe with a few days in Edinburgh or London in between or on one end of the trip. The climate would be the same for all of these places, which makes packing easier (the weather is very different between Norway and Spain, even in the summer). If you're set on Norway but want to do something special for your daughter's graduation, then split your time between Norway and Spain. You will have to pack more clothing but it might keep everyone happy. But really, whatever you choose, they are all great spots. We are huge fans of Norway too and I recommend spending 10 days here to fully experience it. You can find several Norway itineraries on our Norway Travel Guide. If you have any other questions let me know. Cheers, Julie
WOW! I just found your blog. Its fantastic!
I want to plan a trip to europe for out family of 5. We want to start in Normandy France and end up in Poland to tour the concentration camps.
I've looked into the euro rail, but am wondering how to get from each station to our final destination. Do we hire a car? how easy or expensive can that be? Any ideas?
Hiring a car can be expensive if you start in France and end in Poland because there will be a big drop fee (lately people have been reporting drop fees from a few hundred USD up to $1000 USD). If that doesn't deter you, could rent a car for your entire trip, or just part of your trip. The rail network in Europe is phenomenal. And as far as how to get to each station, that depends on where you want to go between Normandy and Poland. The first thing to do is figure out where you plan to go between Normandy and Poland and then figure out your transportation. As for figuring out train routes, I recommend using the website The Man in Seat 61. His website is fantastic and covers what you need to know in great detail (we use it a lot). You could move from place to place by train. If you are in an area for a few days where having a car is beneficial, you could rent it just for that time, with the same pick up and drop off location, to minimize costs. I hope this helps! Cheers, Julie
My friend and I and now her son (for part of it) are going to Paris, London and Amsterdam from Dec 25th leaving NY and coming home on Jan 3rd. Her son will be with us from Dec 25th-29th (leaving on the 29th) and would like to do Paris with us but I don't want to spend 4 days in Paris nor do we want to end up in Amsterdam on NYE.
Any suggestions would help?
If you want to visit Paris, London, and Amsterdam and need to start in Paris, the only way to order your cities is to go Paris Amsterdam London so as to not end up in Amsterdam on NYE. You can connect all three cities by train. We have a London Amsterdam Paris itinerary that you can use to help you plan your trip. Cheers, Julie
Hi there. Thanks for this great site and blog – it's incredibly helpful and friendly!
My wife and I love Italy and have travelled there several times over the past several years to various regions, most recently Puglia. We would next like to cover northern Italy, such as Milan, Lake Como, etc. With a two week itinerary next spring or late summer (possibly with car), what else do you think we can see? Would there be enough time for Switzerland (btw, we are not skiiers)? Cinque Terre? Monaco/Nice/Cannes? So many possibilities… As a rule, we prefer "depth" to "breadth", spending more time in a given location rather than trying to squeeze too much in.
Any thoughts and expertise would be greatly appreciated!
We just spent part of this summer traveling from Venice through the Dolomites to Lake Garda to Chamonix, France (with plans to visit Puglia this fall). Milan and Lake Como are wonderful. Milan needs a day or two (we have only been here for a few hours to hit the highlights). You could either day trip to Bellagio/Lake Como or spend the night here. Having just done Lake Garda, we weren't impressed. It was super croweded and we all like Lake Como more. The Dolomites is a place to consider. It's our favorite area of Italy, but we all really like hiking. But there is lots to do that doesn't involve hiking as well. I recommend considering the Dolomites and spending 3 to 5 days here. We are currently in Zermatt, flying home in 2 days, and will be publishing TONS of Dolomites content over the next few weeks. Switzerland is great too.
You could do a version of what we just did this summer. Fly into Venice, maybe spend a day here, or more, depending if you have been here or not. Rent a car and explore the Dolomites for 4 days. Then visit Milan (1 day), Bellagio (1 day). Travel into Switzerland, skipping Lugano and going right to Lucerne. Spend 2 days here, then Jungfrau area (Lauterbrunnen, Murren, Jungfraujoch, etc). If you still have time, do 2 days in Zermatt, and then fly home, either from Geneva or Zurich. You can drop the car in Milan or Lucerne. For the most part, the Jungfrau area is car-free so it's no longer necessary to have a car (and the public transportation system in Switzerland is the best).
If you like the idea of hiking in the Dolomites and Switzerland, late summer is better than Spring. Many hiking trails in both of these areas are not open until June because of snow.
On another trip, you could start in Florence, go to the Cinque Terre, then Monaco/Nice to Provence. That would be a great trip to do in May (we did the French Riviera in May and loved it). Or do that trip next year and the following trip in 2024. You're right, so many possibilities!
Have fun planning your trip and let us know if you have any other questions. Cheers, Julie
Europe Travel Tips: 10 Things You NEED TO KNOW in 2022
After traveling to Europe for the past 20 years, I've learned all of the best tips and tricks. These Europe travel tips cover everything you NEED to know so you can travel to Europe prepared!
Whether it's your first time traveling Europe or you visit multiple times per year, avoiding some of the most common travel mistakes will make your trip so much more enjoyable! A little planning goes a long way and these travel tips for Europe will help you be a smarter and more relaxed European traveler.
Table of Contents
Europe Travel Tips
1. Check Visa Requirements
If you travel to Europe from the US, one guaranteed way to ruin your trip is being denied entry into the country you are visiting because you don't have a tourist visa. While most countries in Europe don't require a visa for short visits, it's best to know which countries do.
Prior to your trip, a quick search online will find tourist visa requirements and whether you need to acquire a visa upon arrival at the airport or online prior to arrival. There are several websites online that list visa requirements, so find out ahead of time.
2. Travel Europe in the Off Season
Want to know how to travel Europe affordably? While you might dream of sunbathing upon the Mediterranean beaches during the summer months, so does the rest of Europe — causing overcrowded beaches, long queues at tourist attractions and higher prices.
Traveling during the off season is the best way to avoid the crowds and save money on accommodations, airfare, train tickets and tours. Most of the main tourist attractions are open year-round, just make sure to check closing times as some might have shorter hours during the off-peak travel season.
3. Use Budget Airlines
With more than a dozen budget airline carriers throughout Europe, every European traveler knows that you can fly to almost anywhere on the continent for cheap when booking with a budget airline. Airfare will often be cheaper than train tickets, but the least expensive seats tend to sell out the fastest.
While you might be getting a bargain on airfare, make sure to check for additional fees and taxes which are often not included in the advertised rate. Also avoid sizeable baggage fees by researching each airline's rules on hand baggage and luggage size. Packing light will help you avoid baggage fees and let you ease through the airport!
4. Travel by Train
Traveling by train in Europe is often efficient — and depending on your destination — easier than air travel. Book your ticket at the train station with an actual person because some options are not available at the kiosks. Be sure to validate your ticket before you hop on the train to avoid fines!
5. Make Reservations in Advance
Making reservations in advance is the best way to secure accommodations and tours, especially in peak travel season. Booking airfare, hotels, train tickets, and tours in advance also ensures that you are getting the best price.
6. Bring Comfortable Shoes to Walk Everywhere
As one of the best ways to explore a city, you will do lots of walking during your European vacation, therefore having a pair of comfortable walking shoes (these are my go-to shoes!) is a must. After a long day of walking around the city, your feet will thank you!
7. Bring a Suitcase You Can Carry
Navigating the train station, walking on cobblestone streets, carrying your luggage up several flights of stairs at your hotel (often European hotels don't have elevators) or accruing extra baggage fees, packing light in a suitcase you can carry is a must!
You won't need as much as you think and laundromats are readily available throughout Europe if you need to do laundry during your trip.
8. Stay Longer in One Place
Staying in one place longer can allow you to experience the city or neighborhood like a local. Making friends with locals, finding local restaurants restaurants and venturing off the beaten path, can make for exciting travel stories and often the most memorable experiences.
9. Get Off the Beaten Path
By all means seeing the popular attractions in a city is a must. While your heart might be set on visiting the most popular attractions, you should make it a point to visit lesser known sites. Ask the locals for recommendations, often you will get a better glimpse at the local culture when doing so. You can also research off the beaten path experiences in travel books and online.
10. Don't Plan on Using Credit Cards Everywhere
While it seems that most of the world now accepts credit cards, it's not uncommon for places in Europe to only accept cash. Having euros on hand for tips, taxi rides, restaurants, purchases at local markets and daily activities will make your transactions go smoother and it will save you money on foreign transaction fees.
Prior to your trip, order foreign currency at your bank or visit an ATM at the airport upon arrival. Airport ATMs don't always have the best exchange rate, but it's better than finding yourself stuck without any cash or searching for an ATM while you're jetlagged.
Also, be sure to notify your bank and credit card company before traveling so you don't find your accounts frozen.
Packing Essentials for Europe
Travel Umbrella: It's always a good idea to pack a small travel umbrella — especially during the winter and spring.
Earplugs: Bring a pair of decent earplugs just in case you end up in a noisy location. I find that I'm always using my earplugs in Europe hotels and Airbnbs.
Daypack: You'll need something to carry your phone, camera and souveniers while you're out exploring in Europe. I love this medium sized purse that also converts into a backpack!
Sunglasses: Don't forget your sunnies — even in winter. This pair of aviators come with a case!
Travel Adapter: You don't want to be stuck without a way to charge your electronics once you get to your hotel. This all-in-one travel adapter lets you simultaneously charge 5 devices and can be used in the USA, Europe, United Kingdom and Australia, so you won't have to buy a separate adapter for each trip!
Face Moisturizer with SPF: Traveling with a daily moisturizer that also has SPF is a must for me. You'll never forget to put on sunblock again!
Water Bottle: I ALWAYS carry a water bottle when I'm traveling. It's so much better for the environment, it reminds me to hydrate, and I save so much money on unnecessary water purchases. This collapsible water bottle is a no-brainer since it folds up when you're not using it.
What You Need to Know Before Traveling to Europe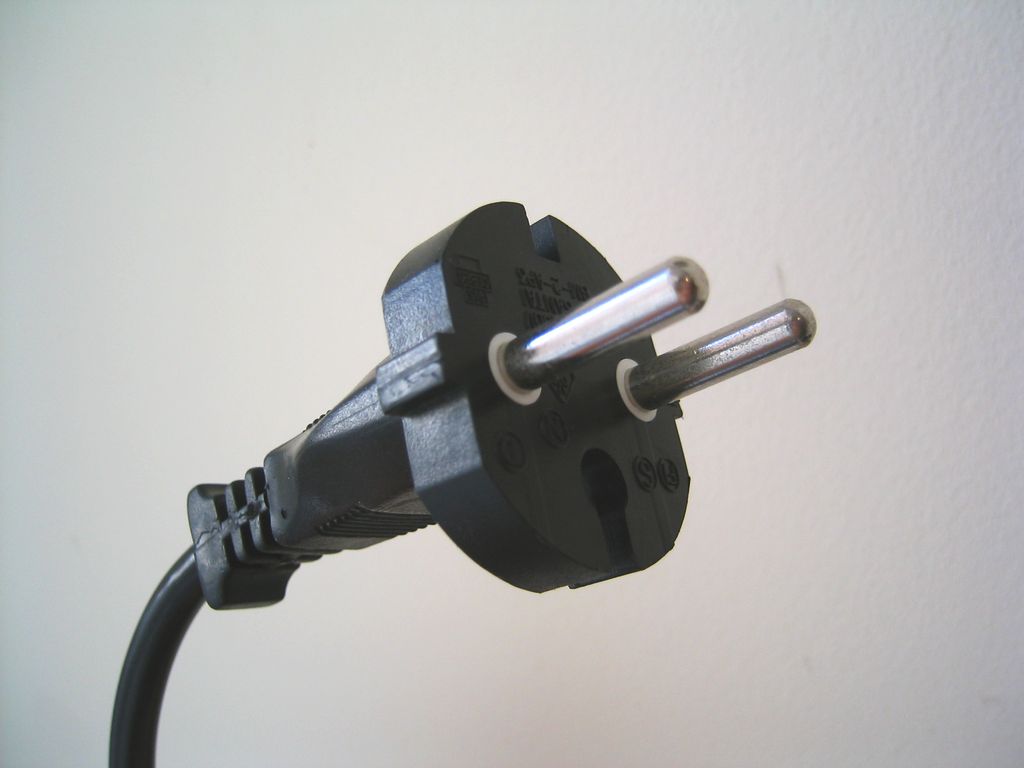 These days, hopping on a plane and jetting off to Italy for a much-needed vacation is not uncommon at all, and with the expanding global market of large and small companies, the number of international travelers is ever on the rise. However, no matter whether it is your first or fiftieth time on a flight to the beloved boot, there are always extra steps to the process as well as different practices and particularities of the foreign country that might not just line up with what you are used to experiencing. This process will most likely include a few pre-travel questions, ones that we are ready to answer.
Traveling to Europe Step #1: What do I pack?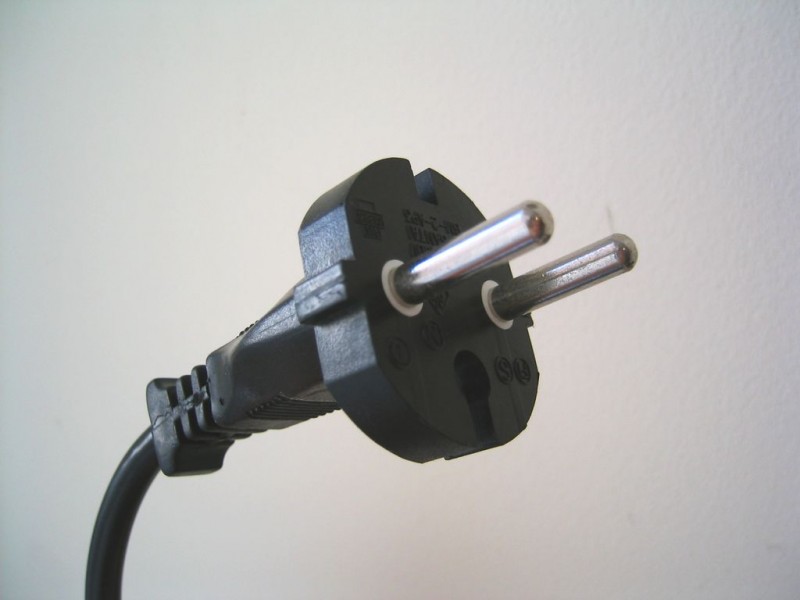 European plugs look different and have different voltage (credits: Denkhenk – Wikimedia)
Besides the obvious clothes and shoes for the weather, terrain, and future activities (need help deciding what to wear? Read one of these posts for autumn, summer, or spring), there are a few other considerations when packing for an Italian vacation. First things first: place your passport where you won't forget it, preferably in your carry-on or handbag. There have been far too many travelers who've had to rush home from the airport in the hopes of not missing their flight to retrieve a forgotten passport at home. European converters are also a must, as well as the chargers for your phone, camera batteries, and computer. A word of caution to the well-groomed: notice how straightener and hair dryer are not on this list. Although most hair dryers are safe with the converter, most hotels in Italy will provide you with one, and American straighteners often cannot handle the higher voltage of Italian sockets, resulting in an irreversibly fried piece of expensive hair-styling equipment.
Traveling to Europe Step #2: At the Airport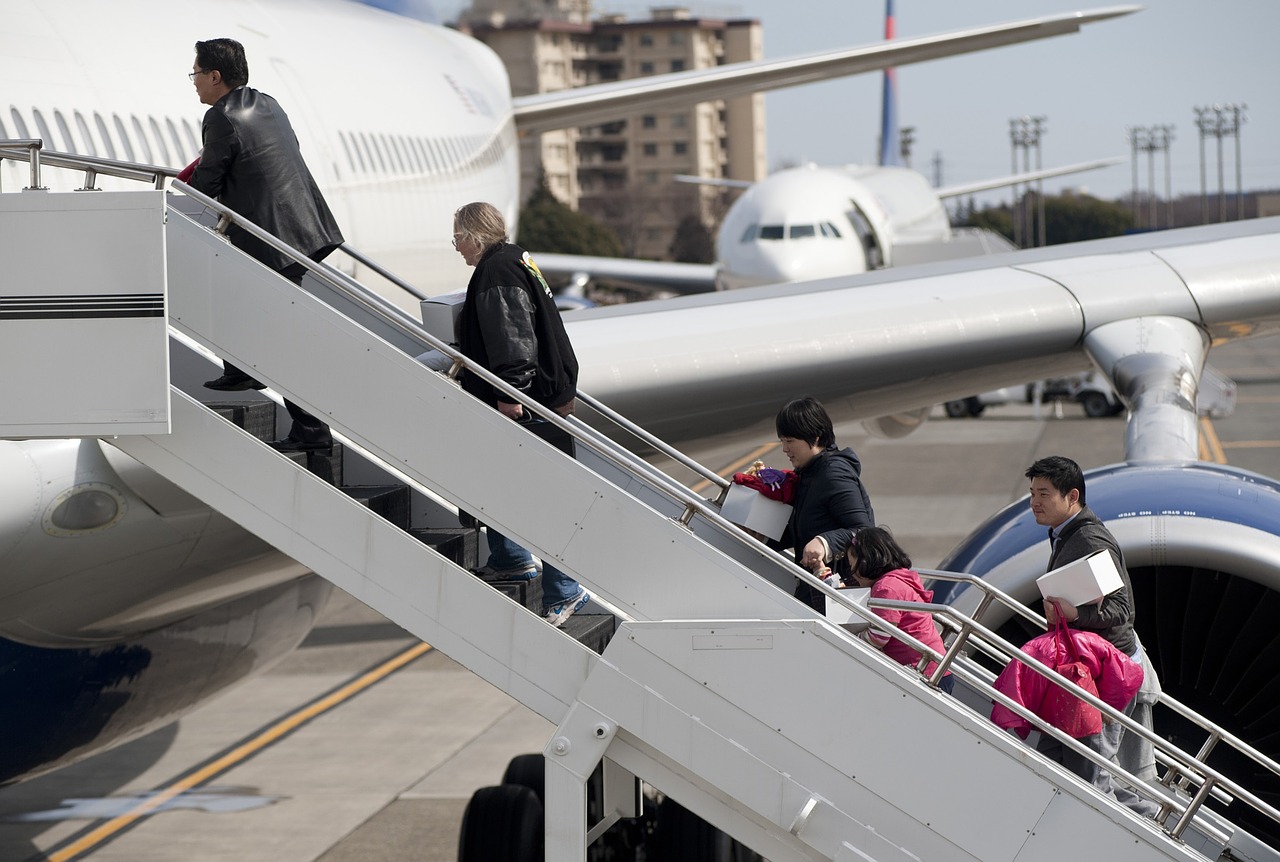 It is not uncommon to take a bus to your plane, instead of boarding through a walkway attached to the terminal.
Much of the process at the airport is the same as it is at the American airport: check-in, go through security (to all Nutella enthusiasts: the tasty spread does count as a liquid and will be taken away), head to your gate. However, there are a few subtle differences that might leave you a bit confused to downright perturbed.
Your carry-on might actually be measured and weighed to check for the proper size and weight. Europeans are at times less tolerant of overweight and over-sized baggage, and if it is over, your bag will be checked.
Many of the smaller airports have cafes that you can sit and eat at, but there are far fewer places to grab a snack or a drink and go, unless you are interested in duty-free chocolate. There are, however, vending machines, which is where carrying cash comes very much in handy.
Europeans, Italians in particular, line up at the gate much before their boarding zone is called to come forth. Whether it be excitement, anxiousness, or nervousness (the latter of which would explain the clapping upon landing in Italy), we will never know, but you can clearly pick out the Europeans and Americans on almost any flight by noting who is clutching their bag trying to get as close to the departure gate as possible and who is relaxing in the provided seats, waiting for the announcement of a boarding zone that may or may not be called.
When in Rome… don't get upset if you do not begin boarding at the exact minute your boarding pass depicts. Boarding and departure for flights in Italy are usually flexibly seen as acceptably being within a 15-minute window. Allow yourself this leeway before annoyance or stress sets in – you'll save yourself a world of frustration.
Lastly, it is not uncommon to take a bus to your plane, instead of boarding through a walkway attached to the terminal.
Traveling to Europe Step #3: In the Plane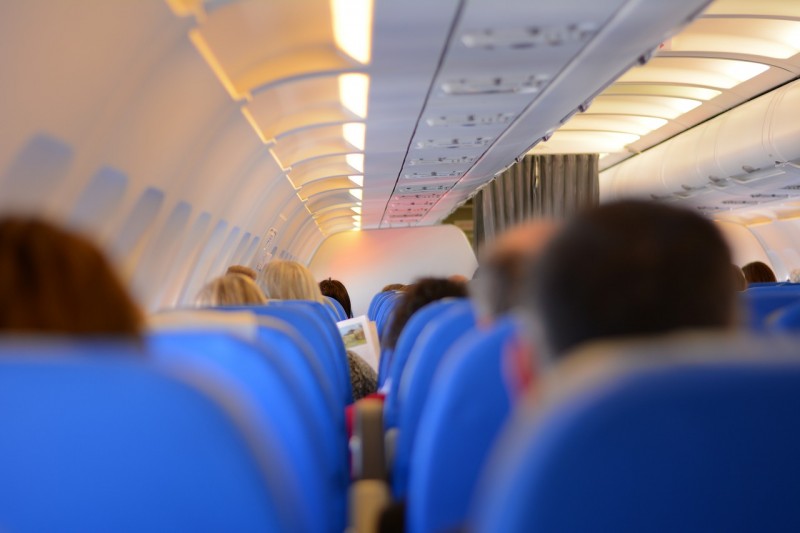 Greet your hosts on the plane when boarding and de-boarding with a polite yet friendly "Salve."
Most plane rides on major Italian airlines are identical to those that you will find in the States, some even better. It always helps, however, to know a few key polite words in the language of your airline to make friends with your flight attendant. Here are some you might want to file away:
1) Salve (sahl-vay): The formal way to say "ciao," this greeting and goodbye salutation will work morning, afternoon, and night. Greet your hosts on the plane when boarding and de-boarding with this polite yet friendly greeting.
2) Grazie (Gratz-ee-ay): This one, most people are familiar with as the ever-essential "thank you."
3) Vorrei un bicchiere d'acqua/Coca Cola (vor-ray oon bik-ee-er-ay deh ak-wah/Coca Cola): I would like to have a glass of water/Coca Cola.
Traveling to Europe Step #4: Arriving in Europe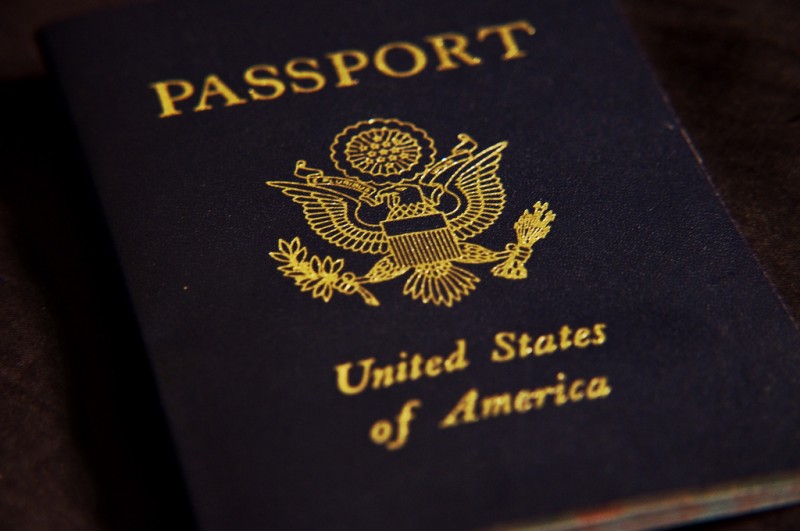 At the passport desk an officer will ask to see your passport (credits: Kat – Flickr)
At the first point of your arrival in the European Union (whether it be Italy or another member country), you will be required to go through passport control. Generally, there are two lines: one for members of the EU, one for non-members. Depending on the country and the mood of the person checking your documents, you may or may not be asked questions regarding your purpose for stay. Again, a simple grazie, danke schön, merci, gracias, obrigado, or havala, in the native language of he or she checking your passport also goes a long way. Once through the passport control, you will enter through "nothing to declare" or "GOODS TO DECLARE" doorway. Most people do not have anything to declare.
These small tips will help eliminate small surprises, making your trip to Italy smooth and enjoyable. What other differences might you have noticed in your travels?
Source https://www.earthtrekkers.com/how-to-plan-your-first-trip-to-europe-itinerary/
Source https://ordinarytraveler.com/europe-travel-tips
Source https://selectitaly.com/blog/tips-travelers/what-you-need-to-know-before-traveling-to-europe/