9 Best Weekend Trips from Amsterdam: Top Getaway Options
Amsterdam is a wonderful city filled with oddities, architecture and amazing experiences. However, sometimes you need a getaway to explore other parts of Holland and Northwestern Europe. Here are some of the best weekend trips from Amsterdam for you to consider.
Trips away from Amsterdam are easy. Amsterdam used to be the center of trade by being a global shipping powerhouse.
Today, the city is still the center of modern trade and tourism thanks to a productive airport (Schipol) and an efficient train system at Amsterdam Centraal Station.
Want to Travel the World for Less?
Scott's Cheap Flights: Get cheap flights emailed directly to your inbox for free. Try Now for Free
GetYourGuide: See more of every city by taking local tours and experiences. Find a Cheap Tour
Skyscanner: Home to the easiest and most efficient way to book anything, including flights, cars, hotels and more. Search Now
World Nomads: Need to protect yourself and your trip? Use World Nomads for affordable travel insurance. Protect Your Trip
There are plenty of hidden gems of Amsterdam, but like anyone, you'll need to find a getaway to explore Europe further.
Going places from Amsterdam Centrum (City Center) for the weekend is easy and there is a lot to choose from. You can even choose day trips like seeing the tulips from Amsterdam.
Sometimes, you want to diversify your European vacation outside of Amsterdam or even Holland, so I'll get into some of the best weekend trips that you can take from Amsterdam city center.
With this, we will highlight a few commutable cities and vacations that you can take from Amsterdam in the following categories:
Where to go from Amsterdam by train
Where to go from Amsterdam for the weekend by plane
Nearby countries for a weekend excursion (aka weekend trips from Amsterdam to other countries)
Thanks to being from Minneapolis, it's easy to get to Amsterdam. We have plenty of direct, nonstop flights into Schipol for very cheap.
I was able to fly there for $450, thanks to travel hacking. Therefore, I have a bunch of research compiled on where to go once you get to Amsterdam. The options are endless.
Table of Contents
Best Weekend Getaways from Amsterdam, Netherlands
Houses and Bicycles in Amsterdam
These are some of the most optimal getaways from Amsterdam. Take some time to relax and explore for a weekend.
1. Den Burg & Texel Island, North Holland
Check out the ferry we took from Den Helder to Den Hoorn
Den Burg is the capital of the province Texel in North Holland or Noord Holland. Texel is an island that features a number of small, quaint towns that make for great getaway trips.
It's a bit of an interesting commute to get there as you will likely have to ride on the following cadence:
1-hour train to Den Helder, Netherlands
A 15-minute bus ride from the Den Helder, the Netherlands to the ferry station
A 30-minute ferry from Den Helder port to Den Hoorn, Netherlands
A 10-minute bus ride from Den Hoorn port to the city center of Den Burg
It's well worth it, however. Texel Island is the ultimate place to get away and shut down for a weekend from Amsterdam.
If you go to Texel, make sure to stay in Den Burg as you will be centrally located around the island. This will make it very easy to explore the other cities on the island.
We stayed at Hotel Texel de Lindenboom, which was right in the center of the city center of Den Burg.
Clearly, I'm a big fan of architecture and Den Burg fulfilled that. I climbed to the top of the central church and snapped a few landscapes during our sunny visit to Den Burg.
The island has plenty of things to do, including:
Beach relaxation
Horseback riding
Shopping (the wool is amazing here… Grab a wool sweater!)
Texel dunes
Texel aquarium
When I went, there were only Dutch locals there. It was hard to find a tourist. Many people come up here with their families to get away and find family time. Texel makes one of the best weekend trips from Amsterdam. Read more about the many things to do on Texel Island.
Where to stay?
Best Luxury Hotel: Hotel Texel
Best Mid-Range Hotel: Hotel Greenside Texel
Best Budget Hotel: Van der Valk Hotel Texel
2. Dusseldorf, Germany
Dusseldorf, Germany – Best Weekend Trips from Amsterdam
This is one of my favorite getaways from Amsterdam. It's great because you can visit a completely new country and culture along the way.
As a bit of a beer snob, I absolutely loved visiting Dusseldorf.
Dusseldorf is known for its altbier. These beers are much different than what you'd get in Munich. In fact, most of the beers are served in very small glasses. They are cheap too! No, you can't find big steins or liter beers here.
The catch… They continue to serve you the beers until you say you are done. They mark your coaster to count how many beers you've had. I loved this. It's so nostalgic and old school.
Who needs computers? Another component of going to Dusseldorf is that the architecture is equally impressive. That looks like photo-genic Germany to me!
Dusseldorf Overview
Dusseldorf is a very commutable city. You can get around with their train system with ease and it is a very walkable city.
There are plenty of bars to go to around Dusseldorf, so if you are a night owl. This place is for you. One thing that I enjoyed most about Dusseldorf was the commutability and walkability. Check out these great breweries in Düsseldorf to make the most of your visit.
Where to stay? These are some of the best places to stay in Düsseldorf:
Best Luxury Hotel: InterContinental Dusseldorf
Best Mid-Range Hotel: Holiday Inn Express Dusseldorf – City North
Best Budget Hotel: Ibis Budget Dusseldorf Airport
3. Cologne (Koln) and Northwest Germany
Cologne, Germany Architecture
Next up are the other parts of Northwest, Germany which include the large city of Cologne (Koln). I was able to visit both Cologne and Dusseldorf in 1.5 days. I stopped in Cologne on my way to Dusseldorf.
Again with the beer aspect, Cologne is known for its Kolsch beer.
This was a great compliment to the altbier in Germany.
The beer is served in the same style where you get small glasses and they keep pouring them until you say no more.
Cologne, Germany Overview
Koln (or Cologne) is a historic, large city in Germany along the Rhine River with a pretty large metropolitan area.
It's quite a large city. The population is in excess of 1 million people. The city center is underpinned by the large, gothic Koln Cathedral.
I highly suggest that you pay a visit to the cathedral. It's a very impressive church. You can't miss it coming from the train station. Cologne is known for its Christmas markets in the wintertime as well as a carnival in the spring.
They have a number of different squares that have several breweries and great German food to compliment a Kolsch beer. Like Dusseldorf, the scenery and architecture are amazing.
Other Cities to Consider
Here are some other cities that you can explore in Northwest Germany to complement your trip.
All cities are virtually right along the Rhine River (one of Europe's largest and most historic rivers) and the train stops virtually everywhere. You can get to multiple cities in Northwest Germany to see it all.
This is a cultural-filled weekend trip from Amsterdam that you won't want to miss.
It's only 2 hours by train to get here and you can end up seeing quite a bit of action. You can cover everything from large metropolitan cities to small quaint German towns.
Where to stay?
Best Luxury Hotel: Hyatt Regency Cologne
Best Mid-Range Hotel: Hilton Cologne
Best Budget Hotel: Flandrischer Hof
4. Utrecht City
Bridge in Utrecht, Netherlands
Utrecht is a short, easy trip from Amsterdam. If you are looking for an easy weekend trip, this is for you. Utrecht is sort of like a mini-Amsterdam in a way. There is a lot of similar architecture and canals. It's much quieter and commutable.
The city is the capital city of the province of Utrecht. The city is located in the center of the country, which makes it easy to get to Amsterdam. Plus, you can make a couple of Dutch city stopovers along the way.
Where to stay?
Best Luxury Hotel: Grand Hotel Karel V
Best Mid-Range Hotel: Holiday Inn Express Utrecht – Papendorp
Best Budget Hotel: Hotel Oorsprongpark
4. Brussels, Belgium
Grand Palace in Brussels, Belgium
Brussels is another opportunity to see a whole new country during a simple weekend trip away from Amsterdam.
Brussels is very easy to get to from Amsterdam Centraal station. Belgian culture doesn't get enough credit it deserves.
They are smashed in between German, French, and Dutch culture, but Belgians have some great food.
Who doesn't love waffles, cheese, and chocolate?
Where to stay?
Best Luxury Hotel: Rocco Forte Hotel Amigo
Best Mid-Range Hotel: Hilton Graden Inn Brussels City Centre
Best Budget Hotel: Meininger Hotels Bruxelles City Center
5. Paris, France
Paris Architecture
Yes, Paris is an easy getaway from Amsterdam. I don't know if I need to go into the full details about Paris because that is a post and experience on its own.
I've done the high-speed train from Amsterdam to Paris and it's easy. It takes just about 3 hours to get to Paris via high-speed rail from Centraal Station. It's nice because the train stops in Brussels.
If you have an unlimited travel pass, you can see both Brussel and Paris on the same trip from Amsterdam. I was able to get plenty of work done on the train before heading out to explore the city.
When exploring Paris, consider using one of these top sites for booking tours. There is a lot of ground to cover in Paris and you'll need some help to get it all done in a weekend.
Where to stay?
Best Luxury Hotel: Four Seasons Hotel Goerge V Paris
Best Mid-Range Hotel: Best Western Plus Sydney Opera
Best Budget Hotel: Hotel De Fleurie
6. Naarden, Netherlands
Naarden is a very close-by option that takes very little commute time. This is a great place to completely shut down and go off the grid. You can do it in this small, quaint town just a short 25-minute drive away from the Amsterdam City Center.
Look at the star shape of this city.
Where to stay?
Best Luxury Hotel: Vesting Hotel
Best Mid-Range Hotel: NH Naarden
Best Budget Hotel: Design B&B Naarden Vesting
7. Antwerp, Belgium
Antwerp, Belgium
Antwerp is an interesting city. There is plenty of Belgian history and culture. The city has a larger metropolitan area of over 1.2 million people.
It's the second largest after Brussels. Antwerp is very easy to get to from Amsterdam Centraal Station. If you catch the Thalys train, it is only an hour and 15-minute ride.
This makes it a quick stopover for those looking to get away in an easy fashion for a weekend away from Amsterdam. You can even stop in Rotterdam on the way if you want to split up your trip between two cities.
Where to stay?
Best Luxury Hotel: U Eat & Sleep Antwerp
Best Mid-Range Hotel: Plaza Hotel
Best Budget Hotel: The Ash
8. Prague, Czech Republic
Crowded Street in Prague, Czech Republic
You are probably laughing at me for saying Prague is a weekend trip from Amsterdam. Well, it is. There are 7-9 flights daily from Schipol to Václav Havel Airport Prague. The cost is usually around or less than $100. The flight time? Only 1.5 hours. Check out these cheap flight deals to Prague.
This is one of the best weekend trips from Amsterdam to see a completely different perspective on Europe. Prague is an extremely affordable European city as they are not on the Euro. In addition, Prague is technically Eastern Europe, which carries a much different historical perspective than Northwestern Europe.
Given how many times this flight comes out of Schipol, it makes for an affordable, underrated weekend getaway.
Best International Day and Weekend Trips from Amsterdam
Kristen de Joseph is a freelance writer, editor, and academic researcher for Leiden University. Her work has been featured in multiple Michelin guides for Amsterdam, Austria, and Germany.
There are endless benefits to the fact that the Netherlands is such a small country, and one of my favorites is the fact that I'm rarely more than two hours from the nearest international border. This means that, whenever my passport starts to burn a hole in my pocket, I can hop on a train or bus to countless international destinations for a day or weekend trip. Here are some of my favorites to recommend to visitors.
Brussels, Belgium
TripSavvy / Gautier Houba
Brussels holds an incredible allure for travelers, who are enchanted by its quaint, cobblestone streets and reputation for superb food and drinks: waffles, chocolate, beer, French fries, and more. At only two hours from Amsterdam, I often travel via Brussels Airport — but not before I stop for some chow in the city and a tour of its historic center, a compact district that lends itself to an afternoon's stroll.
Cologne, Germany
This favorite tourist destination in Germany is famed for its impressive Dom (Cathedral), its plethora of museums and its twelve Romanesque churches – a consummate center for arts and architecture. It's also celebrated for its Fastnacht or Karneval (Carnival, a pre-Lent festival), one of the most over-the-top in Northern Europe. Marvel at the city's classic architecture on the banks of the Rhine, and enjoy a restaurant scene that's a cosmopolitan mix of traditional (from Flammkuchen to Schnitzel) and exotic (like the continent's only Burmese restaurant).
Antwerp, Belgium
TripSavvy / Gautier Houba
With star attractions like the Rubenshuis (Rubens House), the Plantin Moretus Museum, and the resplendent Onze Lieve Vrowekathedraal (Cathedral of Our Lady) — not to mention its enviable reputation in the fashion world as hometown of the "Antwerp Six" — it's a wonder that more tourists to Amsterdam don't take a day or two to experience this memorable Flemish city, which countless visitors dub both prettier and cleaner than the more famous Brussels.
Düsseldorf, Germany
With a lovely Altstadt (Old Town) and a fantastic arts scene — its art academy has bred stars like Paul Klee and Joseph Beuys — Düsseldorf has plenty to see and do. Foodies can choose from restaurants that vary from Rhenish comfort food to Japanese casual eats, as well as delicious locally brewed beers and its world-famous mustard.
Paris, France
As of late 2009, the international train operator Thalys has whittled travel time between Amsterdam and Paris down to little more than three hours. For travelers who want to visit the Netherlands but are tempted by the proximity of wonderful Paris, a weekend trip is an excellent solution. You certainly won't cover the whole city (not even on multiple Paris trips!), but a weekend is plenty time for a whistle-stop tour of some of the city's main attractions, or an in-depth study of a specific district like the bohemian Marais. Or save Paris for another time and focus on one of France's lesser-visited cities – the north is plenty close to the Netherlands.
Top 10 Road Trips From Amsterdam, Netherlands – Updated 2022

Amsterdam is the capital of the Netherlands and is famous for its beautiful and elaborate canal system as well as the 17th-century houses lining the canals which are a legacy of the city's Golden Age. The city has a number of fascinating museums in the Museum District, including the Van Gogh Museum, with works by the famous artist and Rijksmuseum, with exhibits of the art of Rembrandt and Vermeer. Modern art can be viewed at Stedelijk. The city is an ideal place to explore on a bicycle, due to the many bike paths throughout Amsterdam. While it has many attractions all of its own, the city is the ideal starting point for some idyllic and exciting road trips. Here we've listed the top road trips from Amsterdam, Netherlands. Scroll down to find out more.
1. Paris, France
Source: Pixabay
Start out in the early morning for an enjoyable, 8-hour and 35-minute (640 km or 398 mi) road trip to Paris, France. The route will take you through The Hague to Belgium, where you will drive through Antwerp, Brussels, Ghent, and Bruges on your way to the City of Light. Paris is renowned for that well-known landmark, the Eiffel Tower, which you can ascend to enjoy 360-degree views over the city. Explore the wonders of the Louvre art gallery. Marvel at Arc de Triomphe de l'Étoile, a national monument standing tall on the Champs-Élysées. Not to forget, enjoy the delicious cuisine of Paris in its many restaurants and cafes, many with tables on the pavement for people-watching fun.
2. Weimar, Germany
Source: Needpix
A road trip to Weimar in Germany via the most direct route takes around 6 hours and 35 minutes to complete the 605 km (376 mi) journey. Head across the Netherlands on the A44 highway all the way to the border with Germany. The journey will take you through Essen and Dortmund to Weimar. Weimar is renowned for being the birthplace of the Weimar Classicism, which was a humanistic cultural movement. The two writers involved in the movement, Goethe and Schiller, are celebrated with a monument in front of the German National Theater. An interesting visit is Goethe National Museum, which is set in the writer's baroque residence, and Schiller Museum, which is located next to the writer's home. Bauhaus Museum Weimar is another fascinating visit with works by famous architect Walter Gropius.
3. Lucerne, Switzerland
Source: Photo by Wikimedia Commons user Tom Key used under CC BY-SA 3.0
A road trip from Amsterdam to Lucerne, Switzerland by the most direct route will take approximately 8 hours and 54 minutes to travel the 839 km (521 mi), via the A3 and A5. Head out from Amsterdam to the German border where you will travel through Cologne, Frankfurt, and Stuttgart all the way to the Swiss border. Lucerne is roughly located in the center of the country. This small city sits among beautiful, snow-capped mountains on the shores of Lake Lucerne, and is famous for its beautifully preserved medieval architecture. A visit to Altstadt, the Old Town takes you to the Museggmauer (or Musegg Wall), a rampart dating from the 14th century. Another site of interest is Kapellbrücke (Chapel Bridge), a covered bridge that was constructed in 1333 and spans the Reuss River.
You might be interested in these Airbnbs!
Houseboat,Centre,Garden, Breakfast, Cheap parking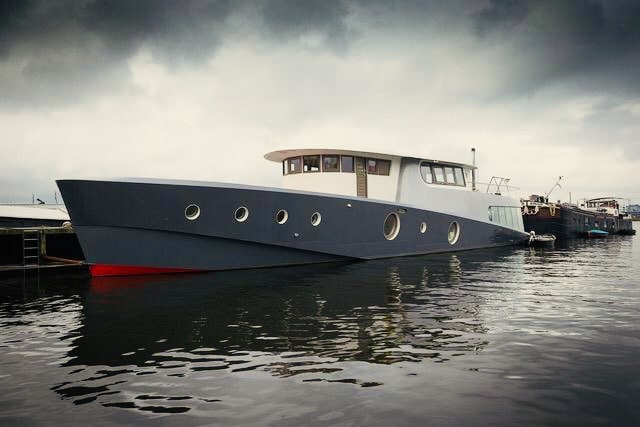 Private Studio on Spectacular Houseboat
Amsterdam, North Holland, Netherlands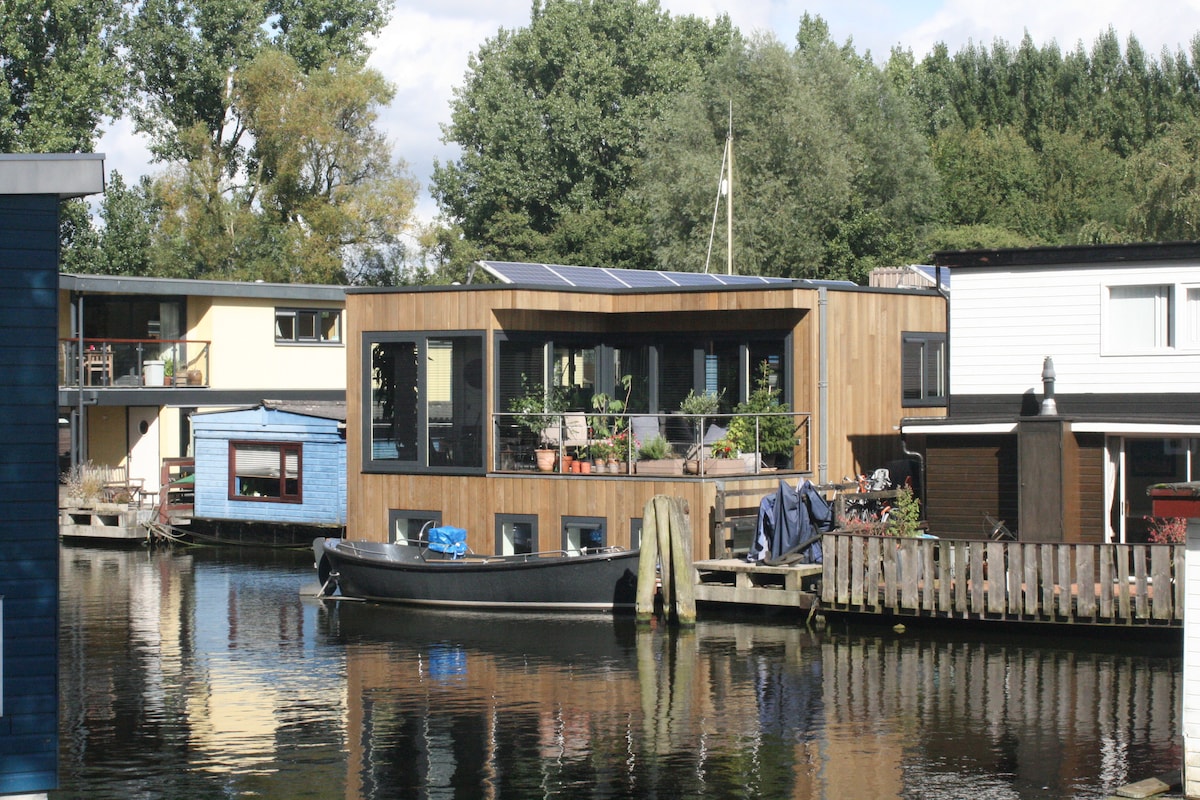 HOUSEBOAT NOVA 80m2 + FREE BIKES
Amsterdam, North Holland, Netherlands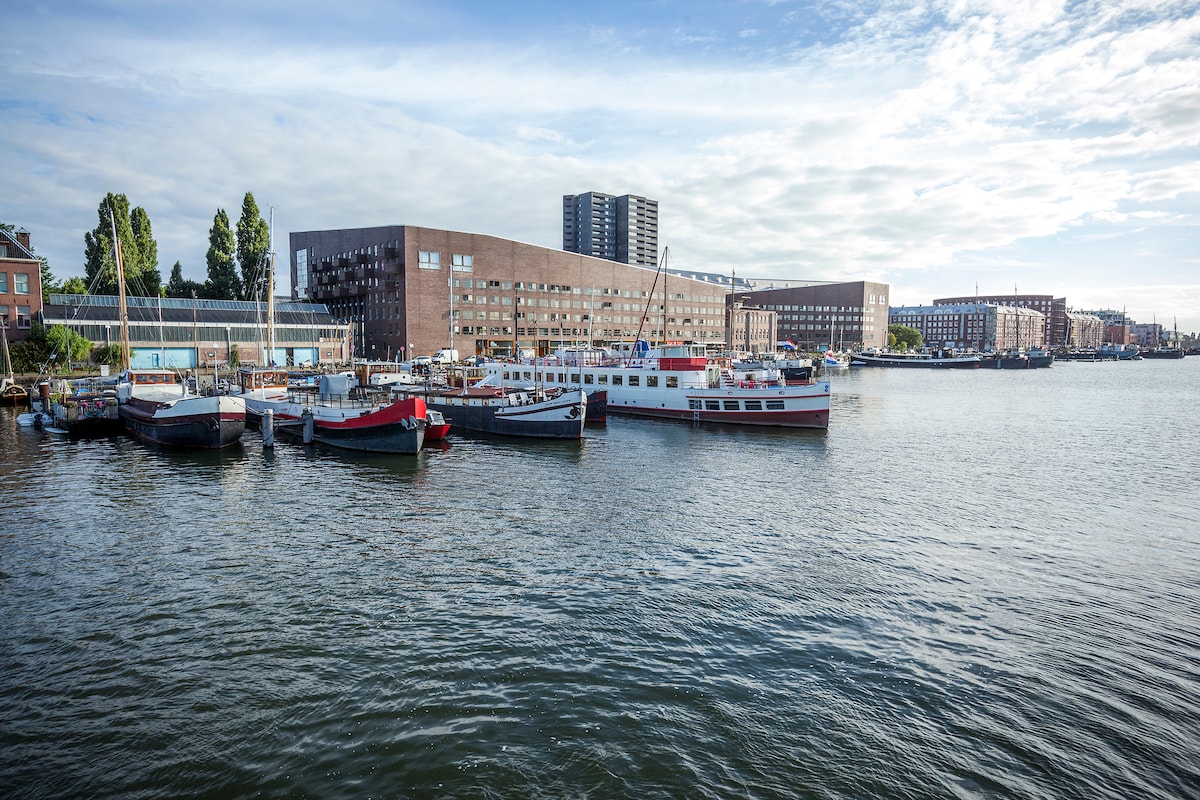 cosy, comfortable houseboat, close to city centre
Amsterdam, Noord-Holland, Netherlands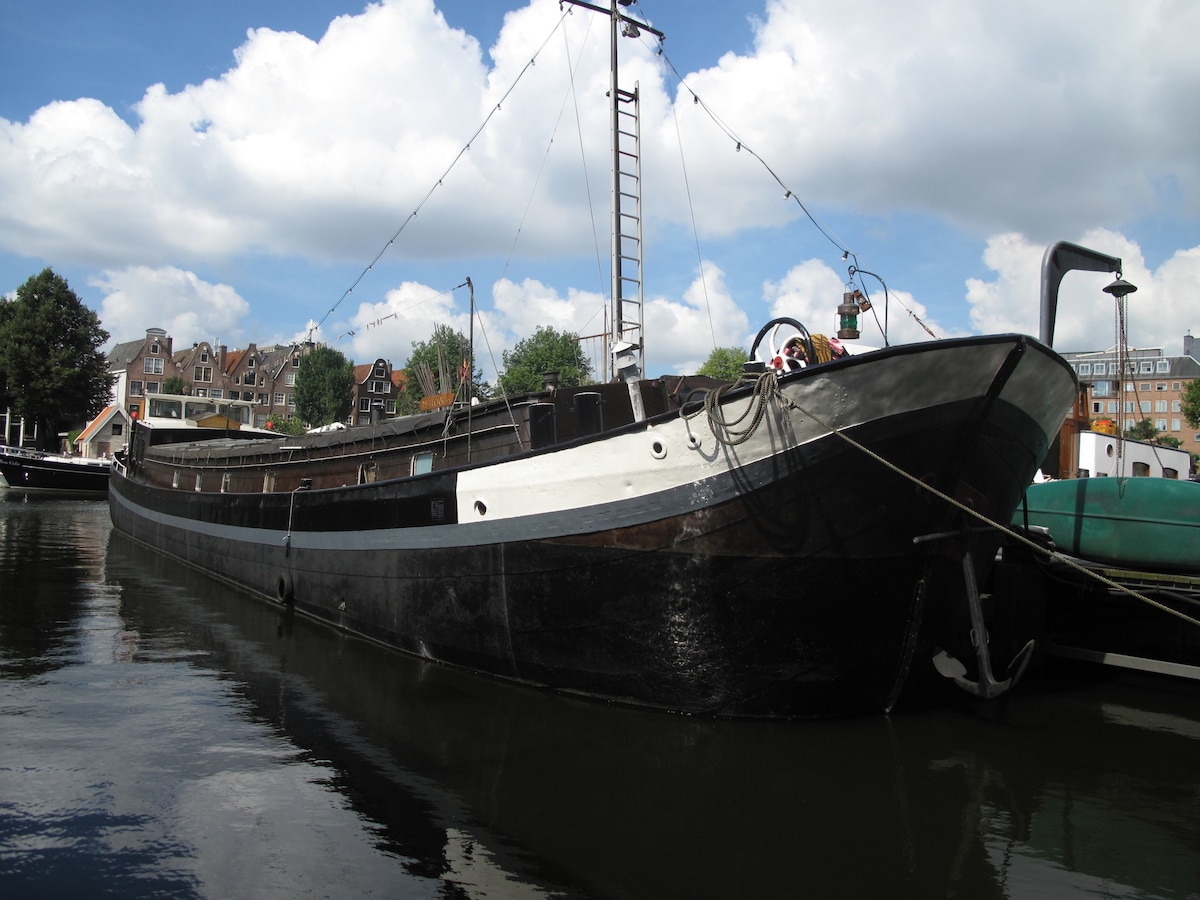 Romantic, stylish B&B houseboat in canal district
Amsterdam, North Holland, Netherlands
4. Giverny, France
Source: Photo by user Anna & Michal used under CC BY 2.0
The road journey from Amsterdam to Giverny in France takes around 6 hours and 39 minutes to cover 565.2 km (351 mi) on the A1 highway. Head from the Netherlands through Belgium and pass through Brussels along the way before crossing the border into northern France. Giverny is a village in the Normandy region, known for being the home of impressionist painter Claude Monet. He lived and worked in Giverny from 1883 until he died in 1926. Visitors can explore Fondation Claude Monet Museum, which is set in the artist's former home and garden, pictured here. Close to the museum, Musée des Impressionnismes Giverny offers exhibits and highlights relating to the impressionist art movement.
5. Nuremberg, Germany
Source: Photo by user Euro Slice used under CC BY-SA 2.0
Head out of Amsterdam on the A3 for the start of a 7-hour, 11-minute drive, covering 662.3 km (412 mi). Cross the border into Germany and head through Cologne and Frankfurt to reach Nuremberg, which is a northern Bavarian city. The city is known for its striking medieval architecture, including the stone towers and fortifications of its Old Town (Altstadt). On the edge of the Old Town stands Kaiserburg Castle, surrounded by buildings with pretty red roofs. Visit Schöner Brunnen, a beautiful gilded fountain in the Hauptmarkt square. The fountain is close to the 14th-century Frauenkirche Gothic church.
6. Zurich, Switzerland
Source: Photo by user kuhnmi used under CC BY 2.0
Driving from Amsterdam, head down the A3 at the start of an 8-hour, 38-minute drive to cover the 820.7 km (510 mi) to Zürich in Switzerland. Again, you will pass over the German border and drive through Cologne and Frankfurt on the way to the Swiss border, right at the bottom of the country. Zürich is a beautiful city, set at the end of Lake Zürich in the north of Switzerland. The city is known as being a global center for banking and finance. The city's Altstadt (Old Town) runs on both sides of the Limmat River, including beautiful architecture dating from before the medieval era. Visitors can enjoy a stroll on the waterfront promenades along the river, one of which heads to the 17th-century Rathaus, or town hall.
7. Amboise, France
Source: Photo by user Spencer Means used under CC BY-SA 2.0
The journey follows the A1 and A10 motorways on an 8-hour, 22-minute drive across 727.2 km (452 mi). Cross into Belgium and head towards Brussels, before driving to the border with France. Pass through Paris before heading to the beautiful town of Amboise. Located in the Loire Valley of central France, the town is famous for the Château d'Amboise (pictured here), the grand royal residence of King Charles VII in the 15th century. The palace features exquisite royal chambers, beautiful gardens, and intriguing underground tunnels, as well as Leonardo da Vinci's tomb. Da Vinci's former home, Château du Clos Lucé, is located outside of the town, where he lived until he died in 1519. The home features a small museum, exhibiting working models of the artist's designs.
8. Lübeck, Germany (from USD 196.14)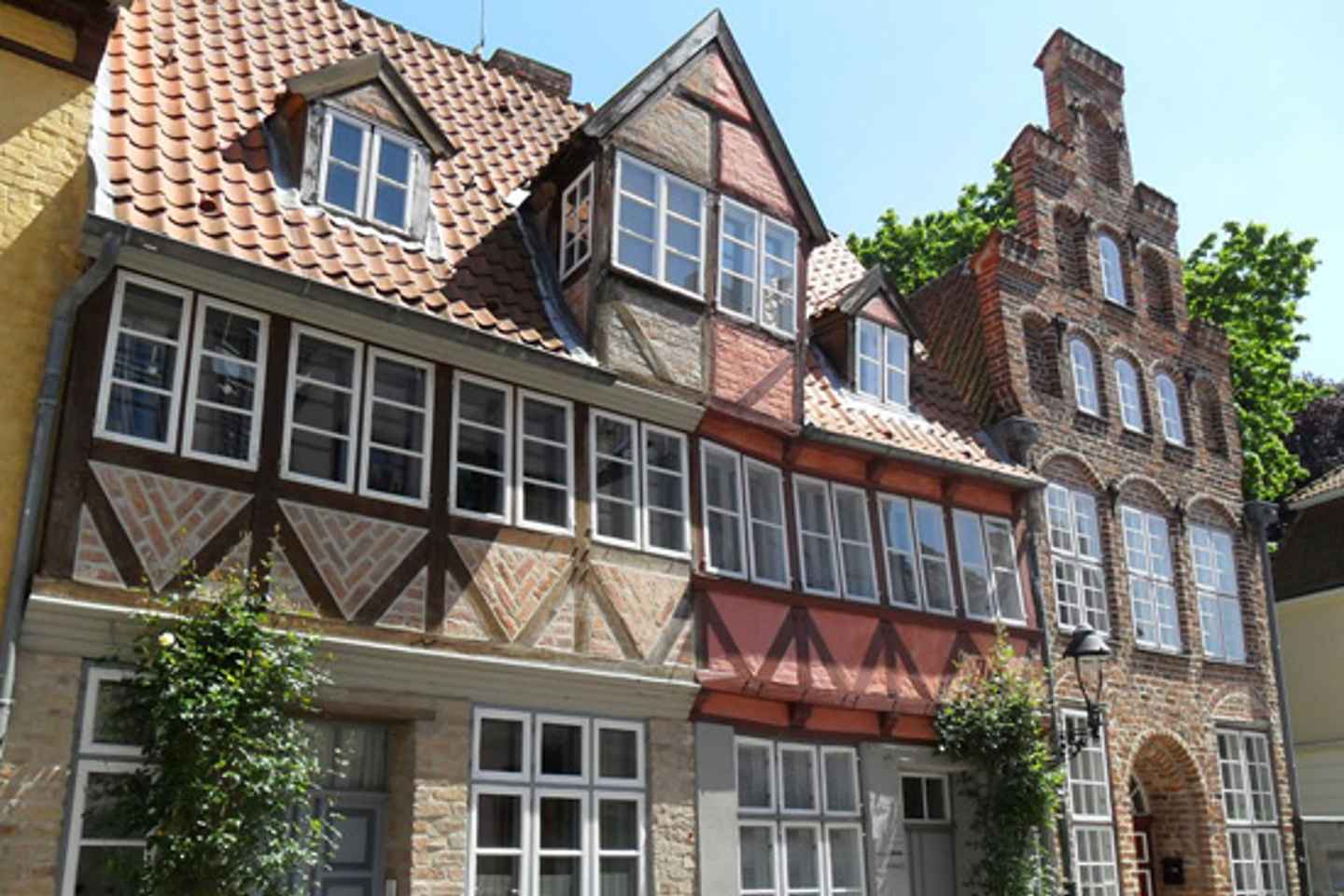 Source: www.getyourguide.com
Journeying from Amsterdam on the A1 Highway to Lübeck, Germany takes around 5 hours and 47 minutes to travel the 532.2 km (331 mi). Heading across the Netherlands and then crossing into Germany, the road travels through Bremen and up to Hamburg before finally reaching Lübeck on the northern coast. The city is known for its Brick Gothic architecture dating from when Lübeck was the capital of the Hanseatic League in medieval times. The symbol of the period is the Holstentor, which is a protective red-brick gate in the Old Town. The Marienkirche in the city is a 13th- to14th-century church that was rebuilt after World War II.
Lübeck: Historical Tour in the Footsteps of the Hansa
Duration: 1.5 hour
17 reviews
9. Pilsen, Czechia
Source: Pixabay
Heading now on the A3 highway to Pilsen in Czechia, this 8-hour, 40-minute journey covers a distance of 853 km (530 mi). The journey first heads across the German border and crosses the country, passing through Cologne and Frankfurt. Next is the Czechia border and Pilsen. The city is famous for the Pilsner Urquell Brewery, which has been brewing and bottling the popular beer since 1842. The Cathedral of St. Bartholomew makes an interesting visit. It was built in the 16th century and features a tall spire with a viewing gallery offering panoramic views across the city. The city is surrounded by pretty parks and an interesting landmark in the center of the Old Town is the 19th-century Great Synagogue, which is also used as a concert venue.
10. Prague, Czechia (from USD 35.62)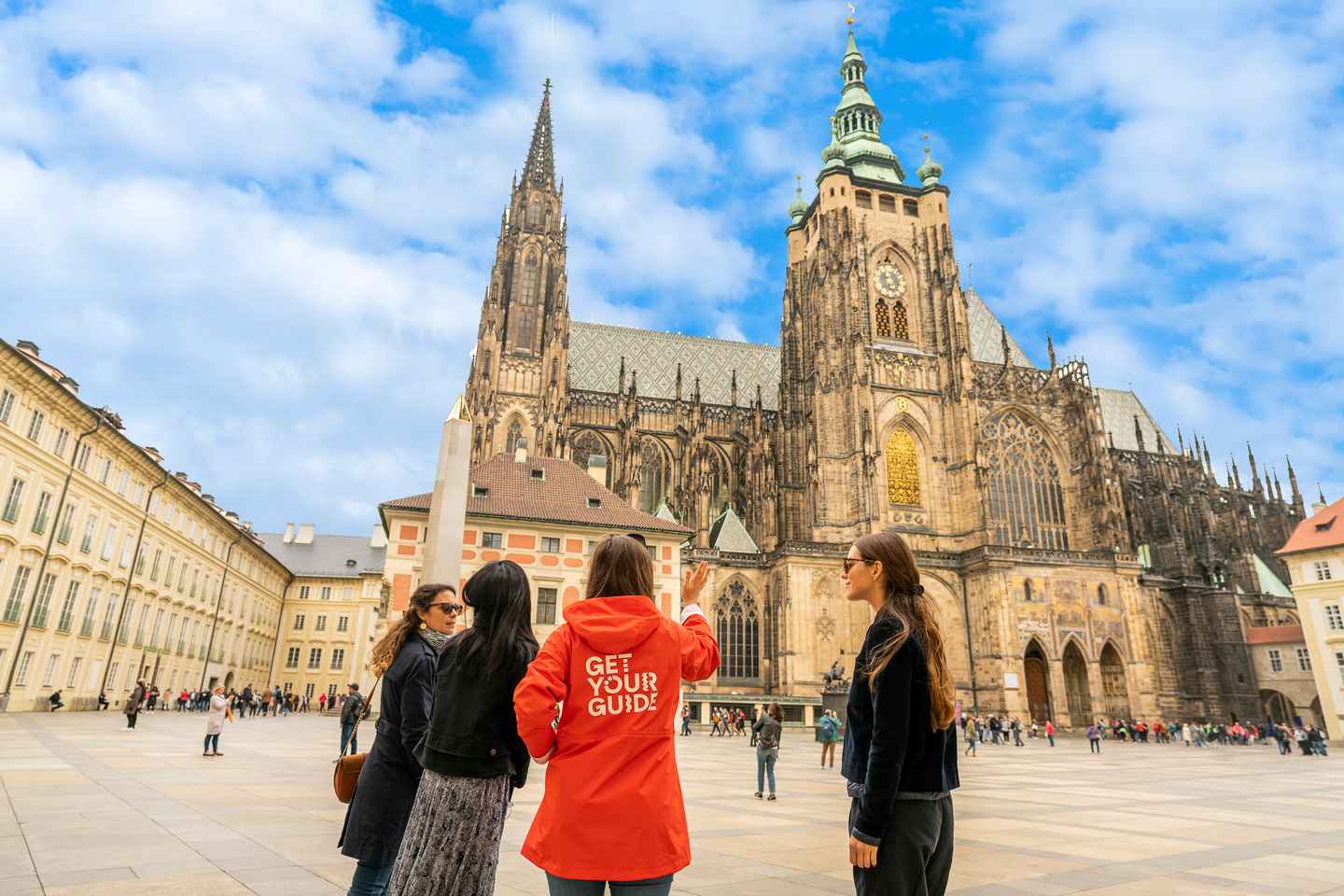 Source: www.getyourguide.com
Heading from Amsterdam to Prague, a different route can be used along the A14 highway which takes 8 hours and 48 minutes to complete an 884.9 km (550 mi) journey. Driving through northern Germany, the road heads through Hanover, Leipzig and Dresden before crossing the border into Czechia and heading to Prague. If driving direct from Pilsen, it will take 1 hour and 38 minutes to cover the 98.4 km (61 mi) of road. Prague bears the nickname "The City of a Hundred Spires" for its beautiful architecture, including Gothic churches, baroque buildings, and the Old Town Square, the historic center of the city. The medieval Astronomical Clock in Prague offers an animated show on the hour. Prague also features some fascinating modern architecture, including the Dancing House pictured here. Designed by Vlado Milunić with architect Frank Gehry, the building is dedicated to famous dancers Fred Astaire and Ginger Rogers.
Source https://viatravelers.com/weekend-trips-from-amsterdam/
Source https://www.tripsavvy.com/best-getaways-from-amsterdam-1456682
Source https://trip101.com/article/road-trips-from-amsterdam