19 Best Countries to Visit in Europe
Europe is a land frozen in time, highlighted by meticulously preserved buildings, some of which date back to the Neolithic Age. In addition to historic structures, Europe's best countries feature magnificent mountain ranges, deep gorges, and verdant countryside. This is where trips go to turn into vacations you'll dream about for years to come.
Active travelers love Europe's extensive attractions. You can ski down the French Alps, kayak in Croatia's Adriatic Sea, hike the Grindelwald in Switzerland, and cycle through the Netherlands, just to name a few popular outdoor activities.
Then there's the food. Yum! It's hard to beat the gastronomic delights found in the best countries in Europe. From the creamiest of French delicacies to the tastiest Swiss chocolates to the most delicious Italian pasta dishes, Europe's varied cuisines may be the best to ever grace your lips.
With so many countries to choose from, it can be hard to decide which to visit first. Our advice? Don't stop at just one. Europe offers a slew of fabulous places to visit packed into a relatively small space. That makes it easy to visit multiple countries on one trip.
Not sure where to start your sightseeing? Whittle down your choices with our list of the best countries to visit in Europe.
1. Italy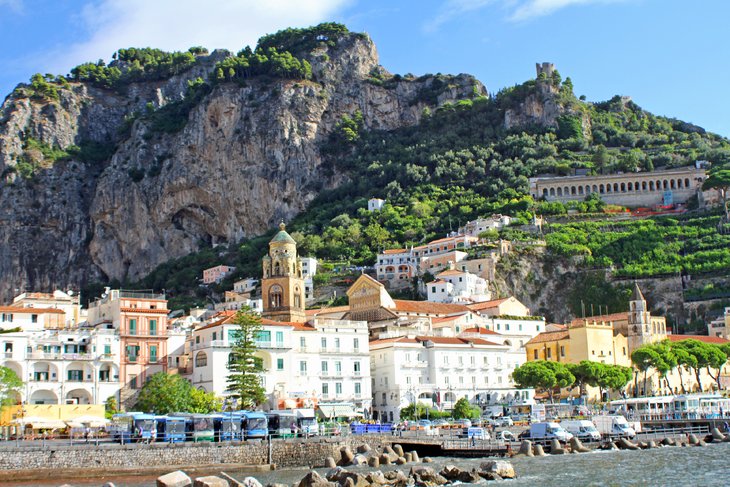 Amalfi Coast, Italy | Photo Copyright: Shandley McMurray
It's hard to picture Italy without salivating over the thought of its food. This boot-shaped country boasts tomatoes so sweet they taste like candy, pizzas cooked to perfection, and gelato that literally melts in your mouth. Italy is a utopia for gastronomes.
Even more resplendent than its food are the impeccable architecture and cultural masterpieces found in the ancient buildings, squares, and museums peppered throughout Italy's bustling cities and small, picturesque towns.
History abounds in the attractions of Rome (we're talking about the Colosseum and Pantheon), and its phenomenal town squares (i.e. Piazza Navona, St. Peter's Square, and Piazza Spagna) are a delight to enjoy.
Florence is home to the photo-worthy Duomo and Ponte Vecchio bridge, as well as museums you won't want to miss.
The canals of Venice are romantic and unique, while the massive Il Duomo, one of the top attractions in Milan, will have you gawking, as will the impressive outfits featured in the city's many shops.
The countryside is where you'll find the most authentic Italian experience. From skiing to hiking to swimming to eating (of course), the country's beauty envelops visitors, making it hard to leave. Tuscany is a real winner, transporting tourists back in time with its largely untouched walls and towers, while Lake Como offers a glimpse into the lifestyles of the world's elite.
The Amalfi Coast is as pretty as a postcard, which is why its colorful towns are featured on so much tourist kitsch.
2. France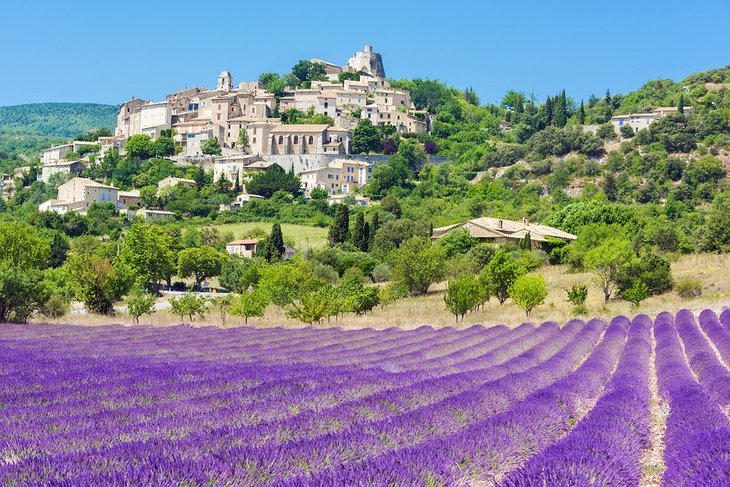 Lavender field in front of Simiane la Rotonde, Provence, France
Vive la France! Known for its romance, delectable food, art, culture, and natural beauty, this lovely country offers everything you'd ever want in a vacation. Every type of traveler will find something to love in France.
Bask in the sun's rays and catch sight of a celebrity or two on the French Riviera. Let your camera run wild photographing fields blanketed by lavender in Provence.
Travel back in time to the UNESCO-listed islet, Mont Saint-Michel in Normandy. Ski down the French Alps in Chamonix, Val d'Isère, or Méribel.
Dine in a café along the Champs-Elysée, visit a museum, climb the stairs of the Eiffel Tower, or stroll hand in hand with your soul mate along the River Seine in Paris.
Read More: Best Places to Visit in France
3. Spain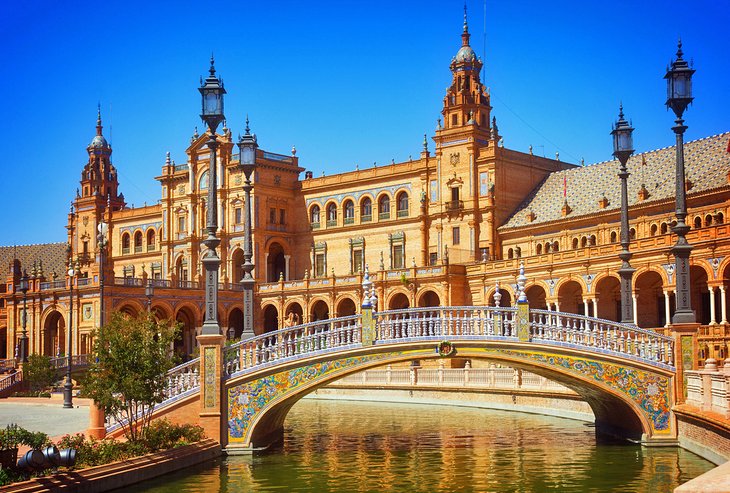 Plaza de Espana, Madrid
One of the most beautiful countries in Europe, Spain is also one of its best. From its architectural masterpieces to its towering mountain ranges, seaside cliffs, and hilltop villages, your camera will thank you for visiting this magical spot. No wonder more than 89 million tourists visited Spain in 2018, making it the second most visited country in the world.
You'll find plenty to see and do in the country's top cities. Madrid is home to the lovely Crystal Palace and sprawling gardens, as well as elegant plazas.
More elegant and romantic, Seville's soundtrack consists of horses' hooves on cobblestone streets and clanging bells from church towers. Here, you'll find must-see attractions like the spectacular Catedral de Sevilla, the UNESCO World Heritage Site the Real Alcázar, and the expansive Plaza de España.
Barcelona is both energetic and eclectic, featuring architecture that would make Salvador Dali proud (Casa Mila and the insanely unique Parc Güell are must-sees).
Valencia will soothe your soul with healing sea views, while Costa Brava offers some of the most stunning of beaches in Spain.
Don't miss beautiful Granada and its famous Alhambra palaces.
4. Austria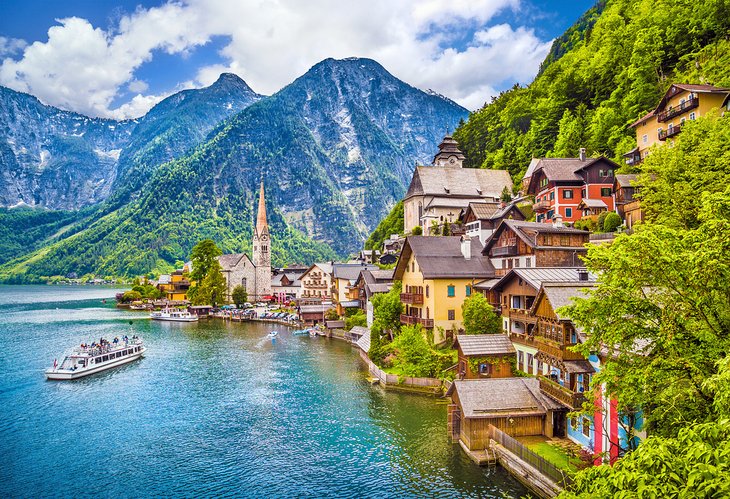 Hallstatt village in the Austrian Alps
Austria is one of those countries that can truly take your breath away. Ringed by the magnificent Australian Alps and peppered with sparkling lakes, this wonderland is one of the most beautiful countries in Europe.
Austria is also one of the most musical. It's almost impossible to wander through the country's many city streets without catching a snippet of song, especially one composed by famed Austrian, Wolfgang Amadeus Mozart. Born in Salzburg, the former Baroque composer's influence can be felt everywhere (his image is even found on chocolate wrappers). Wind your way through narrow, twisting laneways in the old town, Altstadt Salzburg (a UNESCO World Heritage Site), enjoy lunch in a courtyard, or visit a museum or St. Peter's Abbey while you're in town.
Vienna is another hot spot of gorgeousness. In addition to intricate palaces (i.e. Belvedere Palace) and sprawling gardens (i.e. those found at Schönbrunn Palace), you'll find the fabulous City Hall (Rathaus) and gorgeous Natural History Museum (Naturhistorisches Museum), among other popular Vienna attractions.
Linz hugs both banks of the River Danube, making it a perfect spot for exploring both the river and the surrounding countryside.
Graz, the country's second largest city, is another architectural hub, featuring buildings and ruins that date back to AD 800. Don't miss the picturesque old town and be sure to climb the Schlossberg (a hill measuring 473 meters and topped with a clock tower), one of the best things to do in Graz.
5. Croatia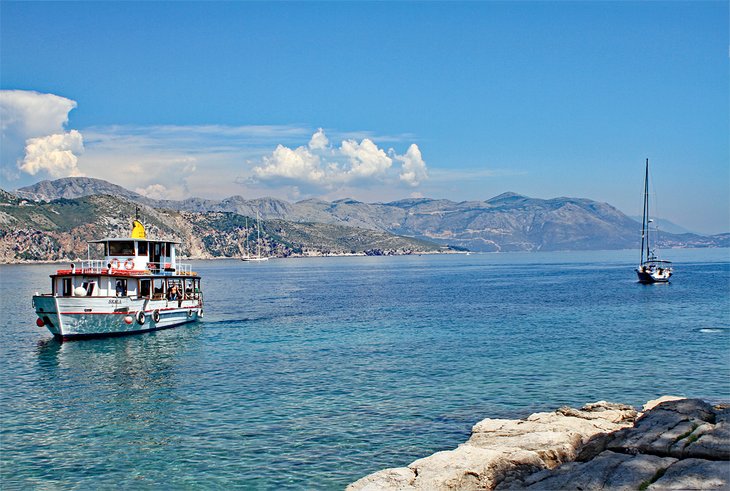 Boats in Croatia | Photo Copyright: Shandley McMurray
A Mediterranean masterpiece, Croatia offers scenery to soothe the soul and fresh food to treat the palate. With friendly locals, hilltop castles, preserved Roman ruins, and a sea the color of sapphires, it's impossible to feel stressed in this lovely archipelago.
Wander the winding laneways within the towering old city walls in Dubrovnik, or take the cable car up Srd Hill for the most spectacular view of this beautiful town, dubbed the "Pearl of the Adriatic."
Split is one of the most vibrant cities in Croatia and the second largest after Zagreb. Both are more than worthy of a visit. The island of Hvar will help you get your beach on; it's been deemed the "sunniest spot in Europe."
Croatia's crowning glory is its perfect position on the Adriatic Sea. Be sure to board a boat at some point to explore the archipelago, especially the charming Elafiti Islands, which can be found northwest of Dubrovnik.
Feeling adventurous? Kayaking and rafting are popular in Croatia, and you'll find plenty of rocky limestone cliffs to jump from.
6. The Netherlands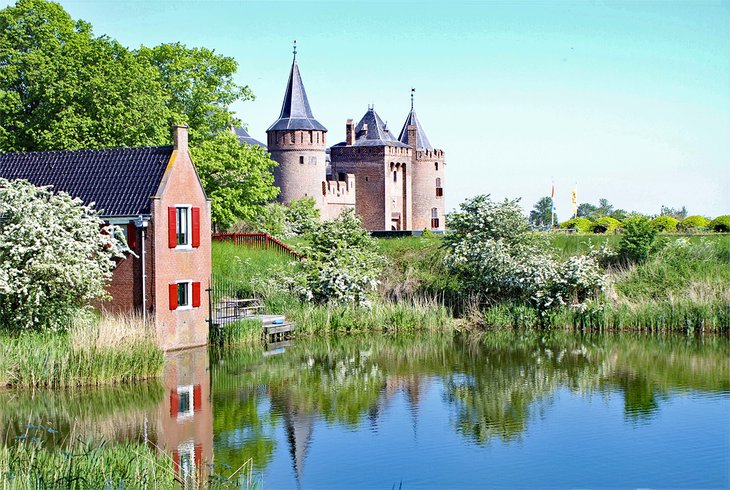 Muiderslot Castle, The Netherlands | Photo Copyright: Shandley McMurray
Less formally known as Holland, the Netherlands offers visitors a laid-back vacation filled with art, beauty, and a lot of cycling.
Located in the northwest of Europe, the landscape is flat (perfect terrain for a bike) and peppered with iconic windmills and fields bursting with tulips in spring (April and May in particular). The best place to spot them is arguably Keukenhof, also known as the "Garden of Europe." It's located in Lisse.
Amsterdam is one of the best cities to visit in the Netherlands. Despite its somewhat seedy reputation, this canal-laden spot is beautiful and filled with impressive museums (40, to be exact). Don't miss the city's top attractions, the Rijksmuseum, Ann Frank's House, and Van Gogh Museum.
You'll also find cutting-edge, eco-friendly architecture mixed in with the historic structures found in Rotterdam, Delft, and The Hague.
Big cities aren't your only option in the Netherlands. The adorable fishing hamlets located along the lake Ijsselmeer are worthy of a stop, especially Marken, Volendam, and Enkhuizen.
7. Sweden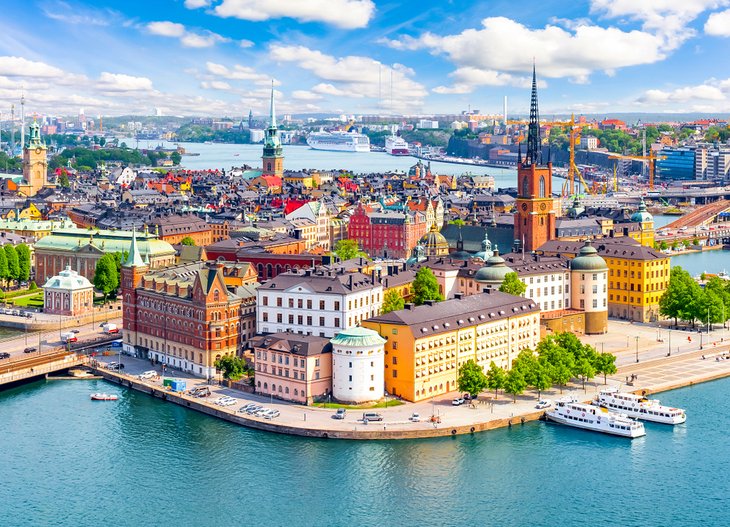 Aerial view of Old Town Stockholm
Bet you've never met a cranky Swede! Known for their gracious nature, the Swedish people are a friendly Nordic bunch. Given their impeccable surroundings – ancient walled cities, sparkling lakes, sun-drenched beaches, and glacier-topped mountains – it's no wonder they're so happy.
Located in the north of Europe, between Norway and Finland, Sweden is the place to visit if you're looking for an amazing view of the Northern Lights. Here, you can traipse through dense forests, canoe along crystal waters, and pitch a tent in an open field.
Those who appreciate avant-garde architecture will be rewarded with some of the world's most intriguing designs in Sweden. The country's most vibrant city is Stockholm, where you'll find the popular Vasa Museum, as well as stylish shops and eateries. Don't miss a trip to Skansen, a large open-air museum depicting life in the 1720s to 1960s.
Gothenburg, Sweden's "second city," is another must-see for foodies (they've got fantastic restaurants) and beach lovers alike.
8. Belgium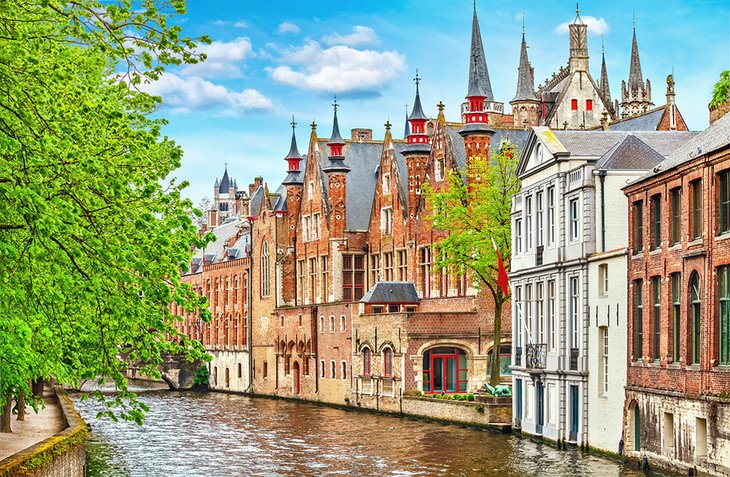 The medieval town of Bruges in Belgium
The smallest European country on this list, Belgium makes up for its diminutive size with a boatload of charm, not to mention picturesque medieval towns, UNESCO World Heritage Sites, and chocolate that will make your taste buds scream in delight. Did we mention the French Fries yet? Delish!
The country is unofficially divided into two main regions: the French-speaking and pastoral Wallonia in the south and the more cosmopolitan, Dutch-speaking Flanders in the north.
Brussels is a big tourist draw, offering visitors a peek at its most magical historic buildings, like La Grande Place (a.k.a. Gote Markt in Dutch) and Place Royal (a.k.a. Koningsplein). This is also where you'll find eclectic shops, tasty restaurants, and fantastic museums.
Bruges is tiny yet well storied and arguably the country's most beautiful town. Its canals, which are easily accessible by booking a boat cruise, wind their way through the city, offering lovely views of the captivating architecture.
9. Switzerland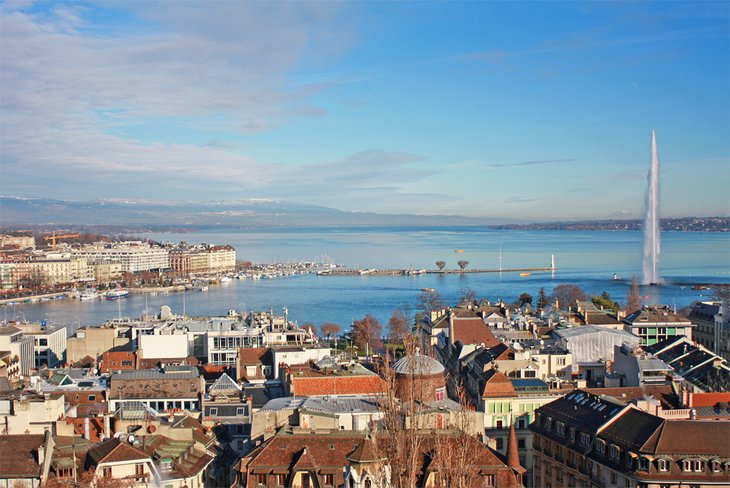 Lake Geneva, Switzerland | Photo Copyright: Shandley McMurray
One of the most expensive countries to visit in Europe, Switzerland is more than worth its hefty price tags. Snowcapped mountains burst through the clouds, emerging from lush, verdant fields dotted with sheep (hello, The Matterhorn).
Expansive lakes (i.e. Lake Geneva) span the countryside, offering a sparkling welcome to white water rafting, canoeing, fishing, and kayaking enthusiasts. Small villages like Gimmelwald gush storybook charm, captivating even the crankiest of travelers with their quaint shops and melt-in-your-mouth chocolates.
Larger cities like Zurich, Geneva, Lucerne, and Bern help visitors get their fill of both culture and beauty in one go. You'll find numerous impressive museums, art galleries, shops, and fine dining within their borders.
Zermatt is your one-stop shop for winter sports, as well as unbeatable Alpine hikes and climbs.
Read More: Top-Rated Tourist Attractions in Switzerland
10. Greece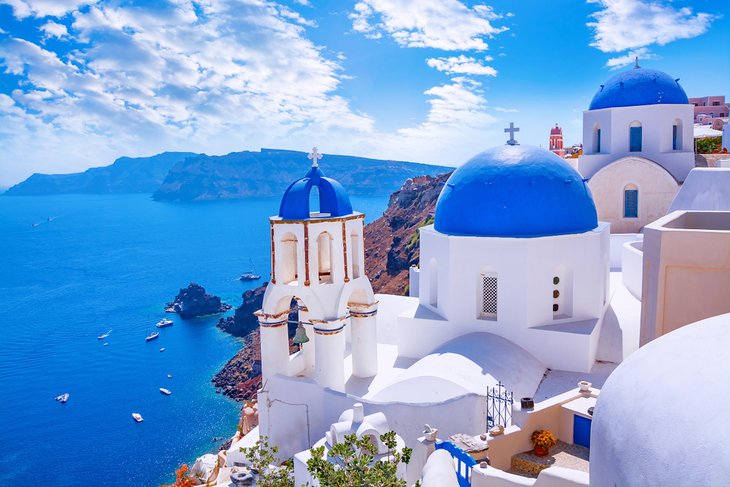 Oia town on Santorini Island, Greece
Perhaps the most laid-back of all the countries on this list, Greece is the perfect place to relax. Azure domes top whitewashed buildings on the country's smaller isles, their doors and gates painted with colors so bright they beg to be photographed. Santorini is particularly spectacular, especially at sunset. Crete is another popular island with inviting coastal towns and mountain villages.
The sky in Greece is the most luscious of blues, while the sapphire Mediterranean caresses beaches boasting sand and pebbles of different colors – from tan to pink to red.
Speaking of restaurants, it's hard to top the food in Greece. The freshest of local ingredients are used to create healthy and tasty delicacies teeming with vibrant flavors.
Read More: Top-Rated Tourist Attractions in Greece
11. Portugal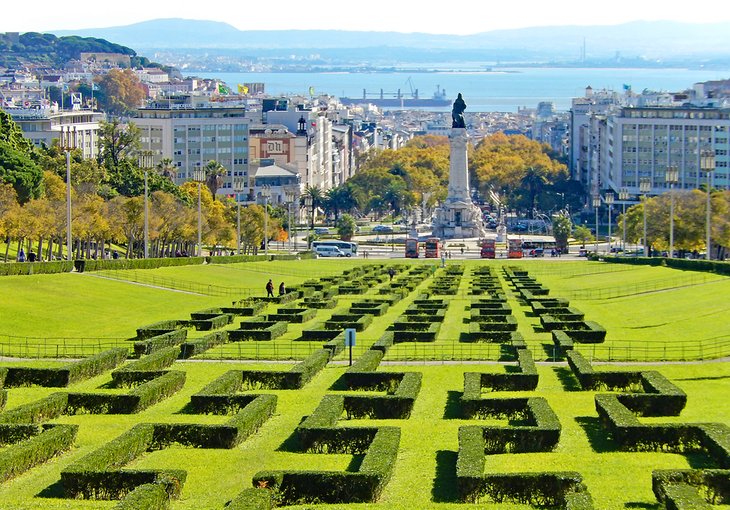 Eduardo VII Park in Lisbon | Photo Copyright: Shandley McMurray
Castles and beaches and mountains, oh my! Portugal has a bevy of gorgeous scenery to offer. Hugging more than 800 kilometers of the Atlantic Coast, this is the place to be for those who love water views.
A visit to the beautiful Azores islands will immediately dissolve your worries. They are an archipelago consisting of nine gorgeous, mountainous isles perfect for diving, surfing, sailing, and whale watching. Nearby Madeira Island is particularly popular with European tourists.
Lisbon is the country's largest city, with a prime location at the mouth of the River Tagus. It is jam-packed with fun attractions, ranging from a historic castle to a state-of-the-art aquarium to beautiful town squares to a hilltop park with an impressive view.
Tomar is also set on the water. Its enchanting cobblestone streets wind around medieval churches, a majestic castle, and other historic buildings along the banks of the Nabão River.
Read More: Best Places to Visit in Portugal
12. Germany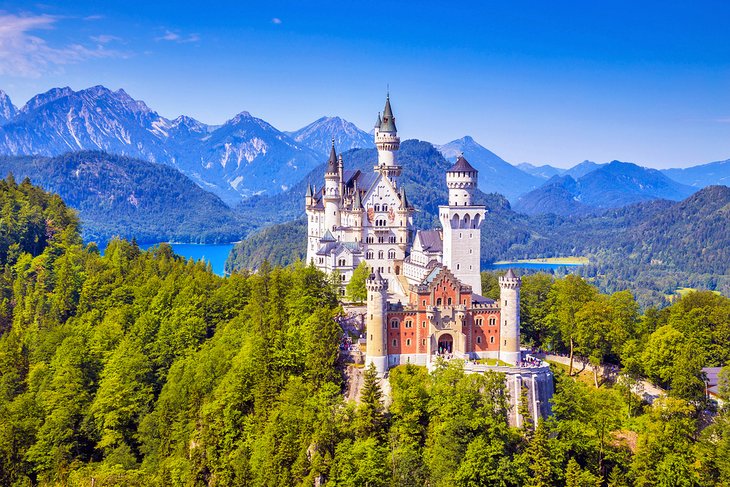 Neuschwanstein Castle, Germany
While Germany may not be the most romantic European vacation destination, its spectacular scenery (we're talking sand dune-lined beaches, thick forests, and rugged mountains) make it a worthy destination for every type of traveler.
Cosmopolitan destinations like Munich, Hamburg, and Frankfurt offer travelers the historic culture they crave in the form of ancient buildings, monuments, and museums. They also burst with shops and restaurants that serve traditional sauerkraut and schnitzels mixed with more contemporary fare.
The small towns are where you'll find a nice break from the hustle and bustle of everyday life. These quaint villages are peppered with beautiful remnants of the past. Despite suffering through war, many ancient towers, churches, and houses stand strong, stoically adding to the charm and allure of these rural delights.
Bavaria's colorful towns, Rothenburg-ob-der-Tauber, Dinkelsbühl, and Nördlingen will lift your spirits and give your camera a real workout.
Read More: Best Places to Visit in Germany
13. England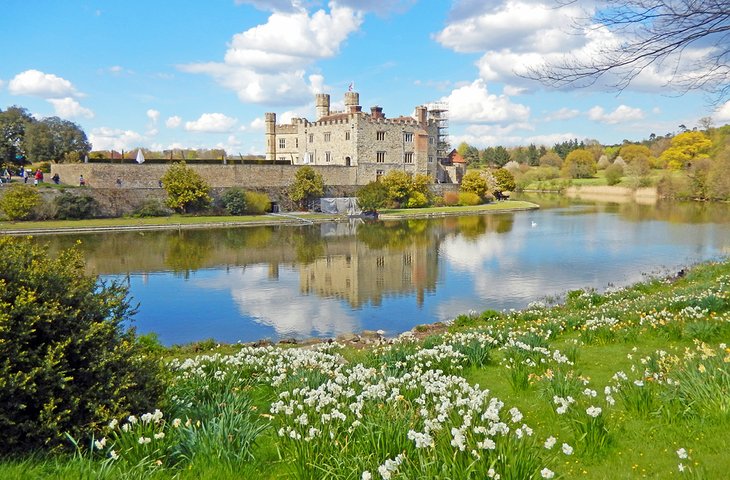 Leeds Castle, England | Photo Copyright: Shandley McMurray
It doesn't take long for England to charm its visitors. Best visited with an umbrella in hand, this oft rainy isle is one of the best places to visit in Europe.
Hoping to roam through bucolic countryside, frolicking with sheep as you wander over hills and across dales? Head to the green valleys of the Lake District, a wonderland so lush and fertile, you'll want to pitch a tent and stay for days.
More of a shopper? Head to London, the iconic capital where you'll meet the most modern yet understated styles of each season. You'll also be blessed with an infinite variety of top restaurants and cuisines.
Looking for storied castles? You'll find them aplenty in towns ranging from the large, walled city of York to the smaller village of Leeds to the tiny town of Warwick, which is set upon the picturesque River Avon.
Speaking of small towns in England, that's exactly where you'll want to head if you're in search of fairy-tale villages oozing charm. The impeccable Cotswolds must be seen to be believed. Named after the honey-colored stone used to build their enchanting homes, this rich land is brimming with culture, and an impressive charm you won't find anywhere else.
14. Denmark
Frederiksborg Castle, Hillerod, Denmark
Denmark may be small (it's almost double the size of Massachusetts), but boy does it pack a beautiful punch. An environment-loving, friendly country, this Nordic star offers visitors a clean, calm, and beautiful vacation destination. Water is never far away, making it easy to relax beachside on the coast of the Baltic Sea or canoe or fish in one of the sparkling lakes and rivers.
Among its 450-island archipelago, you'll find villages dotted with timber homes, perfectly groomed gardens, as well as cities boasting palaces, museums, and amusement parks (like Copenhagen, with Christiansborg Palace and Tivoli Gardens).
The Danish architectural style is hard to beat – from luxurious fortresses like Kronborg Castle to the uber modern National Maritime Museum in Helsingor to the colorful shops and restaurants of Copenhagen's Nyhaven harbor. Museums and Viking history abound in Roskilde.
Worried about getting around? You're more likely to run into bike traffic than car standstills in this eco-friendly country. Cycling is the preferred mode of transportation, especially through the windmill-spotted countryside.
Insider's tip: Make time to visit the breathtaking Faroe Islands.
Read More: Top-Rated Tourist Attractions in Denmark
15. Iceland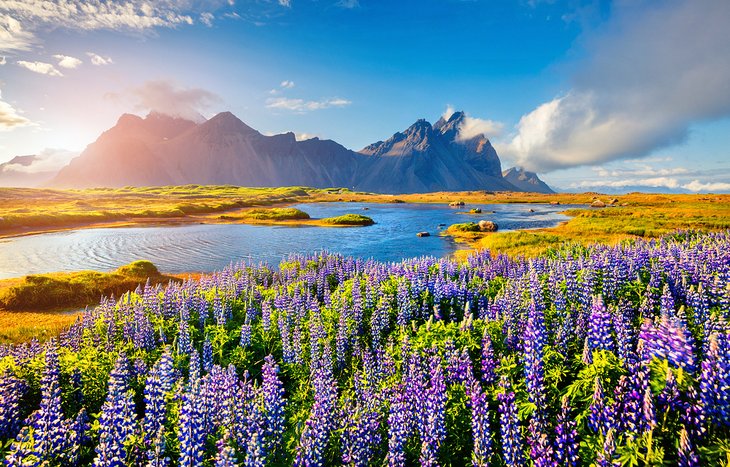 Lupine at the Stokksnes headland
Iceland is a majestic land sprinkled with some of the world's most captivating scenery. A sparsely populated island, this breathtaking spot has become one of the most coveted of bucket list vacation destinations.
Adventure-seekers visit for its eccentric topography. You can traipse across, through, or around everything from glaciers to fjords to volcanoes to ice caves to waterfalls to mountain ranges.
During the day, visitors can shop, dine, or meet the uber-friendly locals in the country's biggest city, Reykjavik. Head out on a whale-watching tour, take a dip in the Blue Lagoon, or hike through the lava fields of the Hekla volcano.
Be sure to visit Vatnajökull, the largest (and most magnificent) glacier in Europe. At night, especially between September and April, tourists are rewarded with an unbeatable view of the northern lights.
16. Ireland and Northern Ireland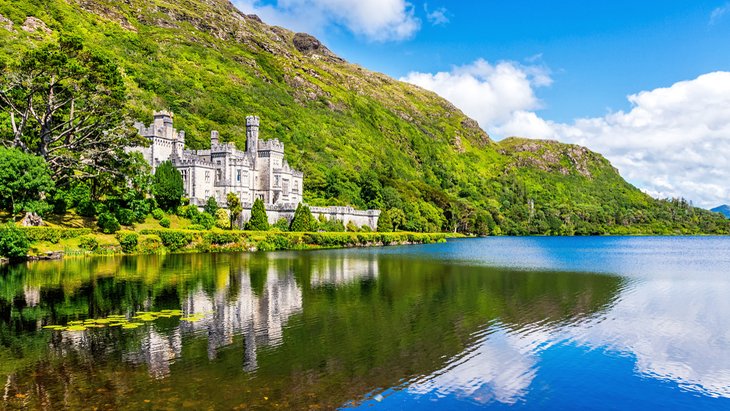 Kylemore Abbey in Connemara, Ireland
Little beats the beauty of the lush green fields that blanket the Emerald Isle. This breathtaking island is steeped in history; dotted with bleating sheep; and packed with people so friendly, you'll beg to be adopted. Add the lively music, endless stunning attractions and unique things to do in Ireland, and you'll never want to leave.
Mother Nature outdid herself with the spectacular sights along the Ring of Kerry, the rugged Cliffs of Moher, and otherworldly Giant's Causeway (the top tourist attraction in Northern Ireland). Pack a camera, as you'll want to capture these majestic spectacles for posterity.
Speaking of Northern Ireland, don't miss a visit to its capital, Belfast, where you can wander along the Titanic Quarter, visit the Titanic Belfast museum, and explore the Botanic Gardens.
Dublin is unmissable. The music, the culture, the food, the museums; there's so much to love about this lively city and so many fun things to do in this Irish capital.
When you've had enough of big city life, it's time to explore the heart of Ireland, its quaint and charming small towns. From the medieval castle in Kilkenny to the Gallus Oratory in Dingle to the vibrant fishing port of Kinsale, there's something for everyone to enjoy.
17. Norway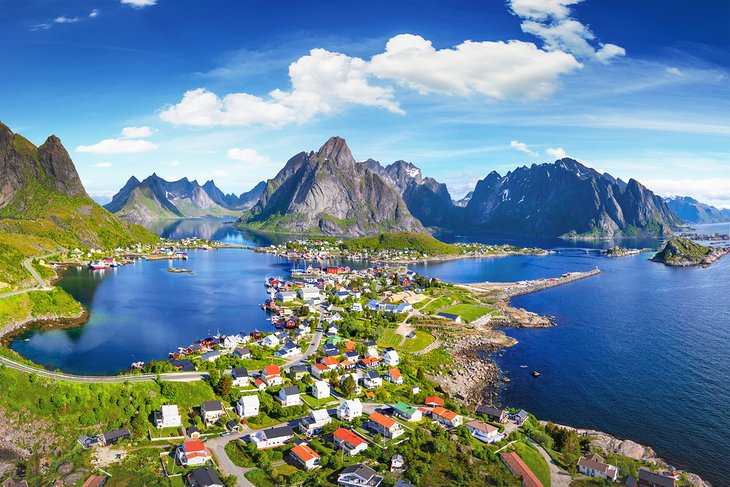 Aerial view of the fishing village Reine in the Lofoten Islands, Norway
Fjords and mountains and lakes, oh my! Norway sure knows how to enchant its visitors. With so many top attractions, it can be tough to choose where to start.
Search for the northern lights or embark on an action-packed vacay filled with hiking, skiing, or white water rafting in scenery so captivating, it will leave you breathless, No matter how you choose to spend your vacation, Norway is a delight.
Not up for that much outdoor adventure? No worries, Oslo, the country's capital, is packed with fun things to do. You can explore museums, visit the Vigeland Sculpture Park, and enjoy a meal (or many) in the best restaurants in Oslo.
Sognefjord is the largest (and arguably most stunning) of Norway's fjords. At 204 kilometers long and 6,905 meters deep, Sognefjord offers plenty of incredible tourist attractions.
Ålesund is another unmissable gem famed for its postcard-worthy setting. In addition to checking out the city's impressive Art Nouveau architecture, walking around the harbor, and visiting the Town Park, there are a slew of interesting things to do in Ålesund.
18. Turkey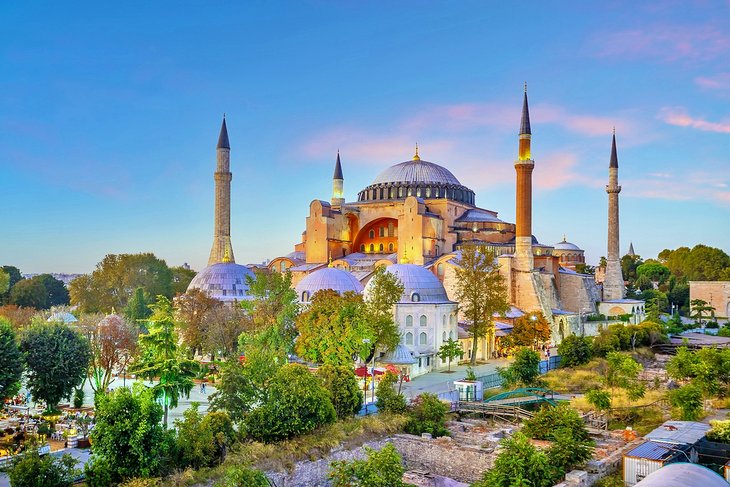 Hagia Sophia in Istanbul, Turkey
When most people think of Turkey, they picture the Hagia Sophia Mosque or Grand Bazaar in Istanbul and salivate over the thought of Turkish food. This storied country is also home to top cities like Antalya (famed for its Dunden Waterfall), Bursa (site of the remarkable Grand Mosque), and Sanliurfa, where you'll find the lovely Pool of Abraham.
While Istanbul is packed with things to see and do that include the aforementioned mosque and a glittering palace and Hippodrome, it is also home to beautiful parks.
Those hoping to lounge beachside, soaking up stunning views of the Mediterranean, will be pleased with the variety of picturesque islands in Turkey. Bozcaada is laid-back yet luxurious, framed by soft sandy beaches, while Gӧkçeada is a quiet wonderland best visited during the buzzing summer months.
19. Czech Republic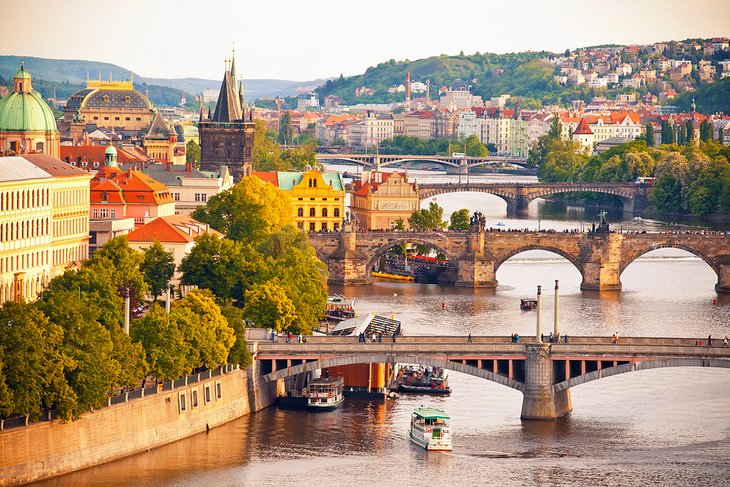 Prague, Czech Republic
One of the cheapest European countries to visit, the tiny Czech Republic is filled with intricate historic monuments, lively music, and tasty food. It's also one of the most beautiful countries in Europe.
It's easy to see why Prague tops the list of the best places to visit in the Czech Republic. The heart of this picturesque region, this pretty and vibrant city is a must see. Prague is filled with impressive tourist attractions, like Prague Castle, Charles Bridge, and Wenceslas Square, not to mention budget-friendly shops and restaurants. In fact, many of Prague's don't-miss sites are among the best tourist attractions in the Czech Republic.
Prague isn't the only city worth visiting in the Czech Republic; hot spots like Český Krumlov in the south (its castle is a UNESCO World Cultural Heritage Monument) and Kutna Hora (home to the Baroque chapel, Sedlec Ossuary) are spectacular.
Head to Karlovy Vary, or Carlsbad as it's also known, for a rejuvenating dip in a thermal spa. Don't miss the 19 th -century Market Colonnade, Museum of Glass MOSER, and Church of St. Mary Magdalene, a few of the other popular tourist attractions in Karlovy Vary.
More Related Articles on PlanetWare.com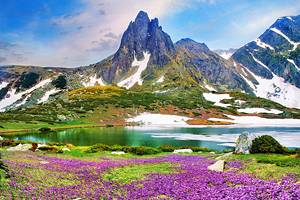 See Europe on a Budget: Let's face it, travel ain't cheap! Luckily, there are ways to see the world without emptying your pocketbook. Visit these inexpensive places in Europe (we're talking about awesome spots like Prague and Valencia) or head to these beautiful yet affordable European countries (hello, Bulgaria and Romania).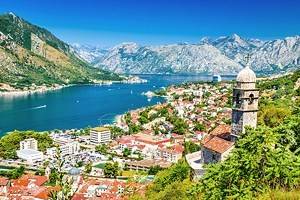 Other Unmissable European Destinations: Europe has so much to offer visitors, and our list of the best countries to visit in Europe merely highlights some of its top spots. From charming towns that look as if they've come straight out of a fairy tale to a historic sea fortress in Finland to Italy's best beaches, you'll never want to go home.
15 Best Countries to Visit in Europe
Packed full of incredible historical sights, important cultural landmarks, and beautiful scenery, Europe is a treat to explore. With each of its 44 countries home to different people, languages, and cultures, however, it can be hard to know where to start.
Besides its world-class cities, which are full of amazing art and architecture, Europe has a myriad of historic towns and idyllic villages for you to discover. Tucked away among its scenic mountains, valleys, and countryside, you can also find astounding archaeological sites and magical fairytale castles. Add in picture-perfect beaches and coastlines, as well as exciting culinary and nightlife scenes, and it is easy to see why Europe attracts more than half of all of the tourists in the world.
15. Netherlands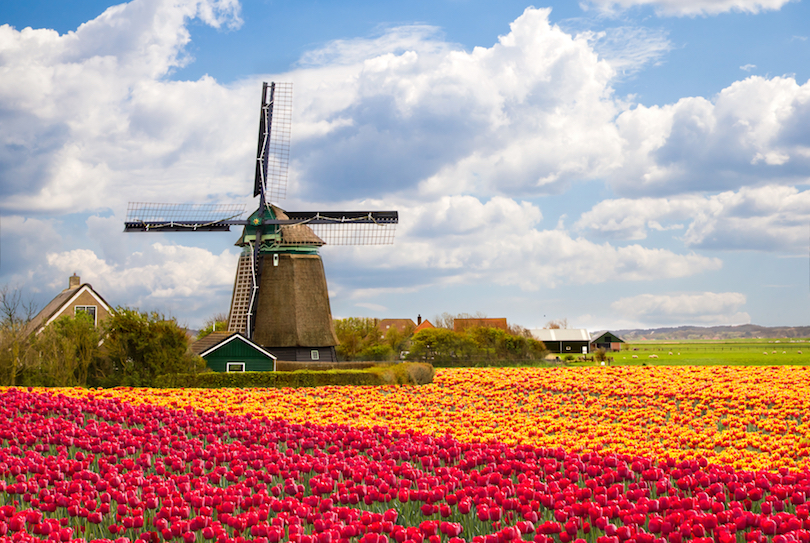 © Dreamstime
With a lovely laidback feel to its cities and towns, the Netherlands is a wonderful place to visit that is very tolerant and progressive. Traveling around is also very easy and convenient, as it is one of the most densely populated countries in the world.
While Amsterdam, with its art-filled museums, canal-lined cobbled streets, and pounding nightlife, is the most popular destination, Utrecht, Rotterdam, and The Hague each have their own charms.
Famed for its clogs, canals, and windmills, the Netherlands is also home to lots of picturesque farmland and tulip fields. With much of its land having been reclaimed from the North Sea by an impressive series of dams and dikes, its iconic low-lying landscapes are not to be missed out on.
14. Poland
© Dreamstime
In recent years Poland has become an increasingly popular tourist destination as visitors flock to Gdansk, Krakow, and Warsaw.
Exhibiting a wide array of architectural styles, their streets are lined with communist-era blocks, towering church spires, and epic castles, with beautiful historic centers also on show. Having suffered terribly in WWII, they also host lots of moving memorials, monuments, and museums to the victims of the Holocaust. Of these, visiting Auschwitz is a must for the important light it shines on the past.
Bordered to the north by the Baltic Sea, with lots of mountains, forests, and lakes also on offer, Poland is a very pretty, pleasant, and picturesque place to visit.
13. Portugal
© Dreamstime
Hugging the west coast of the Iberian Peninsula, Portugal is blessed with a long, scenic coastline dotted with beautiful beaches and sleepy fishing villages. Add in its warm and welcoming weather, and it's no wonder at all that it is a very popular holiday destination.
Full of amazing churches, cathedrals, and castles, its historic towns and age-old cities of Lisbon, Porto, and Sintra are very pretty and pleasant to visit. In addition, astonishing archaeological ruins and historical sights from the Romans and Moors dot the country.
While many people stick to the coastal region, its mountainous interior is also well worth exploring for its gorgeous scenery and hilltop towns. On top of all this, Portugal's wild and wonderful Atlantic Ocean archipelagos of Madeira and the Azores make for exotic and exciting getaways.
12. Romania
© Dreamstime
Lying in the southeast of Europe, Romania is, in many ways, dominated and defined by the Carpathian Mountains and Danube River that run through it. As so much of it consists of pristine and untouched forests and rolling hills, the country really is a nature lover's dream.
While its endless nature reserves deserve exploring, its medieval towns, fairytale castles, and age-old monasteries attract just as many visitors. History and heritage are all around you as you wander around Sighisoara and Brasov's charming streets and market squares, while Bucharest boasts the best restaurants, bars, and nightlife.
With a lovely Black Sea coastline – as well as one of Europe's most spectacular drives in the shape of the Transfagarasan Road – Romania isa great travel destination.
11. Croatia
© Dreamstime
In recent years, Croatia has experienced a tourism boom as visitors from all around the world flock to its shores, and it is very easy to see why.
Located alongside the glimmering Adriatic, its rugged coastline is breathtaking to behold, with thousands of idyllic islands lying offshore. Hidden away among its stunning scenery, you can explore incredible seaside towns and cities, such as Dubrovnik, Split, and Hvar.
While its mountainous northern regions offer up a less touristy and more authentic experience, the awe-inspiring Plitvice Lakes are not to be missed out on. Magical to gaze upon, the sparkling lakes count amongst the country's most popular attractions and are the highlight of many people's visit.
10. Germany
© Dreamstime
Home to fairytale castles, medieval old towns, and lots of romantic landscapes, Germany is an absolutely magical place to visit. The largest and most populous nation in Central Europe, it has a surprising number of different sides to it.
While the north boasts the beautiful Baltic Sea and the Hanseatic League city of Hamburg, the affluent south has the Black Forest, Munich, and Oktoberfest. In the west, the rustic Rhine River valley awaits, while in the east, Berlin's great museums and famous nightlife need to be experienced.
With a wide array of historical sights and cultural landmarks on show, as well as lots of delicious cuisines to sample, Germany has something for everyone to enjoy.
9. Russia
© Dreamstime
The largest country in the world, Russia and its many riches could take a lifetime to explore. Stretching from the Baltic Sea in the west to the Pacific Ocean in the east, everything about it is epic in size and scale.
Replete with enormous cathedrals and fortresses, art-filled museums, and astonishing architecture, visiting the world-class cities of Moscow and Saint Petersburg is a must. Home to the Kremlin and Hermitage, they also boast some of the best ballets, circuses, and operas on Earth.
While their dazzling treasures are alluring, venturing further afield to Lake Baikal, the Caucasus, and Kamchatka is equally rewarding. With fantastic cities such as Yekaterinburg and Irkutsk found along the Trans-Siberian Railway, Russia's vast and varied landscapes beckon you on.
8. United Kingdom
© Dreamstime
As it is made up of England, Northern Ireland, Scotland, and Wales, it's fair to say that each part of the United Kingdom has something new and different to offer.
Full of charming countryside, the British Isles are dotted with lots of quaint villages, centuries-old castles, and vibrant cities. Of these, London is a must-visit for its impressive historical sights, amazing museums, and fantastic dining and nightlife scenes. Edinburgh, too is worth visiting, as are Oxford and the northern cities of Manchester and Liverpool.
Having had such an impact on the world through its culture, music, and sport, the UK has a wealth of attractions for you to delve into. Whether it's Buckingham Palace, Harry Potter, or the Premier League, it all depends on your interests and where you want to begin.
7. Austria
© Dreamstime
Home to some of the most heartachingly beautiful scenery on the planet, Austria's many mountains, valleys, and lakes need to be seen to be believed. Set in Central Europe, the landlocked country is defined by the majestic Alps, with arresting views and landscapes wherever you go.
Tucked away among its alpine valleys and along glimmering lakeshores, you can find cute and charming villages and towns. Awash with incredible historical sights, grand buildings, and a lively arts and culture scene, the nation's capital Vienna is one of Europe's most elegant and refined cities.
While many people head to Austria in winter to go skiing and snowboarding, it is just as worthwhile visiting in summer. This is because its many lakes and mountains sparkle in the sun, with lots of excellent hiking and swimming to be had amid the marvelous scenery.
6. France
© Dreamstime
A sophisticated and culturally rich country renowned for its cuisine, France is one of the most popular places to visit in the world.
A delight to explore, its fantastic landscapes include such stunning sights as the Loire Valley, French Riviera, and the awe-inspiring Alps. Tucked away among its picturesque countryside, you can find everything from Disneyland and Versailles to regal chateaux, quaint villages, and verdant winelands.
While Lyon, Marseille, and Strasbourg all have their charms, the undoubted star of the show is Paris. Boasting world-famous sights like the Eiffel Tower, Louvre, and Notre Dame Cathedral, France's capital is an artistic and architectural gem that, for many, is without equal.
5. Switzerland
© Dreamstime
Although it is renowned for its magical mountains, which include the mighty 4,478-meter-high Matterhorn, landlocked Switzerland has much more to offer.
One of the most culturally and linguistically diverse nations in Europe, it actually has four national languages. Consequently, exploring its different regions really is a treat; places such as Bern, Geneva, and Zurich all proudly showcase their unique history and heritage.
Interspersed amongst the stupendous Swiss Alps are over 1,500 lakes, such as those of Lake Geneva and Lake Lucerne. With so much gorgeous scenery on show, Switzerland is a great place to head if you want to go hiking, skiing, mountaineering, or swimming.
4. Spain
© Dreamstime
From the Pyrenees to the Sierra Nevada, the Bay of Biscay to the Mediterranean, Spain is truly blessed when it comes to gorgeous scenery. With the Canary Islands and the Balearic Islands also on offer, it's no wonder that it is such a popular place to visit.
While the two main cities of Barcelona and Madrid are full of incredible sights, such as La Sagrada Familia and the Prado Museum, it is well worth venturing further afield. Sevilla and Granada, for instance, sport some exquisite Moorish architecture, while Roman ruins dot the peninsula.
Famed for its wines and rich culinary heritage, great bars and restaurants greet you wherever you go. With warm and welcoming weather, Spain certainly is a fantastic holiday destination.
3. Norway
© Dreamstime
Famed for the fabulous fjords that scar its long and jagged coastline, Norway is widely considered to be one of the most beautiful countries in the world. Throw in the spectacular Northern Lights, its many majestic mountains, and icy glaciers, and it is easy to see why.
Its myriad of gorgeous landscapes lend themselves perfectly to all kinds of adventure sports, with hiking, mountain biking, and white-water rafting being particularly popular summertime activities. In winter, its snowy panoramas make for perfect dog-sledding, skiing, and snowboarding conditions.
While its natural wonders and wildlife are what entice most visitors, Norway's vibrant cities serve up a unique brand of Scandinavian cool. Full of trendy bars, exquisite restaurants, and sleek modern architecture, Bergen and Oslo are well worth stopping by on the way to the great outdoors.
2. Italy
© Dreamstime
Home to not only Rome, Florence, and Venice, but a staggering array of equally alluring smaller towns and cities, Italy really is like nowhere else on Earth.
Replete with stunning art and architecture, ancient historical sights, and cultural landmarks, its many riches and treasures veritably sparkle before your eyes. Add in fabulous weather and a divine culinary scene, and it can be hard to ever tear yourself away.
Just as special and spectacular is Italy's marvelous scenery with the Alps, Italian lake district, and Italian Riviera counting amongst its must-see sights. The perfect package of history, culture, nature, and cuisine, Italy has much more to offer than just the Colosseum and Pompeii.
1. Greece
© Dreamstime
Although Greece boasts over 13,500 kilometers of idyllic coastline, this ancient land is much more than just a beach holiday destination.
Indeed, for many, Western Civilization was born in Greece, so while traveling around, you'll come across lots of astounding archaeological sites that date back millennia. From Delphi and Olympia to Knossos and the Parthenon, the country is littered with impressive historical attractions, with many of them found in Athens.
Having said this, the lovely laidback islands of Crete, Mykonos, Rhodes, and Santorini really need to be seen to be believed, such is their beauty and charm. Blessed with a fantastic climate, their wonderful beaches border the sparkling Aegean Sea. Coupled with its age-old history and culture, Greece's sun, sea, and scenery make it one of the best places to visit in Europe.
What Is the Best Way to Travel Around Europe?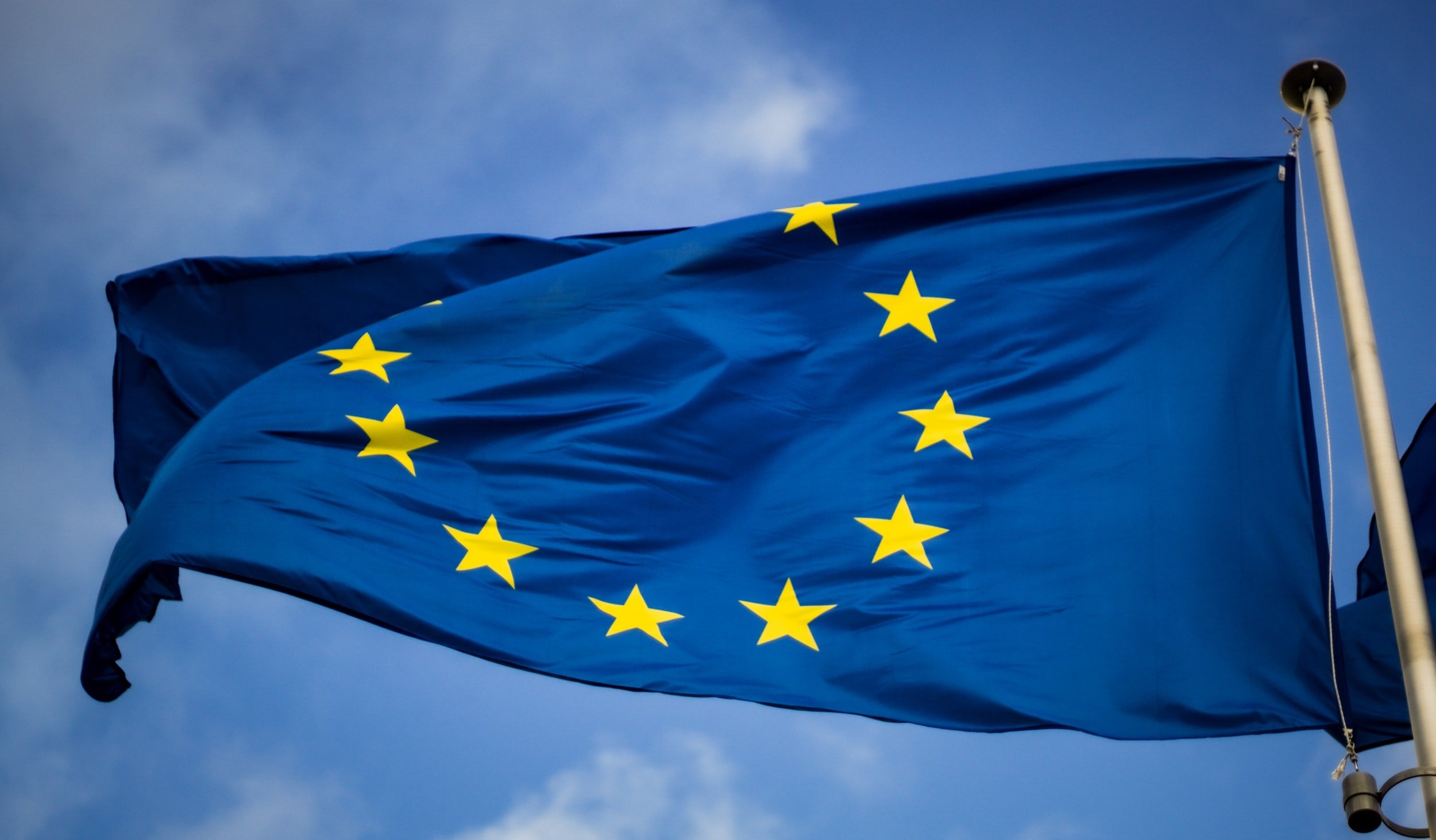 Foreigners often hear that taking trains between countries is the best way to get around Europe. There's no better way to get from France to Greece than train, right? Is that true?
Europe is one of the most frequently visited continents on the planet. Visitors come from all over the world to visit the countries that have had the biggest role to play in developing modern western society over the past millennium. Arguably, there is no continent with more tourist appeal on the entire planet. Travelers could spend an entire lifetime exploring all of the countries in Europe and still have more to see.
Often when people head to Europe for the first time, they plan to visit multiple countries. If they are coming from Asia or the Americas, after all, it takes at least 8 hours to get there – might as well explore as much as possible! In the United States, I have often heard people mention that the train is the best way to get around Europe. Is this true? This post is for those people who want to plan a trip to multiple European countries who may find themselves asking "what is the best way to travel around Europe?"
What Is the Best Way to Travel Around Europe?
There are a lot of ways to travel. We live in a time where the world is more connected than ever, and likewise, going on a multi-country trip to Europe is more feasible than ever. Between airplanes, trains, buses, and cars, you can get all over the European continent with ease. One thing that I think people fail to realize, though, is just how big Europe is. The European Union itself is roughly the same size as the continental United States! This means that the idea of "taking a train all around Europe" is not very practical, depending on where you want to go. Could you imagine taking a train from Los Angeles to New York? It is about the same distance from Lisbon, Portugal, to Warsaw, Poland!
Are Trains the Best Way to Travel Around Europe?
As I just described, no. Not at all, actually. Trains are not the best way to travel around Europe. This notion is highly outdated, especially with the development of budget airlines! Train travel used to be much more relevant, as there simply wasn't much of a better option. Nowadays, though, trains are definitely not the best option for long-distance traveling.
This is not to say that you shouldn't take trains while you are in Europe – it just depends where you are trying to go. Trains are a fantastic way to travel shorter distances. If you want to travel from Belgium to France, for example, trains may be a fantastic option. They are more spacious than buses, and offer you the chance to stretch out and walk around during the trip. Additionally, some countries' train systems are remarkable and are especially great for domestic travel. Italy is a great example of this. Italy's train network is extremely well connected, and you can get between many of Italy's cities faster by train than any other means of travel – even airplane. I wrote an entire post on Italy's train system.
I would not recommend trains for longer distance traveling, though. Taking a train from Denmark to Austria, for example, would take an entire day or more. You could easily cover this distance in the air in just a couple of hours, and the prices are often even cheaper through the air than they are on a train!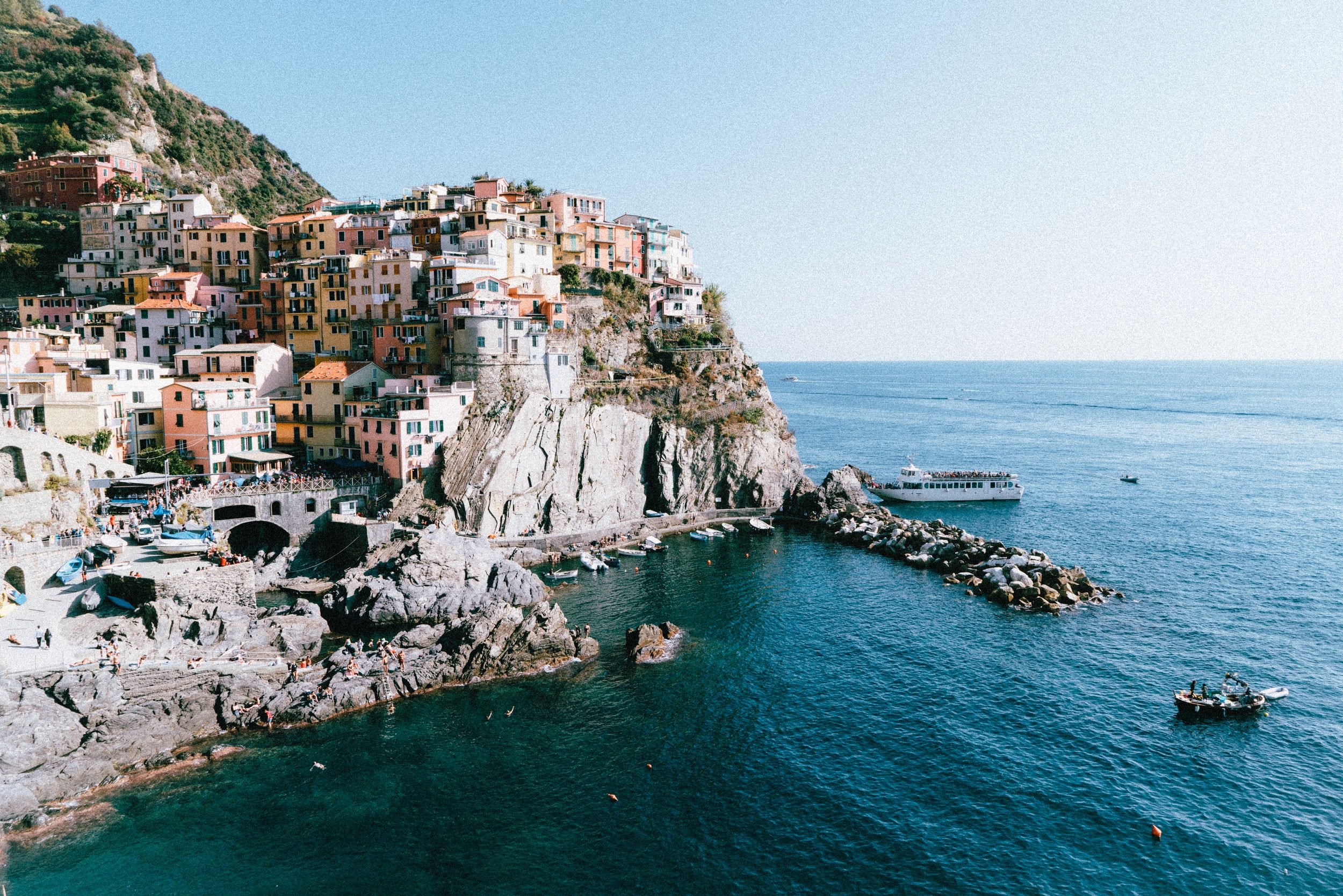 Is Flying the Best Way to Travel Around Europe?
Thanks to the development of budget airlines, I would be inclined to say that flying is most often the best way to get around Europe. Airlines like Wizz Air, Ryanair, and EasyJet have made flying all around Europe extremely fast, convenient, and affordable. Often you can fly from one country to another for as little as $15! These airlines come with no frills, meaning that if you have a ton of luggage you may wind up paying significantly more in fees along the way. However, if you are a light traveler, flying is actually the most affordable way to get around Europe.
So, How Should I Get Around Europe?
Generally, my rule of thumb regarding traveling in Europe is pretty simple. I look at the distance on a map and determine how far the trip would be by car or bus. If it is more than 5 hours, I usually fly. This is because traveling to an airport, getting through security, boarding and flying to any destination in Europe should take you no more than 5 or 6 hours, regardless of where you are going. If the drive is longer than 5 hours, you could get there just as quickly by plane and have more room to walk around and stretch out in the process.
If the drive is less than 5 hours, I recommend looking into buses and trains. Flying is fast and cheap, but taking a bus or a train reduces the headache of going through security and navigating an airport. Additionally, buses and trains tend to drop you off downtown in your destination, while a flight requires you to land and then figure out transportation into the city.
At the end of the day, there is no singular best way to get around Europe. In fact, most trips will require that you use a combination of all of the methods listed above. Perhaps you want to get from Amsterdam to Budapest, but there is no affordable flight along this route. What I would recommend doing in this instance is flying from Amsterdam to Vienna and then taking a bus from Vienna to Budapest to complete your trip. You arrive in a fraction of the time that a bus or train all the way from Spain would have taken, and you probably save money in the process.
Final Thoughts on the Best Way to Get Around Europe
If you learn anything from this post, make it this: there is no one best way to travel around Europe. The best way to travel around Europe depends on your start and end points, your amount of luggage, and your budget. Trains are often more expensive than flying and almost always take more time. Europe is a huge continent, and just as you would never dream of taking a train from one side of the United States to the other, I'd advise not to do that in Europe either.
Think about your start and end points, look at where they fall on a map, and be open to using multiple means of transportation to cover one route. I've used trains, buses, and planes all on the same trip to get from one city to another when it is the fastest and most cost-effective way to get around. Using a combination of these three methods can get rid of layovers and long train rides, delivering you to your final destination quickly and affordably. Also, don't just listen to your parents or grandparents when they tell you that taking a train across Europe is the best option – it isn't. It was at the beginning of the century, but budget airlines usually cost less than trains and get you where you want to go much more quickly.
Hopefully this post answered any questions you have about how to travel around Europe. Don't listen to your parents or grandparents when they say that trains are the best way to get around Europe – that was the case in the early 2000's, but it is not the case at all now – even if you are on a budget. If you have any questions about traveling between European countries, let us know by dropping a comment below! Otherwise, thanks for reading and have a wonderful day.
Until next time, stay present!
If you enjoyed this post, you'll definitely want to check out these three:
Source https://www.planetware.com/europe/best-countries-to-visit-in-europe-d-1-19.htm
Source https://www.touropia.com/best-countries-to-visit-in-europe/
Source https://www.thepresentperspective.com/travel-blog/europe-travel