Best Womens Jackets for Travel in Europe
In my quest to find the best women's jacket for travel, I've purchased a few! So I know how to find the best solution to keeping warm and dry while traveling in Europe.
Those of you living on the Pacific west coast may be ready for the climate here, but living in CO, TX and FL meant my wardrobe just didn't cut it. No matter what I wore, it never seemed to be warm enough or keep out the wind and rain.
I was constantly on the lookout for the killer coat. The one coat that would keep me warm and dry and of course look good with everything else in my closet. Tall order!
When packing we'd like to make sure ONE coat will do exactly that. Keep you warm, dry and feeling stylish!
The Secret to Being Comfortable is Layers.
Although it's not super cold here, it can feel downright chilly when it's wet and windy.
The temperatures in England and other coastal areas like France, Italy and Spain are relatively mild. Mid to upper 40s maybe even tipping low 50s during the day and then in high 30s to low 40s at night. That's typical winter, spring and late fall weather.
If you heard about the recent spring storms Ciara and Dennis, you'll know the UK can get severe rainy weather. But the norm is gentle or persistent light rain mixed with dry periods and even some sunshine!
Water Resistant or Water Proof?
To keep dry, you'll want a jacket to be water resistant if not water proof.
I've found that unless a jacket is rubberized or coated it isn't considered water-proof. Water resistant will work well for most of your travels; unless you'll be hiking a lot. In that case look for water repellent or water proof.
The downside to true water proof jackets like rain slickers, is they don't breathe very well and you could feel like you're having a full on hot flash if you hike in one. The ideal coat should be in a fabric that breathes when it gets wet and dries out easily.
Me in my Eddie Bauer jacket braving the chill at Stonehenge! Notice the hoody layer
My Favorite Womens Jacket
I found my favorite jacket; this Eddie Bauer thigh length quilted coat in deep olive green. Unfortunately it's been discontinued!
A quilted jacket is very versatile and can make you look as if you just stepped off the estate and are ready to get into your Range Rover! But be sure the one you pack is practical too. Water resistance and wind resistant is essential.
Neutral colors are ideal. I happen to love olive green because I pack blue and green a lot. But pick your favorite palette (see below) and go with it. What will work with your jeans, chinos, joggers or a knee length skirt?
Best Women's Jacket for Travel in Europe
1. Traveling to the north of Scotland or hiking?
The further north you go in the UK, the more warmth and water resistance you'll appreciate.
A jacket with a lining or room to layer a sweater for added warmth is ideal.
I prefer a longer jacket that covers my hips for maximum coverage but still allows me to walk easily.
Any of these jackets should keep you dry and toasty even into the winter!
2. Spending most of your time near London or in a car or train?
If you're not climbing hills, one of these stylish jackets will take you everywhere from city to country.
Layer scarves, down vests (or gilets as they're called here) for added protection against chilly winds.
The classic quilted jacket is perfect for those chilly spring or fall days
3. Visiting France, Italy or Spain?
Temperatures will be several degrees warmer at this latitude. You'll still need to be prepared for showers and the occasional chilly spell, but you can probably get away with a lighter jacket like one of these.
Both trench coat styles will be smart enough to wear in Paris or any major city yet keep you warm and dry
The lighter Barbour jacket is a more casual look and light layer, strictly for lower latitudes on cool days
Packing Tip: Pack two or three main colors.
What's your favorite color palette? Pink, cream and gray? Blue, gray and white? Pick a coat in one of these colors.
10 Safest Cities In Europe For Solo Female Travelers (2022)
When traveling Europe as a solo female, it's important to know which destinations are safe. We've gathered the safest cities in Europe for solo female travelers!
The mainstream media plays a big part in convincing people (especially parents) that traveling as a solo female is automatically dangerous, lonely or generally a potentially bad idea, but this negative stereotyping couldn't be further from the truth.
I've traveled all over the world as a solo female and can vouch for all the beautiful destinations where I never once felt out of place or in danger. While I always recommend staying aware of your surroundings and not walking around alone at night in questionable neighborhoods, traveling alone builds confidence, personality and I'm grateful to say it has gifted me with countless treasured friends made on the road.
If you're thinking about planning a trip, don't hold yourself back — just go! To give you some inspiration, here are a few of my favorite cities in Europe — perfect for women traveling alone!
Table of Contents
Solo Travel In Europe: The Safest European Cities For Solo Female Travelers
Dublin, Ireland
The Irish capital is an incredibly fun place to visit thanks to the Irish's famous hospitality and amicable nature. The men (and women) have a contagious zest for life and you can easily get swept along and enjoy yourself in the company of friendly locals.
Try staying in a hostel to meet some travel buddies. The best hostels will be around the center, close to where the action is, so it'll never be a long walk home unaccompanied at night. Dublin is great for variety too — it's not all just pubs and cobbled streets! Just a short distance from the city are incredible sights like the Giant's Causeway and the Cliffs of Moher, both a must-see.
Rome, Italy
Whether you're going to visit for the world-class food, or to marvel at the gorgeous sights, Rome is a city filled with travelers, locals and students alike. With such a mix of people, you can easily forget you're traveling alone.
There are hostels around every corner, but if you're looking to stay in luxury, then stay in the garden-filled Via Veneto District. Common sense applies here just like in every city, so look out for pickpockets, especially on public transport and in busy tourist spots like the Colosseum.
Paris, France
Now we all know Paris's reputation as a romantic couple's destination, but let's be honest, there's more to it than that! The iconic city is full of beauty, charm and historical intrigue. The Eiffel Tower, Arc de Triomphe and Champs-Élysées are all within walking distance of each other and the Metro is perfectly safe during daylight and early evening.
For a real feel of Paris, stay in the beautiful Montmartre District, filled with Parisian delights around every corner — and walk into the center each day for sightseeing.
Dubrovnik, Croatia
Dubrovnik has adopted the best elements of Croatia's laidback Mediterranean vibe which makes it an amazing place to travel on your own as a female. Also known as the "Pearl of the Adriatic", this city is a popular tourist destination where you can spend hours wandering stone streets, enjoying world class seafood or people watching in outdoor cafes.
Staying in the center and visiting casual restaurants is a great way to meet people or, if you'd rather go it alone, there's an abundance of historical landmarks and museums around town that will keep you entertained.
Berlin, Germany
A city full of artists and history in equal measure, Berlin is an electrifying trip that will leave you inspired and wanting to come back for more. The socially progressive attitude that's been around for decades means that there are a lot of locals and solo travelers in Berlin.
The city is spread out, so it doesn't feel crowded and going on a walking art or museum tour will give you the chance to get to know some new people and give you a feel for the popular areas like Mitte, Tiergarten or Kreuzberg.
Bruges, Belgium
The impossibly charming city of Bruges is small enough to walk absolutely everywhere, giving you the chance to get to know the gorgeous canals, towers and gardens it's famous for. If you're looking to relax, then it's the perfect destination for a solo traveler as the pace of life is slow and there's not a lot of action after dark. Enjoy Belgian chocolate and beer and wander the cobbled streets to your heart's content in this quiet Belgian gem.
Vienna, Austria
Filled with breathtaking architecture, coffee taverns and one of the best historic centers in Europe, Vienna is surprisingly easy to navigate considering how much there is packed into it. Between Baroque castles and Imperial palaces there's no shortage of sights to see that will also be filled with fellow travelers if you're after some company.
Bergen, Norway
This beautiful waterfront city is built at the foot of some of Norway's most spectacular mountains and is right on the edge of the water, making you feel like you're really in the heart of Scandinavia.
As one of the most developed countries in the world, Norway is one of the best places for solo female travel — and the pastel colored fishing town of Bergen is well-removed from any big city potential dangers. The biggest threat is to your budget — it's a notoriously expensive country!
Reykjavik, Iceland
Abundant in natural beauty in every direction and officially the safest country in the world (and one of the safest countries for women to travel) Iceland is a strong contender for one of the best solo female travel destinations. Staying in Reykjavik will give you the chance to experience Icelandic life in the city and see some incredible sights like the Hallgrímskirkja Church.
You'll find waterfalls, icy-blue fjords and black sand beaches on popular routes like the Ring Road — and if you want some travel buddies for the trip, the sociable hostels around Reykjavik are the perfect places to find fellow adventurers.
London, England
Traveling as a solo female in London really couldn't be easier. The polite and accommodating nature of many local people combined with the breakneck pace of ever-evolving and multinational culture means you'll feel welcome while always having something to do.
To see why London is championed as a foodie capital, lose yourself in the markets of Shoreditch, Brick Lane or Camden Town — or for theatre and nightlife, try the buzzing West End. Walking around London can be tricky thanks to its sprawling layout, so ask around if you're unsure about public transport routes and know how to get back to your place to avoid paying a hefty taxi fare.
What To Wear In Europe Winter For Women
Are you planning to go on a trip to Europe this winter season but don't have the right stylish outfits but yet practical travel clothes? The first time I've ever visited Europe was in 2006 during winter season. During this time, I did not want to dress like a typical tourist. I made sure, I wore some of my stylish but yet practical and warm jackets, tops and pants. I had to learn how to layer my clothes as it made me warm throughout my holiday. It did not hinder my travels at all and in fact I felt like I was treated better every time I visited any shops and dining in different restaurants around Europe. In this article, I will discuss the importance of wearing stylish and practical outfits while touring around Europe. This is because most European cities are quite chic and well known as a fashion capital. Here, you'll find one of the best selections of travel clothes for Europe including jackets, coats, long sleeve tops, pants, shoes and boots.
Jackets and Coats
I must emphasize that wearing a stylish warm jacket that provides insulation to your body is a must. Because there is no doubt you will be wearing a jacket almost every day in the winter season in Europe. The winter climate in Europe is very cold, icy and it snows almost all the time. Not only it gets very cold but it also rains at times. Therefore, try to wear waterproof and insulated jacket but fashionable in style at the same time.
Alternatively, you could take two or three different types of winter jackets for Europe. Here are some of the breathable and waterproof jackets that are suitable for Europe's winter season.
1. Columbia Carson Pass Jacket
Columbia Carson jacket is available in grey, purple sage and black. It is breathable and waterproof allowing you to walk around with warmth and not feeling too sweaty at the same time. It's a belted jacket with thermal lining and a removal faux fur hood. With this style you can always remove the faux fur hood when the weather is sunny but cold and just place it in your bag when you don't need it.
2. Woolen Coat with Belt Military Trench Coat For Women
This coat is available in black, beige, red, brown and grey. It's also quite stylish and very warm, which is suitable for winter in Europe. You can definitely wear this in day and night with matching jeans or pants and boots. You can definitely pull off looking very stylish with this coat, while being a complete tourist in Europe. Click here for more information and reviews about this coat.
3. CHAREX Women Wool Blends Coat Trench Hooded Coat Long Jacket
This woolen coat is available in beige, black, red, rose and grey. A very stylish coat with black buttons in front that emphasizes its trench design. This coat is quite similar to the one above this. Click here for more information.
4. Kenneth Cole Melton New York Coat
Kenneth Cole Melton New York Coat will keep you very warm in Europe. It features a double breasted button closure, belted coat and two front pockets (allowing you to slip your hands inside for extra warmth). Click here for more information, review and the best price with free shipping.
13 Types of Coats
Below is a list of 13 Types of Coats suitable for Fall, Winter and Spring in Europe and anywhere in the world. These coats / jackets are super warm, comfortable, chic and stylish that allows you to wear in comfort as well as it can easily be mixed and matched with your fashion style. Click the photo below to see more coats / jackets that you could take before going on a holiday this winter.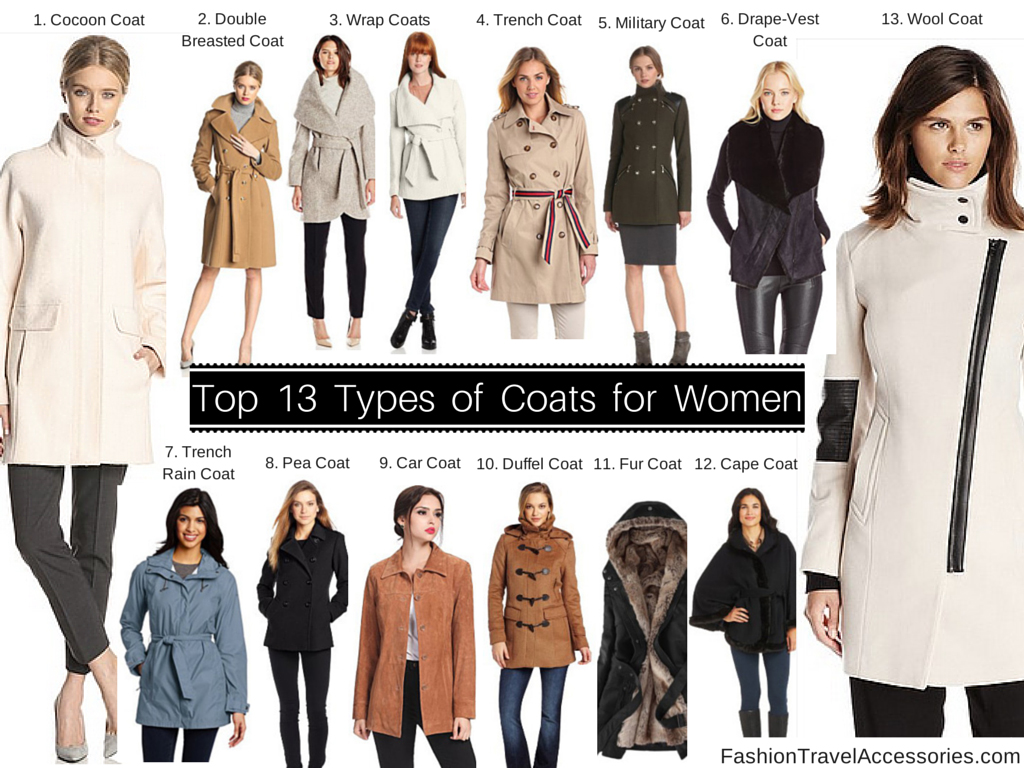 Long Sleeve Tops
Wearing all kinds of long sleeve tops under your jacket or coat can add warmth to your body. Not only does it make you feel even warmer but it also feels smoother from the inside. Wearing a fashionable long sleeve top is a must, as when you're inside restaurants, shopping malls, shops and museums it can get too hot especially if it's insulated inside and therefore you might need to take your jacket off. Just because your long sleeve top is hidden most of the time but you can still wear a stylish top, as you never know when you need to take your jacket off while exploring. Below is a list of long sleeve tops that you can wear while touring around Europe. All long sleeve tops are available in a variety of colours.
Click each number with a link below to find out more information
Jeans & Leggings
I personally think that jeans and leggings are the best pants to wear during winter time in Europe. It feels warmer as it sticks to your skin. I highly recommend to wear your leggings under your jeans so you won't be able to feel that cold air through your jeans. I also highly suggest to wear thermal leggings and then tight skinny jeans over it and therefore you can also wear any knee high boots over any jeans. Below is a list of jeans and leggings that are of high quality and suitable for winter time in Europe. You can easily match these jeans with any long sleeve tops, jackets and boots to go with it.
Click each number with a link below to find out more information
Boots
If you are travelling in Europe in the winter season I highly recommend you bring at least two different kinds of boots. One pair of flat boots made for walking around the city should be stylish but yet very comfortable, suitable for rain, snow and slippery surface. If you pack at least two pairs of durable, waterproof and non-slippery pair of boots you will be good to go in any kind of situations (e.g: walking in the snow, walking around the city all day long while sightseeing, and dressing it up and matching it with your daily outfits). Another pair of boots should also be stylish with heels but yet very practical, waterproof and non-slipper as you could wear them if you go out at night for dinner and if you want you could also wear them during day time while having lunch in a nice restaurant. And you could also wear your high heel boots for a little walk around the area where you stay. All of which will certainly make you look like a local without any issues blending in. When I was in Europe in 2011, I managed to bring 3 pairs of boots. I brought two flat boots and one high heel pair of boots, all of which were suitable for walking in European winter and that also enabled me to walk in snow and rainy days without tripping over. Below are one of the best selected boots suitable for European winter weather – perfect for walking all day long for long periods of hours even in wet and slippery surface, in snow and in rainy days and fortunately they are waterproof.
Click each number with a link below to find out more information
Here are some more different types of Travel Boots to choose from that may suit your style. These boots are made of rubber outsole for strong traction and thus preventing you from slipping in slippery surface and even in those cobblestone streets. The insole are majority made with extra cushions for extra warmth and support and thus prevents you from hurting your heel and feet. These are comfortable, fashionable and stylish and most of all they are also suitable for walking and standing for long periods of hours. Click the photo below to find out more information.
Winter Gloves, Scarves and Hats
As mentioned above, the climate in Europe during winter is unbearable as it's very cold, icy and sometimes it's windy and therefore you definitely need to take different kinds of gloves, scarves and hats to suit your style. I highly suggest to take a very warm scarf, gloves and hats so your hands, neck and head don't freeze. Wearing these will also prevent you from getting sick while on a vacation and touring around Europe. Below is a list of various hats, gloves and scarves that are appropriate to cold weather in Europe and these are the stylish ones with good quality that should go well with any outfits. They're not only fashionable but very practical that will keep your body temperature warm while walking around the city anytime of the day. Please note these gloves, hats and scarves are also available in a variety of colours to choose from. Links are written below.
Click each number with a link below to find out more information.
I hope you enjoyed reading my tips on What to Wear in Europe Winter For Women. If you would like to ask any questions please do not hesitate to leave a comment below or alternatively you could follow my blog for more guide and tips and you could also follow me on facebook, instagram, pinterest and twitter. Also, please share this post with your friends who are in need of various tips on facebook, pinterest and twitter. Thank you for reading and I look forward to hearing from you very soon.
Read More On International Packing Lists: What To Wear Outfits
What To Wear In Europe In Summer: Packing Lists For Europe In Summer
Are you planning for your first European Summer Trip and don't know what to pack and wear? Find out on What to Wear In Europe In Summer: Packing Lists For Europe for the best comfortable and fashionable outfits.
What To Wear In Europe In Autumn: Packing Lists For Europe In Autumn
Are you planning for your first European Autumn Trip and don't know what to pack and wear? Find out on What to Wear In Europe In Autumn: Packing Lists For Autumn for the best comfortable and fashionable outfits.
What To Wear In Europe In Spring: Packing Lists For Europe In Spring
Are you planning for your first European Spring Trip and don't know what to pack and wear? Find out on What to Wear In Europe In Spring: Packing Lists For Spring for the best comfortable and fashionable outfits.
Join Us On
Amazon Associates Disclosure: FashionTravelAccessories.com is a participant in the Amazon Services LLC Associates Program, an affiliate advertising program designed to provide a means for sites to earn advertising fees by advertising and linking FashionTravelAccessories.com to Amazon properties including, but not limited to, Amazon, endless.com, myhabit, smallparts.com, or amazonwireless.com.
Amazon Associate Disclosure: FashionTravelAccessories.com is a participant in the Amazon Services LLC Associates Program, an affiliate advertising program designed to provide a means for sites to earn advertising fees by advertising and linking FashionTravelAccessories.com to Amazon properties including, but not limited to, amazon.com, endless.com, myhabit.com, smallparts.com, or amazonwireless.com.
Source https://www.hipoverfifty.com/best-womens-jackets-for-travel-in-europe/
Source https://ordinarytraveler.com/europe-cities-solo-female-travelers
Source https://fashiontravelaccessories.com/what-to-wear-in-europe-winter/