What Covid tests do I still need to travel abroad?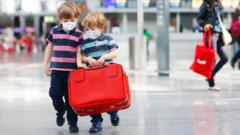 What changes have come into force for vaccinated travellers?
Fully vaccinated travellers (two doses) and under-18s no longer need to take a test either before or after they arrive in England, Scotland, Wales or Northern Ireland.
To qualify as vaccinated, non-UK travellers must have received their jabs in a country or territory with "approved proof of vaccination". This now covers most countries in the world, with more – including China – due to join on 11 February.
What if I'm unvaccinated?
Unvaccinated travellers still have to show proof of a negative Covid test taken two days before departure.
They must also take a post-arrival PCR test two days after arrival. This must be booked before travelling to the UK and bought privately from a government-approved list of providers.
If this is positive, they need to self-isolate.
However, unvaccinated travellers no longer have to self-isolate on arrival, or take a test on day eight.
What other rules are still in force?
All unvaccinated travellers to the UK must complete a passenger locator form before departure.
How do I prove vaccinations and test results at the UK border?
Digital Covid passes showing your vaccination status can be downloaded to your phone, whether you're in England, Scotland, Wales or Northern Ireland.
Test results can be in the form of a printed document, or an email or text on your phone. They must be in English, French or Spanish.
European Union residents can use the EU Digital Covid Certificate to show their vaccination status or test results.
Since 3 February, 12 to 15-year-olds in England have also been able to prove their vaccination status via the digital NHS pass.
What about other countries' rules?
You are responsible for checking the entry requirements for any other countries you wish to visit, as well as the local Covid restrictions which are in force. These can change quickly.
Many UK families have cancelled half-term trips to mainland Spain and the Canary Islands because children over 12 must be double vaccinated to enter.
Very few countries allow unrestricted access to those who have not been vaccinated.
It is thought more than 80 holiday destinations around the world still require all UK travellers to take a pre-departure PCR test before arrival.
UK-issued Covid passes can be used throughout the EU to show proof of vaccination – either digitally, or as a printed download (as long as it is dated after than 1 November 2021).
Measles Cases and Outbreaks
*Jurisdictions refer to any of the 50 states, New York City, and the District of Columbia.
Measles cases in 2019
From January 1 to December 31, 2019, 1,274* individual cases of measles were confirmed in 31 states.
This is the greatest number of cases reported in the U.S. since 1992. The majority of cases were among people who were not vaccinated against measles. Measles is more likely to spread and cause outbreaks in U.S. communities where groups of people are unvaccinated.
For more information please see the following reports:

MMWR. May 3, 2019 MMWR. October 11, 2019
Did you know that measles can be found around the world?
Number of measles cases reported by year
2010-2022* (as of November 17, 2022)
*Case count is preliminary and subject to change.
Measles outbreaks
In a given year, more measles cases can occur for any of the following reasons:
an increase in the number of travelers who get measles abroad and bring it into the U.S., and/or
further spread of measles in U.S. communities with pockets of unvaccinated people.
For specific information on measles cases in recent years please see the following reports:

MMWR. May 17, 2019
MMWR. May 17, 2019

MMWR. May 26, 2017
MMWR. September 30, 2016

MMWR. April 17, 2015
MMWR. Feb 20, 2015

MMWR. Sep 12, 2014
MMWR. Sep 12, 2014
MMWR May 29, 2014
MMWR. Apr 25, 2014

MMWR. Sep 13, 2013
MMWR. Vol 62, No 36;752-3 09/13/2013
MMWR. Vol 62, No 36;753
To receive email updates about this page, enter your email address:
Exit Notification / Disclaimer Policy
The Centers for Disease Control and Prevention (CDC) cannot attest to the accuracy of a non-federal website.
Linking to a non-federal website does not constitute an endorsement by CDC or any of its employees of the sponsors or the information and products presented on the website.
You will be subject to the destination website's privacy policy when you follow the link.
CDC is not responsible for Section 508 compliance (accessibility) on other federal or private website.
CDC.gov Privacy Settings
We take your privacy seriously. You can review and change the way we collect information below.
These cookies allow us to count visits and traffic sources so we can measure and improve the performance of our site. They help us to know which pages are the most and least popular and see how visitors move around the site. All information these cookies collect is aggregated and therefore anonymous. If you do not allow these cookies we will not know when you have visited our site, and will not be able to monitor its performance.
Cookies used to make website functionality more relevant to you. These cookies perform functions like remembering presentation options or choices and, in some cases, delivery of web content that based on self-identified area of interests.
Cookies used to track the effectiveness of CDC public health campaigns through clickthrough data.
Cookies used to enable you to share pages and content that you find interesting on CDC.gov through third party social networking and other websites. These cookies may also be used for advertising purposes by these third parties.
Confirmed!
Thank you for taking the time to confirm your preferences. If you need to go back and make any changes, you can always do so by going to our Privacy Policy page.
Source https://www.bbc.co.uk/news/explainers-52544307
Source https://www.cdc.gov/measles/cases-outbreaks.html
Source