Best Travel Insurance for an African Safari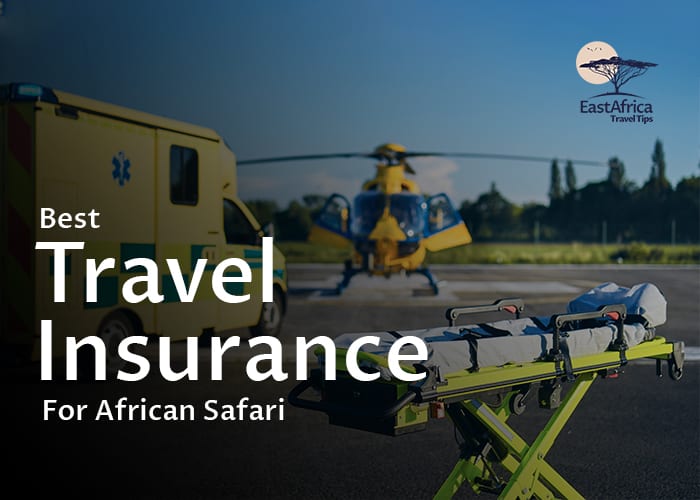 From car accidents in the crazy African roads to our safari van getting toppled over by an elephant, going on safari can be dangerous and that is why you need insurance.
The Best Travel Insurance for an African Safari is the Travel Insurance package offered by World Nomads. It covers emergency medical insurance and emergency evacuation. It also covers over 200 Adventure activities including bushwalking and safari tours.
I would like to begin by giving a disclaimer that I am not an insurance professional I'm just a traveler. Ensure that you read your policy documents carefully before signing and consult a professional if need be.
Best insurance plan for an African Safari
I spent several hours in forums and found that you need to have two Travel Insurance covers when coming to Africa. These are:
your Regular Travel Insurance that you get before leaving for the trip
Emergency Evacuation by a Local provider
Regular Travel insurance
The first is your regular travel insurance that covers all the risks of going on safari with emergency Medical and Medical evacuation being the most critical.
I spent some time looking through different travel forums looking for recommendations on the best travel insurance company for African safaris.
Based on this research, I found that the best travel insurance provider is World Nomads. They provide travel insurance cover that takes care of the entire gamut of needs when going on an African Safari.
More specifically, they cover:
Emergency Medical Cover by Local Provider
The second is extra emergency evacuation cover offered by AMREF Flying Doctors. They are located in Nairobi and offer rapid emergency air evacuation from remote places in Africa using their air ambulances. I have been to the AMREF Facilities at Wilson Airport and can confirm that they are legit. (They are not paying me to say this, I just think they are awesome and do great work.). Amref is a non-profit organisation that provides remote medical assistance to people in eastern central Africa and most of their profits are channels to this since they do it for free or close to nothing.
The reason I recommend the extra AMREF Flying Doctors cover is that, unlike your regular travel insurance cover, they will respond faster to an emergency call and dispatch airplane within minutes. I don't have the actual data for how long travel insurance companies take to dispatch help but the lag time involved in calling back home for them to authorize their agents to send a plane is longer than that of a local company like Amref. In addition to this, the valuable time that may be lost in trying to coordinate with your travel insurance back home may be devastatingly crucial and so I think this coverage worth it. Check out the AMREF Flying Doctors website and decide for yourself.
Difference between travel insurance and health insurance
When doing my research, I found that the travel insurance covers mostly medical emergencies like injuries and accidents so it got me thinking, can I use my regular health insurance instead of getting separate travel insurance?
After doing a bit more digging I found that travel insurance covers a whole lot more than just medical emergencies when out on safari. in addition to ensuring that you get proper medical attention in the case of any medical emergency travel insurance also covers the loss of your luggage receptions to your trip and the inconvenience cancellations or disruptions to your trip let me not be medical-related.
This means that even though you have an insurance plan for your health, you need to get specific travel insurance for African Safari.
What you can claim from an African Safari travel insurance plan(Coverage)
Medical emergencies and health complications; I found that the medical cover makes the highest proportion of the insurance cover. This is usually divided into two categories

Medical evacuations: This covers for you to be repatriated back to your
Emergency Medical treatment: The term "emergency" gives it away. You will only be covered if your treatment is an emergency and cannot wait for you to get back to your home country.

What's not covered

Injuries from Extreme sports: if you'll be participating in any extreme sports like whitewater rafting bungee jumping or skydiving, your travel insurance will not cover for any injuries that occur from these activities unless they have been explicitly mentioned in the insurance policy.
Unnecessary Medical Check-Ups: your insurance plan will not cover the cost of medical procedures that are not emergency in nature.

Features of a great African Safari Travel insurance plan

Based on what I found online the best insurance plan for travelling to the East African region for Safari needs to have the following features

1. Adequate Medical coverage

the fact that most safari destinations are located in very remote places with little to no medical facilities that would be needed in the case of a medical emergency.

This means the travel insurance plan you choose needs to have adequate emergency medical cover and a large medical evacuation cover. The figures that I found on most forum posts when doing research for this article were $100,000 for emergency medical cover and $1,000,000 for emergency medical evacuation.

2. Covering the basic risks

These include cancellation cover, passport loss, loss of baggage, etc as I listed them in what's usually covered.

3. Responsiveness to inquiries

You may need to make urgent contact with your insurance provider if something happens to you when out on your African Safari and they will need to respond promptly to your requests. They, therefore, will need to be easily contactable and able to act quickly to requests.

4. Contacts or partnership with local African Medical Facilities and Emergency infrastructure

When doing research for this article, I found that almost all the people who experienced an incident that required them to make a claim complained about having to make payments for their medical emergencies using their credit cards then claim for reimbursement after returning to their home country.

I personally think this is odd and quite inconvenient if you don't have any extra lines of credit available to tap into. This is worse if you need to be evacuated from a remote national park.

I didn't really find a fix for this other than getting a medical evacuation cover with AMREF Flying Doctors located in Nairobi. This would be on top of your normal medical cover but only costs about 35USD. If you get injured and need to be evacuated, the camps can radio AMREF and they will send an air ambulance to bring you to a hospital in Nairobi.

How to make a claim from your Safari Travel insurance provider

As I stated earlier, earlier I found a number of people complaining that when something bad happened, they had to spend their own money then get reimbursed when they got back home. this was usually a medical emergency that required urgent attention and sometimes large amounts of money. I found that the main reason for this is that most African hospitals do not accept health foreign health insurance and would require payments before undertaking procedures like surgeries.

You, therefore, need to be aware of how you should make a claim before leaving your country so to ensure that you follow the right procedures and collect all the necessary documentation to make your claim once you come back.

Below are the Procedures and documentation you need to have when making a claim for travel insurance.

You need to inform your insurer as soon as anything that requires you to make a claim happens.
In the case of a medical emergency and sure that you have all the documentation prescriptions doctor's letters and receipts from the hospital. It may also be useful to authenticate any of these documents in the hospital by getting an official stamp or company seal before you leave.
In the case of any loss of luggage or theft, you need to report the incident as soon as is possible to the police and get a letter authenticating this report.

A Final Word

As you prepare for your trip to Africa, I would like to recommend a few products that would help make your life easier.

Shoes: I recommend that you check the Keen Hiking shoes. I have written an extensive article on the best shoes for an African safari and this shoe checks all the boxes for things you should look for when choosing a shoe for Africa. (Check out the Keen Hiking Shoes on Amazon)
Camera: If you are not big on photography, I would not advise you to buy a brand new camera for your African Adventure. Good cameras can be expensive and buying a camera you will not use is not a good use of your limited budget. I advise that you rent a camera instead and Lens Rentals have a great Safari Camera Kit perfect for someone traveling to Africa. If you are thinking of getting into photography, then you can invest in a new camera but before you do, check out my pick for the best Safari Camera for a Beginner like Me
Information About Africa: I have created a YouTube channel that focuses on things about traveling to Africa that only Africans can tell you about. Check out the channel for insights about African culture and things you can do as a traveler to optimize your trip. You should also visit TripAdvisor forum posts (Here is the Kenya Forum) and ask questions about your particular situation. There are a lot of people who are happy to help you out.
Choosing a Safari Company: I have written an extensive article on how to choose a safari Company. You can. Check it out before starting the process of searching for a safari company.
Consulting Session: If you have any questions you would like to ask me about Kenya, I would invite you to contact me for a 30-minute consultation session where I will share my knowledge about East Africa and share experiences that will help you make your trip easier. Reach out to me on email – antonynjoro@gmail.com

Keep in mind that we may receive commissions when you click our links and make purchases. However, this does not impact our reviews and comparisons. We try our best to keep things fair and balanced, in order to help you make the best choice for you. As an Amazon Associate, I earn from qualifying purchases.

Hi, I'm Antony & I'm from Kenya. I love traveling around Kenya when I get off from work and this website is a great way for me to share my local knowledge and tips that will help you travel well in East Africa. Having lived in East Africa my whole life, I share my personal experiences and knowledge with the goal of helping you optimize your East African Safari and make it an unforgettable expereince.

Recent Posts

If you are planning to visit Kenya any time soon, you might have wondered if Kenya has Internet and whether WIFI is easy to find. I have lived in Kenya all my life and I would love to answer this.

If you are planning to visit Mt. Kilimanjaro like I am, you must have been doing a lot of research about your climb. During your research, you might have stumbled upon the fact that Kilimanjaro is a.

About Antony Njoroge

Hi, I'm Antony Njoroge & I enjoy traveling around my beautiful country (Kenya): especially the National Parks. I have visited Masai Mara, Lake Nakuru, Amboseli, Kilimambogo, Ngong, Nairobi National parks and nature preserves. Here is a video of my recent review of Nairobi National Park. I created this blog to help travelers find their way around beautiful Kenya and East Africa and have the adventure of a lifetime.

Having lived in East Africa my whole life, I share my personal experiences and knowledge to help you optimize your East African Safari and leave you with unforgettable memories of the time you spent here.

Some Legal Stuff

Some of the links contained in this website are affiliate links and I will make a commission from any qualifying purchases. As an Amazon Associate I earn from qualifying purchases.

Best Travel Insurance for African Safari: 3 Options, 8 Factors to Consider

Storyteller.travel shares the best travel insights, facts, and photos. When you use our links, we may earn an affiliate commission. Learn more.

Heading to Africa for a safari? Here's what you need to know about buying the best travel insurance for your safari. We include 3 options of best travel insurance for African safaris and 8 factors to consider when choosing.

Table of Contents

Best Travel Insurance for Africa: 3 Options and 8 Factors

Your car is protected by auto insurance. Your house is protected by homeowners insurance. Your trip to Africa can be protected by travel insurance. If you're considering the purchase of international coverage for flights, hotels, tours, and safaris, here are just a few things to keep in mind as you look.

Please note: The following is not professional advice. Professional advice is best given by the professionals. We are only travelers, not lawyers or insurance salespeople. This post summarizes things to consider, nothing more.
Please confirm specific details before purchasing any policy. Details can change quickly and their current policy may not exactly reflect what I've covered here.

3 Best Travel Insurance Options for African Travel

World Nomads: We've traveled with World Nomads coverage on every trip we've taken in the last 9 years. The policy and coverage are super easy to understand, it's easy to extend coverage, and it is affordable.
Atlas Travel Insurance (HCCMIS): This is a flexible policy, covering residents of 180+ countries. A good option to check before purchasing.
SafetyWing: This is a popular option for longer term travelers (like digital nomads) but is a good option for shorter term travel as short as 5 days. Works on a subscription model – and is renewable while you travel.

Best Travel Insurance for Africa: The Do's and Don'ts

Before we dive into the specific details of travel insurance policies, let's clear up a few myths and misconceptions about general coverage.

What is travel insurance?

Travel insurance is designed to protect you when you're away from home. Whether it's an allergic reaction to an exotic dish or a natural disaster that floods your beach bungalow, travel insurance can keep unexpected incidents from squeezing your wallet.

When should you buy travel insurance?

If it's your first time exploring the African savanna, you'll probably feel safer with travel insurance in your back pocket.

However, there are a few circumstances where some aspects could be redundant:

If your credit card company has a forgiveness policy for canceled flights, you won't need to be concerned about that as part of your travel insurance policy.
If the airline will assume the liability for lost luggage, you won't need that included in your travel insurance policy because you'll already be compensated for the loss of your camera equipment and anything else that goes missing.
If your health insurance extends internationally as well as domestically, you won't need to worry about a travel insurance policy that covers surprise injuries.

On the flip side, if you don't have any cards, carriers, warranties, policies or existing insurance plans that will cover travel-related mishaps, travel insurance might be exactly what you need to ensure a safe journey.

How to Choose Your Travel Insurance Policy: 8 Factors

Now that we've defined basic travel insurance, let's take a look at what constitutes a good policy.

1. Medical coverage limit, including Emergency Evacuation

For a trip to Africa, it's recommended that you look for medical insurance worth $50,000 – $100,000. Not only will this cover you for a couple of weeks in the hospital, but it will also satisfy visa requirements for certain countries.

Additionally, you'll want to look for another $100,000 in emergency evacuation coverage. It might sound expensive, but being ferried or airlifted to a medical facility outside of Africa will cost you a pretty penny. It's better to pay a slightly higher insurance rate than a massive bill after an unfortunate accident.

2. Possessions: Lost / damaged / stolen gear

This is often called "baggage insurance," and it's critically important to buy if your airline or hotel doesn't offer it. Africa is a wonderful place, but don't expect miracles from airline workers to locate and deliver your lost luggage before your safari pulls out. Luggage can get lost (and never found) on a domestic flight – it's even worse internationally. Get everything insured before you hit the open grasslands for a safari.

Some policies will cover not only lost luggage but also lost documents and even laptops, binoculars, and camera gear.

3. Preexisting conditions waiver

Some travel insurance companies won't want to insure you if you have a preexisting medical condition. However, this doesn't mean that you can't get coverage.

You just have to look for providers that offer a "preexisting conditions waiver" that will cover you anyway. You might need to meet certain criteria to qualify, but if you're willing to jump through the hoops, you can get medical coverage just like anyone else.

4. Age limitations

In the same vein as the above, some insurers will look twice at your application if you're above or below a certain age. Make sure to inquire about age limitations for children and seniors when you call.

5. Weather coverage

African weather can range from gloriously sunny days to devastatingly intense rain storms. Do some research before you book your flight! If you can only afford to travel during the rainy season, you'll want more coverage than if you were traveling in temperate climates.

Another thing to consider about the weather is how you'll be compensated by the insurance company if things do get wet. Here are some questions that you might ask:

Will they refund delayed or canceled flights?
Will they cover the cost of travel to a new location if the old one has been battered or flooded? Will they compensate you for power outages that make hotels unlivable?
Will you receive cash, credit or travel vouchers for your trouble?
Will they cover the cost of an emergency evacuation during a natural disaster?

6. Trip Cancellation

Are the wildebeests having a later migration than usual? If you had planned your trip around their migration you may want to cancel. Trip cancellations are when you cancel your plans before you leave home.

7. Trip Interruption

Do you want to spend more time observing the spoonbills and hoopoes? Trip interruptions are when you alter your plans after you're already on the move. They're different than trip cancellations, so double-check that your travel insurance policy offers both.

8. Trip Delay

Trip delays are when flights, ferries, cruises, and trains put you way behind schedule.

There are usually terms that dictate what does and doesn't qualify as a delay; for example, you might have to wait for 5 – 10 hours for an overbooked flight before your insurance will cover the cost of a new ticket. This is another area where you'll need to do some research before committing to anything.

What isn't covered by (most) travel insurance?

While every travel insurance company will have their own limitations, there are a few things that the average provider won't cover.

Not covered: Don't expect them to reimburse you for lost cash, drunk driving accidents, unnecessary medical check-ups, or injuries from extreme sports and activities.

If you want to base jump while you're in Tanzania, you're on your own!

The Bottom Line

When you travel to Africa, you aren't going on a simple vacation. You're going on an adventure. Consider all of your options when looking for the best travel insurance for Africa, and make sure that you're protected for your journey to one of the most amazing continents in the world.

About the Author
Latest Posts

Hi, I'm Bryan Haines. And I'm a co-founder of Storyteller.Travel. I'm a traveler and photographer.

Best Travel Insurance for African Safari: 3 Options, 8 Factors to Consider

Storyteller.travel shares the best travel insights, facts, and photos. When you use our links, we may earn an affiliate commission. Learn more.

Heading to Africa for a safari? Here's what you need to know about buying the best travel insurance for your safari. We include 3 options of best travel insurance for African safaris and 8 factors to consider when choosing.

Table of Contents

Best Travel Insurance for Africa: 3 Options and 8 Factors

Your car is protected by auto insurance. Your house is protected by homeowners insurance. Your trip to Africa can be protected by travel insurance. If you're considering the purchase of international coverage for flights, hotels, tours, and safaris, here are just a few things to keep in mind as you look.

Please note: The following is not professional advice. Professional advice is best given by the professionals. We are only travelers, not lawyers or insurance salespeople. This post summarizes things to consider, nothing more.
Please confirm specific details before purchasing any policy. Details can change quickly and their current policy may not exactly reflect what I've covered here.

3 Best Travel Insurance Options for African Travel

World Nomads: We've traveled with World Nomads coverage on every trip we've taken in the last 9 years. The policy and coverage are super easy to understand, it's easy to extend coverage, and it is affordable.
Atlas Travel Insurance (HCCMIS): This is a flexible policy, covering residents of 180+ countries. A good option to check before purchasing.
SafetyWing: This is a popular option for longer term travelers (like digital nomads) but is a good option for shorter term travel as short as 5 days. Works on a subscription model – and is renewable while you travel.

Best Travel Insurance for Africa: The Do's and Don'ts

Before we dive into the specific details of travel insurance policies, let's clear up a few myths and misconceptions about general coverage.

What is travel insurance?

Travel insurance is designed to protect you when you're away from home. Whether it's an allergic reaction to an exotic dish or a natural disaster that floods your beach bungalow, travel insurance can keep unexpected incidents from squeezing your wallet.

When should you buy travel insurance?

If it's your first time exploring the African savanna, you'll probably feel safer with travel insurance in your back pocket.

However, there are a few circumstances where some aspects could be redundant:

If your credit card company has a forgiveness policy for canceled flights, you won't need to be concerned about that as part of your travel insurance policy.
If the airline will assume the liability for lost luggage, you won't need that included in your travel insurance policy because you'll already be compensated for the loss of your camera equipment and anything else that goes missing.
If your health insurance extends internationally as well as domestically, you won't need to worry about a travel insurance policy that covers surprise injuries.

On the flip side, if you don't have any cards, carriers, warranties, policies or existing insurance plans that will cover travel-related mishaps, travel insurance might be exactly what you need to ensure a safe journey.

How to Choose Your Travel Insurance Policy: 8 Factors

Now that we've defined basic travel insurance, let's take a look at what constitutes a good policy.

1. Medical coverage limit, including Emergency Evacuation

For a trip to Africa, it's recommended that you look for medical insurance worth $50,000 – $100,000. Not only will this cover you for a couple of weeks in the hospital, but it will also satisfy visa requirements for certain countries.

Additionally, you'll want to look for another $100,000 in emergency evacuation coverage. It might sound expensive, but being ferried or airlifted to a medical facility outside of Africa will cost you a pretty penny. It's better to pay a slightly higher insurance rate than a massive bill after an unfortunate accident.

2. Possessions: Lost / damaged / stolen gear

This is often called "baggage insurance," and it's critically important to buy if your airline or hotel doesn't offer it. Africa is a wonderful place, but don't expect miracles from airline workers to locate and deliver your lost luggage before your safari pulls out. Luggage can get lost (and never found) on a domestic flight – it's even worse internationally. Get everything insured before you hit the open grasslands for a safari.

Some policies will cover not only lost luggage but also lost documents and even laptops, binoculars, and camera gear.

3. Preexisting conditions waiver

Some travel insurance companies won't want to insure you if you have a preexisting medical condition. However, this doesn't mean that you can't get coverage.

You just have to look for providers that offer a "preexisting conditions waiver" that will cover you anyway. You might need to meet certain criteria to qualify, but if you're willing to jump through the hoops, you can get medical coverage just like anyone else.

4. Age limitations

In the same vein as the above, some insurers will look twice at your application if you're above or below a certain age. Make sure to inquire about age limitations for children and seniors when you call.

5. Weather coverage

African weather can range from gloriously sunny days to devastatingly intense rain storms. Do some research before you book your flight! If you can only afford to travel during the rainy season, you'll want more coverage than if you were traveling in temperate climates.

Another thing to consider about the weather is how you'll be compensated by the insurance company if things do get wet. Here are some questions that you might ask:

Will they refund delayed or canceled flights?
Will they cover the cost of travel to a new location if the old one has been battered or flooded? Will they compensate you for power outages that make hotels unlivable?
Will you receive cash, credit or travel vouchers for your trouble?
Will they cover the cost of an emergency evacuation during a natural disaster?

6. Trip Cancellation

Are the wildebeests having a later migration than usual? If you had planned your trip around their migration you may want to cancel. Trip cancellations are when you cancel your plans before you leave home.

7. Trip Interruption

Do you want to spend more time observing the spoonbills and hoopoes? Trip interruptions are when you alter your plans after you're already on the move. They're different than trip cancellations, so double-check that your travel insurance policy offers both.

8. Trip Delay

Trip delays are when flights, ferries, cruises, and trains put you way behind schedule.

There are usually terms that dictate what does and doesn't qualify as a delay; for example, you might have to wait for 5 – 10 hours for an overbooked flight before your insurance will cover the cost of a new ticket. This is another area where you'll need to do some research before committing to anything.

What isn't covered by (most) travel insurance?

While every travel insurance company will have their own limitations, there are a few things that the average provider won't cover.

Not covered: Don't expect them to reimburse you for lost cash, drunk driving accidents, unnecessary medical check-ups, or injuries from extreme sports and activities.

If you want to base jump while you're in Tanzania, you're on your own!

The Bottom Line

When you travel to Africa, you aren't going on a simple vacation. You're going on an adventure. Consider all of your options when looking for the best travel insurance for Africa, and make sure that you're protected for your journey to one of the most amazing continents in the world.

About the Author
Latest Posts

Hi, I'm Bryan Haines. And I'm a co-founder of Storyteller.Travel. I'm a traveler and photographer.

Source https://eastafricatraveltips.com/best-travel-insurance-for-an-african-safari/

Source https://storyteller.travel/best-travel-insurance-africa/#:~:text=3%20Best%20Travel%20Insurance%20Options%20for%20African%20Travel,term%20travel%20as%20short%20as%205%20days.

Source https://storyteller.travel/best-travel-insurance-africa/