APM Bus bookings South Africa
APM (African People Movers) offer cheap bus tickets between all the major cities in South Africa, as well as to a plethora of smaller ones – they're easy to spot – just keep an eye out for the red buses. The company is relatively new, having started offering intercity coach trips on the 12th December 2014. APM offers a service in the following provinces of South Africa: Gauteng, KwaZulu-Natal, Limpopo, Mpumalanga, North West, Northern Cape and the Western Cape.
Looking for:
Bookings/Reservations & discounts
Booking an APM Bus ticket
Website bookings can be made via their website (www.apmbus.co.za) – unfortunately their website is sometimes down.
If their website's down, then you can try make a call centre booking: phone 087 820 8111
Or visit at 50 Delfos Road in Pretoria.
Sales outlets
Braamfontein Station, Durban Station and Pretoria Station.
Specials
Whilst not exactly a special, APM are proud of retaining their fares at the same price, regardless of whether it's a peak travel time or not.
APM sometimes offer accommodation specials – e.g. in June 2016 they offered a special with Zwinoni Lodge.
APM Bus Routes
The main routes to Johannesburg are: Cape Town to Johannesburg, Sibasa to Johannesburg, Nelspruit to Johannesburg, Durban to Johannesburg, Umtata to Johannesburg, East London to Johannesburg and PE to Johannesburg.
Meal breaks
APM don't break food on board their buses, but there are plenty of stops along the routes where you can get off and buy food (just be sure to do it quickly, you don't want to be waiting for your burger to be cooked whilst the bus is leaving).
FAQ
See their terms and conditions for the latest up to date information.
Departure: Passengers must be at the departure point at least half an hour before the departure time. If you arrive later you may not be able to board.
Identification: To board an APM bus, you need a valid ticket and corresponding identification document. Note that there are additional requirements fo minor children.
Children: Children younger than 3 may travel on the lap of their parent/legal guardian; free of charge. Children younger than 12 may not travel alone – they must have a legal guardian or parent with them. Children older than 12 but younger than 18 may only travel alone, if their parent/legal guardian has signed the correct indemnity form, provided an affidavit proving consent from at least one of his parents/legal guardian if travelling into or out of SA, and in the case of a legal guardian a court order proving they have legal rights.
Ticket cancellation & refunds: APM bus tickets may be cancelled subject to payment of a cancellation fee (25% if cancelling within 3 hours of the departure time, or 10% otherwise) – a refund is not made, but rather a voucher is given which must be used within 3 years; and the passenger can use it when switching to an alternate date. Passengers who arrive within an hour after the departure time receive a 50% penalty, and can transfer to the next departure; whilst pasengers arriving more than an hour late, unfortunately get a 100% penalty. Tickets may be cancelled by phoning 087 820 8111 and faxing the relevant info to 087 809 5626.
Hop on hop off: This is not allowed – the trip must be done in one continuous stretch. If you'd like a hop-on-hop-off option, try the Baz Bus.
Luggage: The luggage allowance on APM buses is two suitcases whose total weight should not exceed 20kg (30kg for international trips) and each suitcase should have the following maximum dimensions: 80cmx60cmx30cm. Any luggage weighing more than the free allowance will be charged at the applicable rate.
APM coaches do not accept any luggage at their own discretion; but in particular inter alia firearms, narcotics, animals, corpses, coffins, ammunition, hazardous/harmful chemicals, explosives or toxic substances.
The following must be properly packaged: electronic equipment, sporting equipment and fluorescent signs.
Alcohol & smoking: Consumption of alcohol as well as smoking is not permitted on all APM coaches.
Pets: No pets are permitted on any of their buses save for trained guide dogs, for which prior notification has to be given before date of departure.
History, News & Info.
APM's ownership is more than 50% black. Their intercity buses were launched by Tumisang Kgabosele and Johann Ferreira in December 2014.
Operations to Port Elizabeth, are launched.
Operations to Germiston Station are launched.
Operations to Sibasa, Limpopo, are launched.
Operations are launched in and out of Park Station in Johannesburg.
On the Durban – Pretoria route, 3 full buses were run for the first time.
Найдите отели в Кейптауне
Выберите даты, чтобы увидеть актуальные цены и предложения на отели в Кейптауне
Посмотрите последнюю информацию об ограничениях на поездки в связи с коронавирусом до начала путешествия. Узнать больше
Все фильтры
Количество звезд
Оценка по отзывам
Чтобы увидеть актуальные цены и спецпредложения, укажите даты. Выбрать даты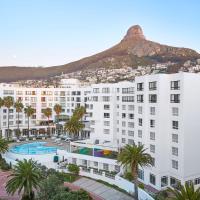 President Hotel
Отель в районе Си-Пойнт, Кейптаун
В отеле President к услугам гостей пейзажный бассейн и бар на террасе с панорамным видом на скалу Лайонс-Хед и Атлантический океан. Отель расположен в 3 минутах ходьбы от пляжа Куинс. staff was extremely friendly, beautiful room with amazing sea view would definitely bring my kids the next time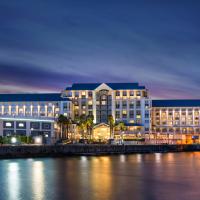 The Table Bay Hotel
Отель в районе Уотерфронт, Кейптаун
Пятизвездочный отель класса люкс Table Bay расположен на набережной Виктории и Альфреда в Кейптауне. Из отеля открывается прекрасный вид на действующий порт, Столовую гору и Атлантический океан. the staff are so so accommodative and friendly. best hotel ever.. especially one of the receptionist named Nthabi, she is always ready to help. best so far . am so impressed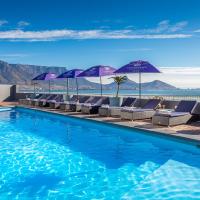 Lagoon Beach Hotel & Spa
Отель в районе Milnerton, Кейптаун
Отель Lagoon Beach с прямым выходом на пляж и видом на Столовую гору и остров Роббенэйланд расположен в Мильнертоне, пригороде Кейптауна. К услугам гостей бассейны на пляже и на крыше. cleanliness, friendliness, beautiful view and excellent service
Radisson RED Hotel V&A Waterfront Cape Town
Отель в районе Уотерфронт, Кейптаун
Отель Radisson RED V&A Waterfront Cape Town с террасой для загара на крыше и видом на море расположен в кейптаунском районе Сило. Красивый дизайнерский отель, удобное расположение. Персонал выше всяких похвал, спасибо!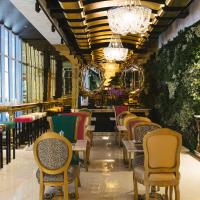 Signature Lux Hotel by ONOMO, Foreshore
Отель в районе Сити-Боул, Кейптаун
Отель Signature Lux by ONOMO, Foreshore расположен в Кейптауне. К услугам гостей номера с кондиционером, ресторан, бесплатный Wi-Fi и бар. All was good , rooms ,staff , location
Radisson Blu Hotel & Residence, Cape Town
Отель в районе Сити-Боул, Кейптаун
Отель Radisson Blu Hotel & Residence, Cape Town расположен в центре Кейптауна, в 10 минутах ходьбы от Международного конференц-центра Кейптауна. К услугам гостей бесплатный высокоскоростной Wi-Fi. They went the extra mile to make my brothers birthday special
Radisson Blu Hotel Waterfront, Cape Town
Отель в районе Моуилл-Пойнт, Кейптаун
Отель Radisson Blu Waterfront с видом на знаменитый остров Роббен и Атлантический океан расположен в Кейптауне. К услугам гостей роскошные номера с бесплатным Wi-Fi и частная пристань для яхт. Excellent location overlooking the sea and a marina. The breakfast was a feast and even included champagne should you wish. The staff were fantastic well trained friendly and the hotel spotless. This hotel has a well deserved 5 star rating – excellent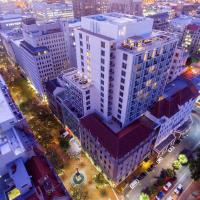 Taj Cape Town
Отель в районе Сити-Боул, Кейптаун
Отель Taj Cape Town расположен в самом центре Кейптауна, в нескольких минутах ходьбы от многочисленных достопримечательностей и делового района. Предоставляется бесплатный Wi-Fi. Очень большой и уютный номер. Высоченные потолки, мягкая огромная кровать, шикарный санузел с окном в номер, огромная душевая и ванная. Очень вкусные завтраки, расположен в самом центре, но говорят, что вечером небезопасно. Так всё чудесно было. Жаль, не удалось сходить в спа.
Park Inn by Radisson Cape Town Foreshore
Отель в районе Сити-Боул, Кейптаун
Из современного отеля Park Inn by Radisson Cape Town Foreshore открывается панорамный вид на город Кейптаун в направлении Столовой горы. К услугам гостей бассейн и бар на крыше. clean good hotel with happy staff spreading welcoming vibe, they do their best to serve with good attitude. my room was not ready when I arrived so mr. Adrian gave me an up grade to a sweet facing the back of the hotel clean and quite. it is like home away from home.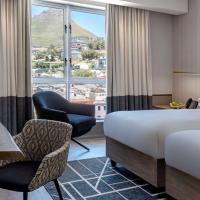 Hyatt Regency Cape Town
Отель в районе Сити-Боул, Кейптаун
Отель Hyatt Regency Cape Town с бесплатным Wi-Fi и круглосуточным тренажерным залом расположен на границе исторического района Бо-Каап, примерно в 1 км от международного конференц-центра Кейптауна. I stayed 8 nights at this awesome hotel last week As a Solo traveller for leisure, I believe this is a very nice hotel, comfy and fancy for those who are wishing for a nice vacation in a 5 star hotel. The staff are wonderful & very helpful, whatever I ask for they were doing their best to keep me informative and assist with any additional services I need, specially with some tour recommendations and bookings witch has been recommened and booked with them just within my budget range which is a super plus. The location of the hotel is great, the hotel is safe & the area is always full of patrols to keep safety of the people of Capetown, super clean & developped area with many options for food and nightlife just maximum 10 minutes by car or even closer. Also it is very close to the fame V&A waterfronts with its vibrant and safe walking area, nice restaurants and shopping center. Thanks to everyone working at this awesome hotel, prefer not to mention any names just to avoid missing any of them because all have done amazing job. Would recommend very much this hotel and would 100% enjoy a stay again once back to Cape Town With LOVE
Source https://www.southafrica.to/transport/Busses/apm-bus/apm-bus.php
Source https://www.booking.com/city/za/cape-town.html
Source