Why Social Media Matters In The Travel Industry

The impact of social media on the travel industry has changed how travel companies engage with their customers.
Easy access to information has forced travel agencies to adopt a digitally-driven strategy versus the traditional brick-and-mortar model. Over the past decade, there continues to be an increasing decline in brick-and-mortar locations because of online travel options. In a Google study, they found more than 75 percent of leisure travelers reported using an online travel agency because it offered the best travel deals.
This shift has empowered buyers to make more informed purchasing decisions. On the other hand, this also presents travel companies with a two-sided coin. On one side, they're presented with a challenge of competing against constant online noise. On the other, they're given an opportunity to engage buyers where they're most active.
The case for social media cannot be ignored as 55 percent of people like social media pages related to trips they are planning. The impact is even more heavily felt for customer-facing teams in travel companies. For sales teams, account management and customer service, social media continues to play a significant role because their customer relationships rely heavily on their market expertise, thought leadership, and reputation.
If your travel company hasn't established a social media presence, there's no better time to start than right now. Read on below to better understand how social media has transformed the travel industry and why companies are engaging with today's social customer more than ever before.
Growing Competition
The irony for the travel industry is that the world is actually getting significantly smaller than it was before due to social media.
This doesn't mean people don't need to travel anymore, instead, it means it's much easier to establish a personal connection with your buyer, even those who may be on another continent. Travelers can go on an agency's website, read customer testimonials and access pricing information within a few clicks, anywhere in the world, at any time. However, this also means travel companies now have to compete much more aggressively with a larger category of similar travel agencies.
The travel agency industry in the United States is projected to generate 17.3 billion U.S. dollars in revenue by 2020 according to Statista. With a large and growing market, travel agencies are actively competing to be the destination vendor of choice for the same pool of travelers. Standing out and building a brand presence is both difficult and expensive.
Travel agencies have to focus on competitive advantages such as customer engagement and the human factor if they are to remain relevant and competitive.
As James Waters, Global Director of Customer Service at Booking.com said: "as we operate in an industry that is incredibly personal, emotional and complex, maintaining the right balance between genuine human interaction and efficient automation is something we're always trying to fine-tune and optimize throughout every stage of the consumer journey."
Social interactions exploit the human aspect of booking travel, especially for corporate travelers. Social media is also a factor in reputation management as it can help promote your business and drive recommendations.
Changing Buyer Behaviors
Due to the quick access to real-time information, buyers are demanding more personal interactions with companies.
The growing use of social media has influenced how buyers make decisions on which vendor to choose and how they engage with each vendor, and customer-facing employees are bearing the brunt of this burden. In functions like sales, account management, and customer support, credibility is the key factor that brings in new customers and promotes ongoing customer loyalty.
Social media gives your employees an opportunity to engage your potential customers through a more personalized approach. On LinkedIn, you can share a piece of industry-related content, on Twitter you can tweet your customers a travel update, on Instagram you can visualize the travel experience through photographs.
According to Expedia, Seventy-eight perfect of travelers said informative content from destinations or travel brands can influence their decision-making process, and 46 percent said ads with informative content can be influential. Regardless of the platform, compelling content marketing is at the heart of a successful social media strategy.
Establish A Brand Presence
By building a social media strategy with a strong corporate profile presence, paid ads and enabling your employees to share content, you can stay top of mind with your buyer throughout the buying journey. A strong brand presence is what keeps you relevant in the eyes of your buyers.
To stay top of mind, your social media strategy should actively target specific parts of the journey with relevant content. If your buyer is in the beginning stages and just researching then thought leadership content is ideal for building credibility. Content such as customer reviews, datasheets or buying guides is much more relevant in the later stages of their journey.
Engage Online Travelers
Today's travelers go online to research their destinations and accommodations to ensure they're making a sound purchase decision. Social media has democratized the access to information. In 2018, more than 140 million U.S. adults will research a trip online.
Travelers can access review websites, travel tips, destination photos and even do check-ins for specific locations, without the help of a human. However, this access also makes it easy for travel companies to engage and influence buyers. For those companies that have already harnessed social media, they have become a credible source of information for travelers from inspiration to booking.
The Travel Corporation, known as the biggest travel company you've never heard of had noticed their buyers experienced micro-moments throughout the buying journey. For example, one customer named Amy had 419 digital moments researching her trip over two months, 87% of those digital moments happened on mobile.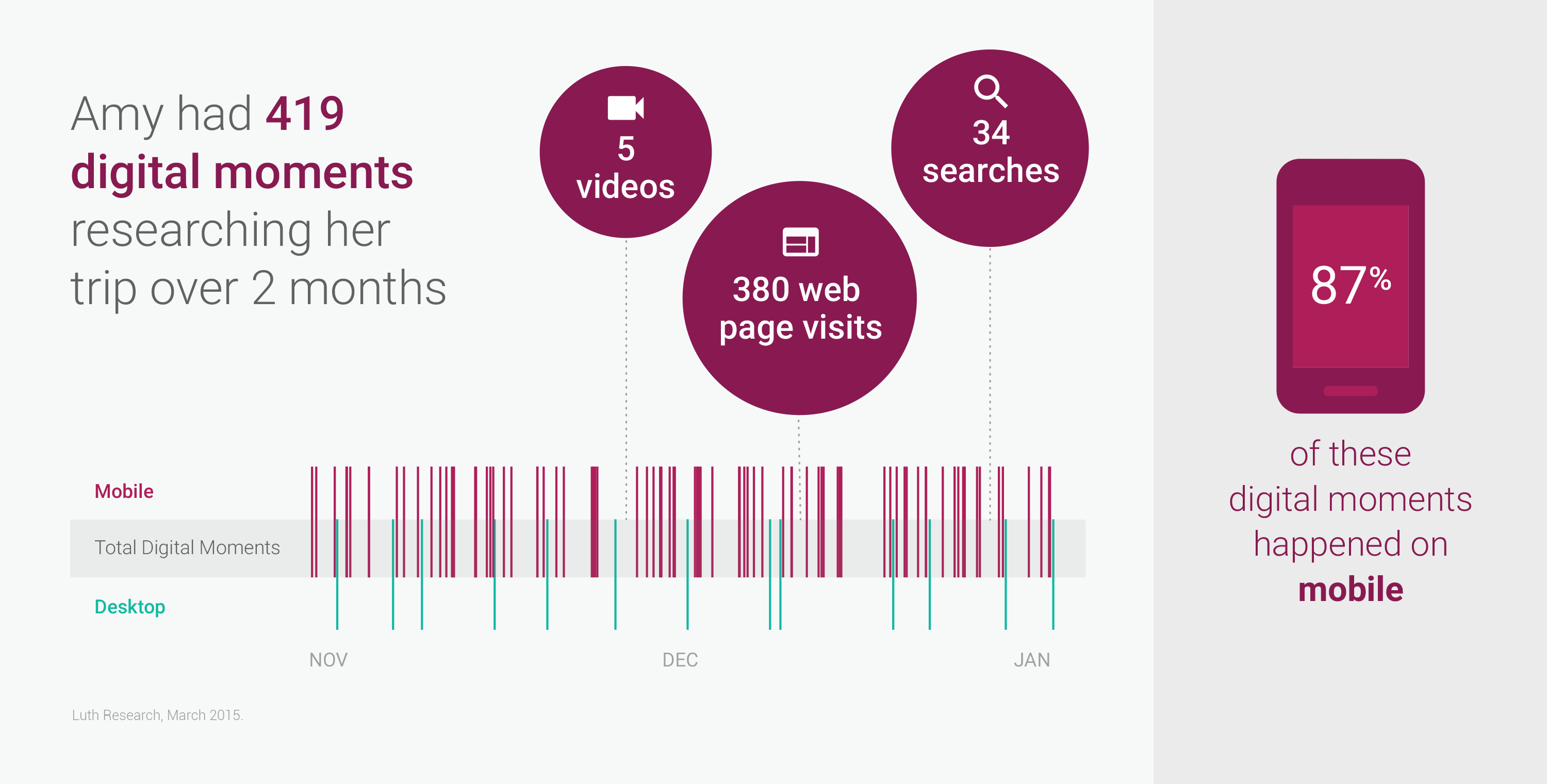 Customer Acquisition
The tide is turning for many travel companies who have adopted a digital strategy. Whether it's customer acquisition or customer loyalty, people who are likely to view or engage with your content on social media are often dedicated to your brand. Encouraging a potential customer to keep up with your Facebook page or Instagram can help your brand stay top of mind.
According to Statista, 74 percent of travel agencies use email as a leading marketing approach which is trailed by social media at 68 percent. At the bottom of the list is radio ads, telemarketing, and newspapers, all which are less targeted and lack the real-time access that buyers demand. With the advent of social media technology like social listening or employee advocacy, it is easier than ever for travel companies to discover future travelers and to engage them accordingly.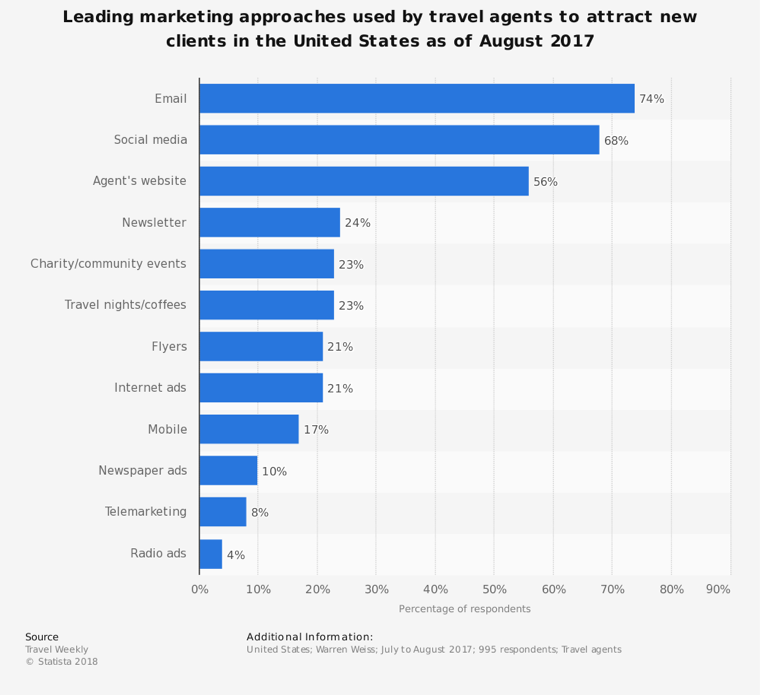 Integrating social media as a customer acquisition channel can help influence buyers in their decision process. Before making a decision, most travelers check reviews and social shares as a determining factor.
Building a Social Media Presence
Social media has disrupted how travel companies traditionally acquire new customers. By establishing a strong social media presence, with your employees at the forefront of your strategy, your company can build positive brand awareness, educate buyers and showcase just what traveling with your company has to offer.
Learn how BCD Travel uses social media and employee advocacy to amplify the reach of their content in our next webinar on September 20, 2018, at 2 pm EDT. Click here to register.
Daniel Ku is the Director of Marketing at PostBeyond and has spent the past several years bridging the gap between companies and customers through social media. Daniel is on a mission to help marketers get onboard with social selling, content marketing best practices, and employee advocacy. Outside of work, Daniel likes to practice his squat form, listen to podcasts and tell bad jokes.
How ideas travel in a community social media
Get Daily Travel Tips & Deals!
By proceeding, you agree to our Privacy Policy and Terms of Use.
Twitter is the best resource for keeping up with what's happening each day in your destination. To start, search for your destination's tourism board and follow them. For example, @NYCGo is a great place to find out about new art exhibitions, pop-up events, and upcoming festivals in New York City.
Your next step is to search for the Twitter accounts of local magazines, newspapers, and bloggers. These days, big cities have no shortage of bloggers covering the local scene, and they're often great resources for the best places to eat, drink, and take photos of your destination. Some bloggers even go above and beyond like Boston's @BostonTweet, who is constantly tweeting about the latest events in town and giving away free tickets and gift cards via Twitter scavenger hunts.
Twitter is the best resource for keeping up with what's happening each day in your destination. To start, search for your destination's tourism board and follow them. For example, @NYCGo is a great place to find out about new art exhibitions, pop-up events, and upcoming festivals in New York City.
Your next step is to search for the Twitter accounts of local magazines, newspapers, and bloggers. These days, big cities have no shortage of bloggers covering the local scene, and they're often great resources for the best places to eat, drink, and take photos of your destination. Some bloggers even go above and beyond like Boston's @BostonTweet, who is constantly tweeting about the latest events in town and giving away free tickets and gift cards via Twitter scavenger hunts.
Hashtags on Instagram can be incredibly helpful, but searching a generic hashtag like #Paris probably won't yield many useful results. Instead, begin your Instagram research at your destination's official Instagram account like @parisjetaime. From there, you can look through photographs to see which hashtags are most commonly used by locals and other hip travelers, such as #visitparis, #lefooding, and, my favorite, #rainyparis. Additionally, it doesn't hurt to check out foreign language hashtags when traveling abroad, as these will be more commonly used by locals.
You can use these photos just for inspiration or incorporate them into your travel plans by exploring the geotags (the clickable description of where the photo was taken). Geotags will show you all photographs tagged with the same location and the precise spot, so you'll be able to easily find it.
Related:
If you prefer to do your social media planning ahead of time, Facebook is your best resource. Again, there is no better source than the tourism page for your destination—particularly if they keep a list of upcoming events. Make sure to give them a "like" before you leave and you'll receive updates for everything going on in the city, as well as inspiration for places you might not have thought to visit on your own.
Not only can you see what's coming up, you'll also find out about any contests or sweepstakes you could enter. You can also post comments with any questions you might have about the destination.
Don't forget to like the Facebook pages of local concert halls, newspapers, or restaurants you'd be interested in going to. It's the best way to stay in the know on local events.
Using Periscope's map searching feature, you can see what's being streamed live from all over your destination. This is a great way to spontaneously discover events, concerts, or even exceptional street performers in real-time. If you find yourself at a loss of what to do next, let Periscope point you in the right direction.
SAMSUNG CSC Processed with VSCO with a1 preset
Though the Pokemania is dying down, it remains an excellent resource for travelers looking to discover a new place. With landmarks marked as Pokestops, you can discover interesting spots in the city that might not have made it into the travel guide. It's also a great way to run into local Pokemon players and make new friends. If you are a dedicated Pokemon trainer, you can even do research on local Pokemon meet-ups to engage with like-minded locals.
Don't Miss a Trip, Tip, or Deal!
Let us do the legwork! Sign up for our free newsletter now.
By proceeding, you agree to our Privacy Policy and Terms of Use.
More from SmarterTravel:
Jamie Ditaranto is a writer and photographer who is always looking for her next adventure. Follow her on Twitter @jamieditaranto.
We hand-pick everything we recommend and select items through testing and reviews. Some products are sent to us free of charge with no incentive to offer a favorable review. We offer our unbiased opinions and do not accept compensation to review products. All items are in stock and prices are accurate at the time of publication. If you buy something through our links, we may earn a commission.
10 Top Social Media Marketing Ideas for Travel Brands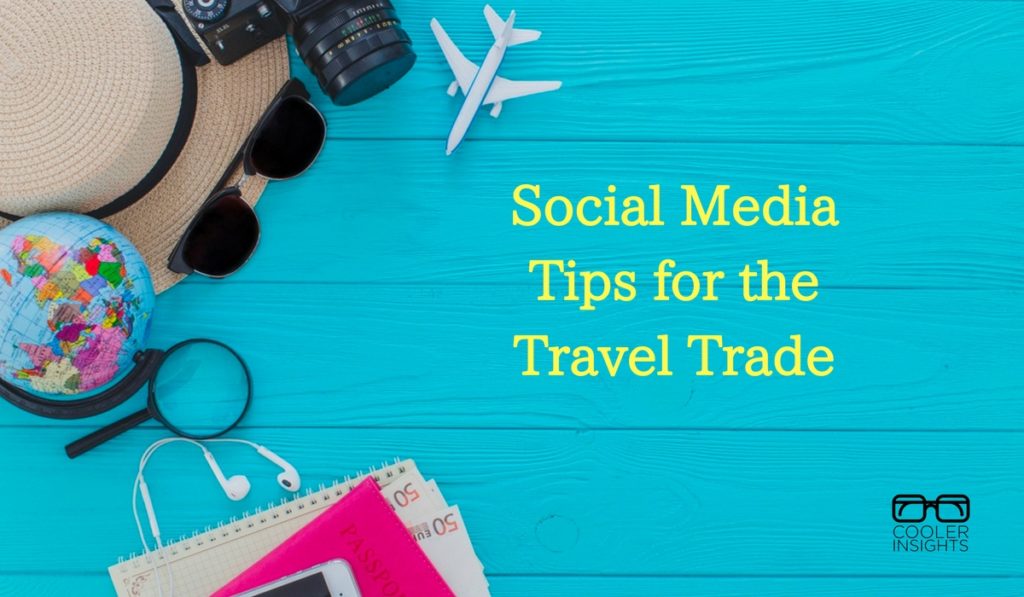 The travel and hospitality business is a highly competitive and brutal one.
Just look at the number of airlines filing for bankruptcy, or travel agencies which have closed down (like the highly regarded Misa Travel).
With the explosion of online booking services for airlines, hotels, land transport, and packages, brick and mortar travel, tourism, and hospitality players have to change the way they market their services.
While price continues to be an attractive proposition for travelers and holiday makers, convenience, trust and usefulness will grow in prominence as travel becomes commoditised.
Having a website, social media account, and email newsletter alone isn't enough. You need to use the full tools of social media and content marketing to drive targeted customer traffic, generate leads, trigger conversions, and encourage brand advocacy to win this game.
So what can you do to boost your online and social media marketing efforts?
Here are 10 ideas which you can use to start with.
#1 Exploit Untapped Search Traffic
The first thing you need to do is to build your website on a strong foundation of Search Engine Optimization (SEO).
You can achieve this by using a keyword research tool such as Google Adwords Keyword Planner or SEMRush to discover relevant search keywords that…
Have moderate search volumes
Have relatively low/medium competition
Are relevant to your business
For example, if you are planning to provide Europe tours (for Singapore customers), you could use SEMRush to narrow down keywords that have at least a hundred searches a month, with a Keyword Difficulty (KD) below 75.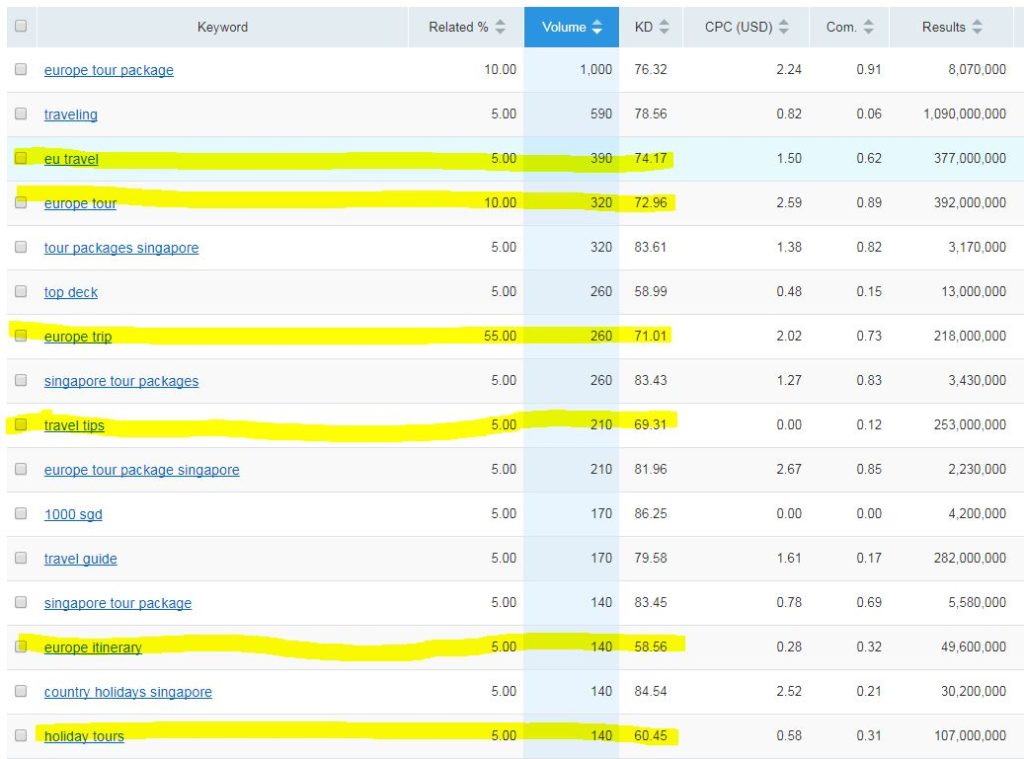 From the list above, you can use a tool like LSIgraph.com to further tighten your search. This helps you to come up with content and blog topics that match the exact long-tail (ie highly specific) keywords that are searched for.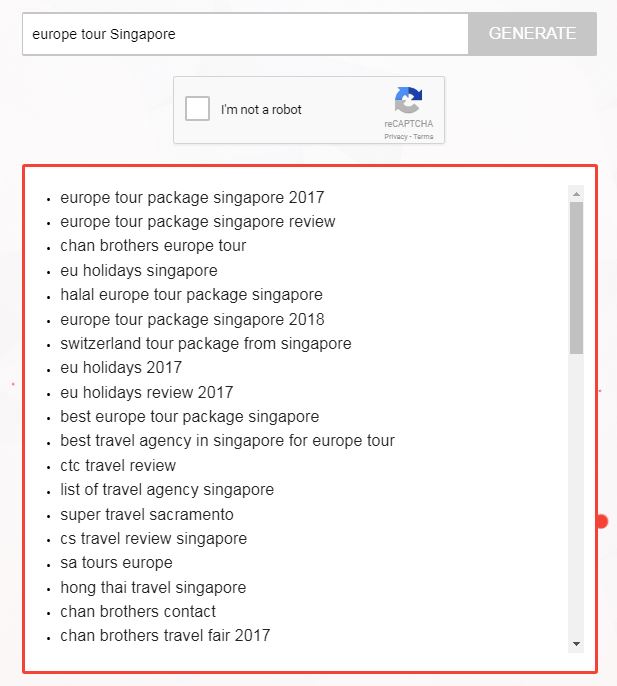 From the list of keywords above, do you see any opportunity for topics that your travel agency can write about?
To learn more, check out this great guide to keyword research, as well as this list of useful SEO tools.
#2 Supply Answers to FAQs on Travel
Once you've identified the right keywords and topics, you'll need to create content that matches what your potential travel customers are searching for. The best way to do so is to identify FAQs that your customers may have, and incorporating your keywords in there.
Beyond using keyword research tools like the ones above, you can also look at the following:
Travel forums like TripAdvisor or Lonely Planet
Question and Answer websites like Quora or Yahoo Answers
Commonly asked questions (and complaints) on your competitor's Facebook pages
The types of content which you should create may include blog posts (which are good for both search and social traffic), social media posts, videos, infographics and answers on forums like the ones above.
#3 Inspire with Stunning Visual Content
You cannot promote a travel destination or hospitality service with just text alone. Not when your customers are taking tonnes of photos and videos each time they travel.
To spice up your content, consider investing in great designs and images that are jaw droppingly gorgeous. You can share these image posts on Facebook or Instagram, and use them to enchant and entice your customers to book a holiday immediately. Like Club Med below.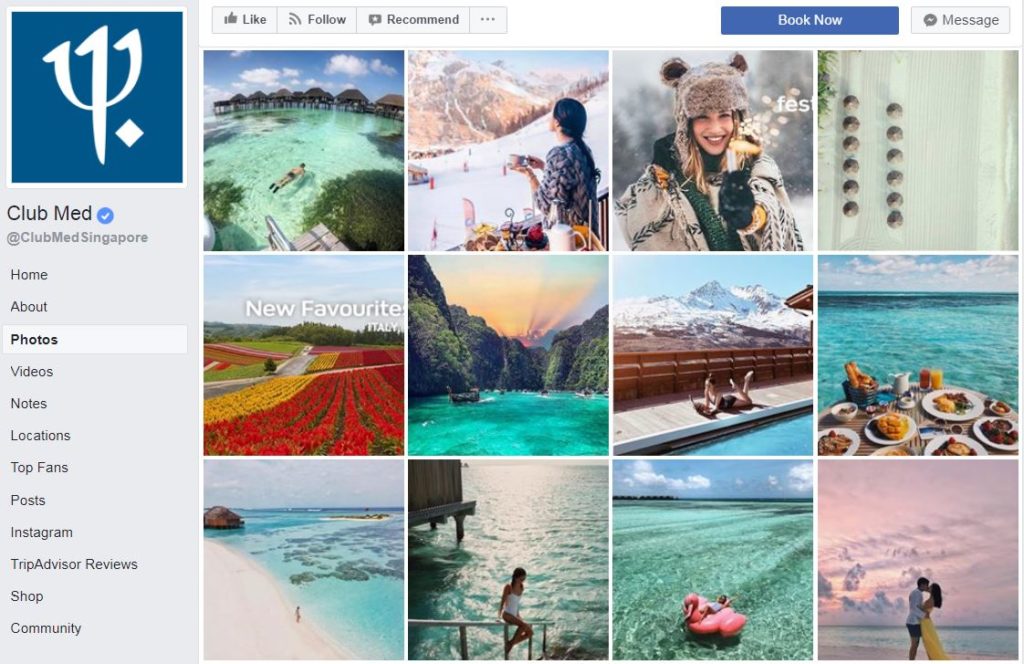 #4 Help Plan Their Journeys
One of the most frustrating problems travelers face is finding the right mode of local transport. As the proportion of Free Independent Travelers (FITs) increase, demand for useful information and content related to local transport will soar.
Fortunately, most local train and subway operators in tourism capitals have come up with apps and maps that can meet this purpose. A great example here is the Paris Metro Map and Routes. This useful app allows you to plan your train route around the labyrinthine underground network of France's capital city.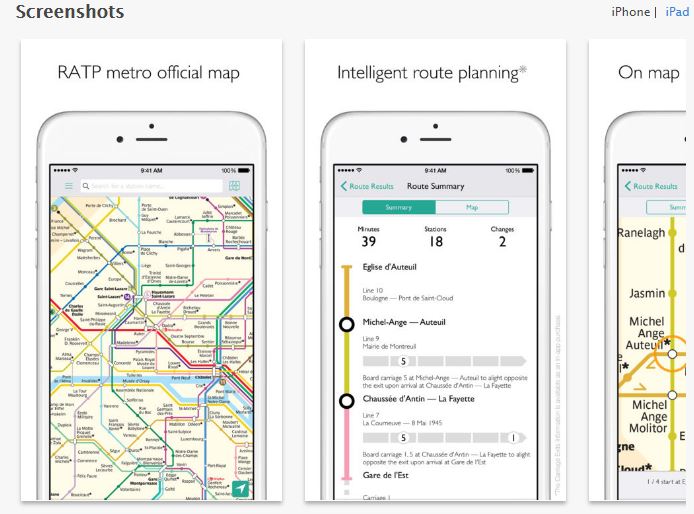 #5 Provide Travel Itinerary Ideas
Beyond planning how to get from point A to point B, travelers are always searching for things to do, places to visit, and restaurants to eat at.
Here, travel bloggers like The Travel Intern and Travel Inspiration 360 have set the benchmark. A great example is this blog post by The Travel Intern on a 7D Korean itinerary, which comes with its own gorgeous video too! Check it out below:
Hotel chains have also been upping the ante in this space. The Pan Pacific and PARKROYAL hotels worldwide have provided hyper-local itinerary ideas which revolve around the locations of their various properties.
Here's an example of how PARKROYAL Yangon provides insider tips (called PARKROYAL Picks) for travelers to Yangon.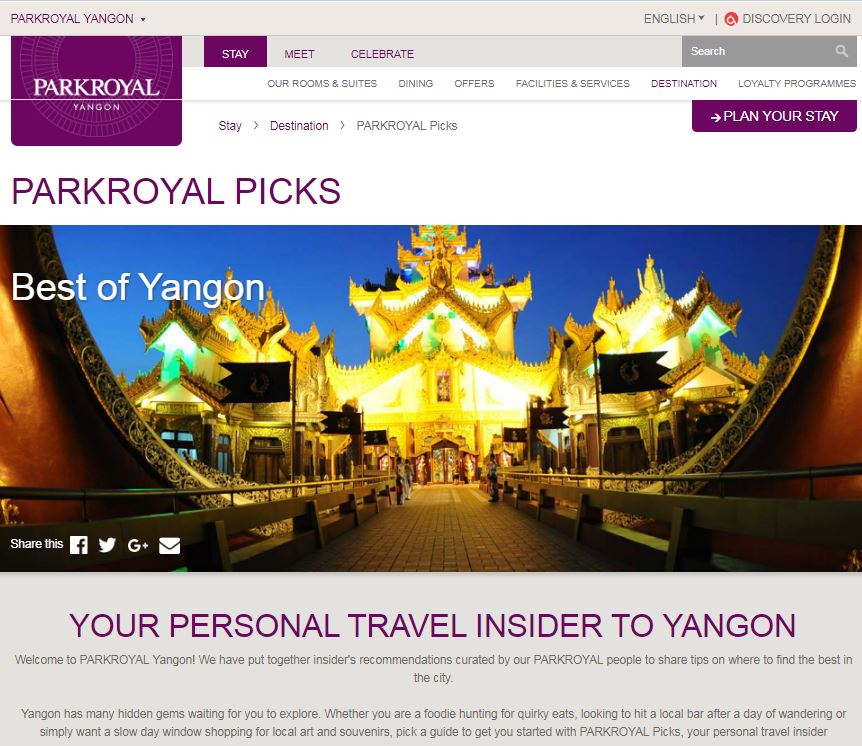 Disclosure: Both Pan Pacific and PARKROYAL Hotels are clients of the author.
#6 Engage Travel Influencers
As taste-makers and opinion shapers, travel influencers can help to expand your reach to new audiences and communities. However, you'll need to know how best to work with them.
Here's a simple five step process (extracted from my blog post here) which you can apply:
Define Travel Audience: Identify who your target customers are. Who influences their buying pathways from discovery, evaluation, decision to purchase?
Discover Right Influencers: Match the right influencers to your targeted customers. They could be selected based on interests, behaviours, style, and similarities (eg geographical location, culture).
Monitor Influencers: Study what the travel influencers write, photograph, or record on video. Are they relevant to your travel or hospitality business?
Take Action & Engage: Build a direct and personal relationship with your influencers, discuss working arrangements (see examples here), plan possible iniatives, and implement.
Measure Results: Track the outcomes of the influencer marketing campaign. How effective are your influencers? What are their final deliverables? Are they tangible? (find examples of KPIs here)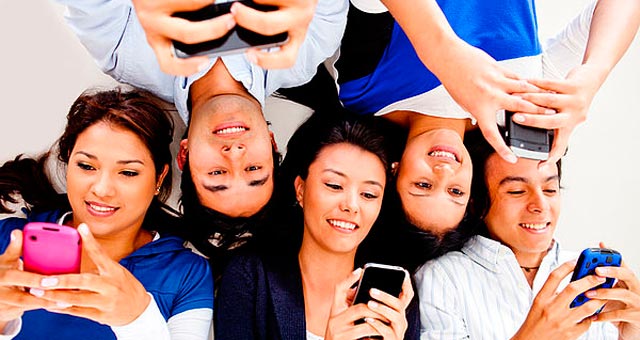 #7 Respond to Online Feedback
In the travel and tourism business, positive customer experiences make a world of difference. Studies have shown that 72% of customers cite customer experience as the greatest driver of spending.
A good way to do so is to reply to all customer feedback on your social media channels or travel forums like TripAdvisor and others. Here are some examples extracted from Singapore Airlines Facebook page.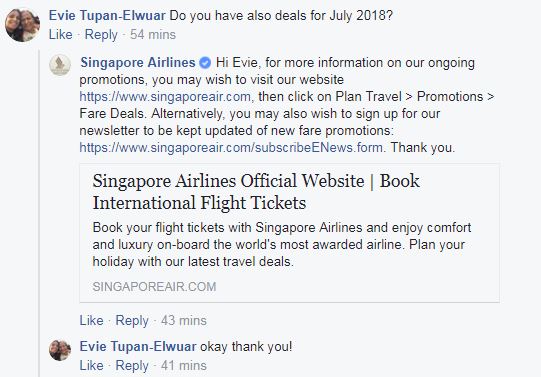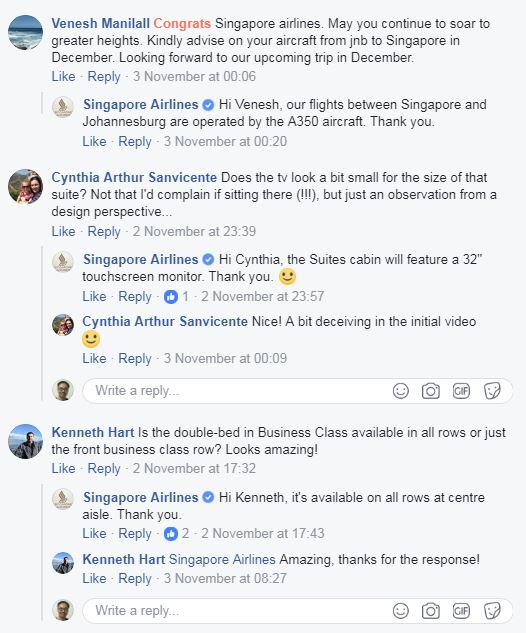 What I like about Singapore Airlines' responses are that they are fairly quick, detailed (with appropriate links) and helpful. They've also taken the added precaution of not revealing their passenger's details online; this not only protects the brand but considers the privacy of their customers.
#8 Share User Generated Content
These days, your best form of marketing comes from your customers. While your goal should be to trigger Word Of Mouth (WOM) marketing from your brand advocates, sharing positive customer content may also make a world of difference.
A great example here is none other than Airbnb. Their Instagram account regularly feature guests posts, and have gained a significant 2.5 million fans. Here's an example of a recent post which features their client's property and their guests.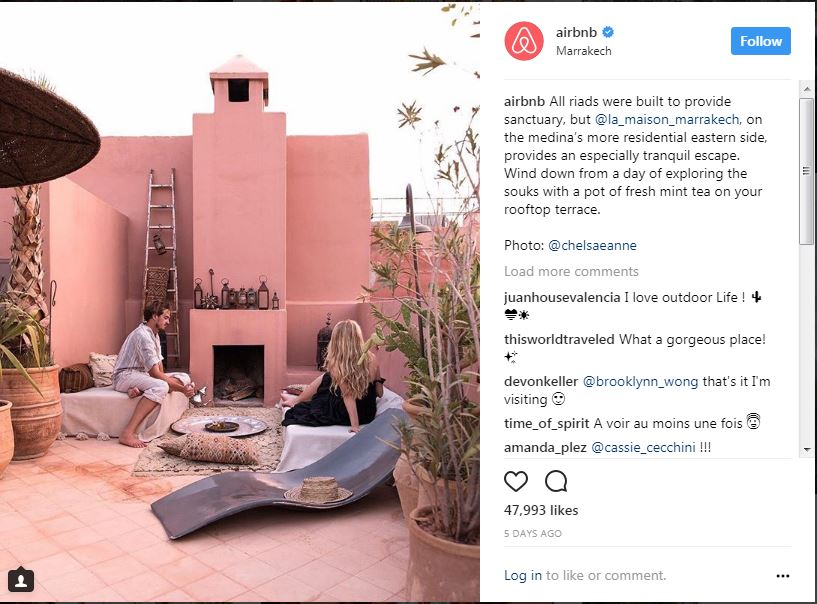 #9 Gamify Travel Encounters
In case you don't already know, gamification is transforming how businesses engage with their customers and other stakeholders. At its core, the basic elements of games – also known as game mechanics – comprise points, badges (achievements), levels, leaderboards, and rewards.
By incorporating game mechanics principles, travel and hospitality businesses can…
Incorporate surprise and delight;
Tap on the inherent rank consciousness of consumers;
Make their brands fun;
Encourage virality and word-of-mouth;
Nudge social sharing on Facebook, Twitter, and other social channels; and
Leverage on storytelling.
There are a few well-known examples in the travel trade:
TripAdvisor: This all-in-one travel website provides customer reviews, scoring, and ranking across different subcategories such as hotels, things to do, restaurants, airlines, destinations and a whole lot more. By integrating with your social media profiles, TripAdvisor is able to personalise its recommendations, based on your viewing history.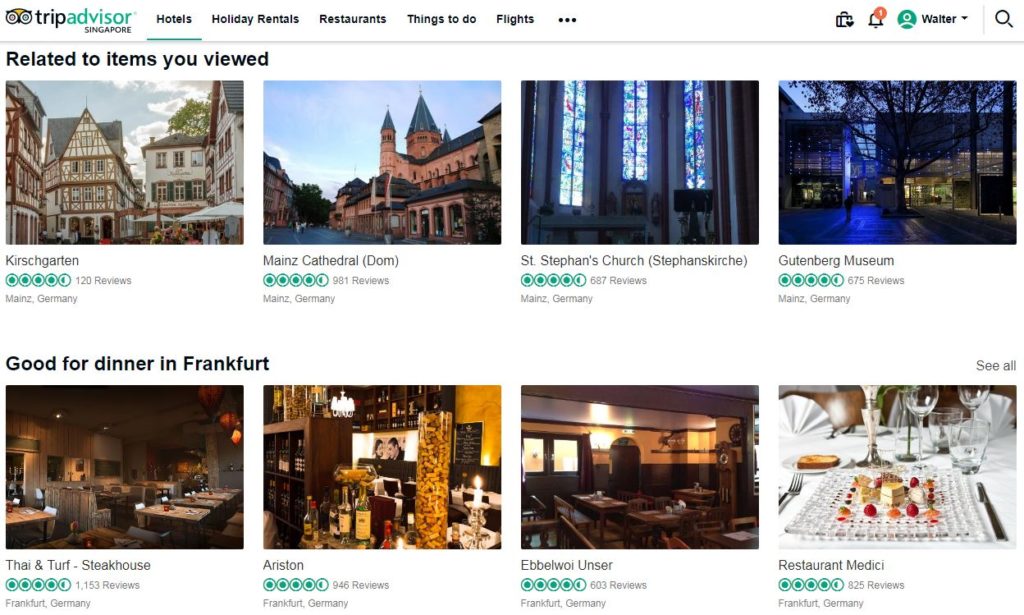 Booking.com: Like TripAdvisor, Booking.com uses a range of game mechanics such as hotel room prices, availability of rooms, and special deals to gamify the experience for users. It also provides incentives such as a penalty-free cancellation within a certain time-period, and lots of social proof (eg number of reviews) to built trust.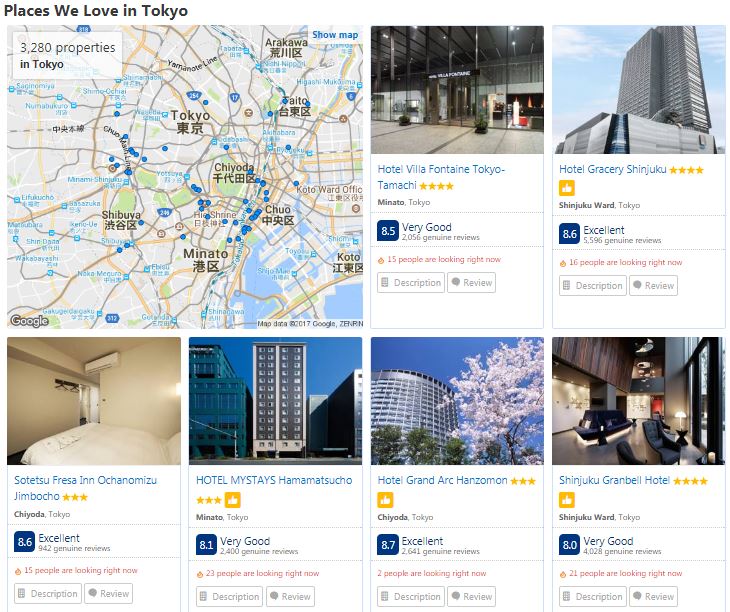 #10 Simplify Online User Experience (UX)
Technically speaking, this should cover all your online touchpoints – website, social media pages, emails, and so on. The key thing here is to make it as simple and easy to book your services as possible.
There are lots of online travel websites that do this well, but Priceline.com probably takes the cake. Just look at their website's home page.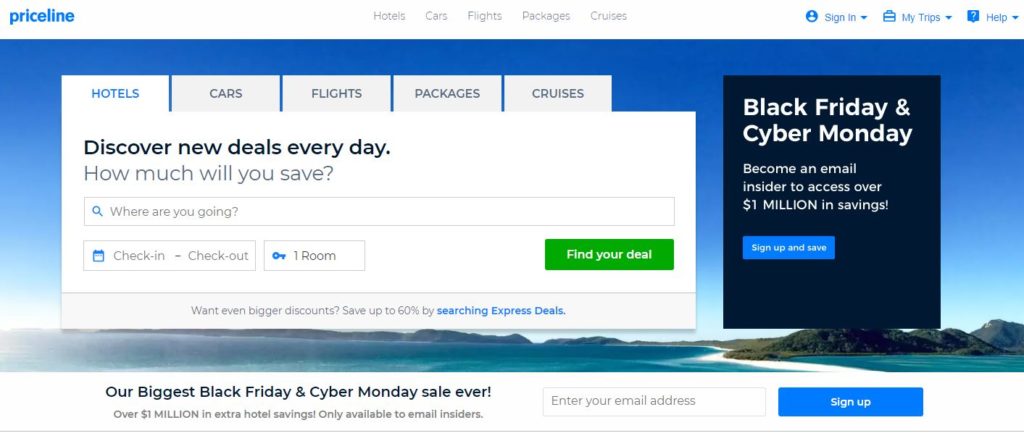 The same simple and easy to understand content can be seen on their Facebook posts, as shown by the example below: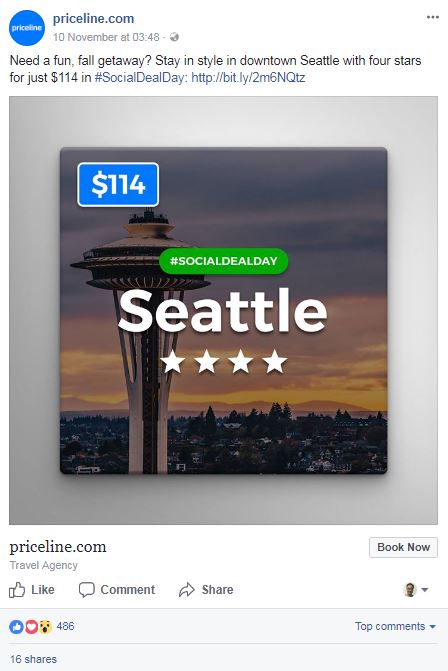 Conclusion
Now that you've read about the different ways you can boost your social media marketing efforts, the next step is yours to take.
Begin by asking yourself these questions:
Are there untapped niches for search keywords that I can consider?
Am I creating content that my potential customers would find useful?
Have I invested in building an online community for my travel brand?
Are there social media influencers whom I can partner with?
Am I spending enough time and effort caring for my customers online?
Once you've done so, you can start creating the right channels, fill them up with the right content, and build the right community to grow your travel business.
Source https://www.postbeyond.com/blog/why-social-media-matters-in-the-travel-industry/
Source https://www.smartertravel.com/use-social-media-travel-like-a-local/
Source https://coolerinsights.com/2018/05/social-media-marketing-travel/