Italy in October – Your 2022 Complete Guide
Along with May and September, the month of October is one of the best months to visit Italy. After the summer heat (that extends into September), the entire peninsula gets a dose of mild weather and occasional rain showers. Towns and villages put on autumn festivals (sagre), casual gatherings full of delicious food and drink.
It's a nice time to be outdoors – hiking, cycling, or exploring cities. Beaches in the south often have swimming weather (but it's not guaranteed).
Are you thinking about visiting Italy in October?
In this post, you'll learn…
if visiting Italy in October is a good choice for you
what weather to expect in Italy in October
which holidays Italy celebrates in October and which days things are closed
my recommended places to visit in October in Italy, including where to go with kids
the best activities and events in Italy in October
which foods to try in Italy in October
what to wear on a trip to Italy in October
the best ways to travel around Italy in October
If you're looking for something specific, check out the Table of Contents below so you can jump ahead to what you're looking for.
First trip to Italy? 10th? Either way, check out our 200+ Essential Italy Travel Tips!
Should You Visit Italy in October?
After a long, hot summer (and they always are) in Italy, we're ready for things to cool off! Here in Tuscany, the vines turn from green to gold, orange, and red, and there's excitement for the olive harvest. Locals gather in piazzas for sagre and wine festivals, and we're all squeezing in the last few outdoor meals before chillier weather arrives.
4 Reasons You Should Visit Italy in October
October generally brings mild, beautiful Mediterranean weather.
School is back in session (in Italy and abroad) so there are fewer tourists and crowds. That doesn't mean there aren't visitors though… Many of Italy's main destinations (Florence, Rome, Venice, etc.) are still very busy. Some schools in Europe have a break in the second half of October, so you'll see more families for a couple of weeks.
Italy in the fall isn't Vermont, but we do have beautiful foliage color changes, especially the vineyards of Tuscany and Piedmont and the larch forests of Northern Italy.
We retire our summer fruits and fresh salads and cheeses and change our focus to delicious foods like truffles, porcini mushrooms, and other seasonal specialties. If you time it right, you can participate in a harvest of grapes or olives.
Good To Know: It's always best to reserve tickets for any museums or events you don't want to miss. Many museums limit entry numbers so you'll want to book in advance. I always recommend booking advance tickets to popular museums and sites:
The Last Supper (Milan)
The Uffizi Gallery (Florence)
The Accademia (Florence)
The Colosseum (Rome)
The Vatican Museums (Rome)
4 Reasons You May Not Want to Visit Italy in October
You're looking for sun and sea on a beach vacation. While you probably can have a nice beach holiday in southern Italy (specifically Puglia and Sicily), nice beach weather isn't a guarantee. If you're set on a beach holiday, look elsewhere or come to Italy from June – September.
You're hoping to hit the ski slopes. October in Italy is too early for skiing – there's no snow yet.
You're looking forward to exploring Italy's famous museums and cities without crowds. There are definitely fewer crowds than in September, but you won't be visiting alone.
You're hoping to score great discounts on hotels. Although the summer high season has passed, low-season prices haven't officially arrived.
Weather in Italy in October
Weather – it's the number one thing people ask me about when they're thinking of visiting in October. "Will it rain?" "Can we swim in the sea in October in Italy?" "Do I need to bring a coat?"
I can't predict the weather, but I can tell you that the weather in Italy in October is generally pleasant and doesn't interfere with exploring the country.
Northern Italy is definitely cooling down (and has been since September) but can still see gorgeous sunny days. Average temperatures hover around the 13°C mark (55°F).
Central Italy can go either way in October – sunny days or scattered rain showers. Average temperatures are usually around 17° C (63°F).
Southern Italy is the warmest part of the country in October. Early in the month, there's a good chance you'll see some beach weather! Temperatures tend to hover around 21°C (70°F).
In October, we typically experience mild temperatures and sunshine, although the days are obviously shorter than in the middle of the summer.
The extreme heat has gone with the summer, which is fabulous news if your hotel doesn't have air-conditioning.
We are in the autumn season, so expect more rain and cooler temperatures in the evening.
If you're looking for beach weather, head south to Puglia and Sicily. We've had fabulous beach holidays in Puglia in early October (but the nice weather isn't guaranteed!).
October Temperatures and Precipitation in Italy
City
High
Low
Precipitation
Notes
Milan
66°F / 19°C
51°F / 11°C
35mm
Venice
66°F / 19°C
51°F / 11°C
25mm
Florence
71°F / 22°C
53°F / 12°C
49.5mm
one of its rainiest months
Rome
73°F / 23°C
53°F / 12°C
34mm
Naples
74°F / 23°C
57°F / 14°C
30mm
Palermo
75°F / 24°C
64°F / 18°C
45mm
Average temperatures and precipitation source: timeanddate.com
Good To Know: This chart gives you an idea of past weather conditions and average temperatures, but before your trip, take a look at the weather forecast. A reliable site and app here in Italy is Il Meteo .
Holidays in Italy in October
October is a quiet month for holidays in Italy.
October 4th – Festa di San Francesco
Translation: The Feast of St. Francis
What It Celebrates: On October 4th, St. Francis of Assisi is honored in Italy (and around the world). He is the patron saint of Italy (along with St. Catherine of Siena) and of animals and the environment. Since his birthdate is unknown, his life is celebrated on the anniversary of his death.
What's Going On: The celebrations are focused on the UNESCO World Heritage site of Assisi, in Umbria.
Traditions:
Oil offerings for the lamp that burns at St. Francis' crypt
Pets and farm animals are blessed (not always on the 4th, can be in the period surrounding the holiday)
Children learn about animals and nature
National Holiday: No
Open/Closed: Everything remains open
Reserve In Advance: No, except for Assisi. If you'd like to visit during the Festa di San Francesco, it's best to book your accommodation early.
October 31st – Halloween
Halloween is celebrated in Italy but not in the same way as in the US. It's much darker here, even for little kids. I try to explain to other moms here that it's great to dress up as cats, princesses, and Super Mario – that little kids don't need to dress up as zombies or all in black.
It's not an official holiday here, but more and more Italians are embracing Halloween and its trick-or-treating and parties. The walled city of Corinaldo in Le Marche is the 'capital of Halloween' in Italy and has an annual Halloween festival with concerts, markets, street artists, Halloween decorations, and the election of 'Miss Witch.'
In our area, shops stay open for kids and hand out candy, and some residential neighborhoods welcome trick-or-treaters. Kids dress up in the evening (but not at school).
Triora, in Liguria, is known as the city of witches (and the Ligurian Salem) because of the 1800s interrogation of over 300 women that were accused of witchcraft. Every Halloween, Triora hosts a Halloween festival with a bonfire, concerts, workshops on ancient witchcraft, and more.
Good To Know: October 31st is also La Vigilia di Ognissanti, or All Saint's Eve. All Saint's Day, on November 1st, is the celebration of, you guessed it, all saints. November 1st is a national holiday.
The 8 Best Places in Italy to Visit in October
| Location | What To Do |
| --- | --- |
| Tuscany | road trip to Tuscan villages, participate in the olive harvest, attend a sagra |
| Rome | have aperitivo outdoors, explore the Villa Borghese, visit classic sites |
| Umbria | explore small villages, honor St. Francis in Assisi |
| Puglia | relax at the beach, see Alberobello's trulli, try the new olive oil |
| Sicily | visit the Aeolian Islands, sip Sicilian wines, see archaeological sites |
| Amalfi Coast | take a boat trip, go for a hike, relax at a seaside cafe |
| Venice | have hot chocolate at a café, wander the streets, and admire the holiday decorations |
| Piedmont | sip Barolo or Barbera wine, attend the Alba International White Truffle Festival |
Tuscany in October
The Northern Tuscan countryside is beautiful in October with the changing colors of the vines and some of the trees in the forests. In the Southern part of the region, the rolling hills of the Crete Senesi are tilled and look velvety in the autumn light (perfect for photographers).
Florence will still have plenty of visitors, but it's more pleasant to visit with milder weather (and less mosquitoes). The weather is nice enough for outdoor aperitivo, and strolling along the Arno.
We love road-tripping around Tuscany in October, to villages in the countryside. Villages to check out include:
You can day-trip to many of the villages from Florence, or base yourself in the countryside If you visit in late October, you may be able to participate in the olive oil harvest.
Good To Know: Don't expect pool weather at your Tuscan agriturismo in October, and even if it is sunny and warm, many properties close their pools at the beginning of the month.
And beach towns like Forte dei Marmi or other beaches on the coast are nice to visit, but it may be too cold for swimming. You can still visit markets , have a seafood meal , and enjoy the towns.
Rome in October
October in Rome brings mild, pleasant weather. You may hear Romans talking about their 'ottobrate romane' – October days with the perfect combo of setting, temperature, and beautiful sunshine. Soak it up with the Romans by sitting outside at a café or restaurant or picnicking in one of Rome's green spaces like Appian Way Regional Park, Trastevere Botanical Garden, Villa Borghese, or Villa Doria Pamphili.
There are still crowds (it's still high season), but an October visit is worth it.
Our family loves the fresh air in October and the cooler evenings. We love to:
get gelato at Fatamorgana
have aperitivo in Monti
visit Rome's lively piazzas and markets
leave the center on occasion
photograph the colorful ivy on the walls of buildings
We always recommend seeing the classics like the Colosseum, the Roman Forum, and the Pantheon, and then seeing something a little less visited like:
the Domus Aurea
the Terme di Caracalla
Ostia Antica
Centrale Montemartini (museum with ancient Roman and Greek sculptures in an old power plant)
Umbria in October
Italy's 'green heart' may not be very green after a hot summer, but it's worth traveling around the region to visit its cities and small villages in the fall, including:
Sample the newly-pressed oil (or help with the olive harvest!), dine on local salame, visit the Perugina chocolate factory (home of Italy's bacio candy), walk the streets of Perugia, cycle the path of Lago di Trasimeno, and visit St. Francis' hometown of Assisi for his festival on October 4th.
Puglia & nearby Matera in October
Puglia
Visit Puglia's charming whitewashed villages:
Alberobello – wander the trulli-lined streets of the UNESCO World Heritage site
Locorotondo
Martina Franca
Monopoli – relaxed Puglia living (make this your home base)
Ostuni
Polignano a Mare – head down to the oft-photographed Lama Monachile
Trani – visit the best bakery in Italy (Lula)
You may or may not have sunny beach time, but you'll have plenty to see in the area (the villages above) and the food (fresh produce, seafood, and mozzarella) in Puglia is incredible. You'll be there for the olive oil harvest – check out Italy's oldest olive trees (some are over 1000 years old!).
Matera
If you make it all the way down to Puglia, make a detour or a day trip to Matera, the UNESCO World Heritage Site of the city of sassi. The mild October weather makes exploring the town and hiking in the natural parks a pleasant experience – much more so than in the heat of summer.
Read more about the city in our Complete Guide to Visiting Matera.
Sicily in October
Sicily in October is a dream. It's not stiflingly hot anymore, but you can still swim. It's a nice time to visit outdoor sites (like the Temple of Apollo in Siracusa and the Valley of the Temples in Agrigento) without the summer heat!
The best way to travel around Sicily is with a rental car (although adventures on Sicilian trains will probably give you a lifetime of memories). Don't miss some of my favorites:
Siracusa (and Ortigia) – the morning market
Scicli – caves and piazza dining
Modica – unique chocolate
Taormina – luxury hotels, views from Piazza IX Aprile, Isola Bella
Ragusa Ibla – evening strolls, delicious gelato
Monreale – Cathedral's mosaics
Palermo – Sicilian life at its beautiful, crazy and chaotic best
Amalfi Coast and Pompeii in October
Ravello hillside in the fall
October on the Amalfi Coast brings pleasant temperatures and fewer crowds. And, you can still swim and enjoy the coast!
Yes, you'll find a few places closed because the summer rush is over, but it's a really nice time to visit. When I worked as a hiking guide in the area, I loved bringing guests in October – it felt less overwhelming than the busier summer months.
Many popular destinations (like the Blue Grotto of Capri) see a dramatic reduction in tourists in October.
Nearby Pompeii is much more pleasant without the crowds and heat of the summer months.
Good To Know: I recommend visiting the Amalfi Coast in the first half of October. Late October may not be warm enough for swimming, and tourist services start closing up shop for the off-season.
Venice in October
Will you be alone in Piazza San Marco in October? No – it's still crowded because the city sees mostly foreign tourists year-round. But, the stifling hot summer weather is gone and you probably won't be walking elbow-to-elbow with other visitors, especially later in the month.
Sample cicchetti for aperitivo (or make a meal out of them!) and do a crawl between bacari. Visit Murano and see a glass demo. Take a ride around the canals in a gondola or on the small ferries.
Piedmont in October
The scenery in Piedmont is at its best in September and October. Morning fog in the vineyards and autumn light make it a good time for photographers to visit.
Post-harvest, stop in a winery to sample local wines. Rent a car (or hire a driver!) and visit the towns of Barolo, Grinzane Cavour, Bra, Alba, Barbaresco, La Morra, and Monforte d'Alba.
If you love truffles, you're in luck – October is the beginning of Alba's International White Truffle Festival!
Destinations to Skip on an October Trip to Italy
The only two places you may want to think twice about visiting in October are the Dolomites and the Cinque Terre, but both are definitely still fine to visit if you want/need to.
Dolomites in October
If you want to take advantage of the trail system, you'll have to do without some of the lifts – many of them close in mid-September. Some hotels also start to close – it's their break before the busy winter season begins.
Good To Know: If you're set on visiting teh Dolomites in October, or it's the only time that works for you, don't stress! We've visited plenty of times in October. Some visits have been rainy and we've explored more in towns (like Bolzano). Other visits have been amazing with gorgeous weather, colorful larch trees, and no crowds in popular areas like the Alpe di Siusi .
Cinque Terre in October
Most tourists are gone, so you'll have less crowded trails and towns. You can even still jump in the water if it's a sunny day. The problem is the rain. If you come to hike the trails (which most visitors do), you risk missing out due to trail closures and rainy muddy trails. If you can, come in September or in the late Spring.
Activities and Events in Italy in October
L'Eroica rider
Here's a sampling of what's on in October:
| Name | Explanation | Location |
| --- | --- | --- |
| White Truffle Festival | international truffle festival | Alba (Piedmont) |
| Euro Chocolate | chocolate festival | Perugia (Umbria) |
| Rome Film Festival | international film festival | Rome (Lazio) |
| L'Eroica | vintage bicycle race on gravel roads | Gaiole in Chianti (Tuscany) |
| Lucca Comics & Games | international comics festival | Lucca (Italy) |
| Santa Reparata Festival | festival honoring the saint | Florence (Tuscany) |
| Italian International Marathon | marathon honoring Enzo Ferrari | Maranello (Emilia-Romagna) |
| Venice Marathon | international marathon | Venice (Veneto) |
| Venice Biennale | biannual international art exhibition | Venice (Veneto) |
| San Miniato Truffle Festival | truffle festival | San Miniato (Tuscany) |
| Festa della Zucca | pumpkin festival | Foiano della Chiana (Tuscany) |
| Sagra del Tordo | medieval festival | Montalcino (Tuscany) |
| Sagra delle Castagne | chestnut festival | Soriano nel Cimino (Lazio) |
| Barcolana Regata | international sailing race | Trieste (Friuli Venezia Giulia) |
| Sagra della Polenta | polenta festival that includes a donkey race | Sassetta (Tuscany) |
*not always in May
Good To Know: When deciding on a festival or sagra, check in with someone at your accommodation for the scoop on local events. They'll point you in the direction of the best ones… which are often the small ones that are only advertised with paper signs on the walls of surrounding towns.
Good To Know: October in Italy is full of truffle festivals. In addition to the festivals in Alba and San Miniato, you'll find more tartufo celebrations in Tignale, Gubbio, and Rimini.
Via Francigena walking and cycling route
If you're in Italy in October, you may want to check out these activities:
cycling
hiking
cooking class
olive harvest
wine tasting
What to Eat in Italy in October
Not-to-Miss Produce in Italy in October
pumpkin – zucca
butternut squash – zucca butternut
porcini mushrooms – funghi porcini
chestnuts – castagne
truffles – tartufi
chicory – radicchio
Food You Should Eat in Italy in October
Risotto with porcini mushrooms
Fettunta – toasted bread with fresh-pressed olive oil
Truffle pasta
Ribollita – vegetable and bread soup
Castagnaccio – chestnut cake
Pappardelle al ragu di cinghiale – fresh pasta with a wild boar sauce
Polenta
Bicerin– hot drink combining coffee, chocolate, and milk
The Best Places to Visit in Italy in October with Kids
Chianti Sculpture Park
You may want to read our posts on traveling to Italy With Teens and Italy With a Baby or Toddler!
Tuscany & Florence
October is a little quieter in Tuscany, which makes visiting its towns easier if you've got kids with you. Lines are shorter, restaurants are less crowded, and museum visits are a little less overwhelming. Our family starts heading back out to some of the more popular towns that we take a break from during the busy summer (San Gimignano, Chianti towns).
We do see more rain in Florence in October, so you may have fewer playground visits, but there are museums with kids programs and other indoor activities (like cooking school) to keep kids engaged and entertained.
Puglia
If you can get to Puglia be early October, you'll probably have some beach weather for the kids. It's a wonderful time to be at the beach in Puglia because the summer crowds have disappeared and you may have an entire beach club to yourselves.
Good To Know: Some beach clubs are already closed in October, and others are open but without facilities like restaurants. It's not a problem – you'll just need to call ahead to find one and you may need to bring your own picnic lunch.
Even if you don't want to spend time at the beach, it's a wonderful time of year to be in Puglia with kids. Let them witness the olive harvest, join a mozzarella-making class, and visit Puglia's unique towns like Alberobello and Ostuni.
If you're not interested in winter sports, Rome is an excellent option for families visiting Italy in December. Ride the Hop-On/Hop-Off bus, take a family tour of the Colosseum and Roman Forum, eat pizza and gelato, throw your coin into the Trevi Fountain, attend Gladiator School, explore Rome's children's museum, and be entertained in Piazza Navona.
What To Wear in Italy in October
Halloween dress-up day at Leolandia theme park in Tuscany
The main things to think about when dressing for October:
Be prepared for temperature changes. You might be out on a sunny day in short sleeves but as the sun sets it gets chilly. Make sure you have layers! A scarf will also come in handy in October.
Be prepared for rain. If you don't want to wear a raincoat, bring a small travel umbrella. I actually prefer the travel umbrella because a raincoat leaves a purse or backpack still exposed.
Bring close-toed shoes with good tread. Sandals can be tempting, but you'll want your toes covered on cooler evenings. Good tread is important for staying upright on slippery cobblestones and streets after a rain shower.
Suggested Modes of Transport for Italy in October
Car
October is an excellent month to travel by car or go on a road trip in Italy! You'll want a car for driving to villages for festivals and for visiting vineyards.
Traveling by car gives you the most freedom, but can be pricey by the time you add up the rental cost, gas, tolls, and parking. Rental car demand isn't high in October, so you should be able to get a great rate on your car.
Need to rent a car? I recommend checking out consolidators like DiscoverCars.com and AutoEurope.com for a round-up of the best deals from Italy's principal rental car companies.
Check out our post on Driving in Italy to learn about Italian driving rules and norms!
Plane
If you're traveling long distances, look into flying. There are fewer route options in October than during the high season months, but you'll still have quite a few options. And, with Europe's many discount airlines competing for your €s, you may find excellent deals.
Train
It may not always be the fastest way and it may need to be combined with other transport (like taking a taxi to the train station), but taking a train is a beautiful way to travel around Italy in October.
Bicycle
It's still a great time of the year to cycle in Italy, especially in the central and southern parts of the country. Make sure you pack rain gear, as showers are likely in October.
Italy in October Vocabulary
| Italian | Pronunciation | English translation |
| --- | --- | --- |
| Buon Halloween | | Happy Halloween |
| Buona Vigilia d'Ognissanti | | Have a good All Saint's Eve |
| sagra | | local festival |
| tartufi | | truffles |
| vino | | wine |
| raccolta | | harvest (of crops, olives, etc.) |
| olio di'oliva | | olive oil |
| vendemmia | | grape harvest |
| pioggia | | rain |
FAQ
What Do Italians Do in October?
Most Italians take their vacations in August, and schools are back in session in September, so there's not a lot of movement on the part of Italians. For the most part, they're at home, going to work, and going to school.
Is October a good time to go to Italy?
October's an excellent time to go to Italy – the weather is mild and pleasant, which is nice for sightseeing and the occasional outdoor meal. Crowds are smaller (but not non-existant) and food and wine festivals are plentiful.
Is Italy still warm in October?
It's still fairly warm in Italy in October during the day, but the evenings can be chilly, and they definitely are up north.
What is Italy's weather like in October?
In October, Italy typically sees mild temperatures and sunshine. Expect more rain and cooler temperatures in the evening.
What is on in Italy in October?
There are a ton of food and wine festivals in October in Italy, along with other events like marathons, celebrations of patron saints, and Halloween.
Visiting Italy in October: all you need to know (2022 update)
October is one of the most beautiful times of the year to visit Italy.
A month of transition, October looks very different in the north of Italy and the South and the type of experience you are going to have will depend largely on your exact destination.
However, in most cases, in October Italy will treat you to fall atmospheres made of mild temperatures, beautiful foliage and earthy foods from harvest festivals.
Please note: this is a seasonal travel guide about Italy in October, meant to help you decide the best time of the year for your visit. For official information and travel advisory that may affect your trip, please refer to your Government travel advisory. Check here for official info if traveling from US, Canada, UK, Ireland, Australia, New Zealand.
Please note: this post contains affiliate links and, should you make a purchase, we might make a small commission at no extra cost to you.
Italy in October: what you will find in this article
Overview of weather in October in Italy
October festivities and events in Italy
Recommended places to visit in Italy in October
October in Italy with kids
What to book in advance for October in Italy
The weather in Italy in October: what to expect
October is the heart of autumn in Italy.
It is a time when trees don their autumnal colors and the temperature starts to drop, significantly in the North and on the mountains and more subtly in the Central and Southern Regions of Italy.
Overall, temperatures in Italy in October are mild and you can expect a mix of sunny and rainy days.
In terms of clothing, October is a time for long pants, long sleeve shirts and light jackets although in the central hours of the day, especially in the South, you may get temperatures so mild to allow for short sleeves.
Overall, October in Italy is not a time for swimming in the sea although, in the South, it is not unheard of to have nice beach days at the beginning of this month!
To give you an idea of temperature, historically the temperatures for October in Italy were:
Milan: Max 18C Min 11C Rain: 6 days
Bolzano (Dolomites): Max 18C Min 7C
Rome: Max 22C Min 12C Rain: 7 days
Palermo: Max24C Min 18C Rain: 6 days
October festivities in Italy you need to know about
4 October: San Francesco – marked especially in Assisi, where several religious ceremonies in honor of the city's most beloved sun take place on the night of the 3rd and the day of the 4th of October each year.
This is usually not a day off for offices and it should not affect your ability to visit museums and attractions.
Small centers with a strong Franciscan vocation are likely to have special festivals or markets to mark the occasion.
31 October – Halloween.
While not traditionally an Italian holiday, Halloween has well and truly arrived as a festivity, especially for kids. Some themed events are organized in city museums and parks and costumes (any theme, not just scary ones) are encouraged.
The best places to visit in Italy in October
Rome in October
October in Rome is famous for crisp, bright days and wonderful fall colors.
We locals even have a name for the glorious days of autumn in Rome: 'Ottobrate Romane'.
This term historically indicated the day trips wealthy Roman families would take in October, making the most of the last bright days of the season to enjoy a day on the lake or in the country and nowadays simply indicated the stunning weather the city usually experiences at this time.
I adore Rome in October: my hometown turns wonderful at this time!
If going to Italy in October, you can easily enjoy Rome at its best.
The Colosseum, Roman Forum, Palatine Hill, Vatican Museums, all of Rome's beautiful piazzas will be easy to visit and the crowds will be large but not as overwhelming as at other times.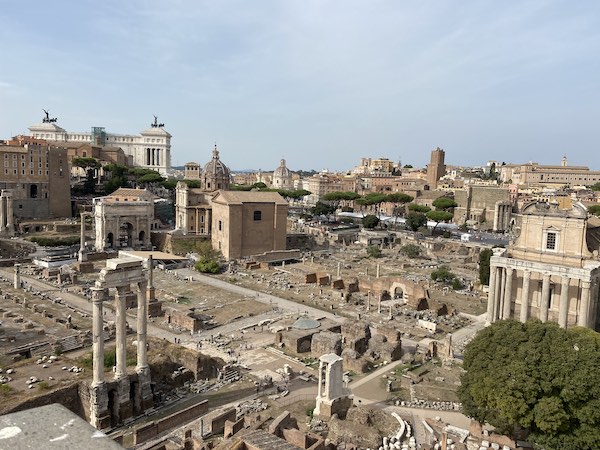 Venice in October
October is a lovely time in Venice, a moment when the city has a more intimate feel than at many other times.
The weather is hit and miss and you will have less daylight hours than if you came in the spring.
However, the city at this time tends to see fewer crowds and overall has a more pleasant feel than during humid and busy summer times.
Wonderful things to do in Venice in October include:
See all Venice must-see sites, making the most of the slightly smaller crowds.
Take a class with Row Venice to experience an ancient art and get up close and personal wit Venice canals
A visit to the beautiful glass workshops in Murano, where you can learn how glass is made and buy gorgeous glass jewelry or home decor for yourself or a loved one (they make fantastic traditionally Italian souvenirs!)
A visit to Burano and its delightful colorful houses: don't forget to check out the local lace museum and taste Burano's local biscuits buranelli – they are perfect with coffee or tea!
Gorge on Venice chicchetti: chiccetti is the name venice people give to small bites of food served in local establishments (bacari).
They come in several forms, with meat/fish/seafood/vegetables and they are a wonderful excuse to sit indoors and have a rest when the sun starts to go down or rain threatens to ruin your plans.
Tuscany in October
Tuscany and its rolling hills go through a magical time in the fall.
The mild weather is perfect for sightseeing and the bright sky of this season, with the occasional cloud coverage, always strikes me as the perfect backdrop for Tuscany's Medieval and Renaissance gems.
This is the time to enjoy the stunning foliage of the Tuscan forests and to taste the warming food of this amazing terroir.
October in Tuscany evokes long walks in hilltop towns followed by dinners in local restaurants indulging in local wine and a platter of cheese.
The best places to visit in Tuscany in October are:
Emilia Romagna in October
The land of Parma ham and Parmigiano is wonderful to visit at this time of the year, after the oppressive summer is gone and before the cold and foggy months begin.
Tortellini in Broth, a Traditional Italian Recipe, with Red Wine
The best places to visit in Emilia Romagna in October are:
The cities of Emilia Romagna offer endless opportunities for sightseeing and the area is a foodie paradise: this is the part of Italy that gave to the world tortellini, ragu' alla bolognese, prosciutto di Parma and Parmesan, just to name its most famous creations!
If you are into food, this will be your personal corner of paradise.
Umbria in October
Umbria is a wonderful part of Italy to visit in October.
The region has beautiful medieval towns and stunning forests which, in October, gifs locals and visitors with an amazing harvest of olives, truffles, hazelnuts and more!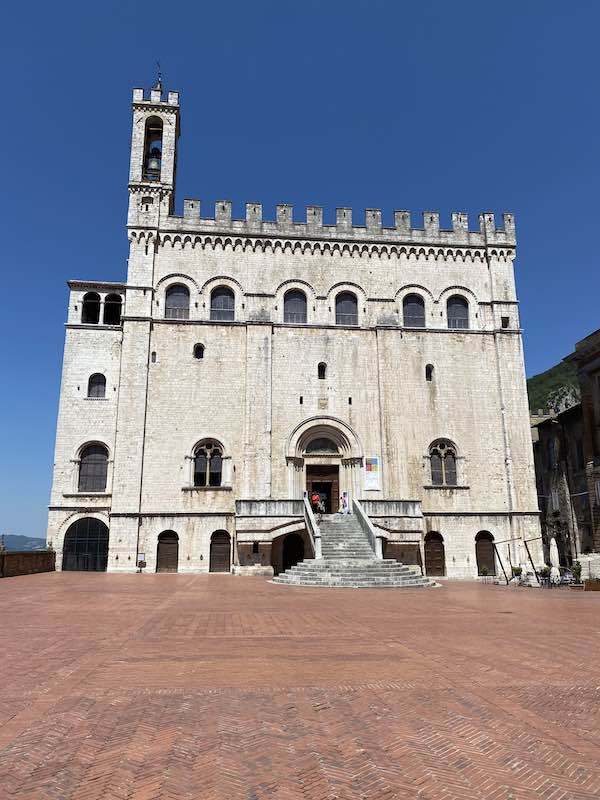 A visit to Umbria in October is ideal if you like sightseeing and can offer great opportunities for fun activities such as olive harvest and truffle hunting.
In October, Umbria celebrates its most famous saint, St Francis and especially the city of Assisi hosts large festivals in his honor at the time of his death, the 4th of October.
Places not to miss in Umbria in October are:
Assisi
Perugia
Citta' di Castello
Puglia in October
Puglia, the heel of Italy, is often blessed with amazing weather in October.
On a good year, you will be able to enjoy long days out and still wear summer clothing here, without the scorching heat of the summer.
The photos you see on this page from Puglia are taken at the end of October!
Wonderful places to visit in Puglia at this time are
– with its wonderful seasise cathedral – stunning whitewashed town with impressive baroque architecture – the town with UNESCO famous trulli – a tiny gem of a place with whitewashed houses and pretty balconies
Castel del Monte – UNESCO castle with a unique structure and history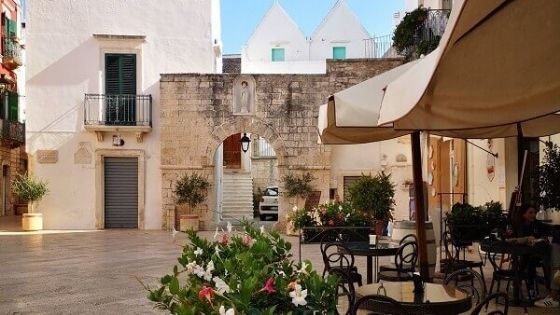 Matera in October
Matera is unique in Italy but has fickle weather.
Hot in summer and cold in winter, it is perfect in October, when you can sightsee in mild temperatures and make the most of its crisp bright sky.
Matera has a unique history and it is visually stunning. I highly recommend you spend at least two full days here: the evenings in Matera especially, as the sun starts to go down on its cave dwellings and the city's wine bars come to life is a delight.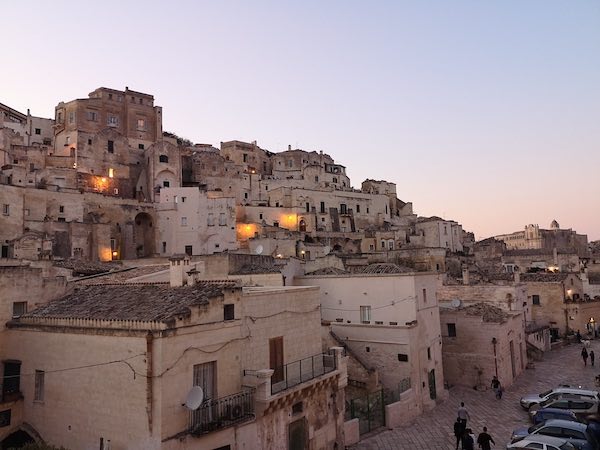 Sicily in October
October is one of the best months to visit Sicily. Outside of the busy summer time, in October you will be able to visit Sicily's stunning archaeological sites without melting in its torrid sun and you will still be able to enjoy beautiful sea views.
This is a good time for cultural tourism in Sicily rather than and sea and sun vacation since high temperatures, especially towards the end of the month, are not always guaranteed.
Places we love in Sicily are:
and Segesta
Palermo
Noto Valley
if you can rent a car, October is a fantastic time for a mini road trip in Sicily, away from the scorching temperatures of summer!
Other places you may want to visit in Italy in October
Dolomites – October is not a great time to visit the Dolomites.
At this time, the season is too advanced for most hiking, especially at high altitudes and not quite advanced enough for skiing.
However, you can still get lovely sights of the beautiful landscape changing its colors from green to golden, making an autumn trip here worth it.
At this time, I love to base myself in Bolzano and explore locally.
You can find here >>> my guide to my favorite places on the Dolomites.
Amalfi Coast – the Amalfi Coast is wonderful any time of the year and October is a lovely time to visit.
At this time, the temperatures are usually much milder than in summer and, by the end of the month, tourism services tend to wind down; however, you will still be well able to enjoy all this wonderful area has to offer: food, coastal views and history being only the beginning!
Especially if going towards the end of the month, double-check the schedule for ferries if you are counting on going to the islands and be prepared for the occasional rainy day.
Cinque Terre – Cinque Terre is a wondwrful part of Italy however, it is not always at its best in October, especially towards the end of the month.
The weather is usually too cold for swimming and rains are frequent.
If coming at this time, check the conditions of the paths carefully before venturing up.
The villages and their wonderful food will be, however, well able to keep you busy in October too!
October in Italy with kids
October is a popular time to visit Italy for families with kids as it coincided with the midterms break of many schools.
While the weather is never guaranteed in October in Italy, this is a reasonably good time to visit with kids.
In particular, we recommend you visit:
Rome with kids – magical in October, when the city usually gets crisp sky and mild temperatures. The Colosseum the city's parks are perfect for sunny days and the many family-friendly museums in the city offer refuge for the wet days.
Florence with kids – always lovely with children but way too hot in summer.
Venice with kids – blissfully devoid of mosquitoes, hungry and annoying in summer
Verona with kids – Verona is one of my favorite cities to visit in Italy with kids, well able to keep them busy even on a rainy day!
Tuscany with kids – October has the perfect temperature for hilltop town hopping with kids.
This is also the time when wineries open their doors to visitors and this includes children!
The 'open cellars' initiative involves wineries all over the region and is a great opportunity to go wine tasting in Tuscany with kids. Some even offer the chance to take part in the harvest!
Puglia, Matera and Paestum – one of the most successful October trips we have taken in Italy has led us to Puglia, Matera and Paestum: the wonderful photo below with my daughter and a temple is from there!
Just for fun! In the last couple of years Italy has embraced the tradition of days at the pumpkin patch! These can be great fun for kids – find here >>> a list of kid-friendly pumpkin patches in Italy.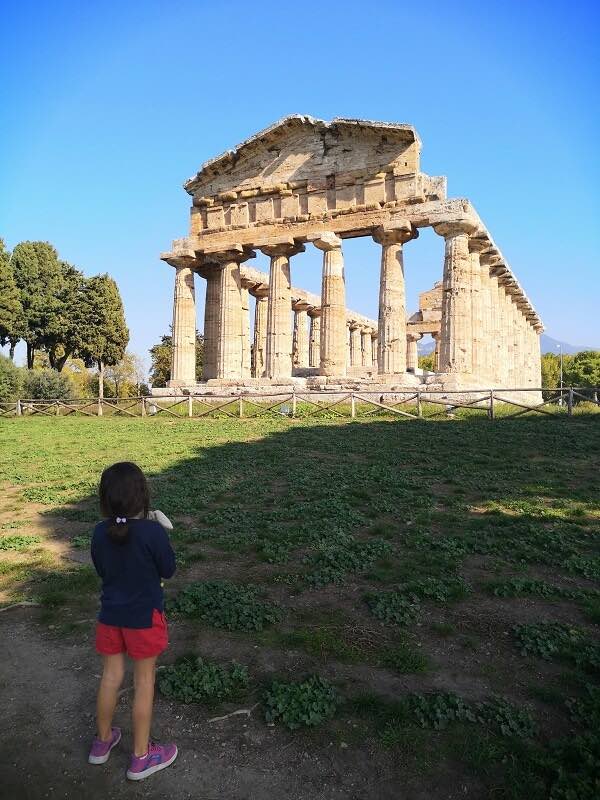 What to book in advance for spending October in Italy
October is surprisingly busy in Italy and advance booking for all main attractions is recommended.
Attractions that need advance booking are:
Last Supper (Milan) – The Last Supper tends to book out quickly. I highly recommend you secure a ticket as soon as you have your dates set. The one at the provided link has a good cancellation policy, for peace of mind.
Uffizi Gallery (Florence) – always very busy, it is worth securing a guided tour in advance
Vatican Museums (Vatican City, Rome) – The Vatican Museums are vast and wonderful and this can result into the experience of your visit being overwhelming. Unless you know already what parts of the museums interest you, I highly recommend you get a guide and join a tour (either small group tour or private).
Good tickets/ Vatican Tour options (they all include the Sistine chapel) are:
(perfect if you want to beat the crowds or need the rest of your day free)
Colosseum (Rome)
The Colosseum and the nearby Roman Forum and Palatine Hill are stunning in October but advance booking is a must.
You can choose between several types of tickets:
with a guided tour of the Colosseum and self-guided tour of the Forum by Coopculture: this is the official OClosseum concession and has good value tickets but offers no flexibility on your booking time/date
– a good value ticket option with a good cancellation policy tour for famlies with kids – a good option for families traveling with school age kids
Trains do not usually need to be booked in advance however, high-speed trains on popular routes such as Rome to Florence do tend to book out or only have very expensive tickets available.
I recommend you use the website trenitalia.it or italo.it: these are the ones that allow buying tickets directly, without additional agency gees.
The last week of October is usually one of the busiest due to the proximity of the National Holiday on 1st of November, All Saints, a traditional long weekend for Italians. Book in advance if planning on traveling at that time.
I hope you enjoyed this quick guide to Italy in October. Safe travel planning!
Marta Correale
Marta Correale is an Italian mama of two. Born and raised in Rome, Marta has a passion for travel and especially enjoys showing off Italy to her kids, who are growing up to love it as much as she does! A classics graduate, teacher of Italian as a second language and family travel blogger, Marta launched Mama Loves Italy as a way to inspire, support and help curious visitors to make the most of a trip to Italy and learn about Italian culture on the way.
You May Also Like
The best shoes for Italy: how to pick + best buys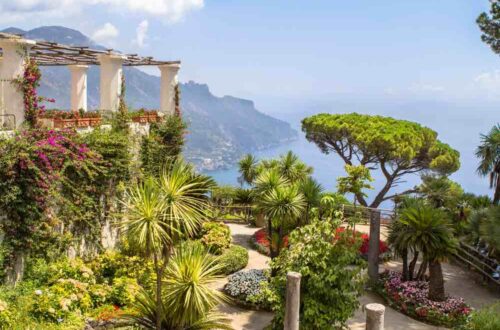 December 7, 2021
Visiting Italy in May: all you need to know for a perfect trip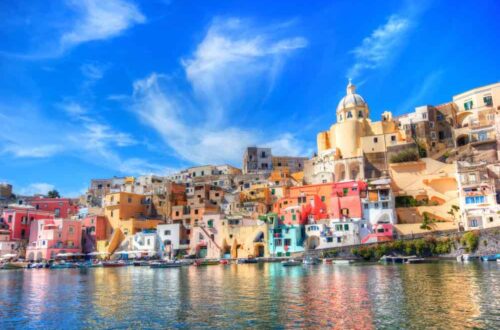 May 11, 2021
Traveling to Italy in October: What You Need to Know
When people ask me my favorite time to travel in Italy, I invariably say one of the shoulder seasons – spring or fall. But the truth is that the fall has my heart, largely because it's when there are food and wine festivals all over the country. October is definitely in Italy's fall shoulder season, which often means lower prices on things like accommodation and airfare, but those harvest festivals still draw crowds from both inside and outside the country – so don't expect to have Italy all to yourself. Keep reading to find out what to expect from October in Italy, including the weather and what's on the calendar.
Weather in Italy in October
While September temperatures can still be summery and hot, October usually heralds the true start of fall. Temperatures in October go down all over the peninsula, and there's a higher probaility of rainfall. This is one of those months when you'll probably need both sunglasses and an umbrella on hand, just in case.
You aren't likely to find Italians or Europeans on the beaches in October – they think that's way too cold, and besides they've had their beach holidays in August – but if you're coming from a cooler climate you might be thrilled to find warm days and nearly-empty beaches.
Some average temperature ranges for different parts of Italy are:
Northern Italy: 45-65°F (7-18°C)
Central Italy: 55-70°F (13-21°C)
Southern Italy: 65-75°F (18-24°C)
And, as always, check the current extended forecast for where you're actually going just before you leave – when you're packing is a good time, actually – so you can find out in advance if there's an unseasonably cold or hot spell predicted.
Holidays & Festivals in Italy in October
Like I said at the outset, fall is when food and festival enthusiasts will want to be in Italy. October harvest festivals include the White Truffle Festival in Alba and Perugia's famous EuroChocolate, both of which draw huge crowds of foodies from around the world. There aren't any big national holidays in October to think about (those can sometimes mess with transportation schedules), but it never hurts to see if there's a calendar of events for the towns you're visiting, just in case you'll be around for a celebration of a local patron saint or a little-known harvest festival. Browse my (nowhere near comprehensive) list of holidays and festivals in Italy to get a start on your hunt.
Why should you go to Italy in October?
So, umm, have I mentioned the food festivals? And that includes wine, too? You get the idea, I think – foodies love October in Italy. Not a foodie? No problem – October has plenty of perks for you, too.
As mentioned, October is truly in Italy's fall shoulder season. If you're on a tight budget, that can help you save quite a bit on airfare, accommodation, and even sometimes activities like walking tours. Attractions don't typically have off-season prices, though. Aside from the people who flock to food and wine festivals, there is usually a noticeable drop-off in the number of people who flood Italian shores during the summer. No, Rome isn't empty – ever – but the lines to see things like the Colosseum get shorter.
Those of you who are primarily focused on sun and beaches won't find October suitable, since it's just as likely to be cool in the evenings and rain a bit as it is to be lovely and sunny. People who seek out gardens will be disappointed that things aren't in bloom all over the place. And October still has so many things going for it that it remains one of my favorite times to be in Italy.
Source https://mominitaly.com/italy-in-october/
Source https://mamalovesitaly.com/italy-in-october/
Source https://italyexplained.com/traveling-to-italy-in-october/