What's It Like Flying to Europe Like Right Now? A Firsthand Look
This post contains references to products from one or more of our advertisers. We may receive compensation when you click on links to those products. The content on this page is accurate as of the posting date; however, some of the offers mentioned may have expired. For more information check out our Advertising Disclosure.
This time last year, borders across Europe were closed. Long-planned trips to Europe were abandoned as Americans stopped traveling – or looked inward at domestic travel.
Oh, how that's changed. One by one, countries across Europe have thrown their borders back open to American travelers. And while international travel hasn't recovered, it's clear homebound travelers are itching to get back there sometime this year or next.
But what's it actually like flying to Europe – especially in economy – after COVID-19 upended travel? What should passengers expect from check-in kiosks to seating and rules onboard to the service, food, and drinks available? What's changed – and what hasn't?
We set out to show you on a recent trip from the U.S. to Madrid (MAD), flying economy on two different airlines. Take a look and see for yourself.
Fewer Flights to Choose From
Checking In is More Time Consuming
Flights to Europe May Be Full
Flights Back to the U.S.? Not So Much…
Masks Are Still Mandatory
Service Hasn't Changed Much
Fewer Flights to Choose From
You may notice one of the biggest changes before you're anywhere near the airport. Your options for getting to Europe are far more limited than just a few years ago.
This graphic from the airline lobbying group Airlines for America tracking flight departure numbers throughout the pandemic says it all. Follow the green line to track where transatlantic flights to Europe are at.
While flights within the U.S. and to Mexico or Latin America have returned (or even exceeded) their pre-pandemic levels, the amount of departures heading for Europe remains way, way down. Transatlantic flights are down by more than 60% compared to 2019 levels.
So what does that mean if you're planning to fly to Europe? You've simply got fewer options to pick from.
Routes to major hubs like Madrid (MAD), Paris-Charles de Gaulle (CDG), or Amsterdam (AMS) that once flew several times a day now may just have one time to pick from … or maybe just three to four departures each week. Trying to dig deeper in Europe? From Edinburgh (EDI) to Glasgow (GLA) to Prague (PRG) or Budapest (BUD), cities that once had nonstop flights may require a connection for the foreseeable future.
But it may not always seem that way. In many cases, airlines are still selling flights as if nothing has changed since 2019 – they're only fixing their schedules to the new realities of international travel during a pandemic just a month or two in advance.
So be warned: The flight you book today for late this summer, this fall, or beyond could get changed or canceled.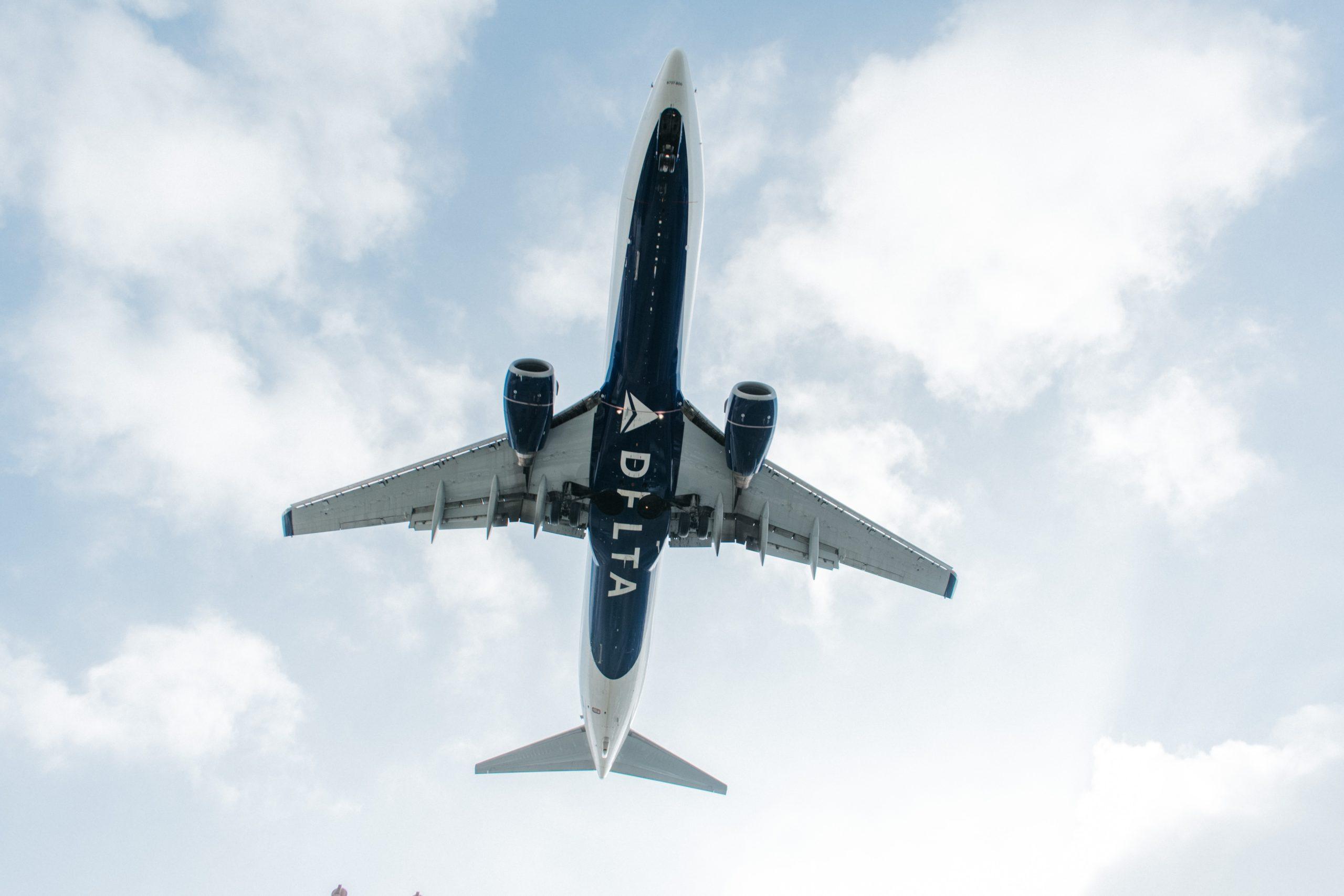 The driving force behind what flights are truly available these days comes down to one simple question: What is open? As countries across Europe have opened their borders one by one, airlines have resumed more flights to Paris, Rome, Venice, Madrid, and Reykjavik within weeks of each country announcing their plans to reopen – if not days.
After Iceland became the first in Europe to reopen in March, Delta quickly brought back its flights from New York City (JFK) and Minneapolis-St. Paul (MSP) to Reykjavik (KEF) and even added new service out of Boston (BOS). As Spain and France prepared to welcome back travelers, United resumed service to both Barcelona (BCN) and Madrid (MAD) while increasing flights into Paris-Charles de Gaulle (CDG).
That pattern has played out again and again and again.
Checking In is More Time Consuming
More and more countries across Europe are reopening their borders to Americans. But that doesn't mean getting in is easy – and the headaches start long before you land.
Europe travel restrictions are a patchwork of constantly changing entry requirements to get in and ongoing restrictions on daily life once you're on the ground. Iceland requires proof of full vaccination while Greece, Croatia, France, and Italy also allow travelers with proof of a recent negative COVID-19 test. Spain only requires Americans to fill out a digital Spain Travel Health form before departure, while you need only fill out a quick form upon departure for the Netherlands.
Read more on the current Europe travel restrictions for Americans, country-by-country!
It's up to the airlines to make sure all the passengers boarding for Europe have the necessary documentation to get into the country. That means extra document checks at the airport when you check in for that flight to Europe.
And that means check-in lines may look like this.
This one-to-two-hour line for Delta international check-ins at Terminal 4 at New York City (JFK) has become the norm when flying to Europe. Online check-in for international flights has disappeared, as agents need to manually check you've got proof of full vaccination, a negative COVID-19 test taken within the required window, a QR code for your destination, or anything else that may be required.
Navigating the restrictions on getting to Europe can add a lot of high-stakes stress to your first transatlantic trip. But it can also add some extra time to the check-in process.
Thrifty Tip: Cut your time in line by packing in just a carry-on bag. Since you won't need to drop off luggage, you may be able to skip these longer lines by checking in with an agent at a kiosk.
So once again, your airline will need to check to make sure you've got a valid test in hand while checking in at the airport – and perhaps again at boarding, too.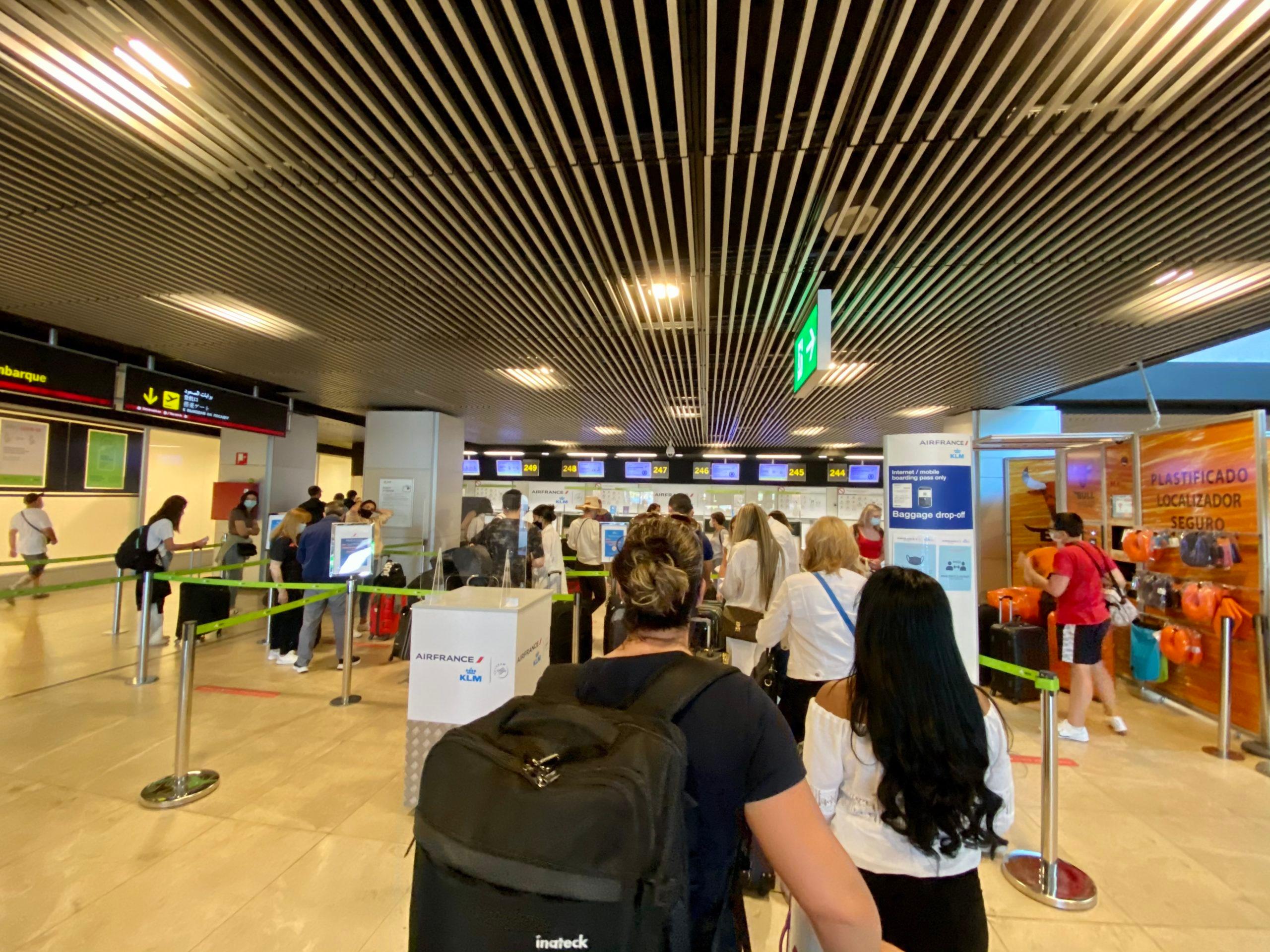 Flights to Europe May Be Full
As travel has rebounded, the days of empty flights within the U.S. are gone. And in our experience, the same is true when flying from the U.S. to Europe.
My recent Monday evening flight from New York City (JFK) to Madrid (MAD) was 95% full – at least. A final glance at the seatmap before departure showed that Delta One business class had just a few seats open, Delta Comfort Plus was booked solid, and there were just five or so seats open throughout the entire economy cabin.
That may be a small sample size, but we've heard the same from readers and seen it ourselves on other flights as Thrifty Traveler team members have made way to Iceland, Croatia, and beyond. And if you think about it, it makes sense that flights to Europe would be fairly full.
International travel demand may not be what it was in 2019, but it's growing fast as more and more countries reopen to American travelers. More travelers booking fewer flights available to Europe is a recipe for a lot of full seats.
You might not get your own row, but use Seatguru to make sure you get the best seat – or avoid the worst one!
Flights Back to the U.S.? Not So Much…
Flying the other way, the opposite was true.
While Americans have a green light to head for much of Europe, the U.S. still bans nearly all Europeans from entering the country. So while my flight to Spain was close to capacity, a flight with Air France from Paris-Charles de Gaulle (CDG) home to Minneapolis-St. Paul (MSP) was probably just over half full.
Only seats with an X were occupied on this flight. Those left blank were blocked by the airline, while seats in blue or green were still available to select.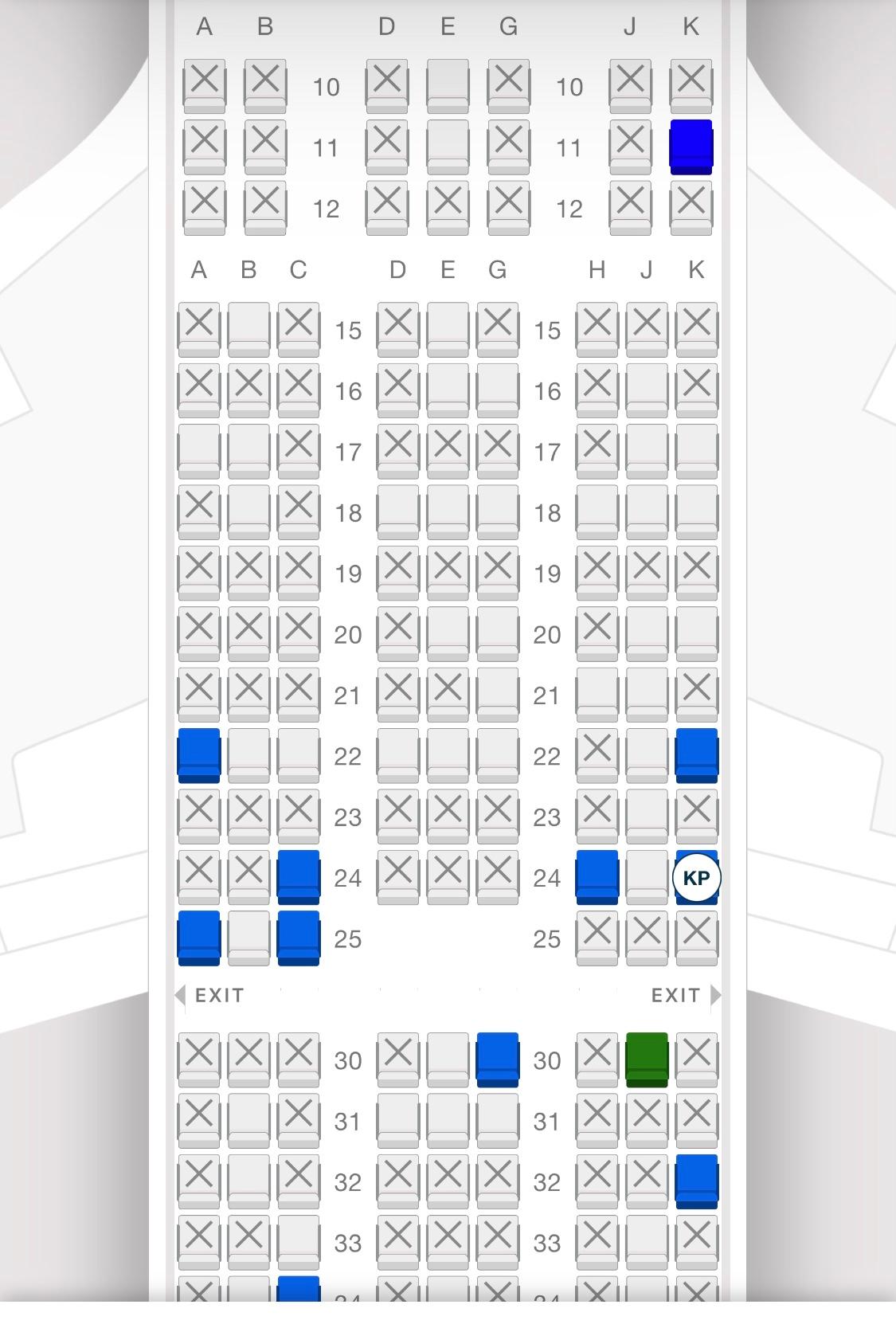 All those open seats onboard made it fairly easy for me to grab an entire row for myself. That certainly wasn't the case for the flight out over to Europe, but it made the nearly eight-hour flight much better.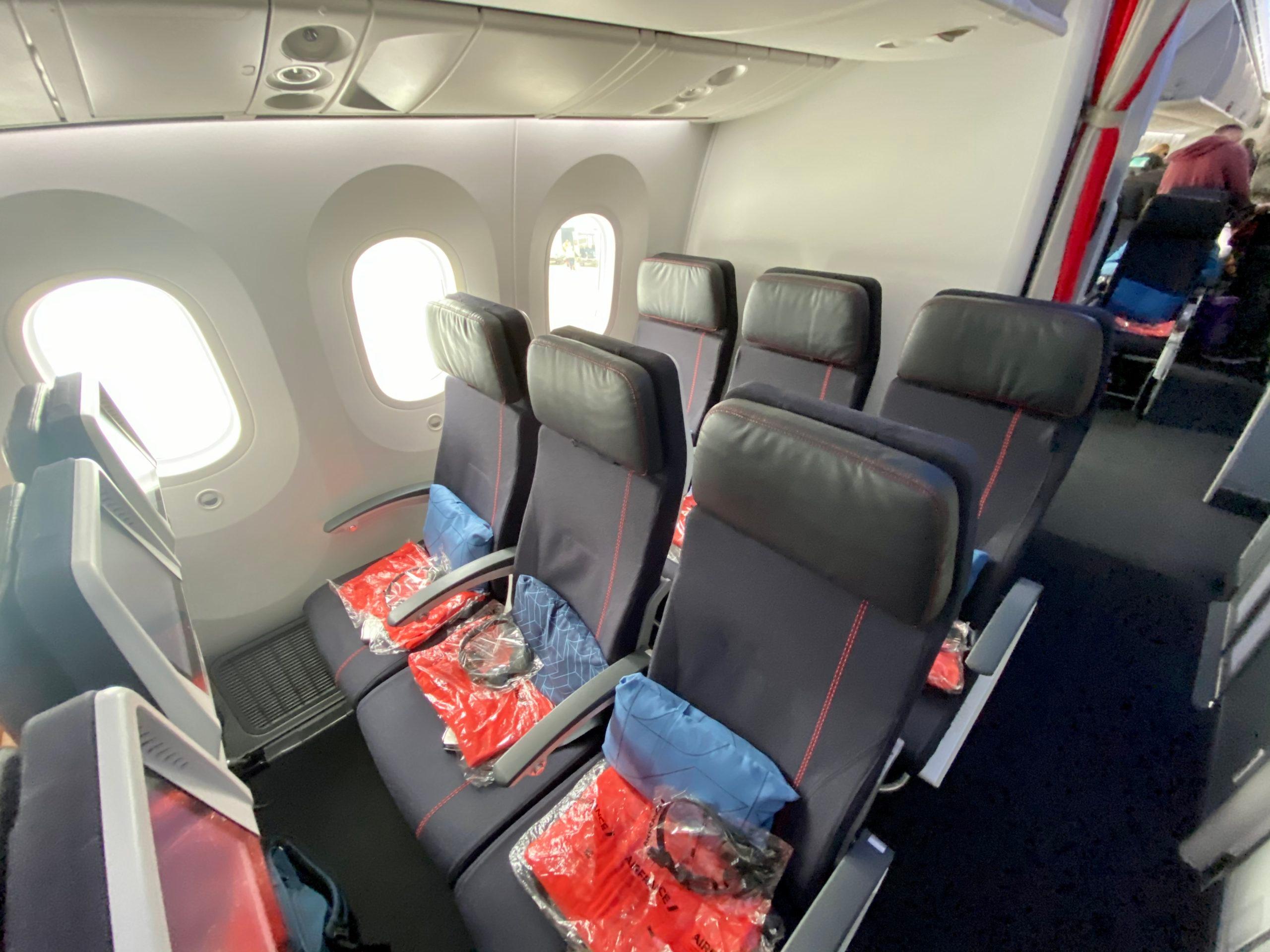 Masks Are Still Mandatory
Yes, you have to wear a mask even on these long-haul transatlantic flights.
That's a federal law in the U.S. through at least Sept. 13, when the current federal mask mandate on planes, in airports, and other forms of public transport is set to expire. And it doesn't just apply to domestic flights, but on all flights to or from the U.S. too.
That means you'll have to keep your mask on whether you're flying Delta to Europe…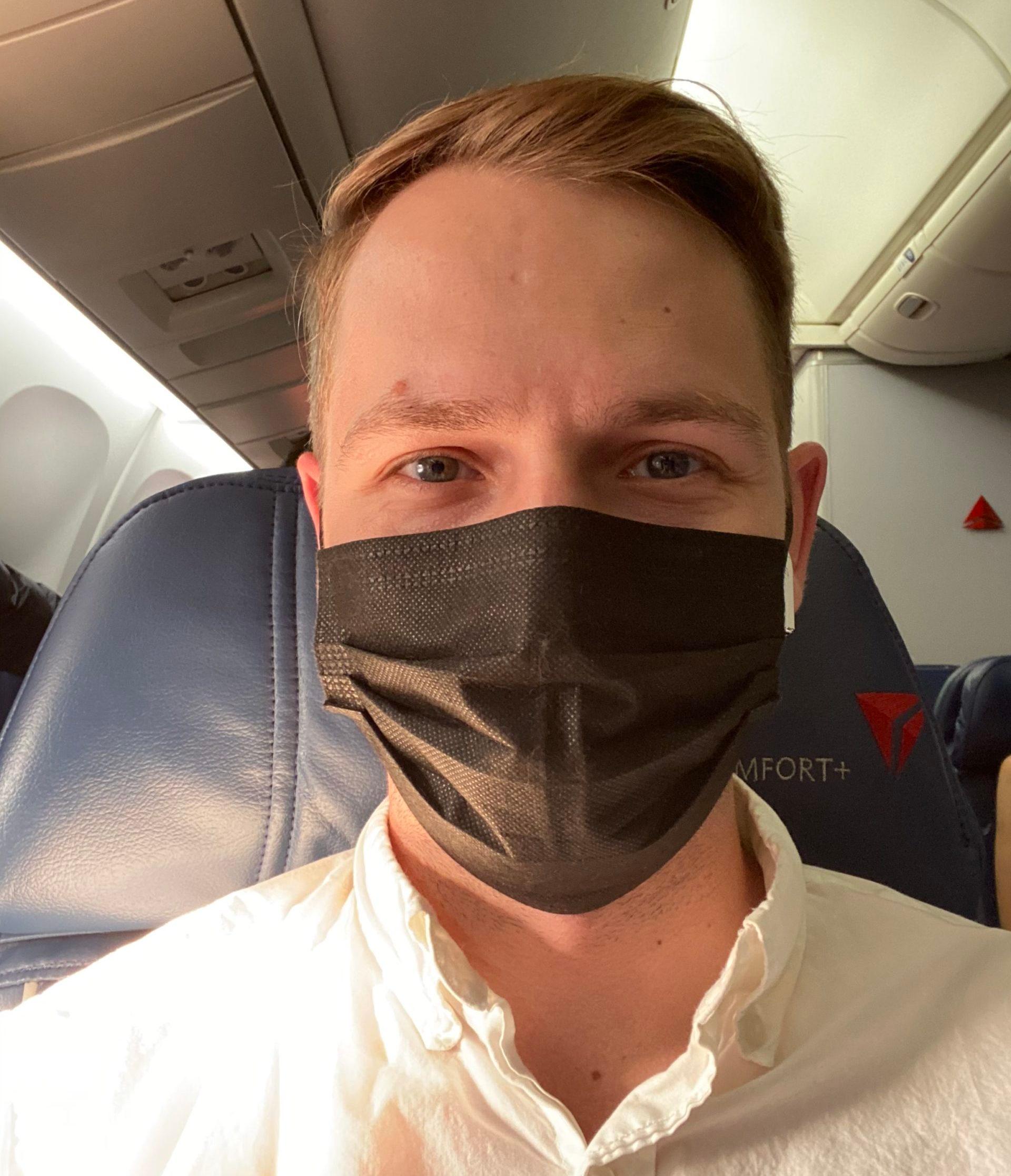 or even if you're flying a foreign carrier like Air France.
While masks have largely disappeared from much of daily life in the U.S. thanks to a successful vaccination campaign, that's not quite the case yet in Europe. And as a fast-spreading Delta variant threatens the globe, there's no ruling out President Joe Biden's administration extending the mask mandate beyond mid-September – or airlines simply decide to continue requiring them on their own.
In my experience, almost every passenger onboard these transatlantic flights was great about keeping their masks on throughout the journey. And in my view, Air France was far more vigilant than its domestic counterparts about making sure that was the case, with reminders overhead to slip masks back on between bites or sips or a friendly nudge from a flight attendant for a passenger who let a mask slip below his nose.
Service Hasn't Changed Much
In-flight service all but disappeared from domestic flights in the U.S. during the pandemic. Buying drinks or meals onboard disappeared, and drastic cuts were made even for first class passengers.
That's starting to come back in the U.S. But for these longer flights to Europe, very little has changed. In my experience, you get the same meal and drink service flying to Europe as before the pandemic – with only a few modifications.
On my Delta flight to Madrid, I had the usual choice of a beef, chicken, or vegetarian pasta entree. A flight attendant dropped off a tray with my surprisingly great four-cheese ravioli, a fresh vegetable salad, ice cream, and a small bottle of prosecco for dinner. Everything was wrapped or sealed, but it felt very familiar.
Pre-landing meals – snacks might be a better word for these relatively short transatlantic hops – are rarely impressive. That hasn't changed, either: Flight attendants came through the cabin about an hour before landing to drop off a small breakfast sandwich and drinks.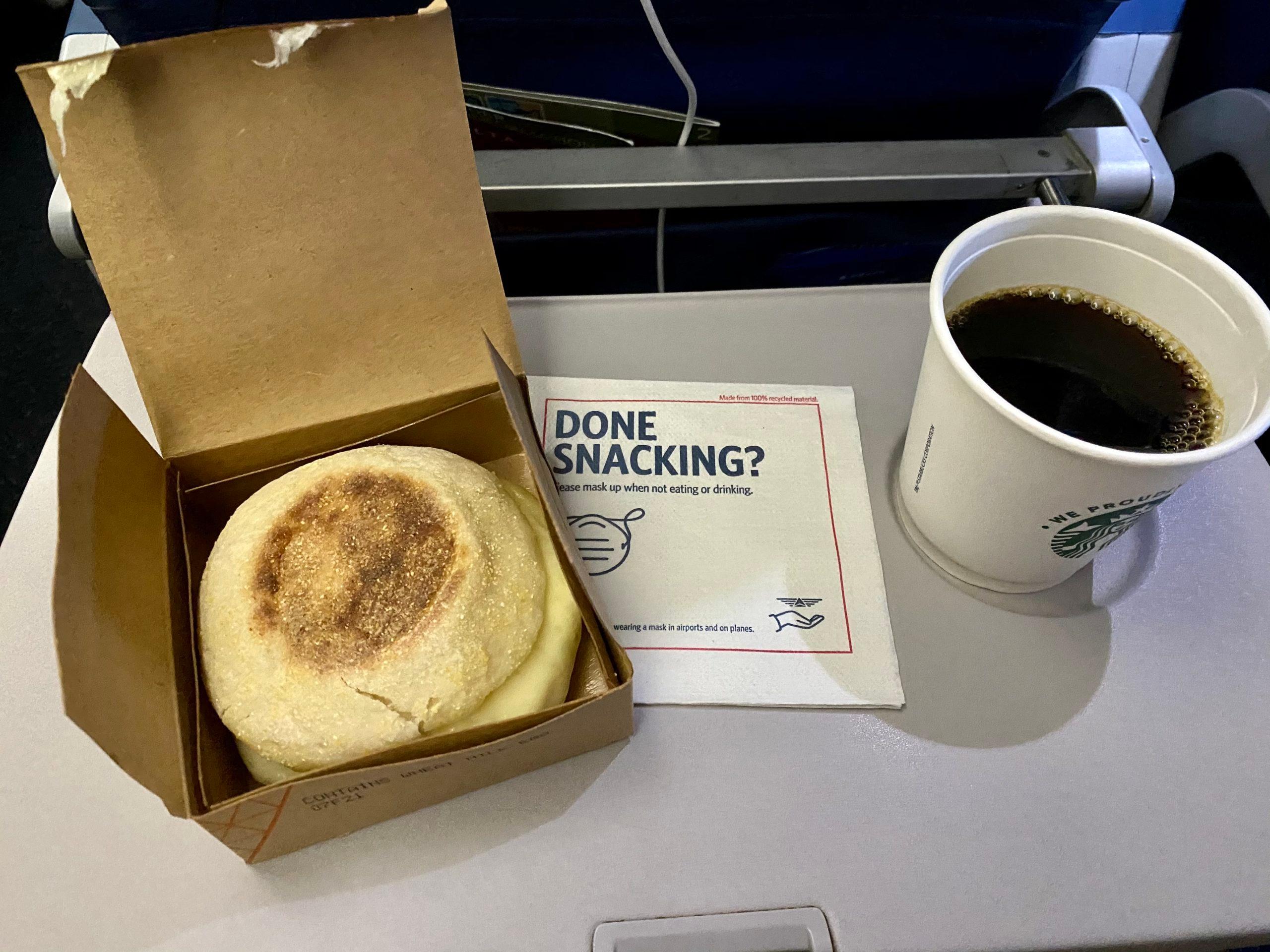 The service, food, and drinks were nearly identical flying economy on Air France home – though maybe even a tad better. Dinner after takeoff was a choice of chicken in a creamy sauce or an eggplant pasta dish.
Once again, everything came wrapped or packaged. The chicken tasted better than it looked with green beans and mashed potatoes, the side salad was fresh with crisp vegetables, and the bread with a small wheel of camembert cheese was an excellent touch.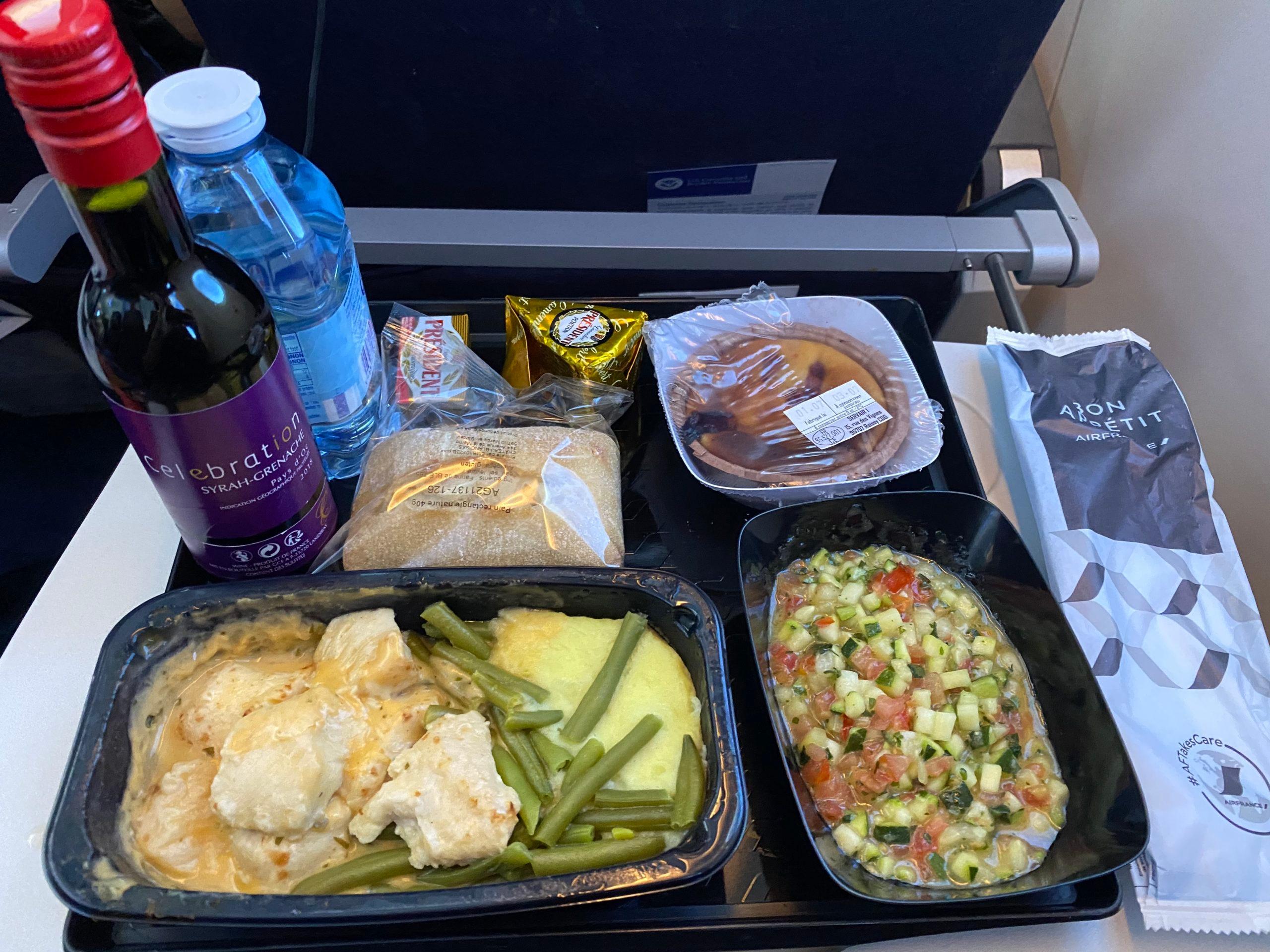 Before landing, flight attendants came through the cabin one last time pouring drinks and handing out small snack bags with a cheese sandwich, yogurt, and a cookie.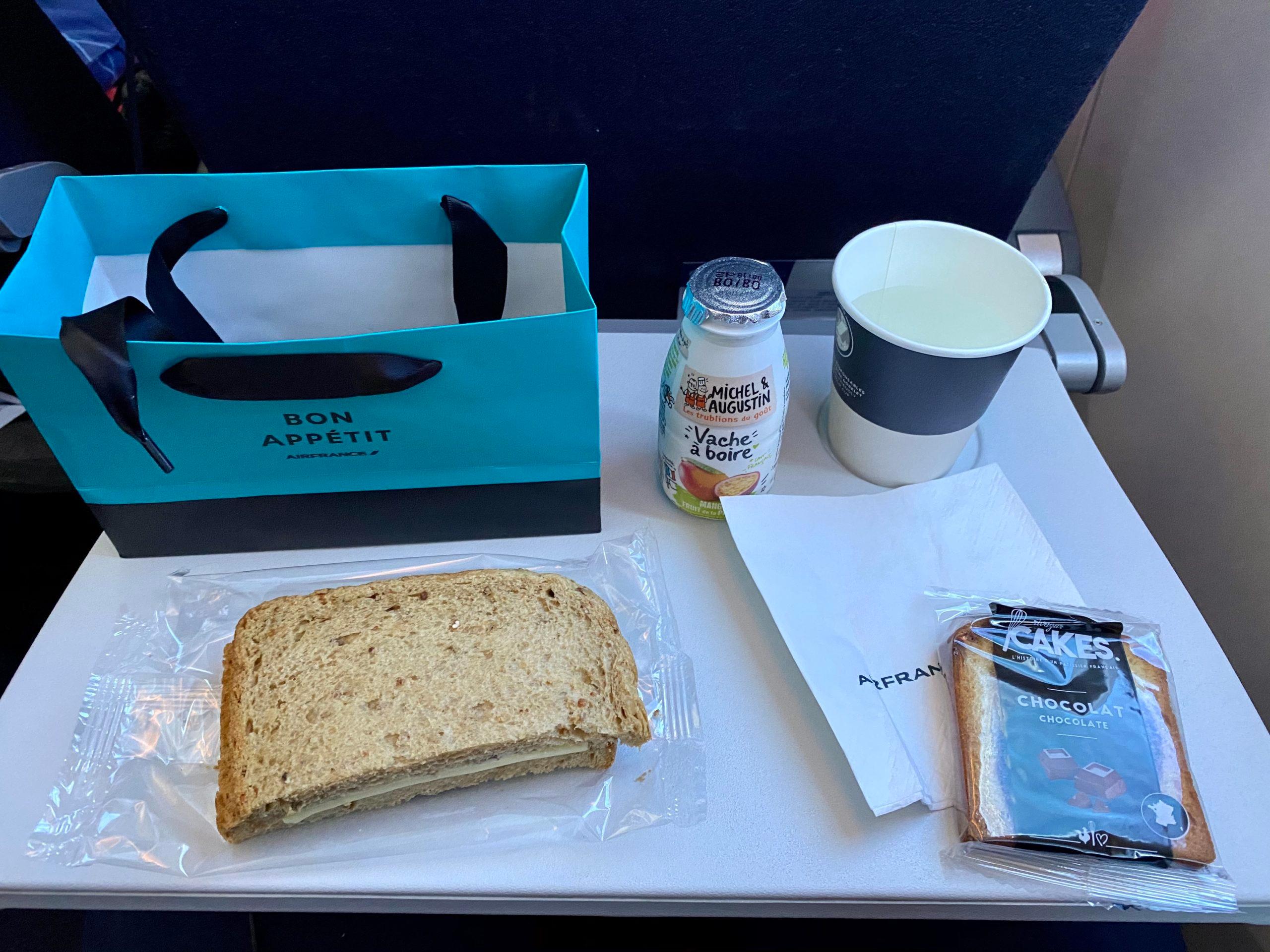 The service itself was friendly on the way to Europe and flying back home. There's no question that service is a bit faster and less personal given the times – airlines have tried to limit interactions and touchpoints with passengers, given the times.
But that didn't detract from the flight if you ask me. And aside from that, it felt like next to nothing had changed once I actually sat down on the plane.
Bottom Line
The COVID-19 pandemic has changed travel. So I was almost shocked at how … familiar it felt flying to Europe for the first time in more than 18 months.
Yes, you have to wear a mask. Sure, checking in for flights has gotten more time-consuming with all the travel restrictions. And there's no question it's strange spending seven-plus hours on a plane after a year without much travel.
But beyond that, it honestly felt like not much has changed flying to Europe in the last year. And that truly surprised me.
Stop overpaying for travel!
Get our daily email for the latest in travel, flight deals, and how to save on your next trip.
Kyle Potter
Kyle Potter is the executive editor of Thrifty Traveler. He joined the company in 2018 after spending years covering state and national politics for The Associated Press. He loves to help others understand the confusing world of travel, airlines, and points and miles.
Got a story idea or a tip? Email him at kyle (at) thriftytraveler (dot) com
Editorial Disclaimer: Opinions expressed here are the author's alone, not those of any bank, credit card issuer, airlines or hotel chain, and have not been reviewed, approved or otherwise endorsed by any of these entities.
Disclaimer: The responses below are not provided or commissioned by the bank advertiser. Responses have not been reviewed, approved or otherwise endorsed by the bank advertiser. It is not the bank advertiser's responsibility to ensure all posts and/or questions are answered.
3 Responses
As I get ready to return to flying overseas, it's really helpful to know what to expect. Articles like this do a great job of preparing me as well as getting me more excited about traveling again. I appreciate them.
P.S. Glad I'm a premium member so I can find the best ways to get there.
I flew to Paris for the weekend of June 20th, aside from check in at JFK where the United staff was completed overwhelmed, it was the easiest flight to and from Europe ever. I waltzed out of JFK as easily as getting off the subway. It was so lovely…
Enjoy it now while it's still relatively calm. Do get to you US airport at least three hours ahead though. Check ins are still irresponsibly understaffed and all the different requirement in different destination countries means that the lines are long and self service check in kiosks won't let you print boarding passes without seeing an agent first, defeating the purpose.
Thank you for your article! I am set to fly to Cdg via Dallas on September 26 out of Sfo. I will have about 3 hours in Dallas. I am worried because I have heard about flights getting cancelled at the last minute?
My return is from Cdg with a connecting flight in Heathrow. There is only 2 hours in between my arrival and my final flight back to Sfo.
I am concerned that I will need to go through customs (retrieving my suit case) going through the que and then having to possible get to another terminal. Do you feel that is enough time? Do I need a separate Covid test for Heathrow or can I use the same one I get in France for the us?
I am thinking of changing my flights if possible for direct flights….what would you recommend?
Travelling to Europe this winter is a bad idea, here's why
Travelling to Europe this winter is a bad idea, here's why
You're Reading
Synopsis
As the winter holidays seem closer than ever, the COVID-19 situation seems to have gotten worse in Europe.
As the winter holidays seem closer than ever, the COVID-19 situation seems to have gotten worse in Europe. Read less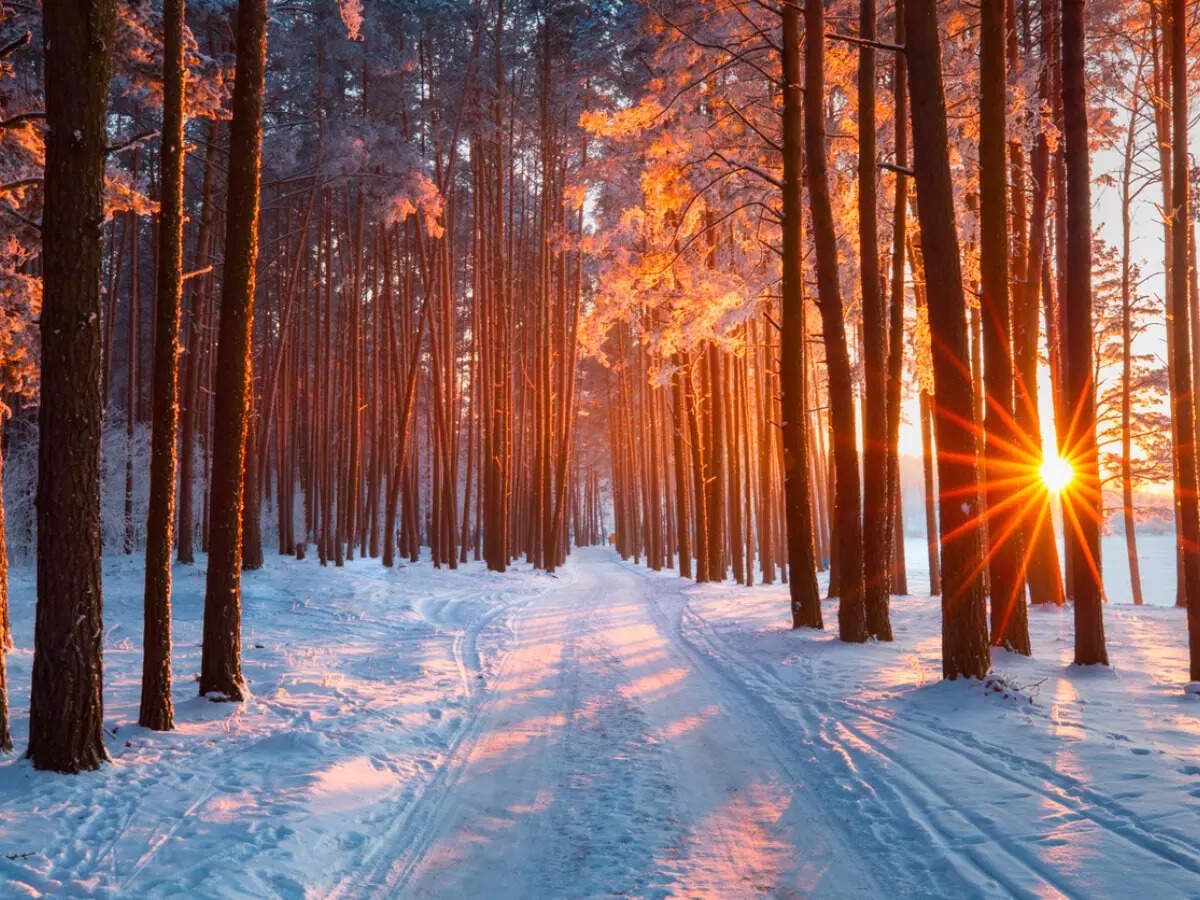 As the winter holidays seem closer than ever, the COVID-19 situation seems to have gotten worse in Europe. European Union (EU) countries are facing a threat over rise in COVID-19 cases as travellers are now being warned from travelling to the EU this coming holiday season.
According to the European Centre for Disease Prevention and Control (ECDC), several countries in the EU have been reporting high infection rates in this last seven days. In such a scenario, the ECDC is asking people not to travel to the EU countries unless it is out of necessity.
More from Travel News
ECDC has reportedly put countries such as Belgium, Austria, Croatia, Bulgaria, Ireland, Lithuania, Slovakia, Latvia, Romania, and Slovenia into a dark red category of countries. The health agency has made this categorisation after these countries were found to have more than 500 infection cases per 100000 inhabitants in the last couple of weeks.
As of now, it is being reported that Austria, Romania, and Bulgaria have registered the highest infection rates. This is in tune with the data that has been provided by the WHO. On November 4, Romania reported 10196 new cases in the previous 24 hours, while Austria reported 4962 cases. Bulgaria on the other hand reported 5863 cases.
In fact most of Europe is currently facing a spike in cases. Countries such as Norway, Sweden, Iceland, and Finland are all in the red category, and have registered more than 200 cases per 100000 inhabitants in the last two weeks. Poland too is in red, and so is Germany, which has been in the red category for quite sometime now. Germany's Saxony and Thuringia regions are however in the dark red list.
Thereby, it is safe to say that travelling to Europe this winter holidays should be avoided, unless absolutely necessary.
Is it safe to travel to eastern Europe right now? We asked the experts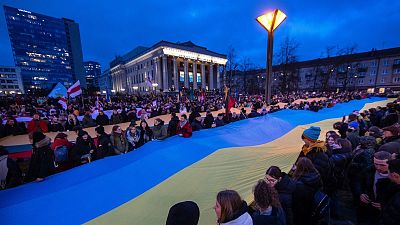 People carry a giant flag of Ukraine to demonstrate against Russian attacks in Ukraine at Independence Square in front of the Parliament Palace in Vilnius, Lithuania – Copyright AP Photo/Mindaugas Kulbis
As the Russia-Ukraine war approaches a grim one-month milestone, people are continuing to feel uncertain about travelling to neighbouring countries. But are these concerns justified?
Hours after the invasion, the EU Aviation Safety Agency (EASA) warned airlines against flying over Ukraine, Moldova and parts of Belarus and Russia. Over the following days, airspace bans and sanctions solidified in Europe – and Russia retaliated – changing the scope of global air travel significantly.
Readers planning to travel to eastern Europe shared their concerns with us. And travel agents are still reporting a 'nervousness' around booking holidays more generally – dampening experts' predictions for a travel boom in 2022.
A recent survey carried out by travel agency MMGYGlobal found that the war in Ukraine is now twice as likely as Covid to impact Americans' plans to visit Europe. 62 per cent of respondents were concerned that the invasion would spread to nearby countries, while 47 per cent intend to wait to see how the situation evolves before booking a holiday.
Weeks on from the invasion, and EASA has had no cause to extend their Conflict Zone Information Bulletin (CZIB) to other countries. So does that mean it's safe to travel in the wider region?
Here we answer your questions on travelling in Europe, based on the latest information from travel bodies and the UK foreign office.
How does the EASA decide which countries are safe to fly over?
The regulator is sharing their assessments on airspace around Ukraine via the Conflict Zone Information Bulletin (CZIB), published here. The 24 February update warns against travelling over the region of Chisinau in Moldova, and Minsk, the capital of Belarus.
It also recommends that air operators exercise caution over Moscow and the southern Russian city of Rostov "due to heightened military", which could include launching mid-range missiles into controlled airspaces.
EASA takes into account all available intelligence information when updating the CZIB, a spokeswoman told Euronews Travel, working closely with the European Commission and the European Organisation for the Safety of Air Navigation – known as Eurocontrol.
The safety agency has had another CZIB in place over eastern Ukraine since 2016, following the shooting down of Malaysia Airlines flight MH17 in 2014 during an earlier point in the Russo-Ukrainian conflict.
Which countries have banned Russian planes?
All 27 EU member states along with the US, UK, Albania, Canada, Iceland, Norway and Switzerland have banned Russian flights from entering their airspace. In return, Russia has banned flights entering their airspace too. While Japan does not have an outright ban, it has decided to avoid Russian airspace.
Ukraine, Moldova and Belarus are the only countries to have stopped commercial flights leaving or coming into their borders.
Euronews Travel has contacted all the airlines that fly to Ukraine and surrounding countries. Their responses are in this article, which we are keeping updated.
Is it still safe to fly to bordering countries like Poland and Hungary?
Yes, it is still safe to travel to Poland, Hungary and Slovakia, but always check the latest advice before you go. Poland is currently receiving a large number of Ukrainian refugees across its borders, so tourists planning to visit the country should book their accommodation in advance. Areas of Poland close to the Belarusian border are also closed.
"Hungary remains a safe country, and life continues as normal here. The Hungarian Government is doing its utmost to avoid involvement in the war, and to preserve the safety of both the residents of Hungary and the tourists who visit," a spokesman from the Hungarian Tourism Agency told CNN travel.
There is no change in UK foreign office advice about visiting Poland and Hungary, except to note that Russian military strikes have taken place in Ukraine within 20km of the Polish border. But it's understandable that tourists, business travellers and those trying to reconnect with family and friends have concerns.
Here are our answers to the questions you asked on Euronews Travel's Instagram.
"I'm going on a trip to the Baltics in a few days. Starting in Estonia and Lithuania. Safe?"
Airlines are still flying on schedule in and out of the Baltic states – Estonia, Latvia and Lithuania – meaning aviation experts consider it safe to do so.
Ex-Soviet nations and NATO members have deployed troops to bolster their borders with Russia and Belarus.
There's no sign this will affect travel between the Baltics or from other destinations, but tensions in the region are high.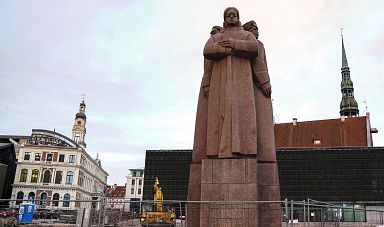 The monument of Red Latvian Riflemen stands in Riga, Latvia. Roman Koksarov/AP
"I fly to Vilnius in a week, I'm concerned about flying over Belarus – what should I do?"
Lithuania declared a state of emergency on 24 February in response to the Russian invasion of Ukraine.
If you are visiting the country you are now required to carry photo ID at all times and must present it to law enforcement officials upon request.
Spot checks may be in operation at border crossings too, but the UK foreign office is not advising against travel to Lithuania, so it is thought to be safe to visit.
"I've got a Baltic cruise booked, is it still safe to go?"
Many cruise ships have had to alter their routes in response to the war. Baltic cruises have been particularly affected, as many liners usually stop in St Petersburg.
"In light of the recent attacks by Russia in Ukraine, Princess Cruises is modifying itineraries on 24 cruises that call in St Petersburg, Russia with alternative ports," Princess Cruises said in a statement.
"Replacement ports will vary by itinerary, including popular destinations such as Stockholm, Sweden (overnight call); Visby, Sweden and Gdansk (Gdynia), Poland. Guests can remain booked on their long-awaited cruises, and have the opportunity to visit medieval architecture, world famous landmarks and natural beauty on these Northern Europe cruises."
While most major cruise liners have made alterations instead of cancelling altogether, some river cruise operators were forced to cancel trips scheduled for Ukraine. Major cruise liner Viking has cancelled Ukrainian river cruises and all operations in Russia in 2022.
"We have cancelled all 2022 departures of our Russia river itineraries – and will replace scheduled stops in Russia for all 2022 ocean itineraries," said a spokesperson.
A list of cruise companies which have altered their itineraries can be found here.
Source https://thriftytraveler.com/news/travel/what-its-like-flying-to-europe-right-now/
Source https://timesofindia.indiatimes.com/travel/travel-news/travelling-to-europe-this-winter-is-a-bad-idea-heres-why/articleshow/87530103.cms
Source https://www.euronews.com/travel/2022/03/21/is-it-safe-to-travel-to-eastern-europe-right-now-your-questions-answered-by-the-experts