A Guide to Travel Money Cards
Often deemed the cheapest way to spend money abroad, travel money cards are deemed a failsafe option for many travellers. Given the rapid growth of the financial services sector, we want to find out if travel money cards are still as cutting edge as they once were, by comparing them to the new alternatives. Our job is to identify the best international money transfer services and payment providers in the industry: will travel money cards make the cut?
What are travel money cards?
How do you use a travel money card?
Where can I get a travel money card?
Where can I use a travel money card?
How secure are travel money cards?
Travel money cards vs. Credit cards: What is the difference?
What are the alternatives to travel money cards?
Summary
Related content
What are travel money cards?
Travel money cards are a popular payment method for individuals headed abroad. Customers will load funds onto the card, using the money as foreign currency when overseas, much like a debit card is used at home. Also known as travel money prepaid cards or currency cards, they facilitate free foreign transactions and overseas ATM withdrawals.
We recommend finding a travel money card which lets you lock-in a favourable exchange rate and supports multiple currencies on one card, to make sure you are securing a flexible and cost-effective deal.
How do you use a travel money card?
Using a travel money card should be straightforward and stress-free. Simply load funds onto the card before you leave, and once abroad, you will be able to reload funds and change currencies using the website or associated money transfer app. The card can be used to make withdrawals, in-store purchases and book travel arrangements.
We want to point out the importance of doing your research and reading the small print. Some travel money card providers will charge fees for reloading your card when abroad; the same goes for ATM withdrawals. As always, we recommend comparing all your options before committing to a product or service.
Where can I get a travel money card?
Travel money cards are available from different retailers and can be purchased and preloaded online, over the phone or in-store, depending on the brand. In the UK, popular brands include Travelex and the Post Office.
Where can I use a travel money card?
Again, this depends on the brand and where you get your money travel card from. Available currencies vary from card to card but commonly used currencies include US Dollars, UK Pound sterling, Euros, Japanese Yen and New Zealand Dollars. Make sure you check with the provider before ordering a travel money card.
How secure are travel money cards?
Generally, travel money cards are considered a lot safer than handling multiple currencies in cash, or travellers cheques, as your provider will be able to cancel it if need be.Furthermore, some of the best travel money cards employ an equivalent level of security to traditional debit cards, including a PIN code, touch ID and face recognition.
Many consider it safer to use a travel money card abroad than a debit card, as they are not associated with your bank account and therefore cannot be linked if lost or stolen.
Travel money cards vs. Credit cards: What is the difference?
One of the biggest advantages of using a travel money card is that your chosen currency is preloaded before you arrive in the foreign country and you won't be charged conversion fees. This means you are able to benefit from the most favourable exchange rates, locking it in ahead of time and using the funds at a later date.
Most people who use their credit card abroad do it because it is more convenient. The cost of this convenience, however, can sometimes amount to 3 – 5% per use, depending on the transaction and financial institution. Making a foreign ATM withdrawal with your credit card can incur flat-fees of $5 and up, each time.
This being said, there are some excellent traveller credit cards on the market, so we would recommend users compare exchange rates and transfer fees offered by each provider before making a decision on which card is more beneficial.
If you're planning on using your credit card, we suggest you take a look at our credit card wire transfer guide.
What are the alternatives to travel money cards?
Multi-currency accounts
International money transfer companies are often tailoring their products and services to meet the needs of their customers. Wise, offers a multi-currency account designed with "international people" in mind. This savvy travel credit card is aimed at frequent flyers who want to spend in various currencies in over 200 countries. Wise is a reliable company to trust with your overseas spending habits.
Challenger banks
More and more alternative service providers are popping up around the world, many of them offering reputable banking features for the modern traveller. In a bid to distinguish themselves from traditional banks, challenger banks are scrapping fees on foreign exchange and international spending. Monzo customers, for example, can benefit from free international ATM withdrawals as well as fee-free spending overseas.
Summary
We hope this guide to travel money cards has enlightened you and helped you make a decision about whether this is a suitable payment method for your next trip overseas. We appreciate the value of your hard-earned cash and want all our customers to benefit from the best possible rates when dealing with international payments. Use our comparison tool today to make sure you are offered the most desirable exchange rate for your currency.
Related content
What is airtime? Sending airtime, or purchasing airtime top up, refers to the process of adding credit to a recipient's phone plan. This form of money transfer is popular around the world as it allows customers to remotely reload the balance of a recipient's phone credit, which can come in handy in an emergency or […]
Money transfers come in all shapes and sizes. You might be sending money to friends and family, setting up a recurring online payment or making mass international business transfers. In the interest of clearing things up for all customers, this guide will focus on how to differentiate between an IBAN and an account number.
Understanding the difference between an IBAN and a routing number will massively benefit both parties involved in an international money transfer. In this guide we will present the distinguishing features of both, looking at the similarities and differences between the two identification codes.
Travel money cards: the Pros and Cons
Carrying wads of cash around on holiday can be a pain, and also quite risky!
A prepaid travel card – also known as a travel money card or currency card – allows you to spend abroad just like you would back home.
What is a travel money card?
A prepaid travel card is a card – just like your debit card – which can be loaded with a range of different currencies before you set off on your travels.
A travel money card is not a credit card, so you needn't worry about running up any unwanted debts when using them – you can only spend as much as you choose to put on.
These pre-loaded travel cards carry either MasterCard or VISA logos and can be used to either get cash out from an ATM or purchase goods from retailers who accept card payments abroad.
How does a travel money card work?
If you're travelling within the UK or to a country that does not use euros or US dollars as their primary currency, you should look at getting a sterling prepaid card. When you use this card abroad, the cost of your purchase will be converted into the country's local currency by using an exchange rate set by your travel money card provider.
If you're travelling to one of the 19 countries that use euros as their local currency then you should look at getting a euro prepaid card. This is the best prepaid travel card for Europe as you will able to check your exchange rate at the start of your trip.
If you're travelling in America, you should choose a prepaid travel card with dollars.
You could also get a multi-currency card, which you can load with your choice of currency if you plan on visiting more than one country.
The pros and cons of a travel money card
If you're reading this article, you might be asking yourself: are travel money cards a good idea? To help answer the question, here are some advantages and disadvantages of using prepaid travel cards, with more detailed explanations below:
Are Travel Credit Cards Worth It?
If you know how to maximize their value, the right travel credit cards can help cut costs on future trips.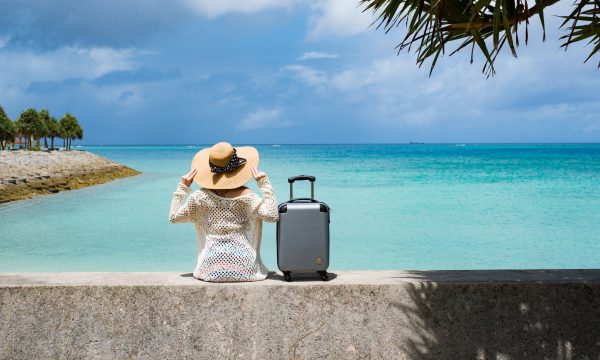 Many or all of the products featured here are from our partners who compensate us. This may influence which products we write about and where and how the product appears on a page. However, this does not influence our evaluations. Our opinions are our own. Here is a list of our partners and here's how we make money.
Travel credit cards can be one of the best ways to lower the cost of travel, whether you're taking a trip to visit family in another state or boarding a plane for a luxurious vacation overseas. Regardless if you collect airline miles , hotel points or flexible issuer-specific currency , they all perform the same function of making your future trip more affordable.
However, many travel rewards credit cards come with annual fees, ranging from a sensible $95 to a staggering $695 per year. Not only that, but travel rewards take time to understand, and you might be left wondering "Are travel credit cards worth it?"
What is a travel credit card?
Travel credit cards come in many variations, but the main three categories include:
Co-branded airline credit cards.
Co-branded hotel credit cards.
Financial institution rewards cards.
Airline credit cards
Airline credit cards include options like the Citi® / AAdvantage® Platinum Select® World Elite Mastercard® , the Delta SkyMiles® Gold American Express Card and the United℠ Explorer Card . These cards, and other airline-related options, earn miles in the respective airline's loyalty program, which you can redeem for a flight when you have enough piled up. Terms apply.
Hotel credit cards
Hotel credit cards, such as the IHG® Rewards Premier Credit Card , the Hilton Honors American Express Surpass® Card and the Marriott Bonvoy Boundless® Credit Card , perform a similar function and award you with hotel points redeemable for free nights. Terms apply.
General travel cards
You might also have heard about general travel rewards cards, such as The Platinum Card® from American Express , the Chase Sapphire Preferred® Card or the Capital One Venture X Rewards Credit Card . These cards earn flexible points that can be transferred to an array of travel partners, including airlines and hotels, redeemed for travel via a respective issuer's travel portal, or even used as cash back for statement credits. Terms apply.
No matter which travel rewards card you pick, learning how these rewards work will help you maximize their full potential.
Are travel cards worth an annual fee?
Although a downside, many travel rewards cards come with annual membership fees. Some are reasonable and cost $95 to renew every year. Others charge as much as $695 per year, as The Platinum Card® from American Express does (it could still be worth it for the right traveler , though). Terms apply.
The upside of travel rewards cards is they often come with benefits, statement credits and travel protections, which can offset the annual fees.
For example, Chase Sapphire Reserve® comes with a $550 annual fee. To a casual traveler, the price tag can seem steep. However, the card comes with an easy-to-use annual $300 credit good toward travel purchases. It also comes with up to $60 in DoorDash statement credits (through December 2024), complimentary Priority Pass Select membership and a Global Entry/TSA PreCheck/NEXUS credit every four years, as well as trip delay insurance, baggage delay reimbursement, auto collision damage waiver on rental cars and roadside assistance.
These perks alone can offset the amount to hold the card every year, plus you get to earn points toward travel by making everyday purchases with the card. To help you get there faster, Chase Sapphire Reserve® 10x total points on hotel stays and car rentals and 5x total points on air travel purchased through Ultimate RewardsⓇ.
All you have to do is ensure that the value you get from holding a credit card outweighs your out-of-pocket cost to keep it every year.
The same logic applies to co-branded airline and hotel credit cards. Ask yourself if you would use a card's benefits enough to justify paying its membership fee.
Do you check bags? If you fly with a carry-on only, a free checked bag benefit is useless to you.
Do you get automatic elite status with a hotel chain? Again, it's worth nothing if your travels take you to non-chain hotels.
Be honest with yourself and keep your expectations realistic when considering a travel rewards card, its cost and the benefits you'd actually use.
Are travel credit cards worth your time?
Although travel rewards cards make it somewhat easy to earn rewards, more often than not, they don't make it easy to redeem rewards for high value, leaving you to figure that part out on your own.
It's true that learning how rewards programs work takes time and effort on your part and becoming a pro at maximizing your rewards won't happen overnight. That's not to say that it's difficult to learn the basics.
Read articles on earning and redeeming travel rewards, practice running award searches and become familiar with how credit card points can be used. Here are some resources to get you started:
Source https://moneytransfers.com/travel-money/travel-money-cards
Source https://bobatoo.co.uk/cards/travel-money-cards-the-pros-and-cons/
Source https://www.nerdwallet.com/article/travel/are-travel-credit-cards-worth-it