Top 10 amazing ways to actually use your travel photos Great ideas for your great vacation images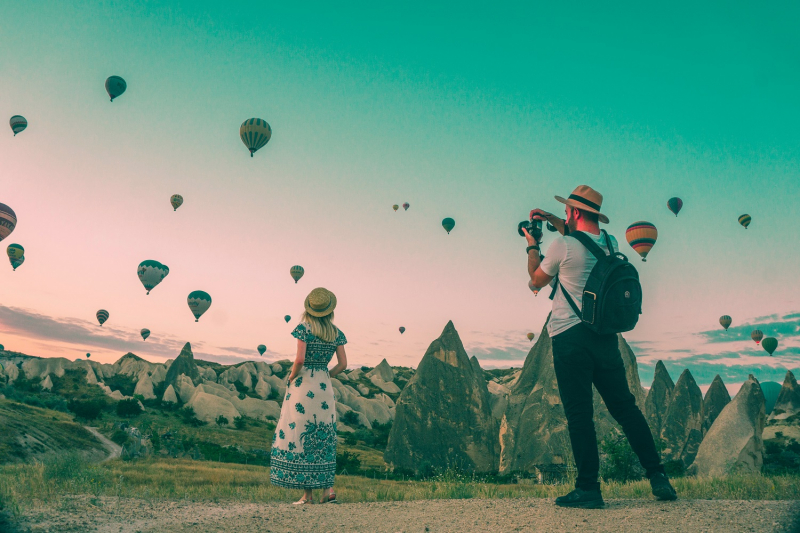 Travel photos are some of the most beautiful, yet underrated photos. Going on holiday is the perfect time to practice travel photography, but more often than not nothing happens to our perfectly crafted shots, other than sitting in our phones.
Because so many people are stuck for what to do with vacation pictures, we have come up with 10 amazing travel photo ideas – whether you are a budding photographer wanting to share your great photos, or a seasoned photography enthusiast looking to maximise the potential of your photographs.
Need a great way to store and share your best travel photos?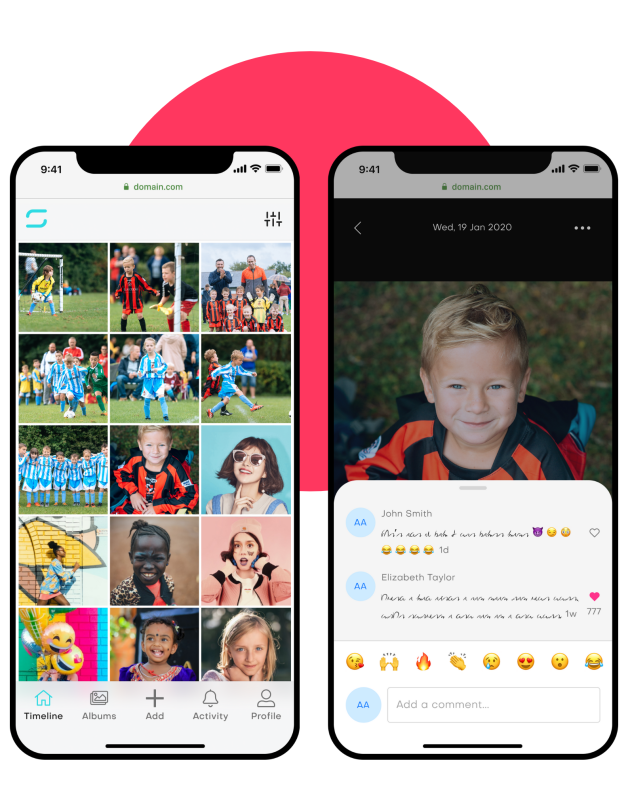 Check out this great collection of travel shots and learn more about the forever-free Splento App – the fastest-growing photo-sharing app that makes sharing your favourite travel photos fun, fast and secure! Try it today!
1. Post to social media
Posting to social media is a great way for your friends and family to keep up to date with your adventures, and for you to document your amazing experiences and look back on them later. This is especially great if you want to share vacation pictures with friends.
If you are trying to grow an Instagram following, travel photos generally tend to gain a lot of traction due to the aesthetically pleasing locations. If you are trying to post strategically for optimal interaction with your posts, the best overall time to post on Instagram is between 9 am and 11 am EST .
2. Create a slideshow
Using Lightroom is a great way to put your travel photos into a slideshow. Whether you have to give a formal presentation about your travels or you want to have an intimate travel photo gallery viewing with your friends, creating a slideshow is a fun way to organise your photos.
3. Sell your photos
A picture is worth a thousand words, and that's why people are willing to pay for your travel photos. Different platforms like Foap , Fotolia , and Shutterstock will want to buy your travel photos to be used as stock images if you apply to be a contributor.
Vacation rental marketing is another sector in need of good photography – if you take amazing photographs of rental properties on your travels, the renters may want to buy it.
4. Create a blog
Creating a blog is a great way to document your travels. You can post your photos with short captions on the blog for people to admire your photography if you just want to show off your photos. Or if you enjoy writing, you could perhaps share your experiences of travelling, photography, and your experiences alongside your photos.
It can be a fun way to share your skills and educate others or to write a more informal, personal blog. If you're trying to promote yourself as a travel photographer, blogging is great for that too. WordPress makes it easy for anyone to create a free blog.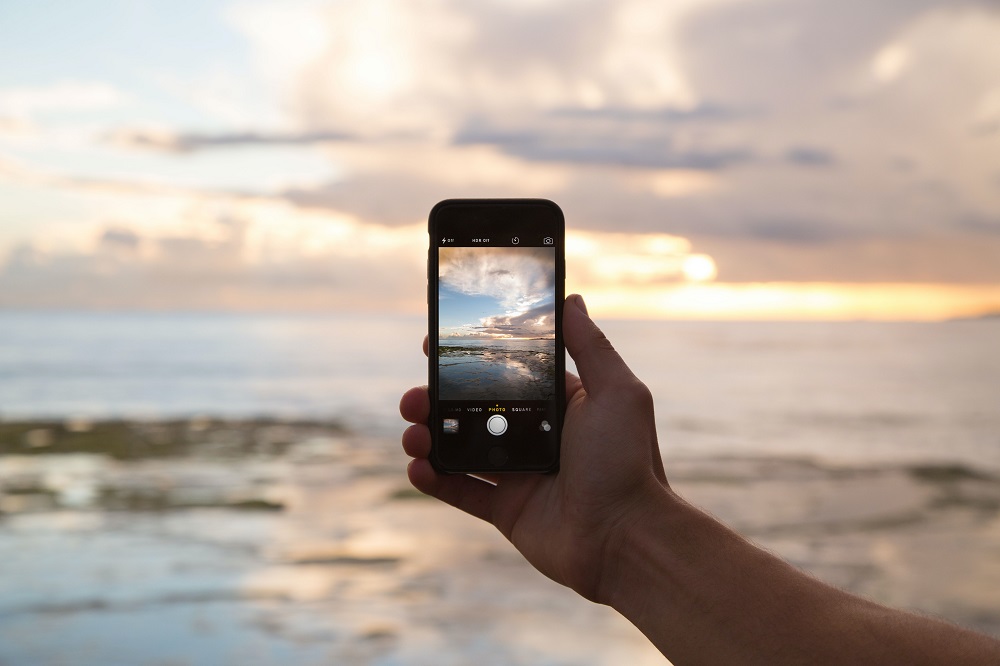 5. Set it as a screensaver
Why not set your favourite vacation photo as your phone screensaver or desktop background? It will fill your soul with so much joy to see an amazing photo that you took rather than looking at the generic screensavers of mobiles and laptops. Also, it's a great conversation starter when other people see it.
6. Create a custom postcard
We send postcards because it's a personal memento to let our loved ones know we're thinking of them. One way to make a postcard more personal is to use the photo that you took; you might even be in it! You can create a postcard using your own photo using Snapfish.co.uk or Funky Pigeon .
7. Print them
It's great to store photos digitally but there's also something special about having the physical prints. You can go to your local photo shop to have them delivered, or you can use Snapfish.co.uk will print and deliver your physical prints to you after you upload them.
You can also buy portable printers which pair to your mobile device, making it possible to print photos from your phone with the click of a button. The HP Sprocket and the Polaroid Hi-Print Pocket Printer are great portable printers that produce mini prints. The portable size of these printers makes it easy for you to travel with them too.
8. Decorate your room with your prints
Having vacation photos around us is instantly uplifting and a great addition to your home. You can go down the classic route and put your photos in frames. If you have mini prints having a string of photos hung up by clips is an attractive way to display your photos on a wall. It's also a current trend to arrange your photos in a collage on your wall if you like creative arrangements, or in a tile formation if you prefer symmetry.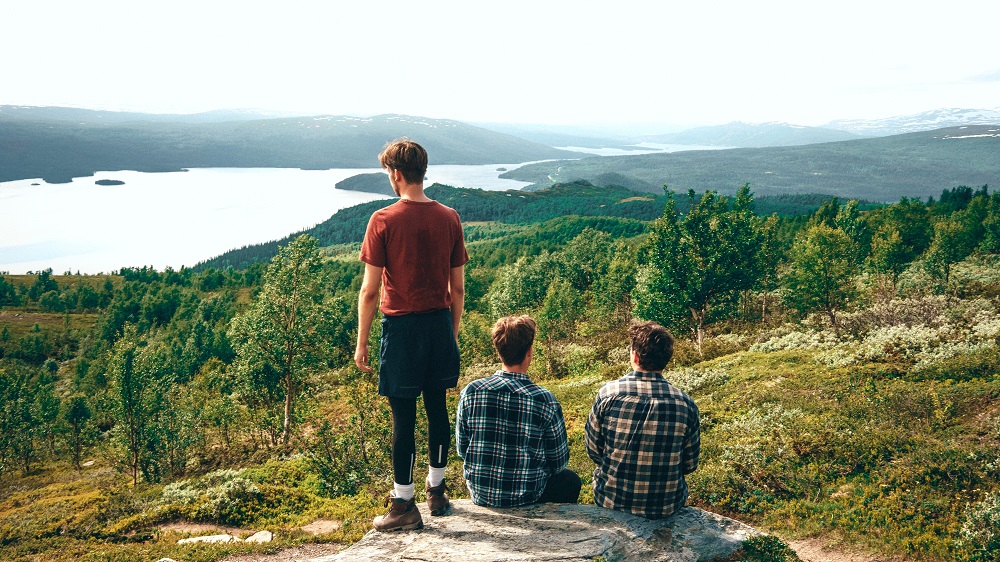 9. Put your prints in a photo album
Photos are amazing keepsakes, but putting them in a physical photo album allows you to appreciate them more. There's something special about turning the page of a photo album and reminiscing about the photographs which are snapshots of amazing experiences.
10. Put your photos in a virtual album
Organising your photos into a virtual photo album is a great way to store your photos for future viewing. Rather than having all your digital photos in one mass, putting them into a virtual album is a great way to keep them organise. Physical prints can get lost or damaged over the years, but virtual photo albums last forever – and don't take up any physical space.
After taking your amazing travel photos, try using the Splento App to share them.
The Splento App allows you to share your travel photos easily and securely. It allows you to place all of your photos in one album – and because all of the photos are stored in the app cloud, it doesn't take up extra space on your phone.
Once you have made your travel album, share it securely with only the people you choose, simply by sharing a link to your album. Try the Splento App today for your easiest photo-sharing experience yet.
Five Cool Ideas on What to Do with Your Travel Photos
Just returned from a vacation? This five-day trip seems now to have passed in a flash. Incredible adventures, new people and places, exquisite cuisine – all of these join together in your treasured memories of those great days. In addition, your SD card or smart phone is for sure full of the photos you took during your holiday. But give yourself an honest answer: how many times have you clicked through the photos of your previous vacation? Two or three? It is a known fact that usually travel photos end up on a hard drive never being enjoyed or showcased. However, thanks to the modern software diversity we now know what to do with travel photos. Read on and you will learn it too!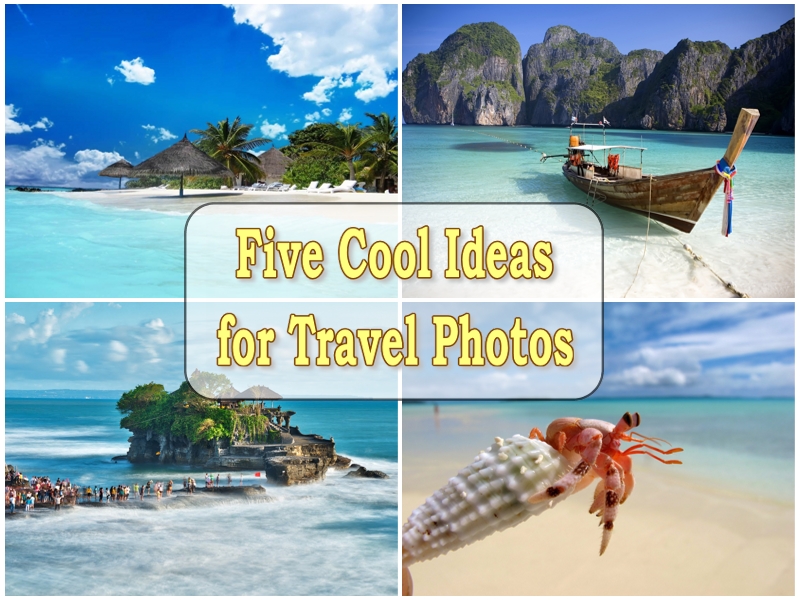 What to do with travel photos? Read on to get the answer!
Personalized Postcards – Great for Sharing
Postcards always look cool, don't they? A textured background, a picturesque cityscape and the name of the town – perfect memento of the travel days. And now imagine turning some of your photos into stylized postcards that you can send by snail mail or by e-mail. Modern software allows creating them as collages using clipart, frames and masks for embellishment. If you want to try some stylish pre-designed templates and add captions to your postcards, make use of Photo Collage Maker that offers rich text editing options: http://ams-collage.com/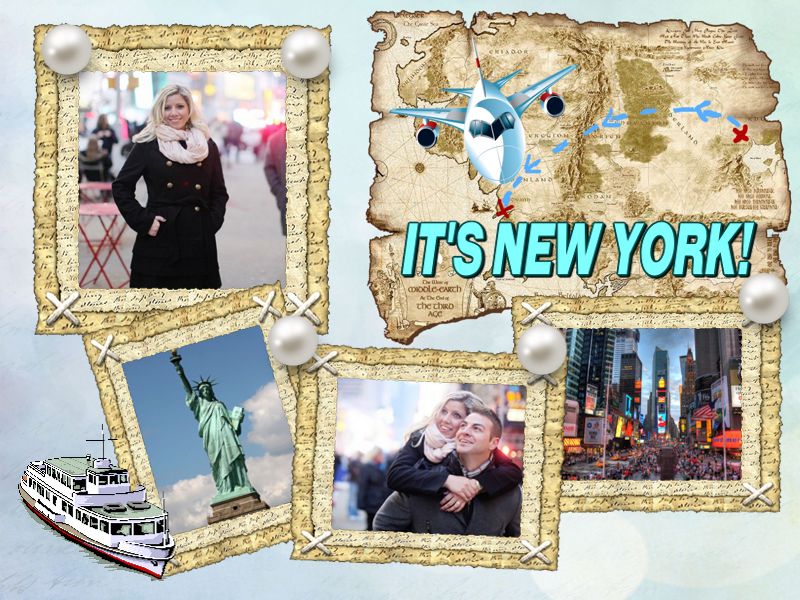 A postcard created with a ready-made template
Travel Photo Book & Travel Scrapbook Idea
If you travel a lot, you may be thinking of what to do with travel photos to compile them into one-piece story of your voyages. The solution is easy – edit and adorn them, find a reputable print shop and print the photos in one book. Do not forget to devote some pages to journal entries – your friends may be interested in comments, so a few passages throughout the book will come in handy. The before mentioned Photo Collage Maker will help you print the photos at home, if you want to create a scrapbook with photo collages, written entries and pocket pages for paper souvenirs.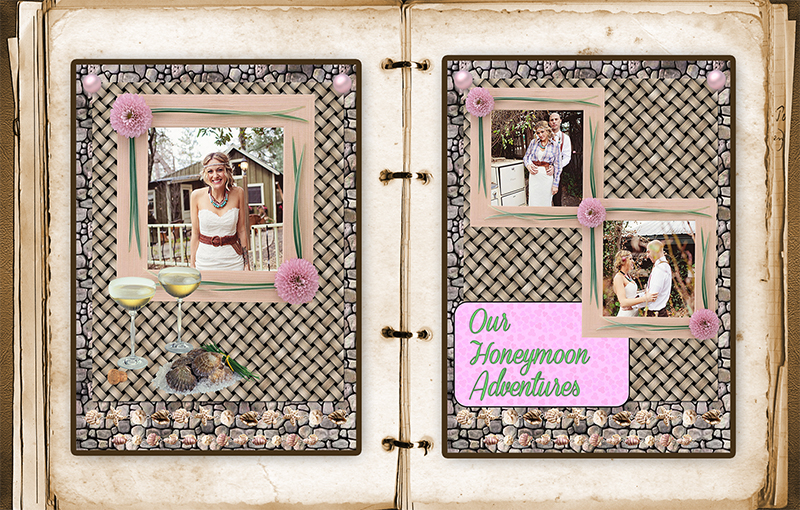 Keep your travel photo book in digital or printed version
Calendar with Travel Photos
When one says "calendar", most people today think of a Windows calendar in the bottom right corner of the desktop. Some of you might think of wall, desk and small pocket calendars, one-page monthly and multipage yearly ones. Heh, and why not make your own calendar with the photos you brought from your recent trip and enjoy them all-the-year-round? Software like Photo Calendar Creator http://photo-calendar-software.com/ has customizable templates for all the above-mentioned calendar types and allows adding several photos to one calendar page.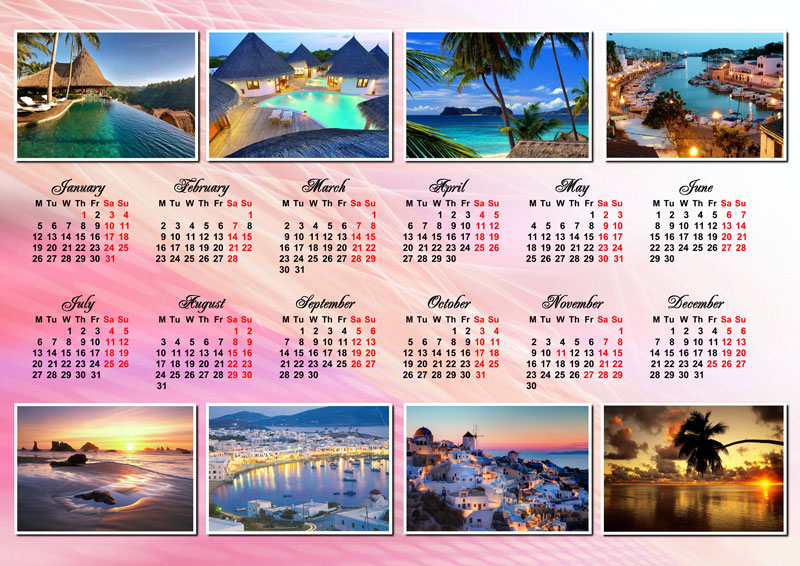 Customized calendar with travel photos
Photo Slideshow with Music and Video Clips
This idea is surely one of the tempting ones. Making a movie from separate photos and videos nowadays is only a matter of your imagination and taste. No need for special computer skills, several different pieces of software or a personal assistant to deal with the task. You only need to add your photos, videos and songs that will serve as a soundtrack, record some comments with your microphone and add animation effects and transitions – and the slideshow is ready to be published on YouTube or played on a big screen. Just remember to choose the software with intuitive interface, for instance check out SmartSHOW 3D http://smartshow-software.com/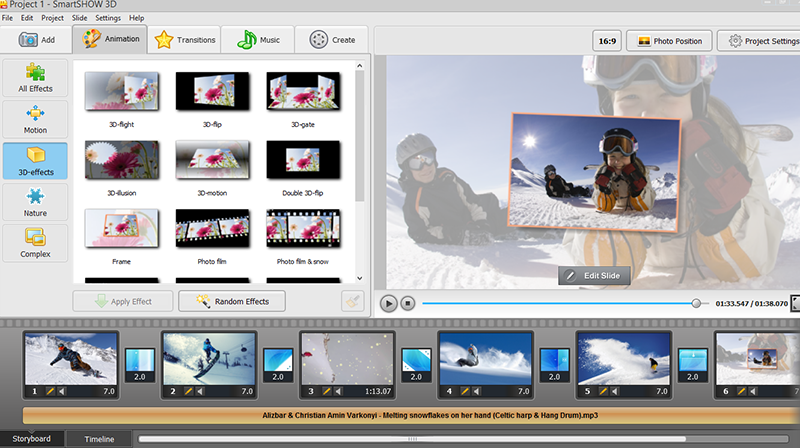 Creating a photo slideshow with music and video clips
Wall Poster for Your Home and Facebook
Need something simple to embellish your room and have an everyday reminder of the sunlit shores you enjoyed during the summer? Or want a picture for your Facebook wall or worth sending to the people you got acquainted with? Using user-friendly photo editing software like Home Photo Studio http://home-photo-studio.com/ you can add a gorgeous frame or a background to your photo and print it in whatever size you need. Let your travel adventures reside by your side!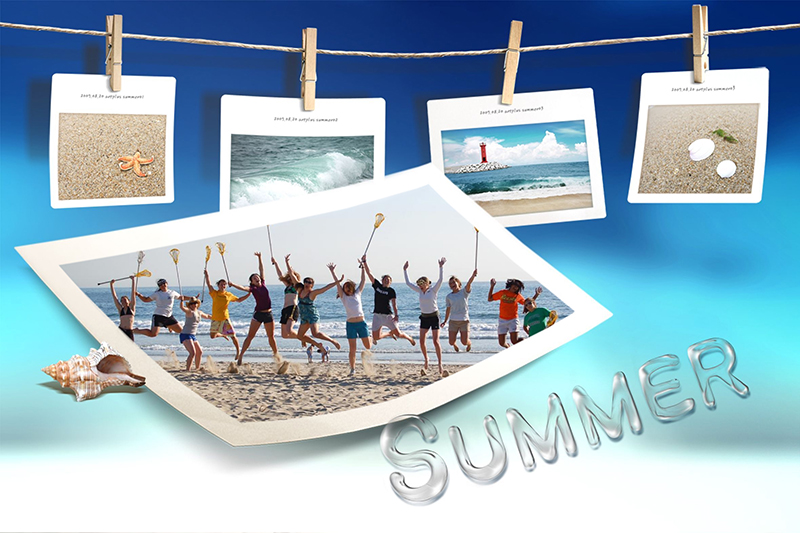 Poster design can be printed and hung on the wall or posted on Facebook
What to do with travel photos is a very intricate question indeed, because we have so many ideas that it is even hard to choose. But let yourself be creative and try as many options as you can!
8 Ideas of What To Do With Your Vacation Photos
Going on vacation is one of the best opportunities to practice travel photography. But the problem persists that more often than not, those boatloads of vacation photos that you snapped end up going nowhere other than maybe scattered about on Facebook.
Sound familiar? You're definitely not alone! If you're looking for ways to actually use your vacation photos, here are 8 ideas to get you started.
1. Make a blog post
One of the best ways to recap your vacation is to make a blog post, combining photos with stories and words to give it more context. Don't have a blog? No worries! It's very easy to create a free blog on sites like WordPress. If making a blog sounds like too much, Adobe Express offers a free, very intuitive format for quickly creating a travel blog of words and photos.
Creating a quick, easy, and free "blog" on Adobe Express. This is s snapshot from the one I created for our trip to Italy ad our wedding.
2. Create an online slideshow
If you'd rather not go through the hassle of putting a blog together, an online slideshow is another way to make a digital presentation of your photos. Simply upload your photos to an online slideshow maker such as Pholody, select background music, and share or download the slideshow.
Alternatively, you can also turn your favorite vacation photos into screensaver slideshows or desktop backgrounds for your laptop or cell phone. How to Create a Simple Slideshow in Lightroom is another way to do it.
3. Strategically post to social media for the most traction
This is probably the most obvious use of vacation photos that may not seem worthy of even being mentioned, but hear me out.
If you aspire to have your photos viewed by more than just your current followers, you'll have to be more strategic in how you post your images. This means adding hashtags and tagging tourism-related businesses that relate to your photos. Think airlines, tourism boards, local Instagram communities…the list goes on.
Research hashtags and businesses ahead of time and keep a list handy in Evernote so you can easily copy and paste them into your Instagram posts.
4. Print a photo book, scrapbook, or photo album
Some photos simply pop and look better when they're physically printed in book form. Consider putting together your top vacation photos and getting them printed via a service.
I recently used Zno and was impressed with their high-quality printing and the fact that the images lay flat without the book gutter running through them. Another service called ChatBooks is a little more automated and can sync your Instagram or Facebook photos into a book design for printing. If you're more DIY-inclined, you can also opt for making batch photo prints and sticking them in an album or scrapbook.
See also: How to Create a Simple Blurb Photo Book in Lightroom
A Lay Flat photo book by Zno.
5. Make postcards or thank you cards
More often than not, your vacation will fall between occasions when you might receive gifts from friends or family. This is the perfect opportunity to create unique thank you cards using your own vacation photos. Also, consider creating fun postcards to send to friends and family as a recap of your trip.
If you're a professional or aspiring photographer, you can even use these postcards as a form of a business card, handing them out to curious passersby who want to know where to find more of your work.
6. Create your own custom postage stamps
Before you send off that custom postcard or thank you card, make sure you include a custom postage stamp. You can use any of your own photos or use a pre-made design. These postage stamps are real and are licensed for use by the United States Postal Service.
7. Transform your photos into wall art
It's not unusual to capture some of your very best travel photos while on vacation. Whether it's a great family photo or a stunning landscape, there's almost always a photo or two in your albums that are print-worthy. So why not turn them into actual photo prints?
Making prints is incredibly easy to do via online ordering. You also have a plethora of print material options including traditional photo prints, canvas, metal prints, and even wood.
For more on printing, see these dPS articles:
8. Print your photos on…just about anything!
Thanks to printing companies such as Zazzle, you can print your photos on a wide range of objects. T-shirts, magnets, and mugs might seem like traditional items on which you tend to find custom printed photos. But did you know that your photo can be printed on an iPhone case, blanket, pillow, bath mat, Zippo lighter, playing cards, and even a skateboard?
Over to You
What are some creative ways that you have utilized your vacation photos? Share your thoughts and ideas in the comments below. And show us the photos!
Source https://www.splento.com/blog/photography/top-10-amazing-ways-to-actually-use-your-travel-photos/
Source https://www.creative-photo-design.com/five-cool-ideas-on-what-to-do-with-your-travel-photos/
Source https://digital-photography-school.com/8-ideas-what-to-do-vacation-photos/