Time Travel: From Ancient Mythology to Modern Science
Time travel and time machines have been a topic of science fiction and countless movies for many decades. In fact, it appears that the possibility to travel in time, either into the future or into the past, has appealed to the imagination of mankind for centuries. While many may think it is absurd to believe that we could travel backwards or forwards in time, some of the world's most brilliant scientists have investigated whether it could one day be made a reality.
Research into Time Travel
Albert Einstein for example, concluded in his later years that the past, present, and future all exist simultaneously, and most are familiar with his well-known concept of relativity. That is, that time is relative and not absolute as Newton claimed. With the proper technology, such as a very fast spaceship, one person is able to experience several days while another person simultaneously experiences only a few hours or minutes. Yet the wisdom of Einstein's convictions had very little impact on cosmology or science in general.
The majority of physicists have been slow to give up the ordinary assumptions we make about time. However, if time travel really was possible, one can hardly contemplate what this may mean for humanity. Whoever had the power to move through time, would have the power to modify history. While this may sound attractive, it would be impossible to know the consequences of any alteration of past events, and how this would affect the future.
Illustration from the Menologion of Basil II of the Seven Sleepers, a medieval legend about a group of youths who hid in a cave to escape persecution and emerged over 300 years later. ( Public domain )
Time Travel in Ancient Mythology
If we look at ancient texts, we can find a number of references to time travel. In Hindu mythology, there is the story of King Raivata Kakudmi who travels to meet the creator Brahma. Even if this trip didn't last long, when Kakudmi returned back to Earth, 108 yugas had passed on Earth, and it is thought that each yuga represents about 4 million years. The explanation Brahma gave to Kakudmi is that time runs differently in different planes of existence.
Similarly, we have references in the Quran about the cave of Al-Kahf. The story refers to a group of young Christian people, who in 250 AD tried to escape persecution and retreated, under God's guidance, to a cave where God put them to sleep. They woke up 309 years later. This story coincides with the Christian story of the seven sleepers , with a few differences.
Another story comes from the Japanese legend of Urashima Taro, an individual who was said to visit the underwater palace of the Dragon God Ryujin. He stayed there for three days, but when he returned to the surface, 300 years had passed. In the Buddhist text , Pali Canon, it is written that in the heaven of the thirty Devas (the place of the Gods), time passes at a different pace where one hundred Earth years count as a single day for them. There are many more references to time travel to be found within ancient mythology.
Urashima Taro returning from the Dragon King's Palace, only to find that 300 years had passed. ( Public domain )
Scientific Research into Time Travel
Probably the most well-known story of accidental time travel is the Philadelphia experiment which allegedly took place in 1943 with the purpose of cloaking a ship and making it invisible to enemy radar. However, it was said that the experiment went terribly wrong – the ship not only vanished completely from Philadelphia but it was teleported to Norfolk and went back in time for 10 seconds.
When the ship appeared again some crew members were physically fused to bulkheads, others developed mental disorders , a few disappeared completely, and some reported travelling into the future and back. Allegedly, Nikola Tesla, who was the director of Engineering and Research at Radio Company of America at the time, was involved in the experiment by making all the necessary calculations and drawings and also providing the generators.
Have you heard about the Chronovisor? Supposedly invented in the 60's, it was a machine that could catch electromagnetic information remaining in the æther and visualize it, so you could literally watch history. pic.twitter.com/D24QsvxYEU

— N'Golo 69%… (@NgoloTesla) June 22, 2020
In 1960, we have another interesting case report of scientist Pellegrino Ernetti, who claimed that he developed the Chronivisor, a machine that would enable someone to see in the past. His theory was that anything that happens leaves an energy mark that can never be destroyed (something like the mystical Akashic Records). Ernetti allegedly developed this machine that could detect, magnify and convert this energy into an image – something like a TV showing what happened in the past.
Scientists have long been curious as to the possibility of time travel. ( drawlab19 / Adobe Stock)
Controversial Experiments Related to Time Travel
In the 1980s, there are reports of another controversial time travel experiment, the Montauk project , which again allegedly experimented with time travel among other things. Whether the Philadelphia and Montauk experiments actually took place is still under debate. However, it is common sense to assume that the military would definitely be interested in the possibility of time travel and would engage in extensive research on the subject.
In 2004, Marlin Pohlman, a scientist, engineer, and member of Mensa with a Bachelor, MBA and PhD, applied for a patent for a method of gravity distortion and time displacement. In 2013 Wasfi Alshdaifat filed another patent for a space compression and time dilation machine that could be used for time travel.
According to PHYS.ORG, the physicist Professor Ronald Lawrence Mallett of the University of Connecticut was working in 2006 on the concept of time travel , based on Einstein's theory of relativity. At the time, Mallett was absolutely convinced that time travelling was possible. He predicted that human time travel will be possible in our century. Particle physicist Brian Cox , quoted in a 2013 article published in HuffPost, agreed that time travel is possible but only in one direction.
We also have the mysterious story of Ali Razeqi, managing director of the Iranian Centre for Strategic Inventions, who The Daily Mail reported had claimed to have developed a device that could see anywhere from 3 to 5 years in the future. His initial story disappeared from the internet a few hours after it was published.
In theory, time travel is possible, even if it is difficult to comprehend. Has the research cited above brought us closer towards making time travel a reality? If so, we can only hope that the technology does not get into the wrong hands.
Top image: Is time travel possible? Source: rolffimages / Adobe Stock
References
Arnold, L. 23 July 2013. "The Time Machine Chronicles: Where Nuts and Pencil-necks Collide" in Mysterious Universe.
A beginner's guide to time travel
Learn exactly how Einstein's theory of relativity works, and discover how there's nothing in science that says time travel is impossible.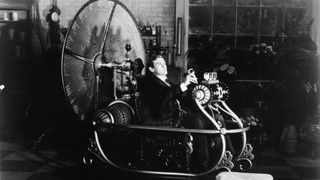 Actor Rod Taylor tests his time machine in a still from the film 'The Time Machine', directed by George Pal, 1960. (Image credit: Hulton Archive / Staff / Getty Images)
Everyone can travel in time (opens in new tab) . You do it whether you want to or not, at a steady rate of one second per second. You may think there's no similarity to traveling in one of the three spatial dimensions at, say, one foot per second. But according to Einstein (opens in new tab) 's theory of relativity (opens in new tab) , we live in a four-dimensional continuum — space-time — in which space and time are interchangeable.
Einstein found that the faster you move through space, the slower you move through time — you age more slowly, in other words. One of the key ideas in relativity is that nothing can travel faster than the speed of light (opens in new tab) — about 186,000 miles per second (300,000 kilometers per second), or one light-year per year). But you can get very close to it. If a spaceship were to fly at 99% of the speed of light, you'd see it travel a light-year of distance in just over a year of time.
That's obvious enough, but now comes the weird part. For astronauts onboard that spaceship, the journey would take a mere seven weeks. It's a consequence of relativity called time dilation, and in effect, it means the astronauts have jumped about 10 months into the future.
Traveling at high speed isn't the only way to produce time dilation. Einstein showed that gravitational fields produce a similar effect — even the relatively weak field here on the surface of Earth (opens in new tab) . We don't notice it, because we spend all our lives here, but more than 12,400 miles (20,000 kilometers) higher up gravity is measurably weaker— and time passes more quickly, by about 45 microseconds per day. That's more significant than you might think, because it's the altitude at which GPS satellites (opens in new tab) orbit Earth, and their clocks need to be precisely synchronized with ground-based ones for the system to work properly.
The satellites have to compensate for time dilation effects due both to their higher altitude and their faster speed. So whenever you use the GPS feature on your smartphone or your car's satnav, there's a tiny element of time travel involved. You and the satellites are traveling into the future at very slightly different rates.
But for more dramatic effects, we need to look at much stronger gravitational fields, such as those around black holes (opens in new tab) , which can distort space-time (opens in new tab) so much that it folds back on itself. The result is a so-called wormhole, a concept that's familiar from sci-fi movies, but actually originates in Einstein's theory of relativity. In effect, a wormhole (opens in new tab) is a shortcut from one point in space-time to another. You enter one black hole, and emerge from another one somewhere else. Unfortunately, it's not as practical a means of transport as Hollywood makes it look. That's because the black hole's gravity would tear you to pieces as you approached it, but it really is possible in theory. And because we're talking about space-time, not just space, the wormhole's exit could be at an earlier time than its entrance; that means you would end up in the past rather than the future.
Trajectories in space-time that loop back into the past are given the technical name "closed timelike curves." If you search through serious academic journals, you'll find plenty of references to them — far more than you'll find to "time travel." But in effect, that's exactly what closed timelike curves are all about — time travel
This article is brought to you by How It Works.
How It Works is the action-packed magazine that's bursting with exciting information about the latest advances in science and technology, featuring everything you need to know about how the world around you — and the universe — works.
There's another way to produce a closed timelike curve that doesn't involve anything quite so exotic as a black hole or wormhole: You just need a simple rotating cylinder made of super-dense material. This so-called Tipler cylinder is the closest that real-world physics can get to an actual, genuine time machine. But it will likely never be built in the real world, so like a wormhole, it's more of an academic curiosity than a viable engineering design.
Yet as far-fetched as these things are in practical terms, there's no fundamental scientific reason — that we currently know of — that says they are impossible. That's a thought-provoking situation, because as the physicist Michio Kaku is fond of saying, "Everything not forbidden is compulsory" (borrowed from T.H. White's novel, "The Once And Future King"). He doesn't mean time travel has to happen everywhere all the time, but Kaku is suggesting that the universe is so vast it ought to happen somewhere at least occasionally. Maybe some super-advanced civilization in another galaxy knows how to build a working time machine, or perhaps closed timelike curves can even occur naturally under certain rare conditions.
An artist's impression of a pair of neutron stars – a Tipler cylinder requires at least ten. (Image credit: NASA)
This raises problems of a different kind — not in science or engineering, but in basic logic. If time travel is allowed by the laws of physics, then it's possible to envision a whole range of paradoxical scenarios (opens in new tab) . Some of these appear so illogical that it's difficult to imagine that they could ever occur. But if they can't, what's stopping them?
Thoughts like these prompted Stephen Hawking (opens in new tab) , who was always skeptical about the idea of time travel into the past, to come up with his "chronology protection conjecture" — the notion that some as-yet-unknown law of physics prevents closed timelike curves from happening. But that conjecture is only an educated guess, and until it is supported by hard evidence, we can come to only one conclusion: Time travel is possible.
A party for time travelers
Hawking was skeptical about the feasibility of time travel into the past, not because he had disproved it, but because he was bothered by the logical paradoxes it created. In his chronology protection conjecture, he surmised that physicists would eventually discover a flaw in the theory of closed timelike curves that made them impossible.
In 2009, he came up with an amusing way to test this conjecture. Hawking held a champagne party (shown in his Discovery Channel program), but he only advertised it after it had happened. His reasoning was that, if time machines eventually become practical, someone in the future might read about the party and travel back to attend it. But no one did — Hawking sat through the whole evening on his own. This doesn't prove time travel is impossible, but it does suggest that it never becomes a commonplace occurrence here on Earth.
The arrow of time
One of the distinctive things about time is that it has a direction — from past to future. A cup of hot coffee left at room temperature always cools down; it never heats up. Your cellphone loses battery charge when you use it; it never gains charge. These are examples of entropy (opens in new tab) , essentially a measure of the amount of "useless" as opposed to "useful" energy. The entropy of a closed system always increases, and it's the key factor determining the arrow of time.
It turns out that entropy is the only thing that makes a distinction between past and future. In other branches of physics, like relativity or quantum theory, time doesn't have a preferred direction. No one knows where time's arrow comes from. It may be that it only applies to large, complex systems, in which case subatomic particles may not experience the arrow of time.
Time travel paradox
If it's possible to travel back into the past — even theoretically — it raises a number of brain-twisting paradoxes — such as the grandfather paradox — that even scientists and philosophers find extremely perplexing.
Killing Hitler
A time traveler might decide to go back and kill him in his infancy. If they succeeded, future history books wouldn't even mention Hitler — so what motivation would the time traveler have for going back in time and killing him?
Killing your grandfather
Instead of killing a young Hitler, you might, by accident, kill one of your own ancestors when they were very young. But then you would never be born, so you couldn't travel back in time to kill them, so you would be born after all, and so on …
A closed loop
Suppose the plans for a time machine suddenly appear from thin air on your desk. You spend a few days building it, then use it to send the plans back to your earlier self. But where did those plans originate? Nowhere — they are just looping round and round in time.
History Dia de los Meurtos
Learn about the history surrounding Day of the Dead. Get to know the origins of the holiday and why thousands honor their dead during Dia de Muertos.
The origins and history of the holiday that honors the dead
The History of Day of the Dead
What Is Day of the Dead
Here in the USA, we mourn our loved ones when they pass with funeral services and wearing dark solemn clothing. It's usually a sad time in our families when we have to say goodbye to grandpa forever. Different cultures grieve and treat death differently with traditions that have been around for centuries.
One culture that has created a unique and interesting way to face death and the deceased is Mexico. Mexico is colorful, noisy, and lots of fun. The people, the food, and the celebrations are bright, loud, and unequaled. So when it comes to death, in true Mexican style, Mexicans celebrate with color, food, and music.
Day of the Dead is a 2-day celebration where it is believed that the passageway between the real world and the spirit world is open so our deceased loved ones can come back to visit us. What do we do when grandpa comes back from the land of the dead? We make his favorite meal and we offer him his favorite drink. We sing, dance, and rejoice before he heads back to the underworld for another year.
When Is Day of the Dead
Day of the Dead is celebrated on November 1st and 2nd. It is sometimes confused with Halloween because of the symbolic skulls but is not related at all.
It is said that on November 1st the children who have passed come back to visit and celebrate as angelitos and on the following day, November 2nd, it's the adults (Difuntos) turn to show up for the festivities.
Family members prepare for several weeks in advance for the tradition by creating altars, decorating burial sites, and cooking specific Day of the Dead food.
Origins of Dia de Muertos
When the Spaniards came to Mexico and introduced Catholicism to the indigenous people they blended traditions and beliefs to create their own customs.
Dia de Muertos came to be from a mixture of the Aztec festival dedicated to the goddess, Mictecacihuatl, with the Catholic influence. Mictecacihuatl is the "lady of the dead" and it is said that she watches over the bones of the dead and swallows the stars during the day.
The church rejected the Aztec's beliefs and turned it into All Saints' Day and All Souls' Day making it on 2 days to fall into the catholic calendar. Mexicans have since transformed it into a truly unique holiday that they honor every year.
How It's Celebrated Today
Today's customs regarding Day of the Dead festivities have morphed over the years to become the distinct tradition it is now. Flowers, altars, food, and music are all integral parts of the holiday.
Families will gather during the night at the cemeteries (panteons), light candles, and place flowers on the burial sites of their lost loved ones. There is festive music and definitely no crying or grieving. This is a reflective and lively get-together honoring the deceased back to celebrate life and enjoy all the human things again.
Traditions
The traditions surrounding Day of the Dead are rich with cultural influence and true to Mexican style they don't lack color and substance.
The Aztecs used to offer water and food to the deceased to help them on their journey to the land of the dead. Now, Mexican families set up beautifully decorated altars in their homes and place photos of the loved ones they have lost along with other items.
The ofrendas usually consist of water, the loved one's favorite food and drink items, flowers, bread, and other things that celebrate the dead person's life.
Marigolds are used during Dia de Muertos celebrations by being placed on the altars and on the burial sites. The Marigold flower is thought to guide the spirits back with their intense color and pungent smell.
Skulls are a huge part of the holiday. Skulls were used during rituals in the Aztec era and passed on as trophies during battles.
Today, during Dia de Los Muertos, small decorated sugar skulls are placed on the altars. There is nothing grim about these skulls. They are decorated with colorful edible paint, glitter, beads, and sport huge smiles.
The skulls (calaveras) and skeletons (calacas) that are so prominent in today's festivities came about at the beginning of the 19th century when cartoonist and social activist José Guadalupe Posada drew La Catrina to protest the Mexican people's desire to look more European. La Catrina has become one of the biggest symbols of Day of the Dead with people painting their faces with skulls and flowers.
Papel picado means perforated paper and is an integral part of Mexican culture. The art comes from the Aztec tradition of chiseling spirit figures on wood. It is used during Day of the Dead celebrations by stringing them on the altars and in the streets. Ofrendas showcase fire, water, earth, and air. Papel picados represent air on the altar.
All About Food
Mexico knows food! There is no celebrating without food in Mexico. Customary foods are prepared during the Dia de Los Muertos and are shared with family, neighbors, strangers, and the visiting spirits.
Pan de Muertos, or day of the dead bread, is an essential part of the festivities and is also placed on the altars. Sugar Skulls are enjoyed by the young and old during this time also. Mole, tamales, pozole, and sopa azteca are prepared by families with the recipes being passed on from generation to generation.
Countries That Celebrate Day of the Dead
Mexico is not the only country that celebrates Day of the Dead. Many other Latin countries like Columbia, Ecuador, Honduras, El Salvador, Nicaragua, Peru, and Venezuela all have their distinct ways of welcoming back their passed loved ones. Some not as colorful and festive as the Mexican version, but still a spiritual time for families to get together and reflect.
Traditions and customs vary per country, but the base beliefs remain the same. Even in Mexico, the customs vary depending on the area in Mexico. Day of the Dead tends to be celebrated more elaborately in Central and Southern Mexico.
All Souls Day is celebrated in parts of Europe but is nowhere near the equivalent of the festive celebrations of Day of the Dead in Mexico.
How You Can Celebrate Day of the Dead
You can celebrate Day of the Dead in the USA respectfully by understanding the customs and honoring the tradition for what it is.
"There is absolutely nothing wrong with wanting to celebrate The Day of the Dead in the US. Most Mexicans enjoy the fact that you are interested in their culture and want to get to know their traditions. If you choose to celebrate Day of the Dead, make sure you understand the event and its traditional practices before partaking in the festivities."
Day of the Dead in Mexico is no small event. It has been celebrated for centuries and has recently gained popularity outside of Mexico. The holiday is a great way to honor and remember our loved ones who have passed.
The preparations leading up to the event are important and deeply rooted in Mexican culture. For Mexicans, this is a deeply spiritual and family-bonding experience.
Once a year we can eat and drink with the ones that are no longer with us. What a great way to commemorate the people we love and miss.
Source https://www.ancient-origins.net/unexplained-phenomena/time-travel-001242
Source https://www.livescience.com/time-travel-beginners-guide.html
Source https://dayofthedead.holiday/history/