Photocopy of a Passport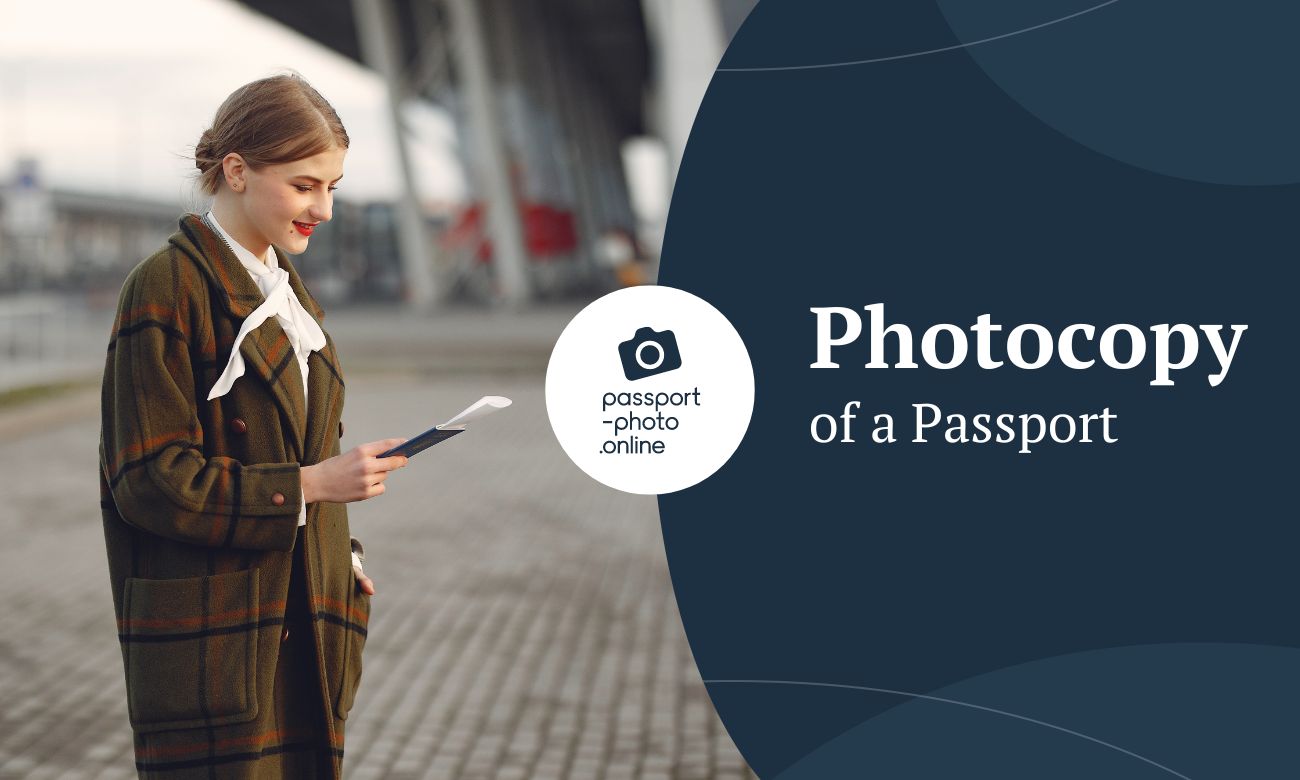 It is recommended by the U.S. Department of State that a photocopy of a passport should be made before international trips. Photocopies should be kept in a location other than the actual passport, for extra security, in case something happens to the original document.
By having a photocopy, a replacement passport is easier to get. This short blog post will inform individuals about passport photocopying and everything that they will need to know.
Passport photo in 3s!
Take a photo with your smartphone, upload it to the website, we will convert it to an official passport photo and send you a digital or printed version. Simple? You can't get more convenient than that!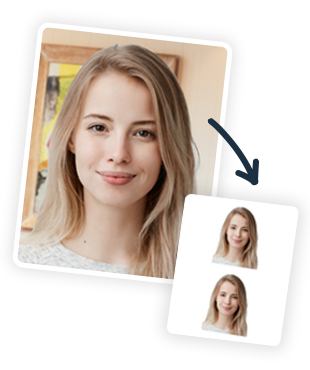 Why is it important to take a photocopy of a passport?
It is advisable that you get a photocopy taken of your passport's information page, prior to your travel, for security reasons.. This is particularly useful if the trip is international, and the person is far away from their home country. A photocopy of your passport makes passport renewal an easier process, especially in a situation where the passport was damaged, lost or stolen.
It is also recommended that, in addition to a photocopy of your U.S. passport, you should prepare copies of your passport photos, or have new ones taken if they are old photos, older than 6 (six) months. This also speeds up the renewal process in a situation where a passport has to be replaced.
Photos should be 2 × 2 inches in size, with a plain white background and printed on high-quality paper. Applicants must face forward, with their eyes open and mouth closed. Smiling, headwear or glasses are not permitted. And a person must make sure that the taken photos follow the passport photo requirements.
What's important about the photocopy of a U.S. passport is the passport number, which identifies each person. With the number, it is easier for a passport to be replaced, as it can eliminate many problems with confirmation of identity.
Do you want to learn more about passports? Check these out:
Best Way to Carry a Passport–Safety Tips
Certified Copy of a Passport
Can You Buy Alcohol With a Passport?
5 Reasons Your Passport Application Will Be Denied
Can You Legally Get Into a Casino With a Passport?
The 14 Best Places to Travel Without a Passport for U.S. Citizens
Emergency Travel with an Expired Passport
How to photocopy your passport correctly?
Taking a passport photocopy is easy. A person must open their U.S. passport to the 2nd page, where the passport image and personal information is shown. The passport must be laid down on the photocopy machine, and the photocopy settings must be adjusted to make sure all details are clearly visible.
In many cases, the default settings are too dark, which could make the image difficult to read. Another option when photocopying a passport is to scan it using a desktop scanner. This can be sent to your email (and kept electronically), as well as printed (and kept as a hard copy). Therefore, a person needs to remember that:
it is advisable that a photocopy is made in color;
if the file is kept on a device, it needs to have a large size and resolution;
a person should make at least 1 (one) photocopy.
Some individuals also take high-quality photos of their documents. This is then stored on their phone. Although scanning is more effective, taking a photo is also very useful, as all the information is visible.
Why a photocopy is useful when a passport is lost or stolen
When a person is on holiday, and they realize that their U.S. passport was lost or stolen, it is essential to contact the nearest American Consulate or Embassy.
A person must explain in detail what happened to the document, to the Consular Section department representative, and present any required documents. Typical requirements include proof of identity, passport application, passport photos, and a photocopy of the passport, if the person has one.
Where should I store my passport photocopy?
In regards to a place where people should store their passport photos, individuals have many options. The most common place, when it comes to carrying a passport, is the luggage. People often travel with travel bags that have locks on them, therefore sensitive objects can be kept under lock and key, where only the owner has access to them.
The second option is a hotel room safe. This is a very popular option, and almost all hotels have a small safe placed in the closet for a person's private belongings. When traveling with a friend, or a partner, people often exchange their photocopy information as additional security.
As mentioned above, people also take photos of their documents and store them in a password protected security folder. However, mobile devices can also be stolen or lost, therefore it is important to keep an electronic copy in a cloud/google/Microsoft drive as well. Moreover, cloud storage can also store information such as prescriptions, travel insurances, health insurances, boarding passes or other essential documents.
Passport Photo Online
When you need a passport photo, you have a few options available: a professional photographer, a photo booth, or taking one yourself at your convenience. The latter option is by far the easiest, as you can take your photo anytime and anywhere, as long as you can still meet the requirements.
Using an app such as Passport Photo Online will help get you the U.S. passport photo you need. This app has a highly-advanced AI that uses the same algorithmic techniques utilized by passport offices around the world, in order to verify if a passport picture is correct or not. Thanks to this it can tell you exactly what, if anything, is wrong with the passport photo, so that you know what changes you need to make.
It will also change the background into the required one, and it will crop and resize your photo according to the requirements of the document you need the photo for.
Once all of this has been done, and the photo has been marked as correct, it will be accepted by the passport office.
To download this app you can visit the Google Play Store, for android, and the Apple App Store, for iOS.
Photocopy of a passport: FAQ
Can you use a photocopy of a U.S. passport as ID?
No, you can't use a passport photocopy as ID, but you should still have it as if you do lose yours it will help speed up the process of getting your new passport.
Where can I get a photocopy of my passport?
You can get a photocopy of your passport anywhere that has a photocopying machine. If you're unsure how to get the highest quality, you should go to a photocopy store and they will be able to get the copy done at a high quality.
What does photocopy of a passport mean?
It means exactly what it says, a photocopy of your passport. This is a printed piece of paper that shows the relevant page of your passport, in case yours is lost or stolen and you need to apply for a new passport.
Is it legal to photocopy a passport?
Yes, it is perfectly legal to photocopy your passport. In fact, the U.S. Department of State recommends that all U.S. citizens have a photocopy of their passport with them, when traveling abroad.
Can you use a photocopy of a passport to travel?
No, a photocopy is not the same as a passport, and therefore is not a valid travel document. You will not be allowed to travel using a photocopy to anywhere that requires a valid U.S. passport.
Which passport pages should I photocopy?
The pages you should photocopy are the ones with information, such as your passport number, name, photo etc.
Can you take a picture of your passport and use it as ID?
No, you cannot. A picture of your U.S. passport's photo page does not qualify as valid ID. However, it's always good to have a backup copy of one's passport info page in case of loss, theft, or damage while traveling.
Which pages to scan on my passport?
The 2nd (second) page should be scanned and kept as a backup in case your U.S. passport gets lost or damaged. This is the information page that has your personal details and passport photo.
How to get a scanned copy of your passport?
Use a home scanner or commercial scanning service to get a high-quality scan of your U.S. passport's info page. There are also smartphone applications on Android and iOs that allow you to scan documents with your phone's camera.
Can you travel internationally with a copy of your passport?
No, it is not possible to travel internationally with a copy of your passport. A valid passport is mandatory for any type of travel outside of the U.S.
Can I use a photo of my passport at the airport?
No, a photo of your U.S. passport will not be accepted as a travel document or as a replacement for a government-issued ID. This is true for domestic airports within the U.S. and for international airports.
Scanned copy of passport–what is the meaning?
A scanned copy of your U.S. passport refers to a digital copy of the 2nd (second) page of your U.S. passport (the one with your picture and info). This copy can be printed and stored with your other documents while traveling or kept as an electronic document on your mobile device(s).
Can I fly with a copy of my passport?
No, you cannot use a copy of your passport as a form of identification or as a travel document on any domestic or international flight.
Lost photocopy of passport–what now?
If you are worried about identity theft, you can call the National Passport Center toll-free at 1-877-487-2778 (TTY 1-888-874-7793) and report the loss. The operator will instruct you on how to proceed based on your situation.
Is it ok to take a picture of your passport?
Yes, it is perfectly fine to take a picture of your U.S. passport's info page. Try to keep the copy of your U.S. passport in a secure location (with your other documents) to prevent identity theft.
Photocopy of a passport – summary
Having a photocopy of your passport, in addition to your U.S. passport, is very handy, as it allows you to have some form of proof of your identity, in the situation where your passport has been lost or stolen. This will enable you to apply for an emergency replacement much quicker than if you didn't have a photocopy.
4 Best Backup Methods for your Travel Documents
You've seen this recommendation before – from us and many other travel experts – have a copy of your travel documents, but what travel documents are we talking about and how should you carry a copy of your documents?
Before we discuss how this can more easily be accomplished, let's discuss why having a copy of your travel documents is necessary.
Losing your shoes can be a true hassle on a trip. That loss can even cost you money to replace them, but losing your identification and travel documents is much, much worse for three reasons:
They take longer to replace
They're more difficult to replace in a foreign country
Depending on what you lose, you might not be able to get home on your schedule – and that could cost you even more money
If your passport is stolen in a foreign country where the U.S. embassy is short-staffed or closed for any reason, you could be waiting a long time to get a replacement. With a copy of that document, you can speed up the process.
Next, let's discuss which documents you should back up or copy.
A list of travel documents to back up
Since 9/11/2008, security between countries has become tighter and tighter. Authorities at airports, train terminals, and ferry docks have become very strict about proper documentation and whether you're visiting the U.S. or an American citizen traveling abroad, it's vital to have those papers on order; however, these aren't the only documents you should have a copy of on your trip.
Depending on where you are traveling, you'll want to make 2 printed copies of the following:
Passport (the identification page)
Visa
Travel insurance
Driver's license
Health information (see What's my basic medical info? for details)
Credit cards (see Don't travel with a copy of your bank cards; we've got a much better system for an innovative way to secure your credit card number.)
Traveler's checks, although we're not convinced anyone uses these anymore
Travel itinerary
Airline tickets
Hotel or lodging reservation confirmations
Car rental reservation confirmation
Cruise tickets
Vaccination certificates (Some countries require a vaccination certificate for specific infectious diseases. For example, travelers entering Venezuela from certain countries are required to show a current yellow fever vaccination certificate.)
Any other pre-paid confirmations
You'll leave one printed copy at home and give one copy to a friend or relative who can be contacted should you need them sent to you. The copy at home is for your next of kin. Not to be morbid, but if you die on this trip, you want them to be able to collect on your travel insurance policy and they'll need the details to do that.
The other copy is in case you can't access your electronic copies for some reason, and we'll talk about that next.
4 Best Backup Methods
Let's be honest, not much is done on actual paper these days. You can even apply for a loan with an electronic signature, so the idea of traveling with printed copies is old-school.
Hint: if you do choose the paper route, put one set in a zippered plastic bag (to protect it from moisture) and slide it in your suitcase. Put a second one in your carry-on (zipper bag here is optional).
The new-school way to have a copy of your documents is to scan them and store them electronically.
Send them to your own email account (and perhaps to a friend's as well).
Store them on a memory stick and take that instead.
Store them in your choice of online cloud.
Store them on your portable device or laptop.
The idea here is to have electronic copies of your travel documents to save space and aggravation, but remember, these are critical documents and if stolen, they could cause you a lot of harm with identity thieves, so guard them closely. Secure the online documents, and even those you send to your friend, with a password. Be sure your portable devices and laptops are secured with a password as well.
If you can't get to a computer with a printer or one with Internet access, you can call your friend and have them send the copies by email, fax, or courier to the nearest embassy or to another trusted contact.
5 Steps to Replace a Lost or Stolen Passport while Traveling Abroad
Should your passport be lost or stolen while traveling abroad, these are the steps you'll follow to get a replacement:
Contact the nearest U.S. embassy or consulate.
Report the loss, theft, or misplacement with local authorities or use the U.S. State Department DS-64 form. Note, a police report is may be required if the embassy believes a problem may exist, but it will likely be required by your travel insurance company as well. If you have travel insurance, quickly report the loss to them as well.
Complete a new passport application – this is where having a copy comes in handy.
Obtain fresh passport photos (the embassy can usually direct you to a place).
Pay your fee – this is a fee that many travel insurance companies will reimburse you for, provided you have a receipt and up to a certain limit.
Time-limited passports may be issued in cases where an applicant has, by mistake, packed their passport in luggage that is sent forward to another location, or when they've left it at home or in another country, and has to travel immediately. If a traveler is robbed multiple times in a short timespan, they may also receive a limited passport while the authorities investigate the situation.
Don't copy your bank cards; we've got a much better system
When your purse or wallet is stolen on a trip, all of your access to cash is gone. Not only that, but if your passport is stolen, you'll need to get a replacement before you can re-enter your own country.
It is for this reason that we've often recommended to travelers that they carry a copy of their passport identification page, their credit cards, etc. when they travel, but we recently discovered a much better system and we're going to share it with you now.
Switch the numbers in your list
Yes, you should still have a list of your card numbers but not copies of the actual cards. Yes, you should have the associated phone numbers to call if a card is stolen. Yes, you should still leave a duplicate copy with a friend or family member back home (in case your copy is stolen). And here's our new recommendation: have a personal system of switching several of the numbers for each card.
For example, if you have a card number that looks like this (obviously it won't, but we've simplified it for the sake of making the point):
Consider a system of switching the first and last numbers, perhaps like this:
Or some other easily remembered pattern. You know the pattern, and if you think you won't remember it, write the key on the copy you leave at home.
How does this work?
Think about it: if you lose the sheet, or if it is stolen by the hotel maid, then you won't have to worry about your accounts being compromised.
If your purse or wallet is stolen, you'll be able to call the contact phone numbers and get the cards canceled quickly. If your sheet of numbers is stolen, the thief won't get far with those fake numbers. Plus, if both are stolen, you can call your friend or family member and get the information sent to you and still put a quick stop to the raiding of your accounts.
Use technology as a travel aid
Keep your sheet of account numbers and phone numbers with you as a document to which only you have access – in an e-mail account, on a password-protected mobile device, etc. Just be sure you are the only one with access to the get to the numbers.
The key is being able to cancel and/or replace the cards quickly so that the financial damage is minimal, but making a copy of your credit cards has the potential to backfire because you won't know that the card number is stolen until much later. Try this system as a way to more thoroughly foil the attempts of thieves.
Source https://passport-photo.online/blog/photocopy-passport/
Source https://covertrip.com/travel-safety-tips/best-backup-methods-for-travel-documents
Source https://covertrip.com/travel-safety-tips/dont-copy-your-bank-cards