What's it Like Traveling to Europe Right Now? 6 Takeaways from My Trip
This post contains references to products from one or more of our advertisers. We may receive compensation when you click on links to those products. The content on this page is accurate as of the posting date; however, some of the offers mentioned may have expired. For more information check out our Advertising Disclosure.
After more than a year off-limits, countries across Europe are welcoming back American travelers again. From Spain and Portugal to Italy and Greece and many countries in between, Europe's reopening has put a trip abroad back on the map.
But the pandemic has changed travel – especially international travel. What are those long-haul international flights like these days, and what flights are even operating? What do you need to get in: A vaccine card? A negative COVID-19 test? Both or neither? And what's it actually like for visitors in Europe right now? Is it worth a trip now or better to wait?
Those are the questions on the minds of thousands of travelers – and it was on mine too. So for the first time in 18 months, I left the U.S. and made way for Spain to spend the week in Madrid.
Here's what I saw … and why I'm confident you can pull it off if you're eager to head for Europe, too.
Navigating Travel Requirements Can Be Stressful
Expect Longer Lines at Check-In
A Story of Two Flights
Getting into Spain Was a Breeze
'What's Even Open in Europe?' A Look in Madrid
Getting a Test to Get Back Home
Navigating Travel Requirements Can Be Stressful
Two years ago, a U.S. passport was all you need to get virtually anywhere in Europe. It's no longer so simple.
Today, navigating the entry requirements for a trip to Europe can feel like a full-time job. There's a patchwork of regulations across the continent, with different restrictions that vary based upon where you're heading. And it's constantly changing, with countries loosening (and sometimes tightening) those rules over time.
Here's a brief look:
In France, you'll need either proof of vaccination (like a CDC vaccination card) showing you've been fully vaccinated or provide a negative COVID-19 test – PCR or rapid antigen – taken no more than 72 hours prior to arrival.
Spain had similar requirements until June 24, when it threw open the doors to all American travelers with no testing or vaccination requirements. To get in, all I needed was to fill out the Spain Travel Health form and show my QR code.
The Netherlands opened late last month with no entry requirements for Americans, period.
For more than a month, Americans could head for Italy – but only on specific "COVID-tested flights" with multiple mandatory COVID-19 tests before departure and on arrival. But that changed in late June, as Americans can now enter Italy with proof of vaccination, a recent negative COVID-19 test, or proof of recovery from COVID-19.
From Austria to the United Kingdom, read our full guide tracking Europe travel restrictions!
Keeping track of these rules and regulations adds a lot of new stress to the travel planning process, and it's not always easy. Case in point: Ahead of my Delta flight from New York City (JFK) to Madrid (MAD) last week, Delta's app and website insisted I'd need a negative COVID-19 test to get into Spain. That wasn't true, but it could easily catch some travelers by surprise and cause a panic.
Here's the unfortunate reality of traveling to Europe right now: You need to not just double- but triple- and quadruple-check these requirements as your trip draws closer.
Bookmark the U.S. embassy page for the country you're heading to, as these are regularly updated with the latest official guidance. And it's not a bad idea to follow some English-language news outlets in your destination, as they might tip you off to any changes (good or bad) that are brewing.
Expect Longer Lines at Check-In
Whether it's a short domestic flight or a long-haul journey, I skip lines at the airport whenever I can. Packing in a carry-on bag and checking in online means I can skip both the baggage drop line and check-in counter.
But with the new reality of travel restrictions in Europe, those days are over. Since the airline needed to make sure I had all the proper documentation, I wasn't able to check in online for my flight to Madrid – nor was anyone else. So here's what the check-in line for Delta international flights looked like a Monday afternoon.
By the looks of it, it would have taken at least an hour to get through this line, if not two hours or more. Fortunately, because I wasn't checking a bag, I was whisked away to a kiosk for a much quicker check-in process: The agent glanced at my QR code for entry into Spain, double-checked my passport, printed my boarding pass, and I was on my way.
With any luck, airlines will figure out a way to streamline this more complicated check-in process or bring most of it online. But until they do, brace for lines and delays.
A Story of Two Flights
What will your flights between the U.S. and Europe be like? It largely depends on which way you're heading.
The floodgates for Americans to head to Europe are opening, with more countries joining the fold every week. But transatlantic flight options are still a shadow of their former selves after the COVID-19 pandemic cuts. With travel demand for Europe growing but flights still fairly low, that's a recipe for fairly full flights from the U.S. to Europe.
My Delta flight from New York to Madrid last week was at least 95% full. From Delta One to Comfort Plus to Economy, I saw only a few empty seats onboard our Boeing 767-300.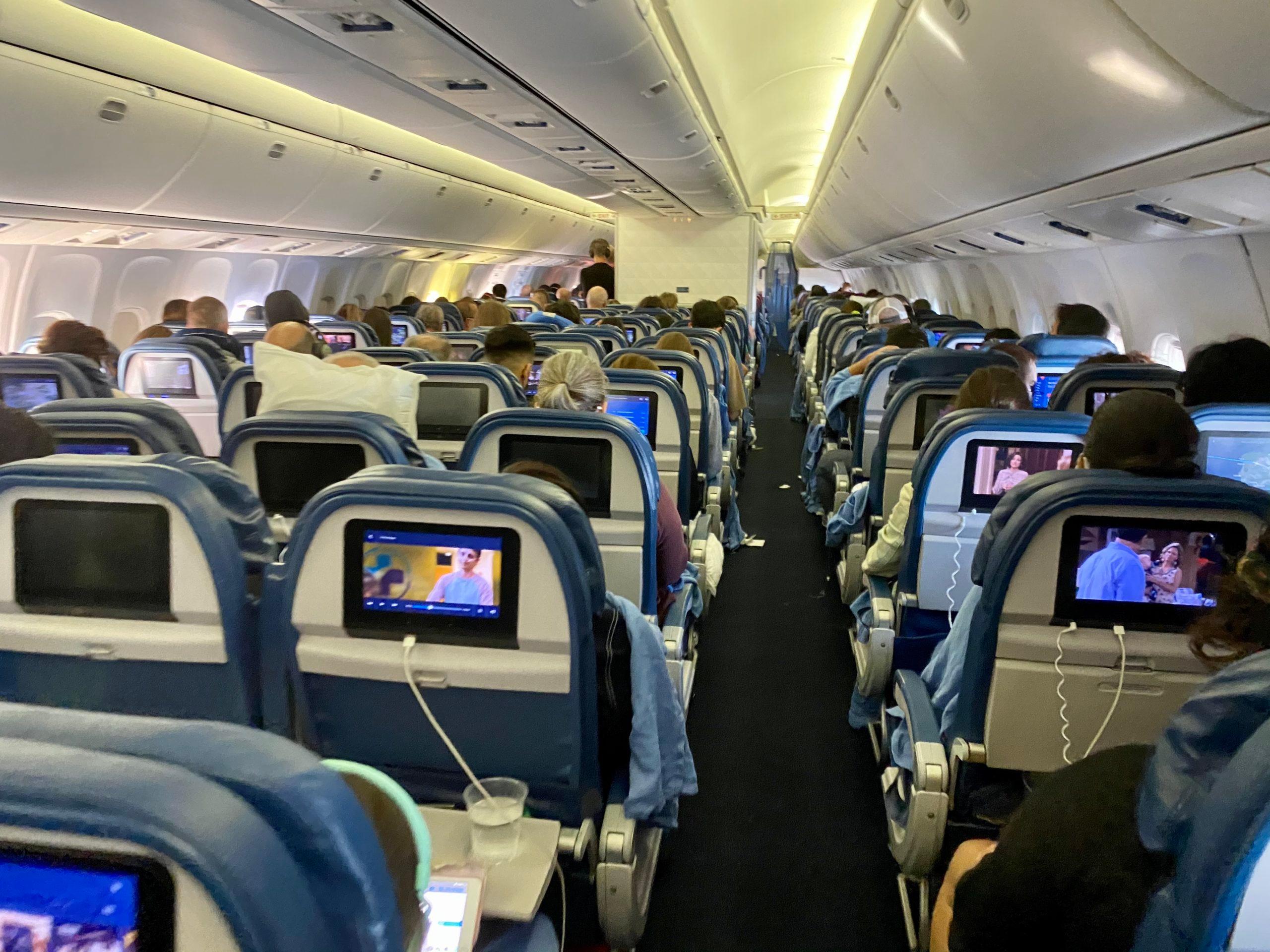 But Europeans still aren't allowed to visit the U.S. That means your flight back home should be far more empty. That was the case for my Air France flight back to Minneapolis-St. Paul (MSP), which was probably less than two-thirds full. That meant I could easily snag an entire row all to myself.
Once you're in the air, not much has changed on these transatlantic flights. Masks are still mandatory unless you're actively eating or drinking, of course. But while airlines have cut back on their domestic in-flight service considerably, the food and drinks you'll find onboard should be familiar.
On both flights, there was a full meal soon after takeoff with a snack before landing; beer, wine and cocktails were available for free; and the flight attendants were friendly.
This spread on my Air France flight back to Minneapolis, served on a tray all at once, hit the spot. Aside from some extra plastic packaging, it seemed to me like nothing had changed since 2019.
Getting into Spain Was a Breeze
Keeping tabs on what I'd need to enter Spain brought plenty of added stress to my first international trip in more than a year. But after landing in Madrid, the process of actually getting into the country couldn't have been smoother.
Aside from the usual passport check at customs and immigration, there was a quick scan of my QR code for entry … and that was it. With plenty of agents staffing the checkpoints and relatively few arriving flights, I waltzed through in just two minutes.
More than a month after opening to American visitors, Spain has clearly perfected its entry process to make it smooth and fast. But that won't always be the case – especially for countries that have just reopened or those with more stringent entry requirements.
'What's Even Open in Europe?' A Look in Madrid
It's one thing to get in. But the COVID-19 pandemic and restrictions still with us, is it even worth a trip to Europe right now?
The answer depends on where you're going and what you're aiming to do, of course. From mask requirements still in place to limited capacity in restaurants – and in some cases, ongoing bans on indoor dining – some countries have more stringent restrictions in place than others. While an initially sluggish vaccination campaign has picked up steam, much of Europe is still a few months behind the U.S. in the fight to crush COVID-19.
But for me, the answer in Madrid was a resounding and emphatic yes: It's absolutely worth it. From the markets to the tapas and wine to museums and simply walking the streets and alleyways, all the reasons I love Madrid were there waiting for me.
Masks were still mandatory indoors in Spain, as is the case throughout much of Europe. And while the Spanish government had dropped its outdoor mask mandate days before I arrived, I'd guess that roughly 60% (or more) of Madrileños were still masking up outside.
Every restaurant, tapas spot, or bar I could hope to visit was open for indoor dining. But with no shortage of patios and terraces and temperatures, al fresco is still definitely in high supply.
Many of the fantastic markets Madrid is perhaps best-known for are open and ready for visitors to buy produce, snack on tapas, or grab a glass of vermut. The uber-popular Mercado de San Miguel has recently reopened after being closed for the last year. But other equally great spots like Mercado de San Fernando, Mercado de Anton Martín, and Mercado de San Ildefonso are open.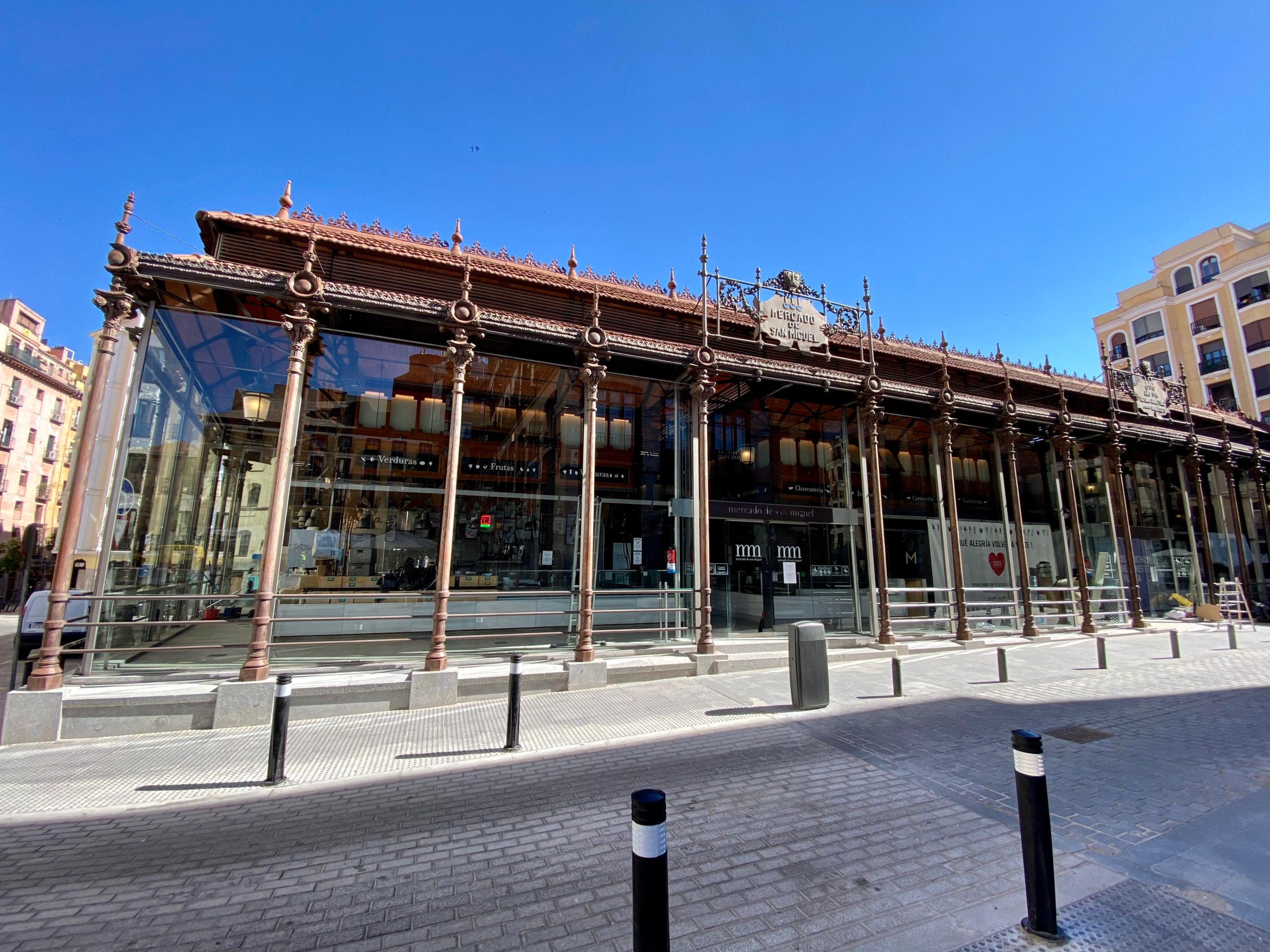 Madrid's great museums like El Museo del Prado and Reina Sofia, the home of Picasso's Guernica, were both open for masked visitors, with few signs of any capacity limits or other changes.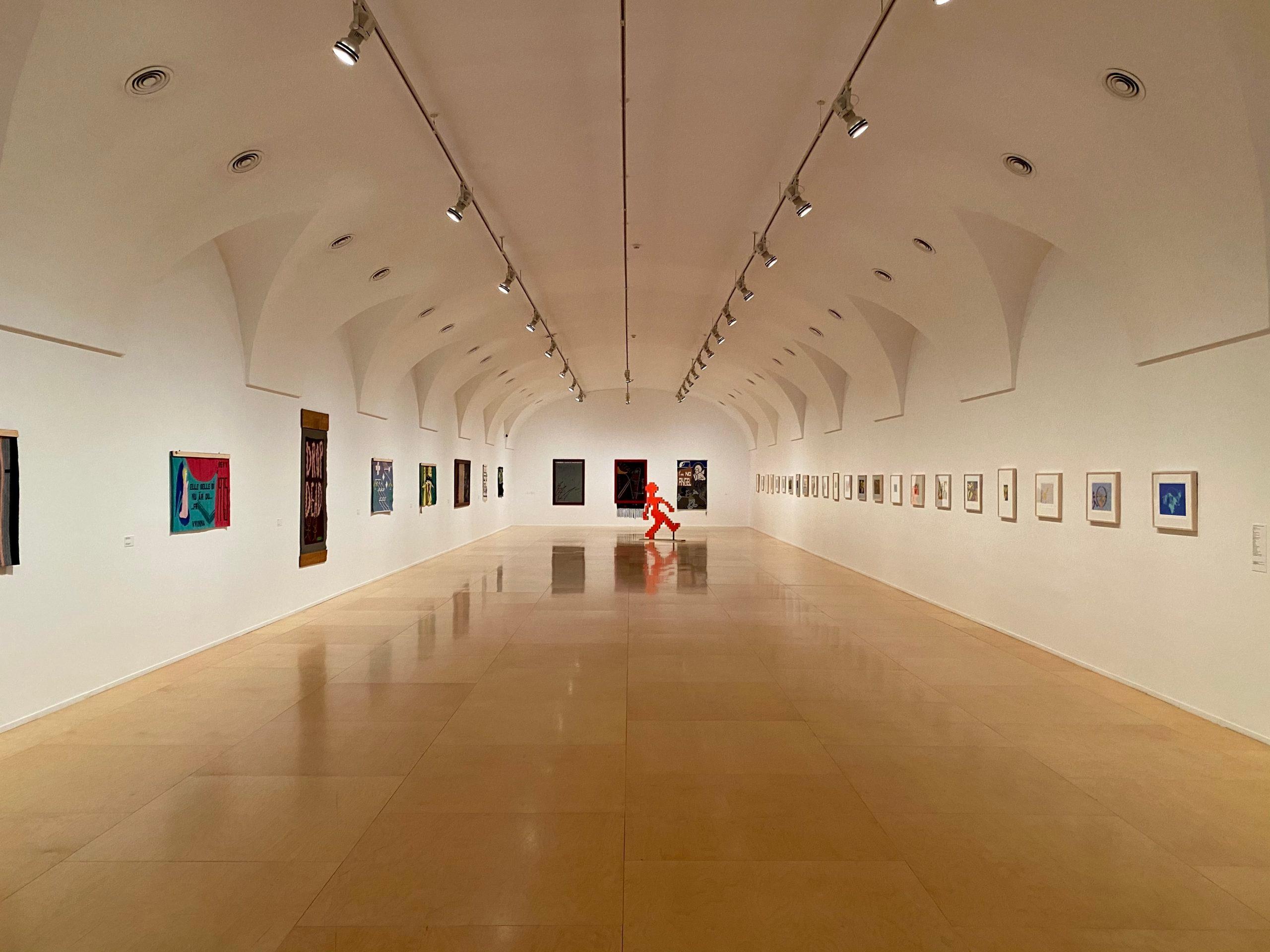 And no matter where I went, crowds certainly felt light for what should normally be the peak travel season in Europe. Here's a look at Madrid's typically busy Plaza Mayor.
Is traveling to Europe different than it was two years ago? Unquestionably. But unless if you've got a niche excursion, cruise, or activity in mind, odds are that you'll find what you're looking for from your trip. And you may even find you've got more room to roam this summer as fewer travelers make their way across the Atlantic.
Getting a Test to Get Back Home
For many, there's one roadblock stopping them.
As of late January 2021, all travelers flying to the U.S. from abroad must present a negative COVID-19 test taken no more than three days before departure – and yes, that includes American citizens who have been vaccinated returning home. Despite huge advances in vaccinations in the last six months, that requirement remains in place … and there's no firm sign yet of when it may disappear or be replaced by vaccination cards.
Tracking down a COVID-19 test in a foreign country – and ensuring it meets the U.S. requirements – adds yet another layer of stress and uncertainty – especially if you test positive, as you'll need to quarantine for 10-14 days in a foreign country.
In my experience, finding a test is not as bad as it may seem. I was able to easily track down a lab in Madrid for a quick rapid antigen test, pay 50 euro (about $59), and get a negative test result back with plenty of time to spare.
Here are a few things to keep in mind as you track down testing options abroad:
The U.S. accepts both PCR and rapid antigen tests, which are typically less expensive and can come back with results in as little as 15 to 30 minutes.
The U.S. also now accepts at-home rapid antigen tests so long as they're performed with a virtual consultation, which means you could throw a kit in your bag and perform your own test before flying home. There are a few cost-effective options, but few are better than Delta's partnership with AZOVA Ellume, with tests that cost just $50 apiece.
Check with your hotel or Airbnb host about nearby testing options.
Many airports are adding testing onsite, including in Madrid. But book early! Madrid's calendar was jam-packed more than a week ahead of my return flight home.
Once you've got your negative test result in hand, prepare to show it at the check-in desk for your flight back to the U.S either with a printed result or digitally. Your airline will need to verify you've got the necessary negative test. You'll also be required to fill out a CDC health attestation form for the airline.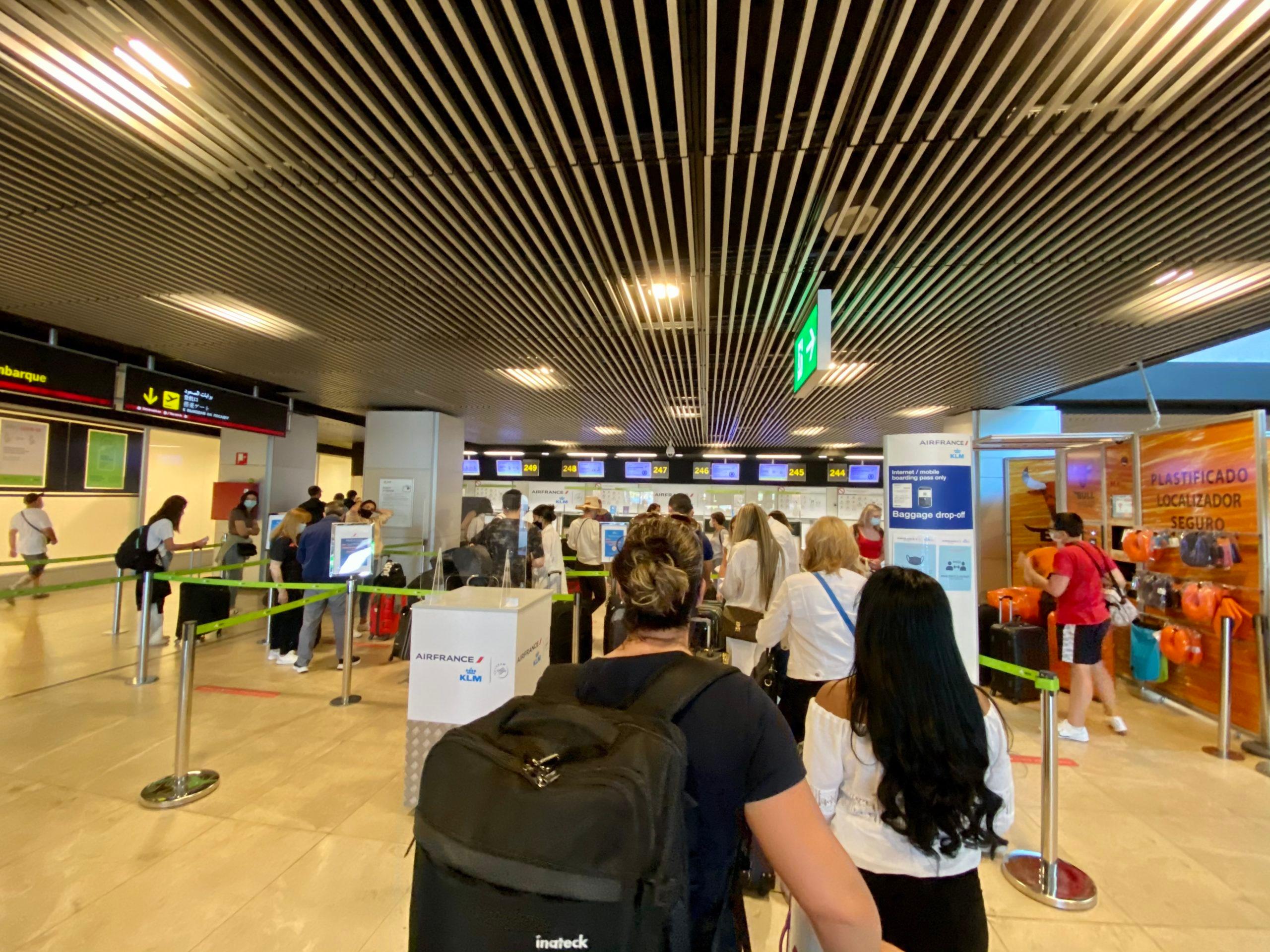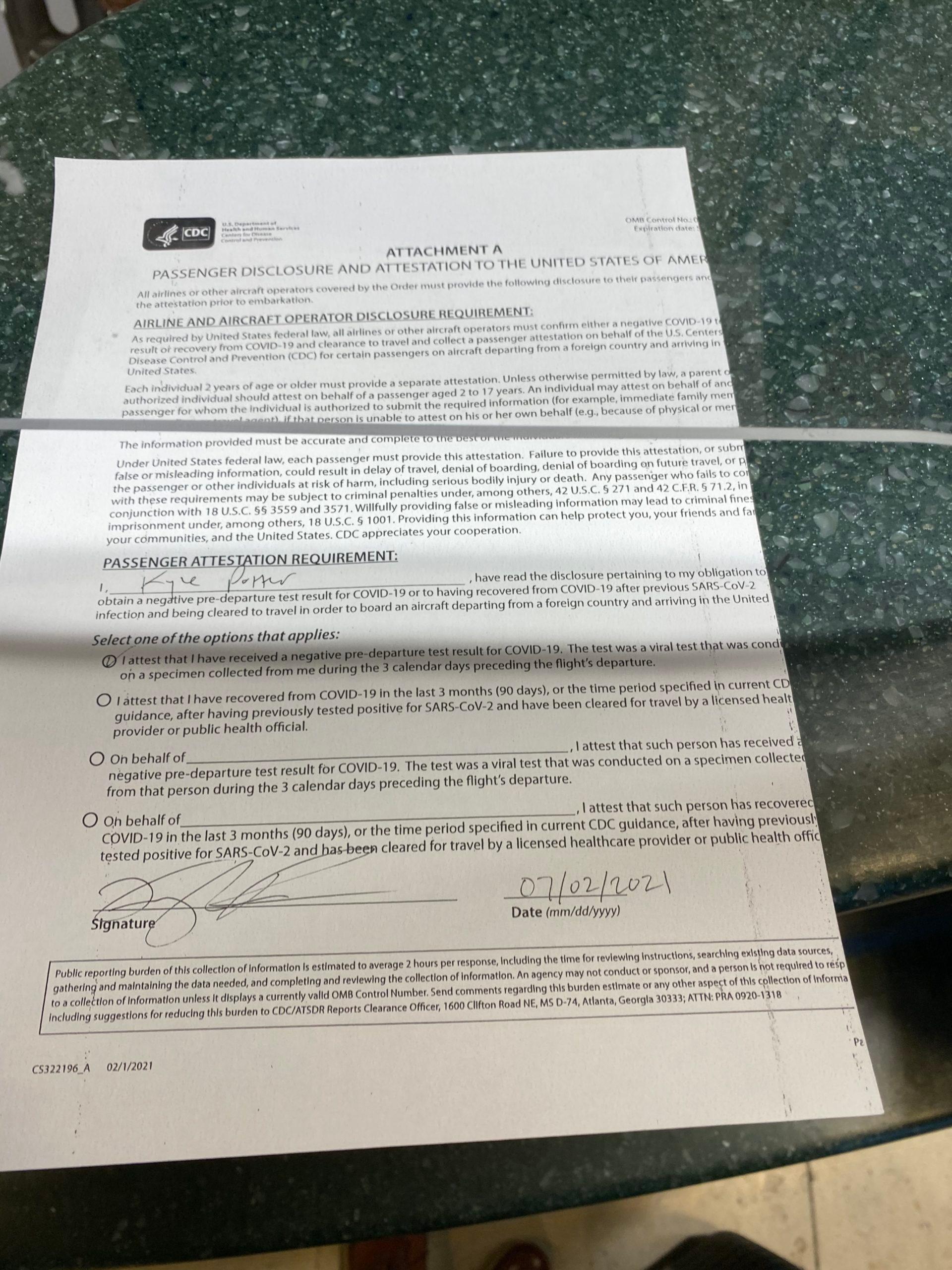 Depending on the airport you're flying through, you might be required to show some of those documents again before boarding, too. That was the case for my flight from Paris-Charles de Gaulle (CDG) to Minneapolis-St. Paul (MSP), and it certainly dragged out the boarding process.
Bottom Line
This was my first international trip in a year and a half, and I was out of practice. But was traveling to Europe right now worth it? Without question.
The additional stress of navigating entry requirements, tracking down a test abroad, and weighing the possibility that testing positive could leave you stuck in a foreign country … well, that may be enough to lead many travelers to put off a return to Europe until 2022.
But many countries across the continent are clearly ready and eager to welcome back Americans. Getting there and getting back may be harder than it was in 2019, but it can be done.
This story has been updated to show that Mercado de San Miguel has since reopened.
Stop overpaying for travel!
Get our daily email for the latest in travel, flight deals, and how to save on your next trip.
Kyle Potter
Kyle Potter is the executive editor of Thrifty Traveler. He joined the company in 2018 after spending years covering state and national politics for The Associated Press. He loves to help others understand the confusing world of travel, airlines, and points and miles.
Got a story idea or a tip? Email him at kyle (at) thriftytraveler (dot) com
Editorial Disclaimer: Opinions expressed here are the author's alone, not those of any bank, credit card issuer, airlines or hotel chain, and have not been reviewed, approved or otherwise endorsed by any of these entities.
Disclaimer: The responses below are not provided or commissioned by the bank advertiser. Responses have not been reviewed, approved or otherwise endorsed by the bank advertiser. It is not the bank advertiser's responsibility to ensure all posts and/or questions are answered.
11 Responses
Thanks for the great article! We are heading to Portugal and Greece in September with a quick stop in Paris in between thanks to the TT deal to Europe via TAP airlines. Do you know if there are any different regulations for France if you are coming from another country (Portugal) We have our vaccine cards so I assume were ok but we are coming from Portugal not the US on our incoming flight.
Is it safe to travel to eastern Europe right now? We asked the experts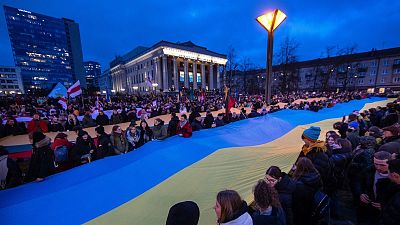 People carry a giant flag of Ukraine to demonstrate against Russian attacks in Ukraine at Independence Square in front of the Parliament Palace in Vilnius, Lithuania – Copyright AP Photo/Mindaugas Kulbis
As the Russia-Ukraine war approaches a grim one-month milestone, people are continuing to feel uncertain about travelling to neighbouring countries. But are these concerns justified?
Hours after the invasion, the EU Aviation Safety Agency (EASA) warned airlines against flying over Ukraine, Moldova and parts of Belarus and Russia. Over the following days, airspace bans and sanctions solidified in Europe – and Russia retaliated – changing the scope of global air travel significantly.
Readers planning to travel to eastern Europe shared their concerns with us. And travel agents are still reporting a 'nervousness' around booking holidays more generally – dampening experts' predictions for a travel boom in 2022.
A recent survey carried out by travel agency MMGYGlobal found that the war in Ukraine is now twice as likely as Covid to impact Americans' plans to visit Europe. 62 per cent of respondents were concerned that the invasion would spread to nearby countries, while 47 per cent intend to wait to see how the situation evolves before booking a holiday.
Weeks on from the invasion, and EASA has had no cause to extend their Conflict Zone Information Bulletin (CZIB) to other countries. So does that mean it's safe to travel in the wider region?
Here we answer your questions on travelling in Europe, based on the latest information from travel bodies and the UK foreign office.
How does the EASA decide which countries are safe to fly over?
The regulator is sharing their assessments on airspace around Ukraine via the Conflict Zone Information Bulletin (CZIB), published here. The 24 February update warns against travelling over the region of Chisinau in Moldova, and Minsk, the capital of Belarus.
It also recommends that air operators exercise caution over Moscow and the southern Russian city of Rostov "due to heightened military", which could include launching mid-range missiles into controlled airspaces.
EASA takes into account all available intelligence information when updating the CZIB, a spokeswoman told Euronews Travel, working closely with the European Commission and the European Organisation for the Safety of Air Navigation – known as Eurocontrol.
The safety agency has had another CZIB in place over eastern Ukraine since 2016, following the shooting down of Malaysia Airlines flight MH17 in 2014 during an earlier point in the Russo-Ukrainian conflict.
Which countries have banned Russian planes?
All 27 EU member states along with the US, UK, Albania, Canada, Iceland, Norway and Switzerland have banned Russian flights from entering their airspace. In return, Russia has banned flights entering their airspace too. While Japan does not have an outright ban, it has decided to avoid Russian airspace.
Ukraine, Moldova and Belarus are the only countries to have stopped commercial flights leaving or coming into their borders.
Euronews Travel has contacted all the airlines that fly to Ukraine and surrounding countries. Their responses are in this article, which we are keeping updated.
Is it still safe to fly to bordering countries like Poland and Hungary?
Yes, it is still safe to travel to Poland, Hungary and Slovakia, but always check the latest advice before you go. Poland is currently receiving a large number of Ukrainian refugees across its borders, so tourists planning to visit the country should book their accommodation in advance. Areas of Poland close to the Belarusian border are also closed.
"Hungary remains a safe country, and life continues as normal here. The Hungarian Government is doing its utmost to avoid involvement in the war, and to preserve the safety of both the residents of Hungary and the tourists who visit," a spokesman from the Hungarian Tourism Agency told CNN travel.
There is no change in UK foreign office advice about visiting Poland and Hungary, except to note that Russian military strikes have taken place in Ukraine within 20km of the Polish border. But it's understandable that tourists, business travellers and those trying to reconnect with family and friends have concerns.
Here are our answers to the questions you asked on Euronews Travel's Instagram.
"I'm going on a trip to the Baltics in a few days. Starting in Estonia and Lithuania. Safe?"
Airlines are still flying on schedule in and out of the Baltic states – Estonia, Latvia and Lithuania – meaning aviation experts consider it safe to do so.
Ex-Soviet nations and NATO members have deployed troops to bolster their borders with Russia and Belarus.
There's no sign this will affect travel between the Baltics or from other destinations, but tensions in the region are high.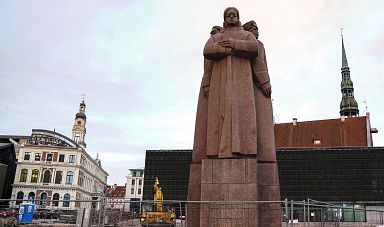 The monument of Red Latvian Riflemen stands in Riga, Latvia. Roman Koksarov/AP
"I fly to Vilnius in a week, I'm concerned about flying over Belarus – what should I do?"
Lithuania declared a state of emergency on 24 February in response to the Russian invasion of Ukraine.
If you are visiting the country you are now required to carry photo ID at all times and must present it to law enforcement officials upon request.
Spot checks may be in operation at border crossings too, but the UK foreign office is not advising against travel to Lithuania, so it is thought to be safe to visit.
"I've got a Baltic cruise booked, is it still safe to go?"
Many cruise ships have had to alter their routes in response to the war. Baltic cruises have been particularly affected, as many liners usually stop in St Petersburg.
"In light of the recent attacks by Russia in Ukraine, Princess Cruises is modifying itineraries on 24 cruises that call in St Petersburg, Russia with alternative ports," Princess Cruises said in a statement.
"Replacement ports will vary by itinerary, including popular destinations such as Stockholm, Sweden (overnight call); Visby, Sweden and Gdansk (Gdynia), Poland. Guests can remain booked on their long-awaited cruises, and have the opportunity to visit medieval architecture, world famous landmarks and natural beauty on these Northern Europe cruises."
While most major cruise liners have made alterations instead of cancelling altogether, some river cruise operators were forced to cancel trips scheduled for Ukraine. Major cruise liner Viking has cancelled Ukrainian river cruises and all operations in Russia in 2022.
"We have cancelled all 2022 departures of our Russia river itineraries – and will replace scheduled stops in Russia for all 2022 ocean itineraries," said a spokesperson.
A list of cruise companies which have altered their itineraries can be found here.
Starting in 2023 Travel to Europe Will Require an Extra Step
In mid-to-late 2023, U.S. citizens and nationals of over 60 other countries will need an electronic travel authorization to visit much of Europe.
Travelers to any Schengen-zone country will have to register with a European Travel Information and Authorization System (ETIAS). ETIAS will be similar to the Electronic System for Travel Authorization (ESTA) already used in the United States.
How will it work?
Most travelers have no need to worry. The process will involve a quick online application and a €7.00 credit card payment. According to the European Commission, "ETIAS will be a simple, fast and visitor-friendly system, which will, in more than 95% of cases, result in a positive answer within a few minutes."
The authorization will be valid for unlimited entries within a three-year period – or until the date of the applicant's passport expiry, whichever is sooner – so travelers who frequent Europe won't need to apply every time. Without a visa (ETIAS is not a visa), U.S. citizens will still need to limit their travel to 90 days within any 180-day period (the current limit). Those seeking to travel for purposes such as work or study will still require a visa.
Americans will need an electronic authorization to visit Europe
Image courtesy of Pixabay
If I'm traveling to Europe, when should I apply for ETIAS authorization?
Until 2023, ETIAS authorization will not be required. Once it goes into effect travelers should be able to obtain the authorization online within minutes, in most cases. Of course it's better not to wait until the last minute. In rare cases applicants may be asked for additional information, which could take a few days or longer to process.
Which countries does this apply to?
ETIAS authorization will be needed for travel to any country that is part of the Schengen Borders Agreement, as well as countries that are European Free Trade Association (EFTA) Members, European Microstates With Open Borders, as well as Future Schengen Members ("Home ETIAS Countries"). This includes: Austria, Belgium, Czech Republic, Denmark, Estonia, Finland, France, Germany, Greece, Hungary, Iceland, Italy, Latvia, Liechtenstein, Lithuania, Luxembourg, Malta, Netherlands, Norway, Poland, Portugal, Slovakia, Slovenia, Spain, Sweden, and Switzerland.
I'm not a U.S. citizen. Will this affect me?
ETIAS will apply to anyone who travels visa-free to the Schengen area. This includes nationals of over 60 countries. More information can be found within the European Commission's press release regarding ETIAS.
James manages the programs for U.S. citizens at InterExchange.
Thursday May 20, 2021
Language Homestay Italy
Live with a host family and help their children learn English
Language Homestay Italy
Live with a host family and help their children learn English
As a volunteer tutor you'll live with a welcoming host family, teach your host children English for 15 hours per week, and experience Italy as a local. This intercultural experience is a great way to help others, work on your Italian, and gain insight into Italian culture.
Source https://thriftytraveler.com/news/travel/what-its-like-traveling-to-europe/
Source https://www.euronews.com/travel/2022/03/21/is-it-safe-to-travel-to-eastern-europe-right-now-your-questions-answered-by-the-experts
Source https://www.interexchange.org/articles/travel-abroad/etias-authorization-for-european-travel/