How to Write a Postcard: 15 Postcard Writing Tips
Postcards are for much more than just your travels these days. They're becoming a more popular way than ever for people to get in touch with their friends and family on a regular basis, for special occasions or just to touch base. But… writing a postcard can actually become quite an intimidating experience when you finally come face to face with its blank side. That's why we've created this guide on how to write a postcard to a friend or a family member.
There are so many ways to send greetings and wishes. Here's how to fit everything you're thinking into the tight space. (Or how to think of something to say if you're blanking!)
How to write a postcard when you can't think of anything to say…
Often the most difficult thing is actually starting! You can open your postcard with 'Dear/est', a simple 'hello' or 'hey' or something a little more romantic like 'To the one I love' or 'To my best friend in the world'
Below you'll find some ideas on how to start a postcard, beyond your greeting.
#1 Where are you?
Whether you're traveling or writing from home, how about starting off by simply telling your postcard pal where you are?
If you're traveling, talk about the hotel you're staying at, maybe mention the awesome outdoor pool they have or the to-die-for cocktails that the waiter makes to order.
If you're writing your postcard from home talk about the room where you're sitting as you write their card, or where you've just come from. It will bring a sense of space and intimacy to your friend as they imagine where you were sat as you wrote their postcard.
Here's a sample text for a travel postcard to a friend:
Dearest Molly,

I'm writing this postcard while looking at the Leaning Tower of Pisa from my spot outside the cafe. You know what? It really is very crooked. A waiter just brought me my 'Crema Di Caffè' – I don't have to feel silly saying that now either! I think I was born in the wrong country…

Not space for much more – missing you lots!

Your friend in Italy
#2 What are you doing there?
Send notes to others about your adventures. Consider telling them why you've decided to visit that place or what you've done while you're there. Mention what brought you to your destination and how you got there. And most importantly who with!
Or, if you're writing from home, you can talk about a brief instance that occurred that made you reflect on your day or on your friendship to your postcard pal. Think about the reason you're writing to them right now!
Here's another example for you!
Hey gang,

Today we met up with a whole group of tourists who were visiting Rome for just one day like us. Well, we had a lot of fun and visited some awesome places. They were cool… But am I bad person for wishing it was all of you instead? Next time, you're coming with us!

Speak soon,

Your friend
#3 What's happening?
What kind of events, past or upcoming have you participated in lately? Are there any key points you'd like to share that your recipient would be especially interested in? You can try including travel tips for the region that you are visiting. Or if you're writing from home, talk about local tourist spots that you'd like to show off if your recipient ever comes to visit.
By the way: You can even send them pictures of what's going down, if this is one of those times when pictures really do say a 1000 words! If you think your photography skills aren't up to scratch, then read the ultimate travel photography guide for beginners and send your personalized postcard!
Need an example? Here's a sample postcard message:
Hey Mo,

So you remember we used to talk about visiting Berlin all the time? Well guest who's spontaneously there… ME! Fun fact – did you know the Berlin Wall that separated East and West Germany is still up in places? They've reclaimed it with awesome street art which they call the East Side Gallery. We need to come back here together soon!

Greetings from Germany!

Elle
#4 What's cooking?
Send recipes and share local cuisine establishments. Add notes about your favorite dishes and which restaurants served them to you. If you're traveling, what are the local dishes that are served and what's the best thing about them? Take note of foreign condiments and table manners.
Here's how to write your foodie postcard:
Dear mom,

You always say I should try it before I say I don't like it. Well, I'm writing this postcard to tell you, you'd be proud! I've tried a ton of new stuff since I've been in Asia. I haven't loved all of them, but there's this one dish that I will cook for you when I'm home. Aloo Tikki – I added a photo of it on the front of this card. YUM!
Love you lots,
Your favorite daughter
Discover 5 quick tips to make your food photography stand out here. Your photo of the local dishes is sure to look like it belongs nowhere better than on your postcard (or in your tummy) once you've mastered them!
#5 Daily greetings
A postcard is a fun and simple way to send greetings at any time of the year. Send well wishes that reflect your thoughts on your nephew's big soccer game. Or how excited you are about your sister's pregnancy. Recount special moments that you've shared and silly little things that have occurred in your daily routine. Ask for return postcards that answer your questions about what your recipient has been up to recently.
If you need help persuading them to, try using one of these 8 convincing reasons why you should be writing postcards…
Your personal photo postcards
#6 Share interesting facts
Who doesn't enjoy sharing what they've learned with others? Send your friends or classmates super scholarly information that interests you. Create helpful bullet points that give your reader a snippet of the info. Sending some random facts is always fun! This is a great idea if you're sending a postcard from home.
Speaking of facts, here's 9 insane fun facts about the post that you don't know. And your friends won't know either! Number 6 may be the weirdest thing I've ever heard of.
#7 reviews
Write about establishments that you're visiting or places you've stayed. Share thoughts on the staff, cleanliness, and other observations that you've made. Try to keep it simple. And remember your postcard is traveling wide open in the post where anybody that handles it could read what is written.
Here's an sample idea for your postcard review:
Hi everyone,

We just checked out of our 'exquisite beach-side hotel'. Honestly, I'd give it 3 stars. Rude staff and we got given the wrong room but on the other hand… the pool, the cocktails, the views! Changed my mind, I'm giving it 4 stars. Okay, 4 and a half.

Love you all xxxx
By the way, if you want to read the reviews before going to your destination rather than having to write negative ones after, then trust us, there are ways and means! Here are the 10 vacation apps that you should download before your next vacation.
#8 Writing a postcard with local news
Whether you're sending a postcard across town or across the world, news events in your local area are also important to people who love you. Talk about headlines or quirky news from the back of the newspaper. Laugh about the newscaster's shirt on your local television network or whatever takes your fancy!
#9 'Wish you were here!'
Traveling creates a distance among loved ones that can only be cured with a postcard. Send a note that reminds your recipient how much you miss them. This could be during a long traveling spell or just because. If you're traveling, write about scenes and events that remind you of your friend, or your mom, or whomever you're writing to. Write about how it made you feel and why it was significant in your memory. Use the classic, wish you were here, if you need to!
By the way, if you've received a lot of postcards recently, but you don't know what to do with them all, then we have 16 easy DIY projects for your old postcards.
#10 What's the weather like?
Everybody likes knowing what the weather is like where their loved ones are. We'll never know why exactly! But it not only creates a sense of security in knowing the sender is safe but also lets them imagine themselves into the scenery a little. Talk about past storms, snow and hail and what you were doing when it started coming down. Mention how long the air conditioning was running during the last heat spell and hot it was.
A postcard message example? Coming right up!
Hey Dad,

I don't want to make you jealous, but the weather here in Malta is just amazing! You'd be baking like a tomato by now if you were here. It's a big improvement on what we thought it'd be when we got here too. It was a bit grey and miserable. Anyway, just updating you so you recognize me at the airport in two weeks with my gorgeous tan.

Sending all my love!
Writing postcards to stay in touch? Here's when to send postcards and how to write them…
#11 Studies & work
Postcard writing is all about creating a short note that provides enough info for the friend reading it to get a glimpse into your day or your life. Sharing little details about what interests you at work or school is a pretty easy way to keep in touch, especially when you're busy. Do you have an update? Maybe you got an A in one of your topics? Share your success!
#12 Awards
Whether you've received an award or you know someone that has, this is a great time to write a postcard.
Notify others of your accomplishments or congratulate them on theirs.
#13 Games
Create funny quizzes and games with your friends that include trivia or even mathematical equations. Give them a time frame with which they have to respond. Don't forget the answers to your questions!
#14 Book recommendations
Write to your fellow book lovers briefly describing books that you've read and what they're about. Include information about the author or write out a small snippet from somewhere in the story to lure the recipient in or just let them know what you loved about the book!
Postcards
#15 Writing postcards for weddings, birthdays and anniversaries
Postcard writing is a perfect way to reminisce about events that you've attended with your loved ones. Or to talk about these milestones and how they affected you or will affect you. Write to your daughter about her birthday and how you remember the day she was born. Explain the joy of that special day. This is especially cute if you're celebrating their birthday from a long distance.
Write to your mom and dad when they celebrate their silver anniversary. Tell them what you appreciate about their relationship and how proud you are of them. Surprise your husband or wife with a postcard professing your undying love. Remind him or her of a comical event at your wedding or anniversary.
P.S. If you need help writing something in your birthday card which really stands out, we've written a helpful guide specifically for you!
Wrapping up writing your postcard
Keep your salutations short when closing your note with phrases like "love always", or "see you soon".
Don't forget to date your postcard so that you and your recipients can reminisce about the event later.
When you're ready to write your postcard, choose a classic personalizable design that fits well with your words and you're ready to go!
English greetings: 29 words and phrases to say "hello" in style
Hello, Bonjour, Hola, Salaam, Guten tag, Hello, Здравстуйте!
It's the first word you learn in any new language, the basic sign of welcome that shows your intent to talk to someone. Most likely, you learned the basic English greetings before you even started investing time in your language skills. But if you want to make the most of your first impression, there are a ton of more colourful ways to say "hello".
Do you want to know the most professional way to greet colleagues on a video call? Some slang terms to begin a text to your little cousin? Or a specifically British-English "hello" to amuse the bus driver on your next trip to London? This ultimate list will guide you through the words and phrases to greet anyone in English with confidence.
Formal greetings
Sometimes you need to use more formal or business language to keep a professional tone. Here are the most common situations when such greetings are necessary:
job interview
business meeting
communicating with top management or CEO
chatting with a new colleague
having a conversation with clients
showing respect to an older person
speaking with someone you barely know
Use the following salutations to start a formal conversation in any of these situations.
1. How do you do?
If you are looking for a VERY formal phrase for someone you meet for the first time, this one will be the most suitable. While this salutation is quite uncommon today, you can still hear it from older people.
"Hello. How do you do?" is perfect for a business dinner or a formal event, such as a conference. As per professional speech in every language, the most appropriate response is neutral or positive "I'm doing well thank you / Fine, thank you" to keep some distance, even if you are actually having a very bad day!
If used as a formal greeting, sometimes "How do you do" is, strangely, used as a statement rather than a question. This most often happens when shaking hands with someone for the first time. It is easy to hear if this is the case: there will be no inflection at the end of the sentence. In this instance, the correct response is to repeat the question back to the asker in the same flat tone, "How do you do?"
2. Nice to meet you / Pleased to meet you
This is one of the respectful greeting examples you can use replying to someone you meet for the very first time. For example:
A: Good morning. I'm Alex White from [Company].
B: Nice to meet you, Mr. White.
When people meet, it is a common practice to shake hands. A handshake generally lasts for a few seconds, which gives enough time to say "Pleased to meet you".
3. How have you been?
This is a polite way to ask " How are you? " when you have not seen a person for a long time. Ask this question only if you have met someone before.
A: How have you been?
B: I've been busy working a lot. How about you?
The best way to ensure that your greetings sound natural and confident is to practice them aloud, preferably with a fluent speaker to give you pointers. No-one to practice with? Find your perfect tutor.
4. Good Morning / Good Afternoon / Good Evening
These ways of greeting people are used at different times of the day. Whether you speak with a regular customer, colleagues or new neighbors, these phrases are effective to start the ball rolling.
The greetings change depending on the time of the day. For example, "Good morning" is generally used from 5:00 a.m. to 12:00 p.m. whereas "Good afternoon" time is from 12:00 p.m. to 6:00 p.m. "Good evening" is often used after 6 p.m. or when the sun goes down.
Keep in mind that "Goodnight" is not a salutation. In formal communication, it is used to say goodbye. For example:
It was nice to meet you. Goodnight!
Goodnight! See you tomorrow.
To show your respect, you can also add the person's last name to your greeting words. Usually, native English speakers tend to be more informal even in business communication and use the person's first name after the salutation:
Good morning, Mr. Houston
Good afternoon, Ms. Partridge
Good morning, Tom
Good evening, Kelly
It is also common to say "Good morning, sir/madam" when greeting someone in a formal situation whose name is unknown. This is often heard by staff talking to customers in shops, restaurants and hotels.
Want to polish your conversational skills? Check out our article on the five main principles of small talk.
Formal greetings for letters and emails
In any language, many of the most formal conversations take place in written form: job applications, legal queries, complaints against a company. Here are the best ways to greet someone in writing when you have something serious to say.
You might also want to check out our handy guide to writing emails in English.
5. Dear Sir or Madam
If you do not know the name of the person you are sending a professional letter or email to then "Dear Sir or Madam" is the most common way to start the conversation. It is clear, respectful, and to the point. Some instances when this is useful include:
When you are reaching out to a department you would like to work with
When you are emailing a company
However, if you are able to find the person you want to talk to with some online research, it is much more professional to do so and send a personalized formal greeting.
6. To Whom It May Concern
This is another professional way to address an email to a stranger. It is a little old fashioned, but perfect if your formal email is going to be relevant to a group of people, or if you want to sound especially reserved. Suitable situations include:
When you are emailing a whole department that you are unfamiliar with
When you are sending a complaint to a company
When sending a reference letter for someone you used to manage
7. To the Hiring Manager
If you are sending a job application or emailing an HR department about a role you would like to apply for, "To the Hiring Manager" is a very useful greeting. It is particularly helpful if you are emailing a generic company-wide "info@" inbox because it signals that your message will be about a work opportunity, and immediately instructs whoever manages the inbox to forward your message to the HR department.
8. Dear Mr X / Mrs X / Ms X / Miss X / Prof X / Dr X
If you know the name and title of someone you are sending a formal email to, it is better to begin the conversation with "Dear Mr [surname]" instead of "Dear sir or madam."
In rare cases, the person you are emailing might use a salutation which signifies their profession. Doctors and academics who have a PhD sometimes use "Dr", and college professors sometimes use "Prof". Otherwise, you can use "Dear Mr [surname]" for a man, "Dear Mrs [surname]" for a married woman, or "Dear Miss [surname]" for an unmarried woman. If you do not know the marital status of a woman you are emailing professionally, you should use "Ms [surname]". If you do not know the title of the person you want to reach, or cannot guess their gender from their name, try looking them up on Linkedin.
Be aware: even when sending very formal professional messages, most people will switch to "Dear [First name] after the first or second email exchange. Usually, the person you have reached out to will reply using "Dear [first name]", and after this point, it is polite to address them in the same way.
Want inspiration for the next line? Check out our guide on how to start a letter and write a great hook.
Informal greetings
When it comes to a conversation with a neighbor or a chit-chat with colleagues during a coffee break, you can opt for these informal greetings. Situations where these fit naturally include:
a casual meeting with colleagues
having a conversation with your team at work
networking events
greeting neighbors
chatting to a friend
9. Hello / Hi / Hey
As you almost certainly know already, " Hello" and "Hi" are the most popular greetings for informal situations. Generally, they are followed by the person's name:
Hello, Michel. How are you?
Hi, Monica. Nice to see you!
As a rule, use "hey" with people you know well. It is perfectly okay to start a conversation with a stranger in an informal situation with "hey" too, but do not pronounce it too harshly in this case, or it can come across as rude or confrontational.
10. Morning / Afternoon / Evening
This is a friendly and warm way to greet someone in most informal situations. It sounds particularly natural if you are just walking past someone who you relate to informally but do not have time for a long chat with, such as a postman, or a neighbor, or a cafe assistant. This said, it works just as well to start a longer conversation.
11. How are you doing? / How's it going?
This is a casual way of asking "How are you?" People prefer to ask one of these questions after the main greeting. Usually, it is followed by a brief, positive answer. For instance:
A: Hello, Amanda! How are you doing?
B: Fine, thanks. And you?
12. Nice to see you / It's great to see you / Good to see you
When you have not seen a person for a while or meet somebody unexpectedly, use one of these friendly greetings. You can use them at the beginning of a conversation, or just after the initial "hello".
Hello, Veronica. Nice to see you there.
13. Long-time no see / It's been a while
These common phrases are used to greet an old friend or begin a conversation with a person you haven't seen for a very long time. These expressions are often followed by questions like "How are you?" or "What's new?" And it is a great way to start small talk about what has happened since your last meeting.
A: Hey, John! Long-time no see. How are you?
B: I'm fine, thanks! What's new?
A: Hi, Taya. How's it going?
B: Good thanks.
A: I haven't seen you for ages.
B: Yes, it's been a while.
Want these phrases to feel natural? Learn them by speaking with a tutor on Preply
Slang greetings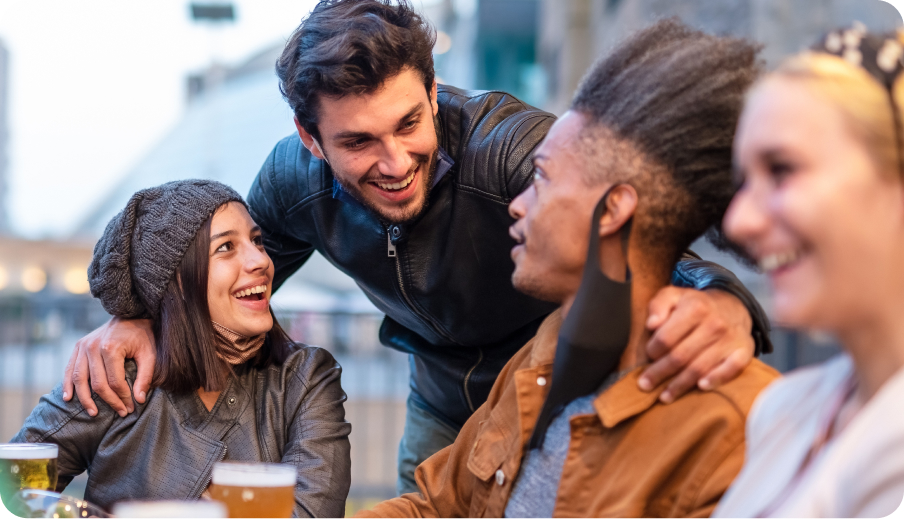 Slang is fun to learn: it's informal and a little bit silly, and using it signifies to someone that you're on friendly terms. Here are some different ways to say "hello" to your good friends and younger relatives.
14. Yo!
This funny greeting came from hip-hop culture in 1990s America. It is still commonly used in the US today.
15. What's up?
This is a very common slang greeting used a lot both in person and over text message. It is a more relaxed way of greeting a friend by asking how they are doing, and what is new in their life. It is not rude and can be used with colleagues who you are close with, as well as family members and friends.
16. Sup
This is a short version of "What's up?", which was very popular in America in the early 2000s. Now it is mostly only used ironically or in text.
17. Heyyy
When texting or sending direct messages, some people like to add extra "y"s at the end of "hey". For some mysterious reason, this is most often used when flirting. The longer the tail of "y"s, the flirtier the message! More than three or four looks a little bit desperate though…
British greetings
Knowing a few British English greetings will make you seem especially friendly when traveling to the UK, showing from the very first impression that you want to engage with the local culture. Here are some British "hello"s, perfect for testing out on the Queen, or on your mates down the pub!
18. Lovely to meet you / Lovely to see you
When greeting each other in a formal setting, British people are more likely to describe it as "lovely" to meet someone than "nice". If you travel to the UK, you will notice that many people use the word "lovely" to mean the same as "fine" in American English. To British English speakers, it sounds kinder and more sincere.
19. Are you OK?
This is a British slang version of "Hello. How are you?" If your friend greets you like this, you can respond with "yeah, fine" or, if you want to sound even more British, "not bad" — which means exactly the same thing.
20. Alright, mate? / Alright?
This is a very common slang way to say a chilled-out "Hi" to a friend. It is a shortened version of "Are you alright?". Once again, a suitable and friendly answer is "Not bad, mate, you?"
21. Hiya!
This is a very common way of saying "hello", especially in the North of England. It is also used a lot in text messaging.
22. What's the craic?
This greeting is only used in Ireland, and "craic" is pronounced to rhyme with the English words "crack" and "back". It is a very warm phrase which means, "what is new with you?" or "have you got any interesting new gossip since we last met?"
Be careful though: if you use this phrase to greet someone Irish and are not Irish yourself, it is possible that they might think you are making fun of them!
Hungry for some more British slang? Check out our guide to the 40 most memorable British slang words for ESL learners
Funny Greetings
It is very difficult to be funny in a new language (or difficult to be funny on purpose, at least!). Being able to understand and make jokes is often even seen as a sign of fluency. If you are still in the process of learning, slipping a silly or old-fashioned version of "hello" into a conversation is a simple way to make someone laugh.
If you are learning English to chat with a partner or friends, surprising them with one of these weird conversation starters can be very funny. Here are some less serious "hellos" and tips on when to try them for maximum effect.
23. Ahoy!
This is a very old greeting that dates all the way back to Old English, and was once used by sailors to call ships. Nowadays, it is only really spoken by Spongebob and other ocean-based cartoon characters. It is just as silly when written in a text message as in person.
24. Hello stranger!
This is sometimes used when greeting friends that you haven't seen in a little while. It is a jokier version of "long time, no see".
25. 'Ello, gov'nor!
This is a shortened version of "Hello, governor", a greeting used by tradespeople in Victorian London, to show respect when talking to upper class members of society. Dropping the "H" from the "Hello" is intended to make the pronunciation sound similar to the famous "cockney" accent, associated with the East of London. Today, it is only really used by people teasing their British colleagues!
26. Goodmorrow!
This is a ridiculous way to say "Good morning". It is unnecessarily formal and associated with old-fashioned poetry, so using it in real conversation is definitely pretty silly!
27. What's crackin'?
This is another way of saying, "What's up?" or "What's going on?".
28. What's up buttercup?
This is a very rarely-used greeting, but will definitely make someone laugh. A buttercup is a delicate yellow flower which grows in grass, and also a very common thing to name your pet cow. It is quite funny to address an adult as "buttercup".
29. Howdy!
This is an abbreviation of "How do you do?" stereotypically used in some regions of Canada and America. Now, it is mostly only used by cartoon cowboys.
A brief afterword
A well-chosen "hello" sets the tone for any conversation, whether talking to a close friend or someone you barely know.
Don't be afraid to try out these new expressions in your daily communication. Armed with these words and phrases, you can start almost any conversation off in a more vibrant and fluent way.
Want to speak with confidence as quickly as possible? Find a personal English tutor perfectly suited to your budget and schedule.
FAQ about English greetings
What are simple greetings?
The simplest greetings are the old-fashioned "hello," "hey," or "hi." You can use these in almost any situation!
How do you say hello in a cute way?
If you want to be a little less formal and little more friendly, you can go with "hey there," or, even better for over text or instant message, "hey there :)." Another cute greeting is to say hello in a different language, e.g. "hola."
How do you greet someone in chat?
A chat is generally informal, so saying "hey" or something even friendlier (and slang-ier) like "yo" or "what's up" will do.
How do you respectfully greet someone?
The most respectful greetings are formal ones like "hello," or time-related greetings like "good morning" or "good evening." To make it even more respectful, add the listener's formal title afterwards, like "hello, Mr. or Mrs. ______," or even "hello, sir or ma'am."
How To Start A Greeting Card Business
I want to help you build a sustainable, profitable handmade business that makes you consistent income and sales. I only ever teach or recommend marketing, social media, pricing, production and branding tips that I've personally used successfully in my own 7-figure handmade businesses.
I'm Mei, from Los Angeles!
Popular Posts You'll Love
Looking for something?
Categories
starting a business
get more traffic
running a business
make more sales
growing a business
selling on etsy
selling on amazon
Make More Sales
Make More Sales
Make More Sales
If you're looking to start making and selling greeting cards, read this post first. We're going to talk about whether there's still potential in selling them or if it's not worth your time.
We'll cover this as well as how to start your own handmade greeting card business in this post.
Now, you might think that with email, text messaging, and social media, that no one sends greeting cards anymore. Fortunately for you, the greeting card market is as strong as ever and is even expected to grow for at least the next five years.
6.5 billion greeting cards are sold each year in the USA. Germany sells 600 million cards a year and the UK greeting card industry is worth over 1.6 billion pounds sterling alone, which is almost 2 billion US dollars.
Keep in mind that a lot of those sales are taken up by major brands like Hallmark, Walmart, and Target, but it shows that there is still a demand for physical greeting cards and there are opportunities to collaborate with major retailers if you're unable to find a gap in the market on your own.
To give you more of an idea about who buys greeting cards, you should first know that approximately 80% of greeting cards are purchased by women.
Greeting cards are considered an impulse purchase product with an immediate, somewhat urgent need. People are grabbing a card on the way to visit a relative or while shopping for a gift. This does not necessarily translate well into online sales, but there are still plenty of people who plan for birthdays and holidays in advance and like to customize cards to give to friends and family.
On that note, they are a very occasional item. This means that people need a reason such as a holiday or an event to buy one. You'll probably see a spike in sales at certain times of the year; Christmas being the major one, but you're still likely to achieve sales throughout the year if you make cards for birthdays and other celebrations.
There are two main categories of greeting cards; every day and seasonal. The best-selling everyday cards are birthday cards, followed by wedding and anniversary, get well and sympathy, then friendship and encouragement cards.
For seasonal cards, Christmas themes are the bestsellers, followed by Valentine's Day, Mother's Day, Father's Day, and Graduation cards.
How to Make Greeting Cards
When it comes to making greeting cards, there are several ways you can go about it.
Handmade
First, you can create the card by hand, using all sorts of materials and decorations such as cardboard, paper, glitter, and the usual arts and craft tools and supplies.
If you're good at drawing, you can draw your own designs on them. Many people like to emboss or engrave their cards for a more professional look, but you may have to invest in specialist equipment in order to achieve those effects.
Speaking of which, you can totally also make really cool designs with a Cricut machine.
Creating greeting cards completely by hand can be time-consuming, but some people appreciate a handcrafted card done well and are willing to pay a little extra for it provided you're in a very clear and specific niche.
Reddit is a great place for sharing tips and design ideas, especially on the Etsy and cardmaking subreddits. thesprucecrafts.com, which I've mentioned before, is also a great place to learn cardmaking skills for free.
Printing
Alternatively, you could choose to print greeting cards. You make the initial design using a computer or an iPad and keep re-printing many copies of the same card design.
While they may not sell for as much individually than a made-completely-from-scratch card, you will be able to make far more in a shorter period of time. It makes much more financial sense in the long run, as you will earn more by selling in higher quantities.
That said, it's harder to stand out from the crowd this way, and it could arguable be less fun for you to create.
Keep in mind you'll also need to be very careful that you do not infringe on any copyright laws with any of the images you use as your designs.
Cardmaking Supplies
Cardmaking supplies are relatively cheap to source. In order to maximize your profit margins, you'll want to buy in bulk at wholesale costs.
You can find them through sites like Amazon and Etsy but you may want to shop around on more dedicated wholesale sites like 8seasons.com or factorydirectcrafts.com.
It can be tempting to go on a shopping spree and buy lots of cute additions for your cards, but remember that this should be reflected in the selling cost of your finished product and if it climbs too high then very few people are going to want to buy it. So there's a balance there.
Selling Cards Online
Selling cards online can be tough, since lots of people buy them on impulse in physical stores and are not willing to wait a couple of days to receive a card. However, there are still plenty of ways to earn a living from card making online.
You can try selling on the usual sites like Etsy, Amazon and Shopify. Most sites will take a cut of your earnings at around 15-20% and you may have to fight for buyers' attention because there's a lot of competition out there.
Your designs will need to stand out in order to grab attention and make sales.
You really want to invest the time and research in developing a niche for your greeting card business.
Don't just make what everyone else is making. Pick a group of people from within the niche of greeting card buyers, and make designs specifically for them.
Get specific, find a focus and you'll be much more successful that way.
If you have the resources for it, then you can launch your own website and advertise your products online. You'll want to learn about SEO (Search Engine Optimization), which is how people will find you on Google or Etsy or Amazon search, and look into how to pitch your card designs to the media.
This is a fantastic and free way to get your products in front of a large audience and in my opinion, it's much more effective than doing social media.
Submitting Your Designs to Card Companies
Some card companies pay you for submissions if you approach them directly with your designs. Before submitting your idea to a site, analyze the style of cards they sell first so you can be sure your style matches theirs.
If they like your ideas; you can earn anywhere between $25 to $300 for one design.
Companies known to accept designs include
Oatmeal Cards
Blue Mountain Cards
Warner Press
and others
To team up with them, you first need to sign a statement to confirm that your idea is original and often that you won't use it anywhere else. They'll want some exclusivity with your work.
This might seem like a lot, for you to give up your intellectual property, but consider that these companies do all the work in printing, marketing, and selling the cards and you don't have to worry about that.
How many cards do you have to sell on your own to make $300 from one design? Probably quite a few, and over a long period of time.
Unless you're really established, this could be a good route if you're just starting out.
Selling Wholesale
Selling wholesale is also a very big opportunity for you. A majority of physical brick and mortar stores carry greeting cards.
As we talked about before, greeting cards get bought in person a lot.
If you can, pitch your designs to physical stores and sell your work wholesale to them, keep a great, positive relationship and they'll keep reordering from you.
That could be your entire bread and butter and you wouldn't have to worry about selling directly to customers online.
The beauty about wholesale is even though you're getting paid less per item, you're getting paid more overall because you're dealing in larger bulk quantities. You'll be making orders in the hundreds if not thousands of dollars per order from just one store alone. So definitely keep that in mind.
You might also want to look up art licensing where you're "renting" your art to a buyer, like a greeting card company to use your art on a product. You can do this yourself or work with an agent to this for you, and you get paid royalties, or a commission every few months.
Pricing
If you've bought a greeting card lately, you'll know that there is a wide range to choose from. They can generally cost anywhere from 50 cents to $10 to $12.
They usually vary in size, quality, and detail. The average price of a greeting card is around $4-$5.
The Greeting Card Association also reports that, "Cards featuring special techniques, intricate designs, and new technologies are at the top of the price scale."
The trick to pricing your product is to leave yourself with enough profit to invest back into the business and help it grow, and a salary is always nice to have too.
A formula I like to use to price handmade products is the cost of your supplies plus labor costs plus any overheads, multiplied by 2 to work out a wholesale price, and then times that by 2 again to give you a retail price.
So it's effectively twice what it cost you to make when selling wholesale and 4 times the production cost when selling retail.
So if a card costs you on average 50 cents to make including labor costs, you should look to sell it for around $2 at wholesale pricing and $4 direct to customers with retail pricing.
It's worth your time to do some window shopping of your own to see how much similar cards are selling for and then price your own accordingly.
Unfortunately with greeting cards, there's not a whole lot of wiggle room to price any more than $10-$12, because this is what people are willing to pay, and the perceived value of a greeting card just isn't that high.
Remember that you must also factor in the cost of delivering your greeting cards to the customer.
Check out 'Off Kilter Crafter Ian' on YouTube – he gives some good advice about sending handmade cards on his channel.
If you're in the US, you'll probably want to use USPS for shipping your greeting cards. It's pretty cost-effective to ship greeting cards because it's light in weight and doesn't take up much space. Cards are usually really flat, and that gives you special cheaper pricing with USPS.
Selling handmade cards can be a profitable business, especially if you're able to be recognized by a major card company or sell in physical stores where you're selling in high numbers.
Greeting cards are still going strong as an industry, but to benefit from it your designs will need to be different and still worth the price.
How often do you buy greeting cards and what is the most you would expect to pay for one? Let me know in the comments!
Source https://blog.mypostcard.com/en/postcard-writing/
Source https://preply.com/en/blog/22-useful-english-greetings-for-every-day/
Source https://www.creativehiveco.com/how-to-start-a-greeting-card-business/