101 Special Italian Gift Ideas for Italy Lovers
Who doesn't love Italy? The food, the culture, the people. And shopping! Whenever I visit Italy, whether it is Rome, Florence or Venice I feel inclined to book extra luggage for all the Italian souvenirs I want to take home. Maybe you're a frequent traveler like me, shopping for the best Italian gifts. Or you need to shop for Italian-themed gift ideas for Italy lovers on your family and friends list. Either way, this Italian-themed gift guide has you covered.
I've been to Italy many times. Sometimes I bought souvenirs for my loved ones, sometimes I returned home with only a small Italian gift as a memory for my travel. Of course, you are not obliged to go shopping and return with heaps of gifts from Italy. But if you want to shop in Italy, or find Italian made gifts, then this is your go to shopping guide.
I paid for everything in full myself. I was not paid or sponsored. All my opinions and experiences are my own.
Probe around the Globe does use affiliate links. If you decide to follow one of my links and make a purchase, I'll earn a small commission. This is at no extra cost to you.
101 Italian Gift Ideas for Italy Lovers
Gifts for Italy Lover
Shopping for someone who is infatuated with everything Italy-related is not hard. But where to begin? How to avoid the cliché Italian-themed gifts and come up with something truly original? And where should you shop for it? Join me on this Italian-themed shopping crusade to find the best Birthday and Christmas gifts for the Italy lover in your life.
Italian Christmas Gifts
Christmas gifts are the perfect souvenirs to bring back from Italy. You can buy little cheezy tourist souvenirs in bulk and use them as stocking stuffers as they are usually cheap and small. And Christmas is the perfect time of year to share those personal gifts, selected with care from abroad without a return policy. Save the gift card for another time. Christmas gifts are made for spoiling your loved ones!
Best gifts from Italy
Ok, so let's assume you've found this page because you're super lucky to go to Italy or currently traveling in Italy! Lucky you. I feel you've already won the jackpot. But let's see what are the best gifts from Italy to bring back home with you?
Souvenirs from Italy – a few ideas
Italian-made and original gifts to bring back home as a souvenir that make stellar Christmas gifts are:
Leather bags from Florence
Florence might be the best place in Italy to go shopping for some original Italian leather bags. Of course, you can find leather shops all across Italy, but Florence, and especially the Oltrarno neighborhood in Florence still has a number of artisan shops to buy your leather souvenirs.
Invest some time (and money) to select hand-made or factory-produced leather purses, clutches or snazzy leather cases.
Murano glass from Venice
The tiny island of Murano is part of the laguna of Venice and makes for a splendid (half) day trip from Venice. The artisan glass blowing industry produces life-size glass vases or tiny trinkets, ornaments, and must-haves.
You can choose from crystal clear white glass or go for the signature Murano abundance of colors for a new Christmas ornament made in Italy.
Venetian Carnevale Masks make for great gifts from Italy
If you're in Venice, you cannot escape the Venetian Masks. Although they are usually only worn for Carnivale, they are sold year-round and everywhere. And with everywhere, I literally mean everywhere.
I wouldn't even be surprised if your hotel sells them! You can buy cheap, mass-produced masks, or hand made, leather unique masks with intricate details.
I now visited Venice 4 times and each and every time, I left the city with a new mask. A great souvenir or a unique gift for your loved one at home. My recommendation would be to shop around in some of the few authentic workshops still left in the city. For a hand-made mask, expect to pay from 50 to 70 euros and upwards.
Don't know where to shop? Consider a Venetian Carnival Mask Workshop, where you learn all about the trade and get to decorate your own mask (and take it home!). Check here for more details.
Italian linen as souvenirs from Tuscany
Handcrafted and embroidered tablecloths, napkins and bedsheets. It is a dying art but in small villages in Tuscany, you can still shop for some amazing linen souvenirs.
Natural products like olive oil soap bars
Such a small and inexpensive gift and it can fit in your carry-on or hold luggage. Natural products like soap, come in the staple bar-shaped or any other shape you can imagine. From soap shaped to replicate the leaning tower of Pisa or Michelangelo's David, or just a cute teddy bear.
Delicious smelling like Italian olive oil and a sweet gift to bring back home.
The perfect Italian Christmas gift: a nativity set from the Vatican
Where better to shop for religious paraphernalia than at the home of the Catholic church: Vatican City! St. Peter's Square is lined with small shops selling anything religious, from rosaries to nativity sets and candles.
Best Italian food gifts to bring back home as a souvenir
Ok, I did my best to come up with some non-food related items that you can buy in Italy to bring back as a souvenir but it is hard. The food in Italy is just unrivaled and maybe even the reason to travel to Italy in the first place! So why not bring back some yummy Italian foodie souvenirs stateside?
Ultimate Italian Christmas Gift: Panettone or Pandoro
Nothing says "Christmas" more to people from Milan, Verona, and Northern Italy than the golden bread that is Pandoro and Panettone. Depending on the region, and the family, the recipe changes but you can recognize it by its cake-like structure and star-shape. Make sure to buy the Panettone at the end of your visit to Italy as it is best enjoyed when it is fresh but you can store it for up to 2 weeks.
Endless Italian Foodie Yumminess to bring home
Do yourself a favor and book that extra suitcase for your return flight home from Italy. You'll thank me later. Because once in Italy, you'll find a plethora of amazing foodie finds and mouth-watering drinks that you're dying to bring back home. Either for yourself or to dote upon your loved ones. They will be forever grateful for your Italian food gifts.
But what are the best food gifts from Italy? And which ones can you bring back home without worrying they stink up your whole wardrobe?
Dried pasta in any shape or form
Sun-Dried tomatoes, not the ones in olive oil but the dry ones in a bag
Dried Porcini Mushrooms, also dry and can be infused at home for your risotto or stew
Parmigiano Reggiano Cheese, packed in a vacuum bag. My recommendation: buy the oldest you can get. 24 months Parmigiano Reggiano is to die for!
I know the following items cannot be imported back into the US from Italy, but if you're flying somewhere else, it might be worth checking if you can take the following items as they make for a perfect foodie souvenir:
Bag of Risotto
Dried sausages
The following Italian food presents are riskier to transport back, but when packed correctly, they can be handled in your checked luggage or even your carry-on.
Italian Truffles as a souvenir
And other truffle-related items. Like truffle salt or truffle oil. Make sure it is packed to perfection as they can stink up your bag in case they pop open accidentally.
Italian Olive Oil
Pure, green liquid gold from the trees of Tuscany and the rest of Italy. Nothing tastes better with a gallop of that rich Italian olive oil.
Italian Limoncello
It will never taste as good as it did on the Amalfi Coast or Sicily but you can always try to relive your best moments with a glass of Limoncello at home. Or share that feeling with the people who stayed behind.
Italian Wines
If you go wine-tasting in Tuscany or visit a Chianti wine house, I applaud you if you don't walk out with at least a dozen boxes of their delicious wines. Luckily, the bigger wine houses and stores can ship your boxes, or bottles, internationally. Problem solved.
For all Italian food items that you want to bring back, check local legislation and rules. Make sure it is properly packed (vacuum preferable) and commercially labeled with the country of origin and the best before date. For more details, check the CBP website.
Gift for Someone Traveling to Italy
Maybe you landed on this page because you're not the one traveling to Italy, but someone else in your circle is! Lucky them! Of course, you can gift wrap yourself and say you're tagging along, or help them experience the trip of a lifetime in Italy. How? By giving them the gift of travel!
It's basically my favorite present to give to loved ones. You can read all about my con artists-like tricks and sneaky ways of surprising my loved ones with the gift of travel here. No idea where to begin? Here are some things you can gift to others that will help them travel to Italy.
A plane ticket to Italy
This makes for a stellar graduation gift but can also be gifted as a wedding present, birthday gift or Christmas gift. Basically you're saying: I love you to the moon and back and wish you the very best of experiences, in Italy!
You can present the gift as a self-made flight voucher so the person can book their flight themselves, or when you're 100% sure (or have access to their passport information) you can book a flight to Italy yourself.
Some airlines also have gift vouchers that you can purchase for a set amount. To search for the best flights to Italy, check here.
Book a hotel in Italy
Ok, maybe you don't have the cash flow to buy a return flight to Italy. But you still want to contribute to someone's trip to Italy. Perfect! Why not give the gift of fancy hotel rooms?
Maybe your parents have their trip planned but don't have the funds to really splurge on a fancy hotel room when in Rome or that cute, but out of their budget, Tuscany wine castle? You can book it for them! It doesn't have to be all their stays, it can be a 1 or 2-night stay, whatever you see fit.
I always book all hotel rooms, especially in Italy, via this website. They have an abundance of choices, the best prices and you can cancel free of charge in most cases.
Book a tour of Italy as a gift
Some people are hesitant to plan their own trips. They need a little guidance or they like the company of a tour. Perfect! Why not give your loved ones a tour to Italy?! It can be a cultural orientated tour or a hiking tour or a wine tasting tour. Whatever they fancy!
For the most diverse tours of Italy, check your options here.
Tickets, tours, and experiences in Italy as a present
Maybe a full tour of Italy is a bit too much to ask from your budget. But what about a few skip-the-line-tickets for the Colosseum or a food tour in Rome? I'm a huge fan of giving experiences instead of just money.
The options are endless so I recommend you check out this page for some ideas and inspiration. All can be bought by one person and gifted to someone else!
Best Italian Gift Ideas
I would be thrilled and over the moon to receive any of the gifts above, but maybe you're not traveling to Italy any time soon. Or the person you're shopping for cannot travel to Italy. Or you're looking for more of a budget Italian gift idea.
Then, you can always go shopping online and choose an Italian themed Christmas gift. Or a birthday present that screams Italy.
Here are some Italy inspired gift ideas:
Italy inspired gifts
When you're shopping for an Italy lover, anything Italian related will win you major brownie points. Go big and go bold with the following Italy themed gifts:
Italy related books to give to your friends or family
Spark the gift of travel with inspirational travel books. From Lonely Planet trip planning to Rick Steves' guide or a city guide to Rome. Or tingle the taste buds with a cookbook inspired on the Italian cuisine. Or cause some tongue twisters with an Italian phrasebook. The options are endless. Check out some personal recommendations that I love.
Italian Themed Christmas Gifts
If you can't go shopping for a nativity set at the Vatican, you might want to order some nice Christmas themed gifts with a hint of Italy on them. Check out these cool items which I've ordered in the past.
Turn your own picture into a Christmas ornament, or use someone else's picture for a nice Italian-themed Christmas decoration. I especially like these ones.
It is my dream to have a Christmas tree with oddly shaped tacky Christmas baubles and ornaments, for example, an Italian cannoli ornament, the Tower of Pisa or a Chianti Wine Bottle.
Practical gifts inspired by Italy
Sometimes you want to give a more practical gift to someone. Maybe it is a gift for a co-worker or work-out buddy that you don't know that well, but still, want to give a gift inspired by Italy. Then, a practical gift can be the ultimate solution for your shopping list.
Italian flag decorated phone case, it can be a map, the Italian flag, or Florentine floral decorations. Some of my personal favorites can be found here.
A passport holder inspired by Italy, protect your most valuable document with a passport cover in an Italy-themed fashion. I love the one with typical Italian elements or the one I made myself.
Italian-themed bags, shopping bags, messenger bags, or a nice tote bag. Show off the love for all things Italian with a nice Italian-themed bag as a gift. Find the best designs here.
Italian Food Gifts
Can we talk about Italian food again? Ok, I know, it is not like eating pasta pesto in Cinque Terre, but replicating the foodie experience from Italy in your own home is still pretty sweet. So how about some delicious Italian foodie finds as a gift? Basically, anything goes, but to give you some ideas:
Italian Bialetti Coffee Maker
Nothing says refined Italian style and coffee taste, like the red Bialetti Stovetop Coffeemaker. You can gift a big one, for 6 persons, or a tiny one for one 2 cups of coffee. They also come in trademark stainless steel Bialetti Coffeemakers, but whichever color you buy, make sure it is a Bialetti.
Pasta Maker Machine as a gift for a kitchen princess
Wouldn't it be nice to make your own pasta at home? If you have to shop for a real kitchen prince (or princess), they have to have a pasta maker machine. Make sure to buy a heavy stainless steel pasta creator, the lighter ones just tip over on the countertop. I have one from Imperia and they make a nice homemade ravioli or tagliatelle.
Italian food gift baskets
Do you need to shop for someone who isn't a kitchen princess, but you know they love Italian food? Why not gift them an Italian foodie gift basket? Gift baskets might seem impersonal and something you slap together when you forget a birthday, but when you're shopping for a foodie and search for some real Italian delicacies, it will be received with great pleasure! Here are some ideas:
, you can even add in some Limoncello glasses to make the gift complete , or a subscription to the olive oil of the month club! , inspired by the flavors of Italy.
Best Italian Gifts for Italy Lovers
Of course, I can make an endless list of everything related to Italy as they make for perfect gifts for Italy lovers. But in the end, it doesn't really matter what you gift someone who loves Italy. As long as it makes them think back or long for Italy, the flavors, the views, and smells of Italy, you're good to go.
A good gift is a personal gift. A gift they didn't know they wanted or needed. A gift they will remember and hold special memories for in their heats. What makes the best Italian gifts are gifts that are selected with your special someone in mind and keeping in mind what they would love.
Italy is probably the answer!
Do you need to shop for someone who is infatuated with Italy? What did you get them this year from Christmas? Any ideas you want to brainstorm with me to come up with a perfect Italy themed Christmas gift? Let me know in the comment section below, I'd love to read it (and when possible, help out coming up with ideas!).
Author: Naomi
Naomi is a Travel Blogger from the Netherlands. She's infatuated with Roman Ruins, Road Trips, and Railway Journeys and she's crackers about cheese! Learn more about Naomi by reading her full story here.
One comment
This has opened up opportunities to gift my husband with something. I am thinking of a return ticket to Italy and your post just endorsed it. He raves about Italian fashion and architecture a lot. Thanks for a nice article!
Leave a Reply Cancel reply
This site uses Akismet to reduce spam. Learn how your comment data is processed.
Sign Up for my Newletter
Subscribe to my mailing list by clicking HERE
Who's Probe around the Globe?
I'm Naomi.
Travel Blogger from the Netherlands.
Next up: Staying Home.
Please use my blog as inspiration for your next trip and travel responsible.
How to get around in Italy, from the Amalfi Coast to the Alps
As elegant and iconic as a pair of Gucci pumps, Italy has more must-see sights than you could squeeze into a lifetime. With so much to do and see, most visitors can't wait to roam around, taking in everything from Roman ruins and Renaissance art to Florentine food and Milanese fashion, and from sparking Sicilian seascapes to crystal clear Alpine air.
Fortunately, getting around this slender, boot-shaped country is easy, thanks to superb transport infrastructure, with buses and trains ferrying passengers between buzzing cities and mountain villages, boats buzzing from fishing port to beach resort along the coast, and roads that climb across some of the most dramatic mountains in Europe.
Whether you have your heart set on touring Tuscany, time-traveling in Rome or eating your way around Emelia Romagna, here's what you need to know about getting around in Italy.
Travel by train for views of the stunning Italian countryside
Italy boasts an extensive rail network spanning the length of the country, meaning most major cities – including Rome, Florence, Naples, Bologna and Palermo – are connected by regular train services. Best of all, you can sit back and soak in the gorgeous scenery in between them.
Most trains are run by Trenitalia, Italy's national train operator, while a handful of high-velocity services are handled by privately-owned Italo. Routes are well integrated into the Europe-wide Interrail and Eurail rail pass system. Trains in Italy broadly fall into three main categories:
Regionale: the slowest and cheapest trains, generally stopping at all or most stations en route
InterCity (IC): faster services operating between major cities (their international counterparts are called EuroCity)
Alta Velocità (AV): High-velocity Frecciarossa, Frecciargento, Frecciabianca and Italo trains, with speeds of up to 300km/h and good connections between major cities.
Reservations can be made on the Trenitalia and Italo websites, at railway station counters, and at self-service ticketing machines, as well as through travel agents. Though tickets can usually be bought on the day of travel, Trenitalia and Italo offer decent discounts on advance purchases. Generally, the earlier you book, the greater the saving – though refunds and changes on such tickets are highly restricted.
Ticket prices in Italy tend to be in line, if not slightly cheaper than, other Western European nations, and vary depending on train type and class. Most Italian trains have 1st- and 2nd-class seating, with a 1st-class ticket typically costing from a third to half more than 2nd-class.
If it's classic Italian scenery you're after, plan your trip around some of Italy's dramatic mountain railway journeys. The trip on the cute, red Bernina Express train between Tirano and Chur, St Moritz or Davos in Switzerland is one of the best rail rides in the Alps.
Buses connect hundreds of small towns and villages that lie off Italy's rail network © IgorZh / Shutterstock
Buses are the inexpensive way to explore Italy
Though slower than trains, buses are a cheaper form of transport in Italy, and they provide access to smaller towns and villages not served by Italy's rail network. Buses are run by a host of private companies, including Flixbus, Marinobus and Marozzi, with a web of routes that stretches to all corners of the country. Services range from meandering local buses to small villages that may only run once a day, to fast, reliable intercity connections.
Tickets can be purchased online through bus company websites. Alternatively, in larger cities, most intercity bus companies have ticket offices (usually at or near the main bus station) or sell tickets through travel agencies. In villages and smaller towns, tickets are sold in bars or on the bus. Advanced booking is not generally required, though is advisable for overnight or long-haul trips in high season.
A rented scooter can help you cut through traffic in Italy's busy cities © Ben Pipe Photography / Cultura RM Exclusive / Getty Images
Getting around by car, motorcycle or Vespa means maximum freedom
Having a private vehicle in Italy means you can travel at your own pace and visit regions with minimal public transport, which is particularly handy in the mountains. Road conditions are generally good, but lax maintenance in some areas means that you should be prepared for potholes and rough, bumpy surfaces, particularly on smaller, secondary roads.
Local driving conditions can also take some getting used to. Roads can be narrow, non-resident vehicles are restricted from entering the centro storico (historic center) of many towns and cities, and traffic congestion is common. Parking can also be hard to find in urban areas (one reason for the huge popularity of scooters) and local drivers have a reputation for being impatient and quick to use their horns.
Car hire companies operate throughout the country, allowing you to pick up and drop off vehicles in most major cities. Operators include Avis, Europcar, Hertz and Italy by Car, among others. Consider hiring a small compact car, as doing so will reduce your fuel expenses and make it easier to negotiate narrow city lanes and tight parking spaces.
Agencies throughout Italy rent motorcycles and scooters, ranging from small Vespas to large touring bikes. Prices start at around €35/150 (US$37.50/160.50) per day/week for a small 50cc scooter and rise to above €80/400 (US$86/428) per day/week for a 650cc motorcycle. A license is required to ride a scooter – a car license will do for bikes up to 125cc; for anything over 125cc, you'll need a motorcycle license. Wearing a helmet is compulsory on all two-wheeled vehicles.
Pre-booking costs less than hiring a car once you arrive in Italy. Renters must generally be 21 or over, with a credit card and home-country driving license or International Driving Permit. It's obligatory to wear seat belts (front and rear), to drive with your headlights on outside built-up areas, and to carry a warning triangle and fluorescent waistcoat in case of breakdown.
Though it has to be balanced against the environmental cost, domestic flights are the quickest way to reach islands such as Sicily and Sardinia © travelwild / Shutterstock
Internal flights are best reserved for longer trips
With Italy's train and bus network being both cheap and reliable (and much more environmentally friendly), flying is usually not the most convenient way to travel domestically in Italy. However, if you need to get from one part of the country to the other as quickly as possible, then air services are available, and most major cities have airports.
Italy's beleaguered flag carrier, Alitalia, was replaced in 2021 by a new state-backed airline called ITA Airways, with flights to cities across the Italian mainland and to Sardinia and Sicily. Several low-cost airlines also operate domestic flights, including easyJet. It's cheaper to buy tickets in advance of travel.
Cycling is a great way to explore the countryside in Italy
Cycling is a great way to explore villages and backroads in the countryside. It's very popular in northern Italy, including in the Alps and Dolomites, but less so in the south. Bikes are prohibited on autostrade (motorways) but they can be carried on some ferries, and on regional trains displaying the bicycle logo, where you'll need to purchase a separate bicycle ticket known as a supplemento bici. Bikes are available for hire in most Italian towns for €10 (US$10.75) per day upwards.
Boats zip along the coast and out to the islands
Navi (large ferries) sail to Sicily and Sardinia, while traghetti (smaller ferries) and aliscafi (hydrofoils) serve the smaller islands. Most ferries carry vehicles, but hydrofoils do not. On long-haul ferries, travelers can usually book a two- to four-person cabin or a poltrona, an airline-style armchair. Deck class (which allows you to sit/sleep in lounge areas or on deck) is available only on some ferries.
The primary embarkation points for Sicily and Sardinia are Genoa, Livorno, Civitavecchia (near Rome) and Naples. Ferries for Sicily also leave from Villa San Giovanni and Reggio di Calabria. Main arrival points in Sardinia are Cagliari, Arbatax, Olbia and Porto Torres; in Sicily, Palermo, Catania, Trapani and Messina.
Local transport is inexpensive and efficient in urban areas
Most towns and cities have efficient local bus services, and some larger cities also have extensive metro and tram networks. In Venice, water taxis, gondolas and vaporetti (small passenger ferries) perform the same role. It's usually possible to reach nearby villages fairly easily by local bus.
Taxis can be found around bus and train stations – if you call for a radio taxi by phone, the meter will usually start running when you place the call, not when you are picked up. Rideshares are another option in larger cities, though this is less common in Italy than in some neighboring countries. The apps Free Now (formerly MyTaxi) and Uber are used quite widely.
Italy is not the easiest country for disabled travelers to navigate, but it is constantly improving © Francesco Carta fotografo / Getty Images
Accessible transportation in Italy
Italy is not an easy country for travelers with disabilities. Cobblestone streets and pavements blocked by parked cars and scooters make getting around difficult for wheelchair users. And while many buildings have lifts, they are not always wide enough for wheelchairs. Not a lot has been done to make life easier for hearing- or vision-impaired travelers either, though awareness of accessibility issues and a culture of inclusion are steadily growing.
If traveling by train, you can arrange assistance through SalaBlu online or by calling 800 90 60 60 (from a landline) or 02 32 32 32 (from a landline or mobile). You can also see the full list of services offered and details of barrier-free stations on the Rete Ferroviaria Italiana's accessible travel information page.
Many urban buses are wheelchair-accessible; however, some of the stops may not be – check before you board. Some taxis are equipped to carry passengers in wheelchairs; ask for a taxi for a sedia a rotelle (wheelchair).
Two good online resources for disabled travelers are Village for All, which performs on-site audits of tourist facilities (namely accommodation providers) in Italy and San Marino, and Fondazione Cesare Serono, which provides a list (in Italian) of accessible beaches. For more information, download Lonely Planet's free Accessible Travel guide.
Why boats are my favorite way to get around in Italy
No form of transport connects you quite as strongly to Italy's fascinating past as traveling by boat. From the vaporetti of Venice to the shuttle boats that buzz around the Italian lakes and the ferries that connect the islands of southern Italy, arriving anywhere in Italy by boat is a nod to centuries of maritime history. The boats may have changed, but the light sparkling on the surface of the Mediterranean and the gently rippling waters of Lake Garda is the same light that greeted Renaissance painters and Venetian explorers.
This article was first published May 2021 and updated May 2022
Buy Experience Italy
Lonely Planet's Experience Italy is your guide to unforgettable experiences and local surprises. Learn to voga in Venice, explore the palaces of Turin, and discover hidden beaches and lush islands on the Amalfi Coast – all guided by local experts with fresh perspectives.
Buy Experience Italy
Lonely Planet's Experience Italy is your guide to unforgettable experiences and local surprises. Learn to voga in Venice, explore the palaces of Turin, and discover hidden beaches and lush islands on the Amalfi Coast – all guided by local experts with fresh perspectives.
21 Do's and Don'ts In Italy To Avoid The Most Popular Travel Mistakes Today
Italy: Where to begin? Italy is a country in Southern Europe, often described as the "boot" because of its shape.
It's one of the most popular destinations for a lot of people out there, ranging from those who are simply curious to first-timers willing to visit the country as soon as possible for their dream vacation. There is a reason why so many people travel to Italy: its beautiful landscapes, amazing food, and rich history and art.
I can say that if you want to have an amazing experience in Italy and save some money too, you have to plan ahead. And, as you plan your next trip, you may be interested in learning about local customs and traditions.
Well, you're in the right place. I'm Italian, and I'm here to share all my Italy travel tips, tricks, and hacks: and, here I'm going to give you some tips on how to avoid looking like a total noob tourist on your first trip to Italy.
However, before we dive into this list of do's and don'ts in Italy, there is something new you should be aware of when planning your trip to Italy.
You should be aware that, starting at the end of 2022, you'll most likely need to apply for an ETIAS permit to travel to Italy.
This new rule also applies to those who can now travel to Italy without a visa, such as U.S. citizens, who will also be required to apply for the new electronic authorization. Fear not, you can apply online in minutes.
Ok, we're ready to go now! Let's start with some examples of "Italian-friendly" behaviors:
Do's and Don'ts in Italy
Do use your hands to communicate.
If you need information but don't speak the language, you can use gestures to communicate. This Italian stereotype is entirely accurate.
Do keep some cash on hand.
Nowadays, almost all shops and restaurants accept credit cards; however, not all of them do, and you'll almost certainly find someone who doesn't accept card payments. So it's always a good idea to have some cash on hand.
Do take care of your belongings.
You must be extremely cautious with your belongings, just as you would in any other country. Pickpockets are always lurking around the corner, usually on public transportation or in crowded areas. So keep all valuables in a tightly closed and secure bag to deter anyone from attempting to access them.
Do keep your knees and shoulders covered.
Italy is a very Catholic country, and you must dress appropriately to enter places of worship. So, if you're going to St. Peter's Basilica in Vatican City, St. Mark's Basilica in Venice, or any other beautiful church, make sure to cover your shoulders and knees properly.
Do relax and enjoy Italian culture
No matter how many times you've been to Italy, each time is a new experience. Enjoy your stay, relax, and live "la dolce vita!" After all, you're in Italy, and you know what we say: when in Rome, do as the Romans do.
And now here are the "don'ts." But don't worry, these aren't hard-and-fast rules. We are flexible and relaxed when it comes to other people's flaws.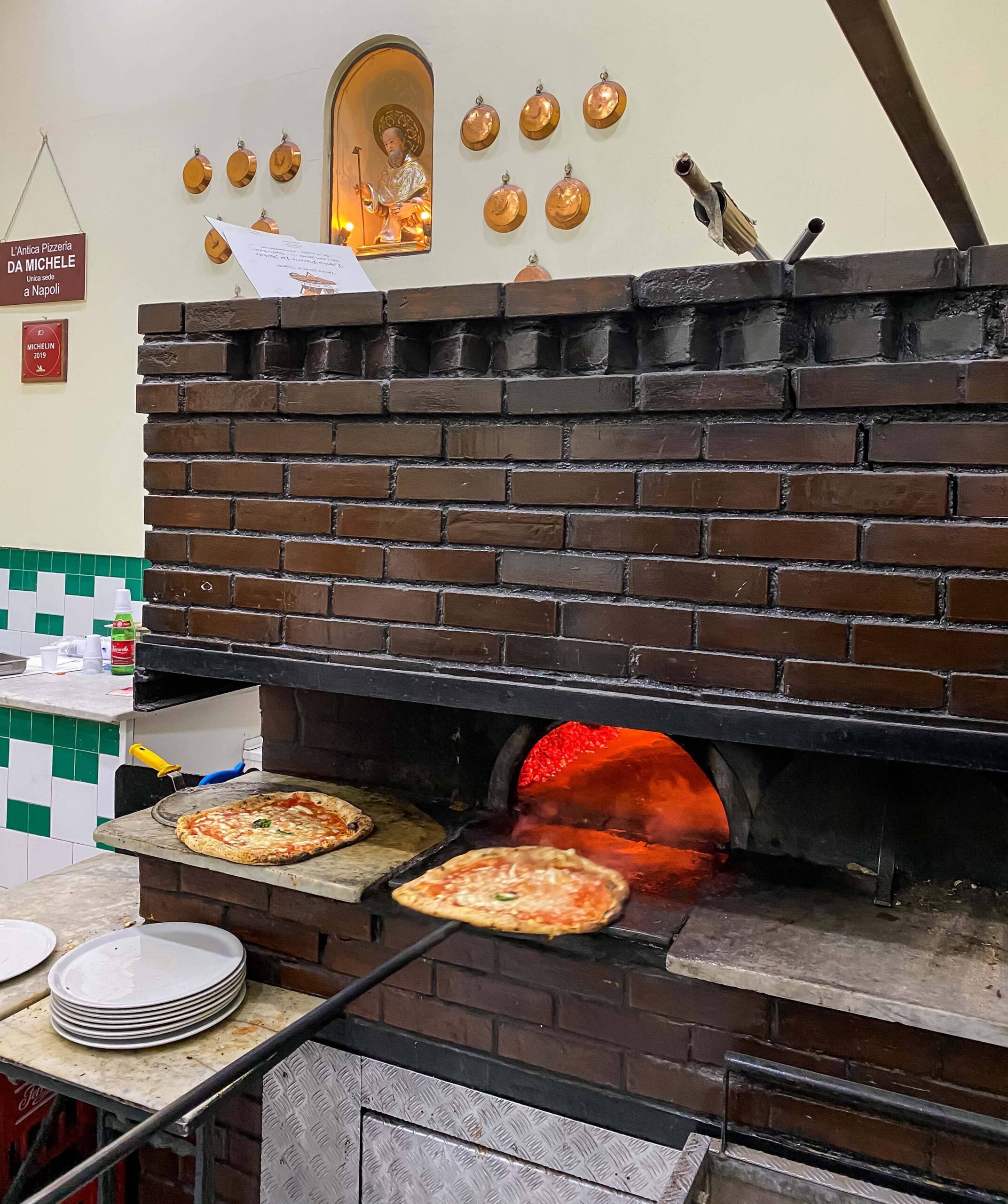 Don't ask an Italian share a pizza – Pizzeria da Michele, Naples, Italy
Don't ask to share your pizza.
Never, ever ask an Italian to share his or her pizza. When you order pizza in Italy, you will receive a pizza on a plate, which, as large as it may appear to you, is only for one person. And Italians don't like to share it.
Also, don't order unusual toppings on your pizza, such as pineapple or ketchup, especially if you're in Naples; they'll think you're insane.
Don't cut spaghetti
Don't ever cut up spaghetti.
The proper way to eat spaghetti is to wrap it around the fork, using the plate to help you. The reason for this method is that the essence of spaghetti must be respected. Also, don't order "spaghetti Bolognese," which doesn't exist in Italy, they're a British invention; we do have "tagliatelle al ragù alla bolognese," a delicious first course from Emilia Romagna.
And, if you just can't do without the meatballs, then you could order a plate of "spaghetti al pomodoro" first, followed by the meatballs as a second course.
Pro-tip for this one: if you see "spaghetti bolognese" on the menu of a restaurant in Italy, it's probably a tourist trap!
Don't order Fettuccine Alfredo
This dish, made with pasta, butter, and Parmesan cheese, is common on the menus of most Italian restaurants around the world. It is also frequently served with roasted chicken or sour cream. The issue is that no one in Italy is aware of it.
Only one restaurant in Italy serves authentic fettuccine Alfredo: "ll Vero Alfredo," also known as "L'Imperatore delle Fettuccine" (the Emperor of Fettuccine), in the heart of Rome. Here you can taste the original recipe, handed down from generation to generation, of this dish that has become famous all over the world but not in Italy.
Don't put cheese on pasta with seafood
Italians have a strong relationship with food and very specific ideas about what you can and cannot do with it. This is something you should never do.
Don't order a cappuccino after 11:00 a.m.
An Italian would never order a cappuccino after 11 a.m.; we only drink it in the morning. After lunch or dinner, you can order a caffè macchiato, which can be hot, with hot foamy milk, or macchiato freddo, and they will usually bring you a cup of cold milk to add to your coffee.
Beware that if you only order a latte in Italy, you will be served a glass of cold milk.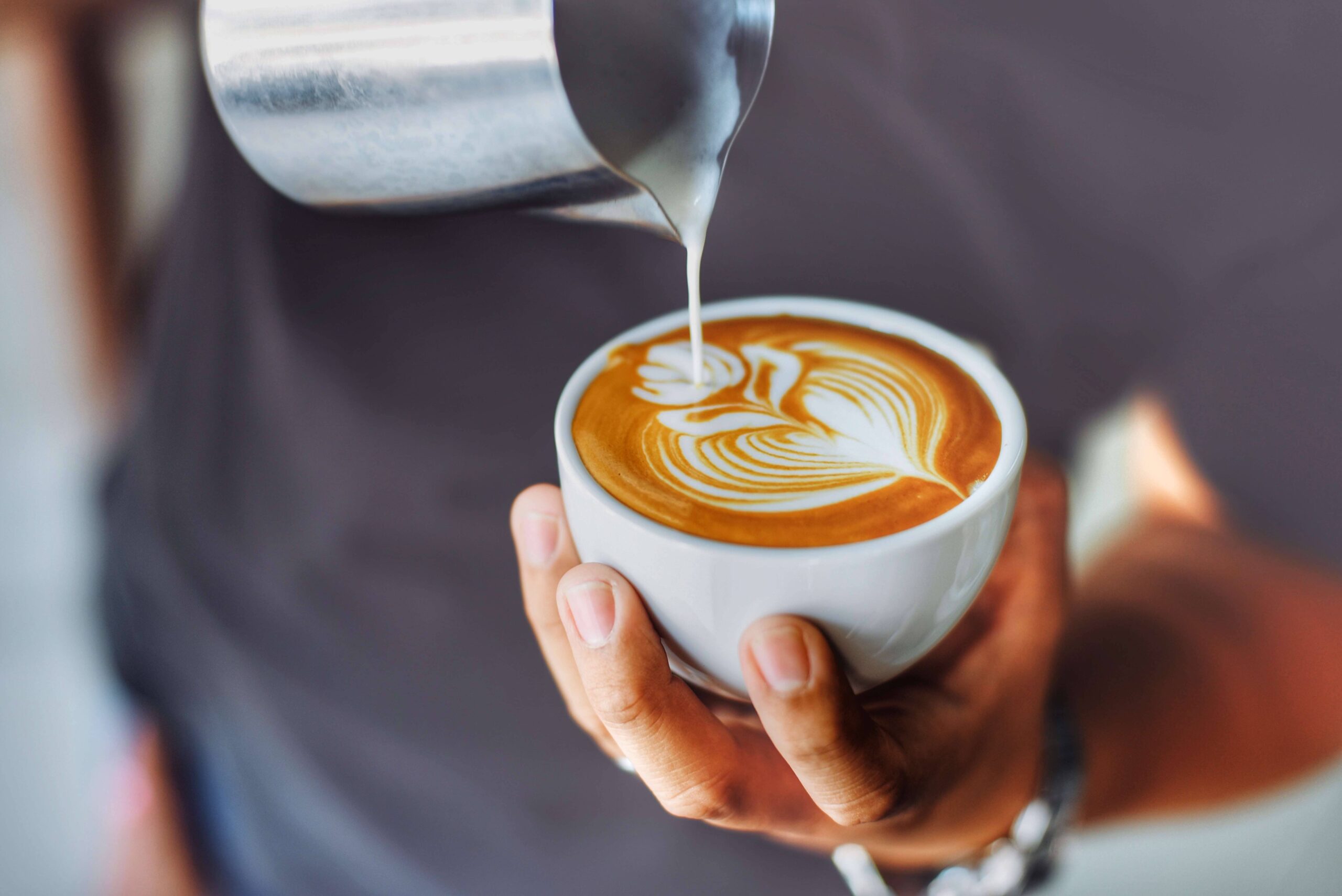 Don't order a cappuccino after 11:00 A.M.
Don't expect a hearty breakfast.
Don't expect a full-bodied savory breakfast; the Italian breakfast is sweet and quick, consisting of an espresso coffee, or cappuccino, and a croissant, also known as brioche, or some biscuits.
If you've booked a hotel in a tourist area with breakfast included, you'll most likely find a menu with several savory breakfast options, but don't rely too much on it.
Don't expect to dine early.
In comparison to other European countries, we are not in the habit of eating early in Italy. Restaurants do not open until 7 p.m., and dinner is served beginning at 7:30 p.m. The kitchen is open from 12:30 to 3:30 p.m. for lunch. If you're used to different hours, treat yourself to an aperitif and some appetizers while sipping on a good glass of prosecco or a spritz.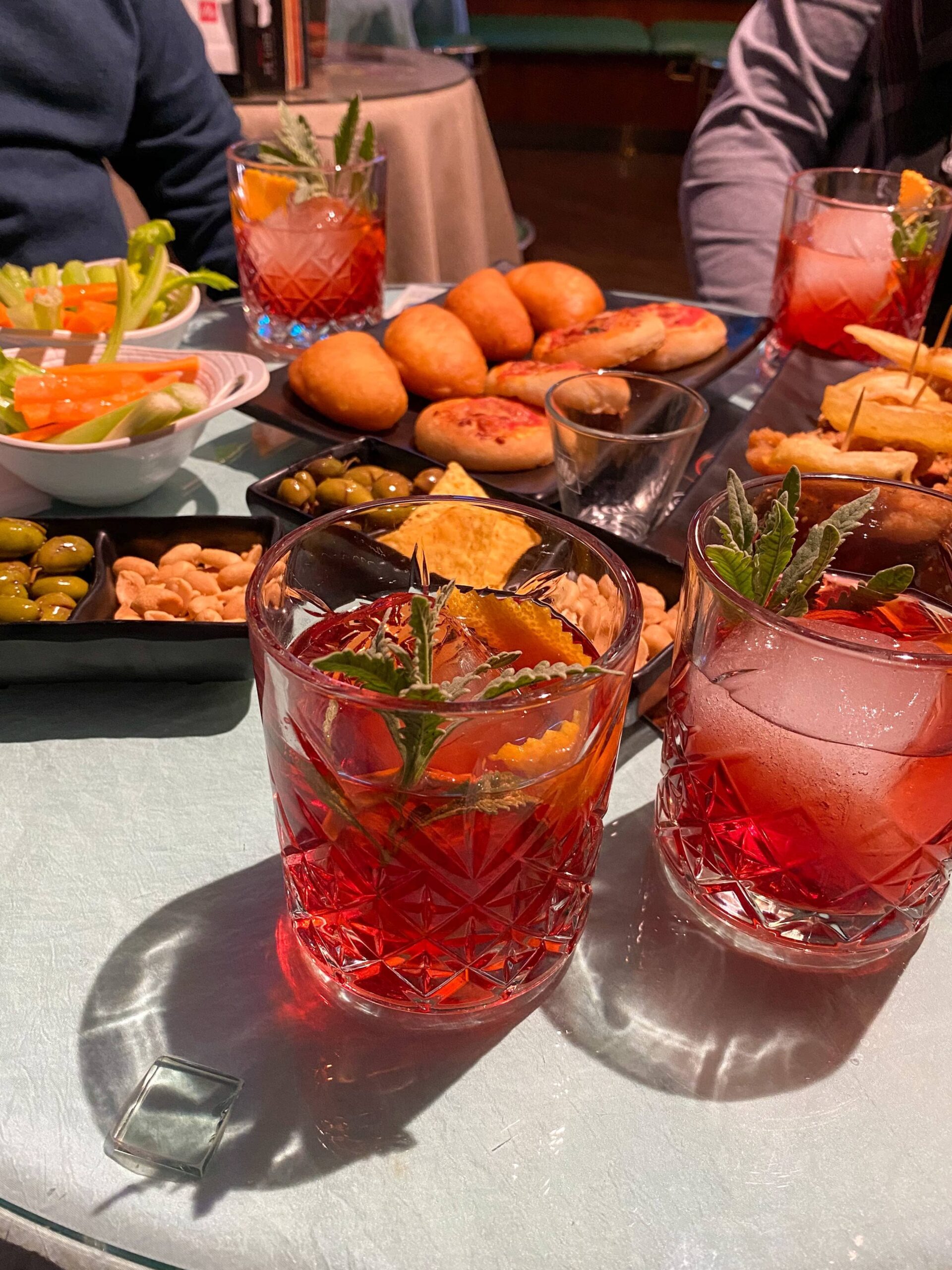 Spritz and Negroni Sbagliato with appetizer.
Don't overtip.
Tipping in restaurants is not mandatory in Italy, as the service is already included in the bill. This doesn't rule out the possibility of rounding up if you are extremely satisfied.
Don't think the "coperto" is a scam to get money out of you.
Many restaurants list the price of a "coperto" on their menus. But what exactly is a "coperto"?
A "coperto" is the price per person charged when you sit down at the table, and it includes the price for the table setting, bread, and table cleanup.
Don't forget to ask for the bill.
Don't expect the bill to be brought to your table in an Italian restaurant. This doesn't mean that they're ignoring you; it's simply that, in Italy, lunch and dinner time is a convivial moment and you shouldn't be in a hurry. When you're ready to go, give the waiter a nod, and he'll bring you the bill.
Don't expect public transportation to be on time.
Italian public transportation, unlike high-speed trains, is not always on time.
Regional trains, which typically run shorter distances and are slower, are frequently late. Keep this in mind when planning your itinerary; if you need to make changes, always factor in a delay of 10-15 minutes to ensure you have enough time to catch the next train.
Don't forget to validate your ticket.
A ticket for a regional train in Italy does not have a time or date because it can be purchased in advance and used as needed.
Then, when you're using it, remember to validate it to avoid hefty fines once on the train.
It's very simple, there are usually machines on the platform where you board the train; simply insert your ticket and it will be validated with the date and time of your trip.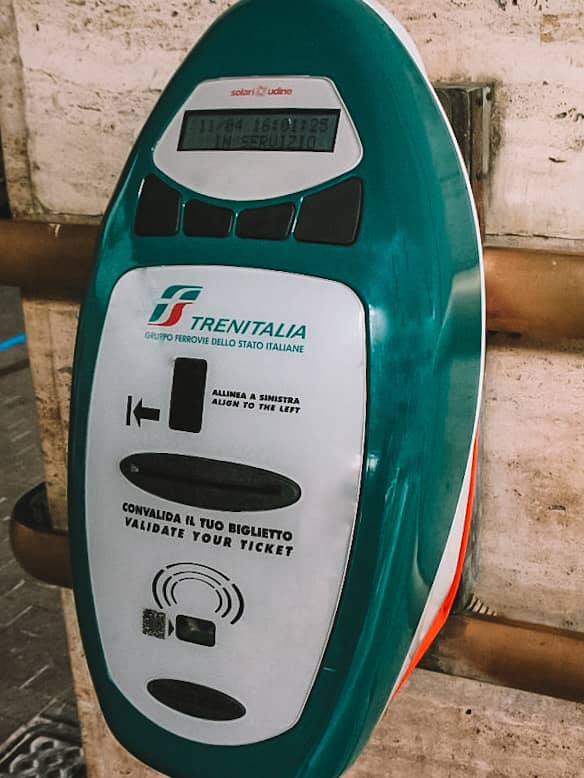 Don't forget to validate train tickets
Don't plan museum visits on Sundays.
When planning your itinerary, be sure not to include visits to museums or well-known tourist spots on Sundays. In Italy, Sunday is a day of rest; many businesses are closed, and many people do not work, opting instead to take a weekend getaway. As a result, these locations may be crowded. When planning your itinerary, I recommend checking your calendar and taking advantage of these days to go on a walking tour, wander the streets at your own pace, or visit a lesser-known village.
Don't expect to find stores always open.
Although large stores in tourist cities often keep regular hours, many stores close between 1 and 4 p.m., particularly outside of the city center.
This surprises and confuses tourists, particularly Americans. At that time, Italians return home to have lunch with their families and to unwind. That's what we call "la dolce vita!"
Don't expect to hail a cab by waving your hands.
Waving your hands to hail a cab is not a common practice in Italy, though it is amusing to see Americans try and, on rare occasions, succeed. In Italy, the best way to hail a cab is to go to a dedicated cab stand marked by an orange sign, or call the radio cab number, which varies depending on the city.
Don't forget to learn some basic Italian.
Learning a few basic Italian phrases makes it much easier to get around town and interact with the locals. They love it when you try to speak a little Italian with them, even if you only know the basics. Also, avoid greeting everyone with a "ciao." This is an informal greeting and we only use it with relatives and friends. When you walk into a store or meet someone for the first time, you can say "salve," which is the formal version of "ciao."
The art of "fare la scarpetta"
Bonus tip: "Fare la scarpetta" (Lit.: "making the little shoe") Do's or Don'ts?
Finally, I wanted to say something about the art of "fare la scarpetta," which is an all-Italian art of mopping up sauce from a plate with bread. Due to etiquette concerns, it is commonly regarded as a bad habit.
Ok, let's dispel a myth right away: it's not true that etiquette forbids one from cleaning one's plate with a piece of bread. The truth is that mopping the bread on the plate with one's hands is considered rude by etiquette.
This means that if you use a fork, the scarpetta is fine, but if you use your hands, it's a big no-no.
I hope you had fun reading these recommendations for do's and don'ts in Italy, at least as much as I did in writing them.
Let me know in the comments below if there's anything on this list that surprises you.
If you like my content, please consider supporting me so that I can continue to provide you with free, valuable content. Thanks!
Ciao and Safe travels!
Published by Lucy
I am a freelance travel designer and writer. Writing is a hobby of mine, and traveling is the "best way" for me to get inspired. In 2015, I specialized as an Italy travel experience planner, which piqued my interest from the start. I consider myself a slow traveler who is always eager to visit new places and learn about different cultures. When I first began writing about travel a few years ago, I was enthralled by the incredible opportunity to not only share my real-life experiences with others, but also to learn from them. View more posts
Show Comments Hide Comments
2 Replies to "21 Do's and Don'ts In Italy To Avoid The Most Popular Travel Mistakes Today"
Thank you, Ines, for sharing the true story behind the famous "Fettuccine Alfredo," a family tradition passed down from generation to generation.
HISTORY OF ALFREDO DI LELIO CREATOR IN 1908 OF "FETTUCCINE ALL'ALFREDO" ("FETTUCCINE ALFREDO"), NOW SERVED BY HIS NEPHEW INES DI LELIO, AT THE RESTAURANT "IL VERO ALFREDO" – "ALFREDO DI ROMA" IN ROME, PIAZZA AUGUSTO IMPERATORE 30
With reference to your article I have the pleasure to tell you the history of my grandfather Alfredo Di Lelio, who is the creator of "Fettuccine all'Alfredo" ("Fettuccine Alfredo") in 1908 in the "trattoria" run by his mother Angelina in Rome, Piazza Rosa (Piazza disappeared in 1910 following the construction of the Galleria Colonna / Sordi). This "trattoria" of Piazza Rosa has become the "birthplace of fettuccine all'Alfredo".
More specifically, as is well known to many people who love the "fettuccine all'Alfredo", this famous dish in the world was invented by Alfredo Di Lelio concerned about the lack of appetite of his wife Ines, who was pregnant with my father Armando (born February 26, 1908).
Alfredo di Lelio opened his restaurant "Alfredo" in 1914 in Rome and in 1943, during the war, he sold the restaurant to others outside his family.
In 1950 Alfredo Di Lelio decided to reopen with his son Armando his restaurant in Piazza Augusto Imperatore n.30 "Il Vero Alfredo" ("Alfredo di Roma"), whose fame in the world has been strengthened by his nephew Alfredo and that now managed by me, with the famous "gold cutlery" (fork and spoon gold) donated in 1927 by two well-known American actors Mary Pickford and Douglas Fairbanks (in gratitude for the hospitality).
See the website of "Il Vero Alfredo".
I must clarify that other restaurants "Alfredo" in Rome do not belong and are out of my brand "Il Vero Alfredo – Alfredo di Roma".
The brand "Il Vero Alfredo – Alfredo di Roma" is present in Mexico with a restaurant in Mexico City and a trattoria in Cozumel) on the basis of franchising relationships with the Group Hotel Presidente Intercontinental Mexico.
The restaurant "Il Vero Alfredo" is in the Registry of "Historic Shops of Excellence – section on Historical Activities of Excellence" of the Municipality of Roma Capitale.
Best regards Ines Di Lelio
https://www.youtube.com/watch?v=MEiN40NQTOI&t
STORIA DI ALFREDO DI LELIO, CREATORE DELLE "FETTUCCINE ALL'ALFREDO" ("FETTUCCINE ALFREDO"), E DELLA SUA TRADIZIONE FAMILIARE PRESSO IL RISTORANTE "IL VERO ALFREDO" ("ALFREDO DI ROMA") IN PIAZZA AUGUSTO IMPERATORE A ROMA
Con riferimento al Vostro articolo ho il piacere di raccontarVi la storia di mio nonno Alfredo Di Lelio, inventore delle note "fettuccine all'Alfredo" ("Fettuccine Alfredo").
Alfredo Di Lelio, nato nel settembre del 1883 a Roma in Vicolo di Santa Maria in Trastevere, cominciò a lavorare fin da ragazzo nella piccola trattoria aperta da sua madre Angelina in Piazza Rosa, un piccolo slargo (scomparso intorno al 1910) che esisteva prima della costruzione della Galleria Colonna (ora Galleria Sordi).
Il 1908 fu un anno indimenticabile per Alfredo Di Lelio: nacque, infatti, suo figlio Armando e videro contemporaneamente la luce in tale trattoria di Piazza Rosa le sue "fettuccine", divenute poi famose in tutto il mondo. Questa trattoria è "the birthplace of fettuccine all'Alfredo".
Alfredo Di Lelio inventò le sue "fettuccine" per dare un ricostituente naturale, a base di burro e parmigiano, a sua moglie (e mia nonna) Ines, prostrata in seguito al parto del suo primogenito (mio padre Armando). Il piatto delle "fettuccine" fu un successo familiare prima ancora di diventare il piatto che rese noto e popolare Alfredo Di Lelio, personaggio con "i baffi all'Umberto" ed i calli alle mani a forza di mischiare le sue "fettuccine" davanti ai clienti sempre più numerosi.
Nel 1914, a seguito della chiusura di detta trattoria per la scomparsa di Piazza Rosa dovuta alla costruzione della Galleria Colonna, Alfredo Di Lelio decise di aprire a Roma il suo ristorante "Alfredo" che gestì fino al 1943, per poi cedere l'attività a terzi estranei alla sua famiglia.
Ma l'assenza dalla scena gastronomica di Alfredo Di Lelio fu del tutto transitoria. Infatti nel 1950 riprese il controllo della sua tradizione familiare ed aprì, insieme al figlio Armando, il ristorante "Il Vero Alfredo" (noto all'estero anche come "Alfredo di Roma") in Piazza Augusto Imperatore n.30 (cfr. il sito web di Il Vero Alfredo).
Con l'avvio del nuovo ristorante Alfredo Di Lelio ottenne un forte successo di pubblico e di clienti negli anni della "dolce vita". Successo, che, tuttora, richiama nel ristorante un flusso continuo di turisti da ogni parte del mondo per assaggiare le famose "fettuccine all'Alfredo" al doppio burro da me servite, con
l'impegno di continuare nel tempo la tradizione familiare dei miei cari maestri, nonno Alfredo, mio padre Armando e mio fratello Alfredo. In particolare le fettuccine sono servite ai clienti con 2 "posate d'oro": una forchetta ed un cucchiaio d'oro regalati nel 1927 ad Alfredo dai due noti attori americani M. Pickford e D. Fairbanks (in segno di gratitudine per l'ospitalità).
Desidero precisare che altri ristoranti "Alfredo" a Roma non appartengono e sono fuori dal mio brand di famiglia.
Il brand "Il Vero Alfredo – Alfredo di Roma" è presente in Messico con un ristorante a Città del Messico e una trattoria a Cozumel sulla base di rapporti di franchising con il Group Hotel Presidente Intercontinental Mexico.
Vi informo che il Ristorante "Il Vero Alfredo" è presente nell'Albo dei "Negozi Storici di Eccellenza – sezione Attività Storiche di Eccellenza" del Comune di Roma Capitale.
Grata per la Vostra attenzione ed ospitalità nel Vostro interessante blog, cordiali saluti
Ines Di Lelio
Source https://www.probearoundtheglobe.com/italian-gift-ideas-for-italy-lovers/
Source https://www.lonelyplanet.com/articles/getting-around-italy
Source https://www.italialikealocal.com/21-do-s-and-don-ts-in-italy/