Electric Fireplace Pros & Cons (The Complete Guide)
Electric fireplaces are a very popular form of fireplace thanks to their relatively low cost to purchase and install, ease of use, realistic looking flames and decent heat output.
However, as electric fireplaces run on electricity there can be a number of downsides to using electric fireplaces compared to other types of fireplace.
So what are the main pros and cons of electric fireplaces?
We've explained these pros and cons of electric fireplaces in more detail below.
Electric Fireplace Pros
Many different types of electric fireplace available. There's a whole range of electric fireplace available to suit your needs, including:
Electric stoves
Electric TV stands
Electric log logs
Wall mount
Electric mantels
Electric inserts
With so many different types of electric fireplaces available for every situation you're bound to find an electric fireplace that will suit a specific location in your home.
Easy to set up. Many electric fireplaces simply need to be plugged into one of your standard home electrical outlets and they will work straight out of the box.
Ease of use. With electric fireplaces there's no setting up requirements, or downtime if you get it wrong. Simply press a few switches and you can be enjoying both the flames and heat in no time at all.
Low cost of purchase. Compared to other types of fireplace, electric fireplaces can be a relatively low cost purchase. For example, our electric stove cost $100, while our real wood stoves cost over $1000 each.
Low cost of installation. While many electric fireplaces won't cost anything at all to install (such as the freestanding ones), those that do require some installation, such as on a wall or in an existing open fireplace, won't break the bank to do so.
Can look very realistic. Flame technology on electric fireplaces has come a long way in recent years to a point where many models can provide very realistic looking flame effects.
Can put out great amounts of heat. Even our small electric fireplace that uses a conventional fan heater is able to heat up our living room considerably over a number of hours.
Very little maintenance required. The only maintenance typically associated with electric fireplaces is periodically cleaning it to ensure that the vents aren't blocked, and changing a blown bulb.
Flexibility in placement around a home. As electric fireplaces don't produce any byproducts, there's no need for a chimney or flue. This gives you far more flexibility in where they can be placed around your home.
Some models can be easy to move around a home. You can move many freestanding models of electric fireplaces (such as stoves) around your home with ease. We move our electric stove around our home to whichever room we want to heat.
No mess after each use. Unlike wood burning fireplaces or stoves there's no mess created by the fires. An electric fireplace will be as tidy when you turn it off as when you had turned it on.
Can be used in apartments. Many apartments won't have a chimney or flue to be able to enjoy a real fire. Electric fireplaces can be used whether you live in an apartment or house.
Take with you when you move. Installing a wood fireplace, stove or gas fireplace can become a permanent fixture for a home. Simply unplug and remove an electric fireplace from where it was installed and you can take it with you when you move home.
Great features. Many electric fireplaces can come with an array of features such as remote control and/or thermostatic control, which allow you to adjust the settings from the comfort of your seat and help keep your rooms at a constant temperature respectively.
Enjoy the flames without the heat. Many electric fireplaces allow you to enjoy the flames without the heater being on. We love using our electric stove even during the summer months simply to enjoy the flames without the need for heat.
Lower running costs. Depending on prices in your area, using electricity can save money compared to other types of fuel. Furthermore, electrical fireplaces allow you to heat one room in your home without the need to turn on the central heating.
No harmful emissions. The only thing that electric fireplaces release is heat. There's no real fire and so there are no harmful byproducts that are created and need to be vented from your home, such as smoke and carbon monoxide.
The flames aren't hot. While fireplaces that utilize real fires will be extremely hot to touch, the flames on an electric fireplace won't be too hot to touch, which makes them great for use around young children and/or pets.
Electric Fireplace Cons
The flames aren't real. A downside of electric fireplaces is that because they run on electricity the fires inside aren't real.
This means that an electric fireplace has to generate the look of flames using an array of lights and rotating mirrors (more about how an electric fireplace works here).
Heaters can be noisy. Electric fireplaces that use conventional fan heaters will use a blower to force the warm air out into the room. These blowers can be noisy depending on the model of fireplace (we have an article explaining more about electric fireplace noise here.)
Must be located near an electrical outlet. As all electric fireplaces run on electricity they must be placed near an electrical outlet so that they can be plugged in to work. Extension cables shouldn't be used with an electric fireplace, and we have more information about electric fireplace outlet requirements here.
Can't heat a whole house. While other forms of fireplace can in some situations be able to heat a whole house, electric fireplaces won't be able to.
Electric fireplaces with conventional fan heaters will typically be able to heat areas up to 400sqft, while those with infrared heaters can typically heat rooms up to 1000sqft.
Can't be used when electricity is out. Unlike other types of fireplace you can't use an electric fireplace when there's no electrical supply currently available.
Cheaper models can look tacky and unrealistic. Electric fireplaces can be very cheap compared to other forms of fireplace, but the lower the cost of the fireplace the more cheap and tacky you can expect it to look.
While we're happy overall with our $100 electric fireplace, some bits, such as the fake logs, don't look too realistic in our opinion.
Many non user-serviceable parts. Many electric fireplaces (including ours) don't have any parts that we can service or change ourselves if something goes wrong.
If a component has a fault under warranty then the whole unit can be replaced, but if it were out of warranty (typically 1 year long) then we'd have to pay for a whole new electric fireplace.
Shorter life span. Electric fireplaces are full of moving electrical and mechanical components and so the life span of an electric fireplace can be much shorter compared to other types of fireplace such as wood stoves. This problem is exacerbated by the fact that many parts may not be replaceable or serviceable.
No real fire sounds. As both the flames and heat in an electric fireplace are generated artificially, there's no real flame sounds.
However, some electric fireplaces can be bought with optional sound systems to help provide more of a realistic experience, but it won't be quite the same thing as hearing a real fire.
No real fire smell. Along with no real fire sounds, an electric fireplace also isn't able to generate any real fire smells, which can be what helps make the ambience of a wood fire so appealing.
Summary
There are many reasons why electric fireplaces are a great purchase for any home.
These include the large number of different types of electric fireplace available to suit every need, ease of installation and use, realistic looking fires with no mess, quick and easy heat, and a handful of great options including thermostatic and remote control.
However, although there are a number of positives for using an electric fireplace, there are also a number of downsides to using them compared to using other types of fireplace.
As there's no real fire in an electric fireplace, the flames aren't real. Both the flames and heat are produced artificially and so you'll never quite get the same experience as having a real fire. This means that there are also no sounds and smells of a real fire.
Furthermore, electric fireplaces can't be used if there's a power cut and you're looking for a way to help keep warm.
Overall, electric fireplaces are a great type of fireplace to buy (which is why we have a number of them) but have some limitations in terms of realism and heat.
For more information about electric fireplaces see our complete electric fireplace buying guide.
Leave a Comment Cancel reply
About Us
Hi, I'm James, I've been using traditional open fireplaces and wood burning stoves for many years, and I've also recently bought a bioethanol fireplace. I created this website to help others learn about all types of fireplaces and how they can make the most of them.
Reasons You Should Not Buy a Travel Trailer or Fifth-Wheel RV
There are lots of reasons people want to purchase a travel trailer or fifth-wheel RV. For example, they are looking for a way to vacation in a responsible, socially distanced way. But, just as there are reasons to purchase such an RV, there are also reasons not to get that shiny new travel trailer or fifth-wheel.
Purchasing an RV by maxing out the budget
An Airstream travel trailer | George Frey/Getty Images
My people interested in getting their first RV are often mesmerized by an eye-popping grandiose camper and the romantic sense of getting away. The truth is, however, unless the purchaser is prepared, the experience can be much more than the budget is ready for. The purchases of that grandiose mobile palace or headquarters on wheels is only the beginning of the costs.
Vehicle upgrades, maintenance
It is important to note that the actual purchase of travel trailers or fifth-wheels are only the beginning of laying out cash. The pickup or SUV that is going to pull the RV must be prepared to do the towing. With a pickup truck, a fifth-wheel adapter needs to be drilled into the bed and installed, if the truck is not already equipped with it. Also, the truck or SUV must have a pulling capacity that can handle the trailer being pulled. It's a rookie mistake when one think, "Oh, my rig can tow anything." These upgrades can be pricy and cause many people to hold off on a purchase.
Storage for an RV
Insurance is a monthly fee that many people already think of ahead of time. But, maintenance is not. Taking care of an RV is not the same as taking care of a car. Dry rot, leaks, and mice can quietly do their damage. So, since a travel trailer or fifth-wheel are more apt to be sitting for long periods of time, more care is necessary for them to remain optimal for the family getaway. Consequently, the extra labor has caused some potential owners to reconsider their purchase. Supposedly, they don't consider themselves disciplined enough to take care of a new travel rig.
Storage is another thing people have on occasion thought about after they made their purchase. As great an experience owning an RV can be, storing one can be a pain. Finding out after the fact that a homeowner's association will not allow a travel trailer or fifth-wheel to be parked by a home can cause much angst. So, finding a nearby storage facility to permit parking of the newly acquired vehicle can easily become a challenge, regardless of how inexpensive the storage fee might be. Therefore, lack of storage has caused many people not to buy a travel trailer or fifth-wheel.
Being naive with an RV purchase
The fear here is that somebody will purchase the most RV they can afford and not take into account the additional funding needed for other necessary things. Towing equipment upgrades, maintenance, and storage are somewhat costly but essential components for the recreational vehicle's true enjoyment. Not having the budget prepared for those items can ruin what can otherwise be a pleasurable ownership experience. So, each of them should be looked at closely before the purchase, not after. If the added considerations are not feasible, then the purchase should not be made.
Pros and Cons of Living Full-Time in a Travel Trailer
Just over a year ago, our full-time adventure of living in a travel trailer and exploring the continent ended.
To say it was unforgettable would be an understatement. To say it was beautiful would not do it justice. To say it was an opportunity to grow and explore our limits would be accurate.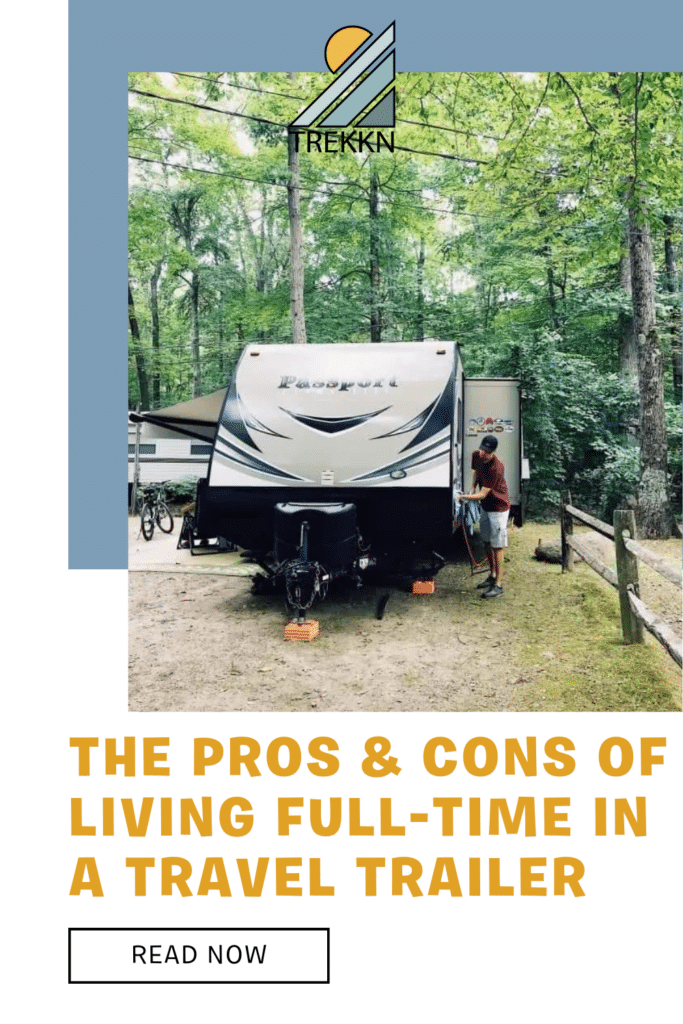 The pros and cons of living full-time in a travel trailer will be different for each individual. We've written fairly extensively about that experience since it began in May 2017.
We've shared plenty of lessons we learned and takeaways that will hopefully help you in the decision-making process if you're considering this route. But we've never done a complete Pros vs. Cons post to help give you the big picture of the experience.
I'd say it's about time for that after nearly one-and-a-half years in our 200 sq ft adventure capsule and now a year of looking back and processing that unique period in our lives.
Pros and Cons of Living Full-Time in a Travel Trailer
Let me start off by saying that my level of gratitude for this opportunity we had to RV full time is completely off the charts. I know how much of a gift that is.
I understand that the majority of the population could never even imagine having the chance to do what we did, for a variety of reasons. And I am thankful every day that it became a reality for us.
*If you want to get a better idea of how we made money while we were traveling to make this adventure possible, read this post.*
For us, this was not a "money-saving" move, not by a long shot. You can get a better idea of what it cost us by reading this post. But what we got out of it was utterly priceless, in so many ways.
Lastly, I want to point out that this list assumes you will be traveling while living in the travel trailer, not sitting stationary in a single location.
With that, let's take a realistic look at the pros and cons, the positives and negatives, of living full-time in a travel trailer…from our perspective at least.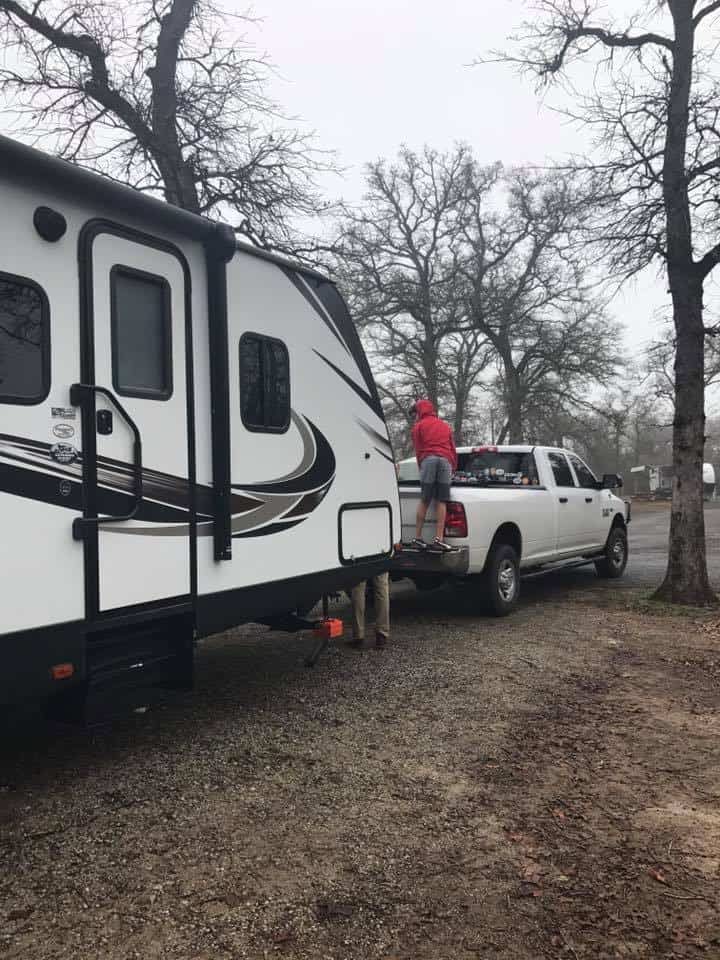 Pro – Lower Overall Purchase Price and Maintenance/Repair Costs
*To see all of the nitty-gritty details about our truck and travel trailer purchases, as well as the sales after the journey ended, check out this beefy post.*
As you might have picked up on in some of my other posts on the site, I am a details and a numbers kind of guy by nature. In most situations, I need the numbers to make sense before I can fully buy into a choice or a direction.
That's not to say that I haven't learned a thing or two about letting go from our full-time RVing experience. But still, details and numbers are in my DNA.
So when it came time to decide on the type of RV we were prepared to live in full-time, I took the decision very seriously. Since we were new to the world of RVing, we started out by considering every single type of RV from Class A down to travel trailer.
But as I covered in detail in this post, solid information provided by our salesperson about the realities of financing an RV quickly narrowed our search focus down to just travel trailers.
It's what made sense for us when we really started looking at the numbers, and specifically at the amount, we would be required to provide upfront as a down payment (20-30% of the purchase price if you've got "good" credit with a 700+ credit score).
THE SIMPLER, THE BETTER: WHO NEEDS "BELLS AND WHISTLES"?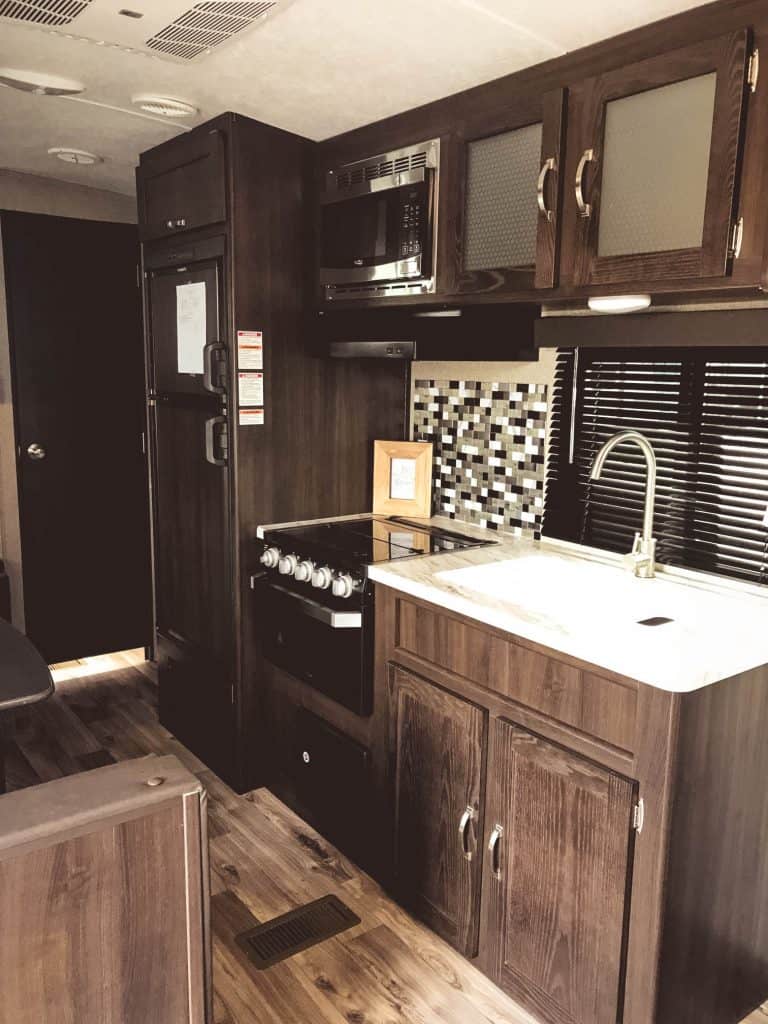 As a child, I think my dad influenced me early and often with his perspective on simplicity…at least when it came to automobiles.
I distinctly remember when I was about 11 years old and we were buying the first new car that I had ever experienced: a gold 1986 Mazda 626 sedan.
It was the first time that I remember hearing him talk about how we didn't really need the "bells and whistles" on a car, like power seats or windows, that was just another opportunity for something to go wrong.
No, he was far more interested in the overall reliability ratings on a vehicle. He wanted to know whether this engine and transmission would stand the test of time.
And since he was preparing to move our family thousands of miles east and into another country (Canada) in the near future, that reliability factor took on even greater significance.
He wanted it to get us there safely and without added hassle and expense, not pamper us along the way.
Honestly, I think in a lot of ways my own perspective on "things" in life mirrors his.
I felt it come to the surface as we looked at dozens and dozens of different travel trailer models.
I would look at a fancy upgrade and think, "How long until that feature goes haywire?" I would see a model that had two slides instead of one and think, "That's just another chance that we could face those dreaded issues with a slide I've been reading about."
PESSIMISTIC OR PRAGMATIC?
You may see this as pessimistic; I guess I view it as pragmatic. I view it as playing the odds, for lack of a better term.
For our maiden voyage in this RV, I wanted to face the fewest possible issues and cough up the lowest amount of maintenance and repair costs I could. I wanted to keep things simple while still ensuring we had a reasonable level of comfort and convenience.
For our situation, the travel trailer absolutely made the most sense from a cost and simplicity standpoint. I have no regrets and view these factors as major pros for the travel trailer option.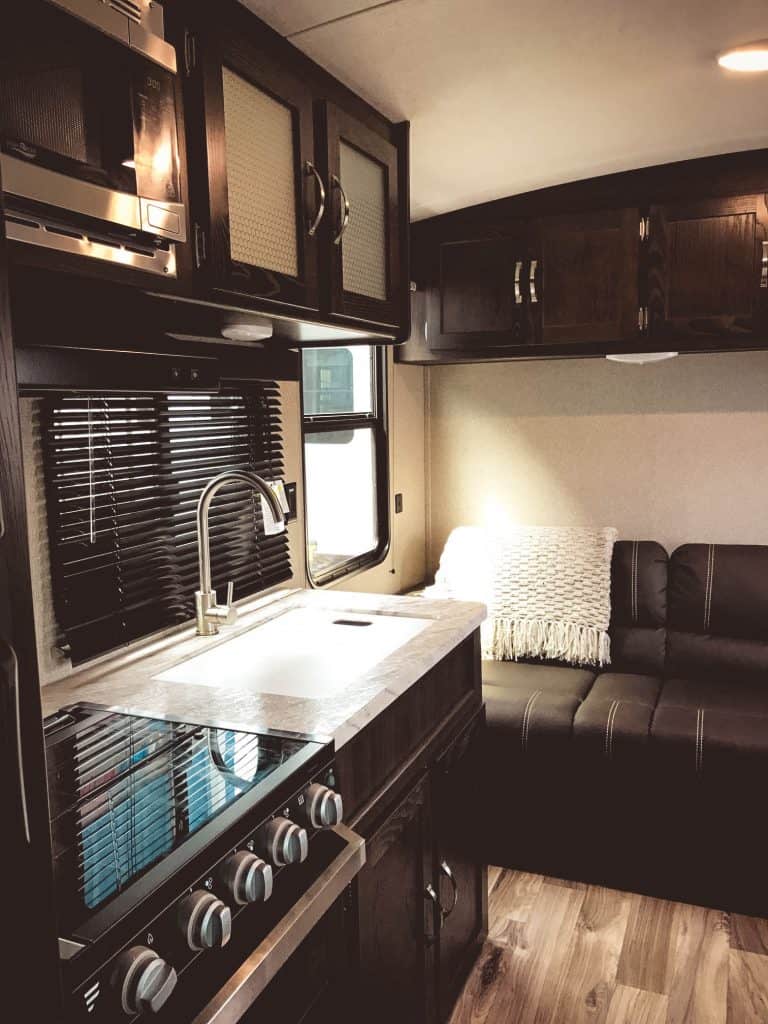 Con – You'll Rub a Few More Elbows with Family
Generally speaking, you are going to have less space in a travel trailer than you would experience in a fifth wheel. It seems pretty obvious, right?
Not only will travel trailers normally be shorter in length, but they will also typically include fewer slide-outs that create more interior space.
On fifth wheels, you can find as many as four or five slides on a large rig, while travel trailers normally top out at two (maybe three in rare situations).
But what does that tighter space make things look like on a daily basis?
It looks like more coordination and cooperation during meal prep time to navigate the common space that serves as the kitchen/living/dining area.
It might look like using the dining room table as a study area, then reading area, then TV watching area, then sleeping area, requiring several transitions throughout the day.
And it could involve getting a bit cozier around the dining table than you might be used to. (Our norm was mom and dad eating on the couch, three kids at the dining table, to avoid those bumped elbows.)
TIME TO GET CREATIVE
But are there some ways to address this issue and create some more livable space…in the proper climates, at least.
After nearly a year on the road, we decided to purchase a fantastic pop-up gazebo that created additional outdoor living space protected from insects and (partially) rain.
We all wished we would have made that purchase sooner, because it not only provided the additional space that is so precious during full-time RV travel but also added to the amount of time we spent outdoors on a regular basis.
Looking back, we still feel it was one of the best purchases we made during our time on the road.
So yes, you will have less indoor space to work with. But if you are willing to bring patience, cooperation and creativity along for the ride you can absolutely still make it a positive experience.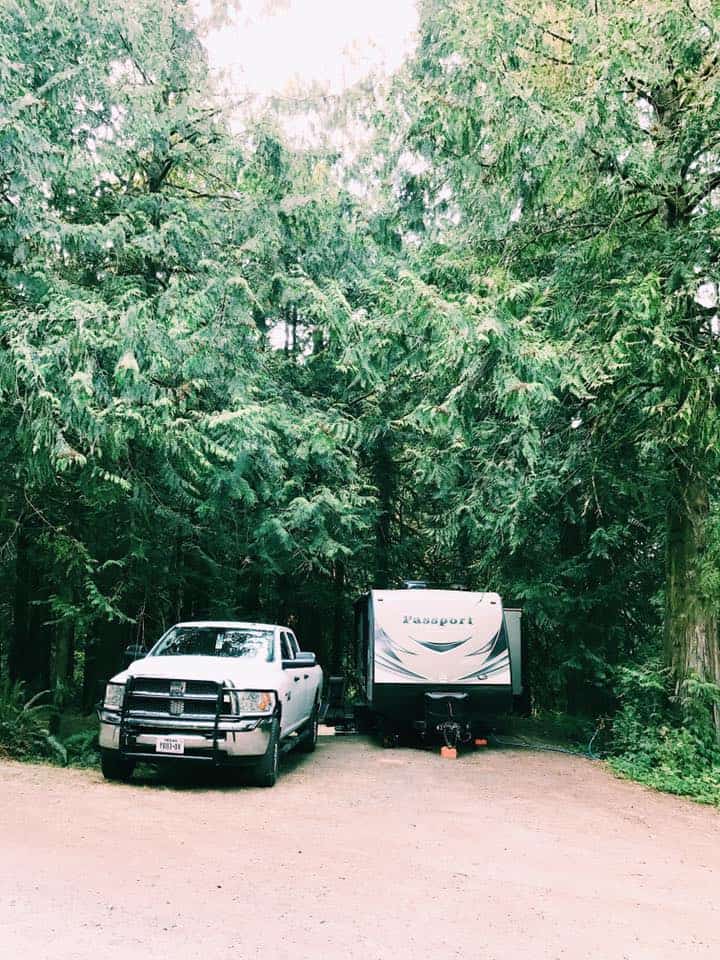 Pro – You'll Need Less Truck to Tow a Travel Trailer
Surprise! It's another financial advantage of a travel trailer! What can I say? It's an important factor in my world of limited resources. (If you live in a world of unlimited resources, the next Pro that I cover below may still steer you in the travel trailer direction.)
As we shopped for an RV and narrowed our search down to towables, it was never far from my mind that an additional purchase was just around the corner: A truck capable of safely pulling whatever RV we purchased.
I had picked the brains of truck-owning friends and scoured online RV forums as I wrestled from the very beginning with what type of truck to purchase when the time came.
Many RVers proved to be outspoken proponents of buying the beefiest truck you possibly could from the beginning (normally meaning a 1-ton diesel).
Their reasoning was that even if you buy a smaller RV now (travel trailer), odds are good that you will want to upgrade one of these days, requiring a larger truck.
They felt strongly that buying the "max truck" now would keep you from having to upgrade both your RV and your truck at the same time down the road, which could prove very difficult to pull off financially.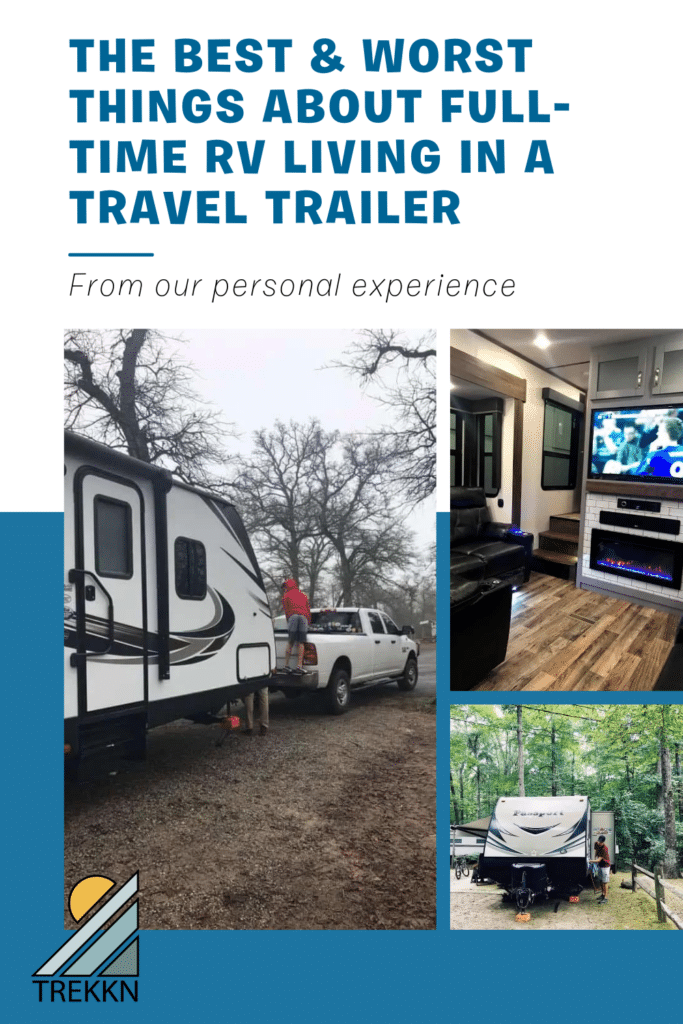 DIFFERENCE IN RESALE VALUE IS A FACTOR
Many also felt that the far higher resale values on diesel trucks, compared to gas trucks, further justified the higher purchase price now. Given the number of miles I was planning to drive whatever truck I purchased, this reasoning carried the most weight with me.
And it almost pushed me to opt for a 3/4 ton diesel instead of the 3/4 ton gas model that I eventually purchased.
But at the end of the day, I just wasn't prepared to deal with that additional expense (easily $10-15K more) that a diesel truck would require.
I was also intimidated by the additional maintenance and care that a diesel engine requires, having never even owned a truck before.
And because I was looking closely at purchasing a travel trailer with a gross weight of about 6,500 pounds, and had no thought of ever going with a larger RV than this, I knew that a 3/4 ton gas truck could get the job done.
You can see the reality that we faced at the end of our journey by reading this post, but the short version is that I owed $9,000 more than the truck was worth when I went to trade it in last year. (We put over 48K miles on the truck, so…)
Yes, I could have reduced that negative equity by trying to sell it instead of trading it in. In our situation, that wasn't really a feasible option.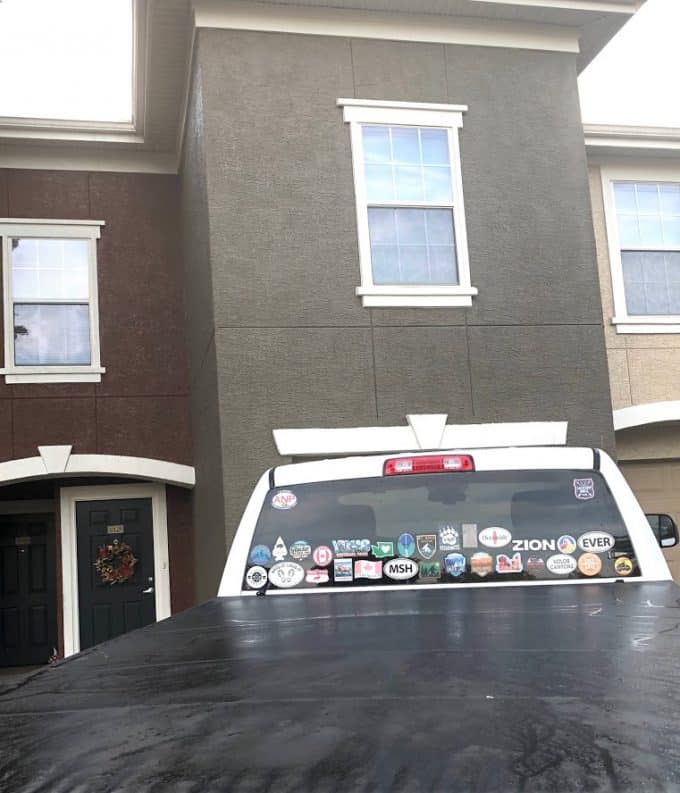 SO THIS IS A PRO WITH A CAVEAT
Looking back on it now, I can't really say that I regret going with a gas truck despite the "financial reckoning" after the fact.
Is it possible I could have come out better financially if I had gone with a diesel? Yes, it's possible. But that option would also have required a considerably higher monthly payment during our time on the road, which might have given me heart palpitations.
So the caveat is: You CAN go with less truck if you purchase a travel trailer vs. a fifth wheel. Only you can decide if you SHOULD go this route when you look at all factors involved.
Con – No Movie Nights At Your Place
During our travels, we spent a couple of weeks traveling up into Canada (Prince Edward Island and Nova Scotia) with a family that we met on the road. It was some of the best times that we had during our journey.
These friends were traveling in a large fifth wheel that held their family of five. And it was a really spacious and convenient rig that we thought was amazing.
We were able to have our family of five crash their fifth wheel for both a movie night and a top-notch brunch while in Nova Scotia. (The movie was Robin Williams' "RV", and this was the first time any of us had seen it, believe it or not.)
This is in addition to the countless times that our 14 year old spent the night in the rig with their boys. So yeah, great memories all around.
That time together, with all ten of us enjoying one space, was really enjoyable and memorable.
When we commented about how nice it was to be able to entertain folks (something our rig would not allow), they said that this was one of the reasons that they had gone with this fifth wheel.
They knew it would allow them to be hospitable with folks that they met and that was important to them.
Of course, we would have the same opportunity if the weather permitted and we wanted to entertain outside our rig. But definitely not inside.
Take that into consideration when you make your decision about which rig is the best fit for you.
Pro – Easier Access to More Locations
When we were making plans for our travels, I had big plans about being able to stay in state and national parks as much as possible.
I quickly picked up on the fact that each park like this, however, would have its own limits on RV size that were normally more stringent than your typical RV park or private campground.
Basically, I determined that if I kept our rig under 30 feet in total length (with tongue included), I should have access to more than 85% of state and national park campgrounds.
Since I was already unsure if I wanted to tow anything larger than that 30-foot rig, this was kind of the deciding factor for me.
Staying under 30 feet would give me an acceptable level of comfort with towing (something I was very new to) and would not limit our options in locations that we were very interested in visiting.
While we didn't end up staying in nearly as many state and national parks as I had hoped we would, I still don't regret the decision to stay under that 30-foot mark.
It would have made some of our RV parks and campground stays MUCH more stressful and complicated to have a larger rig. We barely fit into some of the spots!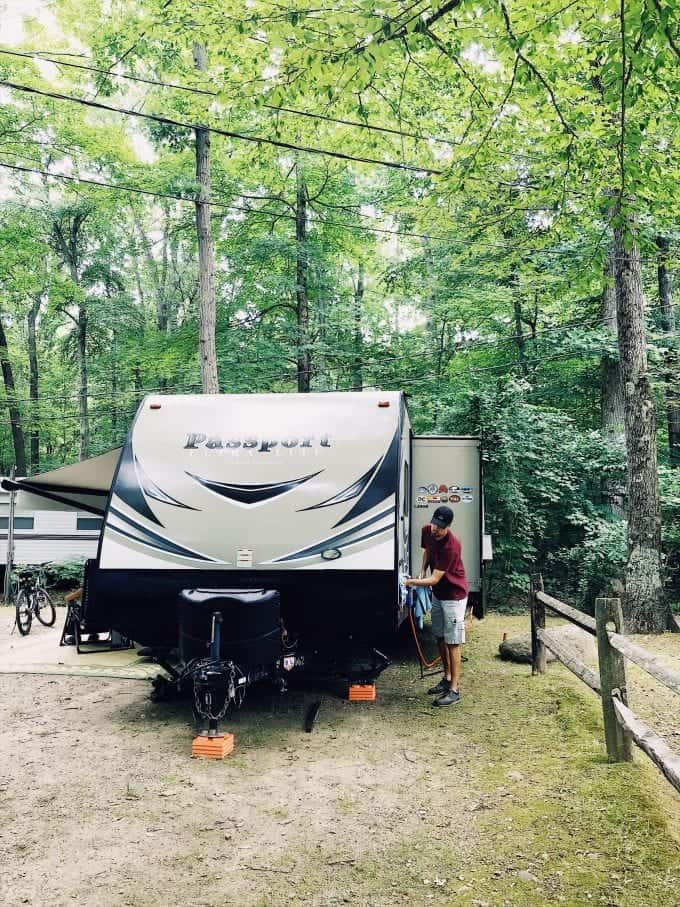 RV HEIGHT MATTERS ALSO
When you're RVing the western portion of the US and Canada, you don't run into many spots where the height of your RV requires you to reroute and potentially add distance and time to your trip.
However, if you find yourself drifting toward the northeastern US, you will quickly discover that the height matters a whole lot more.
All of a sudden, you've got to be on high alert and ensure that you don't head down the wrong road with low clearances that will cause you serious problems.
In our 10′ 6″ high travel trailer, we ran into only one situation in the northeast where we had to reroute because of clearance issues. If we had been in a fifth wheel, with typical heights of 12′ to 13′ or more, it would have been a far different story.
Yes, there are resources and apps available to you if you are in a larger rig that will help you route away from low clearance roadways. It could add time and distance to your travels, but it will keep you safe and out of trouble.
Con – Interior Clearance Is Much Lower
In our 26 foot RV, we had ceiling heights of about 6′ 6″, which is fairly typical. Since our tallest occupant was about 6′ 1″, we were able to make it work without any major difficulties.
I will say that I knocked my head going through our exterior doorway on more than one occasion. It required me and my oldest son to stoop down a bit to get through without incident.
There is no doubt that the lower ceilings in the travel trailers give you a "cozier" feel. Some might say a "tighter" feel. For some folks, this isn't a problem. For others, it may be a night and day difference.
Because I have to say that hanging out in our friend's fifth wheel while we were traveling with them was just a completely different experience.
With ceiling heights at 9′ or so, it obviously just gives the whole space a very open and welcoming feel. The difference between the two really is a night and day difference, in my opinion.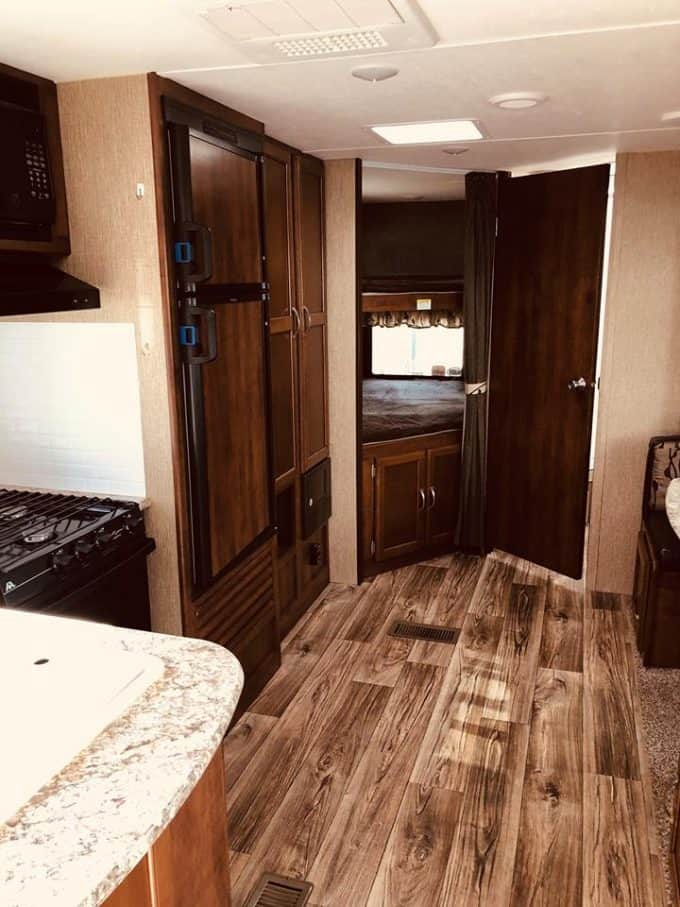 The lower ceilings of the travel trailer are going to lead to amplified noise as well, so be aware of that if you have loud individuals (you know, small kids or dogs) along for the ride.
Since my ears are pretty sensitive to noise, this would probably have proved very challenging for me with small kids or dogs in the rig.
Lots of factors to consider, I know. I hope that these "nuances" of each space help you to make the decision that is best for you.
You've Got the Pros and Cons of Living in a Travel Trailer…So What Will You Choose?
As I said from the beginning, all of these pros and cons are based on our personal experience and on the things that we viewed as "issues" during our travels.
Some of these items may make no difference to you whatsoever, and some may be game-changers.
My advice is simply to be sure to talk through all of these pros and cons, and any others you can come up with, with everyone who will be living in the RV.
You need as many different perspectives and opinions as possible with such a major decision like this. Best to see things as clearly as possible now rather than realize your oversight after the purchase.
As you walk through it and move toward the full-time RV lifestyle, we wish you grand adventures, priceless memories and smooth travels! May the road rise to meet you.
PIN THIS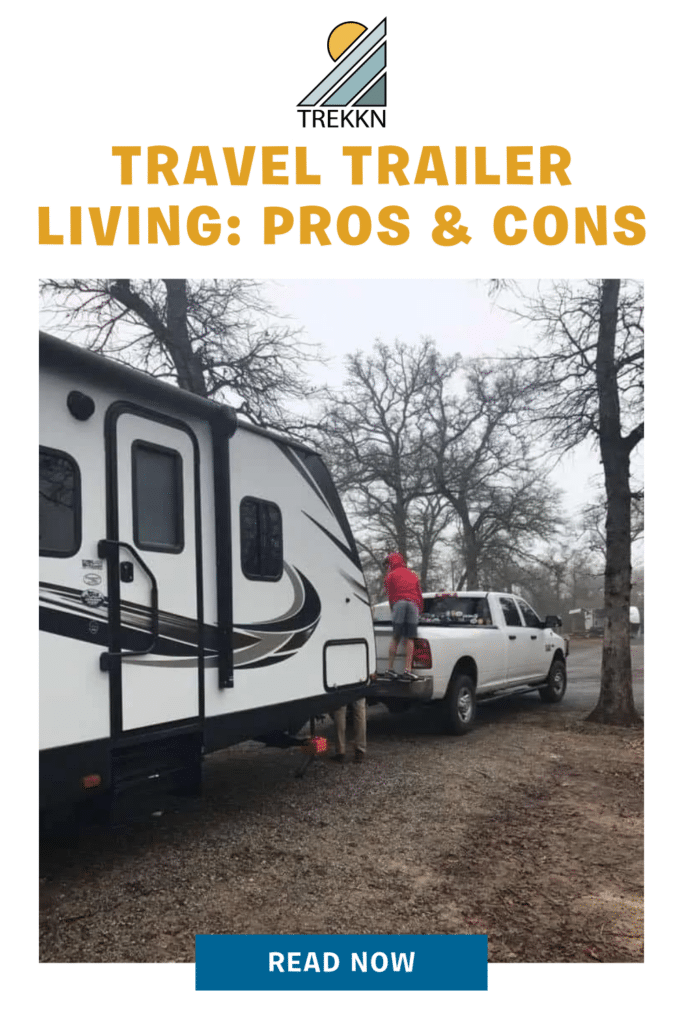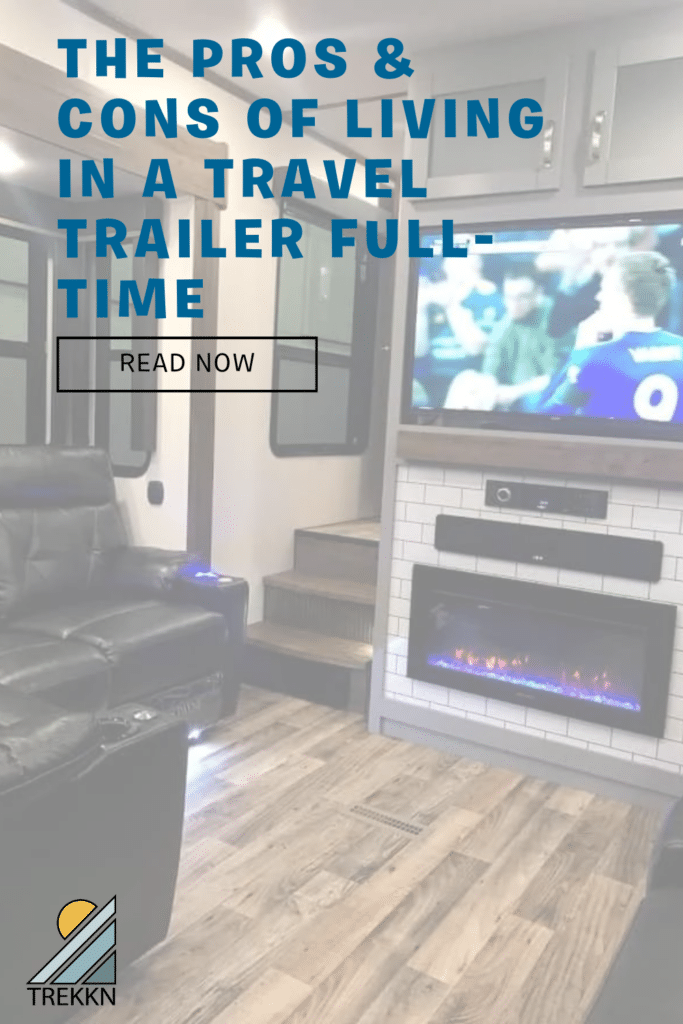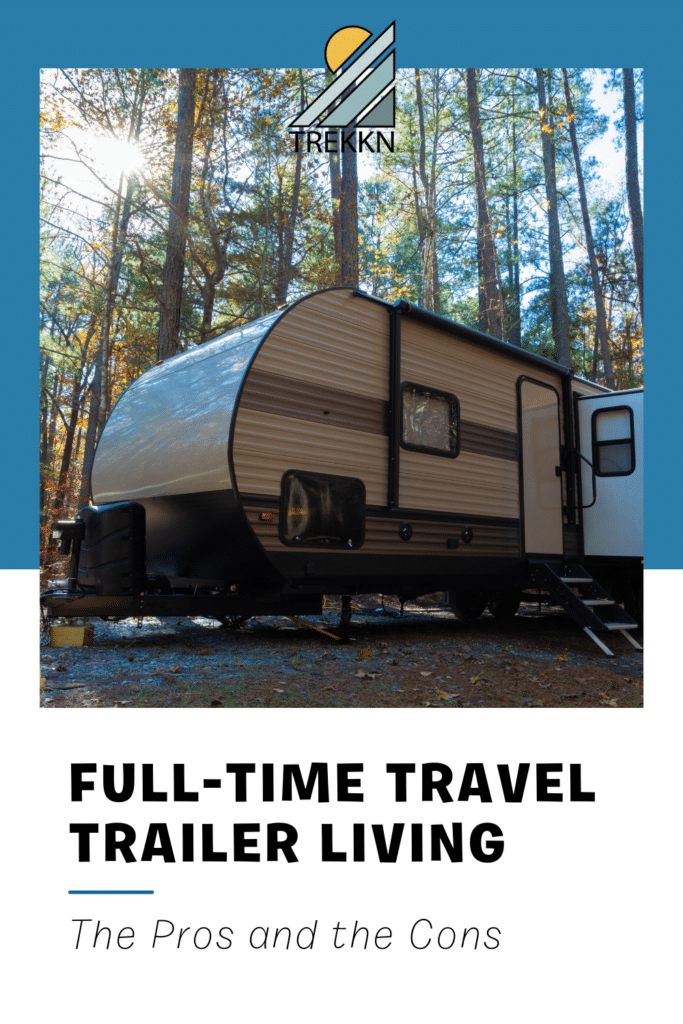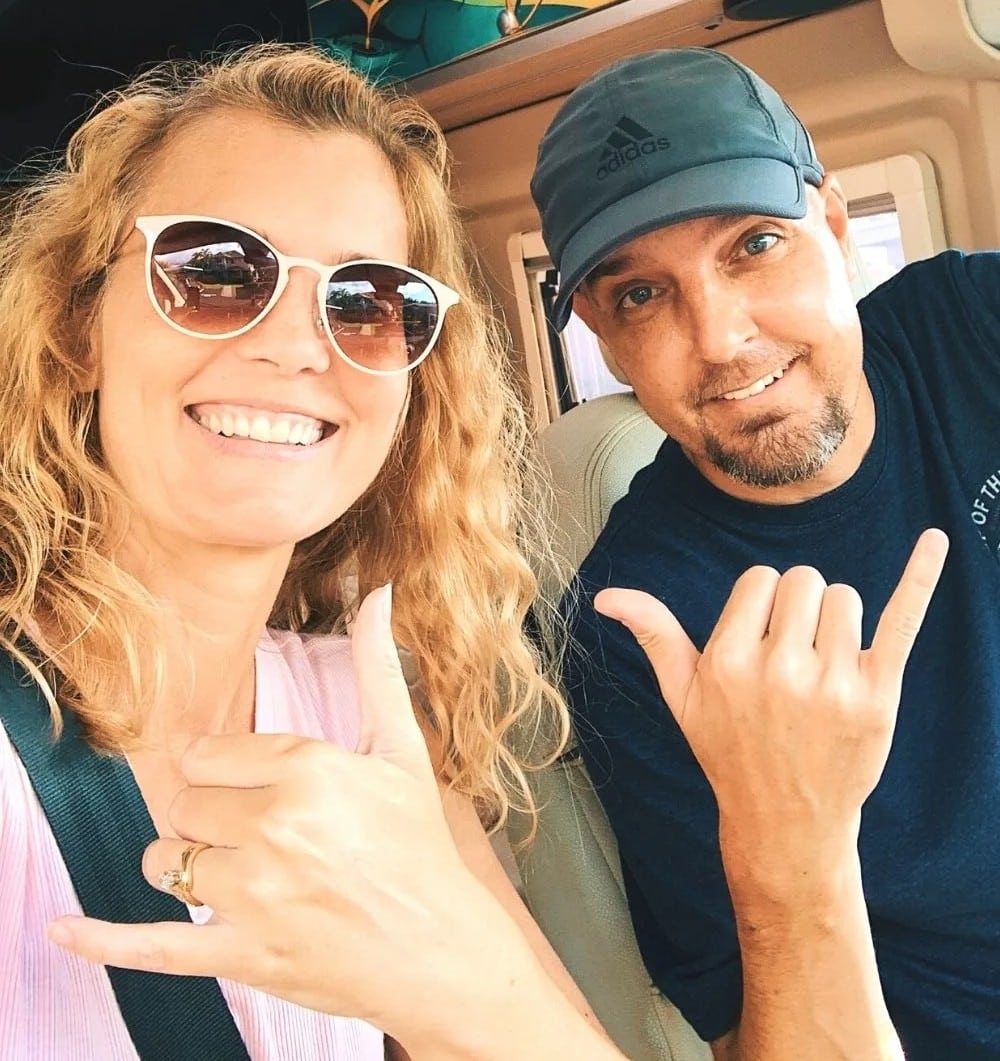 Todd Bonner loves a competitive game of table tennis, a breathtaking hike and simply exploring new places. He spends most of his time sharing information about RV travel and safety, RV accessories and tips, and the National Parks he has visited and still desperately craves. When he's not busy working on TREKKN, you will often find him staring at pictures of Glacier National Park (probably his favorite spot on earth) or creating new products for Clever Camper Company.
Related Posts:
Sharing is caring!
4 Lessons I Learned From a "Gap Year" on the Road
Monday 21st of June 2021
[…] life comes with a plethora of pros and cons, as do most things in […]
Thursday 17th of June 2021
For many of us we can't afford a 200k RV and 50k truck to pull it with when Houses are that much or even less. I have live in 20′ 9″ foot pull behind "Camper" that needed to be gutted I bought for $50 off of Craigslist and can be pulled by my SUV that I already own. It started out as a 18 foot camper that I added 2′ 9″ to the frame and rebuilt it from the frame up, to build a "wet room" for a bathroom and a clothes closet area in the other 4 feet. Before deciding to do this I did a lot of research, first and foremost I didn't buy the standard Camper 2×2, I bought 2×4's and simply cut them in half, why? cost, while a 2×4 is 60% more than a 2×2 you get twice the board foot out of it so I saved 40% on the framing alone, Then I used spray foam insulation and used discontinued wood paneling from Lowes also for pennies on the dollar for the inside walls and for power I installed an RV solar power unit that doesn't need a power pack or storage bank. I bought the toilet, kitchen sink and kitchen cabinets at the Habitat for Humanity Re-store for pennies on the dollar and threw a coat of paint on them, Then I bought a "hide-a-bed" couch at a flea market for $15 and took the guts of the hide-a-bed out threw away the rest of the dingy couch and refurbed the bed frame and built my own couch out wood and pieces of foam that I cut and covered with fabric, when I'm not sleeping the bed folds neatly up and becomes the bottom of the couch. I bought a 3/4 apartment sized refrigerator at a discount appliance outlet for next to nothing and bought a multi-functioning air fryer/oven combo that does 9 different things to cook in along with an Insta-pot. No actual stove needed so I actually have counterspace. I realize that it wouldn't work for a family but it works great for me and my financee.
Thursday 17th of June 2021
Hey Bryan! Thanks so much for your comment. and wow! I am seriously impressed with your commitment to getting a project like that done on the cheap. Kudos to you!
I definitely hear you about not being able to afford some of the "luxury" options out there. We got started with an older truck and relatively cheap and small travel trailer (compared to most full-time RVers at least) because that is what we could swing at the time. That is how we made a dream come true. You seem to have that same commitment.
I love to hear that you have created an "adventure capsule" that works for YOU, because ultimately that is the only thing that matters. Whatever works for you!
Peace, Bryan! Thanks for stopping by and I hope you will stick around.
Can You Live In a Truck Camper Full Time? – TREKKN RV & Travel
Wednesday 10th of February 2021
[…] full-time RV options of all shapes and sizes out there to explore. (You can start by checking out our post on the pros and cons of living in a travel trailer, based on our 17 months off full-timing in a 26-foot trailer. Or this one about small 5th wheel […]
We're Renting Our Way to Our Next RV Purchase – TREKKN RV Travel
Friday 21st of February 2020
[…] Truthfully, we may end up trying out more than one small travel trailer like this. Our Keystone Passport travel trailer served us so well on our first full-time adventure that we would be crazy not to consider this is an option for our next round. You can read our post about the pros and cons of life in a travel trailer here. […]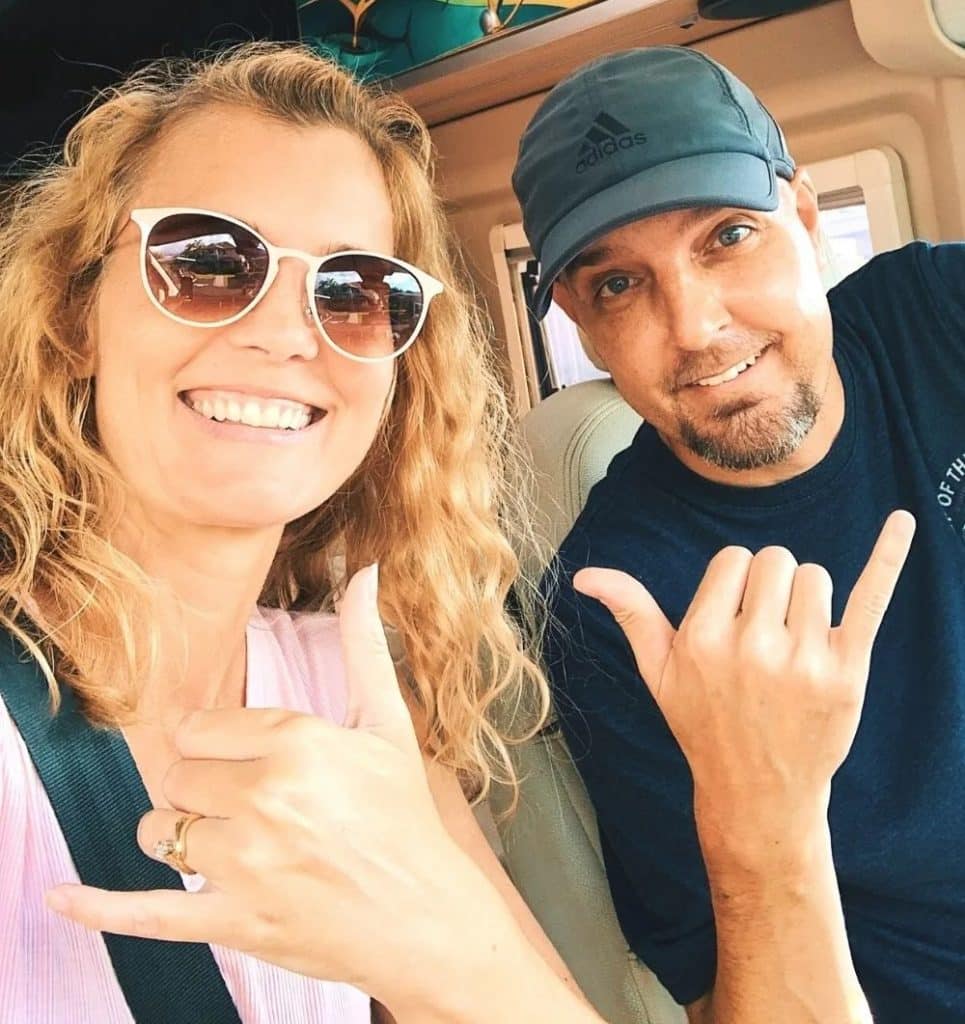 Hi, we're Todd and Julie and we are here to help you Embrace the Outdoors. After spending 17 months RVing with our 3 older kids, visiting 36 states, 5 Canadian provinces and many National Parks, we're sharing everything we know and love with you. READ MORE
Connect With Us!
TREKKN LLC is a participant in the Amazon Services LLC Influencers/Associates Program, an influencer/affiliate advertising program designed to provide means for sites to earn advertising fees. As an Amazon Associate, I earn from qualifying purchases.
Source https://fireplaceuniverse.com/electric-fireplace-pros-cons/
Source https://www.motorbiscuit.com/reasons-you-should-not-buy-a-travel-trailer-or-fifth-wheel-rv/
Source https://trekkn.co/living-full-time-in-a-travel-trailer/