Why Use a Travel Agent? Pros & Cons
It can be overwhelming when you first learn about using a travel agent. There are so many different things to research and choose from. It can feel like a new chapter is about to open when you first look into travel agencies. You're probably wondering what the big deal is and how someone else can help plan your holiday. Keep reading to answer your question about why use a travel agent, the pros and some travel tips you should never miss!
Why use a travel agent quick links
Quick reference guide
This post contains affiliate links which means I may earn a small commission if you choose to buy anything from them. This is at no extra cost to you and In doing so you help to keep this site running, so thank you in advance.
What is a travel agent and what do they do?
If you're wondering what do travel agents do, the short answer is that they work as intermediaries between you and your travel destination. They help you decide which attractions, hotels, and resorts you want to visit and allow you plan the most efficient and comfortable travel plan.
Travel agents work in many different ways:
Firstly, they help you find hotels, attractions, and travel deals that suit your budget and taste.
Secondly, they help you plan out your vacation by helping you choose the perfect time, location, and activity for your holiday.
They also help you plan out your family vacation by helping you choose the right time, location, and activities for your family.
Finally, they help you find deals and options that are only open to people who work in the travel industry.
How to use a travel agent?
If you've answered the question about why use a travel agent, the next step is to understand who you want to work with. If you are using a travel adviser for the first time, you'll need to choose someone who has experience doing similar types of business. Do they specialise in the kind of holiday you want? For example, cruise lines, luxury holidays or backpacking experiences. You can begin the search for a travel agent by looking online or through recommendations from friends and family.,
Today, we benefit from being able to see reviews and experiences easily. No longer do we need to be overly concerned about the service or quality of an agent when you can find a lot of this information out in advance.
The three main options you have when booking through a travel agent are:
A retail-based agency you can visit in person, by telephone or by email. These agents may also operate online too, like Tui or First Choice.
Online travel agencies that are phone or email only. They vary from working on specific areas of travel like booking.com, to broader package holiday providers like Love Holidays or On The Beach.
Home-based travel agents are usually independent and often more accessible and personable than larger travel businesses.
If you are interested in learning more about specific topics, many online review sites provide in-depth analysis and helpful tips. You can also ask friends, family, or other travel experts what they think about specific travel agents and try asking them in a private chat. You can also call or email your local travel agent's office to discuss your travel plan and ask them to send a referral if they know of a good one. You may also consider going with a local travel company, but keep in mind that it will almost certainly be more challenging to work with them.
When to use a travel agent
When you start using a travel agent, you will probably be surprised at how many things can be added to your bucket list. However, it's important to remember that getting the best deal is always the most important consideration. If you travel a lot, you'll likely have questions about rates, airport hopping, and other travel experiences. Knowing that you can expect smooth sailing from a travel agent is always a big plus.
Depending on your travel preferences, you may also want to contact a travel advisor to find out about additional services or set up your account. It's also a good idea to engage your travel agent at least a month in advance to ensure they are available for your travel needs. . These will help make your travel journey a little easier.
Pros & cons of using a travel agent
The pros
Agents must be trained and knowledgeable about the latest travel regulations and areas of legal compliance. In the UK, this means that qualified travel agents must be members of the Association of British Travel Agents (ABTA) and have the relevant Air Travel Organisers licenses to sell ABTA and ATOL protected package holidays. As a client, you have much greater consumer protection than if you were to buy each component of your trip separately.
The Bottom line of working with a holiday agent is that they are a valuable resource. You just need to know what to look for to find the best one for you.
The cons
The biggest downside to booking through a travel agent is that you may end up with many questions about travel experiences. These questions can be particularly challenging for newbie travellers who aren't used to getting their fill of answers before heading out on their adventure.
When it comes to using an agent, the biggest concern for most people is that there will be additional costs. Of course, budget is a valid concern, as some agents charge fees for their services. However, before ruling out an agent based on price, it's important to weigh the pros and cons of using a travel agent.
Agent fees can vary widely, so it's important to research and find an agent who fits your budget. Additionally, many agents offer free consultations to assess your needs, and they will always make it clear if they charge any fees. In truth, how travel agents work is to earn commission they get directly from their partners. Even when you book a hotel online, their marketing strategy will usually involve a fee, commission, or advertisement to get you there. If you use a travel agent, this marketing cost goes to them instead of the search engine or comparison site.
Can you always find better deals using a travel agent? Unfortunately, no. Sometimes the price will be the same or not as good if special online-only rates are applied.
Then why should I use a travel agent?
Well, you have to hunt for these travel products for yourselves, and sometimes it really does take a lot of hunting and research. If you don't spend that long researching, you're likely not getting the best deal anyway, so ask yourself what's important to you and whether it's time best spent. If your agent has good travel experience, this will be of huge value to you. If not, then maybe you will be better off on your own.
Why Use a Travel Agent instead of booking online in summary
Travel is a wonderful experience, but it isn't easy without assistance. This is why you should think long and hard to answer your question about why should I use a travel agent. Luckily, there are many options when it comes to how to choose the right travel agent. If you are interested in booking a vacation, find the right one for you and your family and then make sure to keep up with the latest travel news and promotions. Travel agents can be an invaluable resource for all of your travel needs, and they can be a great way to save money while helping you get ready for your trip. But it is down to personal preferences whether you use one or not.
What do you think? Do you want to give one a try?
VeggTravel is an accredited independent travel agent specialising in honeymoon destinations, luxurious holidays, and adventurous experiences for various budgets. As a travel specialist, I know how to make your dreams of a perfect holiday come true. I have many options available, from tropical getaways to stunning ski resorts. I can help you find the ideal spot for your holiday, whether you're looking for a romantic escape or an adrenaline-pumping adventure.
I do not charge a fee, and you have no obligation to go ahead with my quotes, so why not contact me today? I'm ABTA, CILA and ATOL protected, so you can rest assured knowing your travel plans are in safe hands. What's more, is that I'll provide excellent service from booking to you returning home.
Still not sure? Take a sneak peek at just one of my many booking portals here and grab a bargain.
If you'd like to see more useful guides check out some of my other posts:
14 Pros and Cons of Being a Travel Agent: Is It Stressful?
The travel industry is one that offers numerous job opportunities. Travel agents are among the most common and revered workers in the industry. If you are thinking of changing careers or adding a part-time hustle as a travel agent, here are the main pros and cons of being a travel agent that you should consider.
Is travel your passion? If you love traveling or helping people fulfill their travel dreams, becoming a travel agent might be an excellent option.
Nowadays, we all want a job that is flexible enough to save you some you-time while still promising financial stability.
Although this can be an incredible job option, there are still some pros and cons of being a travel agent.
Even with all the benefits, it's not always an-all-rosy career.
For this reason, if you plan to become a travel agent, whether fulltime or part-time, this blog is then a must-read piece.
Want to Build a Travel Business?
Bluehost: Thinking of starting a travel related business? Use my personal favorite of Bluehost to create your website and business with ease. You'll even get some awesome bonuses along the way. Claim FREE Domain Name
Jasper.ai: What if you could build a travel website and not write content? You can with Jasper which is an AI-driven content software for literally anything. Try Jasper Now
Surfer SEO: Any business in today's age needs to be present in search engines. I use Surfer SEO every single day to grow my presence in search. Try Now for Free
FlexJobs: Looking to work and travel the world? Use FlexJobs to find remote jobs from reputable companies within the travel industry or even general jobs in finance, accounting, etc. Work Remotely and Travel
We will explore all the pros and cons of being a travel agent to help you make a fact-based decision on your next move.
Table of Contents
7 Advantages of Being a Travel Agent
Want to know the pros of being a travel agent to evaluate your stress level? Let's get into it.
1) Flexibility and Mobility
In the age we are in, people are looking for careers that allow for mobility in terms of working hours and location.
Flexibility is one significant benefit of a travel agent career. Since your primary job is to sell travel products (tickets and tour packages), how and where you undertake the tasks is your worry.
For instance, some agents will work from offices, others from call centers, while others will decide to go completely freelance and become home-based agents.
And, whether you want to work while on a trip to London, or from your home office, the job offers such mobility.
You can grab a travel agent job that is completely remote by joining a program like FlexJobs which offers hundreds of job opportunities.
2) Travel Opportunities
For any business, you must be good at what you do, to gain customers' trust. Being a travel agent means that you must have an in-depth idea of what you are offering your customers.
In this view, you must travel a lot to see and experience some of the destinations you are selling.
Luckily, most of these destinations and hotels offer travel agents discounted trips in the form of FAM trips. These are meant to help with your research and give you an experience of the services, as your customers will have them.
Through such trips, you get to gather facts and have extensive knowledge to share with your customers.
3) Becoming Your Own Boss
Becoming a travel agent is one career path that offers the flexibility of owning a business of your own. If you are tired of the routine and hustle of being employed, it might as well be the best time to make that leap.
Freelance and independent travel agents are gaining traction each day, and you can easily take advantage of the trend.
All you need is a little research on how to become a home-based travel agent, and you are good to start. The best thing about self-employment is that you can set your working schedule, and decide where you want to work from.
The internet has made remote jobs quite possible. That's why a remote or home-based travel agent is one of the best travel agent jobs you can have. You get to create your hours and you'll have fewer operating expenses to generate revenue.
You can start a travel agency with a click of a button by using Bluehost.
You'll have your website up and running in no time and for a limited cost. It's only $3.95/month and you'll get a free domain name along the way.
4) Work Part-time
If your goal is to achieve a secondary source of income, then a travel agent profession can suit you well. The job is versatile enough, allowing you to set your own working hours, to match your full-time job.
Better still, if you decide to make the travel agent job your primary job, it still allows you to have another side hustle with ease.
This means that you don't have to experience financial dry spells even during off-peak travel seasons.
5) Variety of Job Options
Being a travel agent offers numerous job opportunities to specialize in. You have a chance to concentrate on an area that best suits your passion and capabilities.
For instance, you can decide to deal with cruises, honeymoon travel destinations, African safaris, or vacation destinations in the Caribbean. There's so much you can do as an agent.
You also have a choice on where to work. You can work for local travel agencies, overseas companies, large corporations, or even as an independent travel agent.
Check the job opportunities on FlexJobs now.
6) Decent Earning Potential
Possible income is a major consideration when choosing any career path. Although the earnings of travel agents are not all that exorbitant, the job promises decent pay.
For instance, the US Bureau of Labor and Statistics' 2019 report put the median annual income for travel agents at $44,410. This can, however, be higher, depending on the type of travel job and commissions.
In fact, reports from other researchers like Pindar, indicate that agents can earn between $50 and $500k annually.
7) No Need for Special Training
Travel agents, unlike in many other careers, do not require undergoing expensive, specialized training.
It's mostly about passion in the travel industry plus a simple accreditation that you can attain online for free.
This makes it quite flexible, to pursue a career as a travel agent or even start your independent agency.
With proper research, a well-laid plan, and a specific niche to serve, you can sell travel products even from that comfortable couch at home.
Cons of Being a Travel Agent
Although the job seems all classy and fun, it also has its drawbacks. Some of the main challenges of being a travel agent might include:
1) The Job is Demanding
This is one of the major disadvantages of being a travel agent. When you become a travel agent, you must be ready to avail yourself almost on a 24/7 basis.
This is mainly due to the difference in time zones across the world.
As your clients travel to a different time zone, they might want to contact you in case of an issue or need some clarifications – this can be at any time of the day.
Also, some customers are just nagging and demanding.
But since that human touch is what differentiates you from online booking services, you might need to answer that call in the middle of the night.
2) Shaky Job Security
Since travelers now have more access to information than ever, most of them are quite knowledgeable and are planning the trips themselves.
Through online booking, customers can easily plan and go for a trip without the need of a human travel agent. This is putting the job security for the agents in jeopardy each day.
Also, since this might drop sales turnover for the travel agents, their jobs are at risk if they can't hit targets. Remember, these agents are paid on commission – few sales, less money.
3) Creating and Maintaining a Credible Online Presence
With numerous large agencies and travel corporations sharing the online space, competition becomes significantly steep. For independent agents, this can be quite a challenge.
You have to find your place among those bigwigs and demand visibility if you're to survive in the industry. This means that just a simple website won't suffice.
You must create a responsive website that is not only easy to access, but also helps to answer all your customers' questions.
Don't be mean with your website. Investing in organic traffic and content marketing can play a major role in your website's visibility.
4) An Array of Choices for Customers
With so many agents available in the market, the customers are spoiled for choice.
Travelers have more options to choose from, especially with the online travel agencies flooding the market.
This means that although people are always traveling, you have to position yourself uniquely to attract their attention.
What differentiates you from your competition?
Finding that unique selling point is thus quite necessary.
5) Increased Transparency in Prices
The internet age has brought with it a few challenges.
Unlike in the past, customers are no longer naïve when it comes to matters of prices. A lot of information is readily available online, and they can access it at any time.
This means that customers can now browse for different prices and offers and choose the one that best fits their budget and needs.
What this has done is to make the market even more competitive.
Travel agents now have to offer more than just price undercuttings to survive in this market.
6) It Can be Stressing
How is being a travel agent stressful with all the perks, travels, and flexibility?
Well, as we mentioned earlier, the job comes with its share of challenges and drawbacks.
Travel agents can get bombarded with work pressures from all sides, such as:
The need to always have up-to-date information
Peak season pressures
Ever looming risk of being fired – for the employed agents
Commission-based pay – no sales, no pay
All these are stress-contributing factors that can make this job, not so amazing for those who don't want to deal with constant pressure.
7) Possible Customer Lawsuits
This is one thing that can hurt both your reputation and finances. Just like in many other business fields, customers nowadays tend to use lawsuits more when trying to settle disputes.
You might find yourself being sued by a customer claiming such things as negligence or misrepresentation.
And although you are not responsible for what happens during the trip, your clients expect you to offer accurate trip information and advice.
Having an insurance policy to cover such occurrences might ideally come in handy.
What is Exciting about Being a Travel Agent?
More and More Travel
If you love traveling, then this will really be an exciting career. Travel agents get lots of chances to travel for research and familiarization – FAM travels.
As travel destinations, tours and hotels are competing for travelers, they often offer travel agents discounted travels, to entice them into recommending clients.
This means that the agents can enjoy numerous travels, and are not always stuck behind a computer and a phone.
For people passionate about travel, being a travel agent allows you to work and enjoy travel at all at once.
Make Money Doing What You Love
If travel is your thing, then selling travel products and planning tours for people might be just what you need.
Being a travel agent allows you to make a living while pursuing your passion. You'll spend more time researching and planning for tours, helping others create life-long memories.
Although the job might be challenging and demanding, seeing the smiles on customers' faces is enough joy for some people.
Better still, since you are passionate about this, making enough commissions won't be that daunting.
A Chance to be an Entrepreneur
There's no better feeling than having complete control of your work.
Becoming a travel agent offers you multiple options to achieve this. This means that you no longer have to endure your boss's sharp spying eyes all day long.
You can now plan your day's work with greater freedom, and find ways to satisfy your clients better.
You can perfectly plan for everything from pick up, mode of travel, destination, to travel concierge services, to ensure that your clients are happy.
Being your own boss also means that you can earn what you desire.
Want to learn how to build your email list?
Take this free email course about building an audience to actually make money with your business.
Do Travel Agents Get Discounts for Themselves?
Most often than not, travel agents encounter numerous questions like, "do travel agents travel for free, or do travel agents get discounts on flights?"
People asking these questions are mostly interested in joining the travel industry and want to know the benefits that come with it.
However, they often get discounted trips from travel destinations and hotels that seek recommendations from such agents.
These discounted trips are mostly research-based for the travel agent as they try to get the best places to recommend for their clients.
Also, since travel agents are always up to date with the trends in the industry, they can easily spot trips offered at the lowest prices and book for themselves.
Better still, they sometimes get to earn commissions on their personal trips.
Is Being a Travel Agent Worth It?
It depends on what you are looking for to make it worth it. A travel agent's salary can range from around $24,000 to $60,000 a year. That's not including the bonuses and commissions that many agents earn. So in that, combined with the fact that you can work in the travel industry and from wherever you'd like, it can be quite worth it.
However, the work can be demanding during non-traditional business hours. You have to be able to think on your feet and be very organized. And there's a lot of competition out there, so you need to be good at marketing yourself. But if you're passionate about travel and have some people skills, then becoming a travel agent could definitely be worth it for you.
Final Thoughts
Even with the many benefits associated with being a travel agent, no business is immune to challenges. However, these challenges have solutions that can help turn them around, leaving more benefits than drawbacks.
Understanding both the pros and cons of being a travel agent is a significant step towards informed career decision-making.
Should I Use a Travel Agent to Book Flights?
You might ask – why should I buy a plane ticket from a travel agent, OVER THE PHONE, when I can use the internet? Our business model may seem confusing to you, especially when most people prefer to communicate and buy online these days. So, we'll try to answer the question, should I use a travel agent to book flights?
5 reasons why you should use a travel agent
can hold a seat for you, while you make your decision (not possible via online booking site)
Travel agents have access to much cheaper flight tickets than online booking sites (because of unpublished airfares)
They will do all the work for you – flights tickets, hotels, car rental
You can easily request special arrangements like child/group discount, vegetarian meals, windows seat, pick-up at the airport, wheelchair assistance etc
Travel agents are always available – before, during and after your trip
Everything's still online
Don't worry – when you're booking with a travel agent, it doesn't mean you'll have to go to a travel agency's office. You can still look for flights online. The only difference – when you see a price you like, just give the travel agent a call and he'll find and book the best seat on the plane for you.
Even the experts use travel agents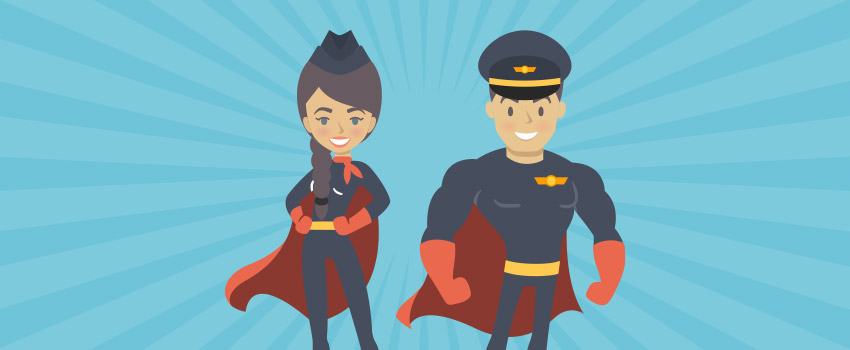 We can all make an omelet for breakfast, but it's a little different when it comes to preparing a wedding dinner for 50 guests. That's the moment when you should trust a professional.
And it's really the same when it comes to booking flights, especially:
When you're planning a group trip (imagine – you have to get 20 people from Miami to an event in Hawaii. Finding the twenty most suitable tickets and booking them can be a real hustle)
When you need a really complex flight ( New York – Paris – Berlin – Bangkok – Los Angeles – New York)
If you're a frequent business traveler – it's a lot easier to get your own travel agent
When you're in a rush & don't have time to look for flights
If flight "hunting" and booking is simply not your thing
How to book flights with a travel agent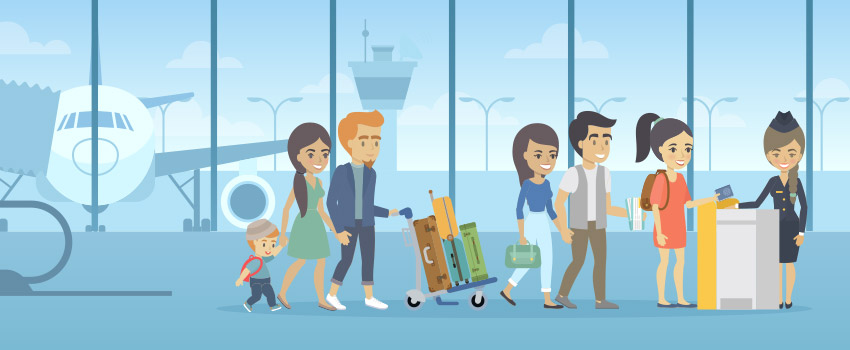 You start by calling a travel agent or by filling out an online form on the website. It doesn't matter which way you choose, you'll always get to the conversation.
1) Describe your trip – Where you want to fly, perfect travel dates for departure and return, the airlines you would like to fly with and maximum layover time. Leave your name, phone number and email address so the agent could contact you.
2) Receive the offer via email – You'll receive 3 different options which each covers different route, time and price. Then wait for a call from the agent or call yourself – if necessary, change the airport, city, and date. In case you need some time to think, ask the agent to put your seats on hold for you (this option you could never do by yourself).
3) When you're ready to buy – Accept the offer and give the agent information about yourself – he'll make a ticket reservation in your name. Don't worry, all client data is confidential and no third persons have access to it.
4) Pay for the tickets – Afterward, fill in an authorization form yourself or together with the agent (with details about the trip, yourself and your credit card information). Pay for the tickets with a credit card or by doing a wire transfer. And receive a reservation number, which you'll need to use to check in.
Don't forget to ask the agent to make special arrangements – seat assignment (aisle/window), special meals, pick-up at the airport, hotels, car rental, etc.
What you're left with?
Check in as usual via airline's website, using the reservation number you received
Buy travel insurance
Check visa requirements
AND THAT'S IT!
Ready to book flights with a travel agent? Call 844-300-7983 or fill our request form in the sidebar. booking process hereFind out more about our .
P.S we offer flights to more than 200 destinations all over the world and our agents speak English, Tagalog, and other languages
Source https://veggtravel.com/why-use-a-travel-agent/
Source https://viatravelers.com/pros-and-cons-travel-agent/
Source https://blog.asaptickets.com/should-i-use-a-travel-agent-to-book-flights/