When Can I Skydive By Myself?
Once you've gotten a taste for flight with a tandem skydive, you may find yourself wondering how to turn a one-time thrill into a full-time hobby skydiving solo. Skydiving by yourself can happen after only two tandem skydives. As the premier skydiving training center of Western New York, at WNY Skydiving, we offer a comprehensive training progression to get you off the ground and in the air skydiving on your own as a licensed skydiver.
First Steps
To begin your skydiving solo progression, you will first complete two tandem skydives. The first two tandem skydiving levels introduce the fundamental elements you will need as you progress toward skydiving solo. With these two levels, you will learn the basic body position for a stable freefall, experience canopy flight while attached to a licensed skydiving professional, and will be introduced to a few key pieces of equipment: the altimeter and the ripcord. Upon the successful completion of Tandem Skydive Level 2, you will graduate into the student program.
First Jump Course and Parachute Packing Class
We won't send you skydiving by yourself without first making sure you have a thorough ground training. Before scheduling your classroom training, WNY Skydiving will provide you with the information and materials you will need to prepare. After you have become familiar with the basics, it will be time to schedule your in-house training. During the 8-hour First Jump Course, you will receive classroom training and hands-on learning from a certified USPA instructor. During your course, the instructor will expound upon the basic information you have learned on your own, will cover any questions you have, and will help ensure you have all the knowledge you need to make your first solo skydive with your own parachute. Your course will familiarize you with your skydiving equipment and how it works. At this time, you will also learn how to pack your very own parachute.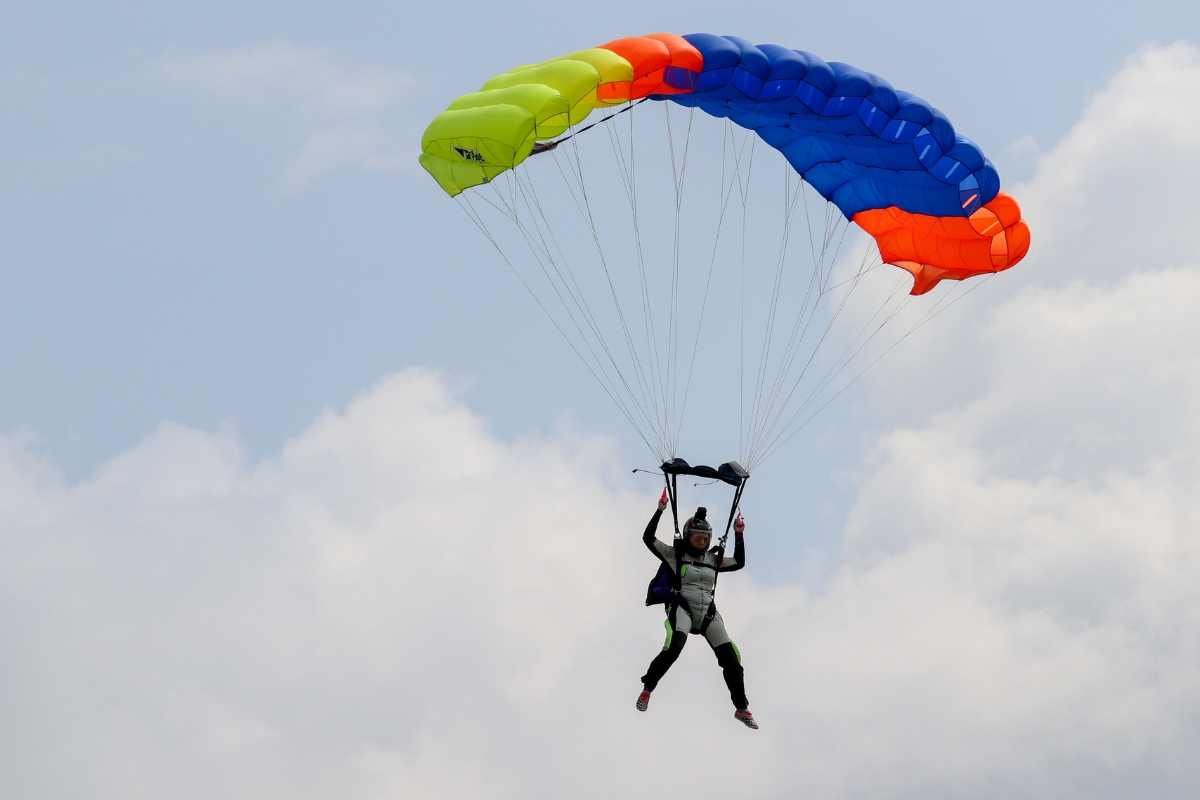 On the first skydive of your progression, you are essentially skydiving by yourself, as there is no one attached to you like during your Tandem Skydive Level 1 and Tandem Skydive Level 2. However, you will be accompanied by two instructors who will exit the plane alongside you, holding on to grips on your jumpsuit, to help you maintain stability. These instructors are there to provide feedback via hand signals to help you know when to adjust your body position. These instructors remain with you until it is time to deploy your parachute.
Accelerated Free Fall
Before we can send you out skydiving completely on your own, you will need to learn the fundamental skydiving skills to keep yourself safe, and this is what the 6 jump AFF course aims to do. During the 6 jumps of the AFF course, you will learn how to maneuver your body in freefall, honing in on body flight characteristics to develop the skills to move forward and backward, complete turns, and regain stability after instability maneuvers. You will also learn how to exit the aircraft in a variety of ways and consistently develop your canopy flight skills. After you successfully complete the 6 levels of the AFF progression, you will transition into the Skydiving Coach Program.
Skydiving Coach Program
The skydiving coach program is the final section of training to help you achieve your USPA "A" License and allow you to skydive with other licensed skydivers! This part of the progression teaches you more advanced freefall skills and better prepares you to participate in group skydives by developing essential group freefall skills. The last step is the "A" license check dive, where you show off your skills and officially graduate from the student program!
The truth is no one really likes to "skydive solo" because it's much better to skydive with friends!
Interested in learning to skydive by yourself? Check out the skydiving progression at WNY Skydiving!
Solo Jump Course
For those who want to fly their own parachute from their very first jump or learn to skydive the 'traditional' way – the static line parachute jump is ideal. It's low cost, exciting and if you want it to be – a genuine step towards learning to become a skydiver yourself.
Your first parachute jump is from 3,500 – 4,500 feet and your parachute will automatically deploy as you fall away from the aircraft using a device called a 'static line'. It's a great and 'hands on' alternative to a tandem skydive.
Extensive training – everything you need
You will fly and steer your parachute to the landing area after having received extensive training and with the support of a radio attached to your helmet. You can then move towards experiencing freefall by making additional parachute jumps from higher and higher altitudes.
You will receive approximately 6 hours of extensive training on the ground after which you will make your first parachute jump. You are provided with everything you need to make that first jump.
How it works
Receive a minimum of 6 hours ground training
Gear up and go in the plane to 3,500-4,000 feet
Experience what for most is the thrill of their lives
Your parachute will automatically deploy,
You will fly, steer and land your parachute
Receive your skydiving certificate
What it costs
£230 including membership to the British Parachuting Association
Progression after your first jump
After your first static line jump you can develop your parachuting skills by making more and more jumps from higher altitudes and by following a training system called the "category system".
£50 per jump including all equipment and training
Please note that membership to the BPA is compulsory wherever you skydive in the UK.
When Can I Skydive By Myself?
For first-time and beginning skydivers who have just fallen in love with the sport via a tandem jump, waiting for that first solo moment is just excruciating . Sure, your tandem instructor did a great job introducing you safely and thoroughly to the art and science of skydiving, but you long for independence.
You long to put own your own parachute and walk yourself to the plane and sport your own gear and stand in the door on your very own. You know that's where you're headed–you just, in the words of the foot-stomping Veruca Salt from 'Charlie and the Chocolate Factory,' " want it NOW."
We get it. So here's our informational love letter to our students who are jumping out of their own skins to jump, by themselves, out of our airplane. Skydiving independence is a three-part process: Jump number one, self-supervision, and the successful earning of an A-license.
1. Jump Number One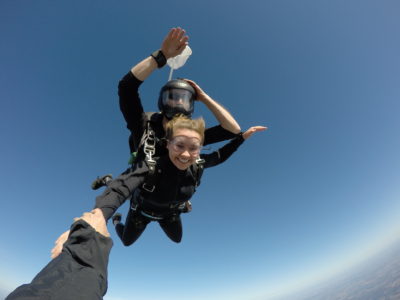 Contrary to popular belief, your very first skydive doesn't have to be a tandem skydive. In fact, you can technically make a jump with your own rig the very first time you leave the plane–on jump number 1 on the AFF (Accelerated Freefall) Program . This jump necessarily includes buddies–specifically, two licensed, qualified instructors flying alongside you in freefall. Completing that AFF jump is much more involved than making a comparatively simple tandem leap: it's a lot more stressful, and it involves six hours of training. If that's what you're into, though, we're more than happy to lead you through it.
2. Self-supervision
True independence, of course, is that first jump that you make as a real-life solo skydiver. Once you complete the AFF program and you're signed off for self-supervision, you won't have instructors or coaches along for the ride unless you specifically ask for them.
It may surprise you to learn that this can get boring, and quickly! The fun of skydiving comes from being able to jump with others and to dive in to your learning by attaining an A-license.
3. Getting that A-license stamp in your logbook
Upon completing an Accelerated Freefall (AFF) program, you'll be a real-life serious actual-factual skydiver. Once you earn that stamp in your logbook, you'll have at least 25 skydives under your belt–each demonstrating a particular skill or skill set upon which you've been trained–and you'll have completed all requirements to get your United States Parachute Association A-license.
Your A-license is the ID which allows you to make solo skydives at any dropzone, all over the world, without instructor supervision. It's the first of four in a sequence of licenses from A to D, signifying skill advancement.
It's a challenge! There's no doubt about that. However: We've discovered, over the years, that students who go full speed ahead into their AFF program are the students who do best. If you're reading this, we bet you're one of those gung-ho students, and we couldn't be more excited for you. We're going to be as stoked as you are to get you up there as an independent member of our extended "sky family." Let us be the ones to give you that A-license stamp!
Source https://wnyskydiving.com/blog/when-can-i-skydive-by-myself/
Source https://skydivenorthwest.co.uk/first-jump-course/
Source https://www.skydivetecumseh.com/2017/02/05/when-can-i-skydive-by-myself/