Becoming A Skydiving Instructor & Being Paid To Skydive
I'm sure high-end CEO's or luxury chef positions are up there, but so too are skydiving instructors.
These guys and gals get paid money to jump out of planes and have the time of their lives! What's not to love when the view from the office is 12,000ft up?
Aside from being able to make endless jokes about their job ("it has it's ups and downs"), skydiving instructors are generally pretty happy in their work. If you're curious about the steps you need to join them, then you're in the right place.
Below is every step you need to take to go from a newbie jumper to a licensed instructor.
If that sounds good, then let's dive in.
Note: This article is based around becoming an instructor in the USA, but generally it's the same journey anywhere in the world.
Step 1: Jump!
Requirements: A positive attitude!
It turns out that before you can teach something, you need to have experience in it!
The first step is to take your first skydive. Yes – I wasn't kidding. This really is a zero-to-hero style list.
The very first step is getting yourself into the sky solo
Step 2: Get Your Skydiving A & B Licenses.
Requirements: 25 & 50 jumps
Once you've flown through the air with the grace of a gazelle, it's time to get licensed. Your first 25 jumps or so will be a journey towards getting your skydiving license.
This is the passport you need to transition from student jumps to working towards real goals in skydiving. Be that wingsuit jumps, jumping at unique airfields, or learning to be a coach.
Step 3: Become A Skydiving Coach
Requirements: 100 Jumps + a B License
Once you've got your B License and 100 jumps under your belt, you can start working towards becoming a skydiving coach.
This is the first rung of the 'being paid to skydive' ladder. You'll help coach students alongside instructors, and generally get your first taste of being on the business side of skydiving.
Skydiving Coach Courses are typically a 3 day course. 1 day spent in the classroom on theory, with the other 2 days on jump practicing. Courses tend to be evaluated using 2 evaluation jumps plus ground tests to make sure you're capable of teaching the sport at a good level.
Step 4: Get Qualified to Teach AFF
Requirements: 200 Skydives + Coaching Rating
In skydiving, 200 skydives is like the sweet-spot of maturation. It's sort of like turning 21. It unlocks all the cool stuff (wingsuits, skydiving with a board, etc) – and also being able to teach Accelerated Free Fall (AFF).
However, if you've been a coach for less than a year, the requirement jumps up to 500 jumps to account for the relative lack of teaching experience. You also tend to need 6 hours of freefall time logged.
Before the course, there's some pre-requisites you need to complete on an AFF proficiency card you can get. This involves:
Assisting in two AFF first-jump courses
Observe AFF ground preps in all categories
Assist in two Cat C + Cat D AFF ground preps
Teach freefall stability and basic freefall maneuvers
Prepare an effective flight canopy plan and provide radio instructions to students
Pass the AFF Instructor Final Examination theory test
After all that's done, you can only then go get qualified to teach AFF fully! The AFF course typically runs for 5 or 6 days. As before this is 1 day in the class room, and the other days practicing the theory.
The course makes sure you're ready to cover things like hard exits, docking to students, stopping spins, and generally making sure out-of-control students are brought back to safety.
You then need to pass a couple of evaluation jumps and a written exam. This is one of the pricier courses, normally coming out to around $750.
Step 5: Get Qualified For Tandem Jumps
Alright – it's been a heck of a journey and we're at the last step!
I've not listed the requirements for this step above, because there's quite a few. To start your qualification process for tandem jumps, you need:
500 jumps
3+ years in skydiving
50 jumps in the last year
FAA Class 3 Medical Certificate
4+ hours freefall time logged
Once you've got that pretty huge list all sorted, you can finally take your tandem rating course. These cost around $1.5k-2k, and are a pretty rigorous course to make sure you've fully capable to fly with a scared student attached to you.
The course typically lasts around a week – which will familiarize you will with things like the tandem equipment, exists, drogue freefall, canopy flight and landing with a student. (All with your instructor strapped in front of you – no pressure!)
As well as learning to handle all sorts of tricky situations (bad exits, freefall spinning, delayed drogue deployments), it's canopy flight which can be the most tricky to master. If you're used to a smaller canopy, a huge tandem parachute will fly much straighter and slower than your normal kit. This sounds easy, but it often leads to completely overshooting your landing locations. Flying students into trees is typically frowned upon.
You can read more details about the course on the USPA website here.
Are You Suited To Be A Tandem Instructor?
While getting paid to skydive is almost a too-good-to-be-true type of deal, it's not all fun and games.
Before you start down this path, try to be sure you'll really be suited to being a tandem instructor. Here's a few of the "not so fun" responsibilities that come with the jump:
Inspecting & maintaining your gear
Chitchatting with nervous students
Briefing students on the jump and landing procedures
Managing student anxiety in the plane
Canopy flight is significantly different to your main chute.
Being a tandem instructor means you're also playing a significant part in someones life! No-one will ever forget their first skydive, so it's up to you to make sure that students are having the best time possible. A positive, upbeat, friendly attitude is just as important as excellent canopy handling and landing skills.
Conclusion
I hope this quick guide has given you a little bit of insight into how skydiving instructors got to where they are.
It's a huge journey, built step by step with tons of experience and regulations along the way. Despite how relaxed and fun-loving your skydiving instructors may seem, they all will have had to go through this rigorous amount of training and testing to get to where they are!
If you're a newbie jumper reading up on skydiving, be sure to check out the related articles below. I'm doing my best to try and cover all topics to help out beginner jumpers.
What is it like skydiving with an instructor?
If you're wondering about skydiving with an instructor, chances are it's your first time jumping and you're keen to know exactly what to expect. You're likely aware that you won't be jumping solo — you will be doing a tandem skydive, which means that you'll be skydiving with an instructor. Are you a tad nervous about putting your life in the hands of someone you don't know? Of course, you are – that's only natural.
Here we'll talk about what it's like to skydive with a tandem instructor and get into some of the skydiving instructor requirements, in order to give you peace of mind.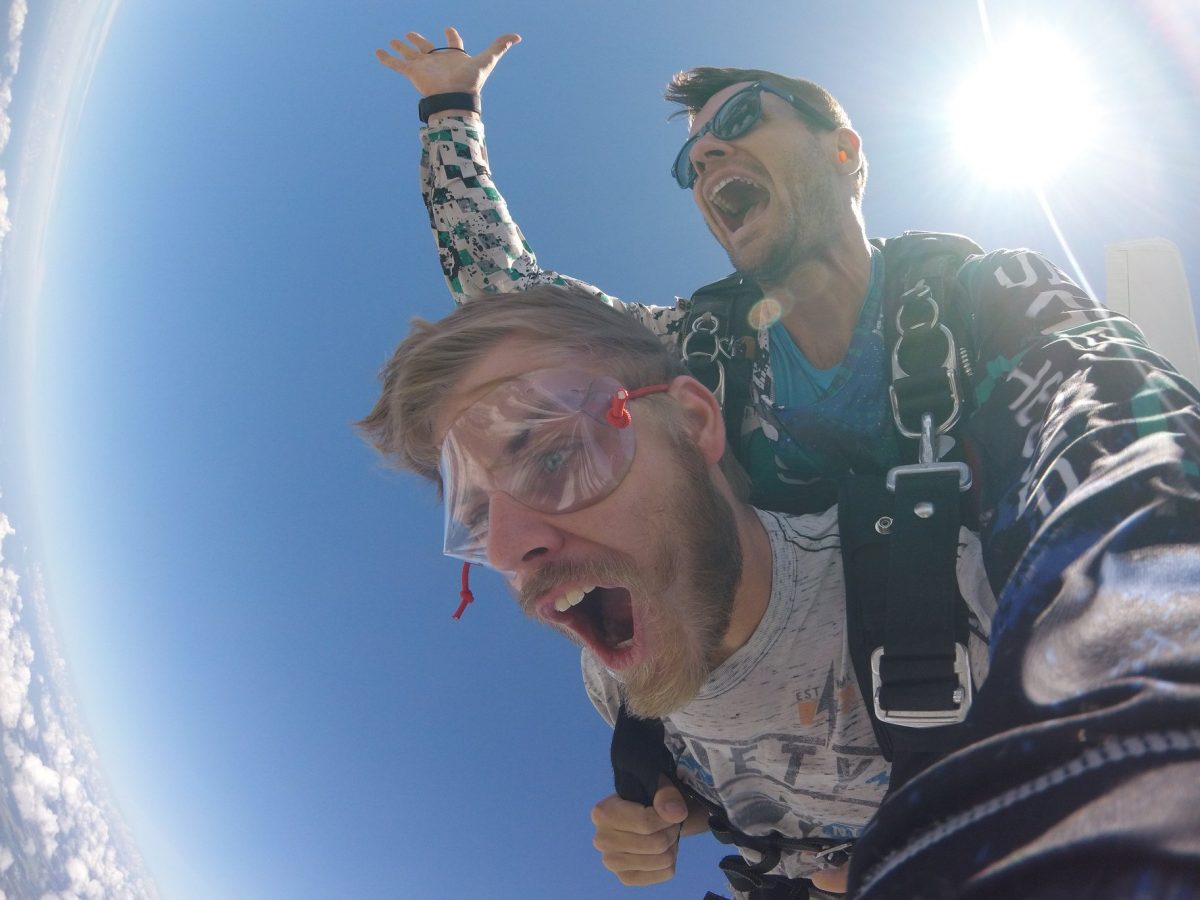 The Skinny On Tandem Skydiving
On the day of your skydive, check in at your reservation time. When you arrive, you will have some papers to sign and about 15 minutes of classroom instruction. While the whole skydiving experience usually takes under 90 minutes, plan on spending about 4 hours with us (especially on the weekends) to allow for weather delays and logistics.
When it's time for your jump, you'll meet your instructor who will be with you throughout the rest of the process. They'll make sure that you're harnessed up, and they'll assist you in boarding the plane. You'll ride up to the jump altitude of around 10,000 feet where you'll exit, securely strapped to your tandem instructor, and begin the closest thing we have to human flight: freefall.
Freefall feels like it lasts forever and also like it's over in an instant but, in actuality, you're freefalling for about 45 seconds at a speed of around 120 mph before your instructor deploys the parachute. You and your instructor can talk and enjoy possibly the best view of the Mississippi River (we might be a bit biased) while on the five-minute canopy flight before landing.
Why Tandem Skydiving?
Tandem skydives are the best way to make your first jump for many reasons.
Skydiving is such a fun and extraordinary experience – and one that requires a great deal of training before going solo. Jumping tandem allows you to relax and enjoy your first jump without having to worry about operating equipment and following stringent protocols. That's not to say you are solely a passenger. Tandem students do have some responsibilities, but your instructor handles most of the work.
Skydiving feels unlike anything else and can be a bit of a sensory overload. The security that comes with having a highly-credentialed instructor strapped to you lets you bask in the awe of it all and not drown in the overwhelm of navigating all of the feels.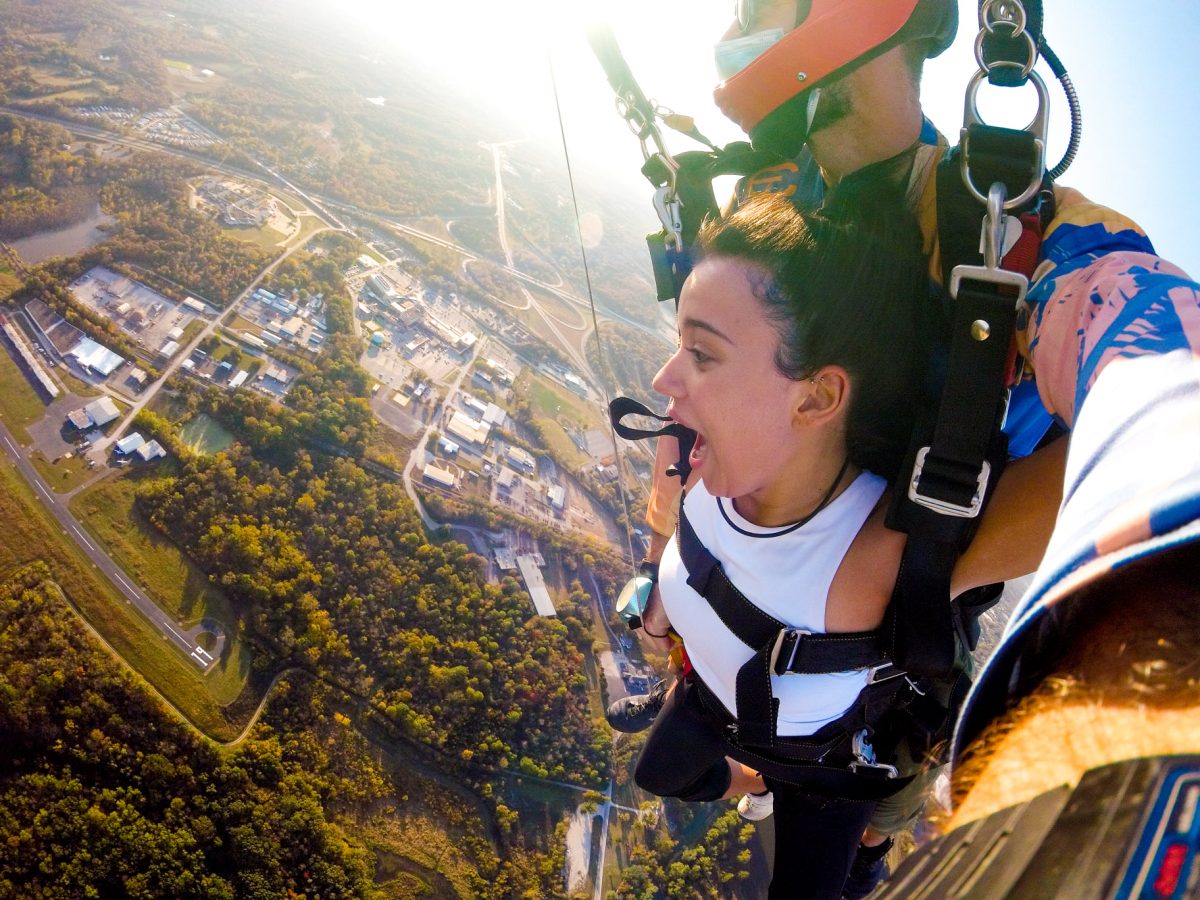 What Does A Skydive Instructor Do?
Skydiving instructors have one job: getting you both to the ground safely! That's a lot of responsibility, which is why all of our instructors are in compliance with the USPA (United States Parachute Association) requirements for certification.
In order to become a tandem skydiving instructor, a person has to be over 18 years old and have:
Been skydiving for at least 3 years
Obtained a USPA D-License (the most advanced skydiving license you can get)
Made at least 500 skydives
Accumulated at least 3 hours of controlled freefall time
Received an FAA class 3 medical certificate or foreign equivalent
Achieved their Tandem Instructor rating through a prescribed skydiving course
Rules are Cool
Above all else: safety. Skydiving is only fun if you can jump with confidence and have the ability to do it again and again (and again!) if you so choose. This means adhering to strict rules and dropzone regulations, including these for tandem students:
Must be at least 18 years of age (valid, government-issued, photo ID required)
Weigh no more than 260 lbs
No alcohol after midnight the night before jumping (and no alcohol on the premises)
Our weight limit is determined by the amount of weight that the skydiving gear can safely carry (typically 500 lbs for a tandem rig) and also by the weight and balance of the airplane. Capping at 260 lbs might seem low, but when combined with the weight of gear and the weight of your instructor, it starts adding up. Enforcing a weight limit is by no means intended to be punitive or discriminatory. Feel free to get in touch with us if you have questions about any of our rules.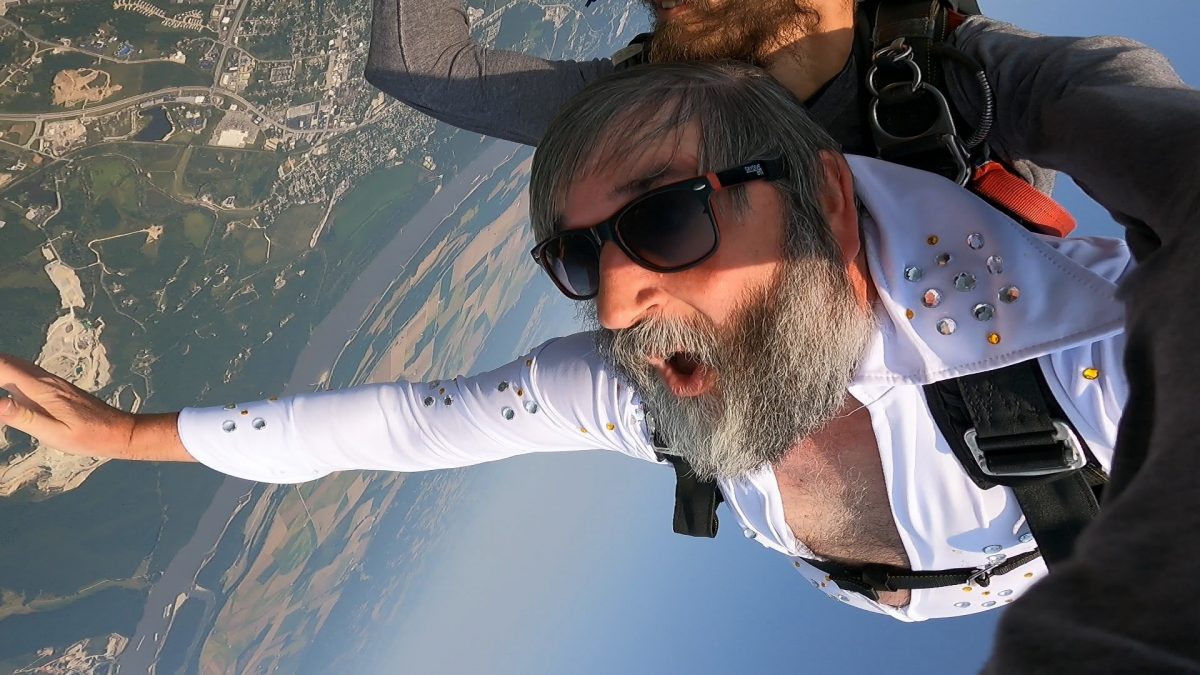 Take a Picture, It Will Last Longer
There is so much build-up and excitement before your skydive … and then it is over before you know it. Whether your tandem will be a one-time thing or a first-of-many thing, we promise that you're going to want to remember your first skydive forever – and the best way to do that is with video and photos.
Sorry, young grasshopper. You can't take your GoPro with you. USPA safety standards require skydivers to have at least 200 skydives before taking any type of camera up, but we offer awesome photo and video packages that will deliver the content you'll want to watch over and over again, and share far and wide on social media. (Don't forget to tag us! @skydivestl #skydivestlouis)
Now you know what it's like skydiving with an instructor, there's nothing left to it but to do it!! Come and jump with us! Blue skies!
What You Don't Know About Your Skydiving Instructor
When you meet your tandem skydiving instructor for the first time, they'll be a mystery to you. First off, the chances are good that you've never met a professional skydiver before. (Who does that with their lives, anyway?!) You probably have no idea what kind of education and professional training stands in the background of such an unusual career. (A Bachelor's degree in Very Quickly Downwards Physics?)
Since you're going to be spending the next half hour under the close, direct oversight of this new best friend, you'd probably like to have some idea of the person you're shaking the hand of.
They're really, really experienced.
A tandem instructor must have at least five hundred jumps and at least three solid years in the sport before he/she can even consider becoming an instructor. From there, the instructor hopefully has a grueling schedule of training jumps and classroom examinations before they can finally earn a tandem instructor rating from the United States Parachute Association. Instructors must then remain very current as skydiving athletes, as well as up-to-speed with both technological developments and training techniques.
They're kinda-sorta psychologists, in a really interesting way.
While most skydiving tandem instructors don't have any clinical training (but some do!), an excellent tandem instructor is much more than just a chauffeur of the sky. A great instructor guides the student with thoroughness and sensitivity while the student is experiencing what are, more often than not, very intense feelings. A great instructor expertly balances lightheartedness with detail orientation and seriousness of purpose. You can rest assured that a great tandem instructor has worked with students much more terrified than you are–and will do a bang-up job of getting you prepared to jump out of a plane.
Your instructor may be afraid of heights!
This one's kinda crazy, right? It might send your head spinning, but lots and lots of professional skydivers at least started out with a crippling fear of heights. Once you start talking to people on the dropzone, you soon discover that there are career acrophobics all over our sport. Honestly, the big difference between a non-skydiving acrophobic and an acrophobic skydiver is that the skydiver knuckled down to the challenge–and took a chance on the fact that their acrophobia wasn't going to get between them and freefall. For an acrophobic (or ex-acrophobic) skydiving instructor, the gamble paid off in spades. (Go 'head–ask!)
Your instructor works really hard.
At Skydive Long Island, we don't treat our tandem skydiving instructors like rideshare drivers. We don't focus on volume, we focus on quality. That said–even if a tandem instructor isn't saddling up with a new student every twenty minutes, a well-done job requires a lot of effort on the part of the instructor–from the physically demands of freefall (and carting around the heavy equipment) to the oh-so-essential intellectual and emotional demands of guiding each unique student through the challenges of the process. It ain't easy!
Sure, it's a challenging job–but at Skydive Long Island, we're really only interested in working with the best. We take our sweet time in choosing the instructors we hire to introduce you to the joys of the sky, and we're proud that our staff are the very, very best in the business. So: When you meet your instructor for the first time, your smile can be extra-wide–'cause you know the secrets of their awesomeness!
Source https://friendlyskydiver.com/become-skydive-instructor/
Source https://skydivingstl.com/blog/what-is-it-like-skydiving-with-an-instructor/
Source https://www.skydivelongisland.com/about/articles/what-you-don-t-know-about-your-skydiving-instructor/