BE AN INSTRUCTOR
To become an instructor, you must be nominated by a CI to take part in two instructor training courses which you must complete satisfactorily, each arranged by British Skydiving and held midweek for up to five days at drop zones around the UK.
The first course qualifies you as a Basic Instructor or BI, with permission to complete basic instructional duties back at your home DZ. This will be under supervision of the Chief Instructor (CI) or other experienced instructors at your British Skydiving Affiliated Parachute Training Organisation (PTO).
After at least six months of this, when your CI thinks you are ready, you will take the second course. If you complete this one successfully, you become a fully qualified instructor.
"Everyone remembers their first skydive. And do you remember who taught you? Too right you do!"
BASIC INSTRUCTOR COURSE
The BI course is very much a teaching course – you go on it to learn how to be an instructor. Even if you already have teaching experience, you are there to learn. Experienced instructor examiners will give lessons on instructional technique, and in turn you will give practice lessons to your fellow instructor candidates.
You'll also be able to act as a student for them, and at the end of each practice lesson you'll discuss how it went with your fellow course mates and the examiners who will coach you on instructional technique and make you better next time!
As an instructor, your CI will need you to be capable of much more than just teaching in a classroom. You may sometimes find yourself in tricky situations, by virtue of your rating making you the voice of authority/experience. For example, if an experienced jumper picks up a potential problem on a flightline check but isn't sure, you may be the only person available to make a spot decision. It's your call – ground someone unnecessarily and they'll resent the lost jump ticket, but let someone go when they shouldn't and the ensuing accident will be on your conscience. So the BI course also includes lectures on other subjects relevant to instructors such as rigging, first-aid, incident procedures, flying for parachuting, instructor responsibilities and drop zone management.
TYPES OF INSTRUCTOR
Just as there are three ways into the sport, so there are three types of instructor rating. Static line progression or RAPS (Ram-Air Progression System) is referred to as the category system. Accordingly, the two instructor courses are Category System Basic Instructor (CSBI) followed by Category System Instructor (yep, that makes it CSI). Tandem gives us TBI and TI, while Accelerated Free Fall gives us AFFBI and AFFI. The BI courses are run together during the same week, so CSBIs will train alongside AFFBIs and TBIs.
On successful completion of the BI course, the new instructors will be able to teach real students under supervision back at their home drop zone. So a CSBI or AFFBI could teach a ground school or do student talkdown, and a TBI could brief a tandem student and fit their harness. However, the TBI cannot take students on real tandem jumps, and the AFFBI cannot jump with real students doing AFF levels.
You can find the full details of what can and cannot be done in the Operations Manual and the Instructor Manual.
REQUIREMENTS
As you would imagine, you can go from a CSBI rating to a CSI course, an AFBI rating to an AFFI course, and a TBI rating to a TI course. As an added quirk, you can also go on an AFFI course as a CSBI or CSI (ie, not necessarily an AFFBI), and on a TI course from any previous instructional rating, provided you meet the jump number and freefall time requirements. These are 800 jumps and eight hours for tandem, and 1000 jumps and ten hours for AFF.
You also need a British Skydiving C Licence to become a static line or tandem instructor, a D Licence for AFF, and a packing certificate and two years in the sport for all three ratings. If you will be talking down students rather than strapping them to the front of you, you will also need to learn how to use a radio correctly, plus take a test to gain a parachuting radio operators certificate of competence from the Civil Aviation Authority.
AFFI candidates must also hold a British Skydiving Canopy Handling Coach qualification, and this is a useful step for CSIs too.
"You'll be helping many new skydivers to take that first leap and achieve something they dreamed of."
So far, so good. You've jumped through whichever of the hoops in the last paragraph applied to you, and successfully completed whichever BI course you chose to take. Now comes the real learning. You'll spend a minimum of six months (this can be less for tandem) practising your new skills and fine-tuning them back at your home DZ.
This is a task generally agreed to be hard work but very rewarding. It's not so much that any part of it is particularly difficult, it's more just the sheer volume of work to be done. If, like most, you only jump on weekends, then expect the majority of them to be dedicated to working towards your second British Skydiving course.
INSTRUCTOR COURSE
The second course is usually shorter than the first. Although a whole five days are still put aside for it, it may finish in as few as three. There is 'no more Mr Nice Guy' – you are here now to prove yourself. The examiners have to agree that you are responsible enough to be trusted with a full instructor rating. I have heard more than one examiner use the criterion 'Would I let this instructor teach my daughter?'.
"It's the little things that make you smile… the fond memories and constant 'thank yous' from eternally grateful students"
On all three versions of the second course (CSI, TI and AFFI) your instructional technique is assessed in the classroom first and foremost. If you can't teach to the desired standard, or if you fail a closed-book written exam on the Operations Manual, then you will be on your way home before Monday is over. CSI candidates must teach lessons from the ground school syllabus and RAPS progression briefs. Similarly, AFFI candidates will be called upon to teach first jump lessons and also briefs for the various AFF levels. TIs must be able to do a flawless tandem brief.
CSIs will have their dispatching technique evaluated, with experienced jumpers acting as static line students. AFFIs will do six skydives simulating different AFF levels, with an examiner acting as the student and performing as realistically as possible, including intentionally spinning to test the instructor's ability to cope. TIs will do their first live tandem jumps, initially with a heavy bag strapped to their front before progressing onto live students (during the course these will be experienced skydivers), and will complete between nine and twelve tandem jumps in total.
QUALIFICATION
On successful completion of the second British Skydiving course, you get a certificate to commemorate your new rating, freedom to teach unsupervised, and a warm fuzzy feeling that all the hard work has paid off!
BY LIZ ASHLEY
Liz Ashley is a CSI, AFFI, rigger, and an FS, CH and wingsuit coach. She has been instructing since 2003. Since August 2010, Liz Ashley has been Editor of Skydive the Mag.
This article first appeared in 'Skydive the Mag' in August 2009
PLEASE NOTE: To be eligible to start training to become an instructor, you must first meet the admission requirements set out in Section 4 of the Operations Manual Among these are that you must have been involved with sport parachuting for two years or more and hold a British Skydiving C Licence and a Packing Certificate. Eligibility to start training as an instructor is on the written recommendation of a Chief Instructor (CI) of a British Skydiving Affiliated Parachute Training Organisation (PTO), who must have known you for a minimum of six months and have seen you parachuting regularly during that period. For more information about becoming an instructor, please see the British Skydiving Operations Manual Section 4, Instructors; or ask the Chief Instructor at your British Skydiving Affiliated PTO.
The Salary of Skydiving Tandem Instructors (and How to Earn More)
Become a Skydiving Instructor and Skydive for Free
Once you become a skydiving "D" license holder, you can apply to be a tandem instructor and make a living by jumping out of planes. But what is the salary of a skydiving tandem instructor?
The average salary of a freelance instructor ranges from $20,000 to $40,000 per year depending on the number of jumps. A full-time skydiving tandem instructor is paid around $50,000 per year. Salaries vary widely depending on the location, certifications, skillset, number of jumps, and years in the profession.
Jumping out of a plane at the height of 10,000-15,000 ft while being strapped to tandem students not only is exciting but can also support you financially. Becoming a tandem instructor will allow a person to do what they love—skydiving—and get paid per jump at the same time!
Per-Jump Salary and Annual Salary of a Skydiving Tandem Instructor
Skydiving instructors are paid around $25 and $40 per jump, depending on their location. The reputation of the skydive center also matters since busy dropzones usually offer higher rates for qualified instructors.
If the skydiving company pays instructors on a per jump basis, the instructor should also look for a busy dropzone because he will be able to perform more jumps there than at idle dropzones.
Skydiving companies can gain a reputation by locating themselves in beautiful landscapes and by emphasizing customers' comfort and fun. Skydiving centers that offer specialized jumps such as HALO jumps or tandem jumps with overweight guests will also attract more customers.
On average, a tandem instructor can earn $50,000 or more if they work full-time, and the salary tends to increase based on the instructor's certifications, advancement, skillset, number of jumps, and years in the profession. For example, tandem instructors that perform jumps with overweight students are likely to earn more.
The location of the skydiving center also matters a lot – country- and state-wise. According to Salary.com, the average salary of a full-time tandem instructor in California is $50,095, with most of the salaries ranging between $45,743 to $58,926.
For example, cities such as Alviso, Campbell, Los Gatos, Milpitas, Mountain View, Santa Clara, Sunnyvale, and San Jose provide the highest average salary for tandem instructors (around $58,926 per year) while other cities in California will offer much lower salaries. This is because the skydiving centers in the aforementioned cities cater to both local and international skydivers.
Freelance tandem instructors will often be paid more per hour because they will be hired on a flexible and part-time basis. A busy freelance instructor can earn around $20,000 to $40,000 per year when he jumps extensively in his free time or during weekends.
Other Income Opportunities for Skydiving Tandem Instructors
Aside from assisting student jumpers during a tandem jump or during "Accelerated Free Fall" courses, instructors can also add more skills and certifications that allow them to work as a videographer during tandem jumps and solo skydives.
Another way for additional income is to become a certified parachute rigger who repackages reserve parachutes every 180 days. According to Ziprecruiter.com, the average salary of a parachute packer is approximately $19.64 an hour, which is equivalent to $3,404 per month.
Some skydiving centers also hire parachute riggers on a parachute basis (often freelance) and pay between $10-15 for each parachute that they packed. This is a good way to earn some extra money during your wait time for the next jump.
Tandem instructors can also advance in their careers by becoming trainers for future skydiving instructors and by consulting bigger companies about aviation and working under pressure. This will also give tandem instructors the skills to start their own skydiving business someday.
Finally, experienced tandem instructors also go on international travels to attend different skydiving competitions and work as coaches for competitive skydivers. However, this is quite a competitive track and the tandem instructor needs to have a lot of experience to succeed.
Requirements and Training Needed to Become a Skydiving Tandem Instructor
Before you can earn money by doing what you love, you need to become a certified tandem instructor. Skydiving tandem instructors do not need to have a high school or college diploma. Rather, they need to show that they have the necessary experience and attitudes to jump with students.
In order to earn their certificate as licensed tandem instructors, they need to complete a specialized training program and they need to be rated by the United States Parachute Association (USPA). Here are the requirements for tandem instructors in one glance:
18 years old or older
Attended the Tandem Training Course
Completed a minimum of 500 jumps (logbook required)
Skydiving "D" license holder or foreign equivalent
Minimum of 3 years in the sport
FAA class 3 medical certificate or foreign equivalent
Hold an Instructional or USPA Coach Rating
Had at least 50 jumps within the last 12 months
Accumulated at least 3 hours of freefall time
The requirements are relatively straightforward except for the tandem training course which includes training by the USPA and by the equipment manufacturer. The tandem course consists of at least three phases and will take 3 to 4 days to complete depending on the weather conditions.
The first day covers ground training and theoretical training such as methods to calm panicking students down. The second day is usually dedicated to more practical activities including evaluation jumps. On the third and fourth day, instructor candidates will complete more jumps – this time with a tandem passenger. In order to pass the course, they need to perform at least 10 jumps with experienced skydivers as their passengers.
Sometimes the other requirements also seem to be a challenge. If you want to learn more about the requirements and best practices to become a tandem instructor make sure to check out this article.
How Much Does It Cost to Become a Skydiving Tandem Instructor
In total, tandem instructors are likely to have spent between $18,525 – 30,950 on skydiving before they earn money with skydiving. These costs include the costs of learning skydiving, equipment costs, lift fees, and the tandem instructor course costs.
| | | |
| --- | --- | --- |
| Type | Lower Range | Upper Range |
| Learning Skydiving (AFF course + license costs) | $3,400 | $4,700 |
| Lift fees (to complete 475 jumps) | $11,875 | $14,250 |
| Equipment costs | $2,000 | $10,000 |
| Tandem instructor course (including health certificate, USPA ratings, etc.) | $1,250 | $2,000 |
| Total costs | $18,525 | $30,950 |
An Overview of the Costs to Become a Tandem Instructor
In other words, skydiving instructors need to work 6 – 12 months just to recover the upfront costs that they paid to learn skydiving. As you can see, the salary of skydiving instructors is not very high and no one should become a skydiving instructor just because of the money.
However, if you love skydiving, skydiving instructors have a lot of benefits that "compensate" them beyond the money.
Job Benefits of a Skydiving Tandem Instructor
Becoming a skydiving tandem instructor can be a long and expensive process; however, it also has benefits that you won't get on a regular office job or any other jobs related to sports. I have listed down a summary of the perks of being a tandem instructor.
Free skydives – The standard lift for a solo skydive is between $25 and $30 each. Being a tandem instructor will allow you to skydive for free, daily. You can have a minimum of 12 skydives on a busy day.
Not tied up to an office desk – You will not be a desk-bound office worker. In skydiving, your office is the entire skydiving facility, the airplane, and most of all the sky.
Skydiving is very open to travel – You can work anywhere you want since most major cities in the US have skydiving centers. Many instructors also work in other countries during the off-peak season. You will be able to explore the beautiful and majestic views of skydiving centers around the world.
Workload management – You have the freedom to decide whether you want to be a freelance or full-time tandem instructor.
Physical benefit – Skydiving is a good workout. Instead of going to the gym, skydiving can burn around 284 calories per hour. A full-day shift can burn more than 2,000 calories. It will also strengthen your core muscles and improve your flexibility.
Emotional and mental benefits – The body produces several hormones during strenuous activity. These "good and happy hormones" will give you emotional and mental stability. You will be able to make good decisions while under pressure.
Responsibilities of a Skydiving Tandem Instructor
Skydiving tandem instructors have a lot of fun during their work, however, their job also comes with high responsibilities. Tandem instructors are responsible for the safety of the tandem student before, during, and after skydiving.
They prepare the tandem students before the jump by conducting a safety briefing, providing safety reminders, and assisting them when boarding the aircraft.
During the jump, tandem instructors need to make sure to maintain a stable belly-to-earth position and achieve the correct "banana" arch for a smooth parachute opening. This can sometimes be difficult specifically when students make unclever movements and panic.
Even if a tandem student makes every mistake that one can make, it will still be the responsibility of the tandem instructor to bring him down safely.
In case of an emergency, tandem instructors are responsible for fixing any malfunction in a matter of seconds. They will also decide if it's the right time to cut away from the main parachute and deploy the reserve parachute. Overall, they are responsible for the safety of the tandem students until the skydiving activity is over.
Tandem instructors are also responsible to ensure a safe landing on the ground. It is important to remind the tandem students that they will need to lift their legs and point their toes towards the sky to avoid any injuries. Once on the ground, the instructors are responsible to remove the harness from the tandem students and bring the parachutes to the packing area.
Some skydiving companies also demand from their instructors to ensure a fun ride for the students. While it is understandable that skydiving companies want to keep their customers happy, the fund often depends more on the student himself and the weather conditions. So in my opinion, tandem instructors are not responsible for the fun and comfortability of the customers.
That being said, skydiving comes with a lot of responsibilities and only offers a decent salary. However, it is quite common that people with high responsibilities do not get paid a lot.
Firefighters, for example, bear many responsibilities but only get paid an average of $47,000 per year but their job is far more important than that of a business manager (and it is also more dangerous compared to skydiving).
At the end of the day, you will be able to pursue your passion for skydiving and provide for yourself and your family.
Enjoy your freefall!
Hi, I'm Kai. The first time I jumped out of an airplane and experienced free fall was one of the most amazing moments of my life. For me, skydiving does not only stand for freedom and independence but being present in the moment and being respectful to others and oneself. Now I want to share what I've learned with you.
Recent Content
For first-time jumpers, skydiving can be scary. This is because they don't know how it feels, and they rely on someone else to bring them down safely. People also often lose perspective for time.
Skydiving is a recreational sport for most people but it can also be a profession for some extreme athletes or tandem instructors. Before someone can take passengers and become a tandem instructor.
ABOUT ME
Hi, I'm Kai. The first time I jumped out of an airplane and experienced free fall was one of the most amazing moments of my life. For me, skydiving does not only stand for freedom and independence but being present in the moment and being respectful to others and oneself. Now I want to share what I've learned with you.
LEGAL INFORMATION
This site is owned and operated by Kai Schmidt. Enjoyfreefall.com is a participant in the Amazon Services LLC Associates Program, an affiliate advertising program designed to provide a means for sites to earn advertising fees by advertising and linking to Amazon.com. This site also participates in other affiliate programs and is compensated for referring traffic and business to these companies.
How Much Does it Cost to Become a Skydiver?
A few clicks across our website can land you on a page that outlines how much it costs to tandem skydive, but what if you have your sights set a little higher? What if you want to learn to fly solo?
Is learning skydiving an investment? Without a doubt.
Is it worth every penny? You better bet your bottom dollar it is.
Getting into skydiving is going to require an investment of both your time and your money. But, how much? Here's what you can expect to invest in becoming a skydiver.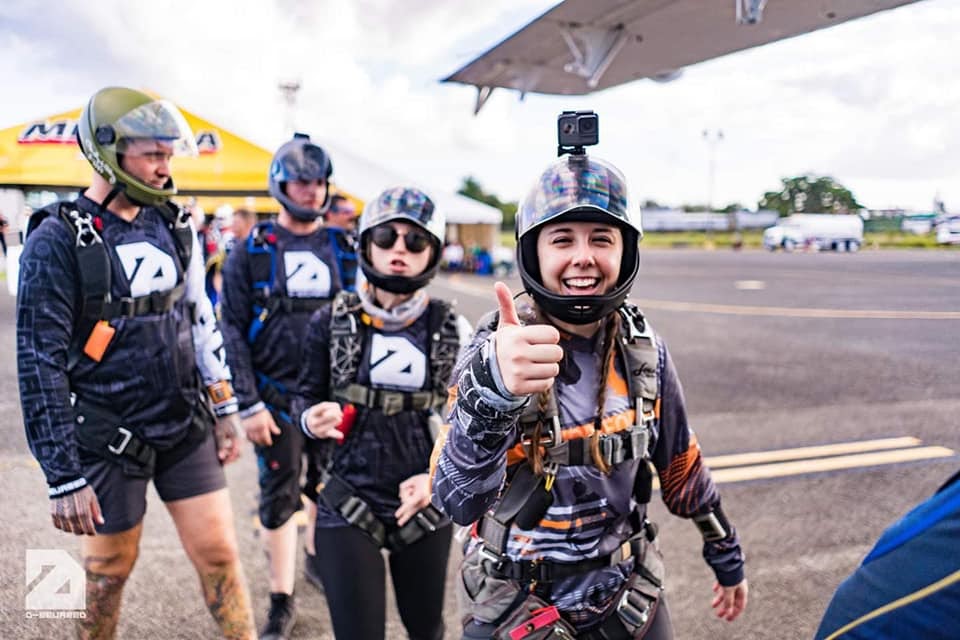 Getting Into Skydiving
Before beginning your Accelerated Freefall student progression, we highly recommend making at least one tandem skydive. Tandem skydiving enables you to have a taste of the skydiving experience without the pressure of having to perform or the onus of being solo. A tandem skydive gives you the chance to see if skydiving is the right fit before you make the financial commitment it takes to learn to skydive.
If you're already sure skydiving is for you, keep reading for more detail on the different costs of getting into skydiving.
Skydive Certification Cost
We won't lie: there is a heavy front-end investment in becoming a skydiver. To achieve skydiving certification, you will need to accrue a minimum of 25 skydives.
For this 25 jump skydiving progression, you have two options: pay as you go or pay upfront.
If paid jump by jump, the skydiving certification cost for the 25 skydives is $4766*. For some, taking it bit by bit, level by level, best suits their financial situation.
However, in our humble opinion, it is far more economical to take advantage of our package pricing. If you can pre-pay your 25 jump A license package, you will receive $100 off the package price and ten FREE skydives (including parachute rental). We'll do the math for you: that's a $620 value.
Regardless of the path you choose, we think it's important to celebrate your success. This is why we also offer a graduation bonus! If you complete your entire A License progression with us at Skydive Orange, you'll receive six free skydives including gear rental. (For the record, that's a $370 value!)
*We also offer discounts for payments in cash versus payments in credit. A full price breakdown of our AFF program can be found here .
Skydiving Gear Cost
Once you're a licensed skydiver, you'll want to begin thinking about getting your very own gear. So, how much does skydiving equipment cost?
Well, honestly, it's going to depend on which piece of skydiving equipment you're interested in.
| | |
| --- | --- |
| Skydiving Gear | Brand New Cost |
| Digital Skydiving Altimeter | $300-$400 |
| Helmet | $300-$400 |
| Automatic Activation Device | ~$1200 |
| Main Parachute | ~$2500 |
| Reserve Parachute | $1465-$1750 |
While you may be tempted to try to get everything shiny and new, the sticker shock can be a knockout. Don't worry: most skydivers have a piecemeal ensemble of new and used items!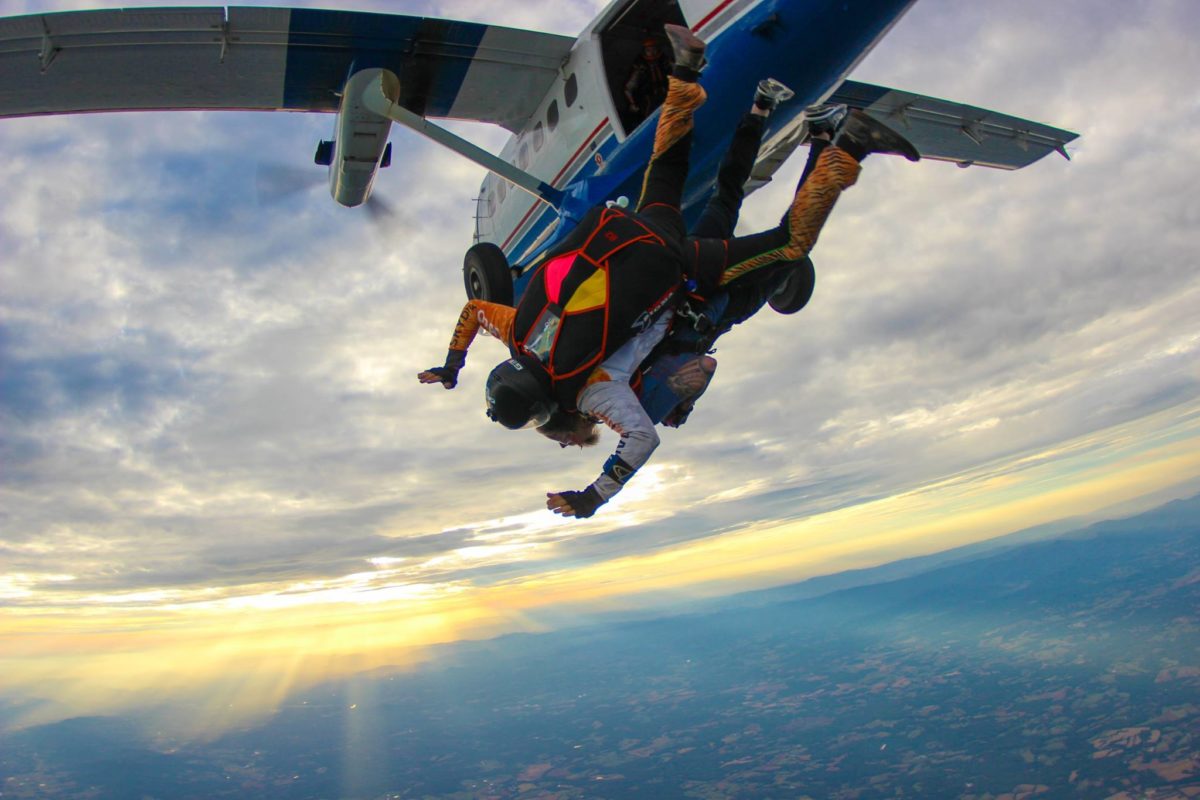 Solo Skydive Cost
At Skydive Orange, we have a bit of a choose your own adventure situation. We offer three different skydiving options. The solo skydive cost will depend on which option you choose. You can skydive on a "low pass" (an altitude of 5,500') for $23, a full altitude jump (an altitude of 13,500') for $28, or a high altitude jump (an altitude of 17,500') for $38.
Reap the Rewards
There's no denying that becoming a skydiver requires an investment, but, also, like any good investment, skydiving offers a pretty impressive return.
The skydiving journey isn't the same for everyone. However, nearly every skydiver can attest to the improved level of confidence they attain through the pursuit of their skydiving license and long after as they discover new niches of skydiving to explore. Getting your A License is just the first step. The best part about it all is that you don't have to "go it alone." Skydivers are a unique breed. Even after that first jump, you'll be welcomed into the fold and join a special group set on making the most of every moment.
The rewards are worth every bit of the cost of skydiving. Like we say in skydiving, "To those who jump, no explanation is necessary. For those who don't, no explanation is possible."
Give us the chance to show you our world, begin your skydiving adventure today!
Source https://britishskydiving.org/training-progression/be-an-instructor/
Source https://enjoyfreefall.com/the-salary-of-skydiving-tandem-instructors-and-how-to-earn-more/
Source https://www.skydiveorange.com/2021/05/18/how-much-does-it-cost-to-become-a-skydiver/