Learn to Skydive
Learn to Skydive from the Best Instructors in the Industry
Did you know that in as little as a few weeks you can learn to skydive solo and complete all the requirements needed to apply for an "A" skydiving license?
Skydive Paraclete XP in Raeford, NC is home to one of the most progressive and comprehensive skydiving schools in the United States. We offer a unique, United States Parachute Association (USPA) approved training progression called Paraclete Student Program (PSP). Our PSP program is taught by some of the most skilled skydiving instructors in the world and incorporates wind tunnel training to help accelerate your progression in the sport.
Our unique program, combined with our state of the art training facilities, provides our students with the best learning environment possible.
Paraclete Student Program (PSP)
PSP is a skydiving course that consists of 18 levels and covers all* requirements to apply for a USPA 'A' license. This license allows you to jump with your friends and skydive anywhere in the world, but it is just the beginning.
Our program is designed not only to teach basic skills but to provide a clear path towards becoming a well-rounded skydiver. Our progression continues past student levels and offers continued education. Interactive seminars, networking, multi-discipline skills camps and exclusive wind tunnel membership options at our state of the art indoor skydiving facility, Paraclete XP SkyVenture. PSP provides everything you need to become a member of our amazing skydiving community.
*Except a total jump number of 25. After graduation, you can jump solo to complete this number.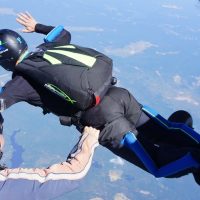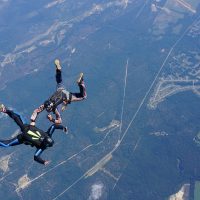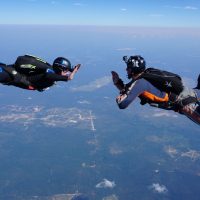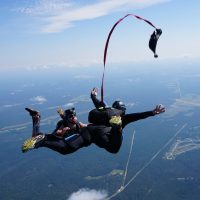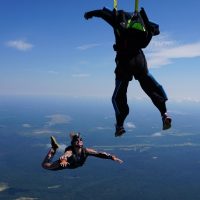 What to Expect
Stage 1: Ground Training
The first jump course takes place at our training center at Skydive Paraclete XP. This course typically takes 4-5 hours to complete and covers all theoretical and practical training necessary to prepare you for your first solo skydive, including skydiving equipment, aircraft procedures, exit procedures, freefall, deployment, canopy control, and dealing with malfunctions (should they occur).
Stage 2: Wind Tunnel Training
To ensure that you get the most out of your first jump and to accelerate your progression we practice basic body flight in our Skyventure Paraclete XP wind tunnel before your first solo skydive. Years of experience have taught us how valuable wind tunnel training is and it is a prerequisite for our PSP program.
Stage 3: Freefall and Canopy Training
Once you have met all the prerequisites, you are ready to make your first solo skydive! At first, your instructor will hold onto you in the air, but you will quickly progress to independent flight. By jump number 4 you will exit the airplane on your own and work on more advanced skills. These skills consist of heading control, turns, instability recovery, flips, relative work, advanced exits, docking, and tracking.
Throughout the program, you will also learn about equipment, parachute packing, aircraft spotting, winds and weather conditions, canopy flight and all the technical aspects you need to know to skydive.
Get More Info and Register for an Upcoming Course
For more information about our PSP program and learning to skydive in general, please read through our learn to skydive FAQs. If you have additional questions, please contact a member of our team for assistance!
Prices for PSP are listed in the table below. We offer our PSP First Jump Course on a regular basis. Check our events calendar for dates and register online for an upcoming course.
Paraclete Student Progression Prices
Follow this path to become a licensed USPA Skydiver. Click the button below to register for an upcoming First Jump Course.
Solo and AFF Course Costs
There is nothing that compares to the sense of accomplishment you feel as you progress towards your Skydiving License! This process is one of the most challenging and rewarding achievements to be earned in this lifetime.
As with any serious goal, becoming a licensed skydiver requires a commitment of both time and money on the part of the student. To better accommodate our students, you can pay for your jumps as you go, and WSC also offers flexible scheduling for our SOLO and AFF program.
A complete list of required Solo and AFF jumps and their associated costs can be viewed in the Solo and AFF pricing table below.
* A tandem skydive is required prior beginning the Learn to Skydive Program. The tandem jump will count towards the number of jumps required for an A-License (25 jumps).
Solo and Accelerated Freefall (AFF) Pricing
Training Skydives
Information
Cost
Jump 1
TANDEM – your journey has already begun towards getting your skydiving license.
Jump 2
Ground School (3-4 hours) and SOLO exit – jump from 5000′ by yourself.
$225.00
Jump 3
Second solo skydive – parachute work.
$120.00
Jump 4
Third solo skydive – parachute competency.
$120.00
Jump 5
Ground School (3 to 4 hours) and AFF – first freefall jump with your own parachute. An amazing sense of accomplishment!
$255.00
Jump 6
Awareness skydive – altitude, body – more control in freefall.
$210.00
Jump 7
Your release dive – your instructors release you and you freefall on your own.
$210.00
Jump 8
You have now graduated to only one instructor accompanying you in freefall.
$170.00
Jump 9
You will learn how to do turns and move forward in freefall.
$170.00
Jump 10
More maneuvers of forward motion and turns.
$170.00
Jump 11
You will learn how to track – one step closer to being a bird man.
$170.00
Jump 12
You will perform acrobatics in freefall.
$170.00
Jump 13
Solo freefall -Now you know enough to freefall by yourself.
$60.00
Jump 14
Advanced maneuvers in freefall.
$95.00
Jump 15
You now get to combine upper and lower body to make spot turns.
$95.00
Jump 16
Fast / slow freefall speed.
$95.00
Jump 17
Formation flying – moving forward to dock on your coach.
$95.00
Jump 18
Adjusting speed and forward motion to dock on your coach.
$95.00
Jump 19
Even more of a challenge – speed adjusting, turns, and docking on your coach.
$95.00
Jump 20
Lower exit altitude – 5,000′ emergency simulation jump.
$60.00
Jump 21
Lower exit altitude – 3,500′ emergency simulation jump.
$60.00
Jump 22
Dive out of the plane and down to dock on your coach.
$95.00
Jump 23
More practice on swooping down to your coach.
$95.00
Jump 24
Preparation for your first freefall test.
$95.00
Jump 25
United States Parachute Association A License Check Dive
$170.00
WHY CHOOSE THE WSC learn to skydive PROGRAM
In reality, the quality of any Solo and AFF program hinges on its instructors. At WSC, our instructors are REAL people who are open, approachable, and down to earth. They are experienced, skilled, able, and will do everything in their power to see you through to achieving your goals.
With our stringent attention to safety, state-of-the-art equipment, and highly experienced instructors and coaches, our Learn to Skydive Program will set you up for success as an independent skydiver.
THE BENEFITS OF EARNING YOUR SKYDIVING LICENSE
A United States Parachute Association skydiving license enables you to skydive at any Drop Zone in the world. There are over 250 Drop Zones in the U.S. alone, with your USPA License you will be welcome at any of them. Throw your parachute in the trunk of your car and you will make friends anywhere you go!
Have Additional Questions About OUR LEARN TO SKYDIVE PROGRAM?
Please contact us! We'd be more than happy to discuss the program with you and answer any questions you may have. You can also give us a call at 920-568-1700.
How to Get Your Skydiving License: Requirements, Prices & More
Tandem skydiving is the world's most popular adventure for a long list of excellent reasons, but perhaps you want more. Luckily, there's a world of human flight ready to open up its arms to you. And you can start right here – above the beautiful Garden Route in South Africa – with us!
How long does it take to get your skydiving license ?
Earning a solo skydiving license is the challenge of a lifetime, but it won't take a lifetime to check off. With good weather, you could have that license in a week! Build your solo skydiving certification journey into a Western Cape holiday, and you'll emerge not only with a solid tan and a smile on your face but also with a fancy new feather in your cap. (Fun bonus: While your friends are tandem skydiving , you'll be sauntering around with your very own parachute…)
What kinds of solo skydiving training do you offer?
Accelerated Freefall ("AFF")
The most fun, most efficient way to learn how to skydive is through the curriculum known as "accelerated freefall" (abbreviated "AFF") . AFF is the quickest, most modern route to becoming a safe, competent, independent solo skydiver. This method of skydiving certification meets all the requirements to certify you to jump without an instructor at most of the world's skydiving dropzones, so your adventure is bound to grow along with you.
The AFF curriculum is composed of ten unique levels, each building on the skills of the previous. The first step is to attend a comprehensive ground school. From there, you'll proceed to receive in-air instruction from highly-qualified skydiving instructors. For the first levels, you'll jump with two instructors, teaming up to hold you stable in the air. With progressive levels and the introduction of new skills, you'll start jumping with a single instructor – and, finally, solo.
Static Line Training ("S/L")
If costs are a serious consideration, we also offer static line training (S/L) to help new jumpers earn their first license. Static line requires a bigger time commitment and places less emphasis on the skills of human bodyflight, but it's a good fit for some of our students. If you're interested in pursuing a static line progression, please contact us.
How much does it cost to get a skydiving license?
The price to learn how to skydive in South Africa is commensurate with programs all over the world. Each unique level has its own cost, which you can find on the pricing page .
Pricing for each jump – both AFF and Static Line – includes the following:
A comprehensive pre-jump briefing to prepare you for the skydive
The skydive itself, including all of its requirements (including equipment hire and instructors)
Parachute packing after the jump
A thorough debrief of your jump, with video
Is getting a skydiving license worth it?
We might be a little biased, but we don't think there is any adventure in the world that's as worth-it as learning how to skydive. Not sure? We encourage you to visit our gorgeous Garden Route dropzone, whet your appetite for the challenge ahead with a jaw-dropping tandem skydive, and meet the top-notch instructor staff waiting to take you under their considerable wings.
You can do this — you should do this — and we can't wait to celebrate with you when you do! Make your reservation today.
Source https://skydiveparacletexp.com/learn-to-skydive/
Source https://wisconsinskydivingcenter.com/learn-to-skydive/prices/
Source https://skydivemosselbay.com/2019/10/09/how-to-get-your-skydiving-license/